This post is sponsored by the Ohio Pork Council. All opinions are my own.
I love hitting up the State Fair every year – and the main reason is all the food! This year I went up for a special food event and got to try these Pulled Pork Totchos and I knew I had to make them at home for myself!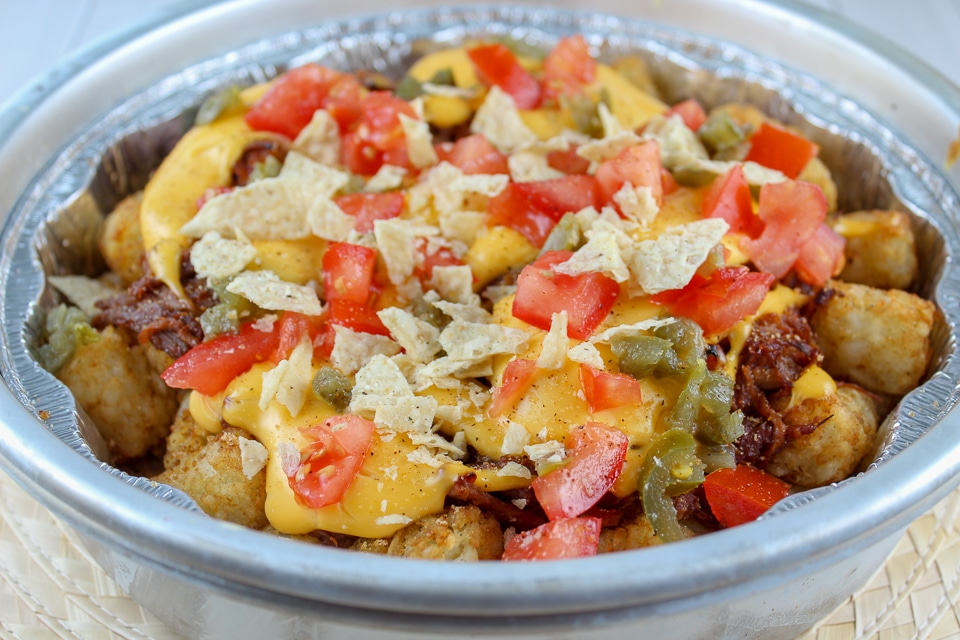 While at the State Fair I also stopped at the Ohio Pork booth and grabbed up some hog wings (they really are "wings" they come from the shank on the leg of the pig!). These pulled pork totchos are super easy and delicious – your it's a perfect FUN dinner!

How to make Pulled Pork Totchos?
These are super easy! You can either cook everything separately and layer like they do at the Fair – or layer and bake as you go – which is what I chose to do. I put the tots in first and sprinkled my Taco Johns seasoning mix on them (you could also use Taco seasoning or Lawry's). I baked them for 10 minutes – then topped with some pre-made pulled pork (I like Curly's – or you can make your own) – baked for 10 more minutes – then top with cheese – bake 5 minutes – and finally take it out and add the rest of the nacho goodies like tomatoes, jalapenos, onions and some crushed chips for crunch!
I made the Pulled Pork Totchos in cake pan lined with a throw away cake pan – makes for easy clean up! And I got the idea from my Mexican Garbage Nachos!
What goes on Pulled Pork Nachos?
I just loaded them up with the same things they did at the State Fair – but really its up to you! I used a canned nacho cheese sauce but you could easily swap out regular cheese if you wanted. Then I added tomatoes, onions, jalapenos and crushed tortilla chips for a little extra crunch!
Looking for other unique nacho recipes? I've got you covered!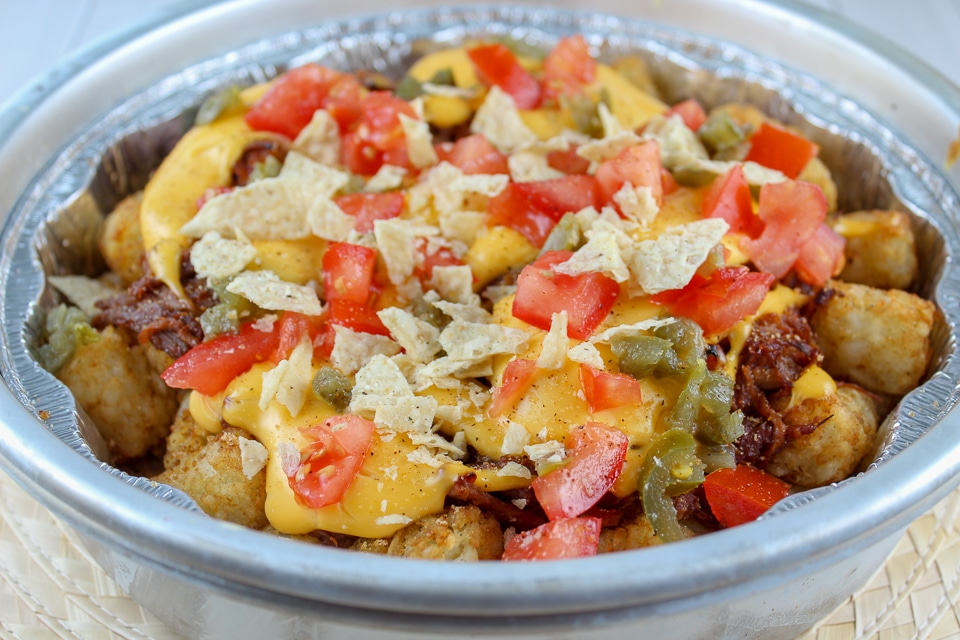 Copycat State Fair Pulled Pork Totchos
prep time: 5 M
cook time: 25 M
total time: 30 M
Fair Food is just the best – once a year we get a chance to just enjoy all that deliciousness and ride rides and pet cows – it's the best! I came across Pulled Pork Totchos at this year's Ohio State Fair and couldn't let them go – so I came home and made them for myself! #copycatrecipes #fairfood #totchos
instructions:
How to cook Copycat State Fair Pulled Pork Totchos
Preheat oven to 400 degrees
In a round cake pan, add in a throw-away aluminum cake pan and spray throw-away pan with non-stick spray
Layer tater tots across pan and bake for 10 minutes
Remove from oven and top with pre-made pulled pork and bake for 10 minutes more
Remove from oven and top with nacho cheese sauce and bake 5 minutes more
Remove from oven and top with tomatoes, jalapenos, chips and onions