I love meatloaf and wanted to do a bit of a makeover to have a healthy and moist meatloaf! This turkey meatloaf is 6-7 points on Weight Watchers for a very thick slice.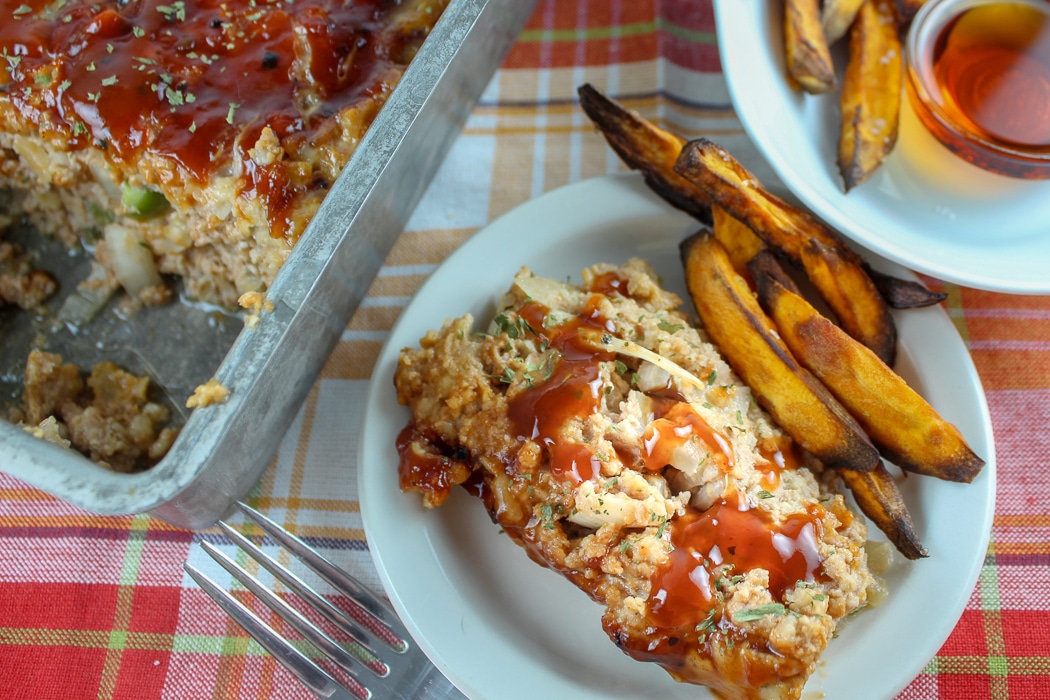 I like my meatloaf to be light and adding vegetables does that – so I loaded up on peppers and onions. Then served with a side of my air fryer sweet potato fries for a healthy dinner.
How do you make Weight Watchers Turkey Meatloaf?
I tried counted out the points for this Weight Watchers Meatloaf and tried it a couple of ways. You can make it with all turkey if you like – but I went with a combo of turkey and ground pork. Pork is surprisingly lean and adds a lot of flavor!


From there – it's pretty much like any meatloaf – put it all in a bowl – mix it together with your hands – and into the oven.


If you don't like some crunch – you can saute your vegetables first. I did not – I like the crunch.



To make it Weight Watchers friendly – I really avoided additional fat. I mixed oats with skim milk to act as a binding agent to keep it all together. This is a bit of a "looser" meatloaf – so it's not near as heavy and dense as you might normally think of meatloaf.


In terms of points for this WW Meatloaf Recipe – if you follow my recipe and use turkey and pork – it's 7 points per slice for Weight Watchers Smart Points or 6 points for Points Plus. If you go with just ground turkey – it's 5 for Smart Points and 4 for Points Plus.


When it's done – be sure to use a meat thermometer and make sure it's 160 degrees. After taking it out of the oven – let it rest for 10 minutes while you get the rest of the items on the table.
I'm also always down for a meatloaf sandwich! If you're looking for side dishes for your weight watchers turkey meatloaf – I've got you covered. The air fryer is going to be your best bet – you could try Roasted Cauliflower or Air Fryer Asparagus. Meatloaf is a bit of a comfort food – you could also have some Homemade Creamed Corn (so much better than canned). And last – but certainly not least – you can't go wrong with a big ol' Olive Garden Salad!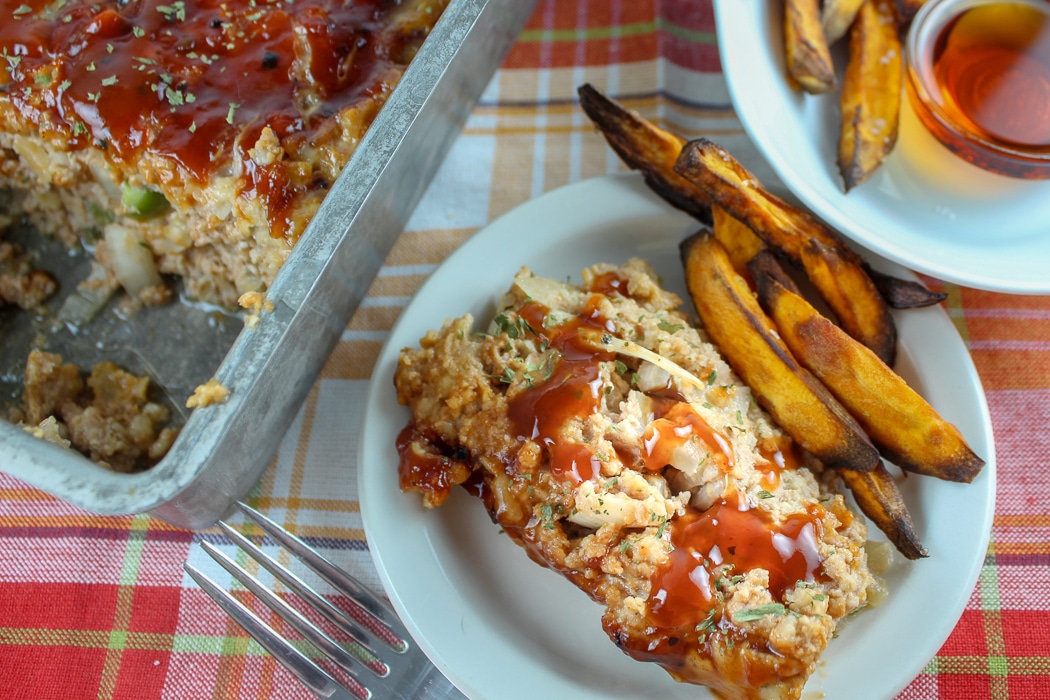 Weight Watchers Turkey Meatloaf
prep time: 10 M
cook time: 1 hour
total time: 1 H & 10 M
I love meatloaf and wanted to do a bit of a makeover to have a healthy and moist meatloaf! This turkey meatloaf is 6-7 points on Weight Watchers for a very thick slice.
ingredients:
1/2 cup quick-cooking oats
1/4 cup skim milk
1/2 cup diced onion
1/2 cup chopped bell pepper
1/2 pound ground turkey breast
1/2 pound ground pork
1 egg, beaten
2 teaspoons Worcestershire sauce
1 Tbsp ketchup
1 Tbsp garlic and herb seasoning
1/2 teaspoon salt
Freshly ground black pepper
1/3 cup barbecue sauce
instructions:
How to cook Weight Watchers Turkey Meatloaf
Preheat the oven to 350 degrees F.
In a small bowl, stir together the oats and milk and set aside for five minutes. (Great time to dice onion and pepper)
In a large bowl, combine the turkey, oat mixture, chopped onion, bell pepper, egg, Worcestershire sauce, ketchup, salt and a few grinds of pepper. Mix just until well combined.
Spray loaf pan non-stick cooking spray
Transfer the mixture to a loaf pan.
Top meatloaf with your favorite barbecue sauce
Bake for about 1 hour or until an instant-read thermometer registers 160 degrees.F.
Remove from the oven and let rest for 10 to 15 minutes before slicing.
NOTES:
With turkey & pork:
Smart Points: 7 per slice
Points Plus: 6 per slice
With ALL turkey
Smart Points: 5 per slice
Points Plus: 4 per slice
Recommended Products:
Williamson Brothers BBQ Sauce
Nonstick Loaf Pan
Meat Thermometer
Calories
218
Fat (grams)
8.7
Sat. Fat (grams)
2.8
Carbs (grams)
17
Fiber (grams)
1
Sugar (grams)
9.8
Protein (grams)
20.4
Nutritional info is with turkey and pork
Did you make this recipe?
Tag
@foodhussy
on instagram and hashtag it #foodhussyrecipe