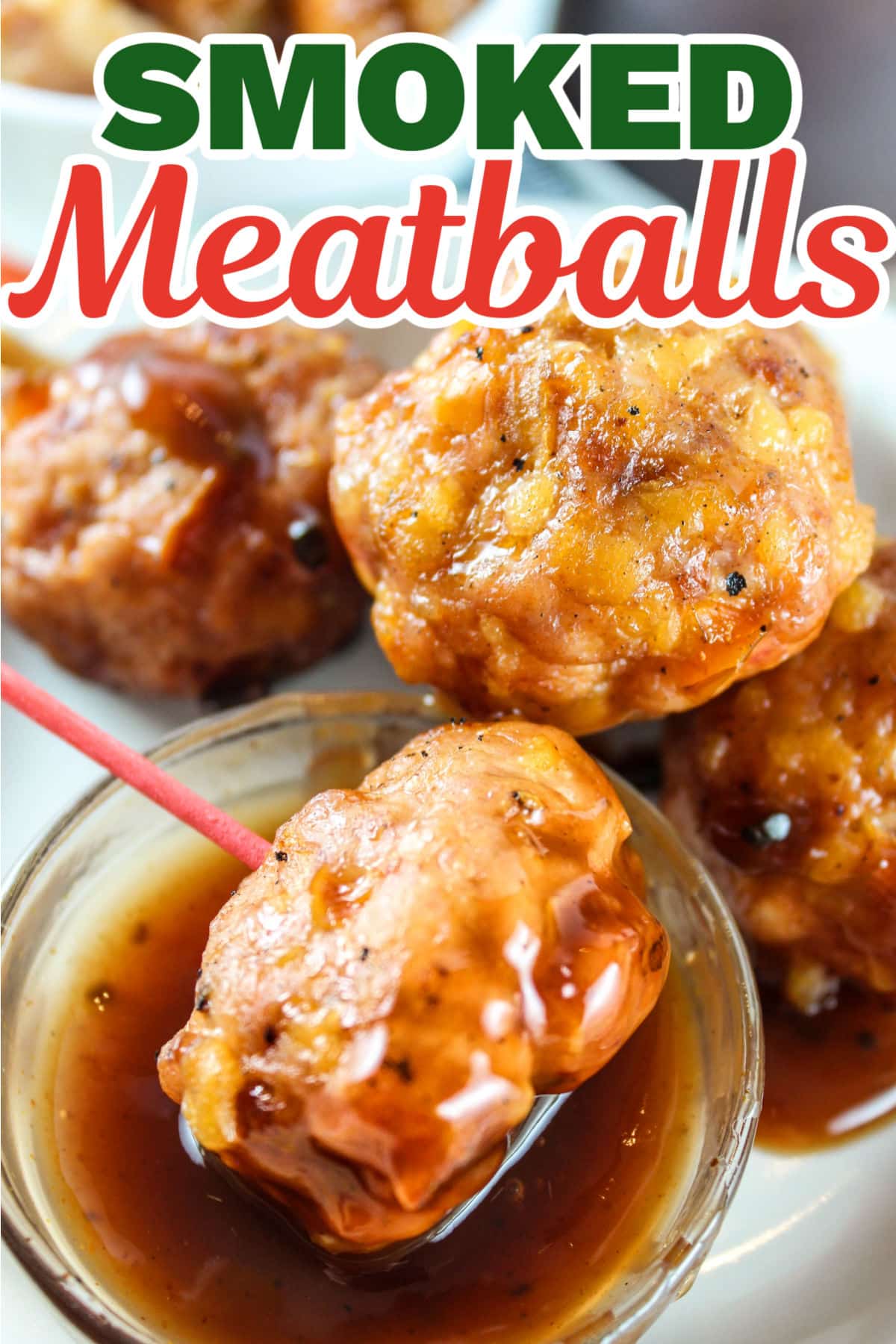 These Traeger Smoked Meatballs are my absolute favorite meatballs! These versatile meatballs are packed full of delicious ingredients with ground pork, roasted onions & peppers and cheese.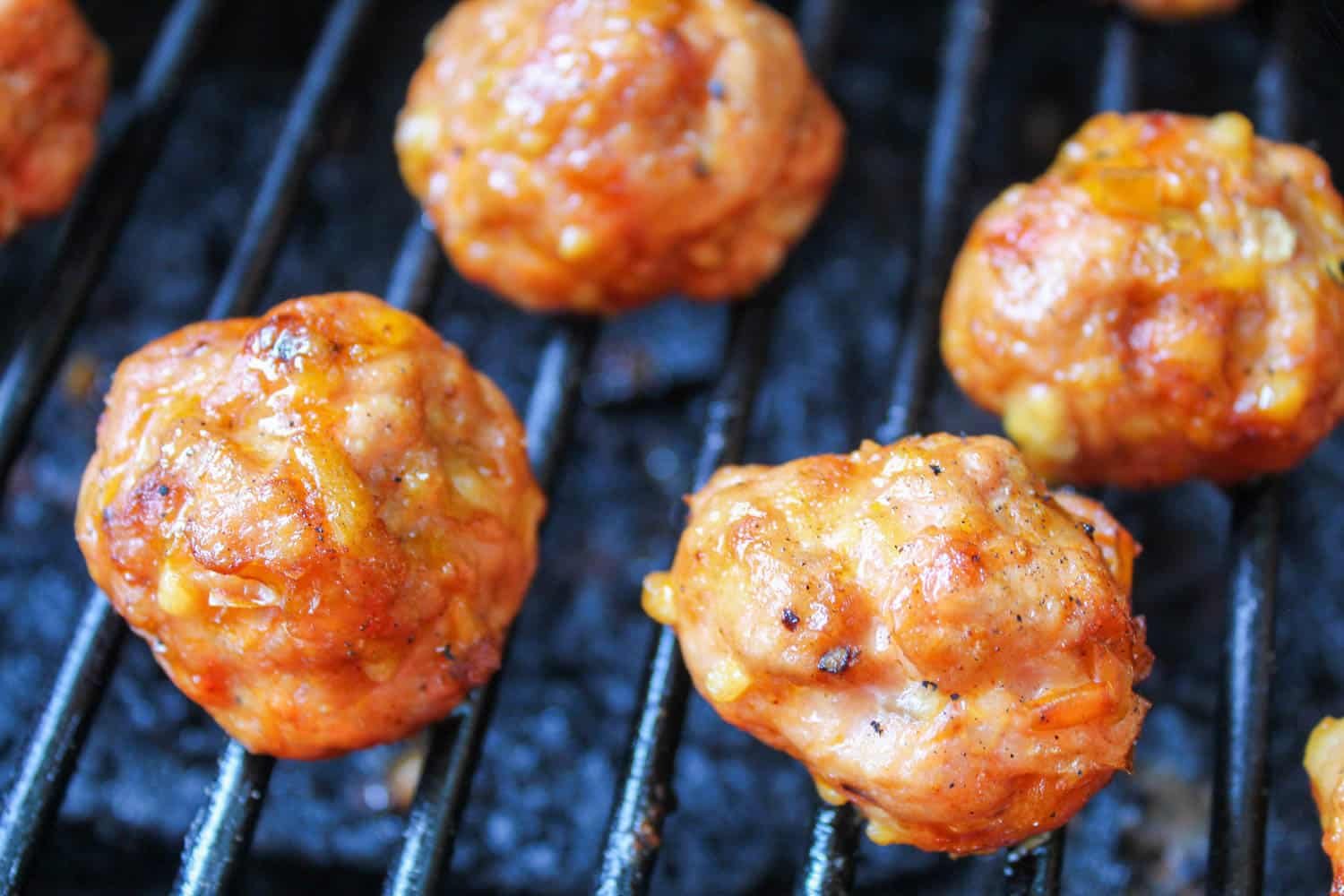 Whether you're having these meatballs as an appetizer with sauce, in sandwiches or on pasta – you'll enjoy every bite! My favorite way to eat them was in a sandwich. Stuff the meatballs in a hot dog roll and add roasted onions and peppers and top with cheese and broil for a few minutes – melty, meaty goodness!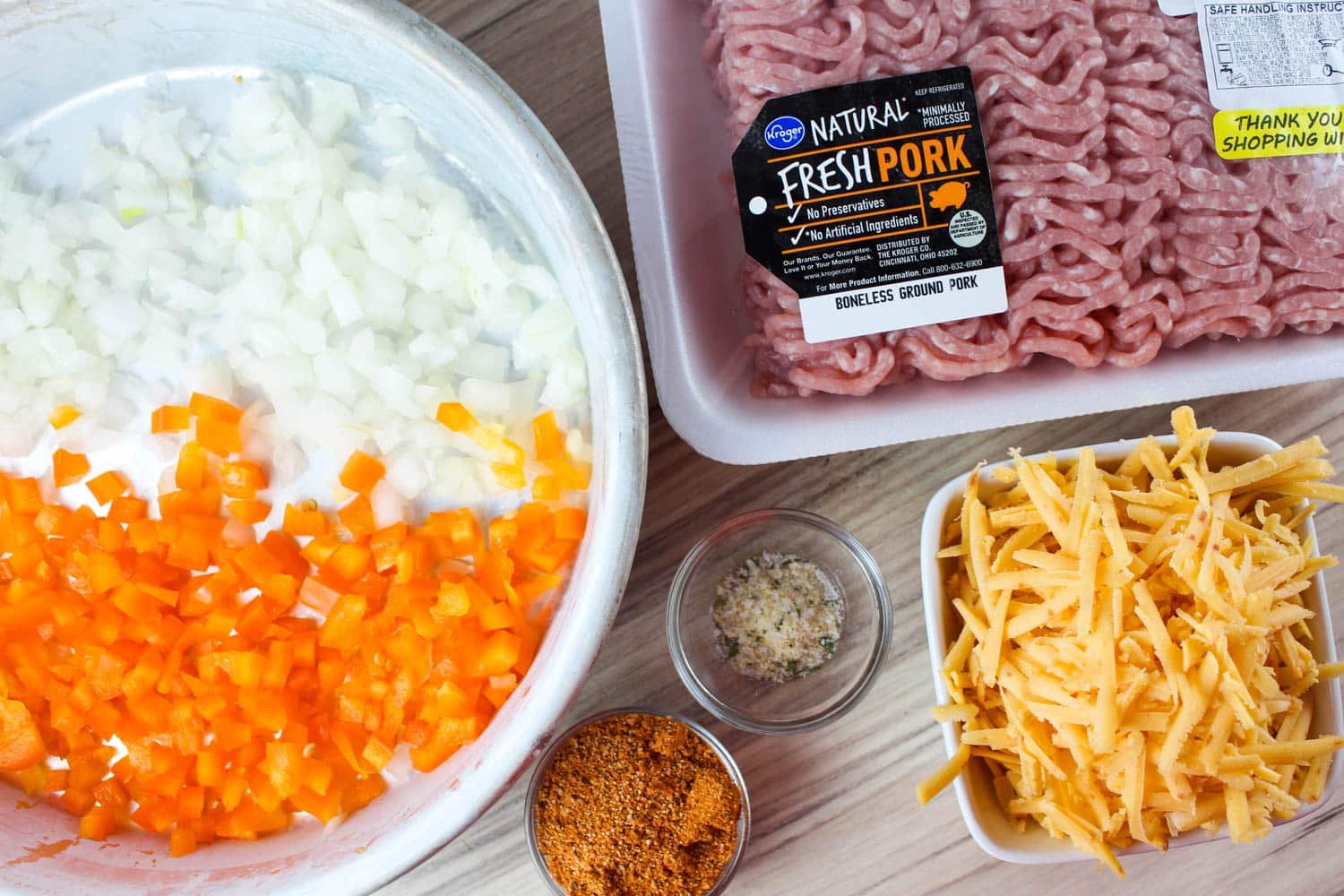 Ingredients for Traeger Smoked Meatballs Recipe
The possibilities with meatballs are endless! These meatballs are great for sandwiches or even for dipping. Here's what you'll need:
1.5 pounds ground pork – you could also use ground beef, Italian sausage or a combination
1/2 yellow sweet onion, finely diced
1/2 bell pepper, finely diced
olive oil, salt & pepper – just a sprinkle of each
2 Tablespoons Historic BBQ Red or Black seasoning – or your favorite BBQ seasoning rub
1 teaspoon Garlic salt
1 cup grated cheese – I used cheddar cheese this time but have used gruyere in the past. Use what you like and have!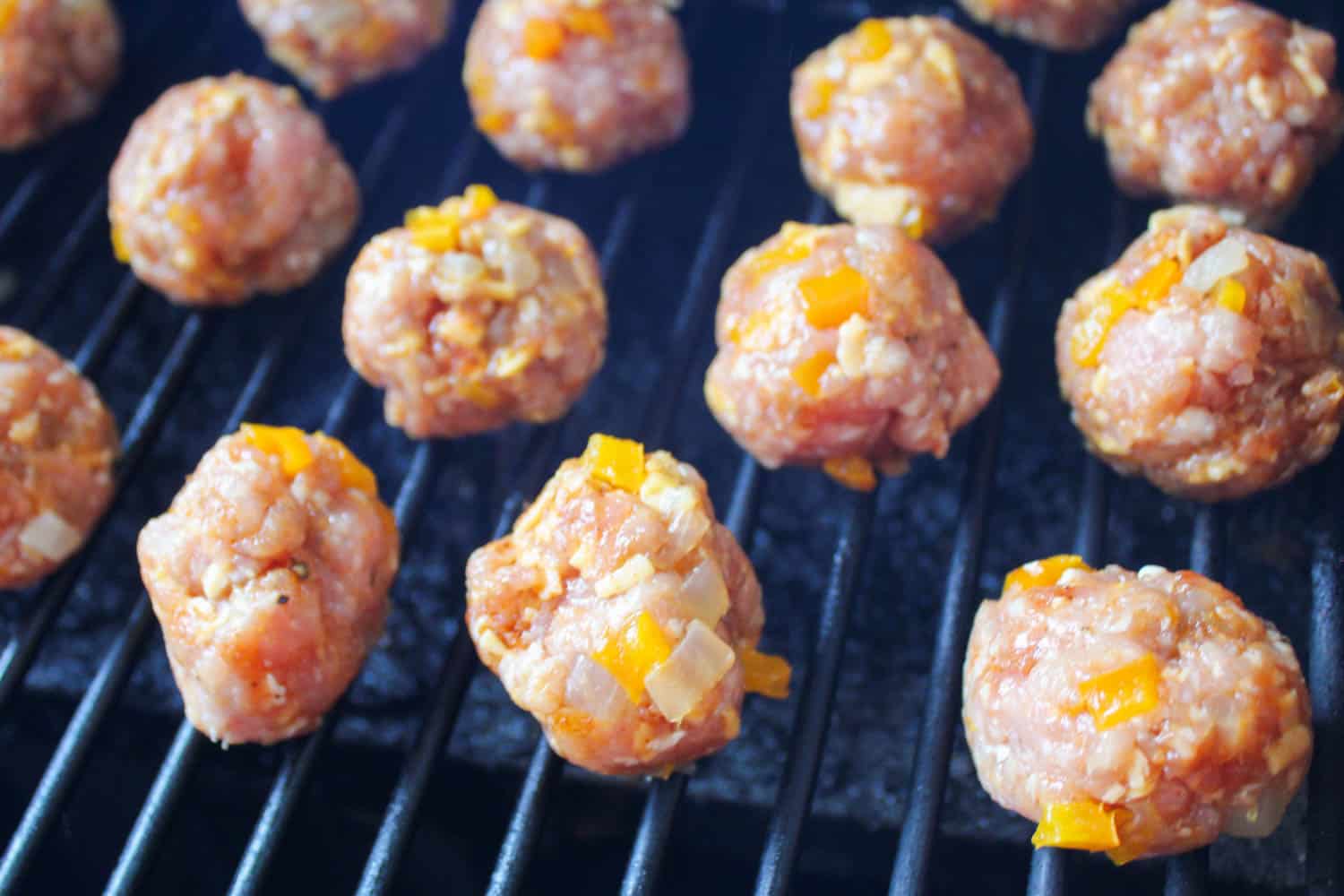 How to Smoke Meatballs on a Traeger
I have made these a couple of times – the first time I did large meatballs for pasta. This time I did small meatballs for sandwiches. This made about 30 – 2″ meatballs.
Preheat oven to 400º
Place finely diced pepper and onion in a cake pan and sprinkle with olive oil & salt and pepper
Place cake pan in oven and roast vegetables for 20 min
Remove pan from oven and let vegetables cool for 10 min
Preheat Traeger/Smoker to 250º
In a large bowl, mix together pork, onion, peppers, BBQ seasoning, garlic salt and cheese.
Separate and roll meat mixture into 2-3" meatballs. Made approx 30 – 2″ meatballs.

You can use an ice cream scoop to keep them uniform in size

Once Traeger is to temp, place meatballs on grill grates and smoke for 35-45 minutes until the internal temperature reaches 155ºF when checked with instant read thermometer. Time will vary based on the size of your meatballs.
Remove meatballs from the smoker and let rest for 10 minutes.
Serve with bbq sauce, in a hoagie sandwich or with pasta.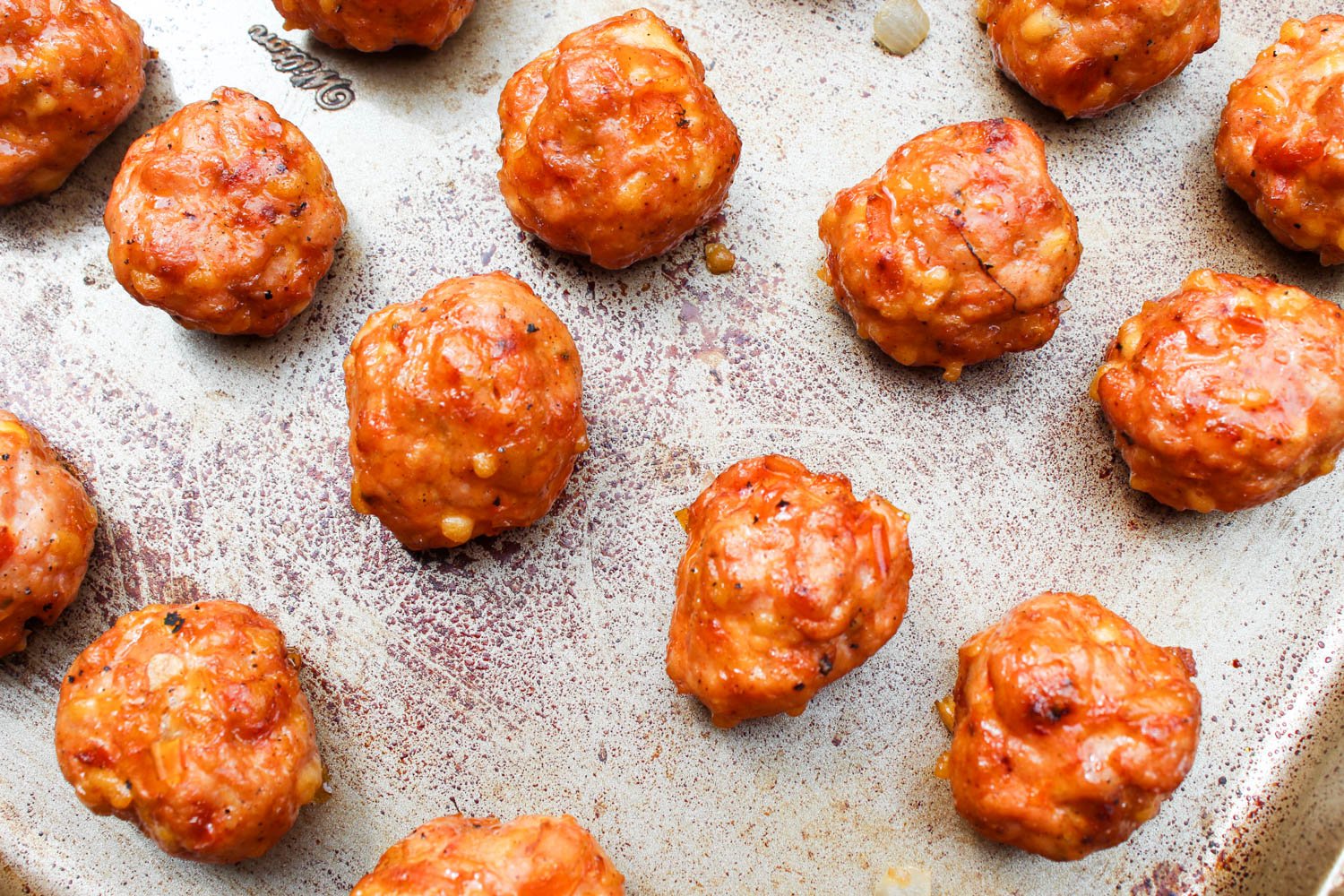 Tips & FAQs for Smoked Meatballs
Can you smoke ground meat?
Most definitely! My Over The Top Chili is basically one giant meatball and it is delicious! So these ground pork smoked meatballs are just as tasty!
Is milk necessary for meatballs?
Nope! You can mix milk with torn bread to make a panade. This helps keep meat tender and binds it – and is often an alternative to egg in meatballs. That said – my recipe has neither egg nor milk!
How long to smoke meatballs at 225ºF?
Because meatballs are much smaller than a giant steak or roast – they only take 35-60 minutes to smoke depending on how large you make them. Small meatballs will be 35-45 minutes where as larger will be 45-60 minutes.
What kind of pellets should I use to smoke meatballs?
There are many flavors of pellets that work in your Traeger pellet grill. I keep it simple and always use the Traeger Signature Blend which is a blend of Maple and Cherry. That said if you're looking for something specific when smoking meatballs – the best choices are Pecan, Apple, Cherry or Hickory.
What if I want MORE smoky flavor?
My friend Nick introduced me to the wonderment of a smoke tube! It's a metal tube with holes – fill that tube with Traeger pellets and then light it with a butane lighter. Once the pellets catch fire – let them get started – then blow the flames out. Set them in the grill and shut the lid. The smoke flavor is all those tubes will leave behind!
How do you store and reheat leftover meatballs?
Store leftovers in airtight containers and refrigerate up to a week – or freeze up to three months. Reheat in the microwave for 1-2 minutes.
Ways to serve meatballs
These meatballs are great for lots of dishes – here's a few ways to serve them:
Pasta – Add them to tomato sauce with mushrooms and serve with spaghetti
Hoagie – Grab a sub roll and top it with more roasted onions and peppers, meatballs and cheese – then pop under the broiler for a few minutes
Appetizer – Grab some toothpicks and serve with side of your favorite bbq sauce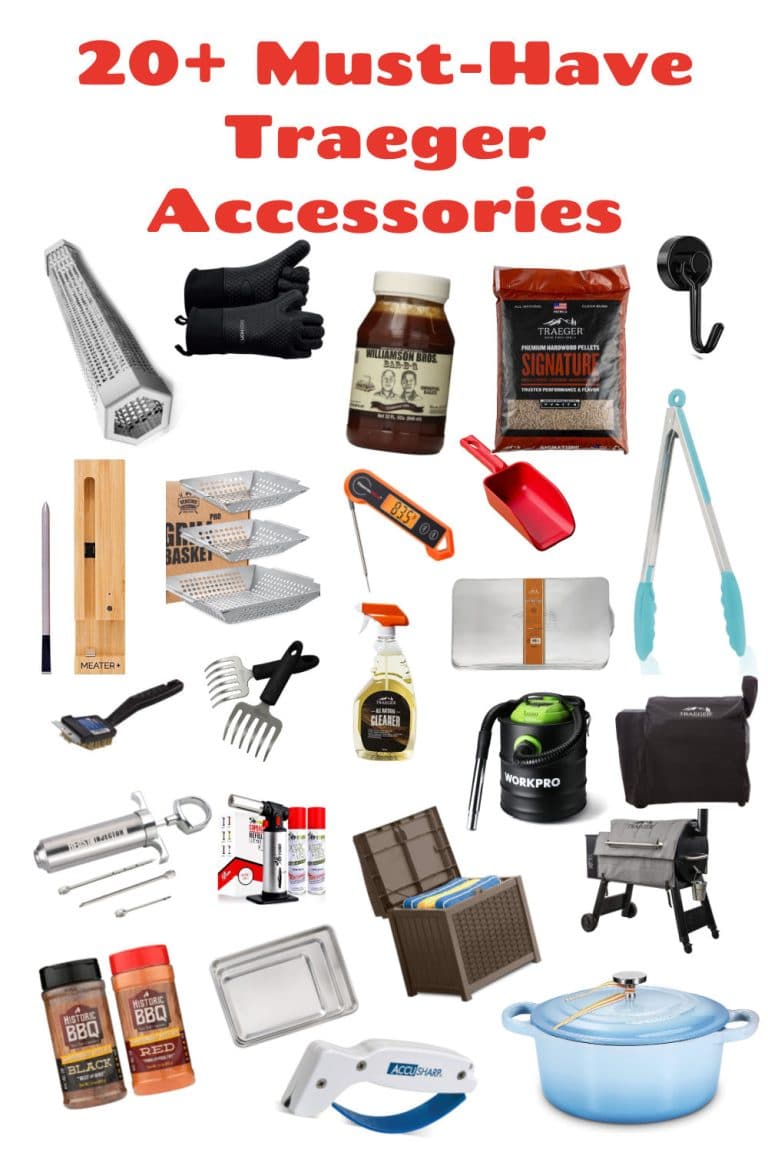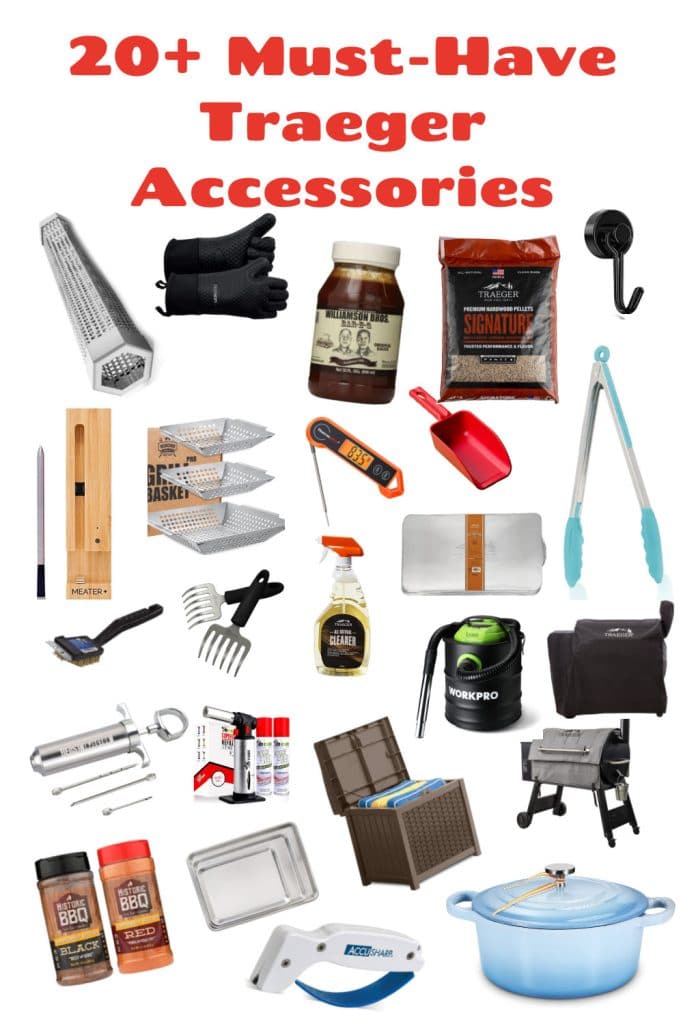 I absolutely love my Traeger Pellet Grill and you can pretty much use it right out of the box! But over the years I've definitely found that there are some Traeger smoker accessories that make everything a lot easier!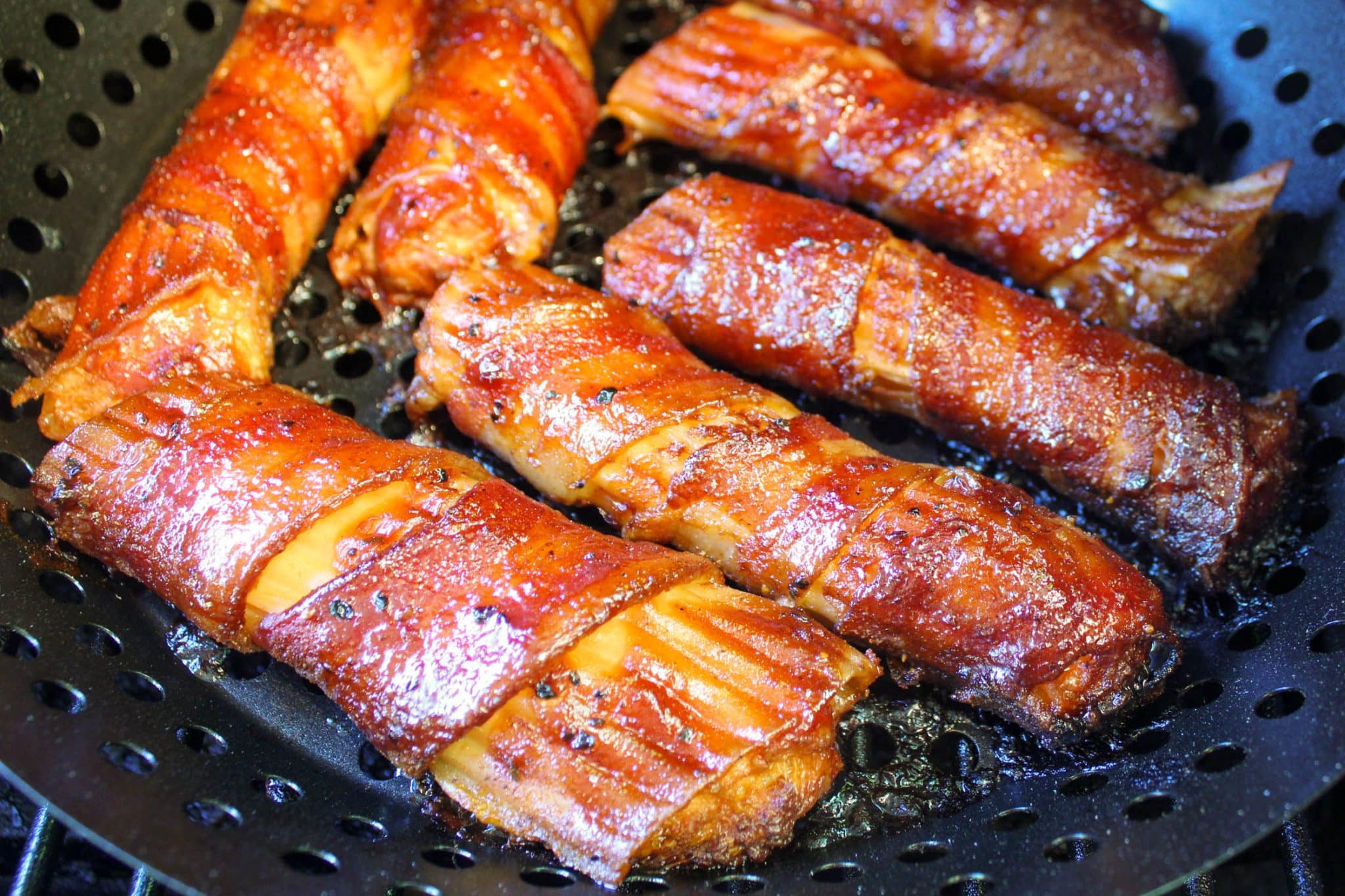 More Traeger Appetizer recipes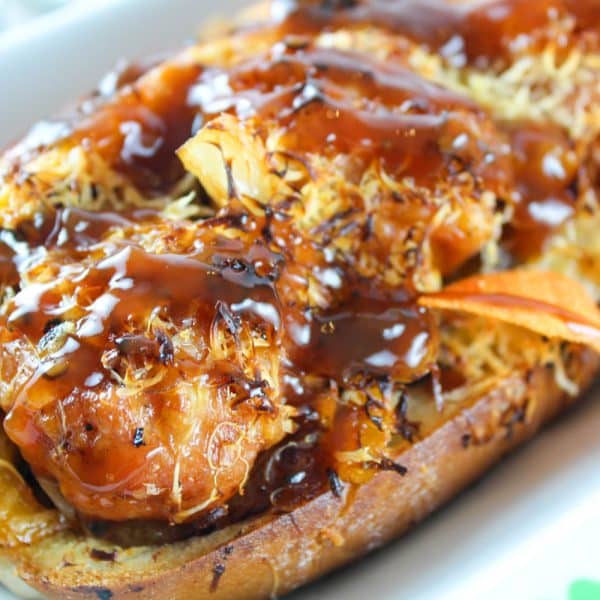 Traeger Smoked Meatballs
These Traeger Smoked Meatballs are my absolute favorite meatballs! These versatile meatballs are packed full of delicious ingredients with ground pork, roasted onions & peppers and cheese.
Instructions
Roasting Peppers & Onions
1/2 yellow sweet onion,

1/2 bell pepper

Place finely diced pepper and onion in a cake pan and sprinkle with olive oil & salt and pepper

Place cake pan in oven and roast vegetables for 20 min

Remove pan from oven and let vegetables cool for 10 min
Smoking
Preheat Traeger/Smoker to 250º

In a large bowl, mix together pork, onion, peppers, BBQ seasoning, garlic salt and cheese.

1.5 lb ground pork,

2 tbsp Historic BBQ Red Seasoning,

1 tsp garlic salt,

1 cup grated cheese

Separate and roll meat mixture into 2-3" meatballs. Made approx 30 – 2" meatballs.

You can use an ice cream scoop to keep them uniform in size

Once Traeger is to temp, place meatballs on grill grates and smoke for 35-45 minutes until the internal temperature reaches 155ºF when checked with instant read thermometer. Time will vary based on the size of your meatballs.

Remove meatballs from the smoker and let rest for 10 minutes.

Serve with bbq sauce, in a hoagie sandwich or with pasta
Notes
**We are not dietitians and recommend you seek a nutritionist for exact nutritional information. The information in the nutrition box are calculated through a program and there is room for error. If you need an accurate count, I recommend running the ingredients through your favorite nutrition calculator.**
Nutrition
Serving:
3
meatballs
Calories:
145
kcal
Carbohydrates:
1.5
g
Protein:
11
g
Fat:
10.2
g
Saturated Fat:
4.8
g
Cholesterol:
42
mg
Sodium:
159
mg
Potassium:
33
mg
Fiber:
0.2
g
Sugar:
0.7
g
Calcium:
83
mg
Iron:
1
mg