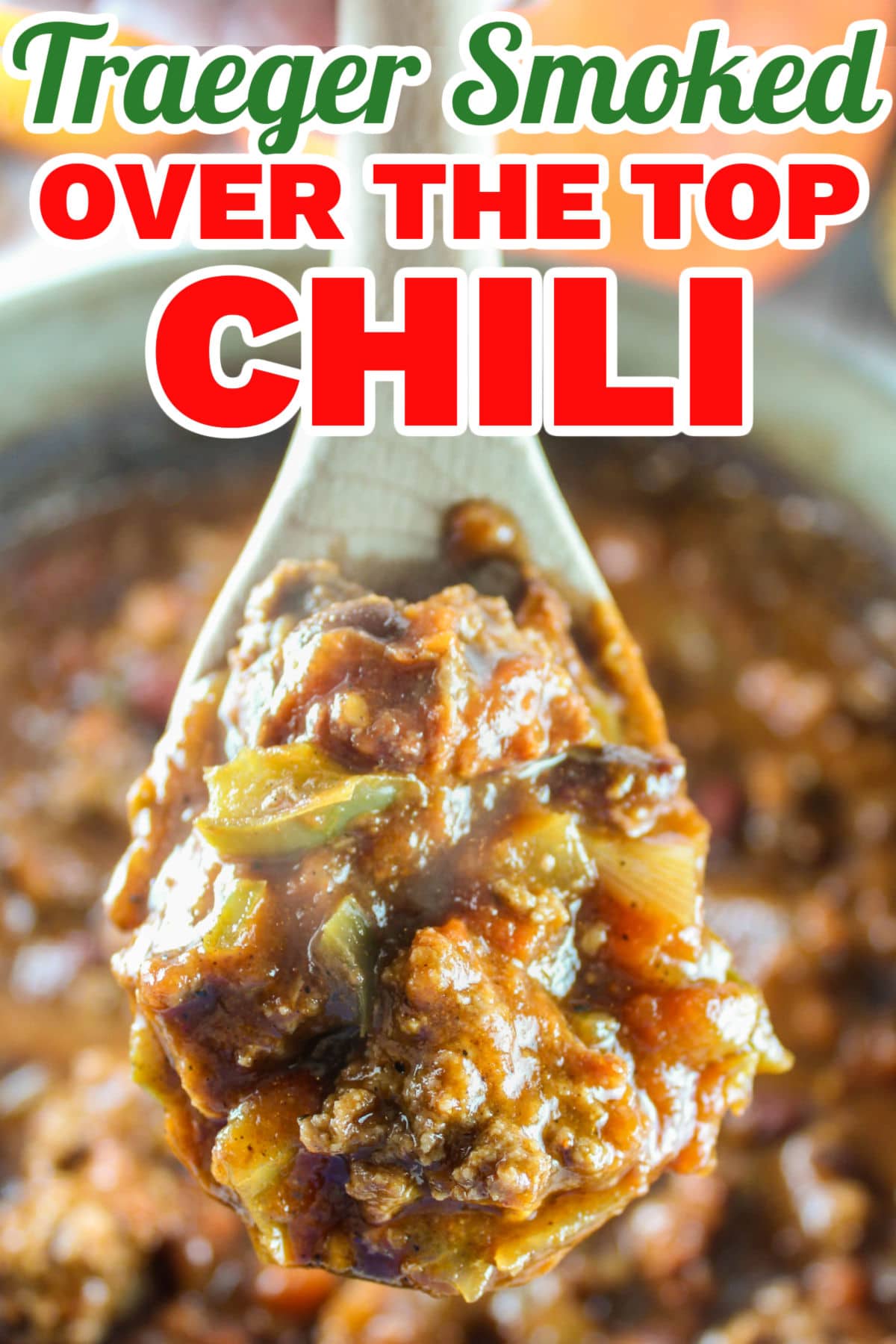 This Traeger Over The Top Chili is hands down the best chili I've ever had! The meatball you put above the chili turns out smokey and so juicy! Plus – with the Traeger – it's super simple – two hours and you'll have the best smoked chili you've ever tasted!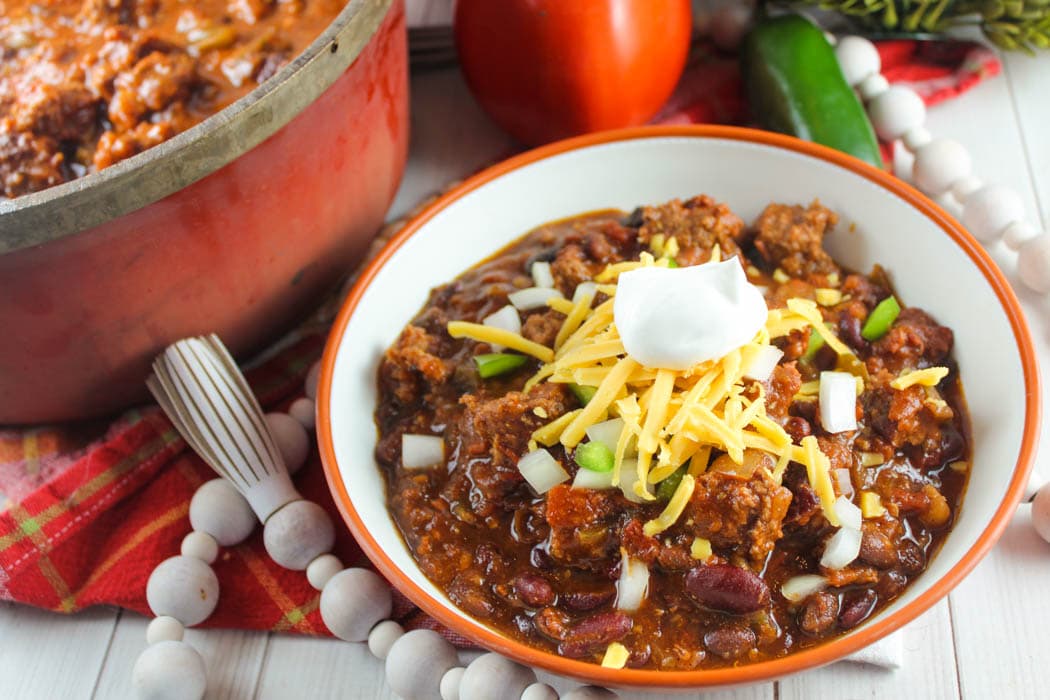 What is over the top chili?
Over the top chili is when you make a GIANT meatball and cook it OVER THE TOP of your chili. Most of the time it's done on a smoker-style grill like a Traeger or Big Green Egg.
The giant meatball really is the amazing part of this recipe. The juices that come out of the meatball go right into your chili. It adds yum to your chili – but the smokey aromas from the meatball are heavenly. I'm not sure I've ever had a meatball this juicy and flavorful! Then you crumble it up and add it to the chili!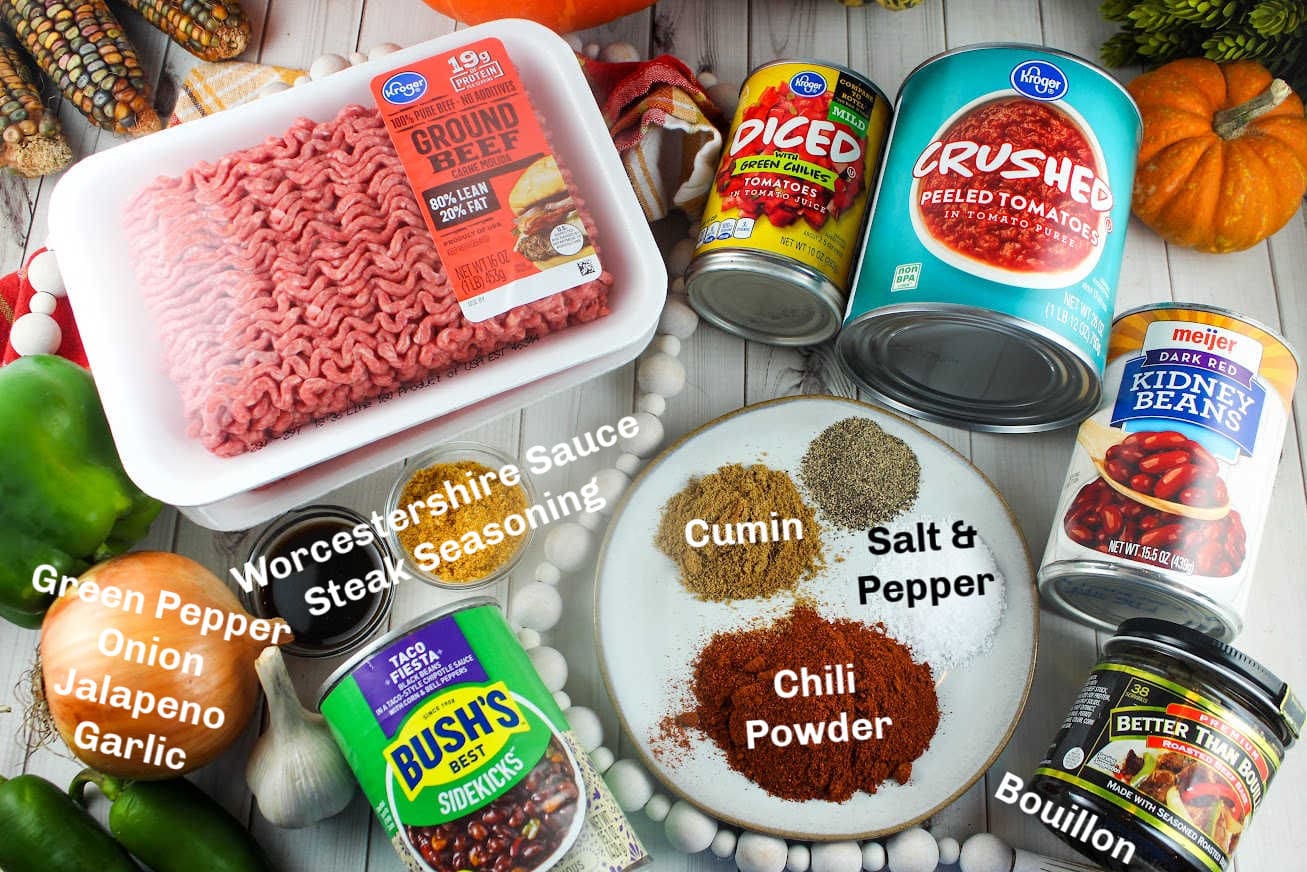 Over the Top Chili Ingredients
Here's all the ingredients for the best chili for your pellet grill. First up – your giant meatball!
ground beef – I used 80/20 because you want some fat in it for it to have some juice for the chili

You can always use any ground meat whether it's ground chuck, beef, pork, chicken or even turkey!

steak seasoning – I used the Texas Roadhouse Steak Seasoning that I made
Worcestershire sauce – probably my favorite condiment!
After that – you make the chili – now you can use any chili recipe you love – but this is my standard:
Large Yellow Onion & Green & Red Bell Peppers – diced but not into too small pieces – I like some chunks in my chili!
Jalapeno – you can also swap and use a can of green chiles
Seasonings: Garlic, Chili Powder, Cumin, Salt & Pepper

fresh cloves garlic are best but garlic powder works
you can swap cayenne pepper for chili powder or use both!

Two cans of beans – I usually use Dark Red Kidney Beans & Black Beans. Use what you like – pinto beans, red beans – whatever!
Crushed & Diced Tomatoes – you can use Rotel if you like extra spice
Water & Beef Bouillon – I like the Better than Bouillon brand

You could also use beef stock or beef broth instead of bouillon & water

FAVORITE TOPPINGS: sour cream, scallions, diced avocado, cheddar cheese, tortilla chips, oyster crackers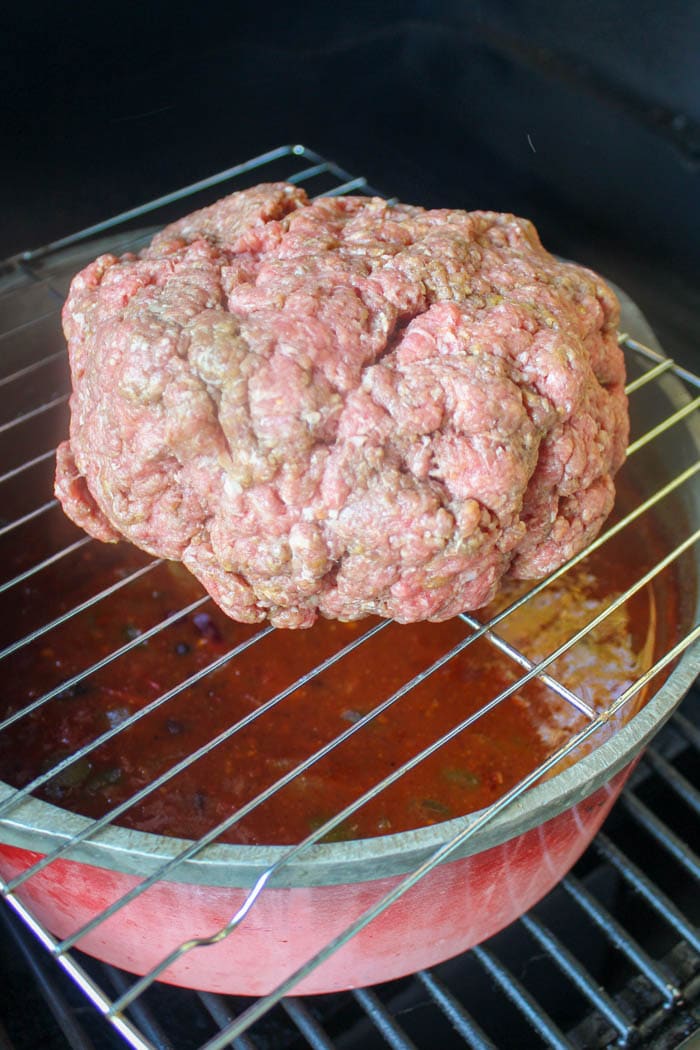 How do you make OTT Chili on your Traeger?
This is a pretty quick and easy chili to put together – then – once it's on the smoker – you let her rip for a couple of hours to absorb that smoky wonderfulness! The layers of flavor a smoker adds are unbeatable and really make the final product heavenly!
First thing – you'll start by making your meatball. In a large bowl, combine the ground beef, Worcestershire & steak seasoning. Mound into a big ball and refrigerate until ready to put on smoker.
Start making your chili in a Dutch Oven (or your favorite chili pot) on the stove top. Turn heat on high and add olive oil. Then, cook onion, green bell pepper and garlic for 2-3 minutes until veggies start to soften.
Add in seasonings and stir to mix that delicious aroma around
Add the rest of the ingredients – the beans, tomatoes, bouillon and water and bring to a simmer over medium heat on the stove top
While it's coming up to a simmer – get your smoker ready and up to temp at 225º
Place the pot of chili on the smoker and then place a wire rack on top of the pot. Put your giant meat ball on top of the rack!
Smoke the chili at 225º for at least an hour then crank the heat up to 350 for another hour – stir your chili every now and then

If you like your chili thicker – leave as-is
If you like it soupier – add 2-4 cups of water throughout cook process

Chili is ready when the meatball is at 160º (Check the internal temperature of the meat with your digital thermometer)
Let the meatball rest for 10 minutes or so
When the meatball has cooled a bit – start breaking it apart into bite size small chunks and add to your chili. RESIST THE URGE to just eat the meatball right then and be sure some of it gets into the chili! 😉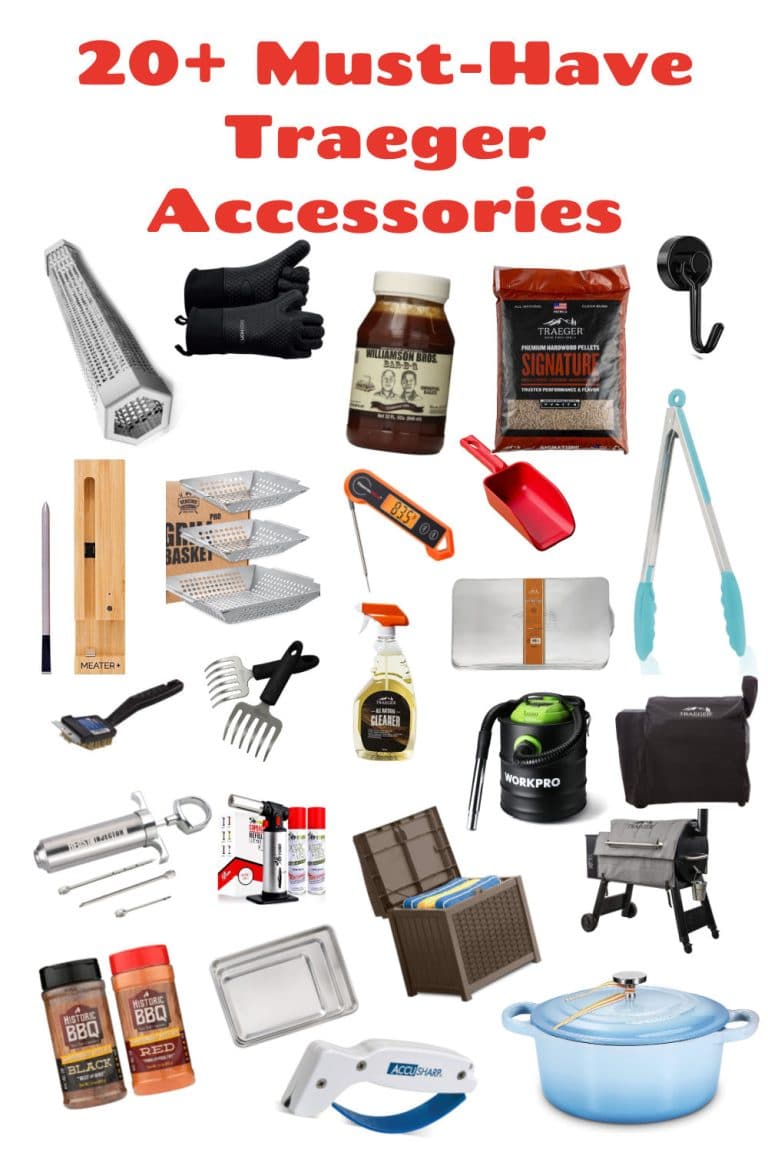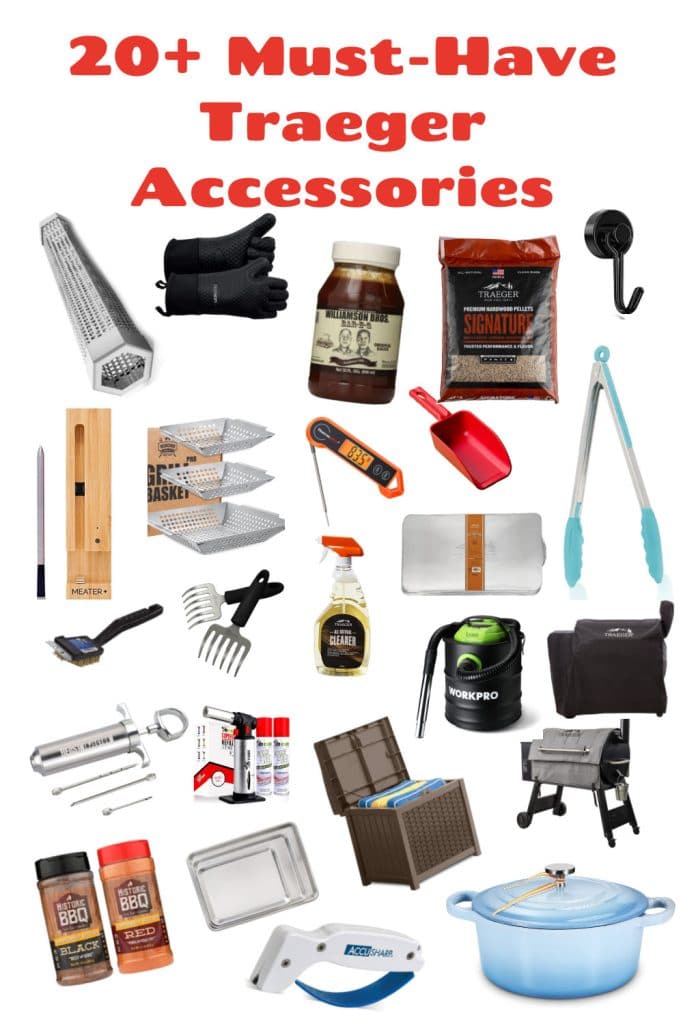 I absolutely love my Traeger Pellet Grill and you can pretty much use it right out of the box! But over the years I've definitely found that there are some Traeger smoker accessories that make everything a lot easier!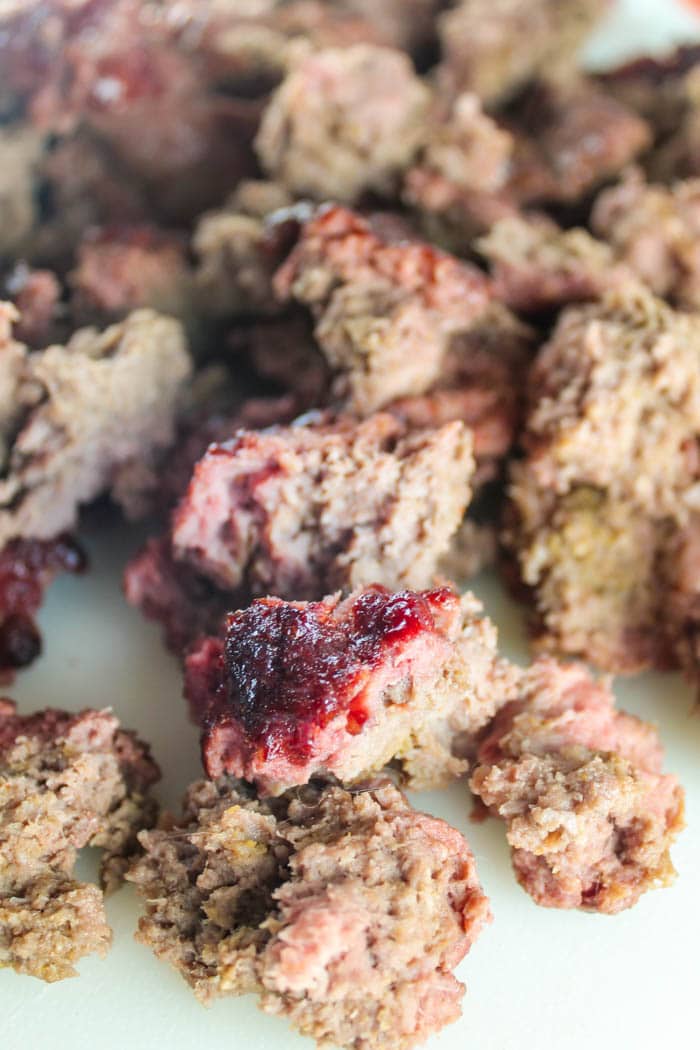 Tips, Tricks & FAQs
What is a good secret ingredient for chili?
A good chili powder – try different ones – I have two favorites: Chipotle and Ancho Lime!
How can I get more smoke in my chili?
Smoker Tubes – My friend Nick introduced me to the wonderment of a smoke tube! The smoke tube is so much fun! It's a metal tube with holes – fill that tube with Traeger pellets and then light it with a butane lighter. Once the pellets catch fire – let them get started – then blow the flames out. Set them in the grill and shut the lid. The smokey goodness is all those tubes will leave behind!
What kind of pellets should I use to smoke chili?
There are many flavors of pellets that work in your Traeger pellet grill. I keep it simple and always use the Traeger Signature Blend which is a blend of Maple and Cherry. That said if you're looking for something specific for beef – the best are Hickory, Mesquite & Pecan.
What can I top chili with?
So many good things! My favorites are: sour cream, scallions, diced avocado, cheddar cheese, tortilla chips and oyster crackers.
Can you freeze leftover chili?
Store leftovers in an airtight container (I like these glass ones) in the refrigerator for up to a week. You can freeze up to three months. Reheat in the microwave for 2 minutes.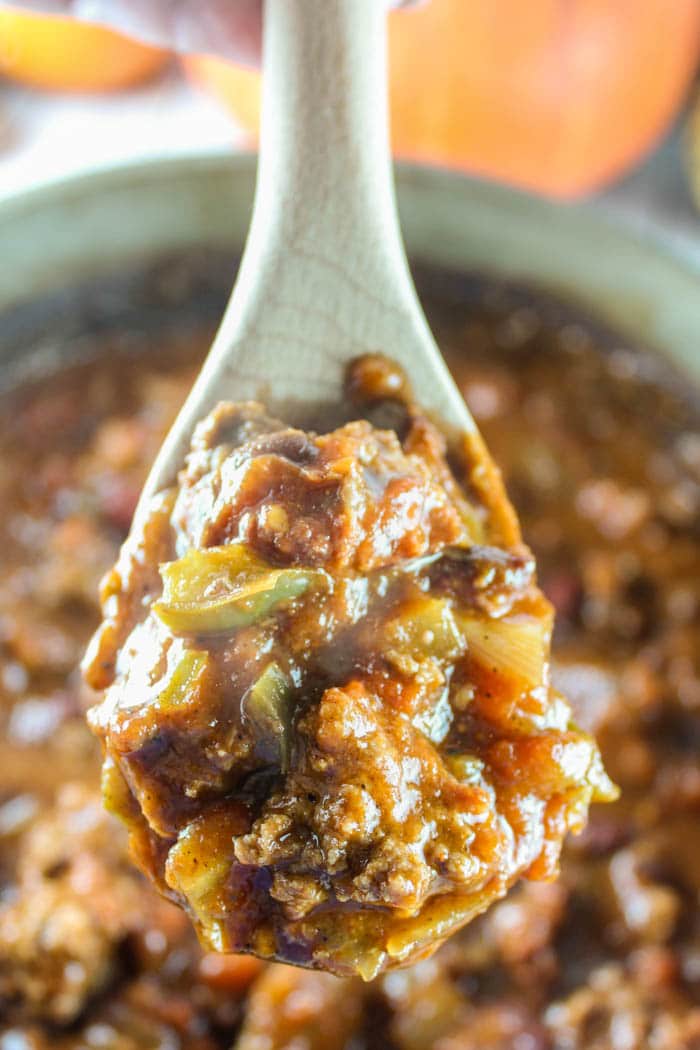 What to serve with Traeger Over The Top Chili?
This Over-the-Top Chili is a great recipe and takes your favorite chili to the next level! Here are my favorite side dishes to serve with chili:
Other easy & delicious recipes for your Traeger
More Chili Recipes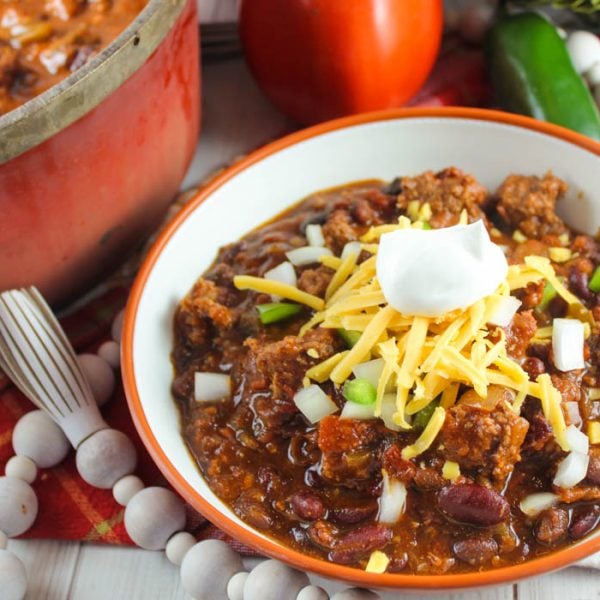 Traeger Over The Top Chili
This Traeger Over The Top Chili is hands down the best chili I've ever had! The smoked meatball you put above the chili turns out smokey and so juicy! Plus – with the Traeger – it's super simple – you set the temp and that's it!
Ingredients
2

lbs

ground beef

80/20

2

tbsp

Worcestershire sauce

3

tbsp

olive oil

1

onion

diced

1

green pepper

diced

1

jalapeno

diced

2

tbsp

garlic

minced

3

tbsp

chili powder

1

tbsp

cumin

2

tsp

coarse sea salt

1

tsp

black pepper

15

oz can

kidney beans with liquid

15

oz can

black beans with liquid

29

oz can

crushed tomatoes

10

oz can

diced tomatoes

1

cup

water
Instructions
Mix the ground beef, Worcestershire sauce and Steak Seasoning.

2 lbs ground beef,

2 tbsp Worcestershire sauce,

1 tbsp Texas Roadhouse Steak Seasoning

Form the meat mixture into a giant meatball and set aside

Turn Traeger to smoke leaving the lid open – once smoke dissipates – turn temp to 225 and shut lid

In a Dutch oven, heat the oil over medium-high heat and saute onions, garlic, jalapeno and bell pepper for 4-5 minutes or until the onions are translucent.

3 tbsp olive oil,

1 onion,

1 green pepper,

2 tbsp garlic,

1 jalapeno

Add chili powder, cumin, salt and pepper to the sauteed veggies and cook for an additional 1-2 minutes

3 tbsp chili powder,

1 tbsp cumin,

2 tsp coarse sea salt,

1 tsp black pepper

Add the beans with liquid, crushed tomatoes, diced tomatoes, 1 cup water and bouillon to the veggies. Heat until chili is simmering

15 oz can kidney beans with liquid,

15 oz can black beans with liquid,

29 oz can crushed tomatoes,

10 oz can diced tomatoes,

1 jalapeno,

1 cup water,

1 tbsp Better than Bouillon Beef Base

Put the chili on the bottom rack of your smoker. Top the Dutch oven with a baking rack and set the giant meatball on top of the rack above the chili. This will ensure that all the drippings go into the chili.

Cook it at 225 for an hour, then turn the heat up to 350 and cook for an additional 60 minutes or until the beef comes to an internal temperature of 160. Use an instant read thermometer to check the temperature.

Remove the meatball and let rest for 5-10 minutes

Using your hands or meat shredders, break up the ground beef and add to the chili. (snag a couple of bites – it's amazing!)

Stir together and dig in!
Notes
What if I don't have a smoker? How would I make this on a regular grill.?
You just need wood chips. Soak them in water for 30 minutes before starting the grill. One cup of wood chips will last for about 20 minutes. Keep adding chips to the grill throughout the process.
If you use a charcoal grill, light the coals, when the coals are ready, place them on one side of the grill. Place some of the wood chips on top of the coals. Place your food on the side without the coals to cook it with indirect heat.
**We are not dietitians and recommend you seek a nutritionist for exact nutritional information. The information in the nutrition box are calculated through a program and there is room for error. If you need an accurate count, I recommend running the ingredients through your favorite nutrition calculator.**
Nutrition
Serving:
1.5
cup
Calories:
495
kcal
Carbohydrates:
32
g
Protein:
29
g
Fat:
29
g
Saturated Fat:
10
g
Polyunsaturated Fat:
2
g
Monounsaturated Fat:
14
g
Trans Fat:
1
g
Cholesterol:
81
mg
Sodium:
1442
mg
Potassium:
1149
mg
Fiber:
11
g
Sugar:
8
g
Vitamin A:
1256
IU
Vitamin C:
31
mg
Calcium:
139
mg
Iron:
7
mg