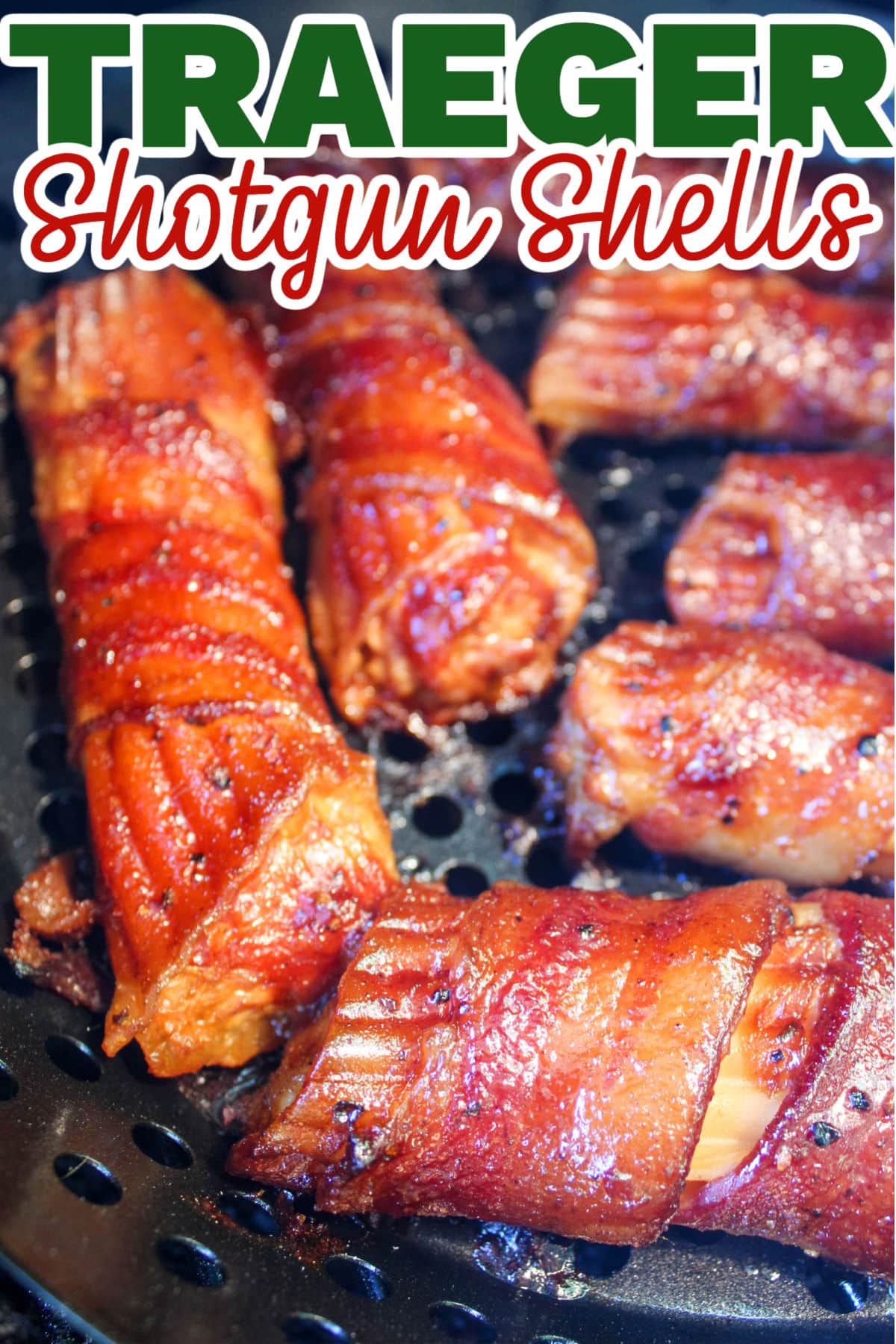 Shotgun Shells are the newest Traeger craze and how can you go wrong with pasta, sausage, bacon and cheese?! It's an appetizer – it's an entree – it's a hand-held meal that will have you wanting more!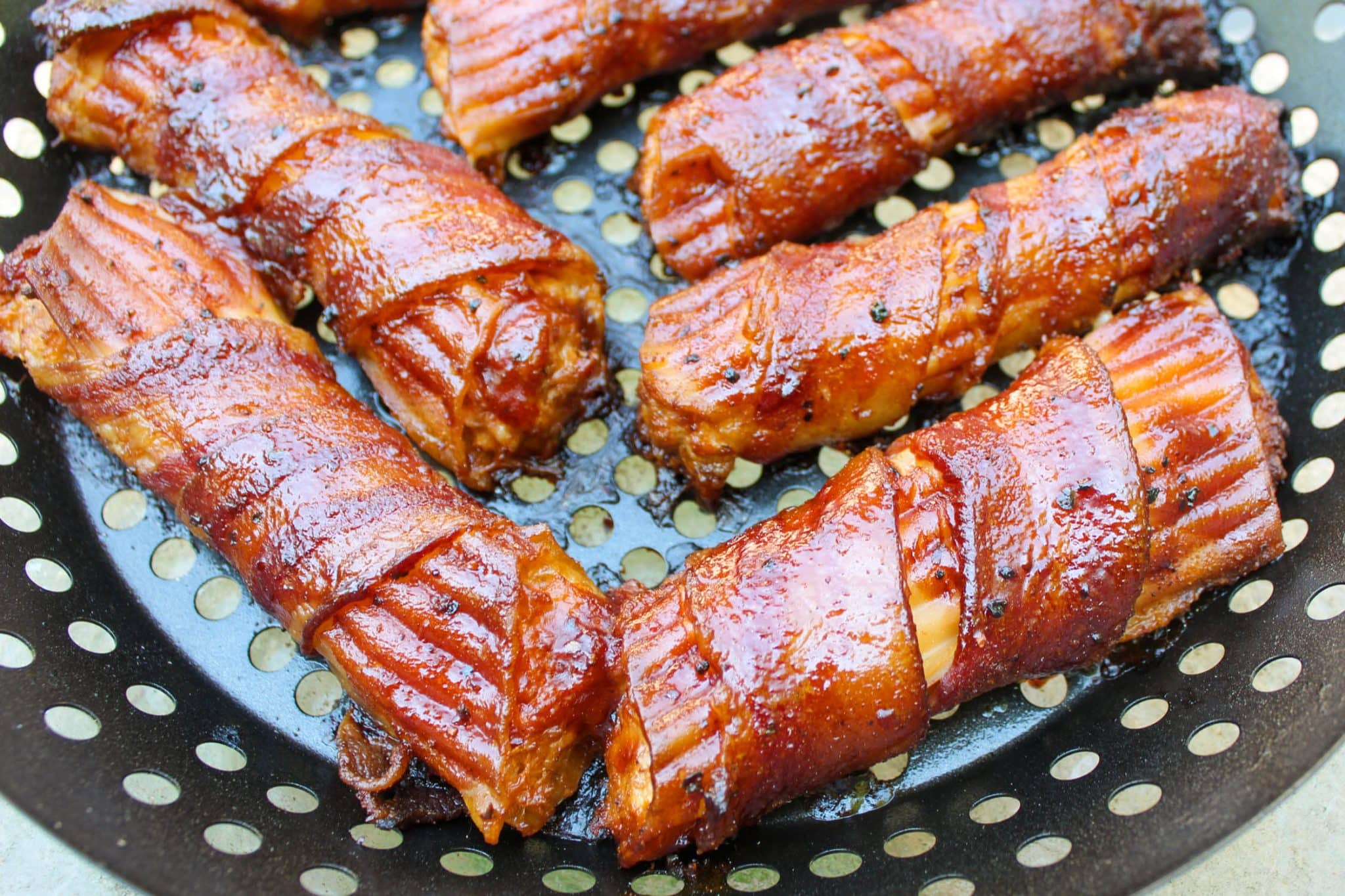 What You Will Love About Shotgun Shells
I love that it brings one of my favorite foods – stuffed manicotti – to life in a whole new way! These stuffed manicotti are wrapped in bacon and then smoked on the Traeger – which adds a whole new dimension of flavor and depth. They're also fun to make! They also pair well with these Pig Shots – make them both for the best pan of appetizers you'll ever eat!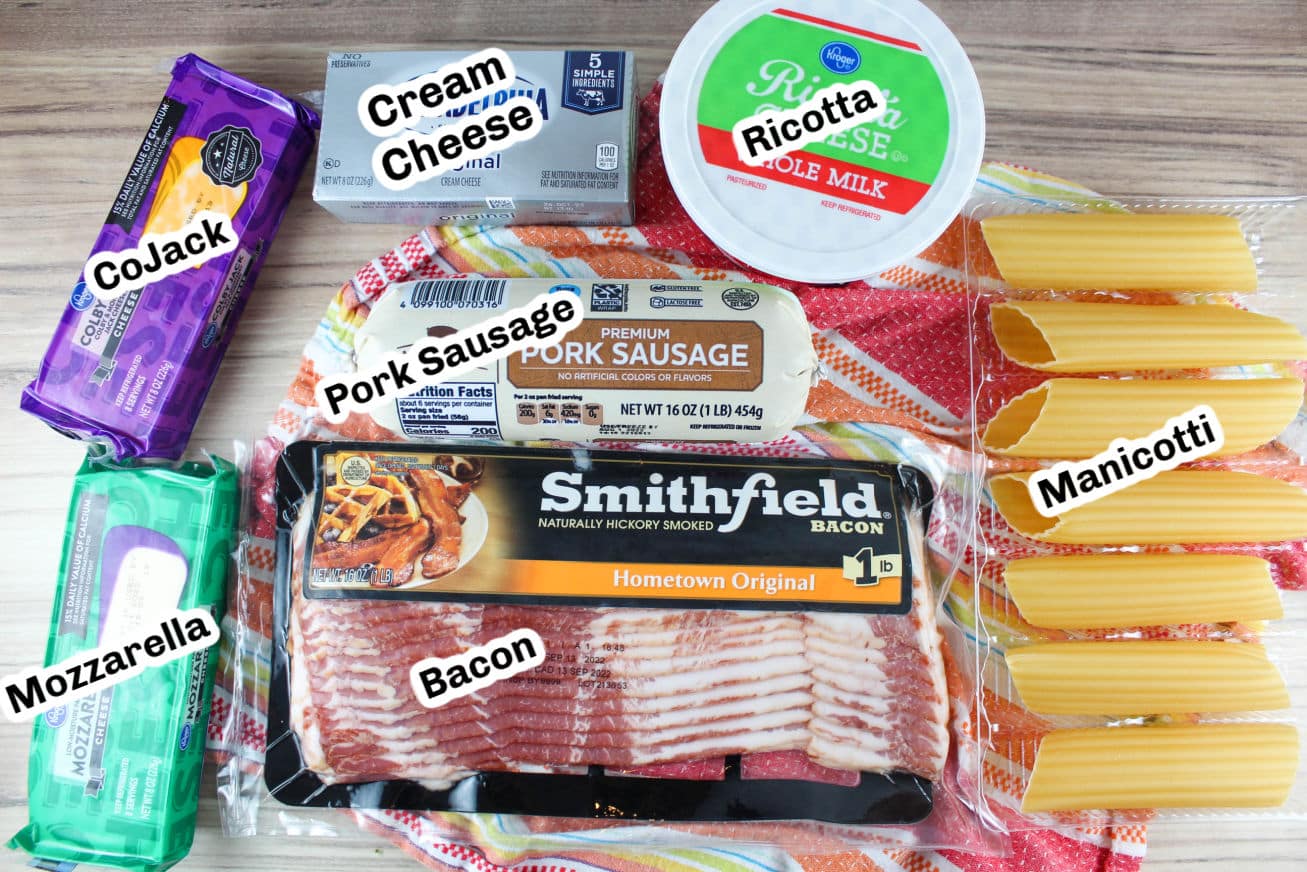 Shotgun Shells Ingredients
You can have fun here – I went for a little more of an Italian style – but you can do what you like. Here's what I used:
14 manicotti shells – you can also use cannelloni shells if that's what you can find
1 lb ground sausage, hot or mild – I used mild pork sausage
1/2 block cream cheese
1 cup cheddar, shredded
1 cup mozzarella, shredded
1 cup ricotta
1 lb bacon, thin sliced – be sure to use thin sliced bacon – if you want the bacon to completely cover all the shells, you might need a little more than a pound of bacon
BBQ Seasoning
BBQ Sauce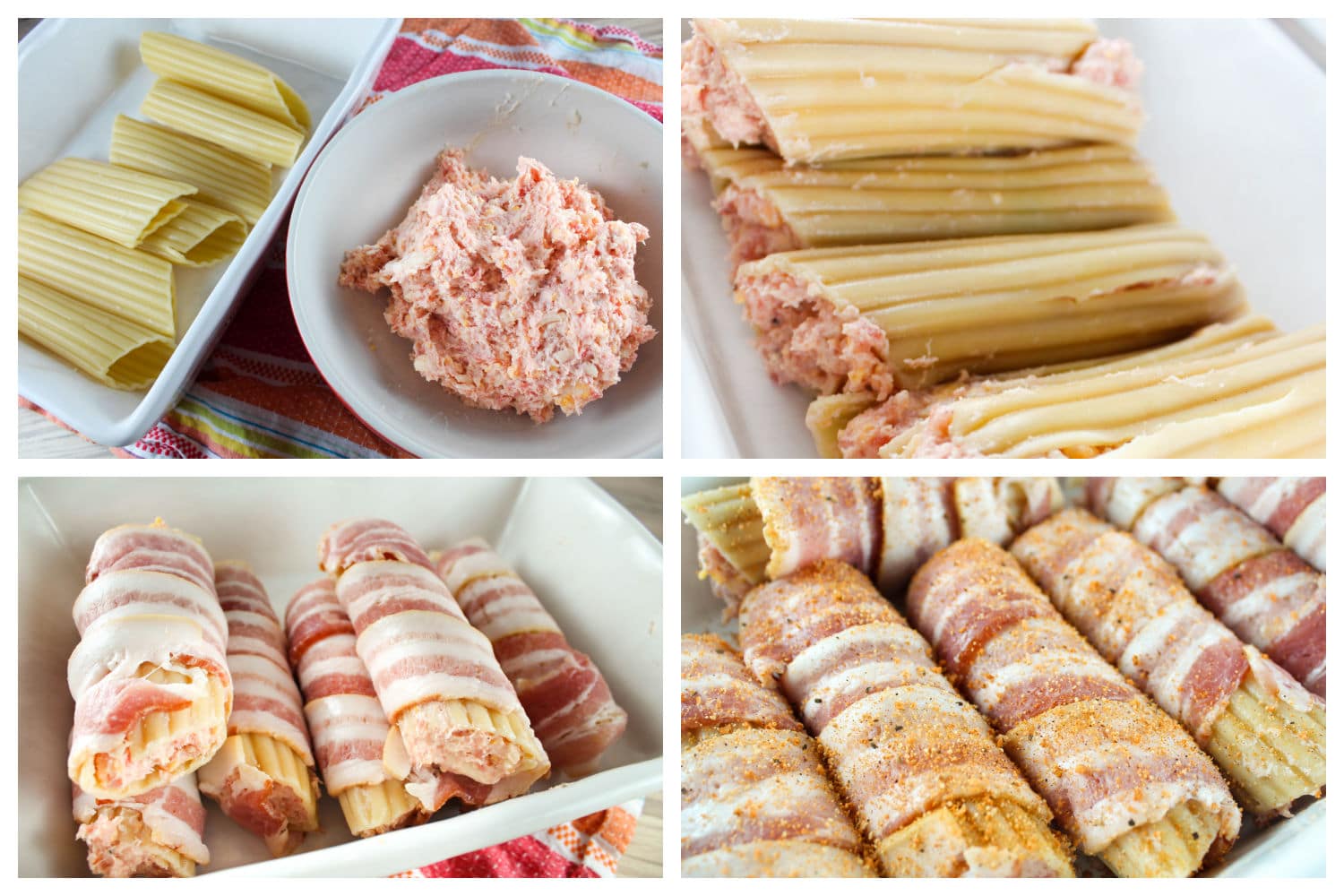 Instructions to Make Shotgun Shells on the Traeger
The prep time here is about 30 minutes – with the par-boiling of the shells and stuffing them – but it's worth it!!! A labor of love!
Par-Boil manicotti shells for 4 minutes. Remove from water, drain and rinse with cold water to stop cooking. This softens them so they won't be so chewy when you eat them but they'll still have a nice bite to them.
In a large bowl, mix together sausage, cream cheese, shredded cheese and ricotta with a hand mixer – be sure sausage and cream cheese are room temperature
Stuff shells with sausage and cream cheese mixture.

TIP: spoon filling in one end half way to the middle of the manicotti – then flip to the other side and fill

Tightly wrap a single piece of bacon around the manicotti shell. It is best to stretch the bacon first so it is long enough to wrap and cover the entire shell. Place the wrapped shells onto a cookie sheet with a rack on top.

If you want the shells wrapped from end to end – you might need two slices of bacon per pasta shell
No need for a toothpick, these will hold with just the bacon

Sprinkle BBQ Rub over top of all shells – turn and cover all sides.
Place pan of stuffed, wrapped shells into fridge for 2 hours or even overnight to help the shells to soften a little more.
When ready to cook, set Traeger to 225ºF.
Once at temperature, place shells onto the grill grates. Smoke for 2 hours or until the bacon starts to get crisp.
During the last 10 minutes, brush barbecue sauce on all sides of the bacon wrapped shells before removing them from the smoker.

Tips, Tricks & FAQs
Cannelloni vs. Manicotti – which pasta tubes should i use?
Manicotti tubes have ridges and are slightly larger and thicker. Cannelloni tubes are smooth on the outside and a bit smaller and thinner. Either will work. I would say with the cannelloni because they're thinner – you could skip the par-boil step if leaving them sit overnight before smoking.
Should I boil the manicotti for Shotgun Shells?
This question is the big debate. Some folks say if you wrap them in bacon and leave them in the fridge overnight that you do NOT need to par-boil the pasta. There is nothing more that I can't do than underdone pasta. I don't like chewing hard pasta. So I went ahead and boiled the noodles for just 4 minutes.

Because cannelloni are thinner – if you use those – you might get by without boiling them first.
Can I make these in the oven?
Yes – you can bake these at 225ºF for 2 hours in the oven.
What if I don't have a smoker? How would I make this on a regular grill? Or what if I want MORE smoky flavor?
– Wood chips – Soak them in water for 30 minutes before starting the grill. One cup of wood chips will last for about 20 minutes. Keep adding chips to the grill throughout the process.
If you use a charcoal grill, light the coals, when the coals are ready, place them on one side of the grill. Place some of the wood chips on top of the coals. Place your food on the side without the coals to cook it with indirect heat
– Smoker Tubes – My friend Nick introduced me to the wonderment of a smoke tube! It's a metal tube with holes – fill that tube with Traeger pellets and then light it with a butane lighter. Once the pellets catch fire – let them get started – then blow the flames out. Set them in the grill and shut the lid. The smoke flavor is all those tubes will leave behind!
What kind of pellets should I use to smoke my shotgun shells?
There are many flavors of pellets that work in your Traeger pellet grill. I keep it simple and always use the Traeger Signature Blend which is a blend of Maple and Cherry. Hickory is also a great option as it goes well with bacon.
How do you store and reheat leftovers?
This recipe makes 14 shotgun shells – so depending on the crowd you have you might have leftovers. I found that reheating them in the microwave for 1-2 minutes worked well. If you want the crispness – add them to the air fryer for 2-3 minutes afterwards.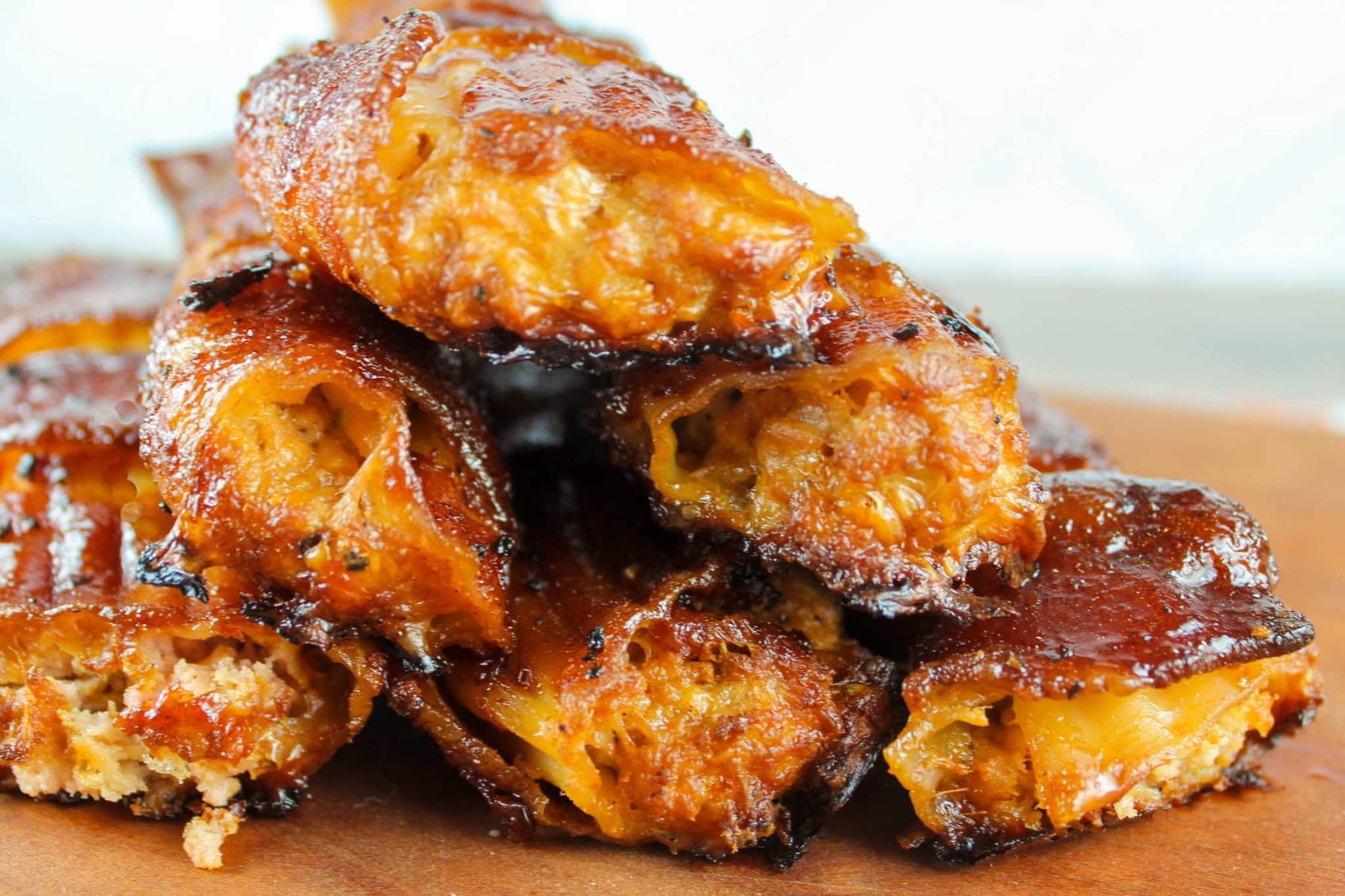 Variations
You can really have fun with these by changing up the meat, cheese & fillings – here's a few ideas:
Spicy – use a hot & spicy Italian sausage and a Pepper Jack cheese
Jalapeno Popper – stuff the center with cream cheese and slices of jalapeno and then the ends with regular pork sausage
Veggies – place 1/3 mozzarella stick (or any long piece of cheese) in the center and then stuff with mushroom slices on either end and a chunk of pork sausage on the ends
Taco – fill the center with shredded mexican blend cheese and the rest of the shell with ground beef & taco seasoning mixed together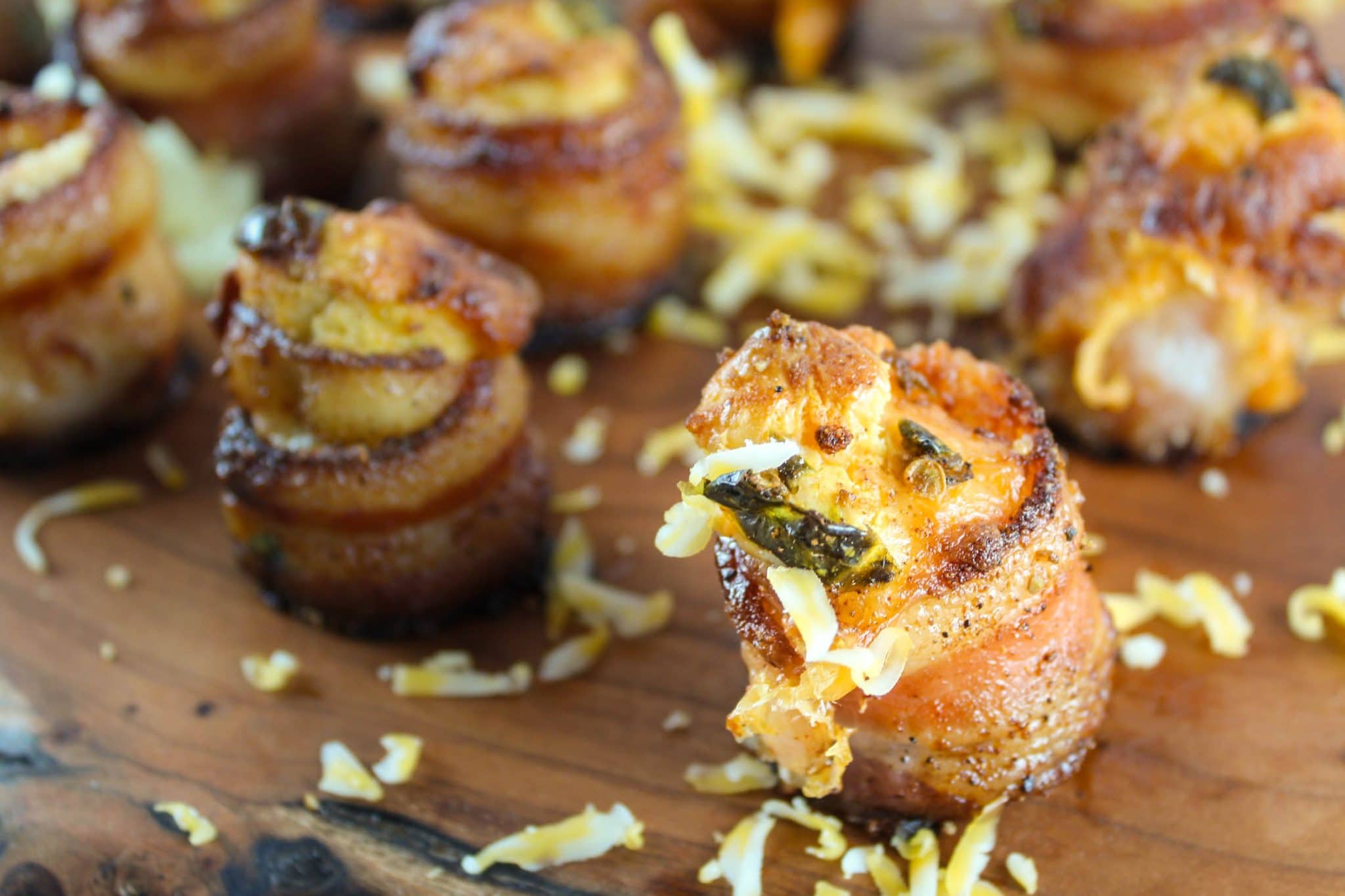 More Bacon Wrapped Traeger Recipes
More TikTok Recipes
I first saw this recipe on TikTok – here are some other Viral Favorites: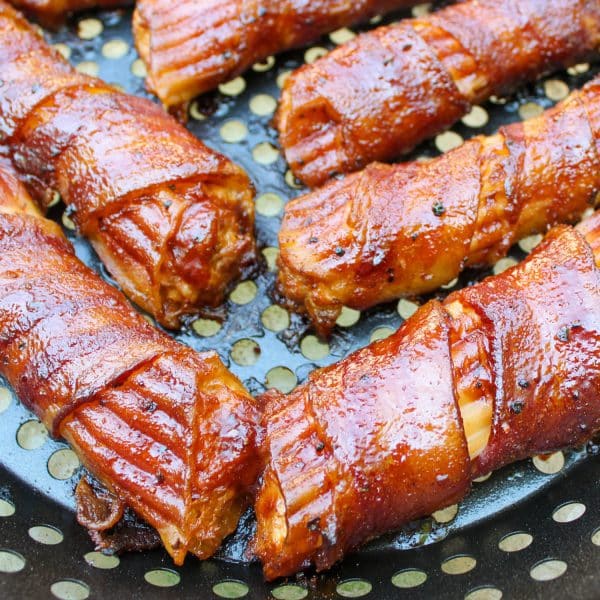 Traeger Smoked Shotgun Shells
Shotgun Shells are the newest Traeger craze and how can you go wrong with pasta, sausage, bacon and cheese?! It's an appetizer – it's an entree – it's a hand-held meal that will have you wanting more!
Instructions
Par-Boil manicotti shells for 4 minutes. Remove from water, drain and rinse with cold water to stop cooking. This softens them so they won't be so chewy when you eat them.

Mix together sausage, cream cheese, shredded cheese and ricotta with a hand mixer – be sure sausage and cream cheese are room temperature

1 lb bulk pork sausage,

4 oz cream cheese,

1 cup cheddar cheese,

1 cup mozzarella cheese,

1 cup ricotta cheese

Fill manicotti shells with sausage mixture.

TIP: spoon filling in one end half way to the middle of the manicotti – then flip to the other side and fill

Tightly wrap a single piece of bacon around the manicotti shell. It is best to stretch the bacon first so it is long enough to wrap and cover the entire shell. Place the wrapped shells onto a cookie sheet with a rack on top.

Sprinkle BBQ Rub over top of all shells – turn and cover all sides.

2 tbsp Historic BBQ Red seasoning

Place pan of stuffed, wrapped shells into fridge for 2 hours or even overnight to help the shells to soften a little more.

When ready to cook, set Traeger to 225ºF.

Once at temperature, place shells onto the grill grates. Smoke for 2 hours or until the bacon starts to get crisp.

During the last 10 minutes, brush BBQ sauce onto the wrapped shells before removing them from the smoker.

1/4 cup Williamson Bros. BBQ sauce
Notes
**We are not dietitians and recommend you seek a nutritionist for exact nutritional information. The information in the nutrition box are calculated through a program and there is room for error. If you need an accurate count, I recommend running the ingredients through your favorite nutrition calculator.**
Nutrition
Serving:
1
shell
Calories:
441
kcal
Carbohydrates:
18.4
g
Protein:
26
g
Fat:
28.2
g
Saturated Fat:
10.6
g
Cholesterol:
80
mg
Sodium:
1213
mg
Potassium:
362
mg
Fiber:
0.7
g
Sugar:
2.3
g
Calcium:
98
mg
Iron:
2
mg