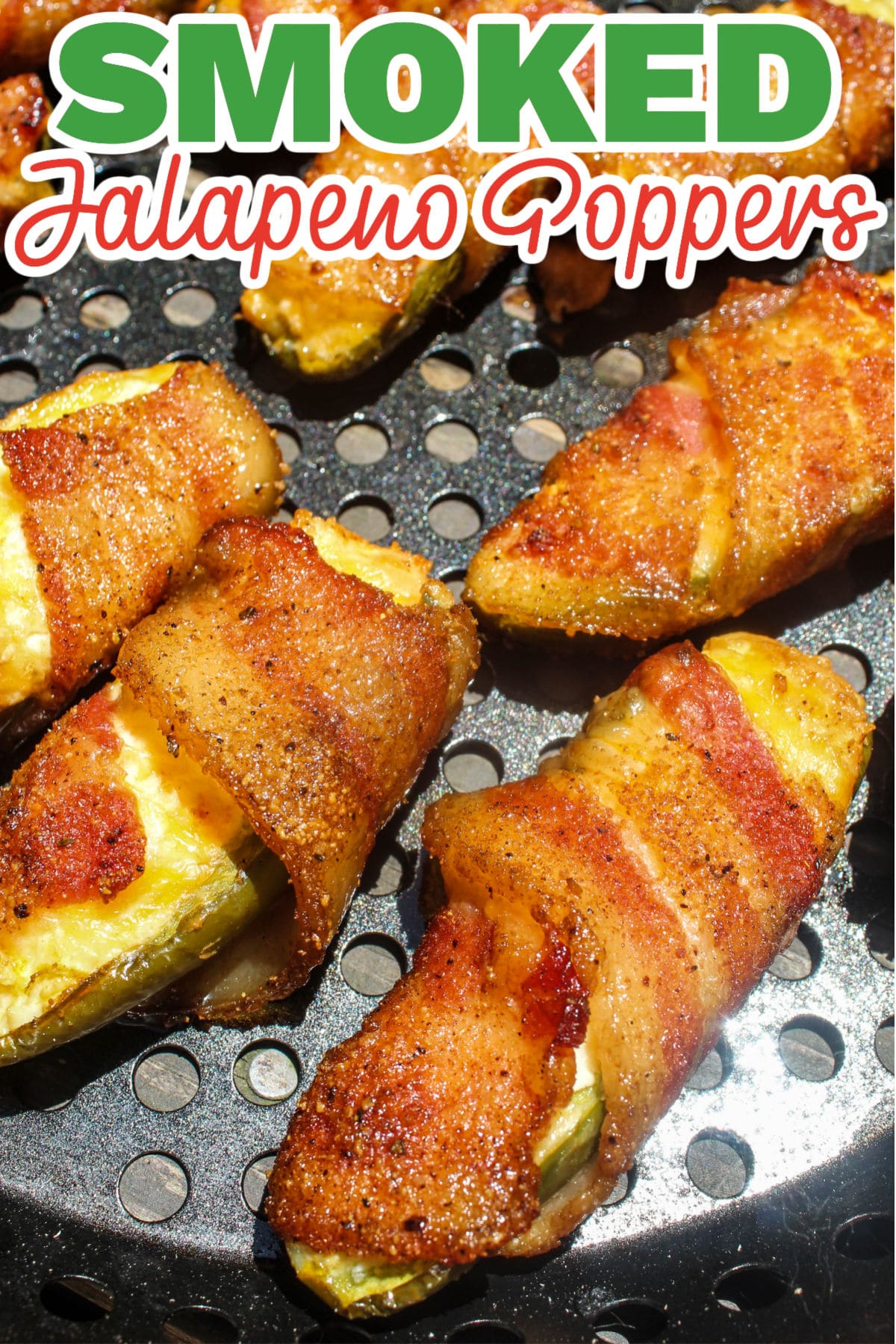 These Smoked Jalapeño Poppers are a delicious twist on a classic popper recipe. First twist: wrapping the poppers in bacon – this adds meatiness which absorbs that smoke even more!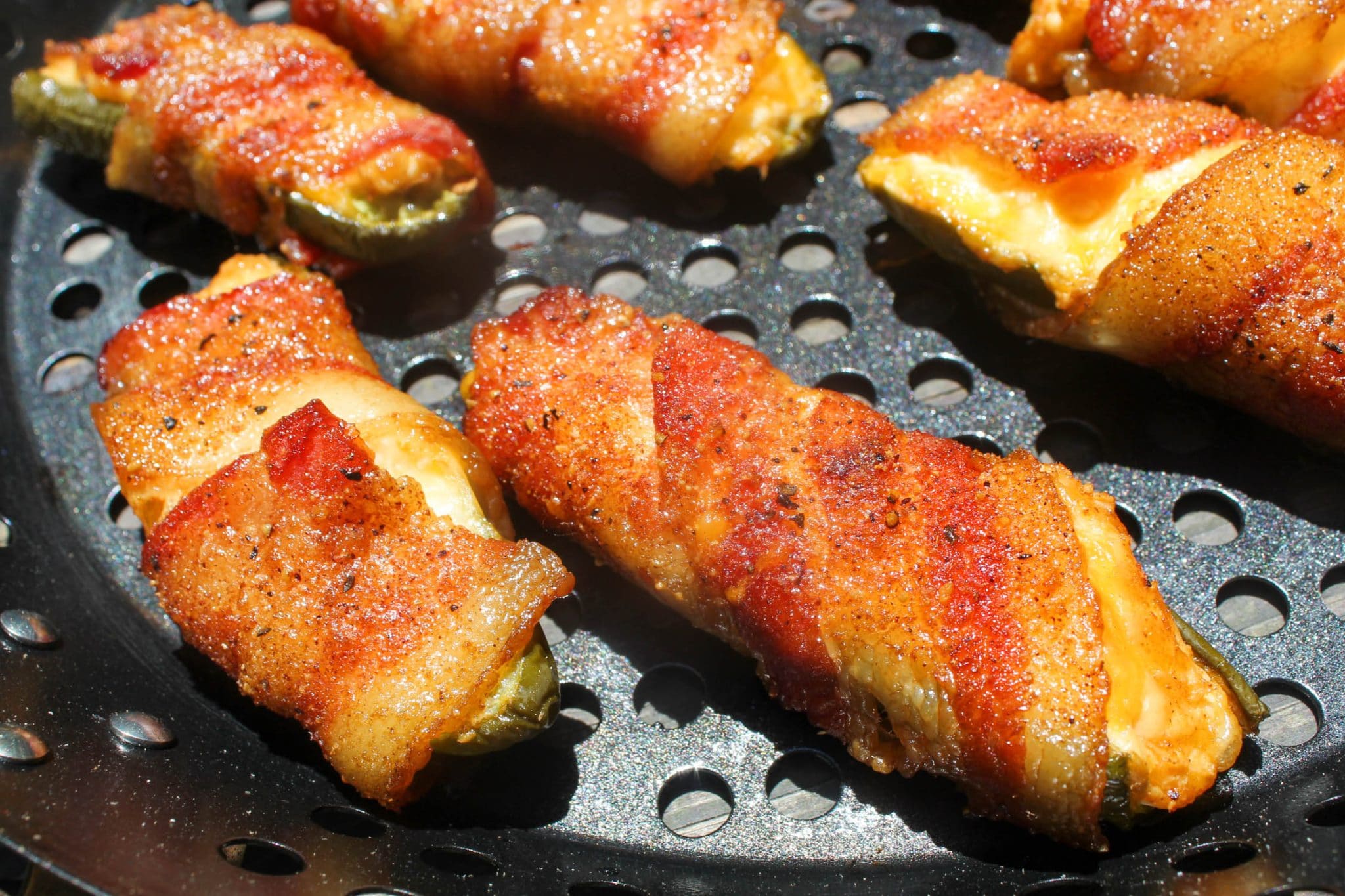 Jump to Recipe
Why You Will Love This Recipe
What's not to love with jalapeños, cream cheese and bacon? These little guys are super quick and easy to make – plus they taste oh so good! They're cheese and crunchy and meaty – all in one bite!! Mix together your filling, smush it in the peppers, wrap and go! The bacon really makes these jalapeños so amazing! It really helps absorb that Traeger smokiness.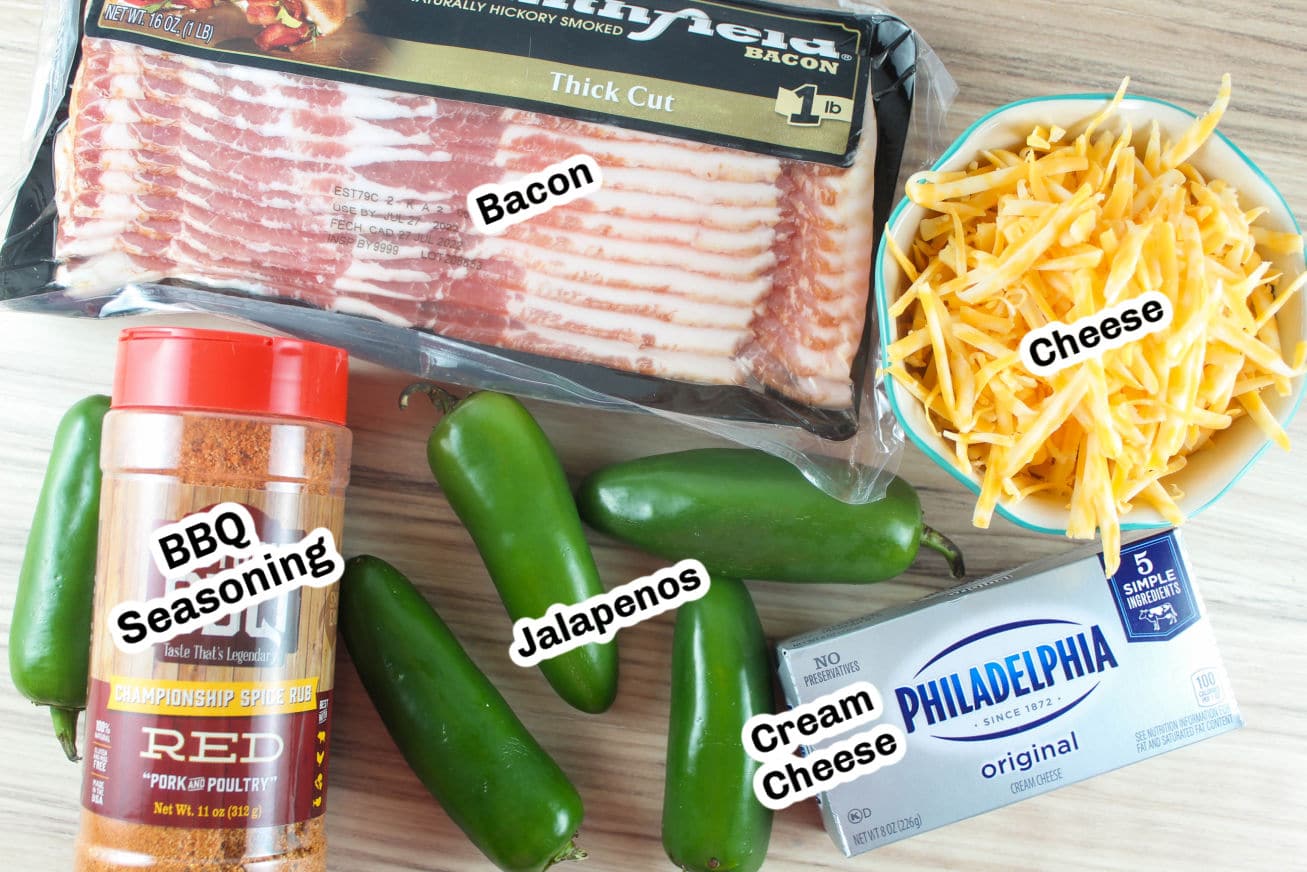 Jalapeno Popper Ingredients
This Jalapeno Popper recipe is pretty simple to make and only has 5 ingredients:
Jalapeno Peppers – be sure to get good sized jalapeños that are at least 3-4 inches long
Cream Cheese – 1 block is enough for 10-12 jalapeños
Cheese – I used colby jack because it's what I had – but you can use cheddar, pepper jack, or whatever you love
Bacon – it takes about 1/2 slice for 1/2 pepper – so 10 peppers = 10 slices bacon
BBQ Seasoning – use your favorite BBQ rub for a sprinkle on top – it adds a lot to the flavor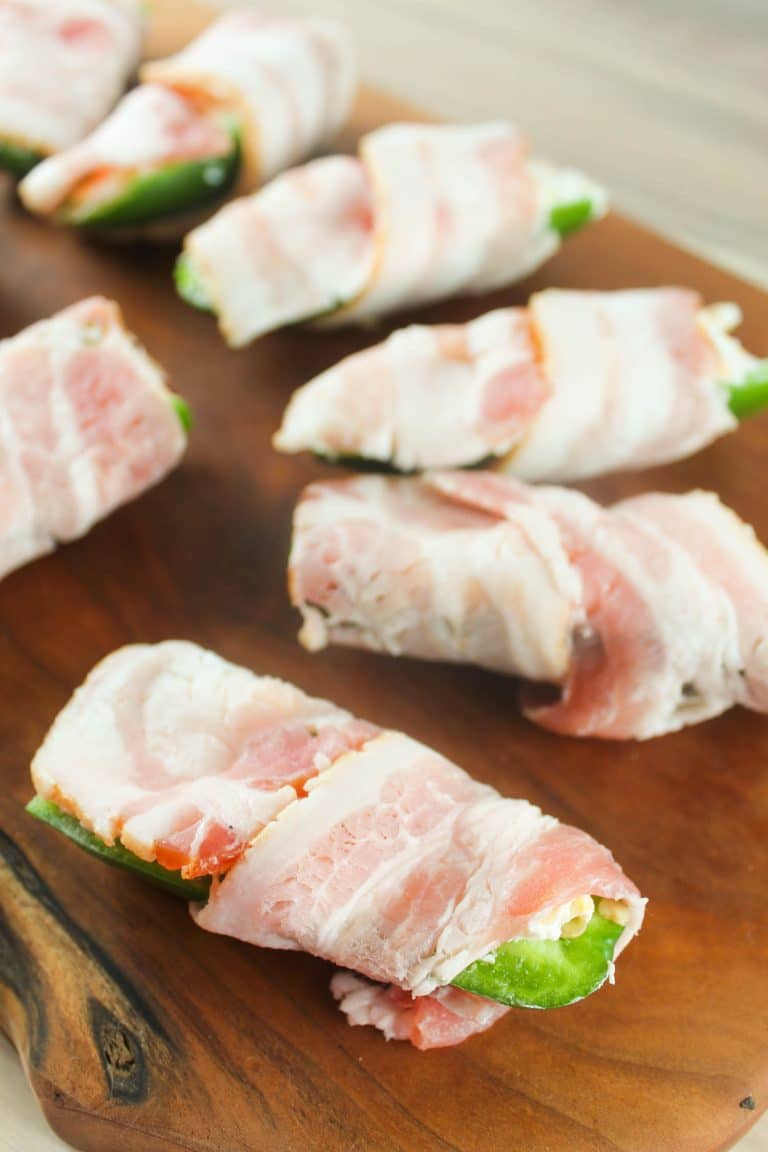 How to Make Bacon Wrapped Jalapeno Poppers on the Traeger
These are easy to make – they take about 15 minutes of prep time and cook in a couple of hours. But with the Traeger, you set it and forget it! Well – don't forget it – but you can go take a nap!
Prepare Traeger and set temp to 225ºF to preheat
Using a paring knife, slice jalapenos in half lengthwise – keeping the stem on the end

If you're sensitive to pepper juice and seeds, you can wear gloves to protect your hands.

Using a small spoon, scrape out ribs and seeds from jalapenos and discard. That's where the heat is – so keep some in if you want more spice
In a medium bowl, mix together softened cream cheese and cojack cheese.
Using the spoon, fill the jalapeno halves with the cream cheese mixture. Feel free to mound it up a little.
Take a half slice of bacon and wrap around the stuffed jalapeno – pull tightly as you wrap. No need for a toothpick – if you wrap the bacon tight – it will hold.
Place the jalapenos on a baking sheet.
Sprinkle with bbq seasoning
Place on Traeger and smoke at 225ºF for 90-120 minutes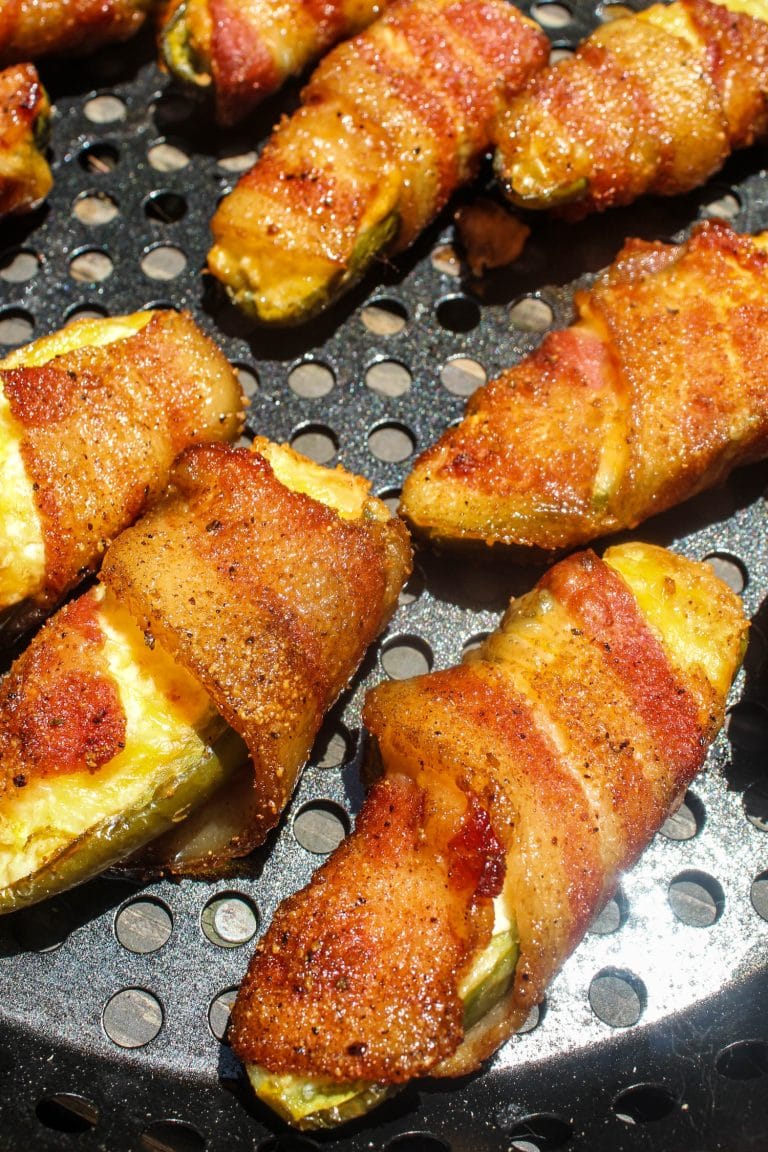 Tips, Tricks & FAQs
What are the best pellets to use for Jalapeno Poppers?
There are many flavors of pellets that work in your Traeger pellet grill. I keep it simple and always use the Traeger Signature Blend which is a blend of Maple and Cherry. That said if you're looking for something specific for bacon – the best are Apple, Maple and Hickory.
Can you use prosciutto instead of bacon?
You could but you would smoke for less time – maybe just 30 minutes. Prosciutto is a much thinner and more delicate cut of pork. Frankly – I think it would get overwhelmed by the cream cheese and wouldn't recommend it. Plus, there's so many kinds of bacon – you can get different flavors that way!
Should I use thick or thin-cut bacon?
I would recommend thin or regular bacon and not thick cut. Thick takes longer to cook and these peppers don't need much time.
How long do you smoke jalapeno poppers?
They take about 90-120 minutes at 225ºF.
What if I don't have a smoker?
You can definitely make these on a regular grill – if you keep them on low indirect heat – they'll probably be done in about 35-45 minutes. If you want to add that smoky flavor, you can use wood chips or a smoke tube filled with wood pellets inside a closed grill.
Can you make jalapeno poppers in the air fryer?
Yes – definitely! Here's my recipe – they're so yummy! If using the air fryer, you might have to cook one batch at a time. They take about 15 minutes in the air fryer and about 30-45 minutes in the oven.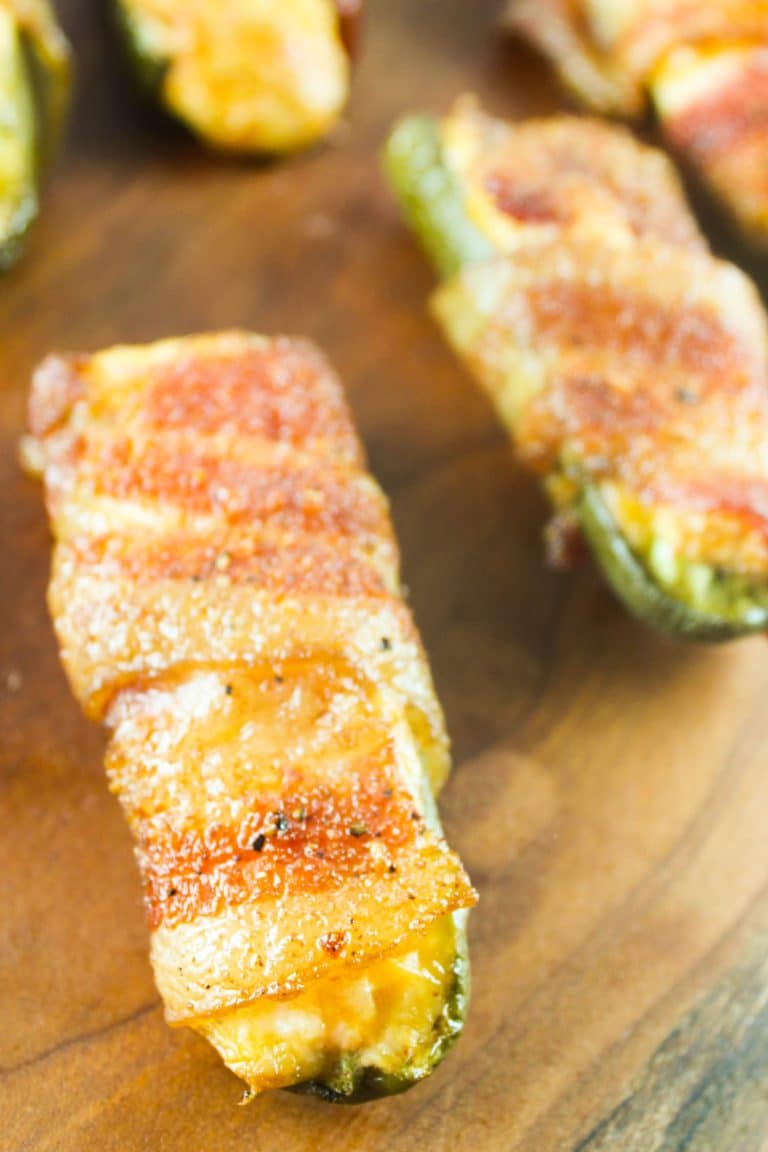 Variations
Jalapeno Poppers are definitely customizeable! Here are a few options:
Peppers – go more mild with poblano peppers or spicier with serrano peppers
Cheese – swap out with cheddar cheese, colby or pepper jack
Mix-ins – add in taco seasoning or ranch seasoning to your cream cheese
Wrap – mix up your bacon by using thick or thin, maple or regular or even the new sausage strips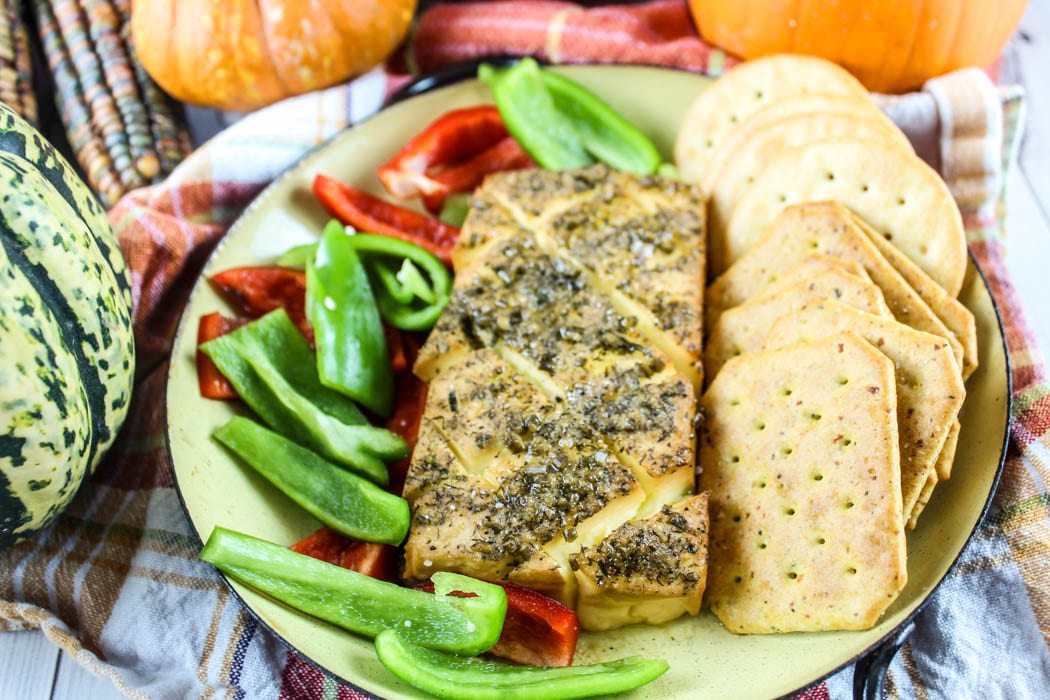 What to serve with Jalapeno Poppers
These are other dishes that would be great with the poppers and take 90-120 minutes:
More Traeger appetizer recipes
More Bacon-Wrapped Traeger recipes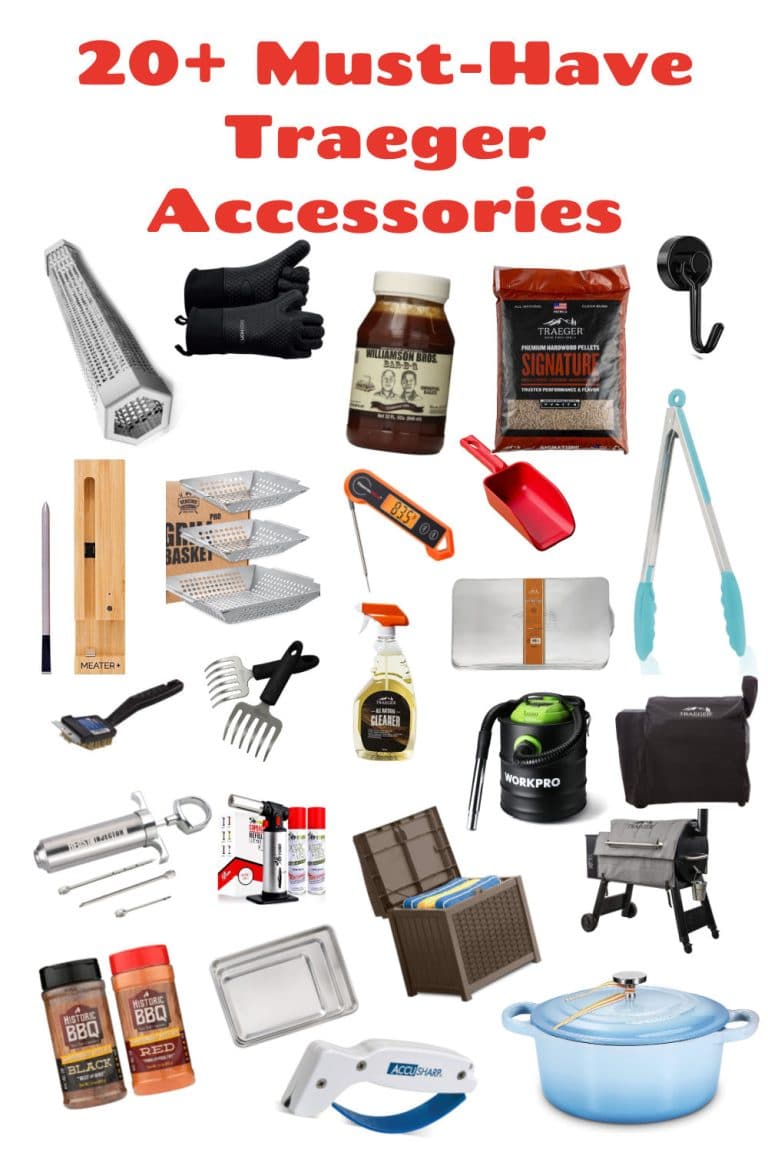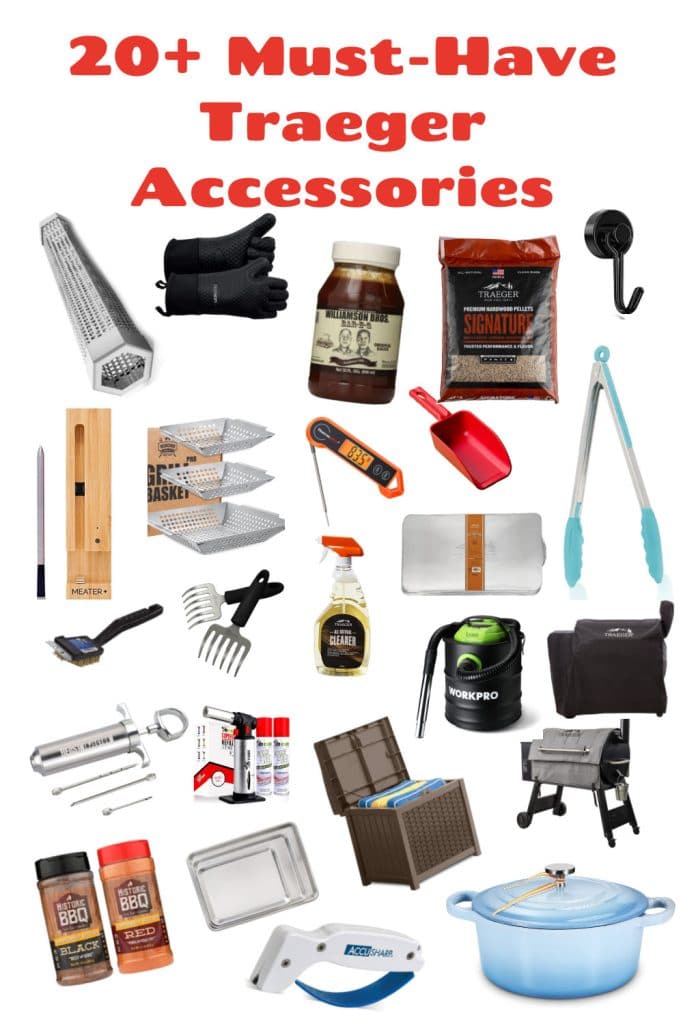 I absolutely love my Traeger Pellet Grill and you can pretty much use it right out of the box! But over the years I've definitely found that there are some Traeger smoker accessories that make everything a lot easier!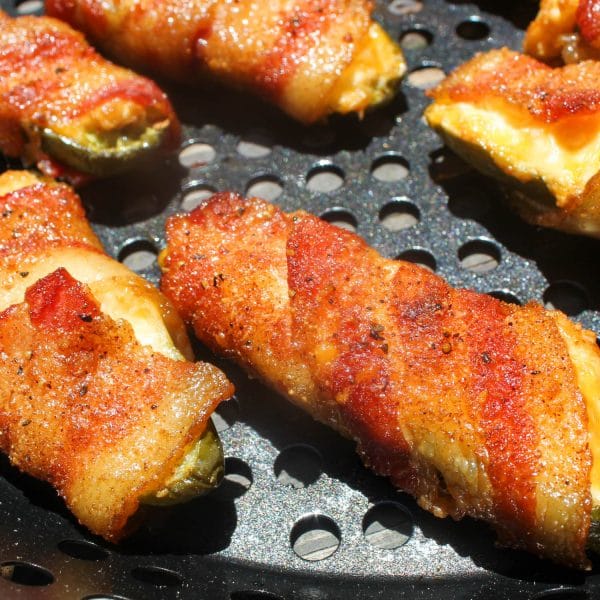 Bacon Wrapped Jalapeno Poppers on the Traeger
These Smoked Jalapeño Poppers are a delicious twist on a classic popper recipe. First twist: wrapping the poppers in bacon – this adds meatiness which absorbs that smoke even more!
Instructions
Prepare Traeger and set temp to 225ºF to preheat

Slice jalapenos in half lengthwise – keeping the stem on the end

Using a small spoon, scrape out ribs and seeds from jalapenos and discard. That's where the heat is – so keep some in if you want more spice

In a bowl, mix together softened cream cheese and cojack cheese.

1 block cream cheese,

1 cup colby jack cheese

Using the spoon, fill the jalapeno halves with the cream cheese mixture. Feel free to mound it up a little.

Take a half slice of bacon and wrap around the stuffed jalapeno – pull tightly as you wrap.

Place the jalapenos on a baking sheet.

Sprinkle with bbq seasoning

2 tbsp Historic BBQ Red seasoning

Place on Traeger and smoke at 225ºF for 90-120 minutes
Nutrition
Serving:
2
peppers
Calories:
689
kcal
Carbohydrates:
5.3
g
Protein:
21.5
g
Fat:
64.3
g
Saturated Fat:
27.4
g
Cholesterol:
135
mg
Sodium:
1054
mg
Potassium:
319
mg
Fiber:
0.7
g
Sugar:
1.2
g
Calcium:
172
mg
Iron:
1
mg