There are a few things I miss TERRIBLY about Iowa and other than my best friend + her family – they are ALL food related!!! I've been on a quest to make them at home so I don't have to have such a gorgefest when I get home. There are Maid Rites, Carlos O'Kelly's Queso, Fareway Chicken Salad, Ginormous Pork Tenderloins and Taco Johns Potato Oles!!!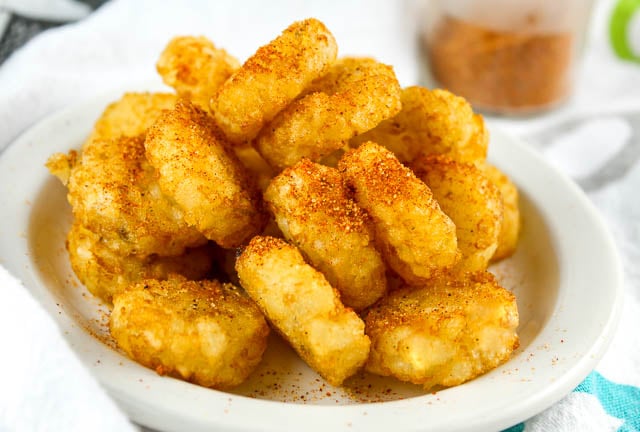 I used to eat these on practically a daily basis in college. They were on campus and my best friend & I would always go for lunch and get soft tacos and potato oles! They're basically Crispy Crowns (flat tater tots) with zingy + spicy seasoning salt.
How to Make Potato Ole Seasoning
It's super simple and now I have a jar of it ready to go anytime I want to have my fantastic Potato Ole's at home!! Four simple ingredients: Lawry's Seasoned Salt, Cayenne Pepper, Paprika and Cumin.
So you mix the ingredients together – shake it up – and then you're done. That's it!!! So simple!
So I cooked up some of those yummy little Crispy Crowns…because that's what they have to be eaten on – it's authentic Taco Johns! And then sprinkled the seasoning on – shook it a little to coat and boomio! Done!
You can also use this on hashbrowns, tots, eggs, chicken, and more. If you want to add some zing to something – just sprinkle away!
I had them with my yummy Copy Cat Penn Station – which if you haven't tried – you are MISSING OUT! If I was to move back to Iowa – this would be something I would miss about Ohio.

So enjoy this taste of home from me and – if you're ever in Iowa – stop by Taco Johns. They also have the best churros ever!!
copycat, taco johns
CopyCat Taco John's Potato Ole's
prep time: 5 MINS
cook time:
total time: 5 mins
One of my favorite places in Iowa is Taco John's – it's the Redneck Taco Bell. Their potato oles (flat tater tots) are sprinkled with this seasoning – it's my favorite!!!! It turns tots into TOTS!
ingredients:
4 tsp

Lawry's seasoned salt

2 tsp

Paprika

1 tsp

Cayenne Pepper

1 tsp

Cumin

1 bag

Crispy Crowns (flat tater tots)
instructions:
Mix all ingredients together and sprinkle on fresh baked Crispy Crowns! Store in a ziploc bag and you're done!