This post is sponsored by Perdue Farms. All opinions are my own.
My favorite local barbecue place makes this holiday dip and as soon as I saw it on Facebook – I knew I had to make my own copycat version! This pulled pork cheese dip is soooo good and EASY! And it didn't cost me $20 to make it! (That's what they are charging!)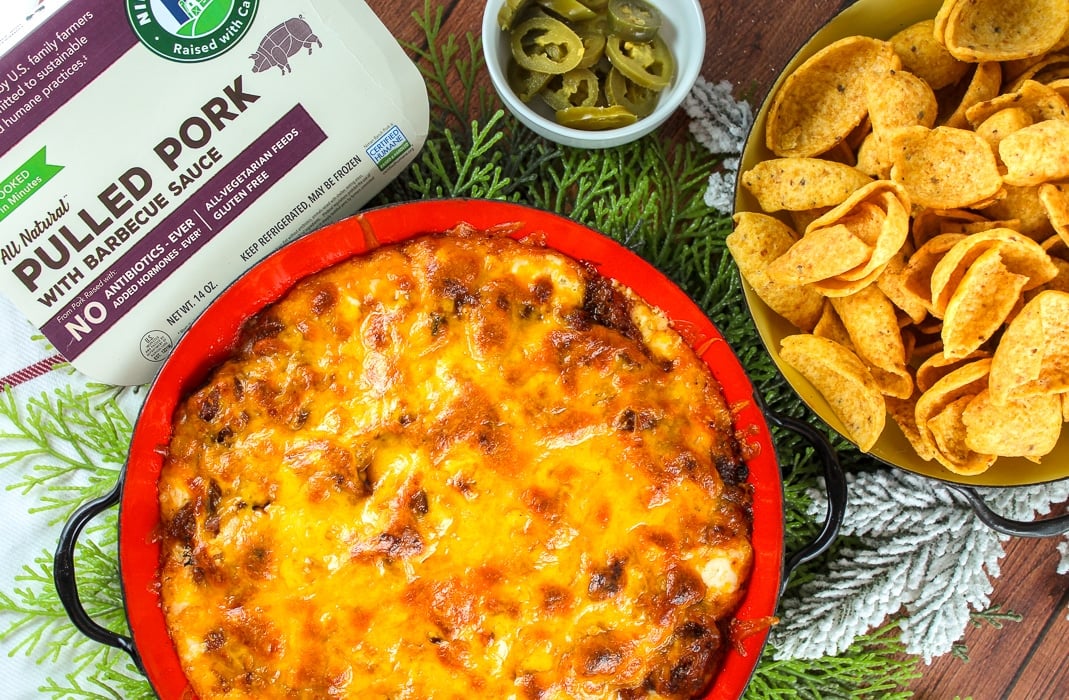 This cheesy pulled pork dip goes together in FIVE minutes and is perfect for a holiday appetizer or game day dip!
This recipe combined two of my favorite things: pulled pork and finger food! I literally have had it for dinner two nights in a row! Yes – bbq pulled pork dip – is great for parties but when you live alone – it also pinch hits for dinner on a snowy night! 😉



I love the combo of shredded pork with cream cheese and that's how we start this one! I took just regular old cream cheese and mixed it with diced pickled jalapenos. I always have a jar in the fridge – so I just pulled some out – chopped them and mixed it together. If the cream cheese is room temp – it mixes more easily but if you pour in a teaspoon or two of the juice – it'll mix easier.



Then I hopped it with Niman Ranch Pulled Pork! I loved how tasty this pulled pork was – it was great heated up and it had sauce but it wasn't too much and it was just the right amount of sweet!


Niman Ranch comes from the folks at Perdue Farms – which you might not realize – Perdue Farms is way more than chicken! They have a few other brands like Niman Ranch that are very focused on all natural products. This pulled pork comes with barbecue sauce – they also have a variety with a Smoky Chipotle Sauce. Yum!
You know how much I love my farmers! I like that Perdue Farms (celebrating their 200th Anniversary next year) works with small family farmers to raise their animals with care.
Have you tried any of those bundle boxes?
Perdue Farms has just launched their website where you can get bundles of products for a discounted rate. This Niman Ranch pulled pork with barbecue sauce is part of their Gathering Bundle where I got all of the items shown for just $82.99! That's over a 10% discount and the items are natural, organic and sustainable!
Perdue Farms kept sustainability in mind with the box too! For every bundle shipped, they donate to the Arbor Day Foundation to help replant damaged forests. And every box is made out of 100% recyclable cardboard and insulated with eco-friendly, biodegradable, compostable packaging.
Back to the recipe – you've got the cream cheese and the pulled pork – now to finish this quick appetizer – top it with shredded cheese! (I love that pan – I found it in a set of 3 at an estate sale!) After the cheese is on – pop it in the oven for 20 minutes and then broil for 2-3 minutes to get the top browned and bubbly.



That's it!!! Then your cheesy pulled pork dip is ready to go – just like the one from Eli's for around $6 instead of $20! I used the Fritos Scoops because it's a hefty dip – so you need a hefty chip! I always set out a bowl of sliced jalapenos so folks can add more kick if they want to!


I am a big fan of the pre-made pulled pork and here are some of my other favorite recipes to make with it:
– Copycat Pulled Pork State Fair Totchos
– Pulled Pork Empanadas
– Cheesy Hawaiian Pulled Pork Sliders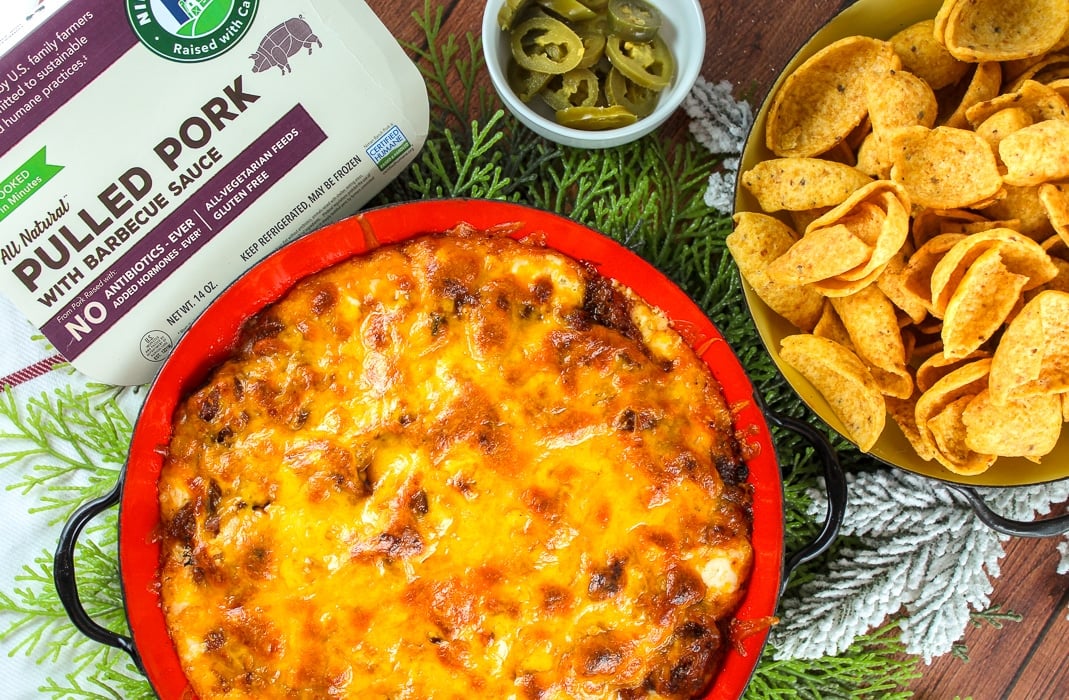 Hot & Cheesy BBQ Pulled Pork Dip
prep time: 5 M
cook time: 22 M
total time: 27 M
My favorite local barbecue place makes this holiday dip and I decided to make some for myself! Jalapeno cream cheese, delicious barbecued pulled pork and topped with sharp cheddar cheese! It's spicy and cheesy and meaty – omg so good!
instructions:
How to cook Hot & Cheesy BBQ Pulled Pork Dip
Preheat oven to 350
On a cutting board, rough chop your pickled sliced jalapenos. I use the jarred slices but you can also use canned diced chiles if you prefer.
In a medium bowl, mix cream cheese and diced jalapenos. You can also pour in a teaspoon or so of the juice to help the cream cheese mix up.
In a small round baking dish (approx 8 inches), spread jalapeno cream cheese in bottom of dish.
Top with Niman Ranch Pulled Pork. When you open the package, fluff the pulled pork with a fork into the provided try and then spread out over cream cheese.
Top with shredded cheddar
Bake for 20 minutes at 350, then broil on high for 2 minutes until top starts to bubble and brown. WATCH CLOSELY! Broil can go from perfect to burnt in a matter of 30 seconds.
Serve with your favorite scoopy sturdy chips!
Recommended Products:
Rachael Ray 1.5 Quart Round
Pickled Jalapenos
Fritos Corn Chip Scoops
Did you make this recipe?
Tag
@foodhussy
on instagram and hashtag it #foodhussyrecipe