Skyline Chili is pretty much liquid gold in Cincinnati. When I moved here – I didn't get it – but now – I LOVE IT!! This Skyline Chili Cheese Dip is a staple for every game day and family gathering.


If you're not familiar, Cincinnati chili is so crazy good – but it's not like any other kind of chili – it's a thinner chili with hints of cinnamon, all spice and chili powder.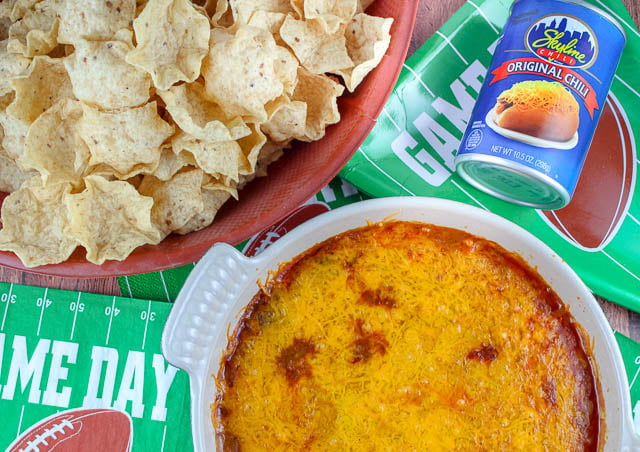 The traditional ways to eat Skyline Chili are: on spaghetti, on a coney dog or in this amazing Skyline Chili Dip recipe! And with the Super Bowl coming up next weekend – you need to make sure you have something new on that game day spread! This is it!!!
What is in Skyline Chili Cheese Dip?
So yes – Skyline Chili is the first thing you need for this Skyline Chili Cheese dip recipe. Now what if you're not in the Cincinnati area?! I've got you covered! There are three ways you can make this dip your very own:

– Make your own Cincinnati Chili
– Buy Skyline Chili online
– Buy Cincinnati Chili spice packets
How do you make Skyline Chili Cheese Dip?
Skyline Chili Dip is such an easy recipe – and goes together in just five minutes – even quicker if you buy pre-shredded cheese. For Skyline Dip – you can use an 8×8 pan (or a pie plate) and put cream cheese in the bottom of the pan, pour a can of Skyline Chili on top and then cover with cheddar cheese and bake! I have not been to a family function where this dip wasn't served. I love the fluffiness that comes from freshly shredded cheese. You need to use sharp cheddar cheese with this – and it's perfect for those Scoops chips!!

Can you make Skyline Dip Recipe in the microwave?
Sure! Just make sure whatever dish you're using is microwave safe. You want everything to be heated through. I would recommend putting the cream cheese and chili in your dish and microwave that for 3-5 minutes. Then top with cheese and microwave for 2-3 minutes more.
Can you make Skyline Chili Dip in the slow cooker/crock pot?
Yes – this dip isn't very tall and isn't going to fill a slow cooker – so it might be difficult to dip into at a party from a slow cooker. You really want to get all 3 layers into every bite. But you can definitely do it! I would just have it on low for a few hours before the party.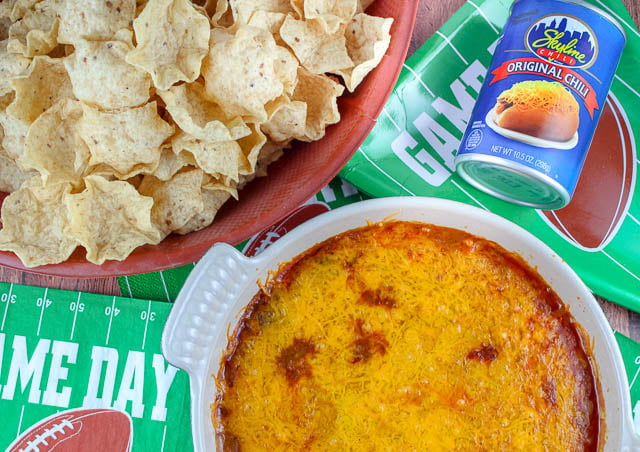 Skyline Chili Dip
prep time: 10 M
cook time: 20 M
total time: 30 M
Skyline Chili Dip is a staple in Cincinnati – it's at every game day party – but why should we keep this secret to ourselves?! Cincinnati Chili is a greek chili that is very unique with hints of cinnamon, chili powder and so much more. Pair that with cream cheese and loads of shredded cheddar – you're going to love it! #skylinechili #skylinechilidip #skylinechilicheesedip #chilicheesedip
ingredients:
10.5 oz can of Skyline Chili
8 oz cream cheese, room temperature
6-8 oz shredded cheddar cheese, fine shredded
Optional: sliced olives, kidney beans, diced onions
instructions:
How to cook Skyline Chili Dip
Preheat oven to 350 degrees
Spread softened cream cheese into an 8×8 baking dish
Top with Skyline Chili
Top with cheddar
Bake for 20 minutes
NOTES:
– Some recipes mention putting the cheese on after you bake the chili/cream cheese – that's an option – I like it all melted together
– If you don't have Skyline Chili in your city – we have options:
– Buy Skyline Chili canned online
– Buy Skyline Chili seasoning packets
Recommended Products:
Pioneer Woman Pie Plate
Skyline Chili Canned
Skyline Chili Seasoning Packets