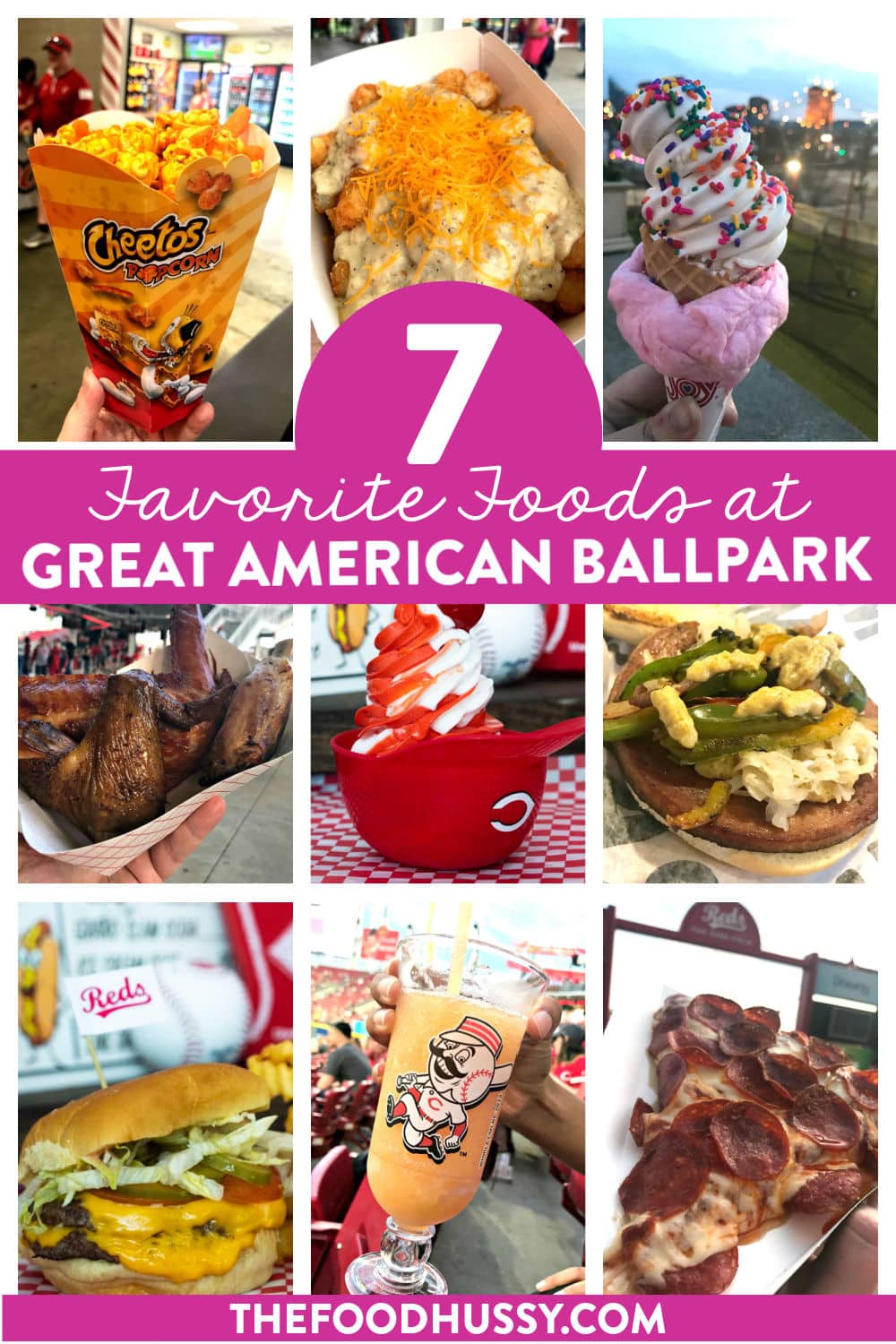 Great American Ballpark Food choices are delicious! You can pretty much find anything you want! GABP is mainly known for our Cincinnati Reds – America's first baseball team – but trust me – from Opening Day to the Playoffs – the food at the ballpark is just as good as the baseball!
There you have it! My favorite food at Great American Ball Park! While you're in town – you can also check out my Best Bites of Cincinnati!
Now – trust me – there is much more than just these items. Every year they get new specials – here are some others to check out:
Buffalo Chicken Fries – Sections 109, 139, 534 (or make your own!)
The Split Finger – Grilled, split Glier's bratwurst topped with sauerkraut, bistro sauce and mustard. Served on a toasted Italian roll. Available in Scouts Alley, Grill & Fry Stand at Section 415 and Food Bar locations.
Skyline Chili Nachos – Tortilla chips topped with Skyline Chili, nacho cheese sauce and shredded cheddar cheese. Available at the Skyline locations at Sections 115 and 418.
Redlegs Soft Serve – Vanilla ice cream with fruit punch Kool-Aid flavoring, choice of toppings and served in a miniature Cincinnati Reds helmet. Available in Scouts Alley.
The Big Cheese – All-beef burger topped with pimento cheese, bacon, crispy onions and pickles. Served on a pretzel bun. Available in Scouts Alley and Grill & Fry Stand at Section 415.
Smoked Porkloin Sandwich – Smoked porkloin topped with pickled jalapenos, onions, cucumbers and barbecue sauce. Served on a brioche bun. Available at the Montgomery Inn Smokehouse.
The Curve Ball – Veggie burger topped with iceberg lettuce, grilled onions, pickles and Thousand Island dressing. Served on a brioche bun. Sold in Scouts Alley and the Porkopolis Stand at Section 117.
They also have All You Can Eat Stands at the baseball game. These stands offer unlimited soft drinks, popcorn, peanuts, chips, and five (5) hot dogs for just $25 per person.
Stands are located behind section 144 on the Terrace Level and behind section 428 on the View Level.
What's YOUR favorite food at the Great American Ballpark?