I love me some New York Texas Toast garlic bread with cheese – you know – the yellow box in the freezer aisle! OMG – I can kill like 4 pieces of it at once! I decided enough was enough – I needed to make my own!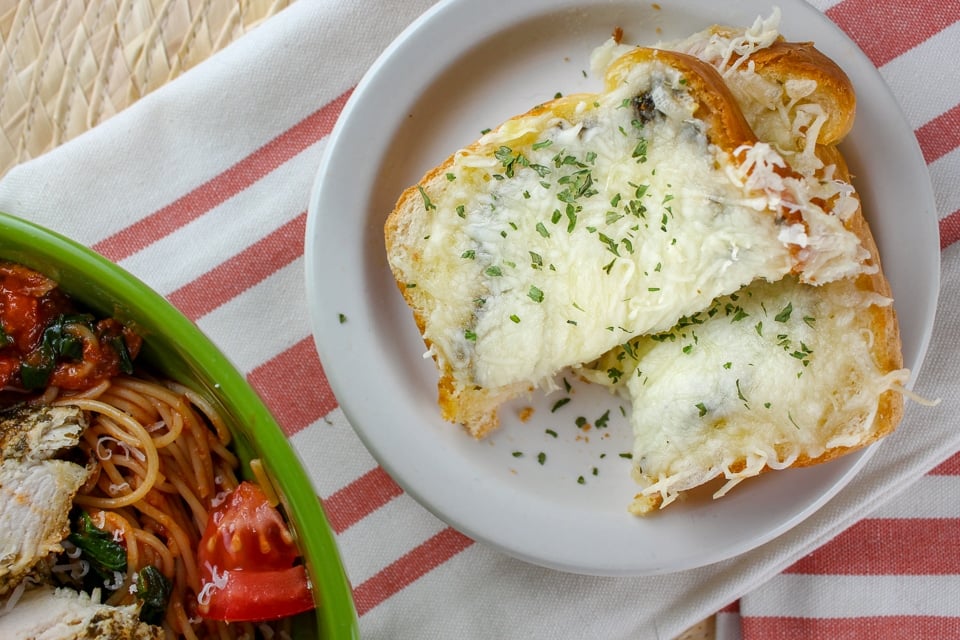 And of course – I had to make this Quick and Easy Garlic Bread in my air fryer. I was able to find a variety of bread that is Texas Toast style – but you can use any thick cut sliced bread.
How do you make garlic bread in the air fryer?
It's super simple! I mix the butter, garlic and salt together – then spread it on the bread. Then I put the slices in the air fryer and put the cheese on once the bread was in the air fryer. I didn't want the cheese to fall off as I was putting it in.
This garlic bread with cheese was so delicious and tasty! I served it with my Copycat Rusty Bucket Pesto Chicken but it would also be great with my Copycat Red Lobster Crab Alfredo and the Copycat Olive Garden Giant Stuffed Shells.


You can also find more ideas in my Air Fryer Recipes section or in my Air Fryer Facebook group!


Enjoy!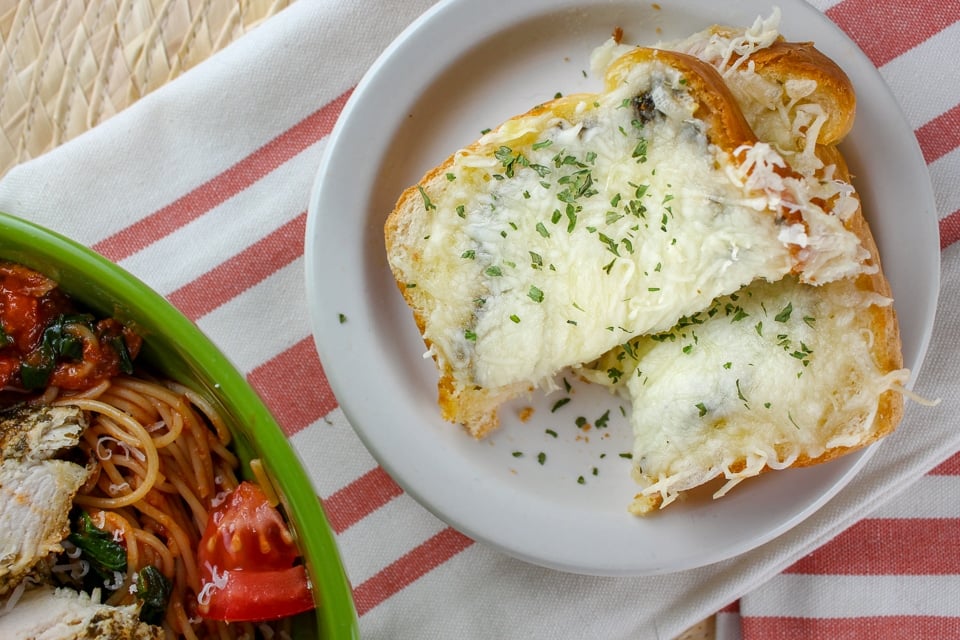 Air Fryer Garlic Cheese Bread (aka Copycat Texas Toast)
Yield: 2
prep time: 5 M
cook time: 5 M
total time: 10 M
I love that New York brand of Texas Toast garlic bread with cheese! But I'm trying to cook more at home rather than buying frozen products. So I made my own garlic cheese bread in my AIR FRYER! #garlicbread #cheesebread #airfryer
ingredients:
4 slices Texas Toast style bread
4 Tbsp softened butter
2 tsp minced garlic
1 tsp coarse sea salt
1/2 cup five cheese blend shredded cheese
instructions:
How to cook Air Fryer Garlic Cheese Bread (aka Copycat Texas Toast)
Mix together softened butter, garlic and salt
Spread butter on one side of each slice of Texas Toast
Lay bread, butter side up, in air fryer (don't overcrowd – I can do 2 slices at a time)
Top each slice with 1/8 cup shredded cheese
Air Fry at 375 for 4 minutes
Bread won't "brown" like it would in oven – check bread and be sure it's crispy on edges and cheese is melted.
Sprinkle with parsley and serve immediately
Recommended Products:
Phillips Air Fryer