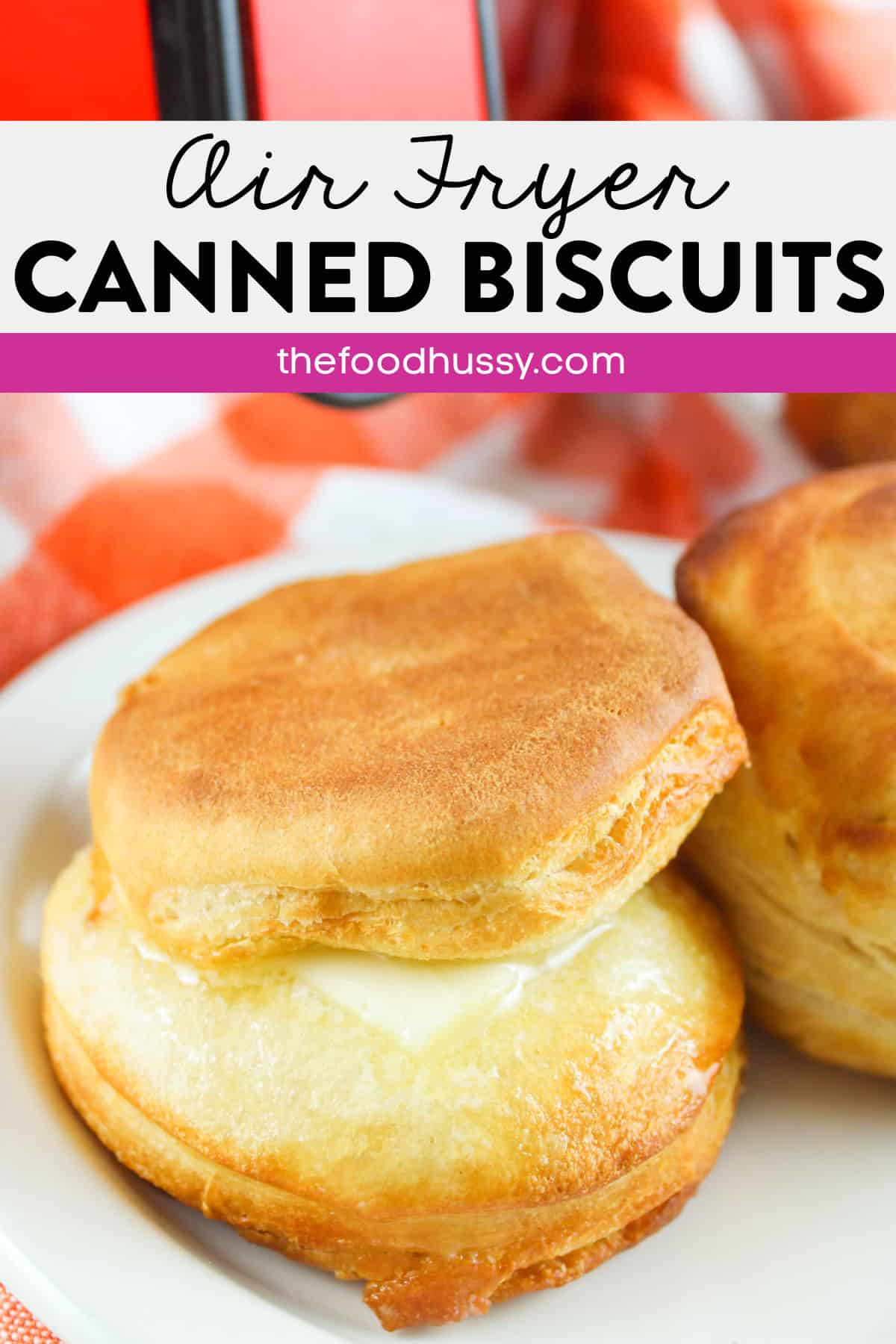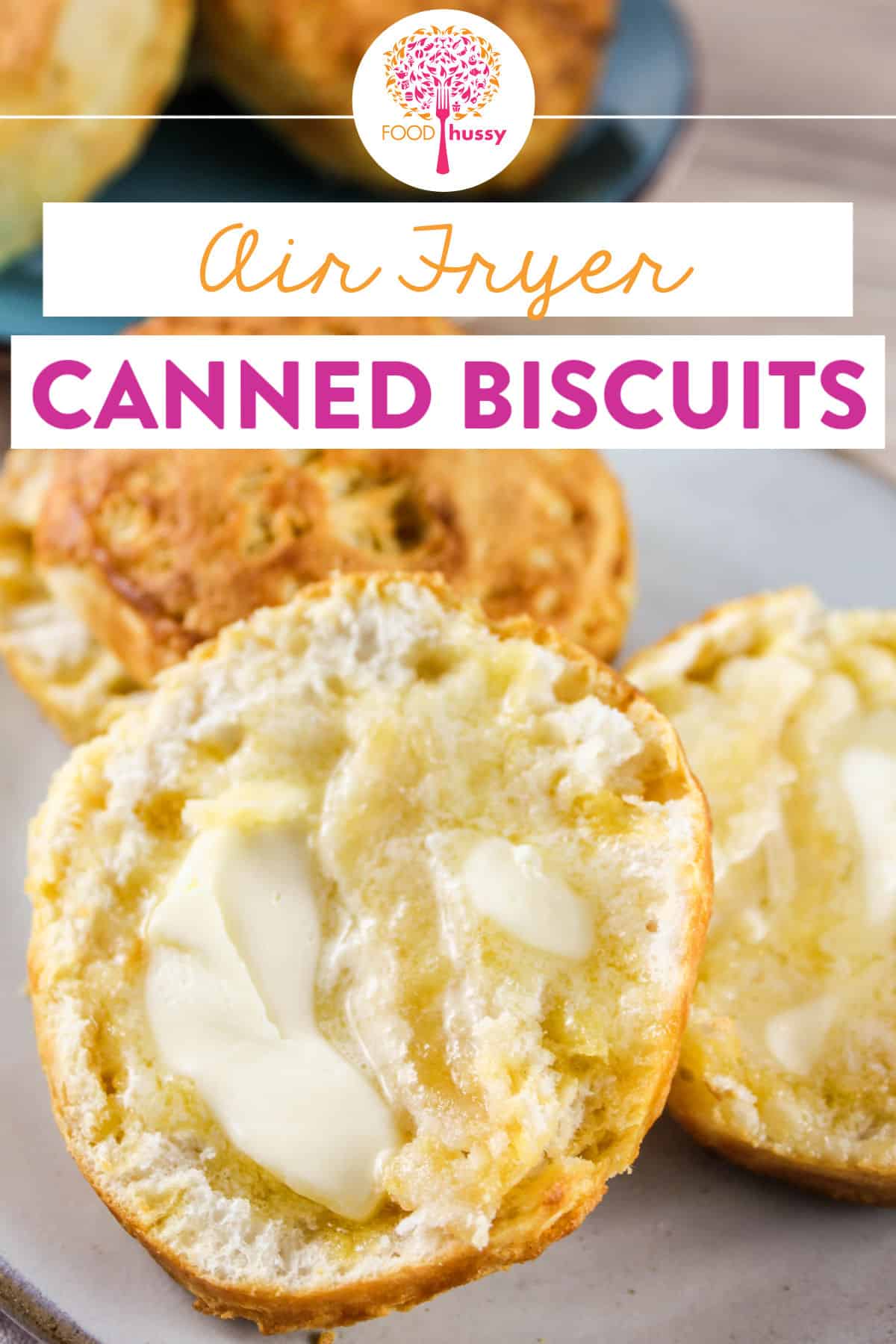 Lots of folks ask me if you can air fry canned biscuits? The answer is a resounding YES! Refrigerated biscuits are a great side dish for any meal and making them in the air fryer saves time (and is great for reheating as well!).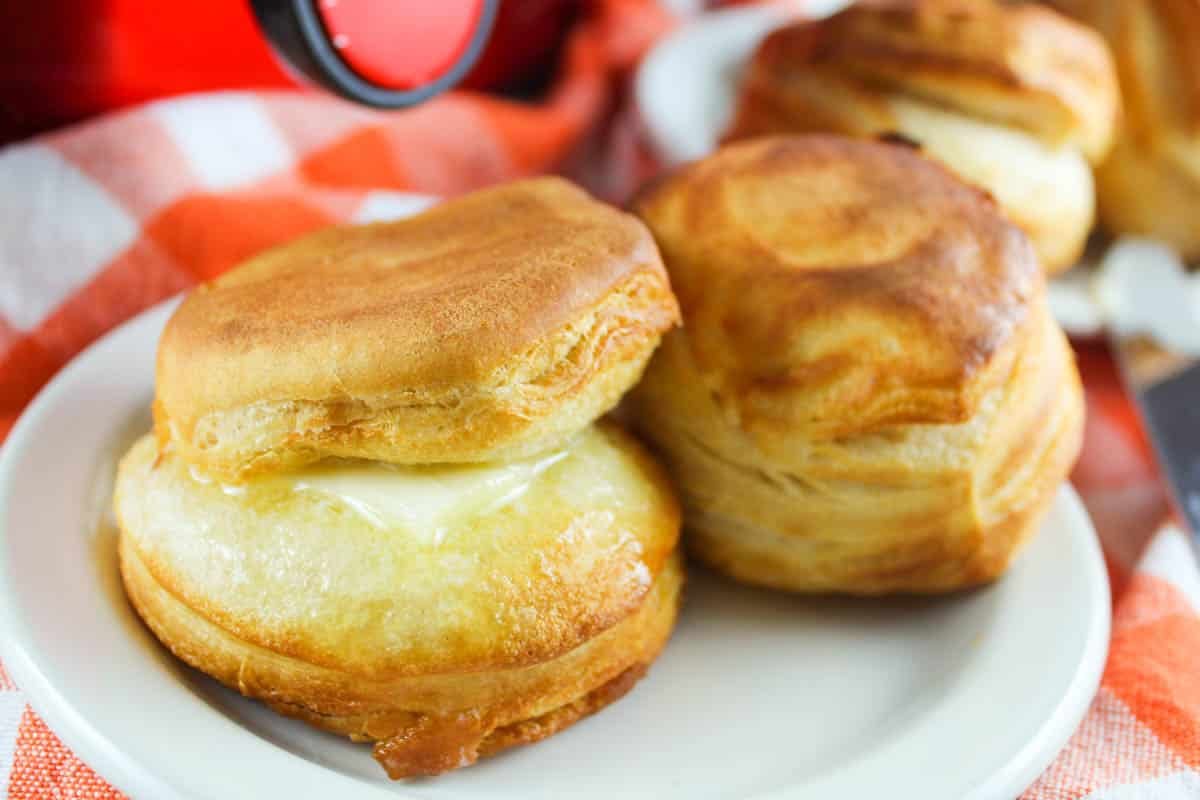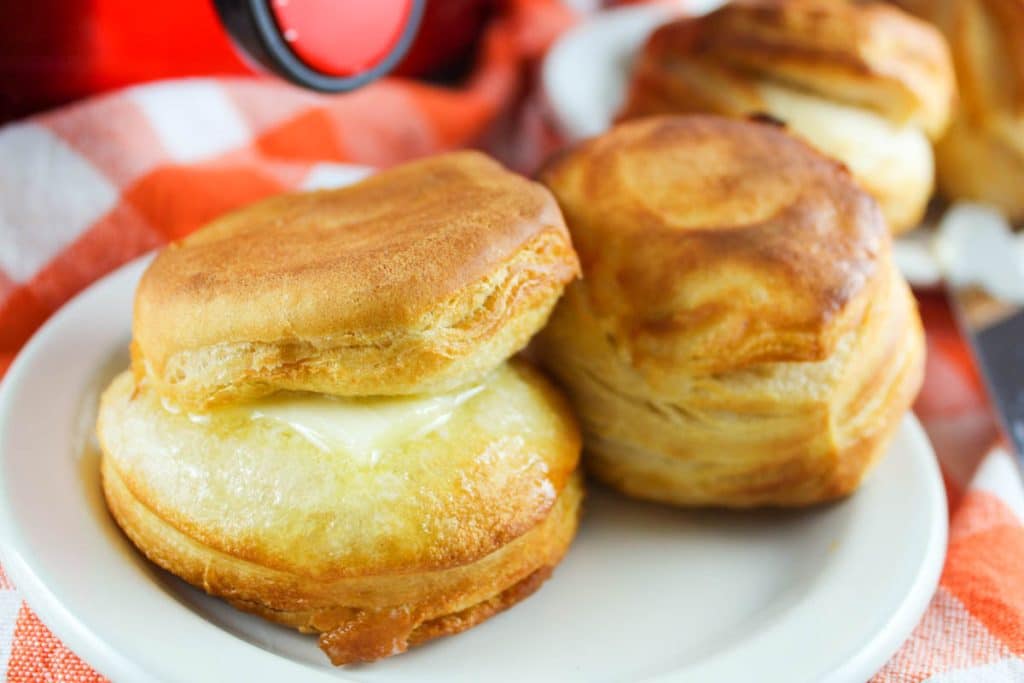 What You Will ❤️ About Using Your Air Fryer for Canned Biscuits
Quick! Air fryer biscuits are done in less than half the time – the cooking time is quicker and you have no pre-heating an oven!
Easy! This side dish is a quick go-to any night of the week.
No Cleaning! The biscuits leave nothing behind in your air fryer basket – especially if you slip a parchment paper sheet in!
Air Fryer Canned Biscuits
Regular Flaky Biscuits
These are my favorite biscuits – Pillsbury buttery flaky ones!!! These – again – half the time – it only took 4 minutes at 370º to air fry biscuits! There were five biscuits and they easily fit in my air fryer. I love how golden brown they get and they seriously puff up more than in the oven!!!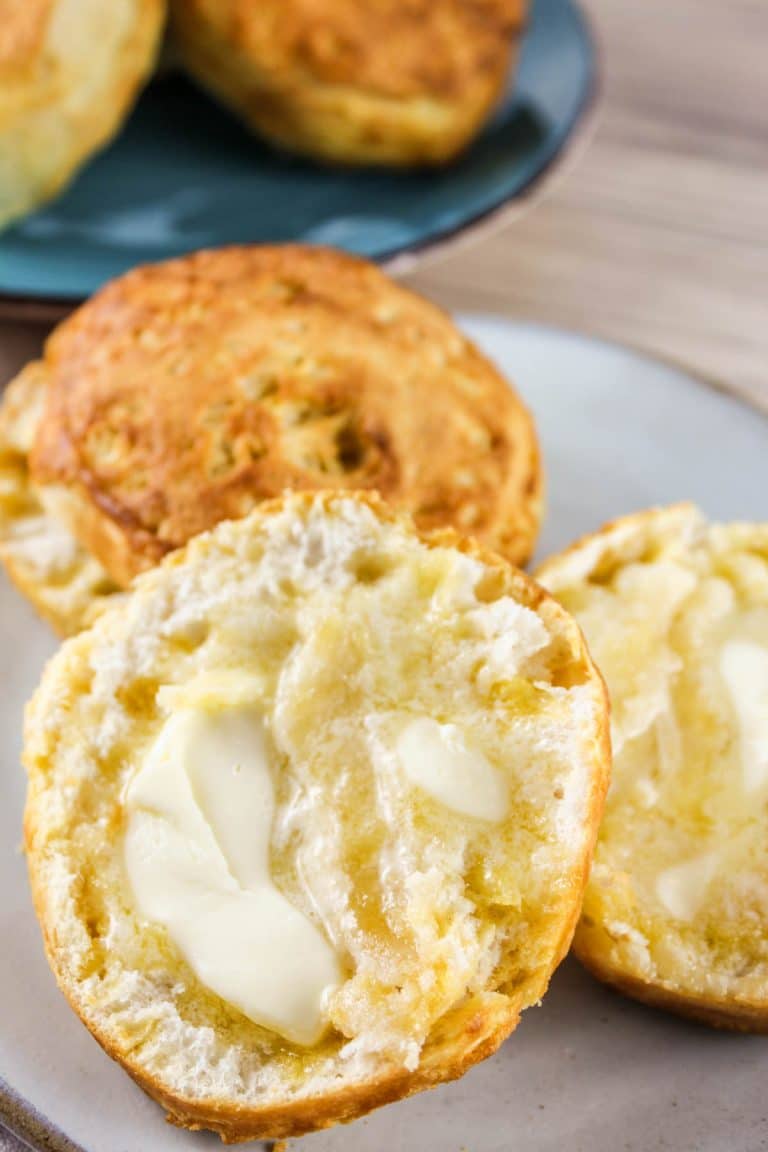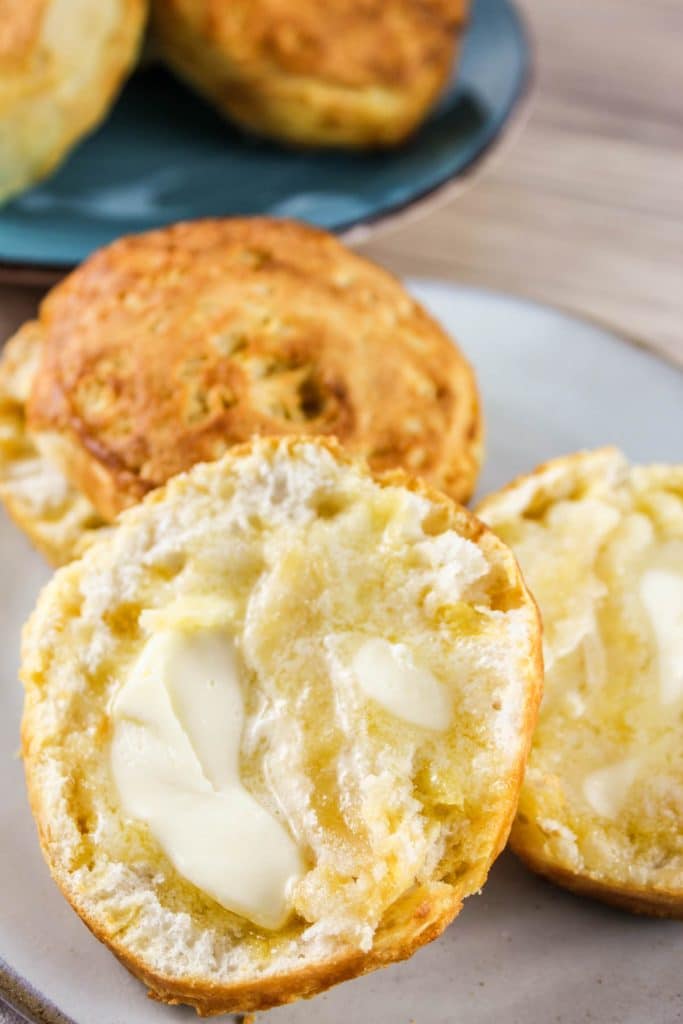 Pillsbury Grands Biscuits
I wanted to try jumbo biscuits and see if there was a difference – and there is! Pop these Grands Buttermilk Biscuits inside your air fryer basket in a single layer at 360º for 6 minutes.
How to bake canned crescent rolls in an air fryer
These are easy peasy – pop open the crescent rolls, split the triangles up, roll them and in they go. There were only 4 and they fit very easily into my air fryer. Crescent rolls puff up A LOT in the air fryer. I baked these at 350º for 5.5 minutes. If your air fryer doesn't do 30 seconds – then just do it for 6 minutes and stop it a little early. The extra 30 seconds will probably be fine – but just watch it. 🙂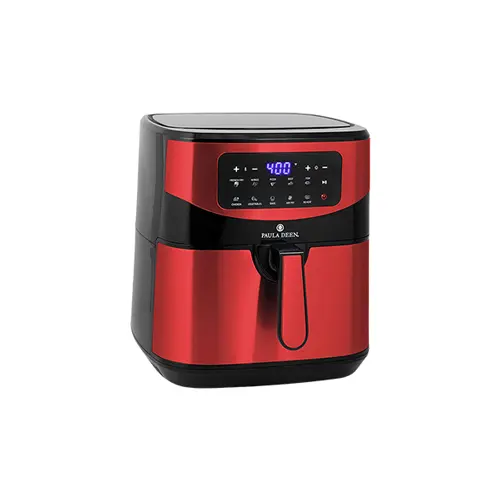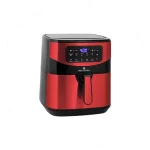 This recipe was made using the Paula Deen Air Fryer.
How to cook canned cinnamon rolls in an air fryer
I should note that these are the small cinnamon rolls with the cinnamon topping. I was able to fit all five in the air fryer at once, cinnamon topping side up and baked them at 375º for 5.5 minutes. After baking, I topped them with the frosting of course.
Baking frozen biscuits in an air fryer
I always keep a bag of frozen Grands biscuits in my freezer – they're perfect since I'm on my own. I can just grab 1-2 and pop them in the air fryer. Frankly, these are the ones I've overcooked the most often!!! But I now know – bake Frozen Grands at 350º for 10.5 minutes in your air fryer!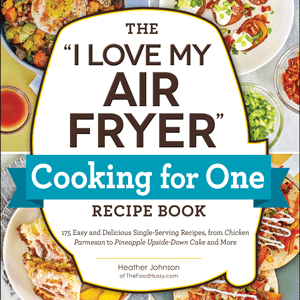 Get Heather's NEW cookbook – Air Fryer Cooking for One today!
Can you bake frozen Rhodes dinner rolls in an air fryer?
Again – of course you can! These took the most work because you have to let them rise first. I got home and took out the rolls and put them in a dish to rise for 3-5 hours at room temperature. I just set them on my counter with plastic wrap over the top. You can see in the photo that the biscuit dough definitely doubled in size. After that – into the air fryer – again – HALF THE TIME as directed! Rhodes dinner rolls bake at 350º for 8 minutes and they were perfect!!!
This post contains affiliate links which I make a little money on purchases. Thanks in advance! I am an Amazon associate as well as a member of other affiliate programs.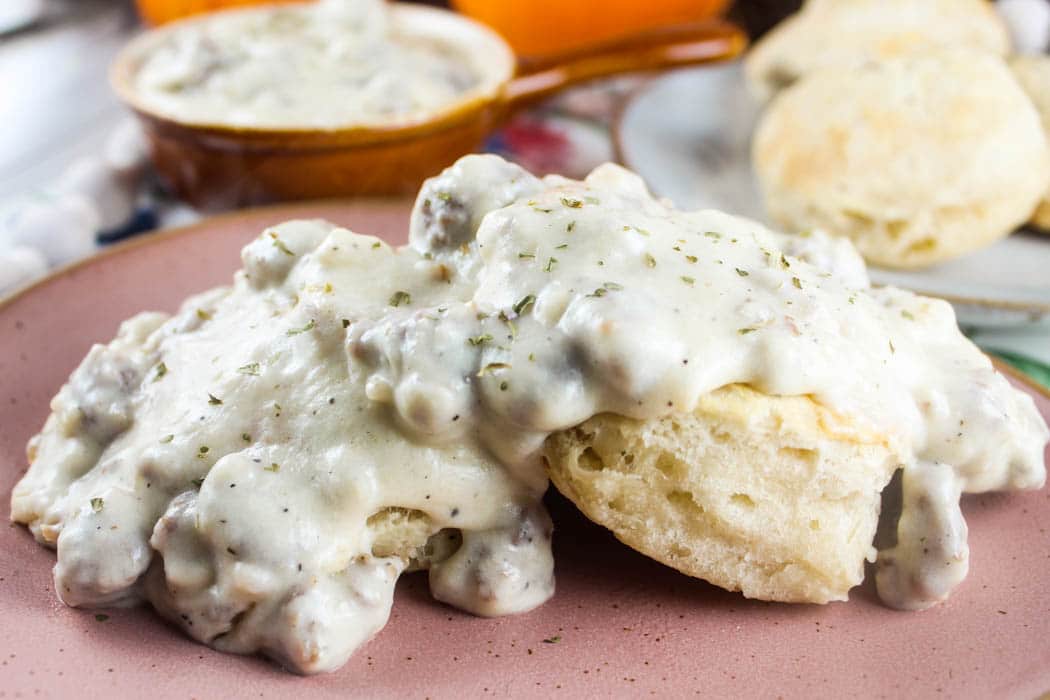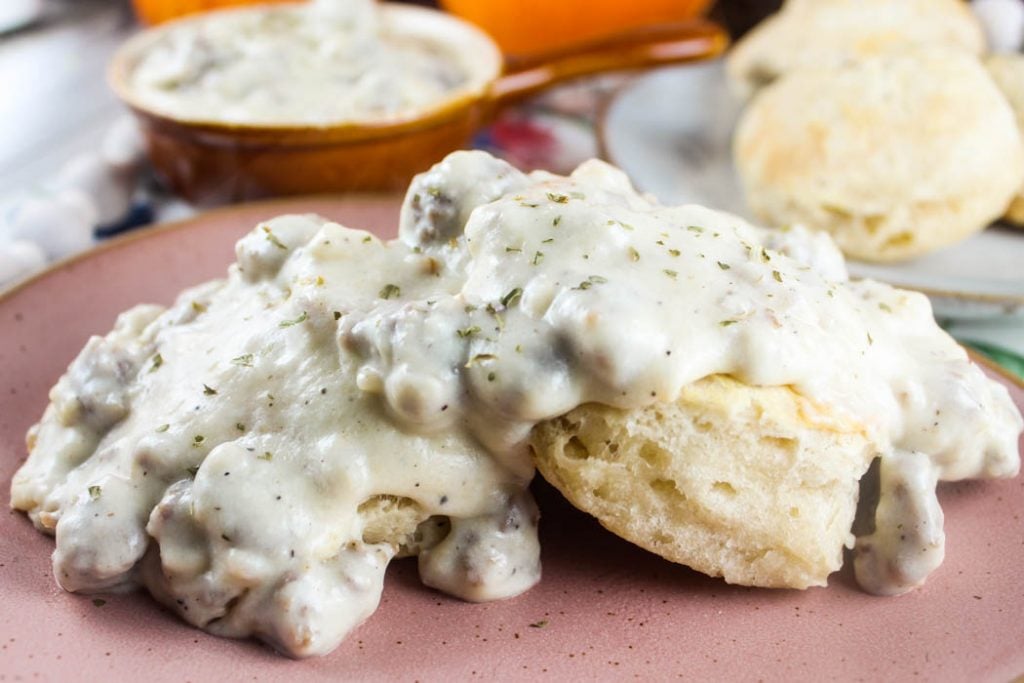 Best ways to eat biscuits!
There is more than just butter for your biscuit – here are ways I enjoy my air fryer recipe for canned and frozen biscuits.
Jelly & Jam – ok this one is pretty traditional but try a new jam like Rhubarb or Peach! And don't forget the butter – when they're hot – you'll have melted butter in seconds!
Sausage Gravy is pretty much one of my favorite food groups and those Buttermilk Biscuits are perfect for it!
Syrup or Honey – this is one my cousin taught me! He made biscuits for me as a kid and poured syrup on them like they were pancakes. So good!
Breakfast Sandwiches are always a fun thing to make and using this air fryer biscuit recipe and topping it with scrambled eggs and cheese makes a great sandwich!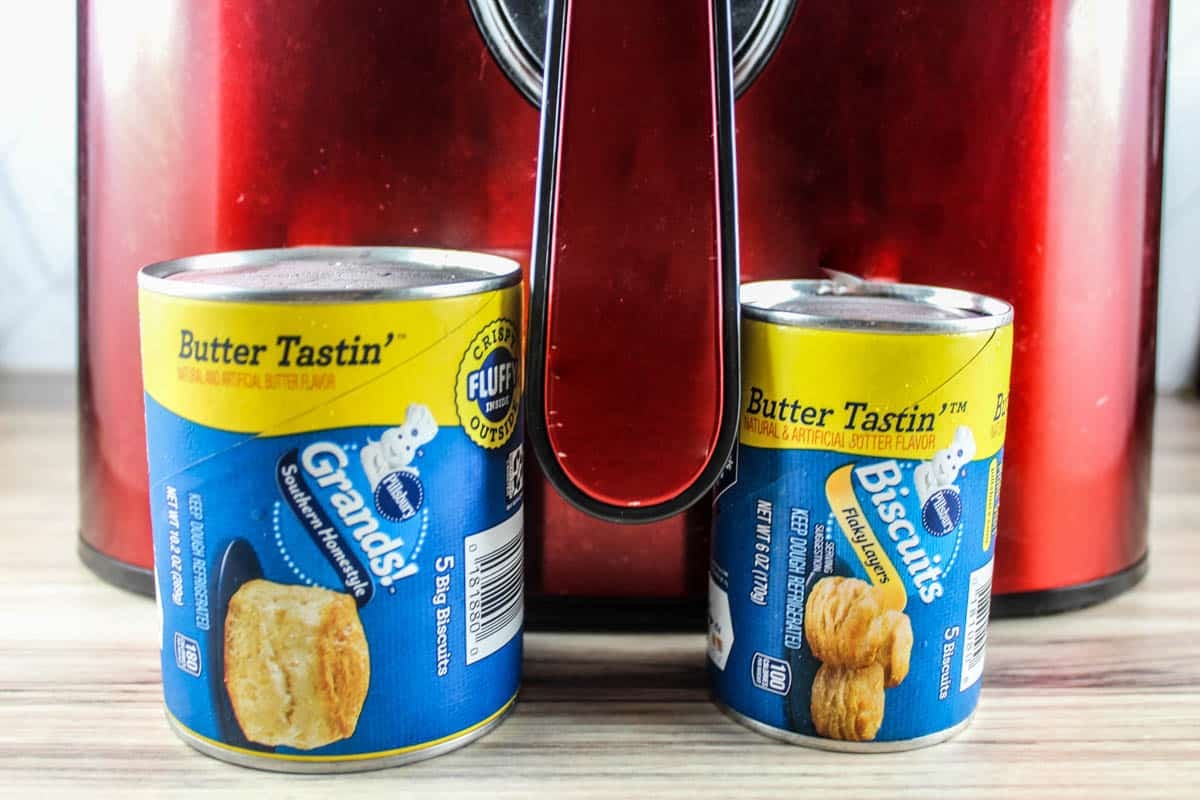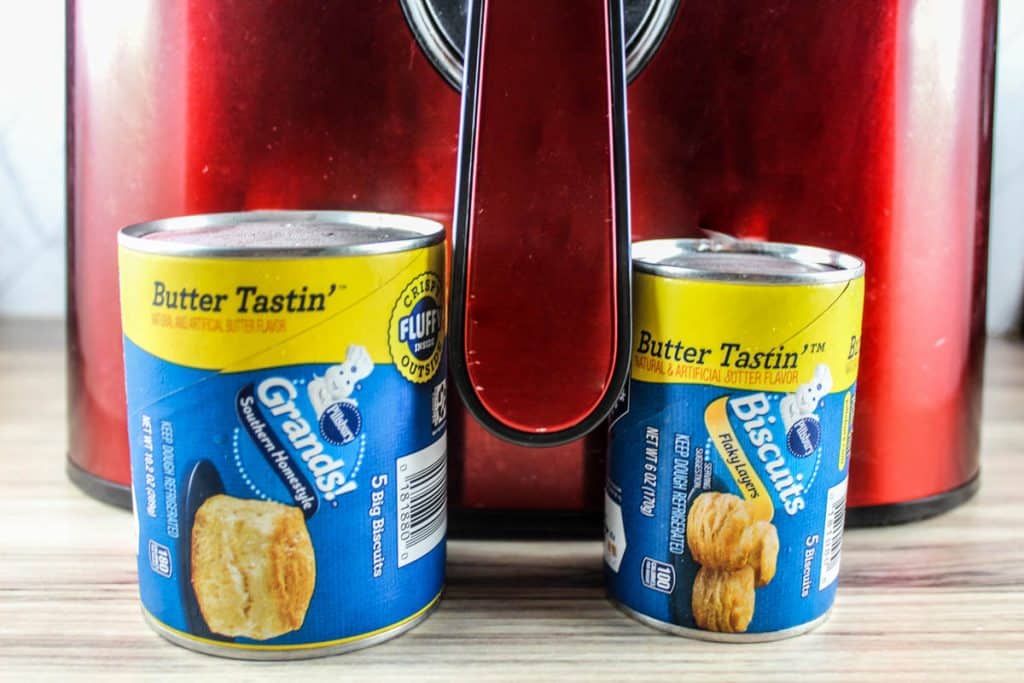 Tips, Tricks & FAQs
How long do you cook a biscuit in the air fryer?
The rule of thumb I like to use is same temp and half the time. With biscuits there are two big tips I can share:
1. Less Time! Start with less time than you think – you can always add another minute or two – but you can't unburn them.
2. Check the middle! If you think the biscuits are done, open one of the biscuits and check the middle. The outside of the biscuit can look done and perfect – but then the middle will still be doughy. If that's the case, turn the temp down and add 1-2 minutes.
Does it matter what kind of air fryer I use?
Nope – you can use the basket or oven style air fryers with any of my recipes. They really cook the same. My oven-style does REQUIRE preheating when you turn it on – but I never preheat my basket style.
Do I need to use cooking spray?
If you're not using a parchment sheet – you can do a quick spritz on the tray of the air fryer with cooking spray.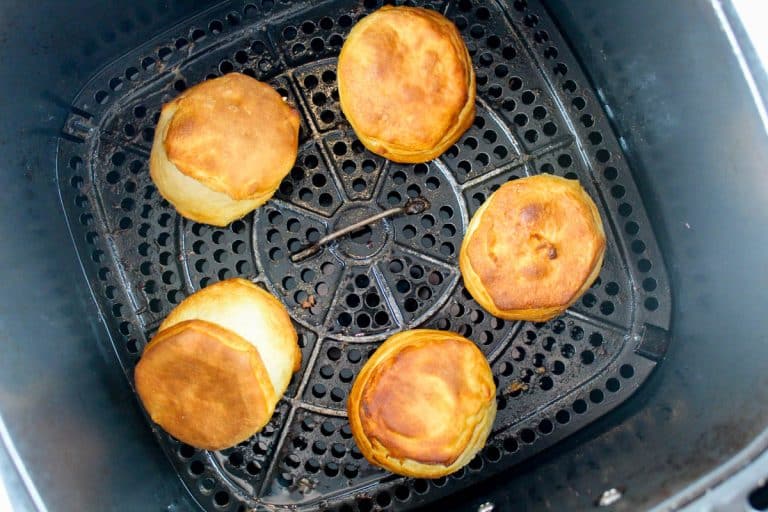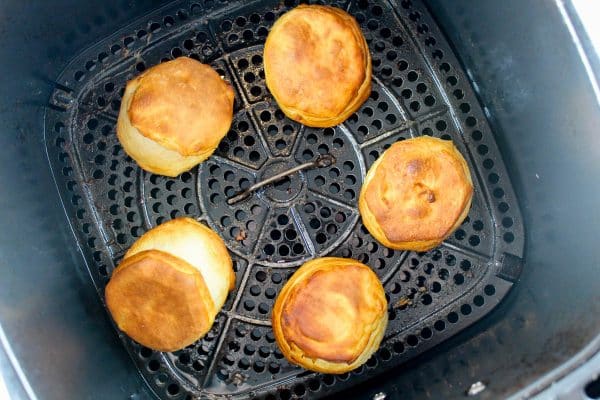 How do you store and reheat leftover cooked biscuits?
Store leftovers in an airtight container (I like these glass ones) on the counter for 2-3 days. Reheat in the air fryer at 200º for 2-3 minutes.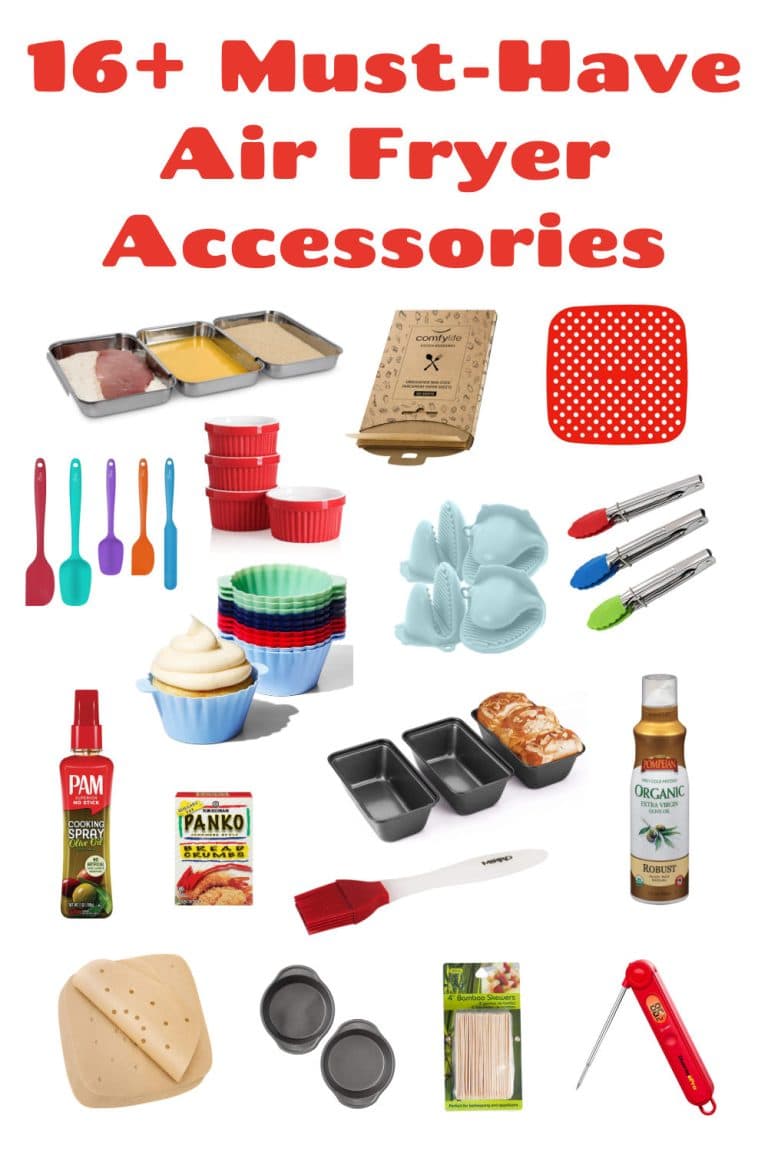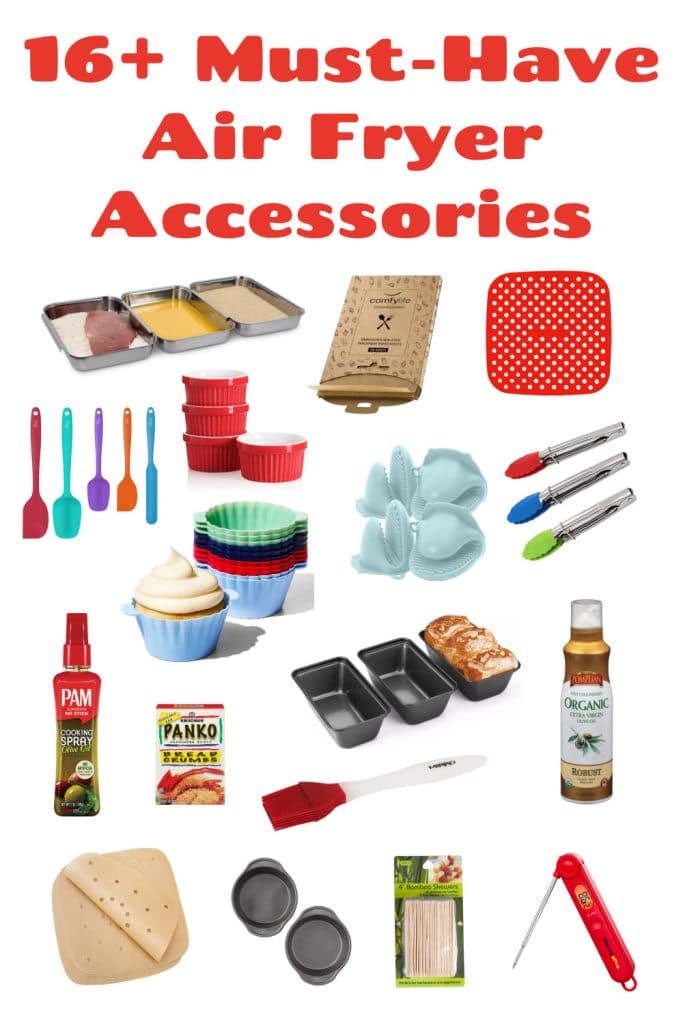 Best Air Fryer Accessories
Here's my ultimate list of best air fryer accessories – whether you have a basket- or oven-style! I've also included a price guide as well as my favorite recipes for those accessories.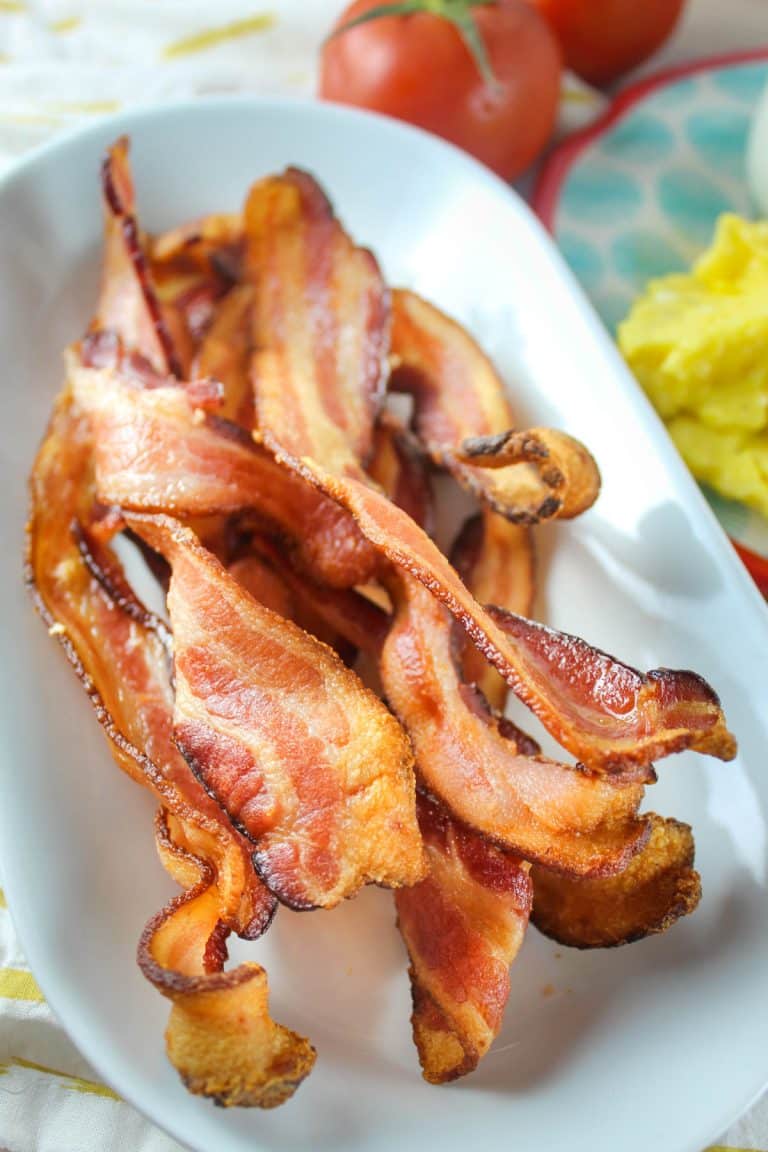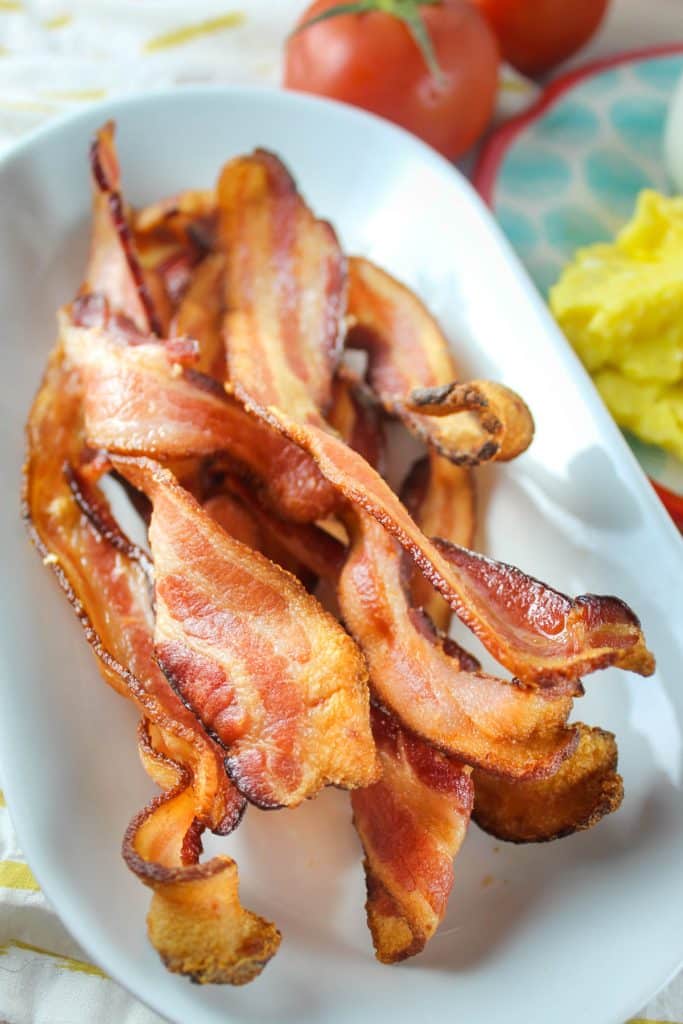 Easy Air Fryer Recipes for Breakfast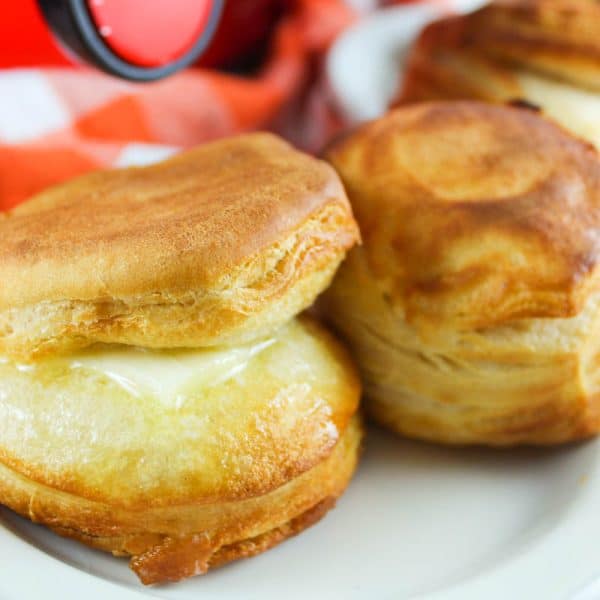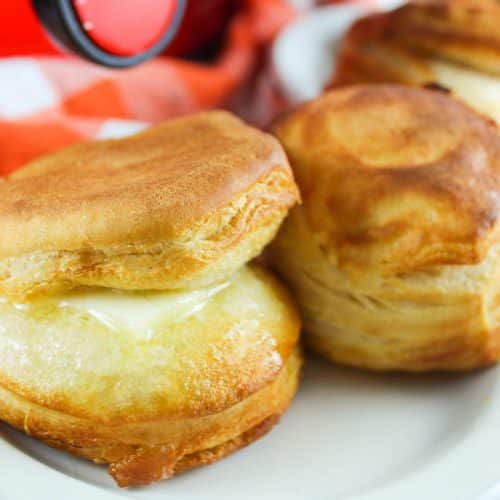 Canned Biscuits in the Air Fryer
Lots of folks ask me if you can air fry canned biscuits? The answer is a resounding YES! Refrigerated biscuits are a great side dish for any meal and making them in the air fryer saves time (and is great for reheating as well!).
Instructions
Open can of biscuits and separate biscuits

Lay biscuits in air fryer basket in a single layer

Air fry at 360º for 6-8 minutes. Check biscuits at 5-6 minutes because depending on the thickness, they can go from perfect to burnt VERY QUICKLY.

Remove from air fryer with tongs and serve hot with butter.
Notes
**We are not dietitians and recommend you seek a nutritionist for exact nutritional information. The information in the nutrition box are calculated through a program and there is room for error. If you need an accurate count, I recommend running the ingredients through your favorite nutrition calculator.**
Nutrition
Serving:
1
biscuit
Calories:
337
kcal
Carbohydrates:
45
g
Protein:
6
g
Fat:
15
g
Saturated Fat:
2
g
Polyunsaturated Fat:
6
g
Monounsaturated Fat:
6
g
Cholesterol:
1
mg
Sodium:
870
mg
Potassium:
207
mg
Fiber:
1
g
Sugar:
3
g
Vitamin A:
2
IU
Calcium:
45
mg
Iron:
3
mg