This post is sponsored by Woeber's. All opinions are my own.
Ok – the big game is tomorrow and you need to get ready! You know – even if you're not having a big party – you're going to be watching the game, rooting for the Rams and wishing you had some food! This recipe for Beef & Cheddar Party Sliders is the way to go!!!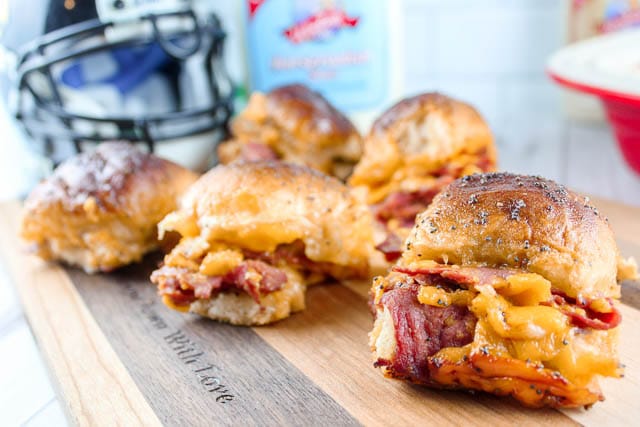 The best part of these party sliders is how quick they go together! Ten minutes and you get them in the oven – plus they have the delicious bite of my favorite secret ingredient!! Click in to find out what it is!
I mean – come on!!!! There's no way you can look at that cheesy goodness and not want to dive in!! I love the party sliders because there's this wonderful buttery Worcestershire topping that you brush on top before you bake – so every slider is even gooier! But what about that secret ingredient???
It's Woeber's Horseradish Sauce! Last fall I toured the Woeber's factory and found out even though mustard is sort of their "thing" – the Horseradish Sauce is their #1 seller and it's made right here in Ohio! They have a great story and I love supporting Ohio companies.
And DON'T be scared off by it! I'm not a fan of straight horseradish but this sauce is the perfect blend – it's got the bite of horseradish but is creamy and light. It adds so much ZING to the sliders!! It's a must-have!!!
Roast beef & cheddar is such a classic combination so you know these will be loved by everyone at the game day party! (And remember March Madness isn't far off either!!) The sliders are so easy to put together – just slice the King's Hawaiian Rolls in half and add the roast beef, cheddar, horseradish sauce and bbq sauce – boom done! Top with that butter sauce and pop them in the oven and melt it all together!
If you like these sliders – be sure to check out my other hot slider recipes:
– Philly Chicken Sliders
– Ham & Cheese Sliders

Yield: 6
Beef & Cheddar Party Sliders
Party sliders are the best idea for a big game day – you can whip out a batch in 20 minutes and they're so fancy! Your guests will never know how easy they were! These beef & cheddar ones are made even more juicy and delicious with the bite of Woeber's Horseradish Sauce and bbq sauce. Yum!
prep time: 10 mins
cook time: 25 mins
total time: 35 mins
ingredients
12 pack of King's Hawaiian Rolls
8 oz deli sliced roast beef
6 slices sharp cheddar cheese
2 tablespoonsWoeber's Horseradish Sauce
2 tablespoons barbecue sauce
1/4 cup salted butter (1/2 stick)
1-2 tablespoons brown sugar
1 tablespoon dijon mustard
1 tablespoon Worcestershire Sauce
1 teaspoon poppy seeds
instructions
Preheat oven to 350
Spray baking dish with nonstick spray
Slice King's Hawaiian Rolls in half and lay the bottom half of the rolls in your pan
Top with roast beef slices
Spread Woeber's Horseradish Sauce and BBQ sauce across roast beef
Top with cheddar slices
Cover with top of rolls
In microwave safe bowl, add remaining ingredients (butter, brown sugar, mustard, Worcestershire sauce, poppy seeds) and microwave for 2 minutes (covered with Glad Press & Seal)
Remove butter mixture from microwave and stir
Brush tops of sliders with butter mixture
Bake for 25 minutes