I have been eyeing these
Oreo Pancakes at IHOP
for some time now but I haven't really had the chance to stop in and try them. 🙁 So – I decided to make them myself and it was so easy! And delicious!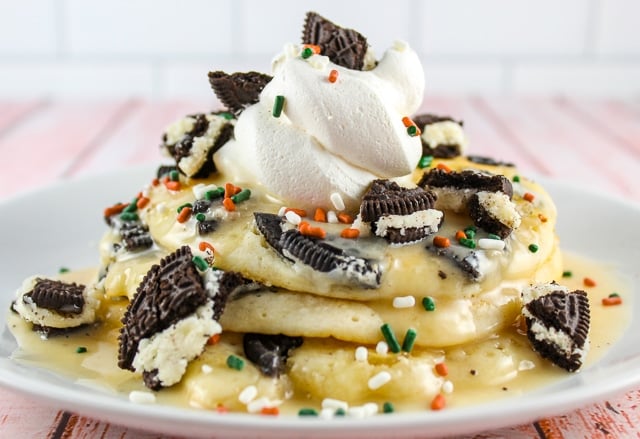 I want to say that the kids will love these Copycat IHOP Oreo Pancakes – and they will – but who am I kidding – YOU WILL TOO! I thought they might be too sweet but they were delicious!!!! A side of bacon for the salty to go with the sweet would be perfection!

These were so simple – I can't believe I hadn't thought of it myself – you just mix up your batter and break up some Oreos and pop them in the pancakes as soon as you put the batter on the griddle. Now let me tell you a behind-the-scenes secret – the first batch of pancakes – I forgot to put in the Oreos!! BHAHAHAHAHA – luckily I just whipped up another batch of batter. Duh! The dogs got a few pancakes and were happy!
I tend to be a syrup purist and not like anything else on a pancake – but I went for the authenticity and these IHOP Oreo Pancakes required a quick powdered sugar glaze (powdered sugar, milk & vanilla) – it was so simple and really added a lot to the pancakes – I didn't even miss my maple syrup! (Do you know how hard it is to pour with one hand and take a picture with the other?!)
Then you top with whipped cream and sprinkles and MORE OREOS! Now I didn't have the whipped cream in a can – so I just spooned some Cool Whip into a ziploc bag, cut the corner off and piped it on top! Semi-homemade fancy on top of these Oreo Pancakes! I grabbed the sprinkles out of the cupboard and sprinkled away!
I had to try a big ol' bite and make sure they came out ok – and man – I was in heaven!!! I couldn't believe how delicious they were! Like I mentioned, I thought they might be too sweet but they were perfection! I might never have regular pancakes again!!! I can't wait to try this with Nutter Butters next!!! Maybe throw a little peanut butter in with the glaze?!
What to serve with IHop pancakes?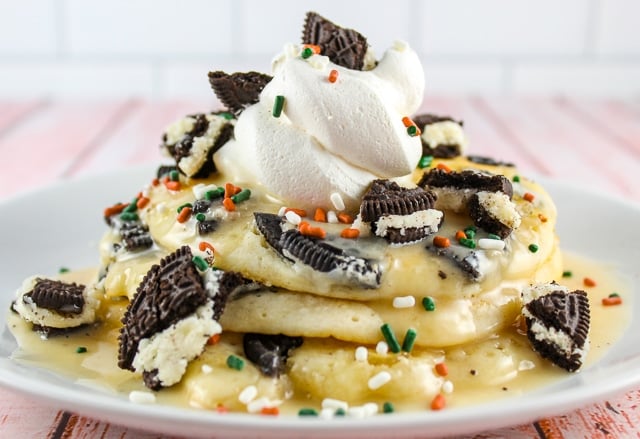 Copycat IHOP Oreo Pancakes
I've been eyeing these Oreo Pancakes for some time but just haven't had the opportunity to go to IHOP – so – I made them myself! Oreos in the batter – Oreos on top! A quick powdered sugar glaze and whipped cream top it off! This is the most fun pancakes have ever been!
Instructions
Mix pancake mix and water

1 cup buttermilk pancake mix,

2/3 cup water

Heat up griddle and spray with non-stick spray

Mix powdered sugar, milk and vanilla – whisk and set aside

1/2 cup powdered sugar,

1-2 tbsp milk,

1/2 tsp vanilla

Pour 1/4 cup pancake batter on hot griddle (twice for two pancakes)

Add a handful of broken Oreo pieces into the batter circles

Let cook until brown on one side (1-2 minutes)

Flip and cook 1-2 minutes more

Remove pancakes from the griddle and repeat with the rest of the batter

Stack pancakes and top with powdered sugar glaze, whipped cream and sprinkles!
Nutrition
Serving:
1
pancake
Calories:
162
kcal
Carbohydrates:
31.1
g
Protein:
3.6
g
Fat:
3.4
g
Saturated Fat:
0.6
g
Sodium:
199
mg
Potassium:
34
mg
Fiber:
1.5
g
Sugar:
18.4
g
Calcium:
41
mg
Iron:
1
mg