These Simply Potatoes Cheesy Potatoes are a fun take on classic cheesy potatoes but with a Swiss cheese twist! Jarlsberg cheese and red onions add an extra bite to this traditional dish!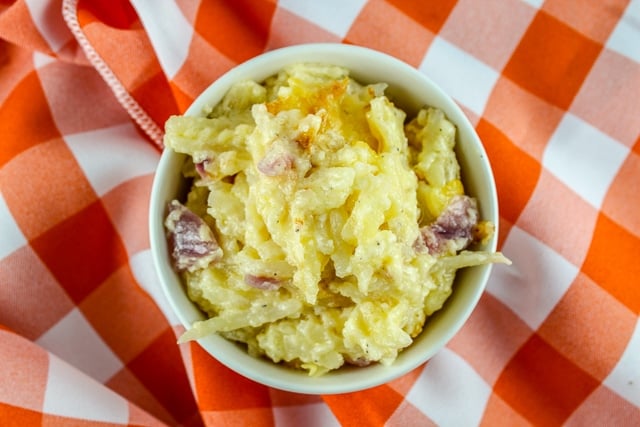 And thus – Jarlsberg Dip Cheesy Potatoes were born! If you're not familiar with Jarlsberg – it's from Norway and is similar to Swiss cheese. These potatoes are a fantastic side dish – especially with Easter coming up!! They'll be great with ham too!
I loved these Jarlsberg Dip Cheesy Potatoes! The first time I made them – I literally just ate them for dinner – they were so good! And they're easy to make – I grabbed my big mixing bowl and poured everything together and then into the pan they went! Bake and done!
You can also make these Jarlsberg Dip Cheesy Potatoes ahead of time and refrigerate or freeze for later! It's a great potluck dish too – I've been making so many great recipes lately – my friends aren't sure which one they want me to bring to Easter Dinner! They have to pick between the
Pineapple Stuffing
, the
Sweet Potato Casserole
and now the Jarlsberg Dip Cheesy Potatoes!
These Jarlsberg Dip Cheesy Potatoes are delicious! They take 10 minutes to put together and are so easy! I can't wait for you to serve these with your Easter dinner! (and then you'll be so hooked – you'll want them all the time!) Yum!!!!
Jarlsberg Dip Cheesy Potatoes
Yield: 8
prep time: 15 M
cook time: 45 M
total time: 60 M
Jarlsberg Dip is very popular around these parts – so I made my own a while back. Now I decided to make that dip into a cheesy potato recipe! This is a perfect side dish for any holiday meal (or any meal really!). Your family will love it!!!
ingredients:
2 cups Jarlsberg cheese, shredded
1/2 cup mayonnaise
1 tsp lemon juice
1/3 cup red onion, diced
1 can Cream of Chicken Soup
1 tsp salt
1/4 tsp Black Pepper
1/4 cup Sour Cream
1 bag about 20 oz Simply Potatoes Hash Browns
3 Tbsp Butter melted
instructions:
Grease 8×8" baking dish.
Preheat oven to 350.
In a bowl mix mayo, lemon juice, salt, sour cream onion, soup, black pepper and 1.5 cups of cheese
Add hash browns and melted butter. Mix well.
Transfer to prepared dish.
Bake 40 minutes until bubbly
Top with remaining 1/2 cup of cheese and bake 5 more minutes.