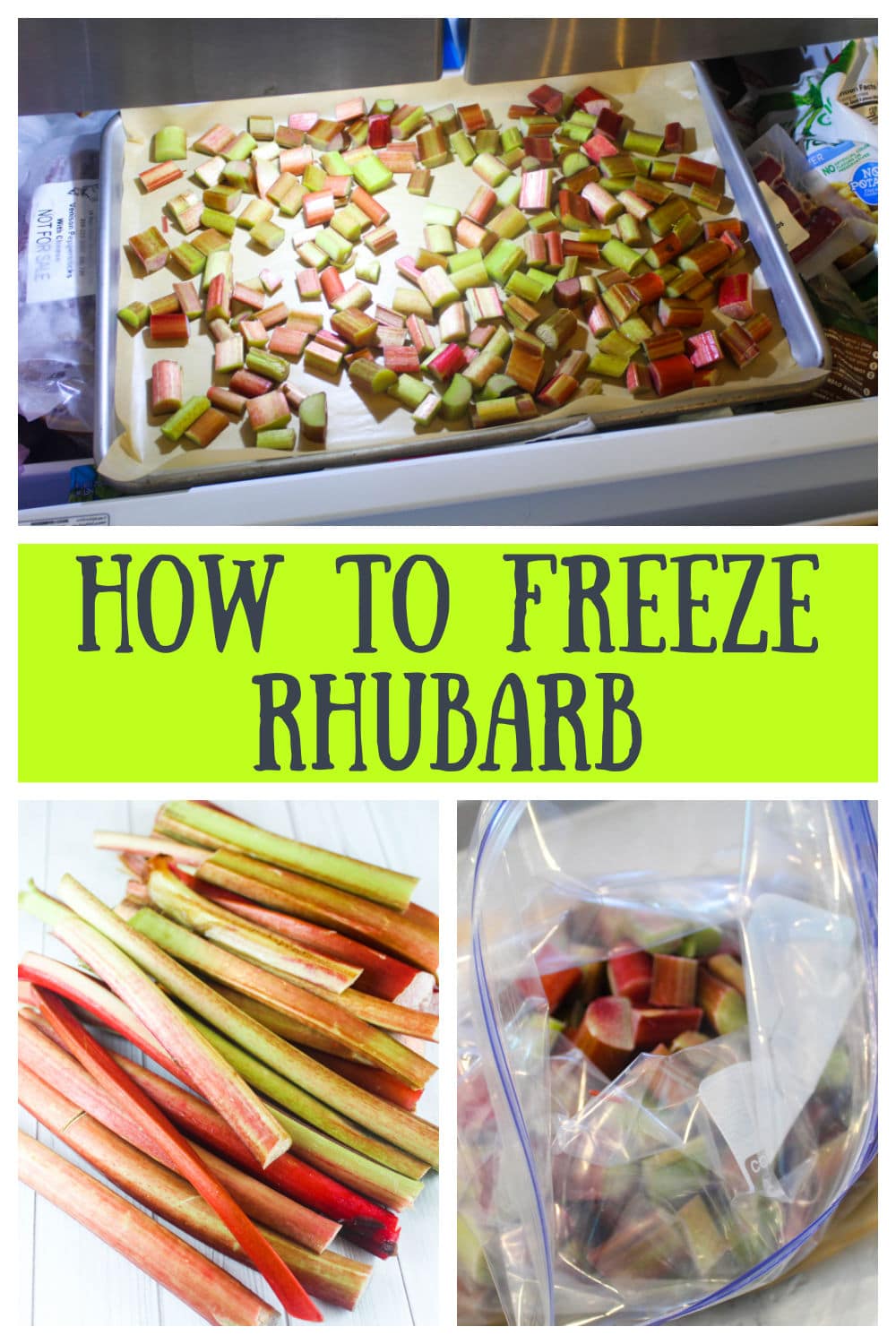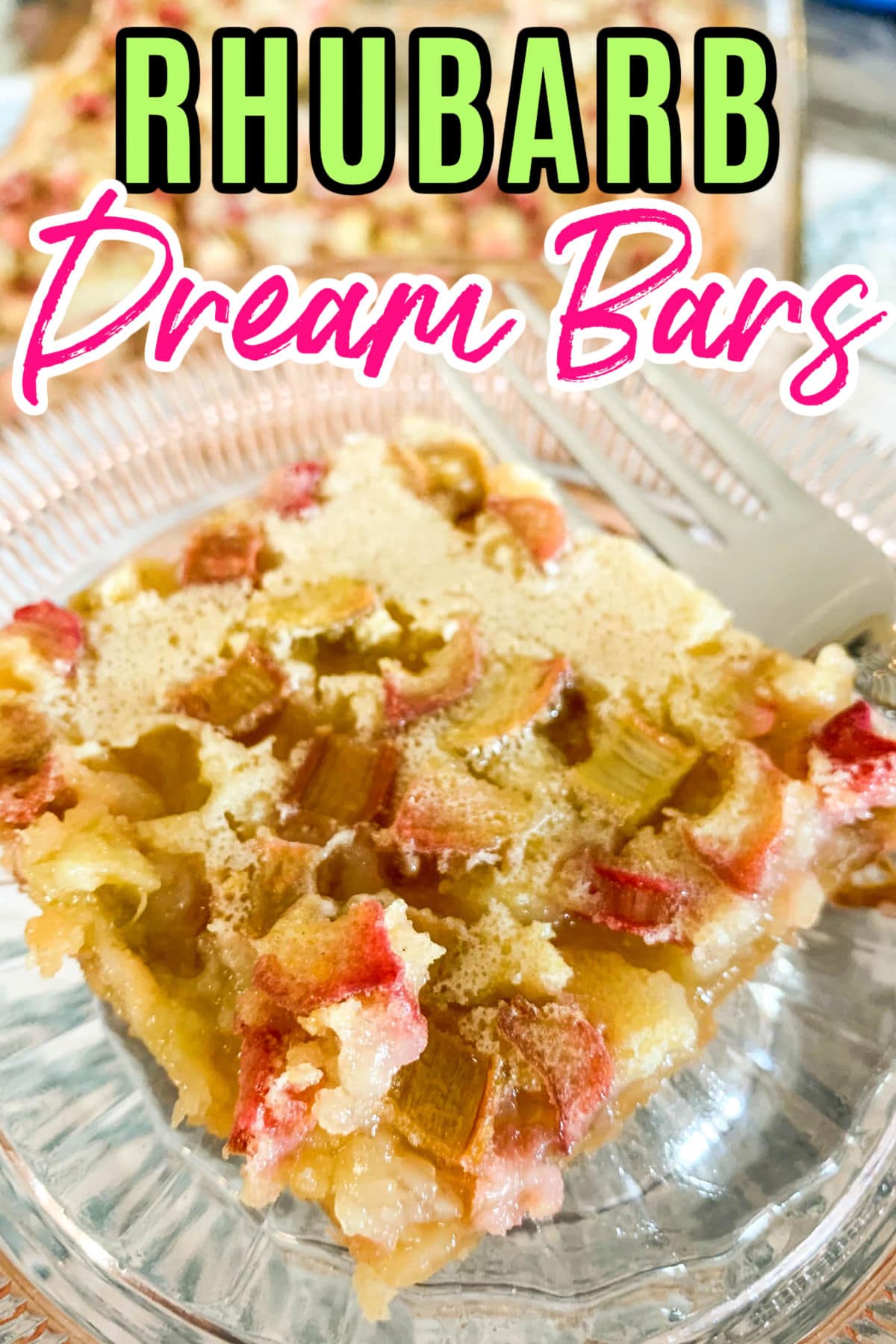 Rhubarb is great for a pie or a crumble, but it can also be transformed into a spectacular cookie bar. Our Rhubarb Dream Bars are soft, sweet and tart, with a bit of crunch. Learn how to make them here!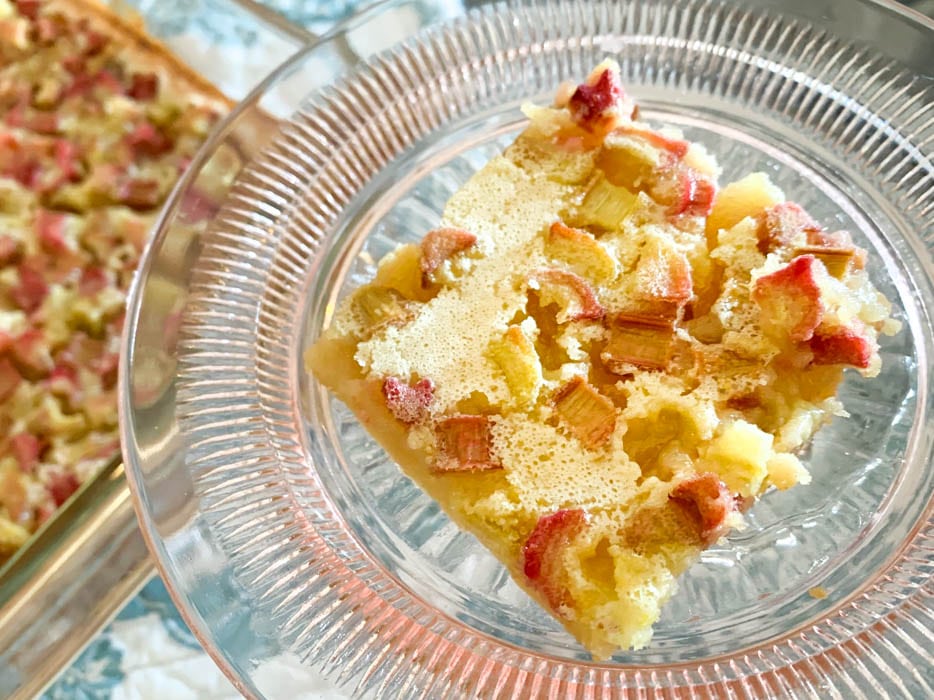 Rhubarb Bars are the perfect early summer picnic treat – but if you freeze rhubarb when it's rip – they're the perfect little bite of sweetness all year round. These easy dream bars go together in just a few minutes and they are delicious!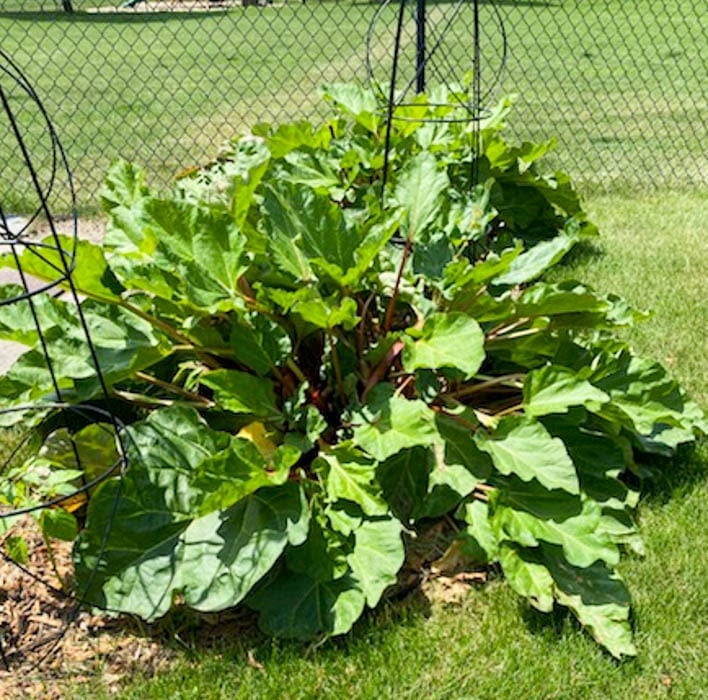 Rhubarb Dream Bar Ingredients
I was home in Iowa for a week and my BFF has three huge rhubarb plants in the back yard and I couldn't help but steal some and bring home! (Yes – I packed rhubarb in my luggage.) While I was there, she made me her neighbor's famous Rhubarb Dream Bars and now I'm sharing with you! Here's what you'll need:
all purpose flour
butter
eggs
sugar
diced rhubarb
When Can I Pick Rhubarb?
First up – rhubarb plants get big quick! But – if you're transplanting – it's best to wait 2 summers before you pick – and this was the first summer we could pick from these. Woohoo!
You can pick rhubarb when the stalks are 7-15 inches. You also want to pick all your rhubarb by early July. After that – just leave the plants as is and they'll regrow and recharge over the winter.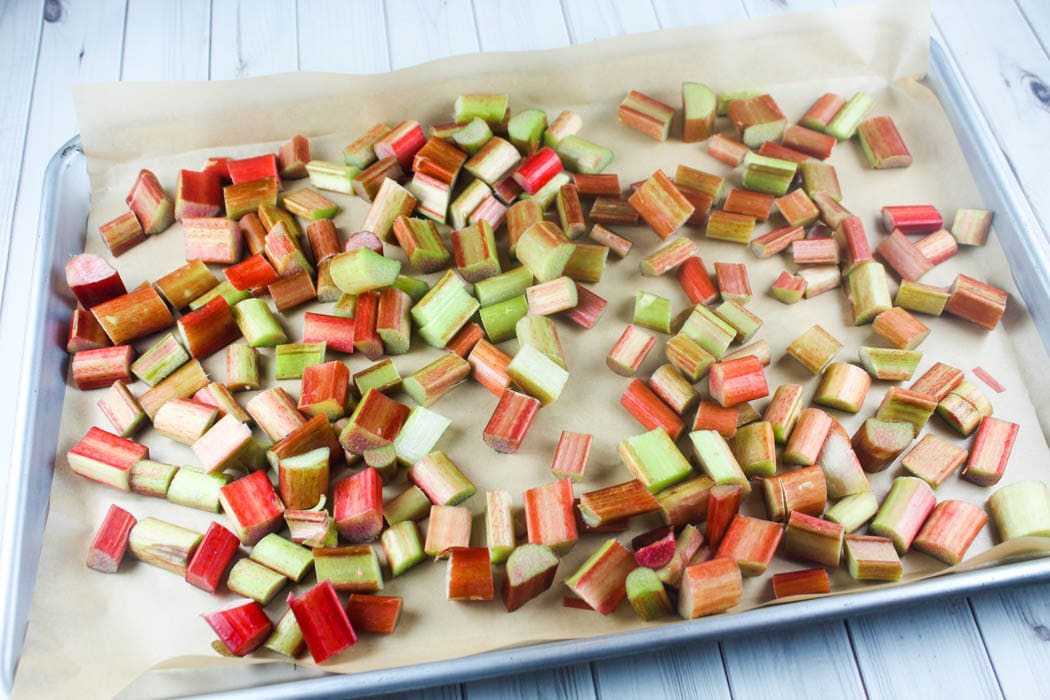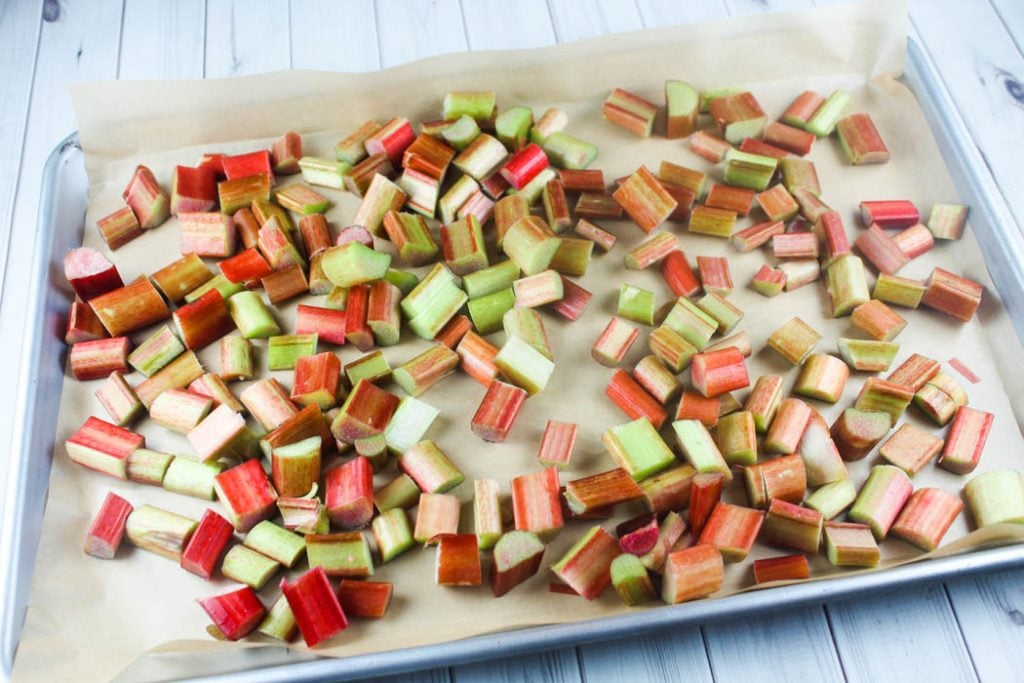 How to freeze rhubarb
Now – what to do with all that fresh rhubarb you pick by the 4th of July?! If you have enough rhubarb – you can freeze it and it's so simple! 3 steps and you're done! Save all that summer flavor all year long!
Step 1: Cut your rhubarb! Cut the stalks near the base and snap off the leaves. Then trim each end to cut off the woody base.
Step 2: Chop rhubarb into 1″ chunks. You could do the whole stalks but they're really long. This way you can pull the frozen chunks out and drop them right into whatever recipe you're making rather than have to thaw and dice them later.
Step 3: Spread the diced rhubarb on a parchment paper-lined baking sheet. Freeze for 3 hours until firm.
After they're frozen – just pop them into a freezer bag and you're done! I recommend freezing bags with 2 cups each as that's typically what you use in a recipe.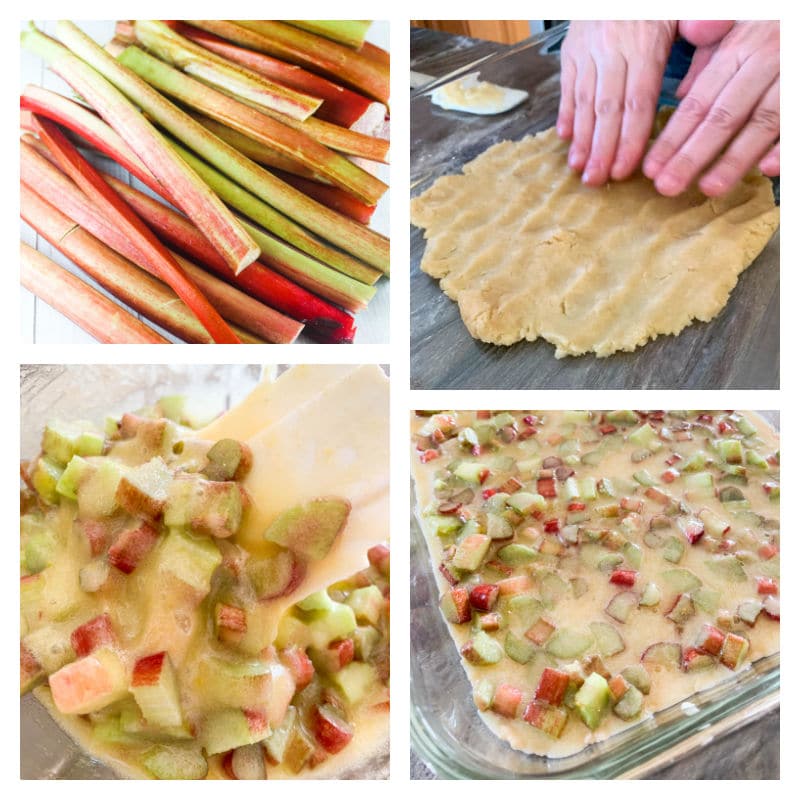 How to make Rhubarb Custard Bars
Rhubarb Dream Bars are super simple – my BFF makes it all summer long!
Preheat the oven to 350 degrees F
In a medium bowl, stir together your shortbread crust ingredients: Combine flour, powdered sugar and butter.

You can use a food processor or pastry blender for this step if you'd like.

Pat crust mixture into the base of your 9×13 baking dish. (It's a thin crust in that size pan – use a smaller pan for a thicker bar.)
Bake the crust for 15-20 min in preheated oven.
While the crust is baking, in a large bowl, mix together your custard with eggs, sugar, flour and salt. You can use the mixer for this step.
Fold the rhubarb into the custard mixture
Let the baked crust cool slightly for just a few minutes. Then pour the rhubarb filling mixture on the crust.
Bake at 350 for 35-40 minutes.
I can promise you – everybody will gobble these up! Amy has to make them about once a week because husband and son eat half the pan each! I helped put a dent in the pan this time – it was for research!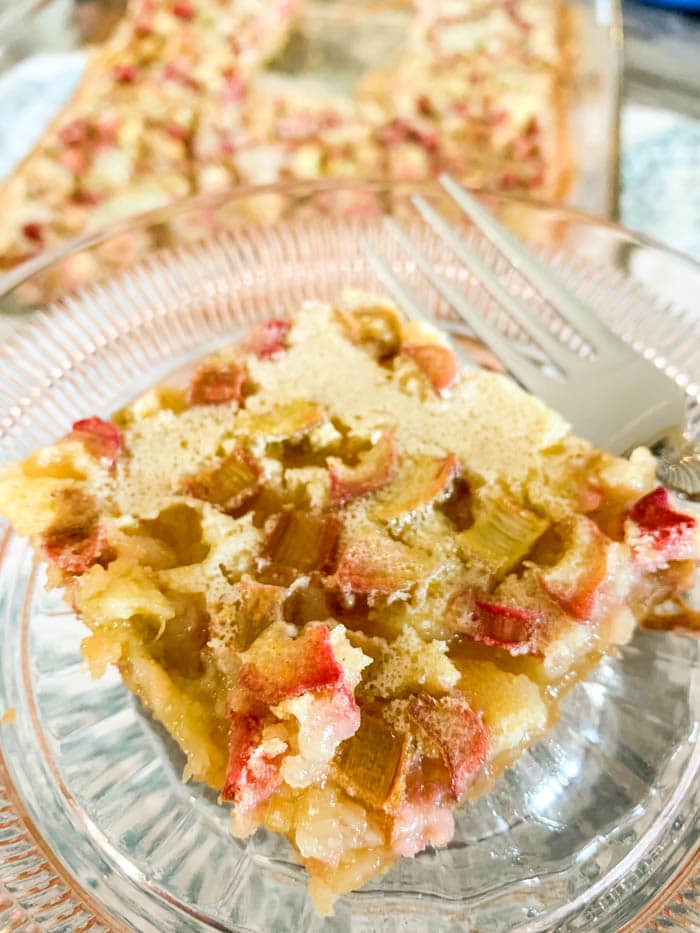 Tips & Tricks!
Do you have to peel rhubarb before cooking?
Heck no! Rhubarb is like celery – you don't need to peel it.
What can I do with few stalks of rhubarb?
I had some leftover after making this recipe and I threw it into blueberry muffins I was making! Rhubarb goes great with strawberries, blueberries and more!
How do you cut rhubarb for pie?
Dice into bite size chunks as you see in the photos above.
What part of the rhubarb is poisonous?
Rhubarb leaves are toxic when ingested – so be sure to discard them safely. You're fine to touch them when trimming the rhubarb. We usually just leave them in rhubarb patch for mulch.
How do I store rhubarb dream bars?
Store in airtight glass containers. They're fine on the counter for a day or so – longer than that – you might want to put them in the fridge. They never last longer than that at my house!
Can you freeze rhubarb dream bars
Yes – you can freeze them in airtight containers (glass or zipper bags) for up to 3 months.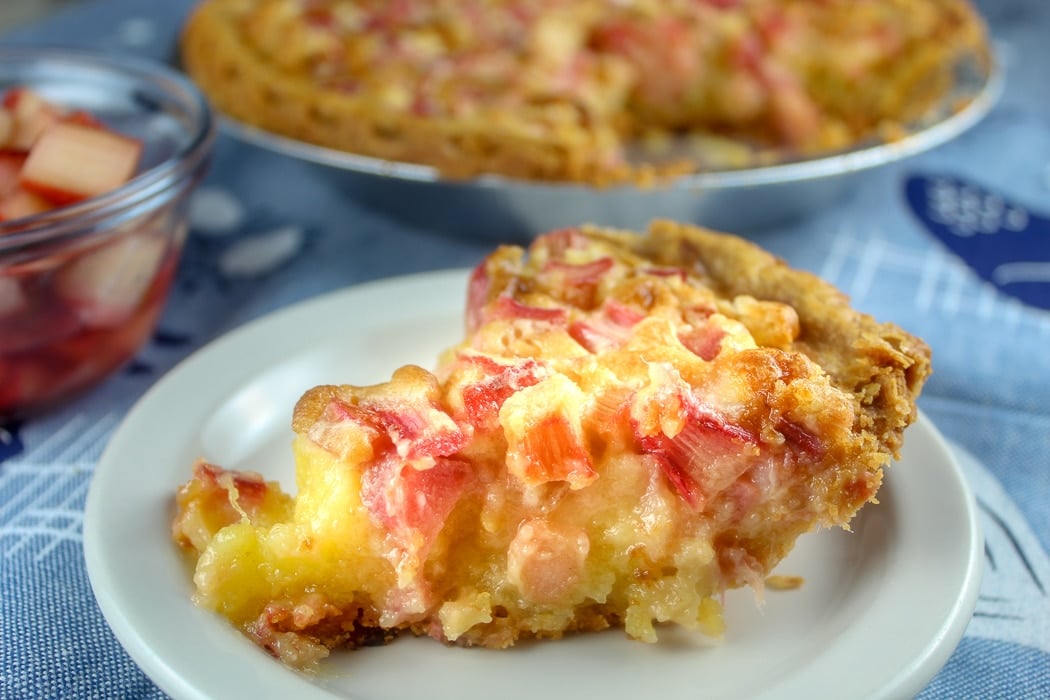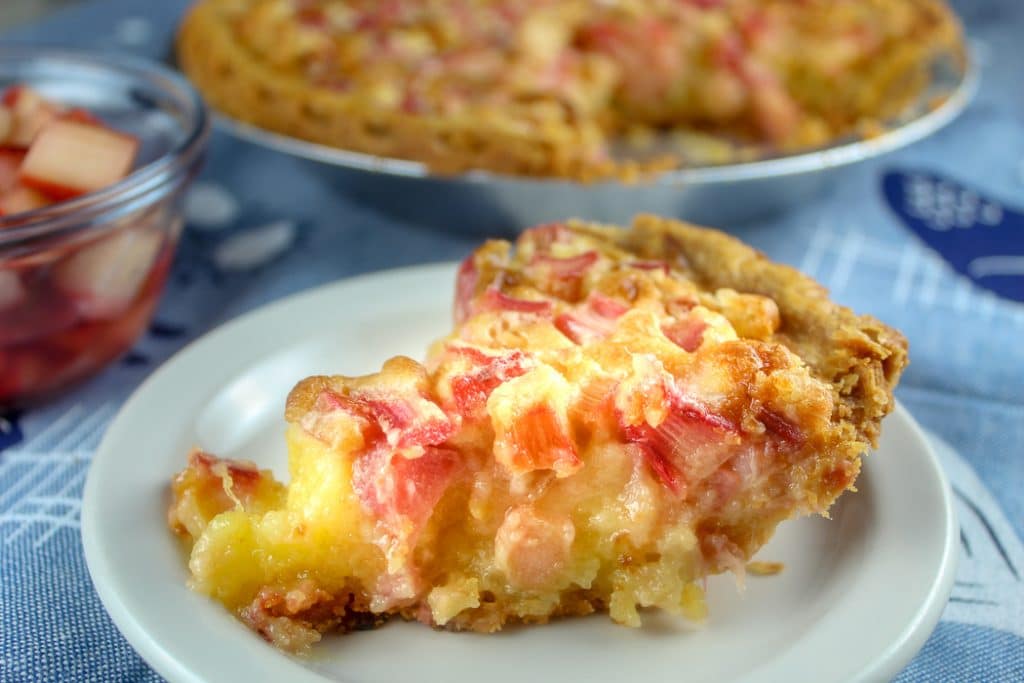 Summer Dessert Recipes
More Rhubarb Recipes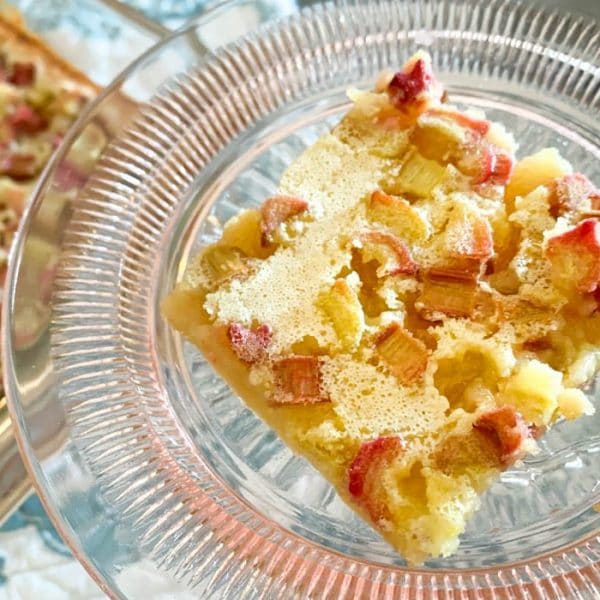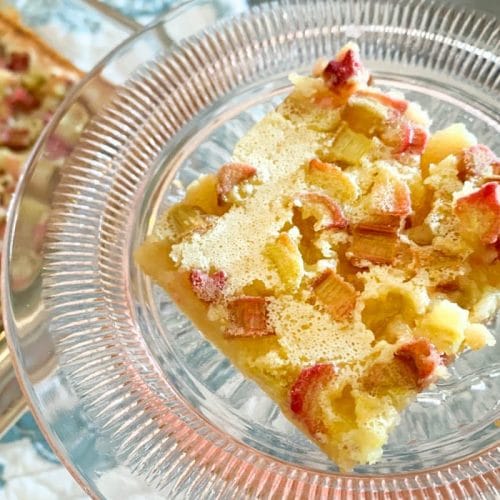 Easiest Rhubarb Dream Bars
Rhubarb Dream Bars are the perfect early summer treat! The rhubarb is ripe and you just need a little bite of sweetness after a day of summer fun and grilling. These dream bars go together in just a few minutes and they are delicious!
Ingredients
1

cup

flour

5

Tbsp

powdered sugar

1

stick

butter

2

eggs

1 1/2

cups

sugar

1/4

cup

flour

3/4

tsp

salt

2

cups

diced rhubarb
Instructions
Preheat oven to 350 degrees

In a batter bowl, mix together 1 cup flour, powdered sugar and butter

1 cup flour,

5 Tbsp powdered sugar,

1 stick butter

Pat batter/dough into the base of a 9×13 baking dish. It's a thin crust – feel free to use a smaller baking dish for a thicker crust.

Bake at 350 for 15-20 minutes until crust is slightly browned on edges

In bowl, mix together eggs, sugar, 1/4 cup flour and salt.

2 eggs,

1 1/2 cups sugar,

1/4 cup flour,

3/4 tsp salt

Remove crust from oven and let cool for 5 minutes

Pour filling onto crust and spread out rhubarb chunks

Bake at 350 for 35-40 minutes

Let cool for 10-15 minutes before serving
Notes
**We are not dietitians and recommend you seek a nutritionist for exact nutritional information. The information in the nutrition box are calculated through a program and there is room for error. If you need an accurate count, I recommend running the ingredients through your favorite nutrition calculator.**
Nutrition
Serving:
12
bars
Calories:
236
kcal
Carbohydrates:
39.3
g
Protein:
2.5
g
Fat:
8.5
g
Saturated Fat:
5.1
g
Cholesterol:
48
mg
Sodium:
213
mg
Potassium:
85
mg
Fiber:
0.7
g
Sugar:
28.6
g
Calcium:
26
mg
Iron:
1
mg