As you know – Thanksgiving is almost upon us! Luckily I was able to try out a Thanksgiving recipe and use coworkers as guinea pigs and YOU WILL REAP THE REWARDS!
We had a Thanksgiving potluck for work and I decided to not chicken out and actually cook something for the feast rather than pick up a lame veggie tray. I did a quick check on the interweb and then grabbed the "stuffing" item on the list.
I realized if it needed to stay hot – the crock pot would be the way to go. Thus I found a recipe on
AllRecipes.com
for Crock Pot Stuffing. I went with the first recipe and called it a day.
Then the perplexing part – how do you make stuffing at work? Bread is gonna get soggy on a 30 minute car ride – or in the fridge overnight – so it was a dilemma. I ended up doing all the prep the night before. I: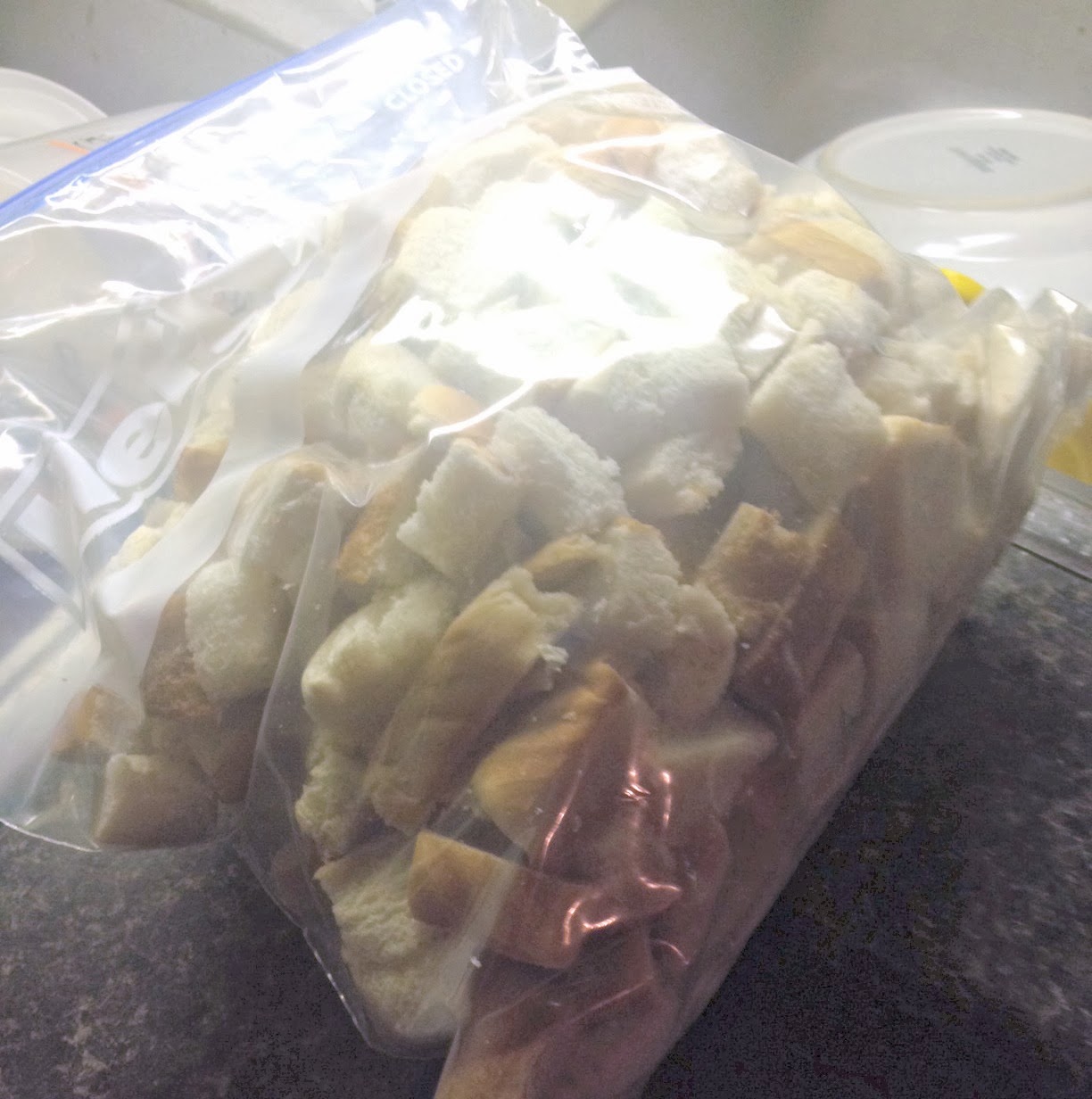 * chopped the bread (and hamburger buns we hadn't used)
* diced & sauteed the veggies and added the spices
* packaged it all up in ziplocs and storage containers (just like on Top Chef)
Then the next morning – off to work we went!
The first step was mixing the bread and warmed up sauteed veggies. Rather than dirtying a bowl – I decided to mix them up in my ziploc bag!
Shake Shake Shake – Shake your bread and your veggies! Then I cracked an egg in it – more shaking!!!
I did cut the recipe in half – it called for 12 cups of bread. TWELVE CUPS!!! That seemed like a lot and I thought – there's always so much food at a potluck – let's just do half.
Then the reality set in – even in my small crock pot – it was only 1/3 full! Oh well – too late to do anything about it now! I added a little chicken broth (not NEAR as much as it called for) and turned it on low for 4 hours.
I forgot to take a pic of the browned finished product – but let me tell you – it was DELICIOUS! Everybody kept saying all morning how the kitchen smelled like Thanksgiving and it sure did. But then when my sad little amount of stuffing made it into the bowl – it was gone in a minute! But hey – at least I didn't have a ton of leftovers to take home!
This stuff was DELICIOUS! I would definitely make this again in a heartbeat. So if you're looking for one way to lessen your load on Thursday – don't hesitate to make this one. But…don't cut the recipe in half…unless you're only feeding 2-4 people! 🙂
UPDATE: I made this again in 2013 for the potluck. Full recipe this time and it was still gone SO FAST! Delicious! I also tweaked the recipe a bit. Easy and delicious – it's a keeper!
Happy Thanksgiving!
Slow Cooker Stuffing
prep time: 20 MINS
cook time: 4 hour
total time: 4 hours and 20 mins
The absolute last stuffing recipe you'll ever make!!!
ingredients:
1 cup butter (2 sticks)
2 cups diced onion
2 cups diced celery
1/4 cup fresh parsley
8-12 oz sliced mushrooms
12 cups (1 loaf) diced bread
1 tsp poultry seasoning
1 1/2 tsp dried sage
1 tsp dried thyme
1/2 tsp dried marjoram
1 1/2 tsp salt
1/2 tsp black pepper
1+ cup chicken broth
2 eggs
instructions:
Melt butter in a skillet over medium heat. Cook onion, celery, mushroom and parsley in butter – stirring frequently.

Add spices to skillet and mix in well.

In large bowl, mix together bread cubes and vegetables – stir well.

Beat two eggs and add to the bread mixture. Stir.

Add chicken broth to the mixture slowly – only add enough to make it "gloppy" – not soupy. Add sparingly – you can always add more while it's cooking.

Transfer to slow cooker and cover. Be sure to spray the slow cooker with non-stick spray. If using a liner – spray that too!

Cook on high for 45 minutes, then reduce to low for 4-8 hours. Check every couple of hours and add more broth if needed.