My best friend has one child and he is my buddy. Literally I joke that she had my kid so I don't have to. Tanner is now 16 years old – craziness – and he's an AVID fisherman. He woke up last Saturday at 430am to go fishing! And when he got home after catching some blue gill – he came home and made dinner for the family. What 16 year old does that?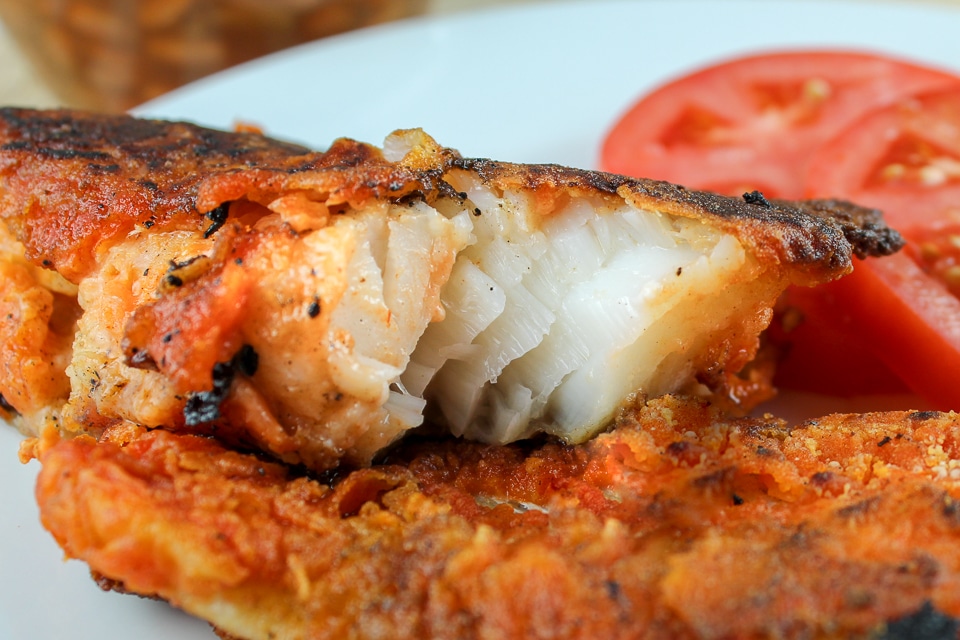 In all his glory, T-Dawg – as I affectionately call him – felt compelled to give me his recipe for the best pan fried fish. His mom agreed and said, "Heather – it's really good – he's not kidding!"
So that very night, I went to Kroger and got the ingredients – just for you!
This is a delicious pan fried fish recipe – it's so easy and so delicious. All you do is dip your fish a couple of times and fry!


What you get is a super crispy and crunchy piece of fried fish! I loved it! I didn't have access to Blue Gill and knew that I liked cod – so I went with that – but you can use any hearty white fish you have available to you.
Can you pan fry fish in olive oil?
Yup – that's what I did when I tried this. I modified my directions slightly to accommodate vegetable oil. It has a higher smoke point and I think it works a litter better.
If using olive oil – I wouldn't put too much in the pan – but if using vegetable oil – you might try 1/2 inch of oil in the pan – it keeps the fish from sticking too much. I made this fried fish recipe in a cast iron skillet.
How to make crispy pan fried fish?
Well this is Tanner's recipe – so I can't take credit for it. If you're thinking of how to make fried fish with flour – this is it! For this recipe though – we actually use Hooters Wing Breading – there's a lot of flavor packed in there.
Because the fish is "damp" – there's no need for egg – just dip your fish filet into the wing breading – then – dip and coat with Frank's Red Hot Sauce (the original kind) – and then back into the wing breading. Once the dipping is done – right into the oil for approx. 5 minutes on each side.
What goes with pan fried fish?
This pan fried fish is a little spicy – so if you're a spice wuss like me – you might want to go light with the Frank's Red Hot Sauce – but it wasn't too spicy – I promise – just definitely had a kick!
Here are some of my favorite side dishes for this pan fried fish recipe: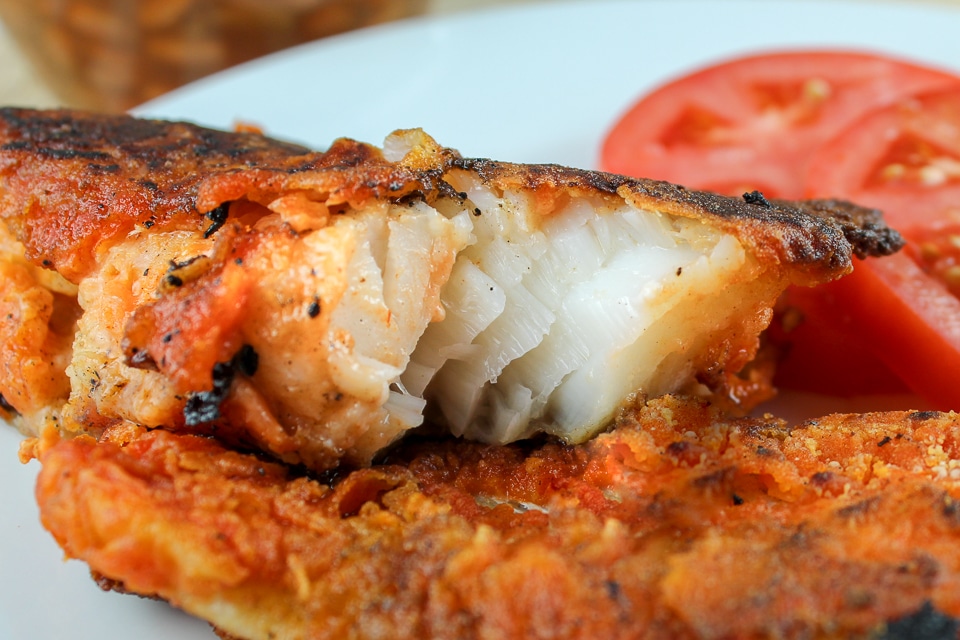 The Best Pan Fried Fish
prep time: 5 M
cook time: 10 M
total time: 15 M
You know when a 16 year old kid comes home and cooks dinner and his Mom gobbles it up – it's gotta be good. This is my buddy Tanner's recipe for the Best Damn Fried Fish You'll Ever Eat! #friedfish #fishfry
instructions:
How to cook The Best Fried Fish
heat skillet on medium
cut cod into two pieces
coat cod in wing breading
dip coated cod in franks red hot
re-coat with wing breading
add to hot skillet
fry for 5 minutes per side
NOTES:
– you can use any kind of white fish, just fry for less time based on the thickness of the fish