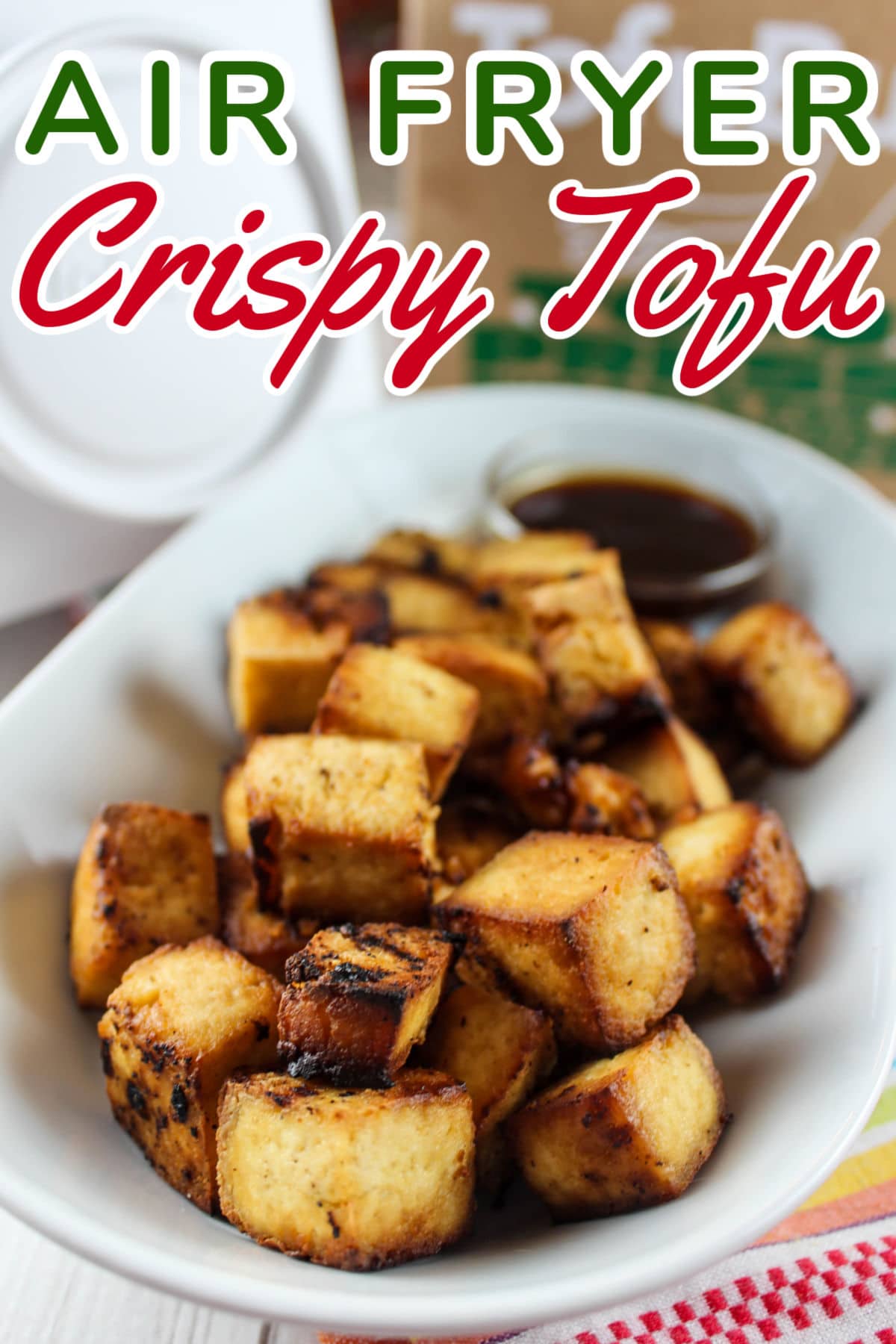 Air Fryer Tofu is really easy and can be used in place of chicken or steak in so many recipes – or just enjoyed as a healthy appetizer on its own.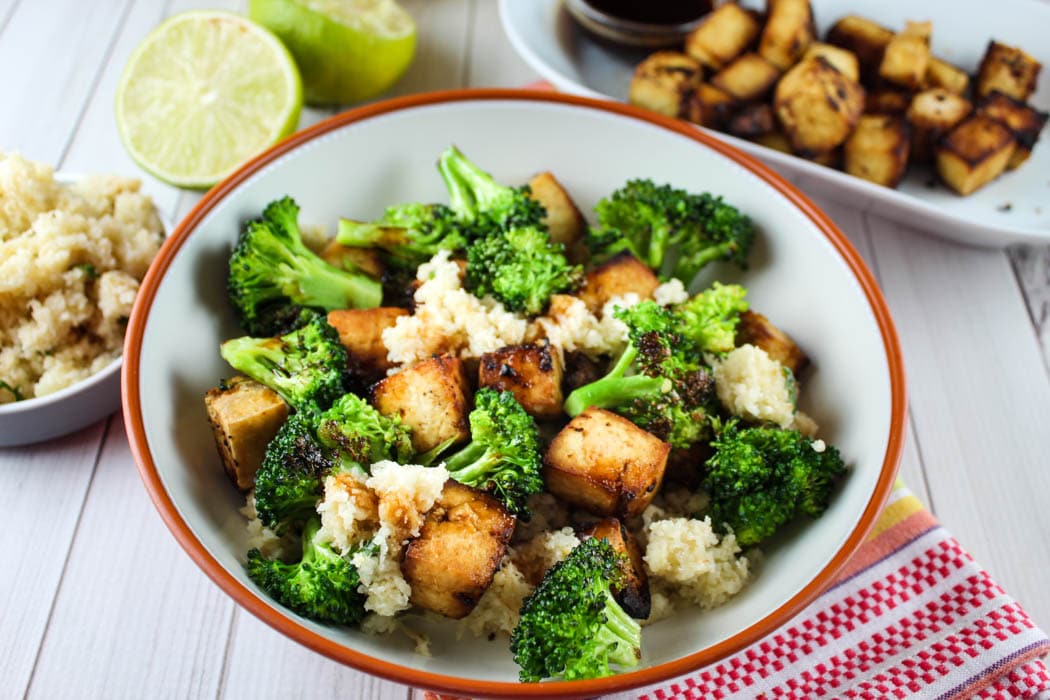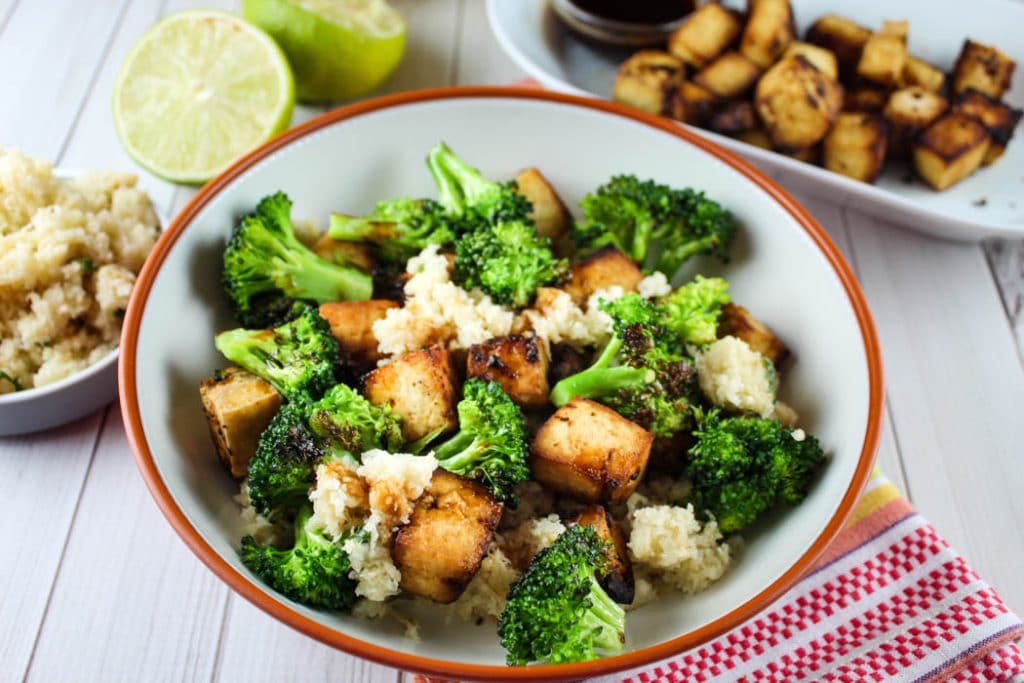 I recently had crispy fried tofu as an appetizer and knew I could make it at home – but I was new to tofu – but it's really easy to work with! I even found a handy gadget to press the tofu with – worked like a charm!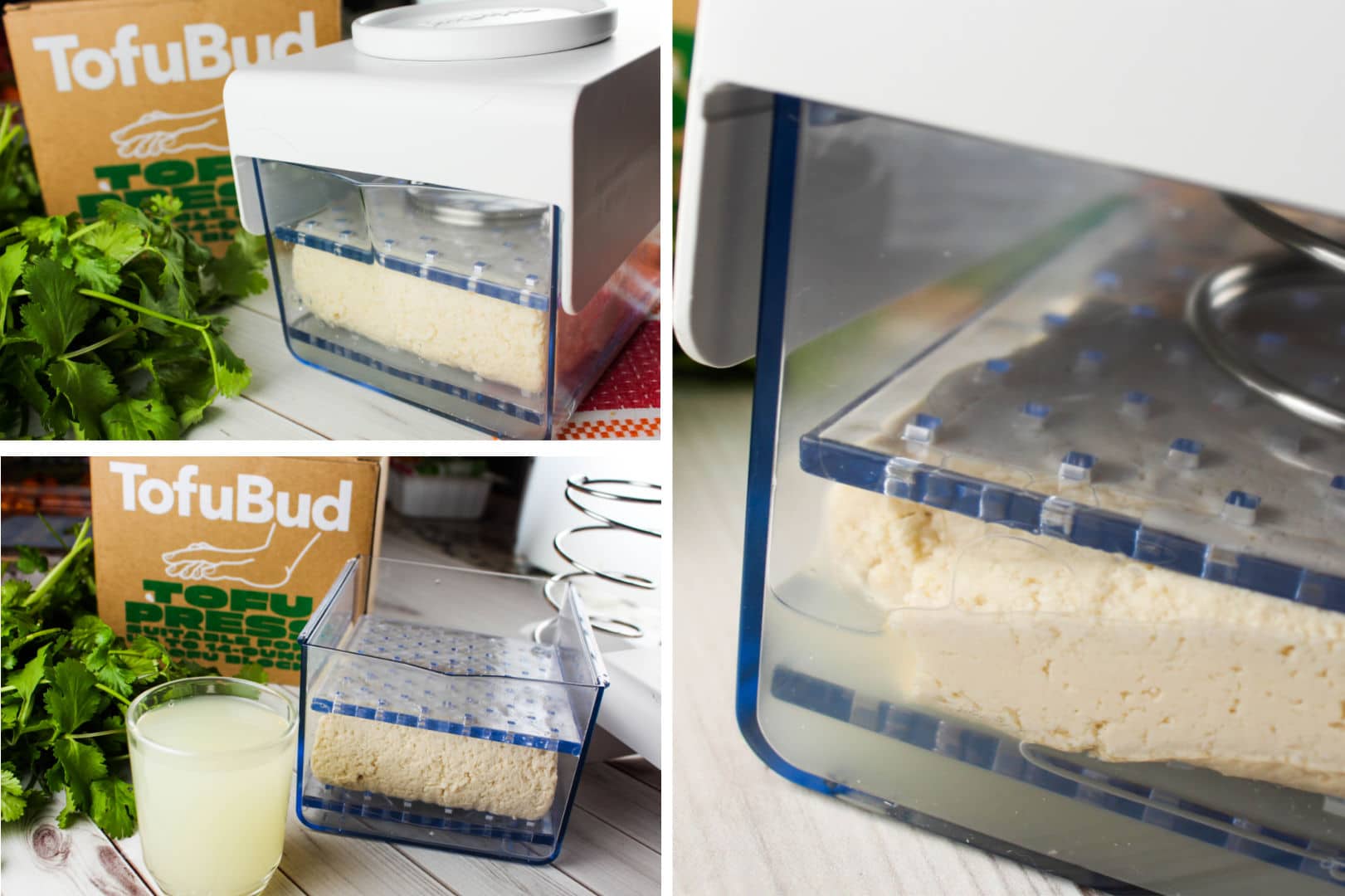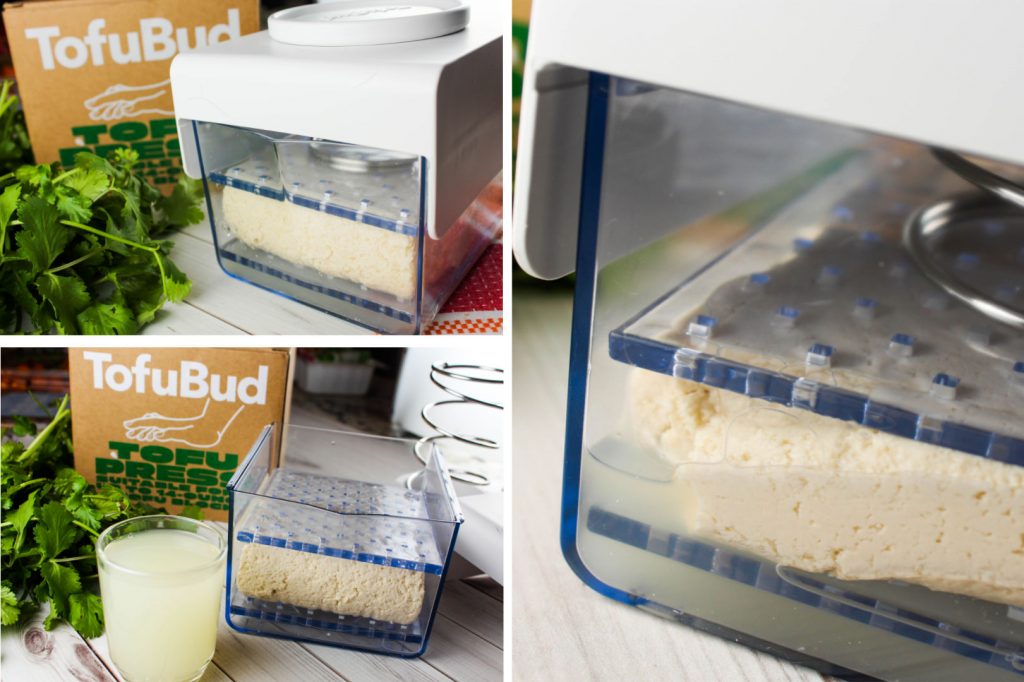 How do you press tofu?
Tofu is packed in a liquid that you'll need to press out. This makes it ready for the marinade!
I picked up this cool press from TofuBud to press tofu. It's super easy to use – you just lay your tofu on the bottom place – then place another plate on top. Then slide the top on and screw and lock the press. Leave the tofu in the press for 15-20 minutes. I was really surprised at how much liquid came out!
If you don't have a press, you can place a heavy cast iron pan on your tofu and drain the liquid. I like the Tofu Bud because it keeps the liquid separate from the tofu.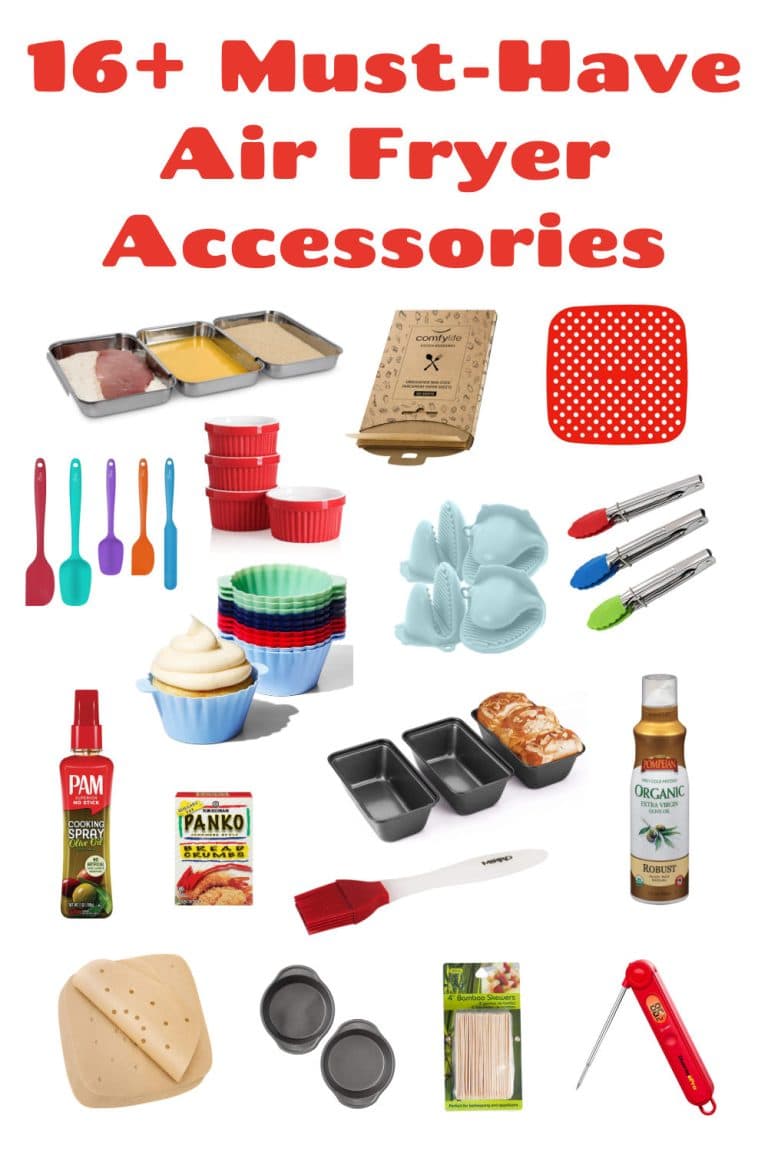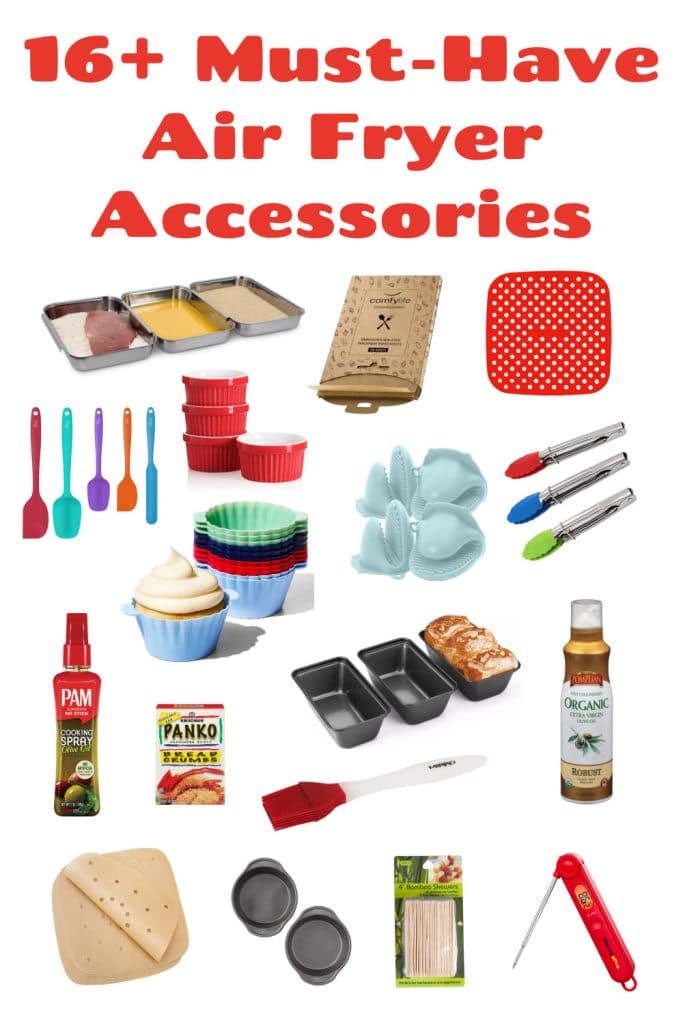 Best Air Fryer Accessories
Here's my ultimate list of best air fryer accessories – whether you have a basket- or oven-style! I've also included a price guide as well as my favorite recipes for those accessories.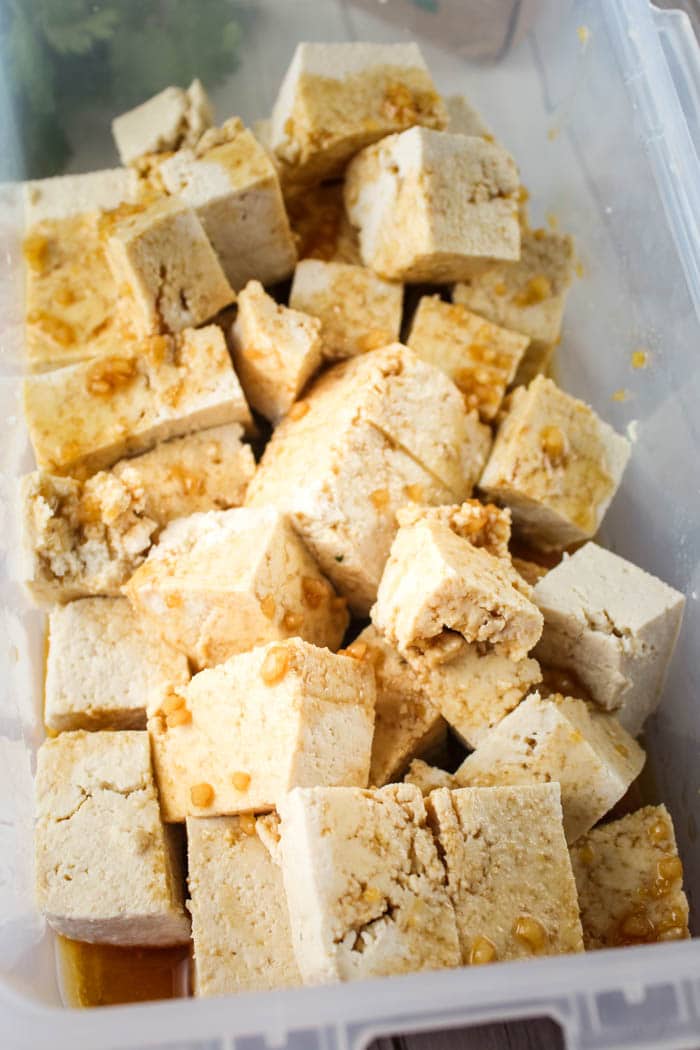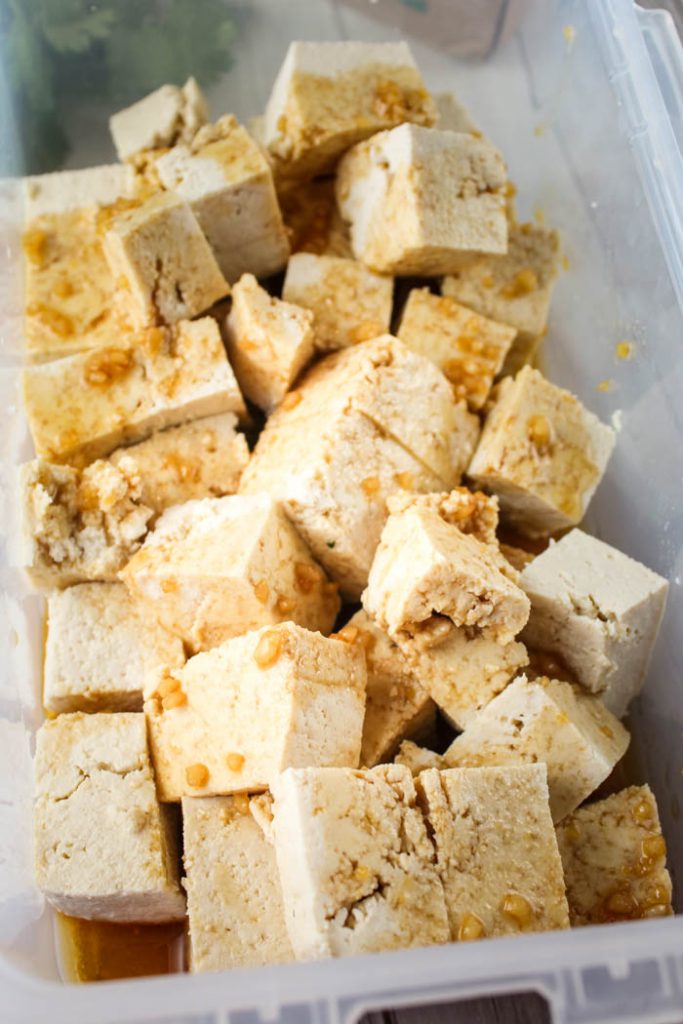 Crispy Air Fryer Tofu Ingredients
Tofu – be sure to purchase Extra Firm Tofu NOT the silken style (that's for smoothies and sauces) – I found twin packs of extra firm at Kroger which is nice so I can make it in smaller amounts for a quick dinner for me.
Sesame oil – this little bottle packs quite a punch! You can get this at the grocery store but I recently went on a shopping spree at a Chinese Market and came home with a new bottle!
Soy Sauce – any kind will do!
Minced Garlic – I buy the pre-minced but 1 clove of garlic is all you need
Mirin – you can also swap out rice wine vinegar for this
Maple syrup – this adds just a touch of sweetness!
How do you make air fried tofu?
After you've pressed the tofu for 15-20 minutes, discard the liquid. Then, slice it into bite sized pieces. Mix the remaining ingredients together and pour over the tofu bites.
Because you've pressed the liquid out – the tofu is ready for a marinade and it is ready in about 20 minutes! Then air fry for 8 minutes – flipping halfway thru!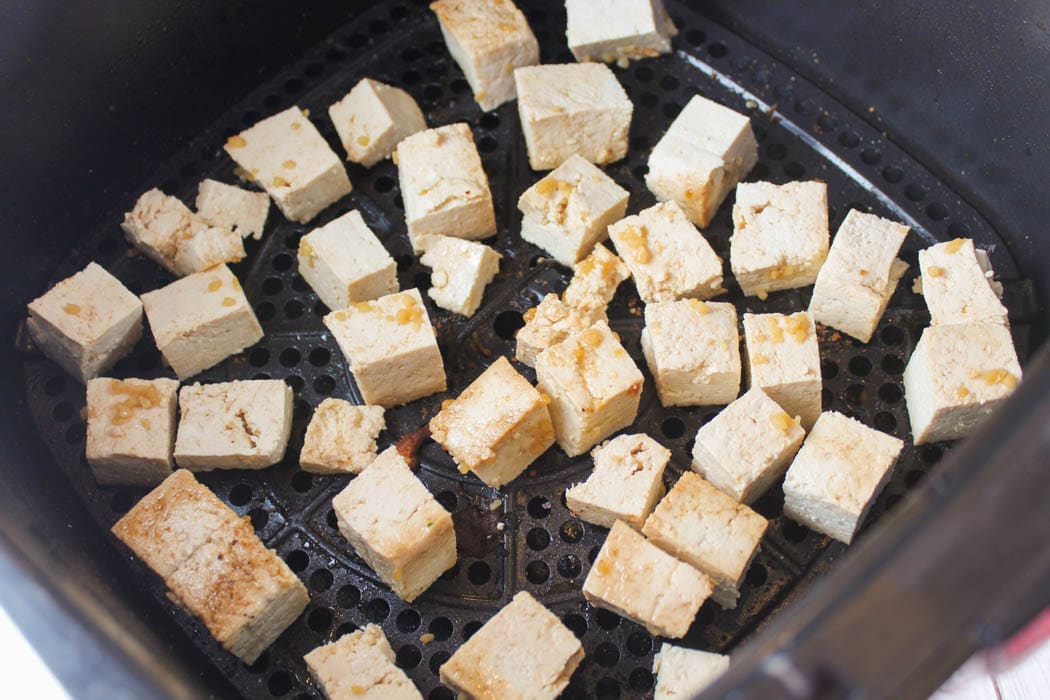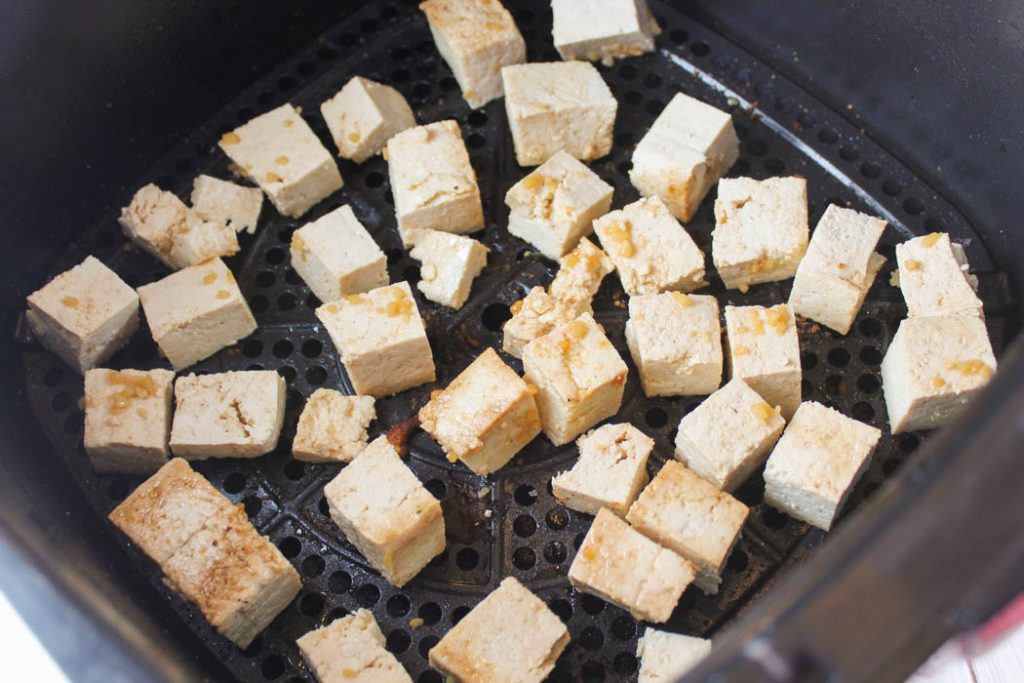 What temperature do you air fry tofu?
I set my Paula Deen Air Fryer to 400 because I wanted to be sure it was crispy – it was ready in about 8 minutes – flipping halfway thru.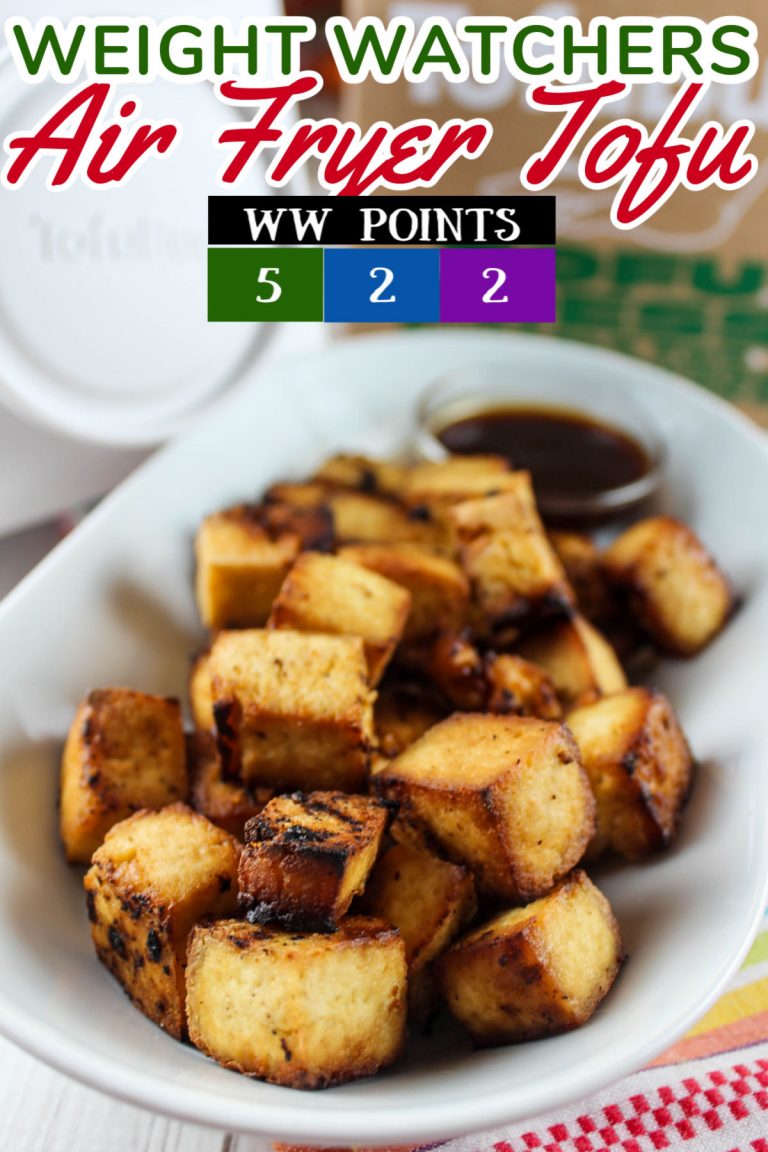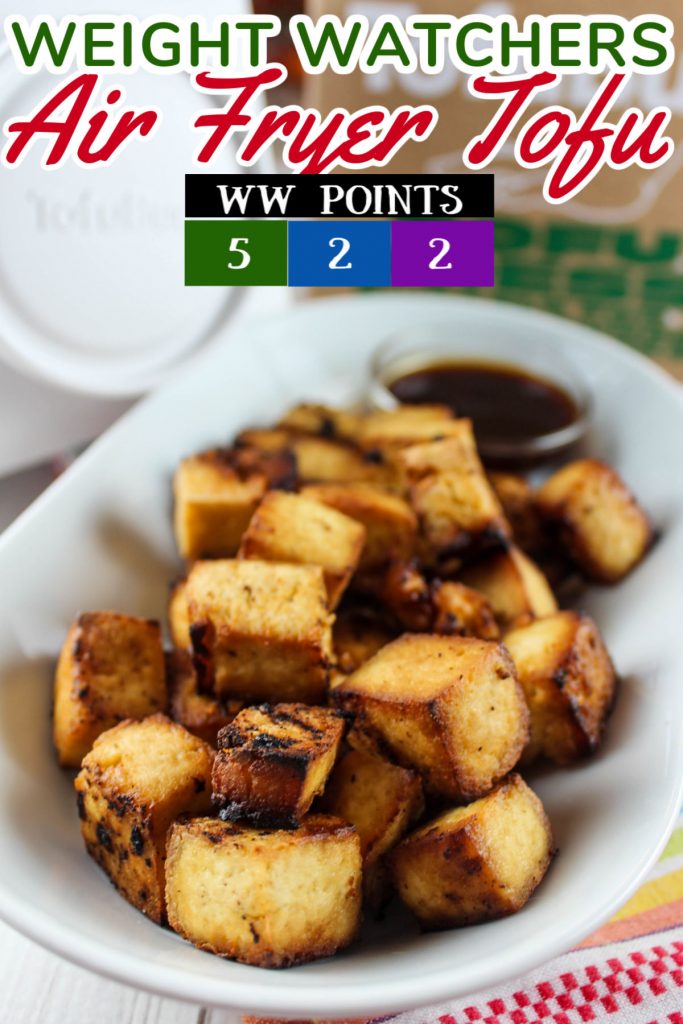 Is Tofu healthy?
Heck yeah! Tofu is a great source of protein and while this recipe does have some oil in the marinade – it's definitely still a great choice! I'm on Weight Watchers and this recipe is 5 points on Green and 2 points on Blue & Purple plans.
If you're not familiar with WW – they always have great offers going on. It's a great tool for portion control – based on your height/weight/age – you get assigned a specific number of points for the day. Then each food has points assigned to it – so you stay within your points range throughout the day.
There are lists of "free" foods that vary based on the color of the plan you're on. I'm on the Green plan – it's has the fewest free foods but the most points. I need a little more outside help to control my eating – so it works best for me!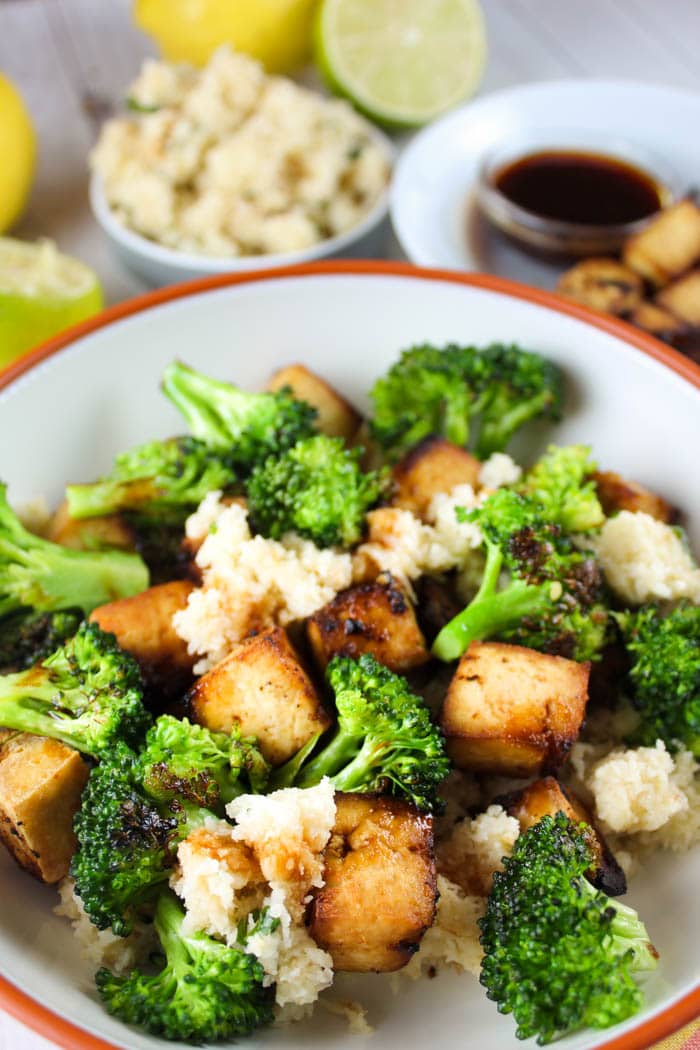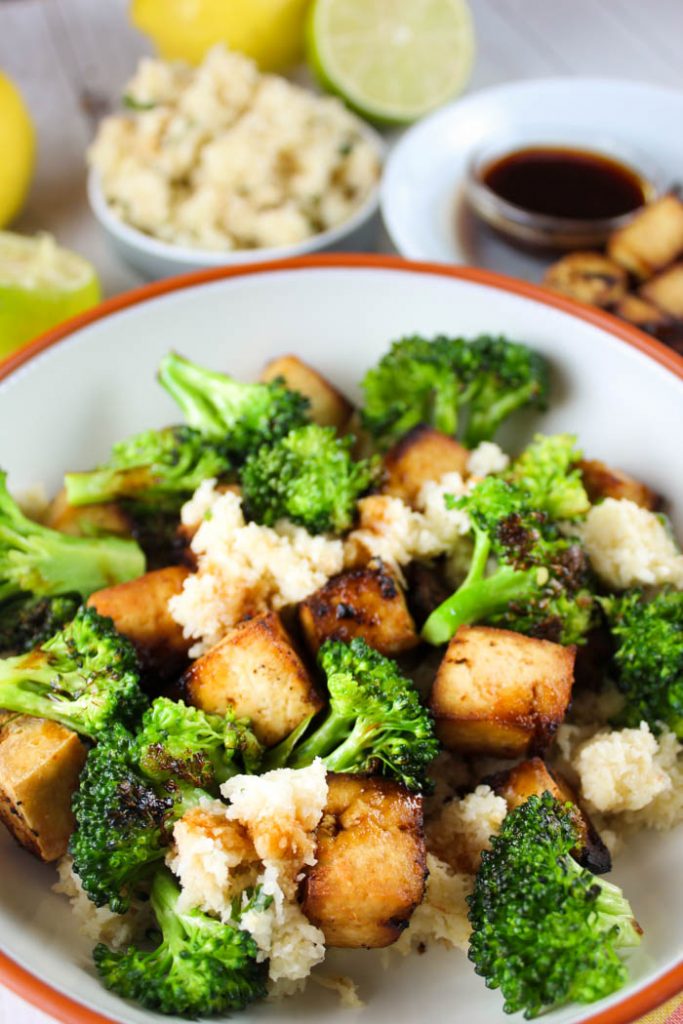 What can you serve with air fryer tofu?
Air Fryer Tofu is a great swap out for chicken, steak or fish in most any recipe. Here are a few where you could swap out pressed tofu for the protein very easily: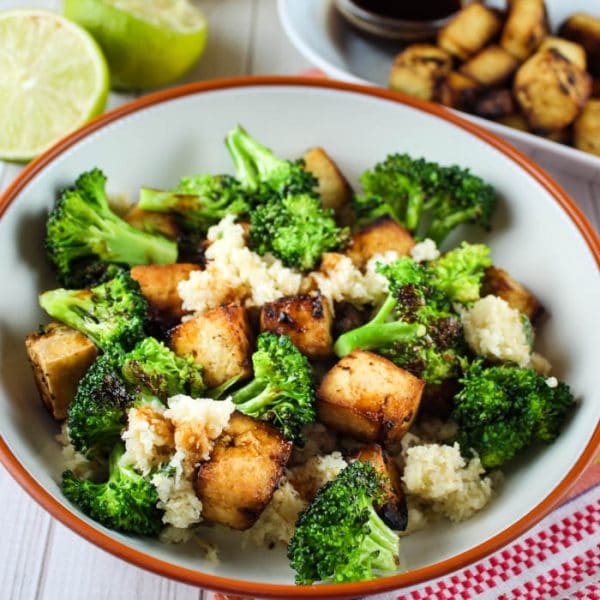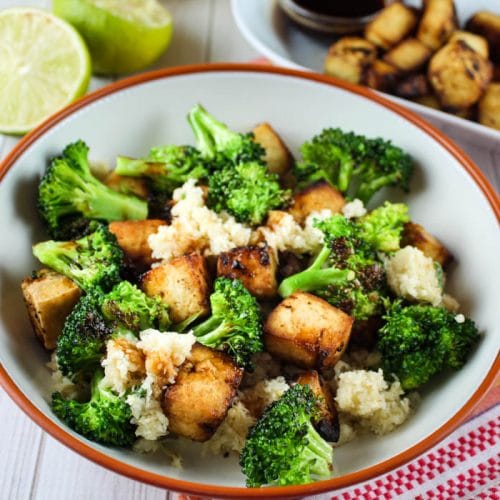 Air Fryer Crispy Tofu
Air Fryer Tofu is really easy and can be used in place of chicken or steak in so many recipes – or just enjoyed as a healthy appetizer on its own.
Instructions
Press tofu for at least 15 minutes, using Tofu Bud (or by setting a heavy pan on top of it), letting the moisture drain.

Drain tofu and cut into bite-sized blocks and transfer to a bowl.

Mix together remaining ingredients and pour over tofu bites

Marinate for 15-20 minutes

Lay out in air fryer with space between each piece

Air fry at 400 for 8 minutes – flipping half way through
Notes
Weight Watchers Points
Be sure to use Extra Firm Tofu
Use the Tofu Bud (or a heavy pan) to press your tofu for 15-20 minutes and then drain
You can swap rice wine vinegar for mirin if you need to
If you serve as an appetizer – mix together a quick dipping sauce by combining soy sauce and Korean bbq sauce
Nutrition
Serving:
0.5
cup
Calories:
138
kcal
Carbohydrates:
3.8
g
Protein:
8.3
g
Fat:
10.9
g
Saturated Fat:
1.8
g
Sodium:
172
mg
Potassium:
159
mg
Fiber:
0.9
g
Sugar:
2
g
Calcium:
202
mg
Iron:
2
mg