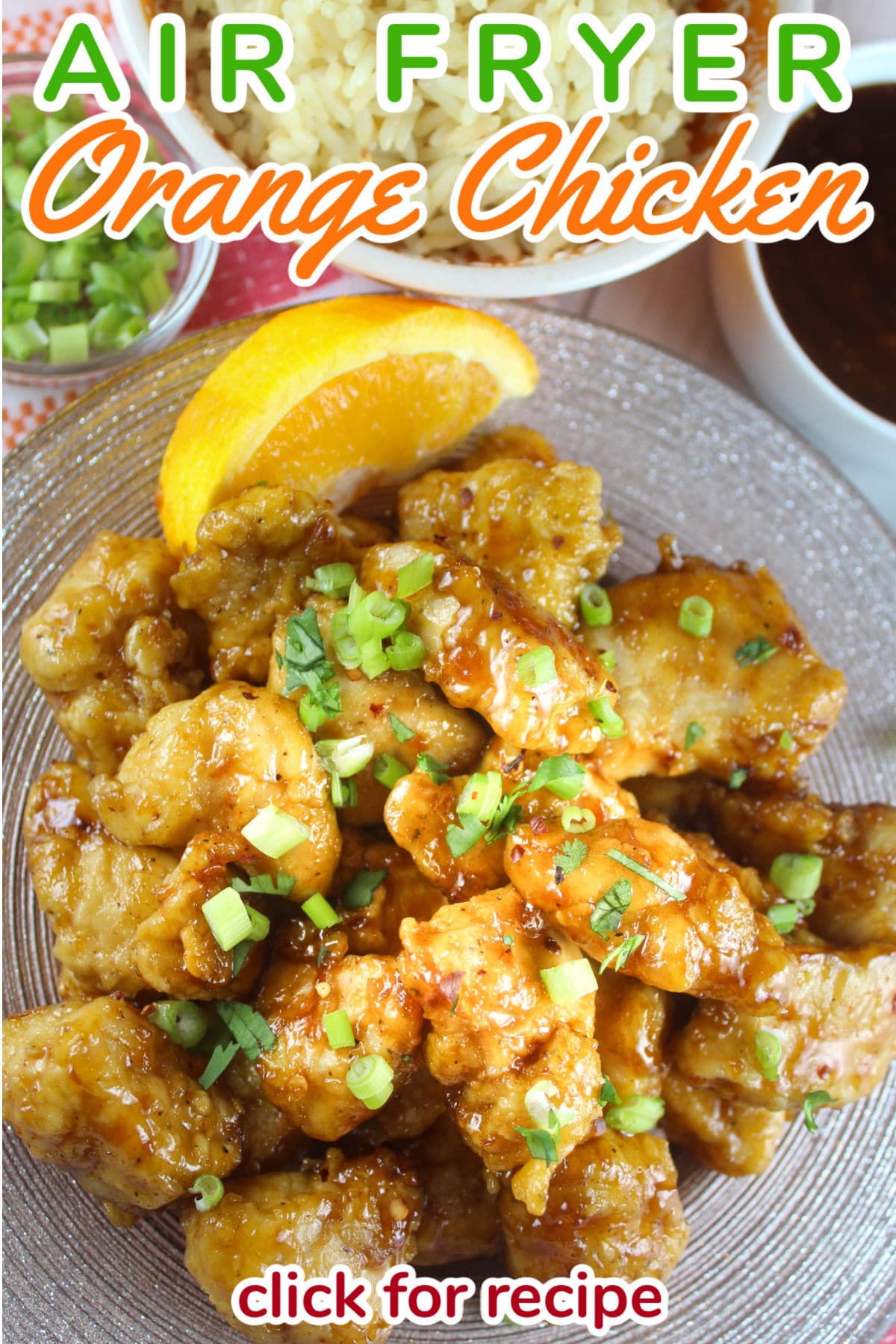 Air Fryer Orange Chicken is crispy with a delicious citrus flavor! It's a really quick dish to make and making it in the air fryer was a snap. So skip the takeout and make this sweet & savory dish at home!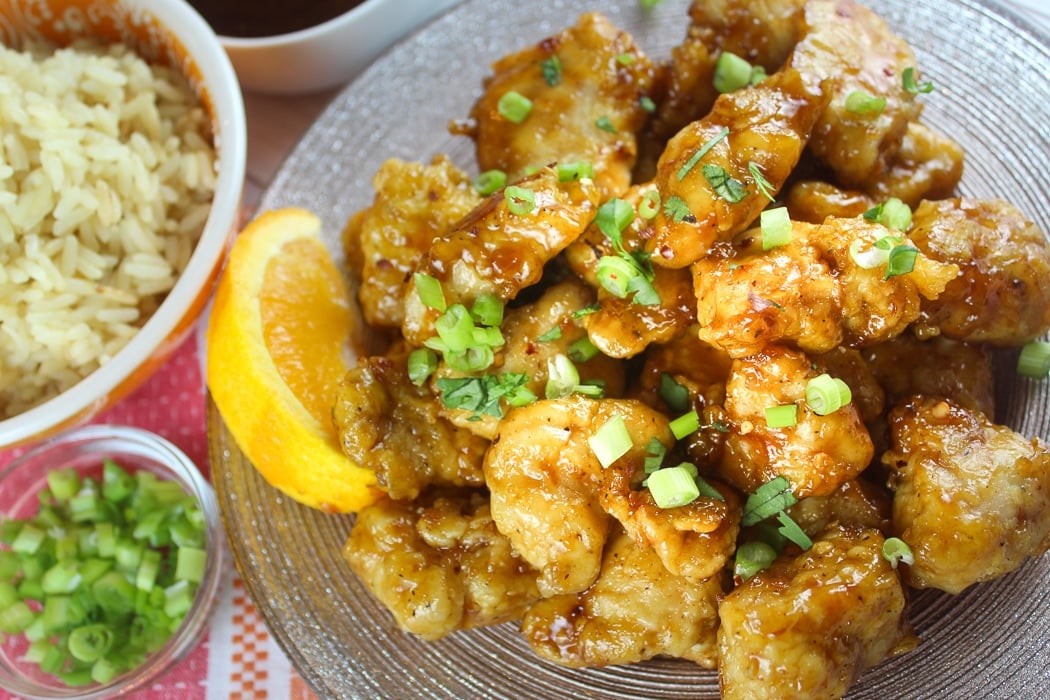 What You Will ❤️ About Orange Chicken
I love the flexibility of this dish – I enjoyed it with just rice – but it would be great with a load of veggies like mushrooms and broccoli! I've even started making a bigger batch of rice – so I just have it on hand for whatever makes sense for the week.
And here's something that might surprise you – you won't really find Orange Chicken if you visit a Chinese restaurant in China. It's a very Americanized takeout dish and started as an off-shoot of General Tso's chicken – with a little less spice and a little more citrus.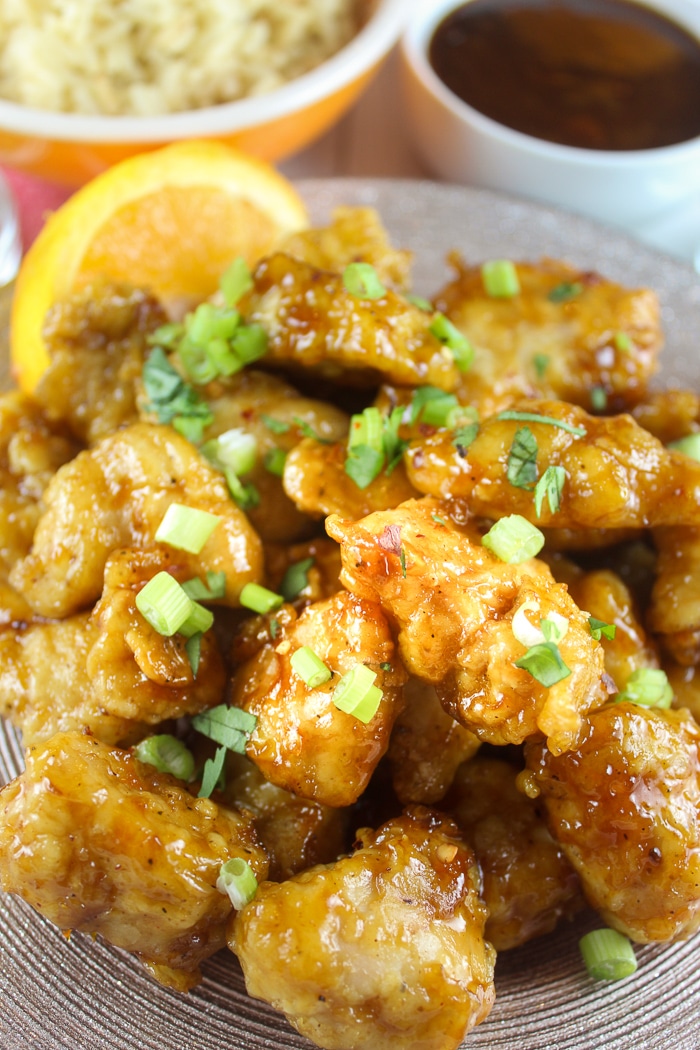 Orange Chicken Ingredients
Here's the deal – you could take short cuts – but I don't recommend it. This has a list of ingredients but they all come together so deliciously – it's worth it. And most of them are in your pantry!
protein: chicken breast cut into bite-size pieces (you could also use boneless skinless chicken thighs)
batter: buttermilk, egg, corn starch, flour, salt, pepper
sauce: garlic, olive oil, orange, orange juice, hoisin sauce, Korean bbq sauce, honey, cayenne pepper, sugar
serving: rice, cilantro, green onions
Air Fryer Orange Chicken Recipe Variations
Here are some swaps you can make for the ingredients and recipe:
Chicken – skip the raw chicken and use popcorn chicken or chicken nuggets and air fry that and then add to sauce
Hoisin sauce – swap with a mix of 2 tbsp soy sauce + 2 tbsp brown sugar
Korean BBQ sauce – swap it with Teriyaki sauce
Cayenne Pepper – swap with red pepper flakes
Veggies – add veggies like steamed broccoli and green beans and add to the orange chicken & rice
Low-Carb – skip the regular rice and use Cauliflower Rice
What does Orange Chicken taste like?
Oranges. Hahaha! Actually it's a bit of a sweet sauce with a bit of kick from the Asian ingredients and definitely has a citrus flavor – but it's not OVERLY smacking you in the face with orange. You can also ramp it up the more orange zest you use.
How do you store and reheat leftovers?
Store leftovers in an airtight container (I like these glass ones) in the refrigerator for up to a week. You can freeze up to three months. Reheat in the microwave for 1-2 minutes.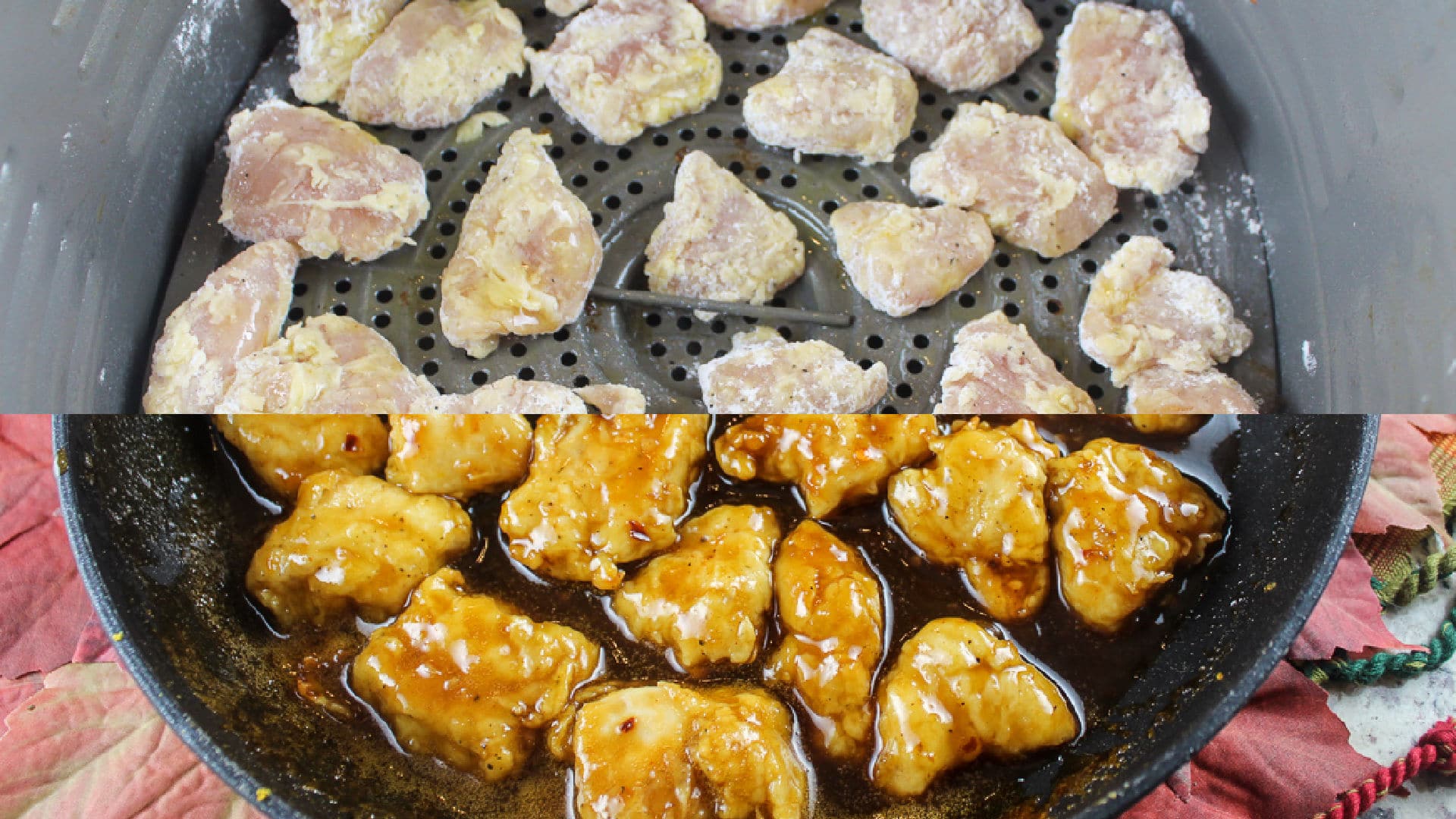 How do you make Orange Chicken in the Air Fryer?
You can make MOST of this meal in the air fryer – but you will use a stove for the sauce. For the first part – it's breaded chicken bites – which are super simple!
Prepare rice according to package directions
Air Fryer Chicken Bites

In a bowl, whisk together buttermilk and egg, add chicken chunks and coat them in egg mixture
Place flour, corn starch, salt and pepper in a ziploc bag
Remove chicken from egg mixture (shake it off) and place into bag with flour. Shake so all chicken is lightly coated.
Shake off chicken and place in air fryer basket in a single layer, not touching
Spray with a good amount of olive oil or cooking spray
Air fry at 375 for 4 minutes
Turn chicken pieces and spray with olive oil and air fry 4 additional minutes

Orange Sauce

While chicken is air frying, heat large skillet to medium heat and add olive oil and minced garlic
Saute garlic for one minute
Grate orange with microplane into skillet. Add orange juice, hoisin, bbq sauce, honey, cayenne and sugar and bring to a boil.
Boil for 3 minutes, stirring constantly. Reduce heat and simmer 1-2 minutes until sauce thickens, stirring frequently
Remove sauce from heat

Orange Chicken with sauce

Remove chicken bites from air fryer and add to sauce in skillet.
Coat each bite with sauce and then – using tongs – put chicken back into air fryer in a single layer
Air fry at 400 for 4 minutes
In serving bowls, place rice in each bowl. Top with orange chicken and diced cilantro and green onion. You could also sprinkle with sesame seeds.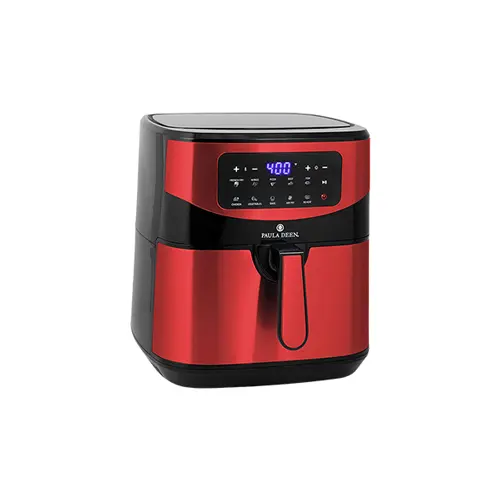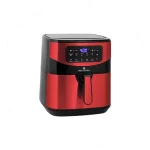 This recipe was made using the Paula Deen Air Fryer.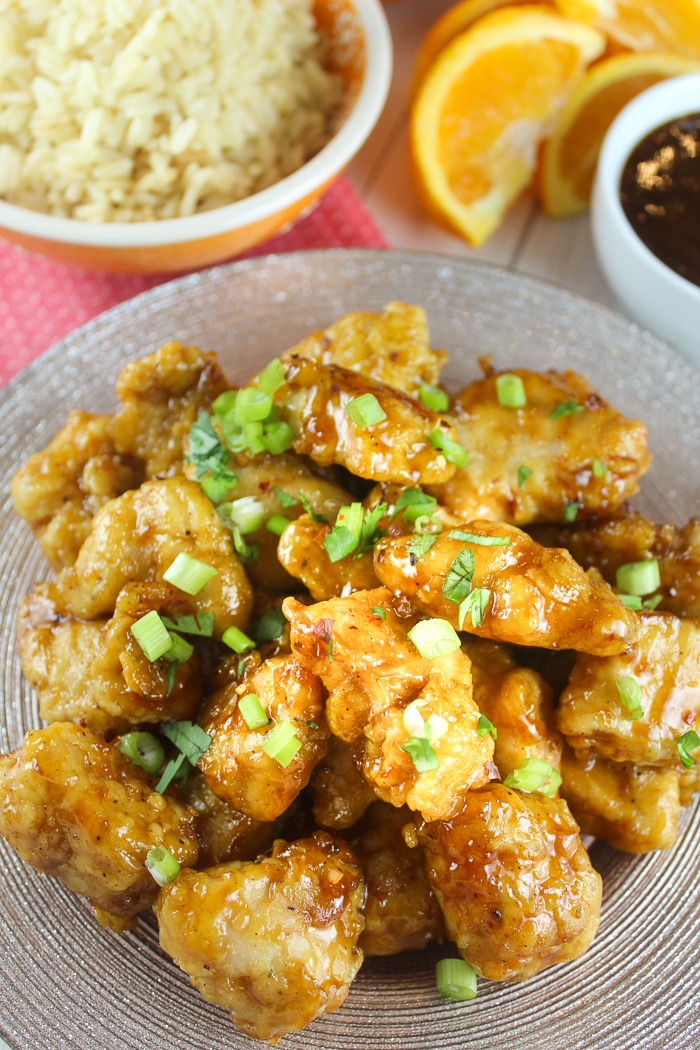 What to serve with Orange Chicken?
More Asian-Inspired Bowl Recipes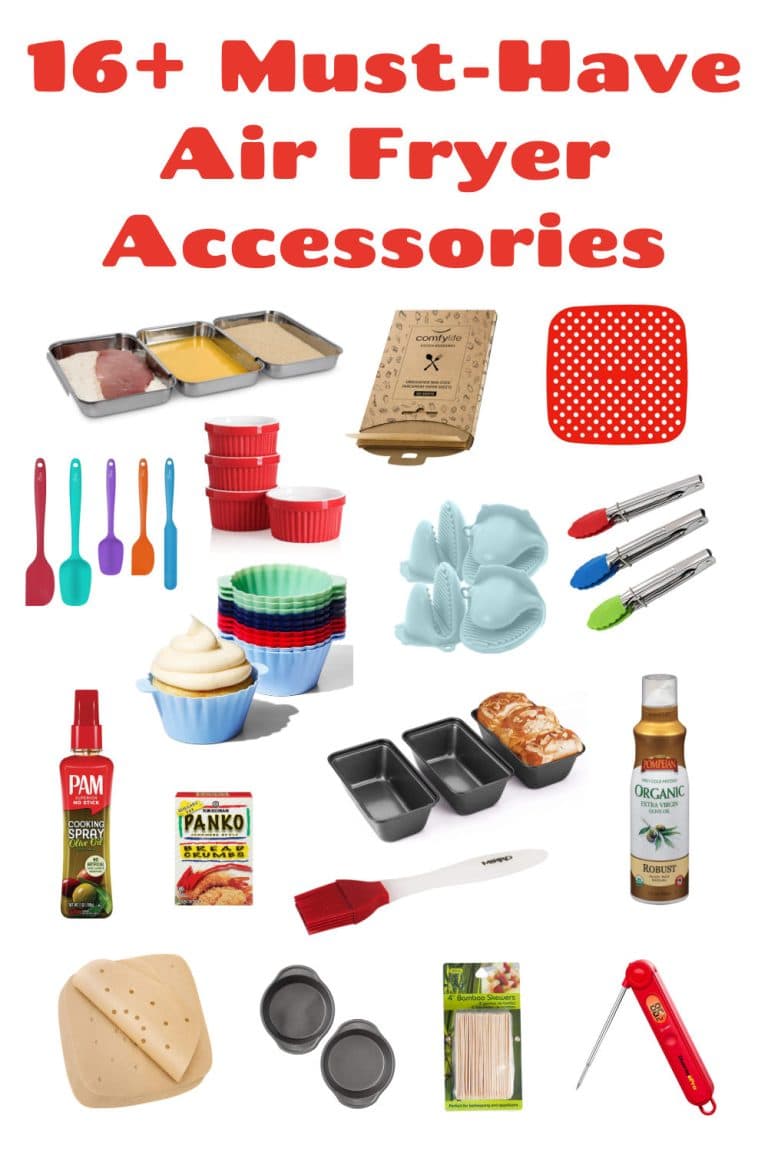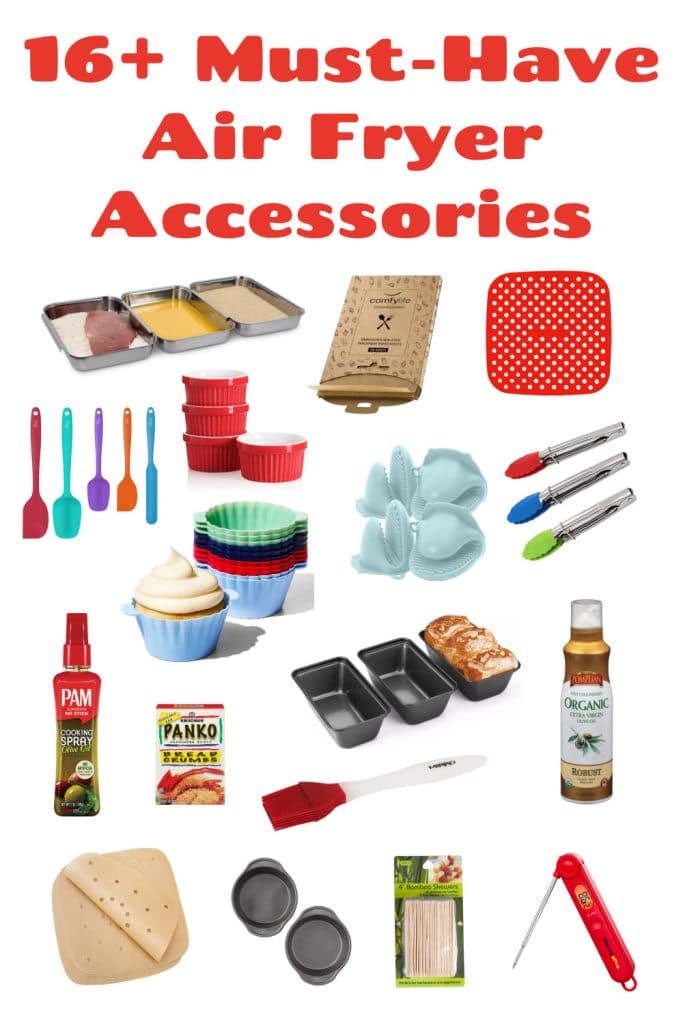 Best Air Fryer Accessories
Here's my ultimate list of best air fryer accessories – whether you have a basket- or oven-style! I've also included a price guide as well as my favorite recipes for those accessories.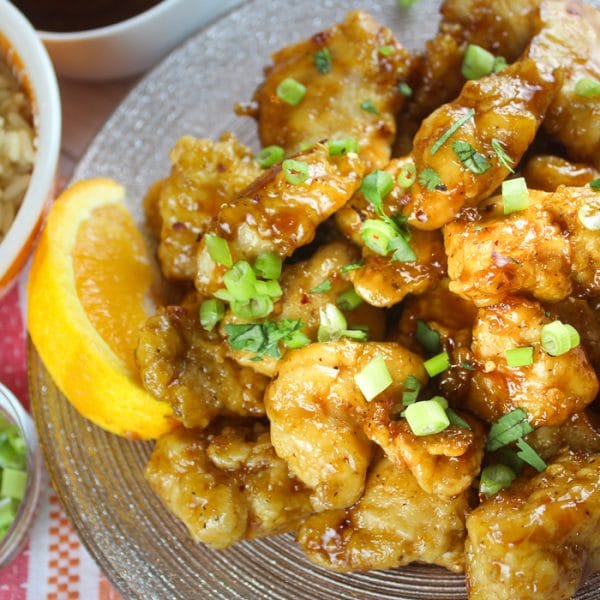 Air Fryer Orange Chicken
Air Fryer Orange Chicken is crispy with a delicious citrus flavor! It's a really quick dish to make and making it in the air fryer was a snap. So skip the takeout and make this sweet & savory dish at home!
Ingredients
Chicken Bites
1

lb

chicken breast

cut into bite-size pieces

1/4

cup

buttermilk

1

egg

1/4

cup

cornstarch

1/3

cup

flour

1

tsp

salt

1

tsp

pepper
Serve with:
3

cups

cooked rice

2-3

sprigs

cilantro

chopped

2-3

green onions
Instructions
Prepare rice according to package directions
Chicken Bites
In a bowl, whisk together buttermilk and egg, add chicken chunks and coat them in egg mixture

1 lb chicken breast,

1/4 cup buttermilk,

1 egg

Place flour, cornstarch, salt and pepper in a ziploc bag

1/4 cup cornstarch,

1/3 cup flour,

1 tsp salt,

1 tsp pepper

Remove chicken from egg mixture (shake it off) and place into bag with flour. Shake so all chicken is lightly coated.

Shake off chicken and place in air fryer in a single layer, not touching

Spray with a good amount of olive oil

Air fry at 375 for 4 minutes

Turn chicken pieces and spray with olive oil and air fry 4 additional minutes
Orange Sauce
While chicken is air frying, heat skillet to medium high heat and add olive oil and minced garlic

1 tsp minced garlic,

1 tsp olive oil

Saute garlic for one minute

Grate orange with microplane into skillet. Add orange juice, hoisin, bbq sauce, honey, cayenne and sugar and bring to a boil.

1 orange,

1 cup orange juice,

1/4 cup hoisin sauce,

1/4 cup korean bbq sauce,

2 tbsp honey,

1/8 tsp cayenne pepper,

1/4 cup sugar

Boil for 3 minutes, stirring constantly. Reduce heat and simmer 1-2 minutes until sauce thickens, stirring frequently
Combine & Serve
Remove chicken bites from air fryer and add to skillet.

Coat each bite with sauce and then – using tongs – put chicken back into air fryer in a single layer

Air fry at 400 for 4 minutes

In serving bowls, place rice in each bowl. Top with orange chicken and diced cilantro and green onion.

2-3 sprigs cilantro,

2-3 green onions
Notes
**We are not dietitians and recommend you seek a nutritionist for exact nutritional information. The information in the nutrition box are calculated through a program and there is room for error. If you need an accurate count, I recommend running the ingredients through your favorite nutrition calculator.**
Nutrition
Calories:
615
kcal
Carbohydrates:
104.2
g
Protein:
32.5
g
Fat:
6.9
g
Saturated Fat:
0.9
g
Cholesterol:
115
mg
Sodium:
1191
mg
Potassium:
792
mg
Fiber:
3.3
g
Sugar:
40.4
g
Calcium:
71
mg
Iron:
14
mg