Fried cheese curds are an Iowa favorite – and usually I have them battered but this recipe makes the breading out of Flaming Hot Cheetos – how fun is that?! They're super cheesy and crunchy – really yummy!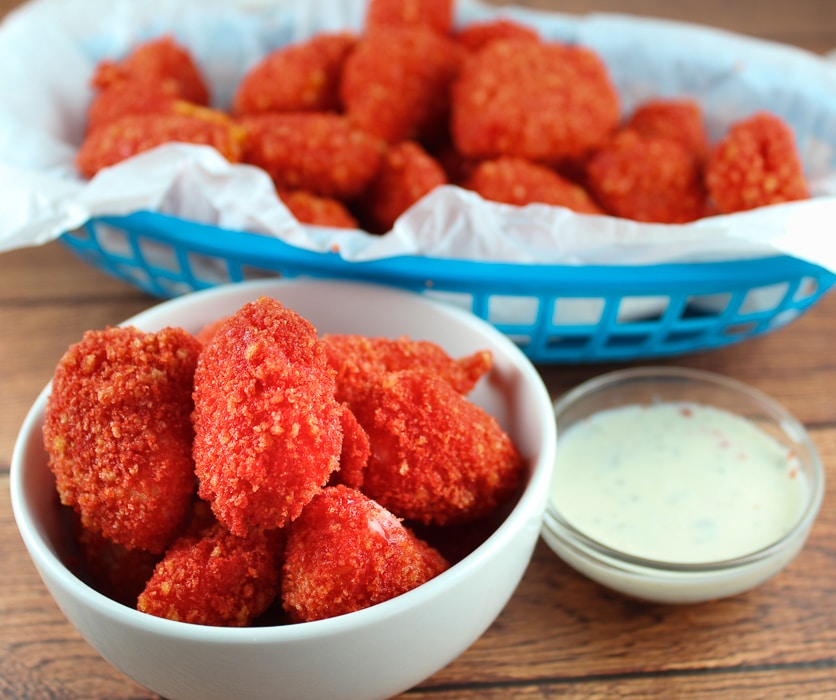 I get pretty adventurous with my air fryer – and when I see crazy things on the internet – I get excited! Last week I came across these Flamin Hot Cheetos Cheese Curds at a restaurant in California and knew I had to make them!
(They're also the ones that made my
Cheeseburger Fries
!)
How do you air fry cheese curds?
OK – let me tell you – it took me 3x to get these right! I have mad respect for the people that figured out how to fry cheese – because it MELTS!?! WHO KNEW?! haha!


Here's a few tips for air frying hot cheeto cheese curds:
– double dipped the cheese curds in the egg & flour to create a seal around the cheese
– after breading them – freeze for at least 2 hours
– air fry as soon as you take them out of the freezer
– put them in a single layer, not touching, in your air fryer – otherwise a pile of melted cheetos is what you've got!
What if I can't find cheese curds?
Cheese curds are moist pieces of curdled milk. You can usually find them in grocery stores and always at the Amish stores (my favorite!). We always called them squeaky cheese because they're a little damp and squeak when you chew them. If you can't find cheese curds – you can dice up any regular cheese like mozzarella sticks and/or cheddar cheese. The curds are fun because they're different shapes and sizes.
What are other fun air fryer recipes?
I'm pretty obsessed with my air fryer and keep singing its praises with a new recipe every Friday! There are so many fun appetizers you can make in your air fryer – from scratch! Here are my favorites:
Air Fryer Deep Fried Deviled Eggs
Air Fryer Donuts
Air Fryer Bacon Wrapped Jalapeno Popper Shrimp



You can find all of them in my Air Fryer Recipes section or in my Air Fryer Facebook group!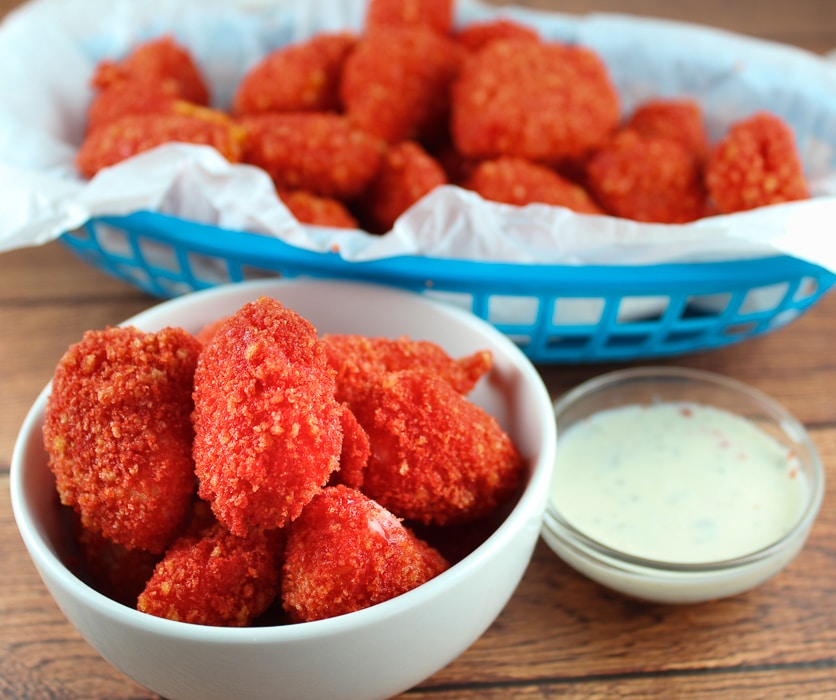 Air Fryer Hot Cheetos Cheese Curds
prep time: 2 H & 15 M
cook time: 8 M
total time: 2 H & 23 M
Everybody loves Hot Cheetos – they're crazy hot and just plain fun to eat! Fried cheese curds are one of my favorite snacks. So then I thought – why not put them together?! Yes!! And I love my air fryer – and got the perfect timing down for these melty cheesy nuggets of goodness!
ingredients:
8 oz bag flaming hot cheetos
8 oz cheese curds
2 cups flour
3-4 eggs
instructions:
How to cook Air Fryer Hot Cheetos Cheese Curds
Pour Hot Cheetos in food processor and chop finely to bread crumb texture
Whisk eggs in a small bowl
Place flour and Hot Cheetos crumbs in plates – separately
Position them from left to right — egg — flour — cheetos — plate
Dip cheese curds 4-5 at a time into egg, flour, egg, flour, egg and – finally – cheetos. It's easiest to do this with a slotted spoon in the egg (I used a pasta spoon with the fingers and bigger holes) and then spoon around the dry ingredients. This will allow you to pick up the curds and allow the egg to drain.
Once all the curds are on the plate separated – NOT PILED – place them in the freezer for a minimum of 2 hours
Remove from freezer and spray with non-stick spray
Place into air fryer right away – one layer at a time – no touching – do not overcrowd!!!!
Heat at 350 for 2 minutes
Turn curds, spray again
Heat at 350 for 2 minutes
Remove gently and move to preheated 350 oven until all curds are done
This makes about 30 cheese curds – you can easily cut in half
Serve immediately with ranch
NOTES:
– Be sure to double dip the cheese in egg & flour – this seals the cheese so it is less likely to leak out when heated
– If you can't find traditional cheese curds, you can use cubed cheddar cheese
– Using a pasta spoon seemed to be the best way to get the curds in and out of the eggs/flour without getting hands completely caked up
Recommended Products:
Phillips XL Air Fryer
Flaming Hot Cheetos
Pasta Spoon