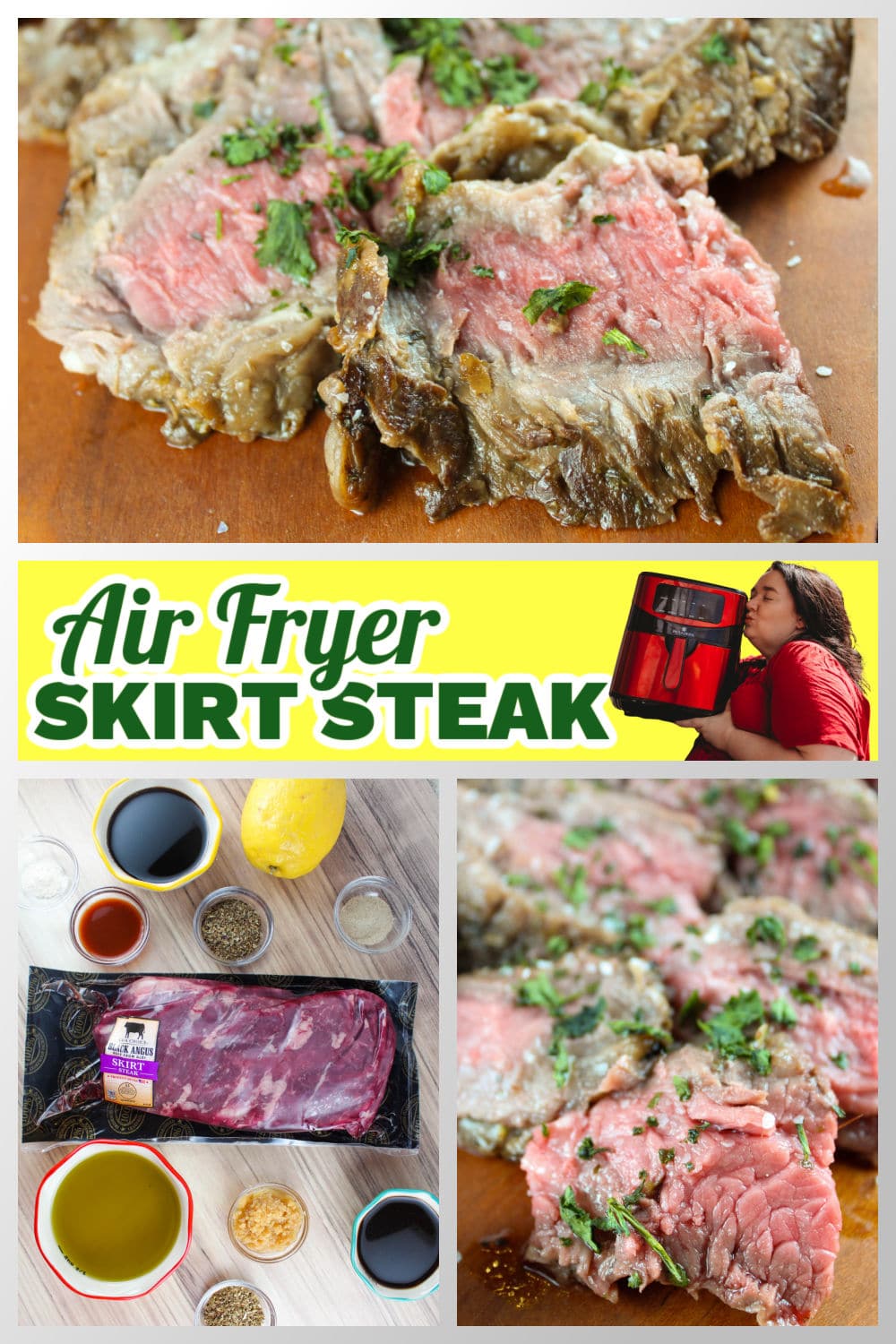 This Skirt Steak recipe in the air fryer is a delicious quick-to-cook dinner. This perfect medium rare steak is juicy and tender! Plus, steak lovers will drool over this easy steak marinade!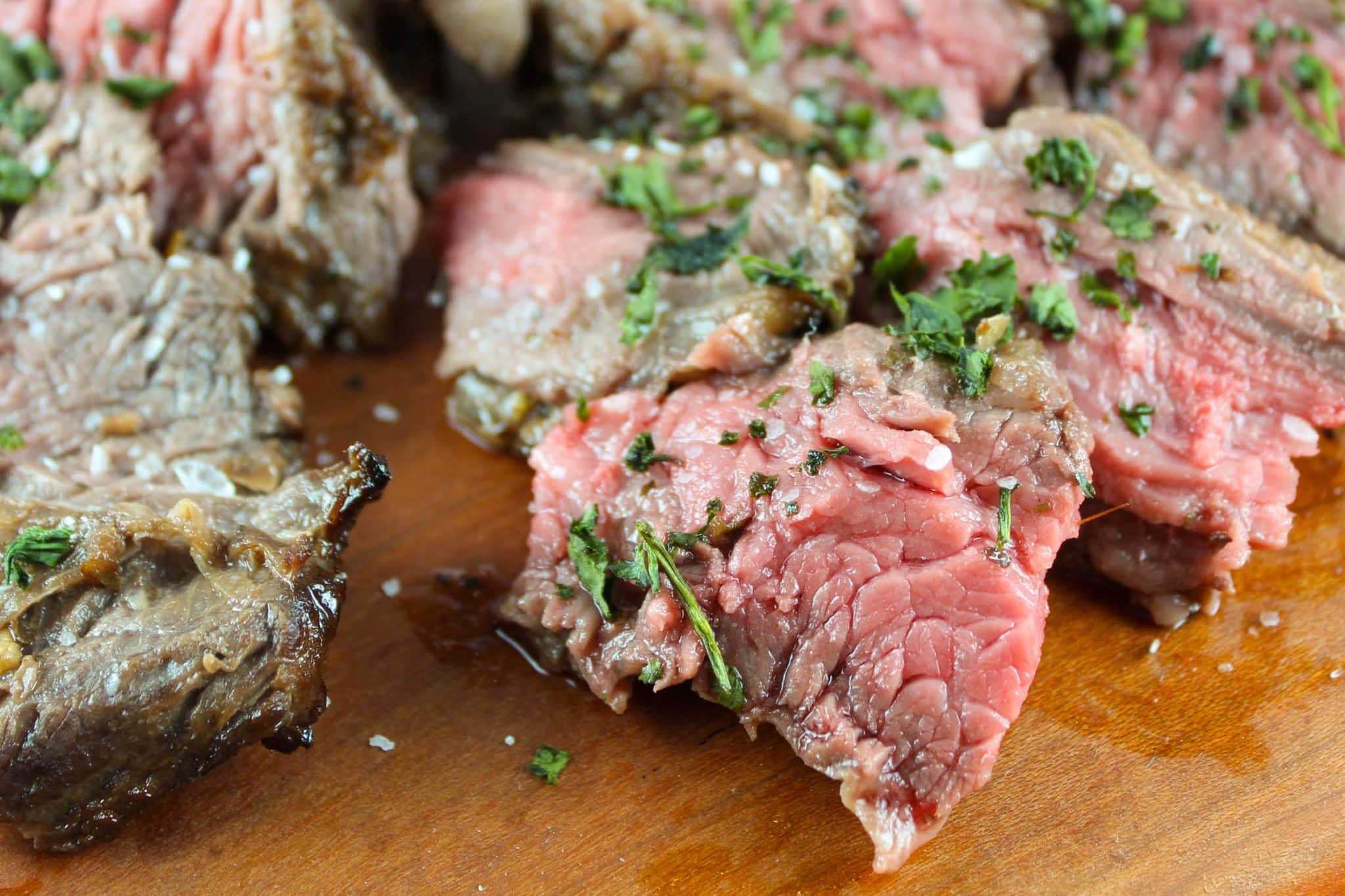 Jump to Recipe
What is Skirt Steak and why is it a good choice?
Skirt Steak is an affordable cut of beef that when cooked and served properly is tender, delicious and takes a marinade wonderfully. It's a really delicious dinner!
I was at a Certified Angus Steak brand event and asked them, "What's a cheap cut that is delicious?". The Chef's answer was immediately – SKIRT STEAK. It's from a hard-working part of the cow (under the neck) but it's also more affordable.
Other steaks in this category are flank, hanger and flat iron. They're all best cooked to medium rare so they stay tender and you always want to cut AGAINST THE GRAIN (more on that later).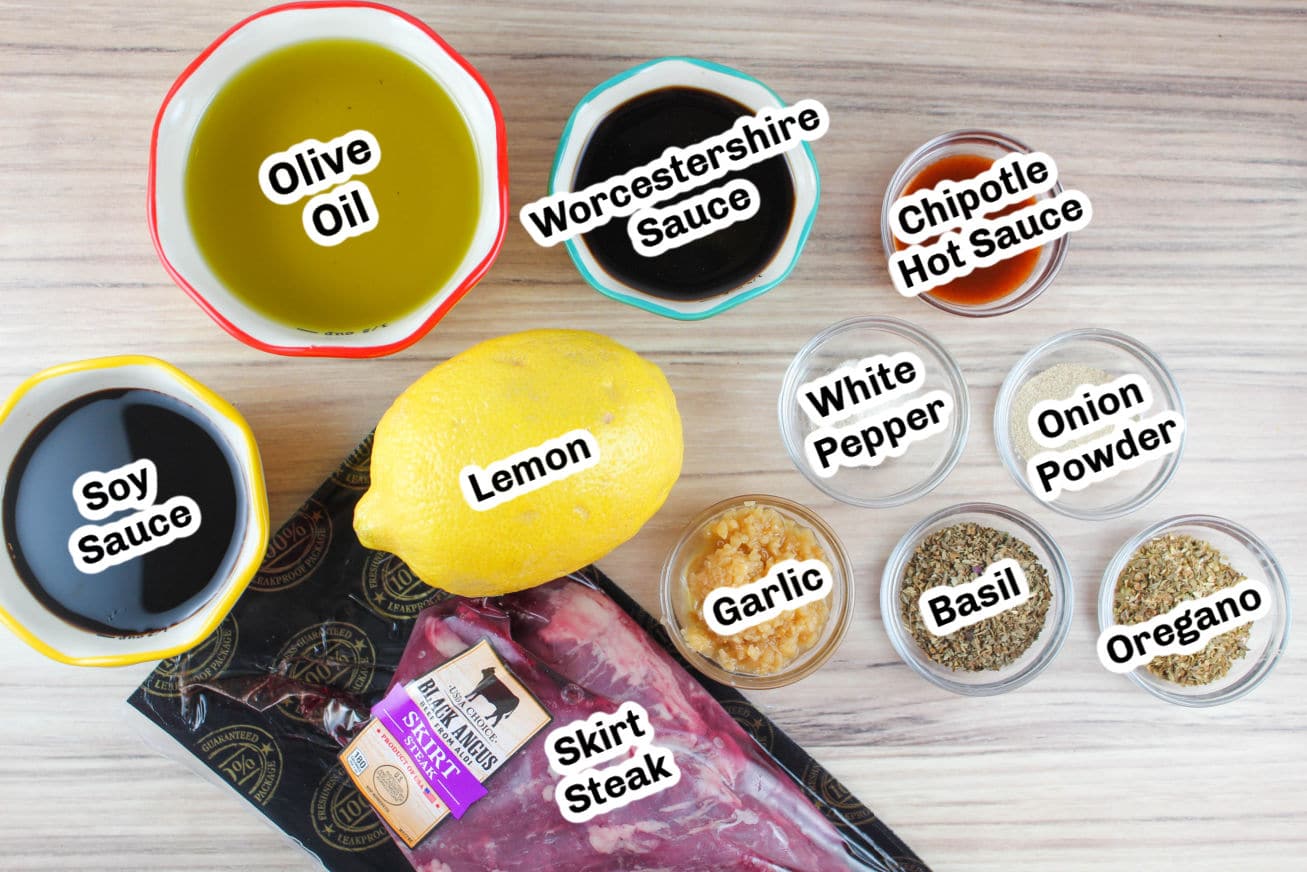 Skirt Steak Marinade Ingredients
This steak marinade knocked it out of the park – a little zing from the citrus, a little kick from the chipotle and that delicious salt flavor from the Worcestershire & Soy Sauce! Here's what you'll need for this recipe:
Skirt Steak – they typically come in a package at about 1.5 pounds
olive oil
soy sauce
Worcestershire sauce
lemon juice – you could also swap out with lime juice
minced garlic
smoky chipotle pepper hot sauce – I love this hot pepper sauce – it's got a smoky kick and is spicy but not overwhelming
white pepper – swap here with black pepper or if you like more spice chili powder
onion powder
basil
oregano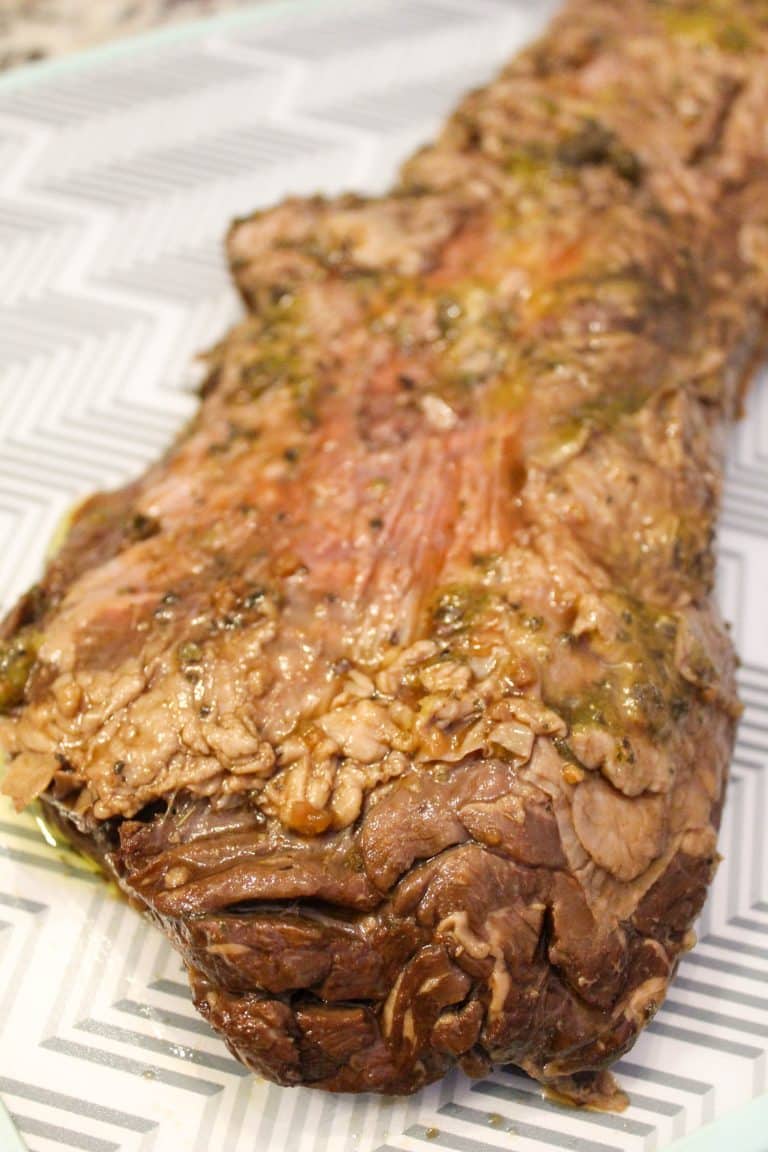 How to Make Skirt Steak in the Air Fryer
This steak recipe might make you rethink using the grill Skirt steak can be tough – it's a really great candidate for a marinade. Letting that marinade soak in overnight is advised. Here's what you'll do:
In a large plastic zipper bag, add all ingredients except the steak. Seal the bag and mix together all ingredients.
Remove steak from packaging and rinse with water. Place steak in zipper bag and refrigerate overnight (at least 2-3 hours).
Remove steak about 30 minutes before cooking. Drain marinade and let rest on counter.
Preheat Air Fryer to 425º F.

Side note: I NEVER preheat – but you want your steak to go into a HOT air fryer – so this is the one time I will recommend it. This helps lock in the juices when you cook.

Place steak in air fryer basket "ugly" side UP. The "ugly" side is the under side with the silver skin. This way when you flip it, the "pretty side" will be even prettier and not have marks from the air fryer grate.
For Medium Rare: Air fry for 8 minutes and flip half way through.

Check temp with instant read thermometer:

125º Rare
135º Medium Rare

Remove steak from air fryer and let rest for 5 minutes on a cutting board with a foil tent to keep it warm
Slice against the grain and serve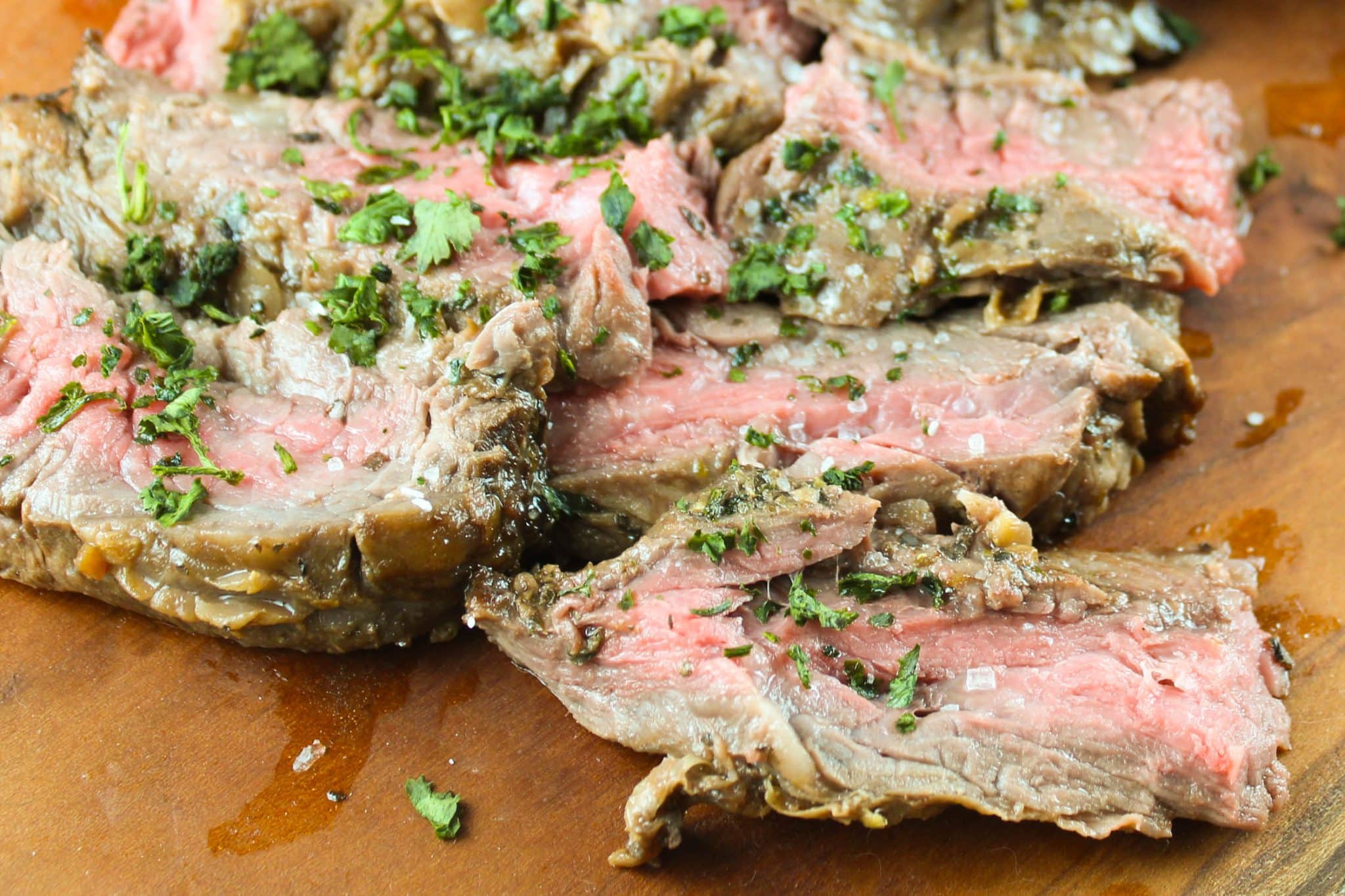 How to Slice Skirt Steak
If you're not used to cutting this cut of meat – it can be tricky at first. The main thing is to cut against the grain. Look for the fibrous lines throughout the steak – they run vertically along the short side of the steak. You're going to want to cut against that, so turn the steak, and with your SHARPENED knife at a 45º angle, make slices of steak.
If you're a more visual person, here's a great video from Omaha Steaks.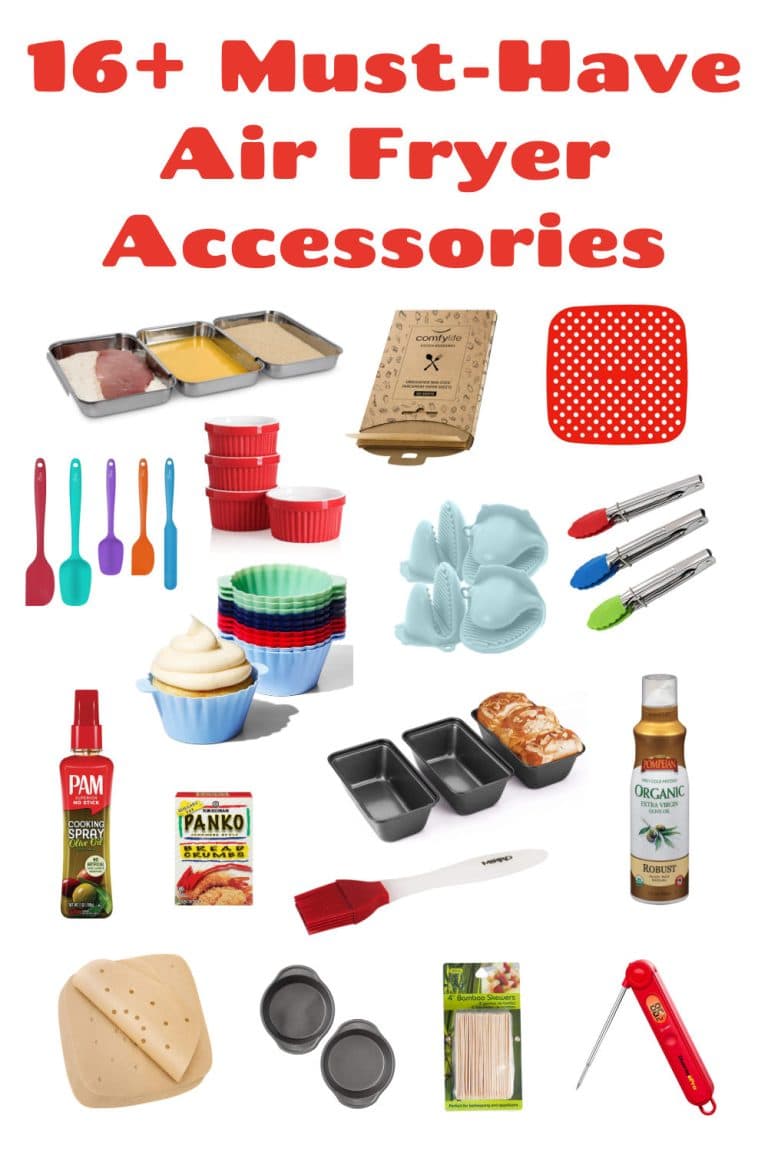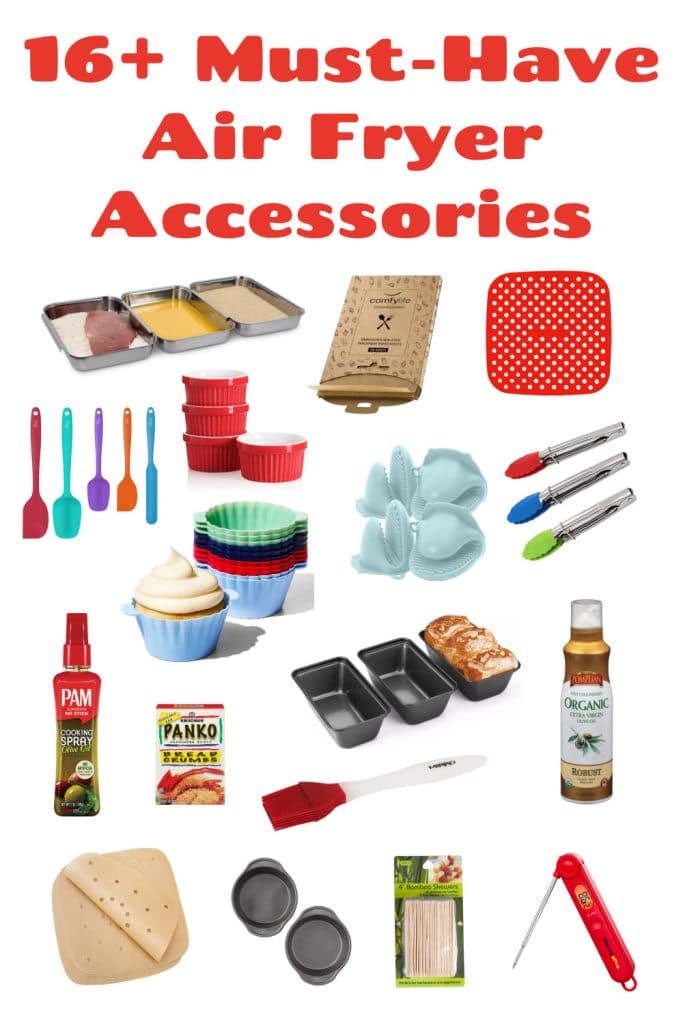 Best Air Fryer Accessories
Here's my ultimate list of best air fryer accessories – whether you have a basket- or oven-style! I've also included a price guide as well as my favorite recipes for those accessories.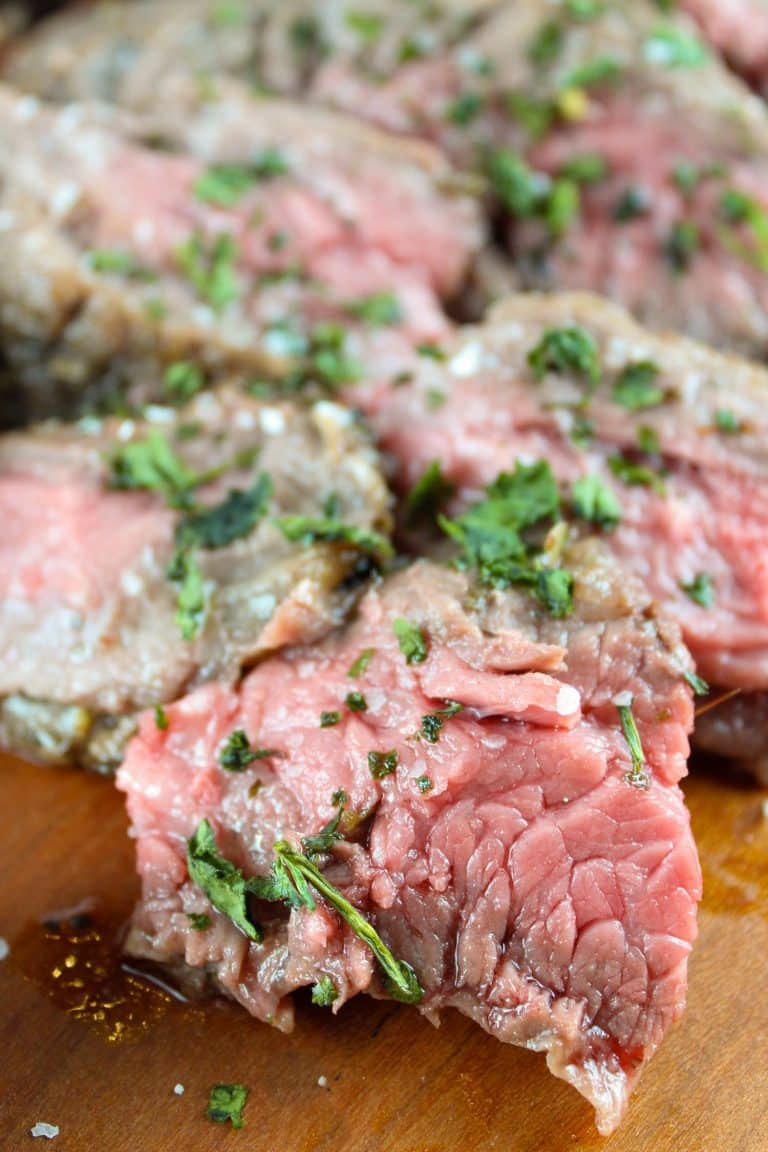 Tips, Tricks & FAQs
I've shared quite a few tips thus far, but here are some questions a lot of folks ask:
How is Flank Steak different from Skirt Steak?
They are similar – long, thin and not a lot of marbling. Skirt steak is a bit longer, more narrow and thinner. It's also from the neck vs. the abdomen of the cow.
Can skirt steak be cooked in the air fryer?
YES – of course!!! Steak is delicious in the air fryer! You can also make air fryer flank steak with this same marinade and recipe!
Why is skirt steak tough?
You're probably over-cooking it. It doesn't have a lot of marbling – so it's best to not cook above medium rare. OR you're cutting it WITH the grain. Always cut against the grain. Trust me – you'll only make that mistake once!
How long does it take to cook steak in the air fryer?
It should take approx 5-10 minutes depending on the size and thickness of your steak. Always flip your steak halfway through and check the internal temperature with an instant read thermometer.
What cut of steak is best in the air fryer?
Oh that's like making me choose my favorite dog! I would answer that ribeye is always best – because it's my favorite cut of steak.
Does steak get tender in an air fryer?
Yes! The air fryer is just a cooking vessel. Things that help your steak be more tender are the marinade, how long you cook it and how you cut it.
How do you store and reheat leftover skirt steak?
Always store in airtight containers – I like the glass locking ones. I ate all these leftovers stone cold out of the fridge because they were stone tender!

You can reheat in the microwave for 30-45 seconds or in the air fryer at 350º for 3-5 minutes. Be careful reheating, you don't want your medium rare to become well done.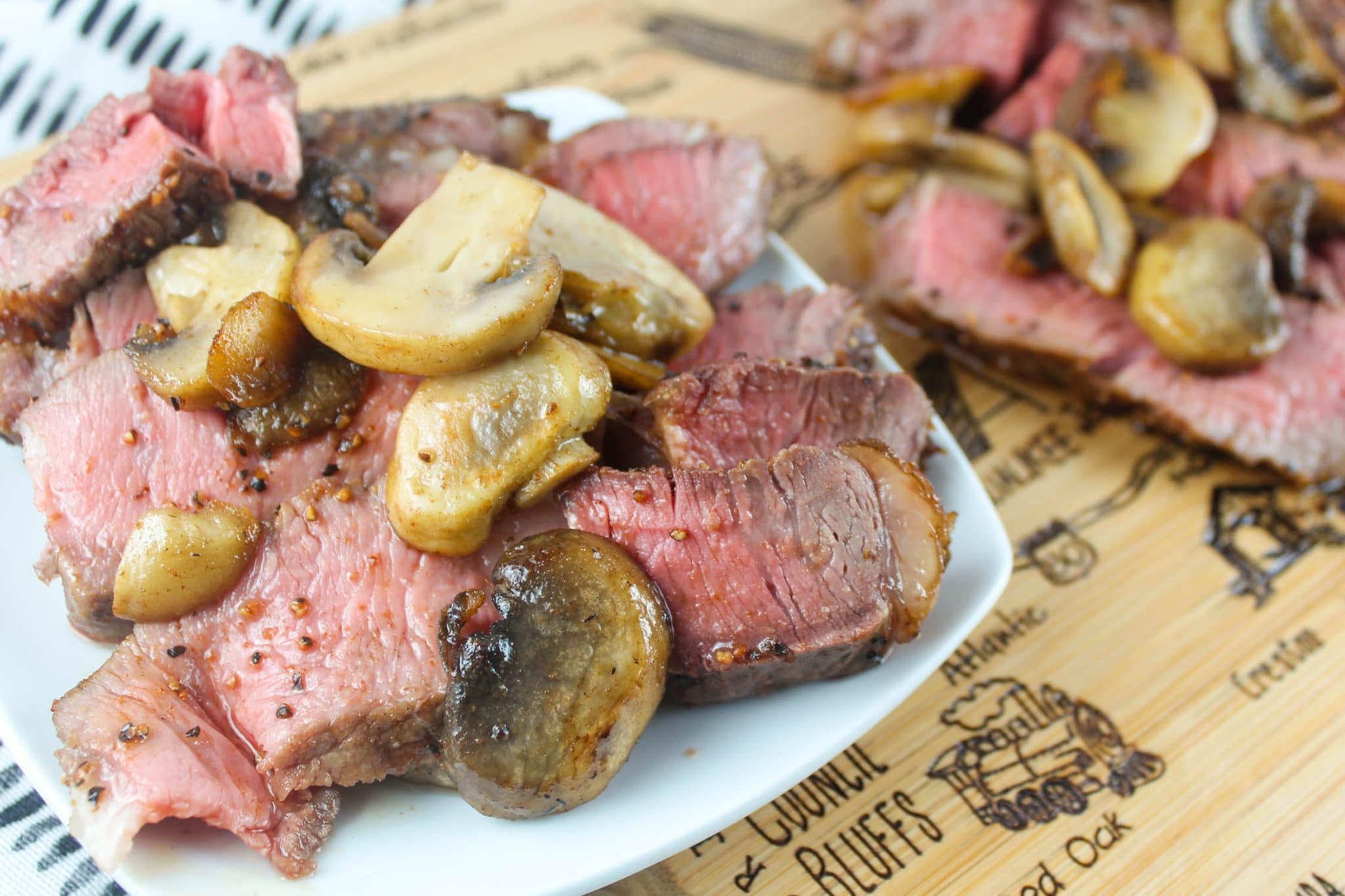 More Air Fryer Recipes for Steak
Air Fryer Chicken Recipes
What to Serve with Air Fryer Steak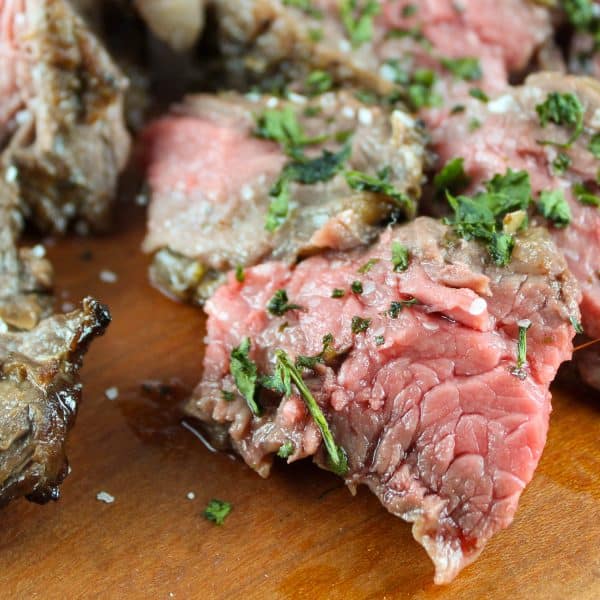 Air Fryer Skirt Steak
This Skirt Steak recipe in the air fryer is a delicious quick-to-cook dinner. This perfect medium rare steak is juicy and tender! Plus, steak lovers will drool over this easy steak marinade!
Instructions
In a large plastic zipper bag, add all ingredients except the steak. Seal the bag and mix together all ingredients.

1/2 cup olive oil,

1/3 cup soy sauce,

1/4 cup Worcestershire sauce,

1/2 lemon,

1 tbsp minced garlic,

2 tsp smoky chipotle hot pepper sauce,

1 tsp white pepper,

1/2 tsp onion powder,

1 tbsp basil,

1 tbsp oregano

Remove steak from packaging and rinse with water. Place steak in zipper bag and refrigerate overnight (at least 2-3 hours).

Remove steak about 30 minutes before cooking. Drain marinade and let rest on counter.

Preheat Air Fryer to 425º F.

Side note: I NEVER preheat – but you want your steak to go into a HOT air fryer – so this is the one time I will recommend it.

Place steak in air fryer "ugly" side UP. Air fry for 8 minutes and flip half way through.

Add 2 min for each stage above medium rare you prefer.

Check temp with instant read thermometer:

125º Rare – 135º Medium Rare – 145º Medium – 155º Medium Well – 165º Well Done

Remove steak from air fryer and let rest for 5 minutes

Slice against the grain and serve
Notes
**We are not dietitians and recommend you seek a nutritionist for exact nutritional information. The information in the nutrition box are calculated through a program and there is room for error. If you need an accurate count, I recommend running the ingredients through your favorite nutrition calculator.**
Nutrition
Serving:
0.25
lb
Calories:
402
kcal
Carbohydrates:
4.9
g
Protein:
31.4
g
Fat:
28.3
g
Saturated Fat:
6.8
g
Cholesterol:
67
mg
Sodium:
1037
mg
Potassium:
400
mg
Fiber:
0.7
g
Sugar:
2.5
g
Calcium:
34
mg
Iron:
4
mg