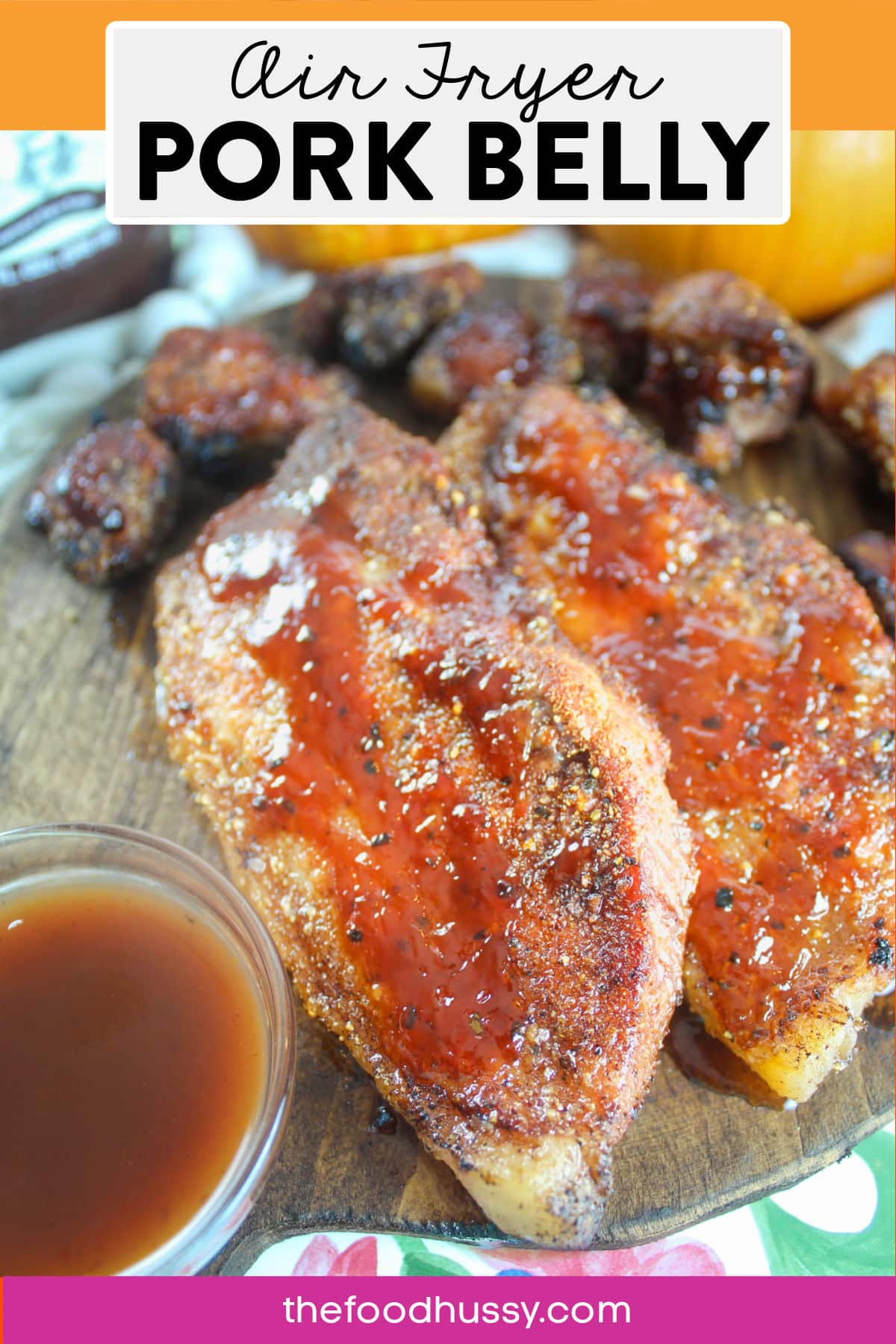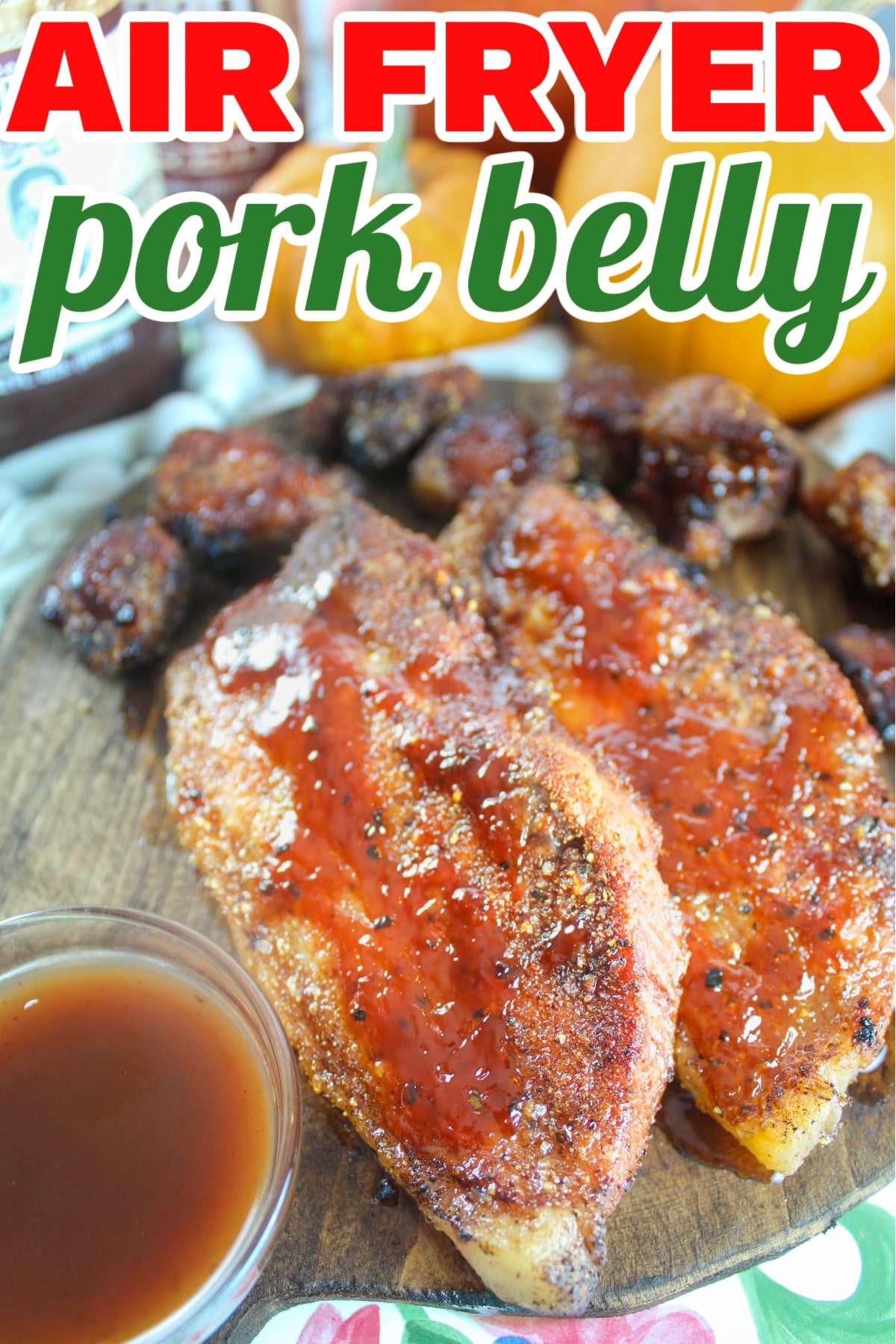 Air Fryer Pork Belly is a delightfully indulgent treat! Whether you make bites or slices – this pork belly will melt in your mouth and give you a whole new appreciation for pork belly!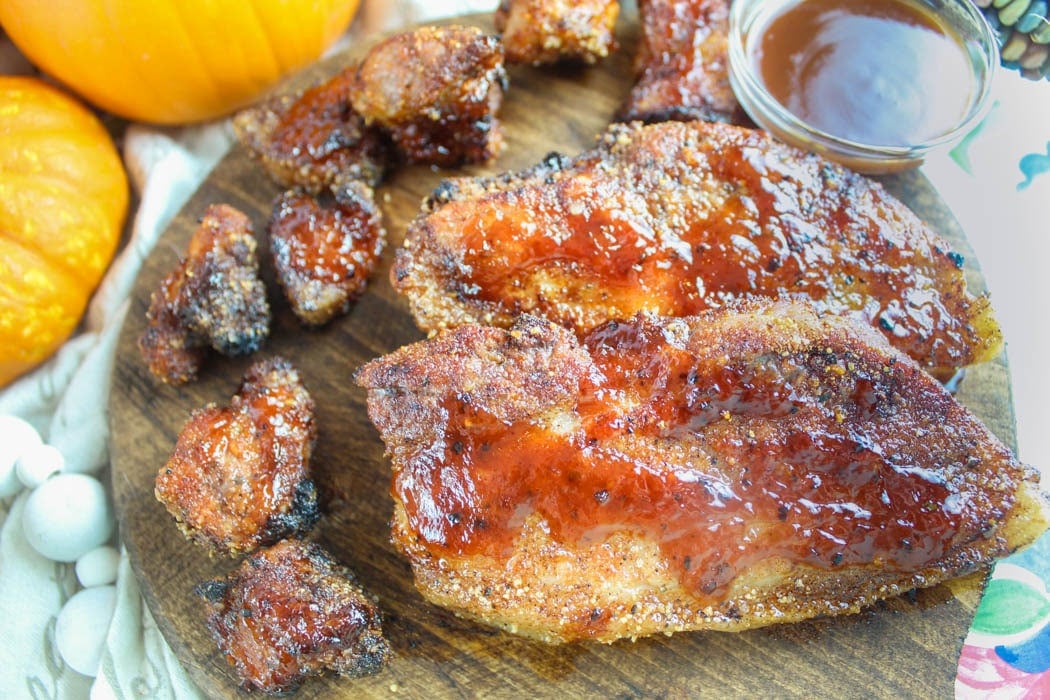 What You Will ❤️ About Air Fryer Pork Belly
Scrumptious! This is like the best piece of pork chop and bacon combined! If you haven't had pork belly – you have to try it!
Take Your Time! Normally the air fryer is all about fast – and this is far quicker than on the smoker – but it'll take about 30 minutes. Still not too bad!
Easy! Season & Air Fry! Let the machine do the work for you!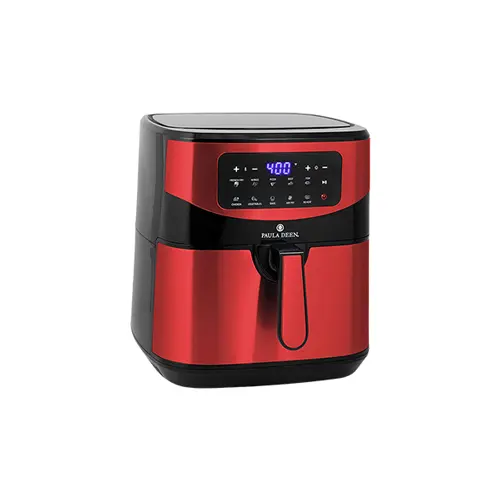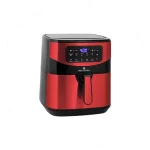 This recipe was made using the Paula Deen Air Fryer.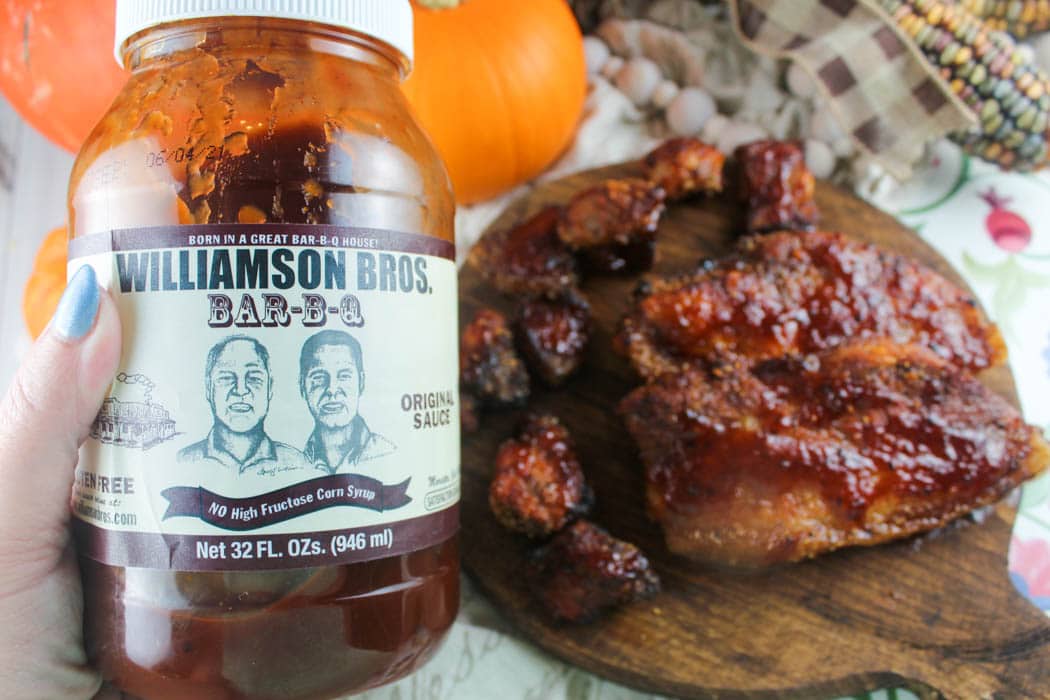 Air Fryer Pork Belly Recipe Ingredients
Pork belly is a really delicious cut of pork – so you don't need much to make it perfect. Keep it simple! You just need:
Pork Belly – Of course this is the first ingredient – see my pro tip below for where to purchase a slab of pork belly and how much it will cost.
BBQ Rub – I have a drawer full of BBQ seasonings so I'm always trying something new! Using something that you would normally use on pork chops will work great. Here are some of my favorites:

Don't have a BBQ rub? You can always use a mixture of salt, black pepper, garlic powder, onion powder and smoked paprika or chili powder!

BBQ Sauce – If you're looking to purchase one – I always recommend Williamson Bros. It's a very light sauce – but so full of seasoning and flavor!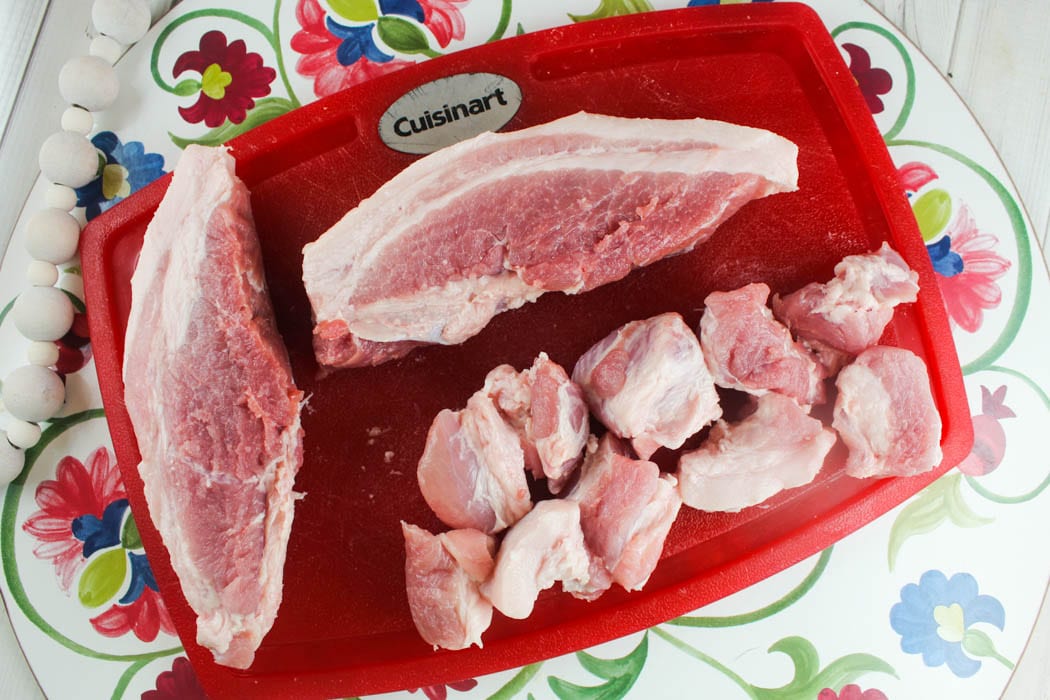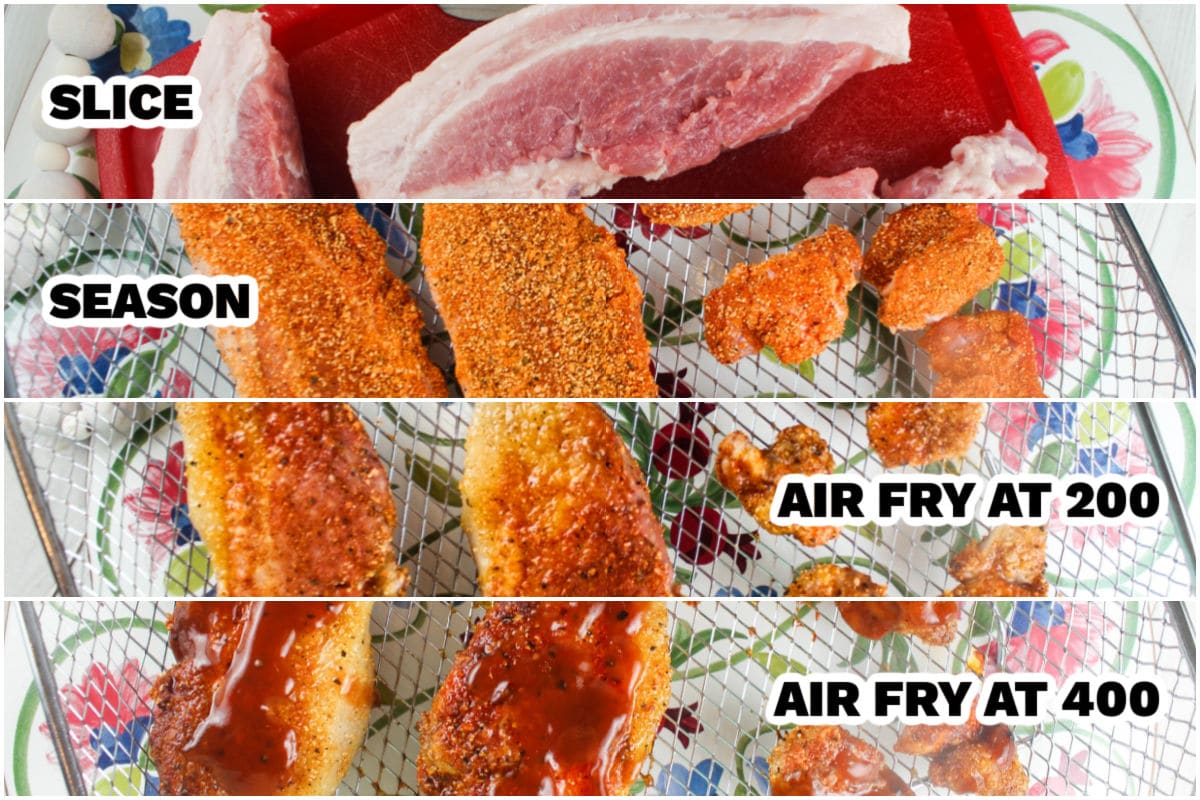 How do you make pork belly in the air fryer?
You can do pork belly strips or pork belly bites! It really depends on the thickness of your pork belly. Here's how to decide and air fry it:
Pat pork belly dry with paper towel to absorb any excess moisture & slice with a sharp knife

If pork belly is thick – cut into slabs – like thick bacon slices – approx 3/4" thick
If pork belly is thin – cut into bite size pieces – approx 1-2"

Preheat air fryer (if necessary) to 200º – we're going low and "slow" here!
Coat all sides of pork belly with your favorite bbq rub
Place pork belly pieces into air fryer basket in a single layer. Be sure there is at least 1/2" space around each piece.
Air fry at 200º for 25 minutes – flipping halfway thru
Open air fryer and drizzle your favorite bbq sauce on top of pieces
Close air fryer and raise temp to 400º and air fry 5-7 additional minutes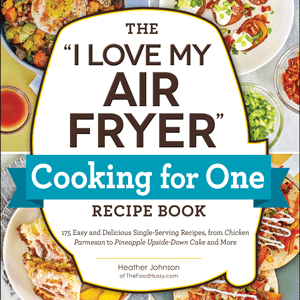 Get Heather's NEW cookbook – Air Fryer Cooking for One today!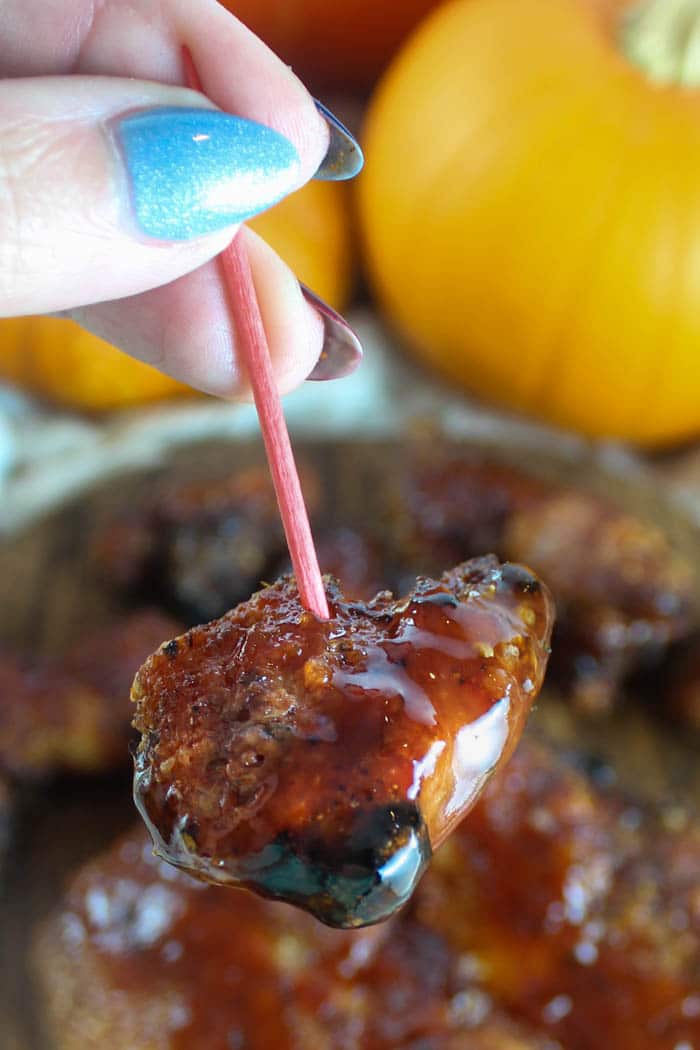 Uses for pork belly
You've heard about the deliciousness that is pork belly – but what do you do with it??? Is it an entree? Is it an appetizer? Is it "pig candy"?
The truth is – it can be any and all of the above!
Appetizer – Crispy pork belly cubes are a delicious appetizer! Air fryer pork belly bites – just 2-3 bites is great because it can be very rich!
Main Dish – If you like pork chops – 1-2 small strips of pork belly will be your new favorite! It's like the best meaty bacon you've ever had!
Tacos – top a tortilla with pork belly, cheddar cheese, pico de gallo & a drizzle of bbq sauce!
Dessert – Give it the candied bacon treatment and it's almost a dessert!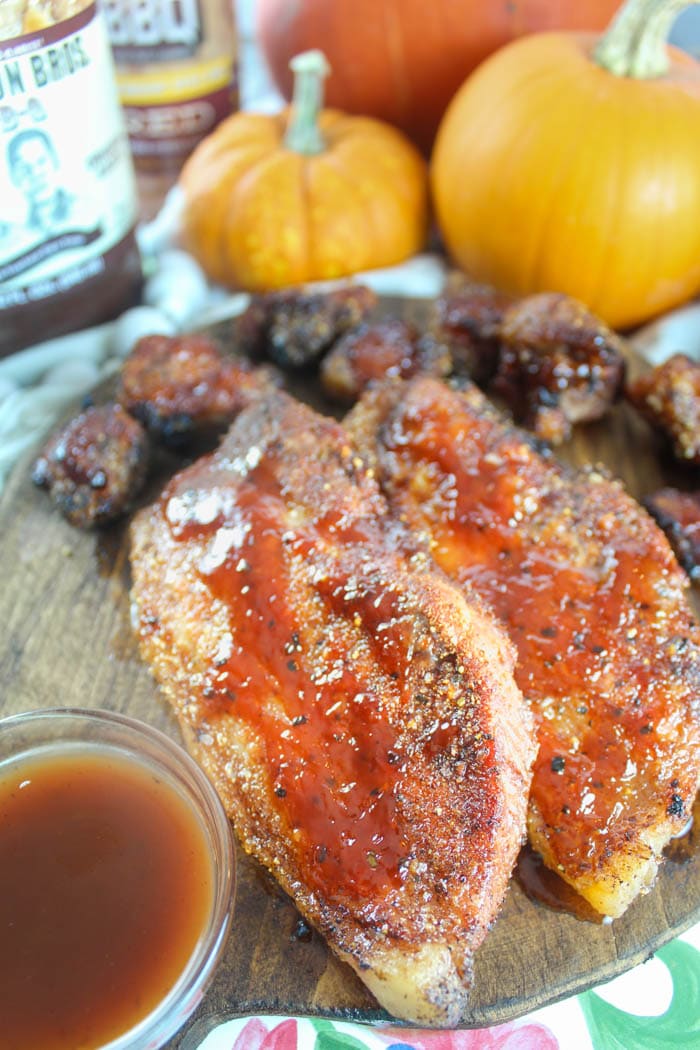 FAQs
How long does pork belly take in the air fryer?
You want to go low and slow – so air fry at 200º for 30 minutes.
Can I marinate pork belly?
I would advise against it – keeping pork belly dry as you cook it will make the skin on top nice and crispy! That pairs well with the meltiness of the meaty part of the pork belly.
Do you have to boil pork belly before air frying?
Heck no!!!! I'm not doing any extra work!
Does pork belly get more tender the longer you cook it?
Well – to a point! But after a certain point, it will become rubbery. You can check the temperature with an instant read thermometer to 160º.
How do you store and reheat leftover pork belly?
Store leftovers in an airtight container (I like these glass storage ones) in the the fridge for up to a week. Reheat in the air fryer at 300º for 3-4 minutes.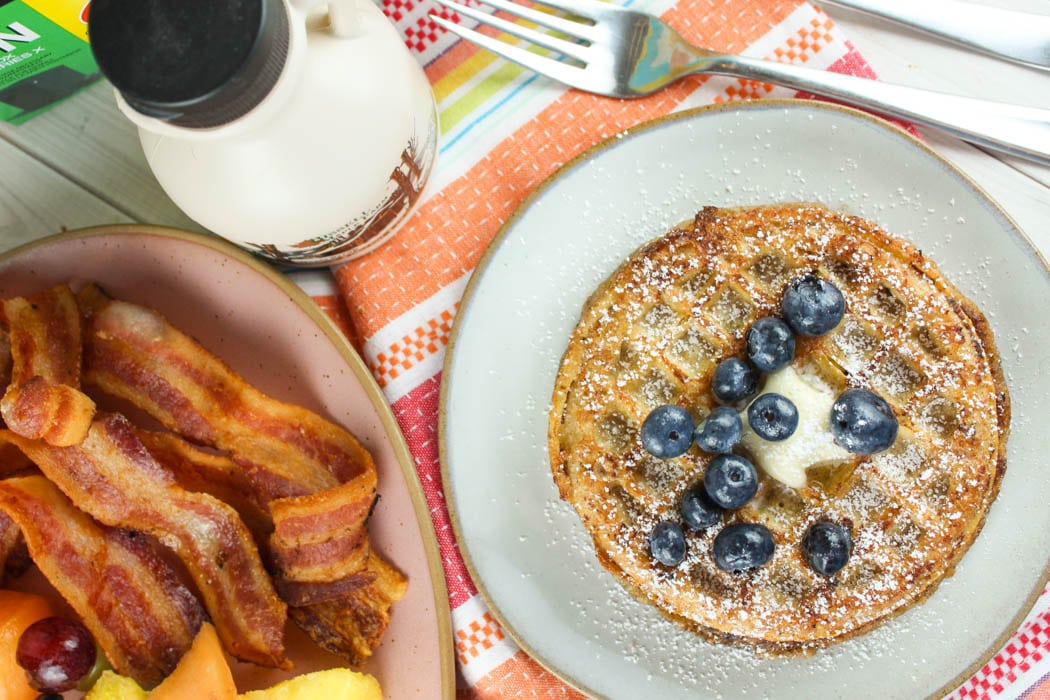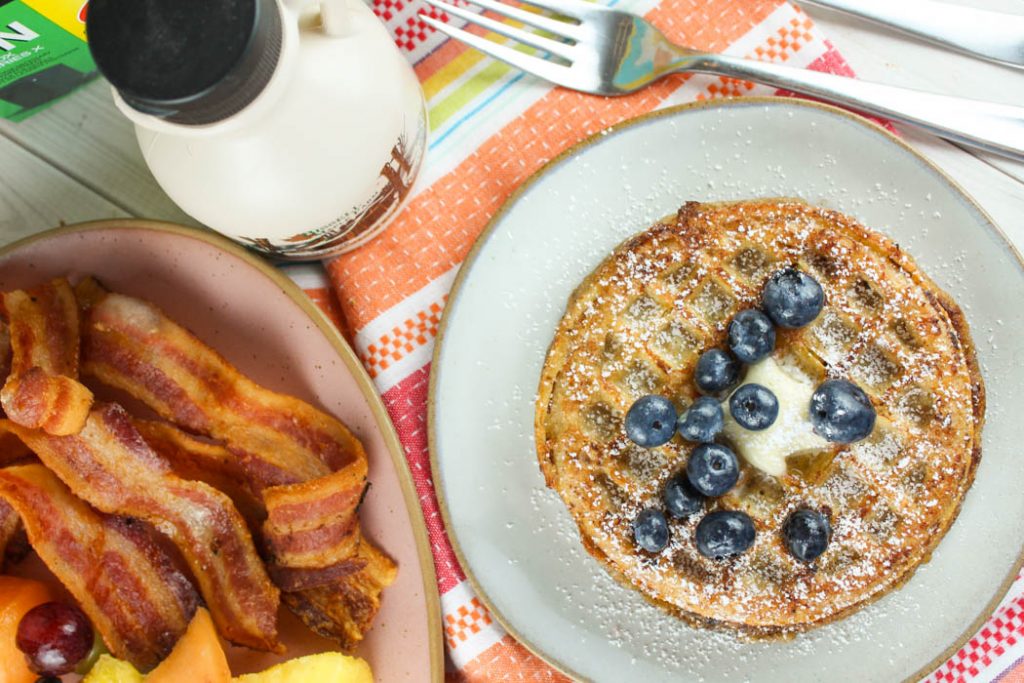 What to serve with Air Fryer Pork Belly
Other delicious air fryer recipes for Pork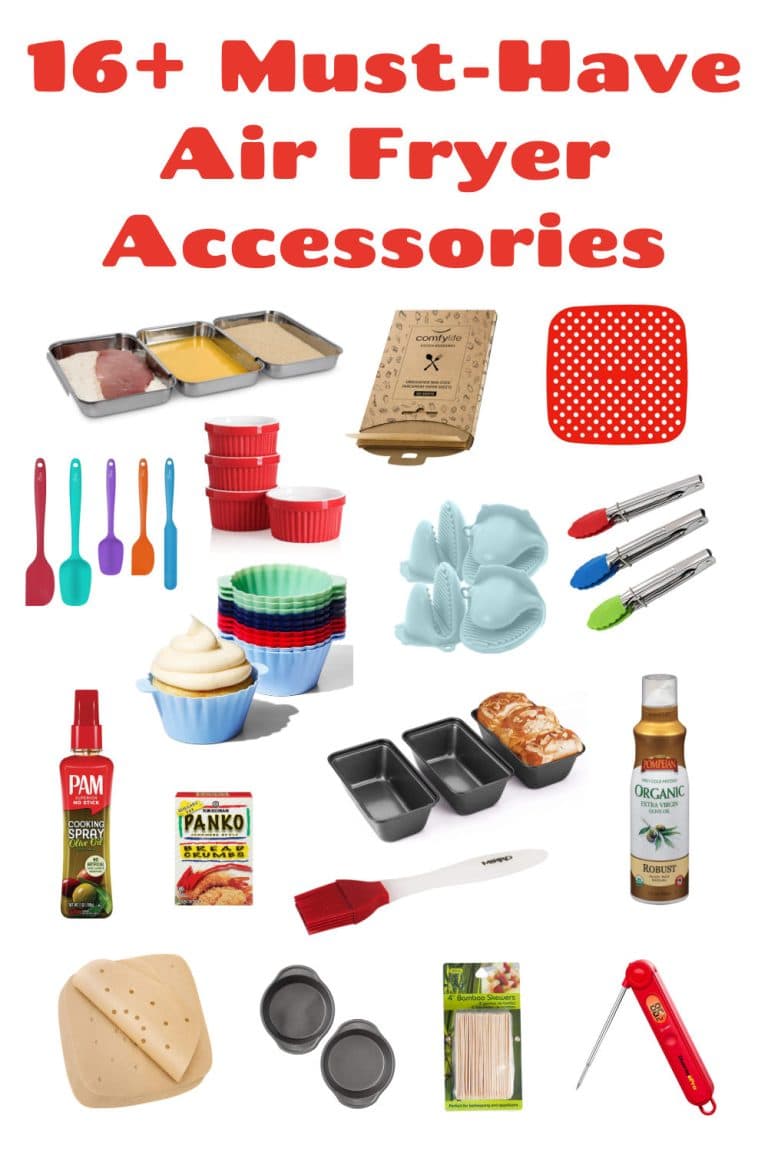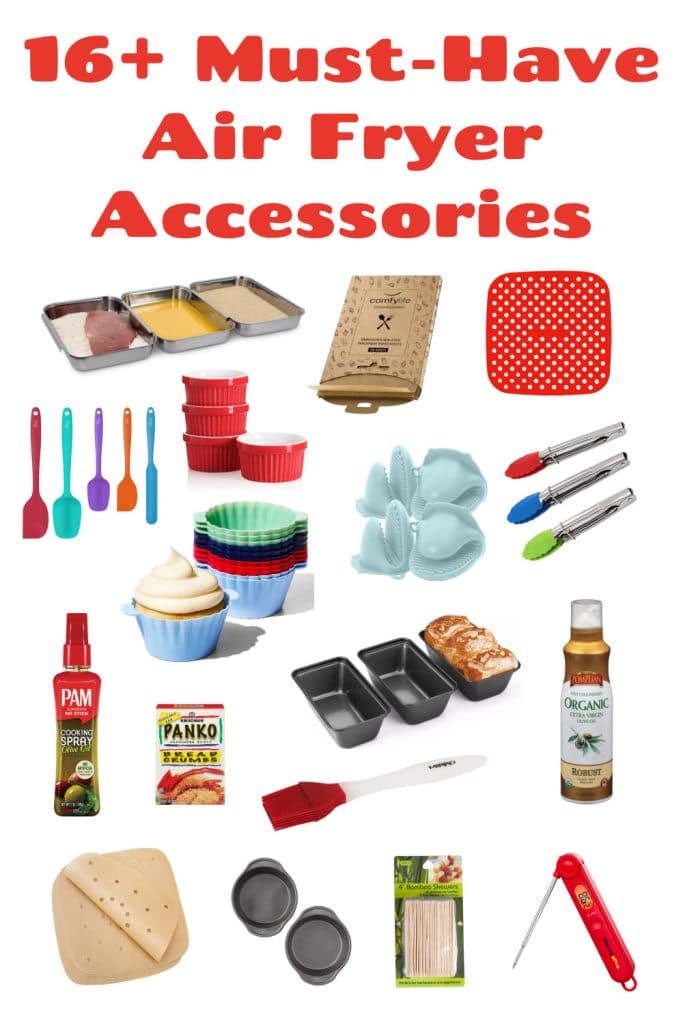 Best Air Fryer Accessories
Here's my ultimate list of best air fryer accessories – whether you have a basket- or oven-style! I've also included a price guide as well as my favorite recipes for those accessories.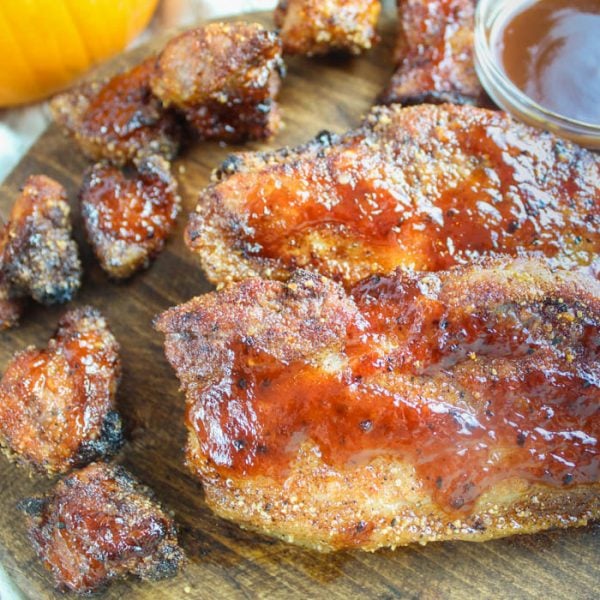 Air Fryer Pork Belly
Air Fryer Pork Belly is a delightfully indulgent treat! Whether you make bites or slices – this pork belly will melt in your mouth and give you a whole new appreciation for pork belly!
Ingredients
1.5

lbs

pork belly

thick cut

1/4

cup

BBQ Seasoning Rub

1/4

cup

BBQ sauce
Instructions
Pat pork belly dry with paper towel to absorb any excess moisture & slice with a sharp knife

If pork belly is thick – cut into slabs – like thick bacon slices – approx 3/4" thick

If pork belly is thin – cut into bite size pieces – approx 1-2"

Preheat air fryer (if necessary) to 200º – we're going low and "slow" here!

Coat all sides of pork belly with your favorite bbq rub – I always use Historic BBQ Red for pork

1/4 cup BBQ Seasoning Rub

Place pork belly pieces into air fryer basket in a single layer. Be sure there is at least 1/2" space around each piece.

Air fry at 200º for 25 minutes – flipping halfway thru

Open air fryer and drizzle your favorite bbq sauce on top of pieces

Close air fryer and raise temp to 400º and air fry 5-7 additional minutes
Notes
**We are not dietitians and recommend you seek a nutritionist for exact nutritional information. The information in the nutrition box are calculated through a program and there is room for error. If you need an accurate count, I recommend running the ingredients through your favorite nutrition calculator.**
Nutrition
Serving:
0.4
lb
Calories:
738
kcal
Carbohydrates:
0.7
g
Protein:
13.3
g
Fat:
75.2
g
Saturated Fat:
27.4
g
Cholesterol:
100
mg
Sodium:
93
mg
Sugar:
0.3
g
Calcium:
1
mg
Iron:
1
mg