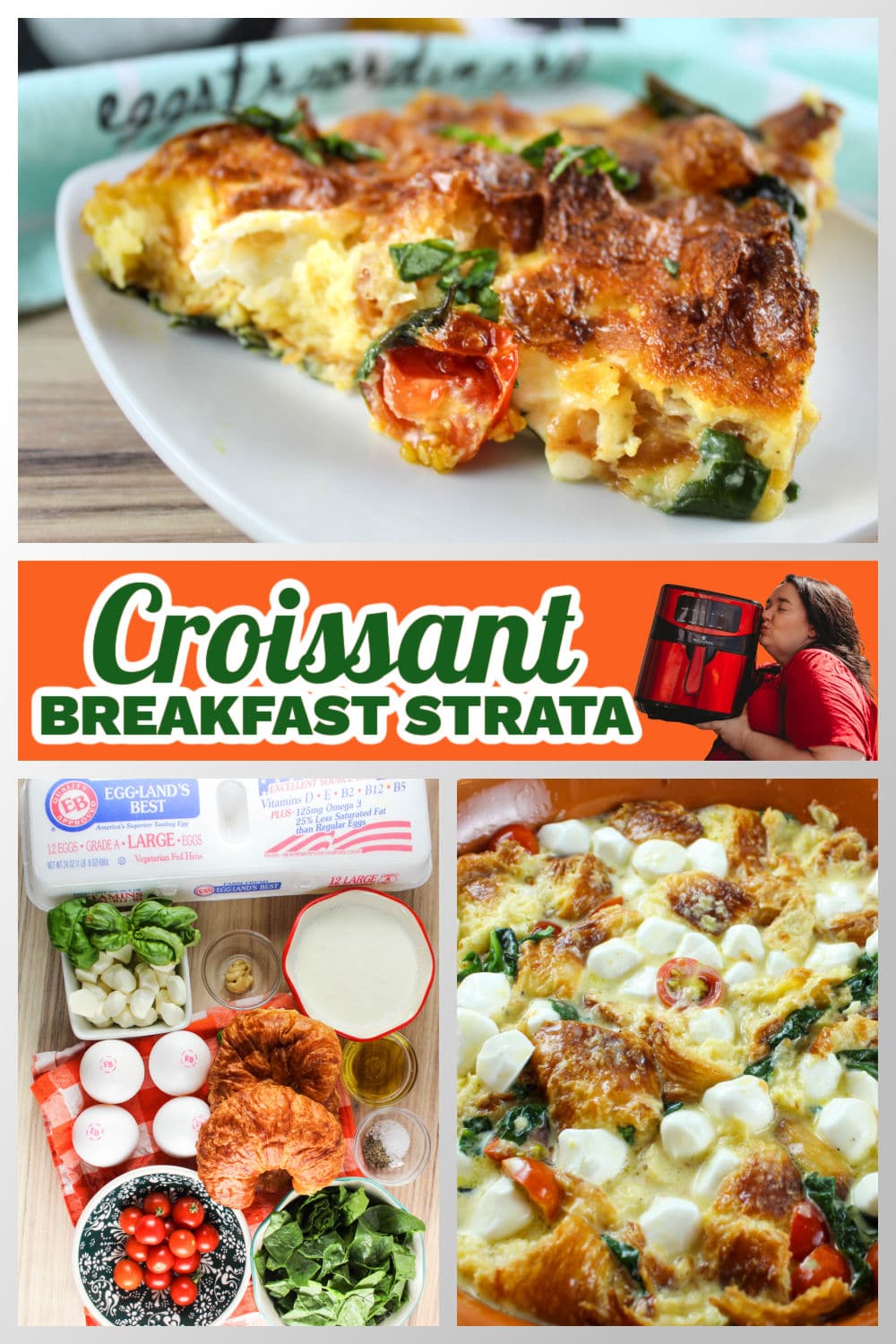 This Air Fryer Vegetarian Strata is so delicious! I put a Caprese spin on it with fresh basil, home grown cherry tomatoes and fresh mozzarella pearls – all soaked up in a yummy egg custard! It's a perfect back-to-school hearty breakfast for the whole family!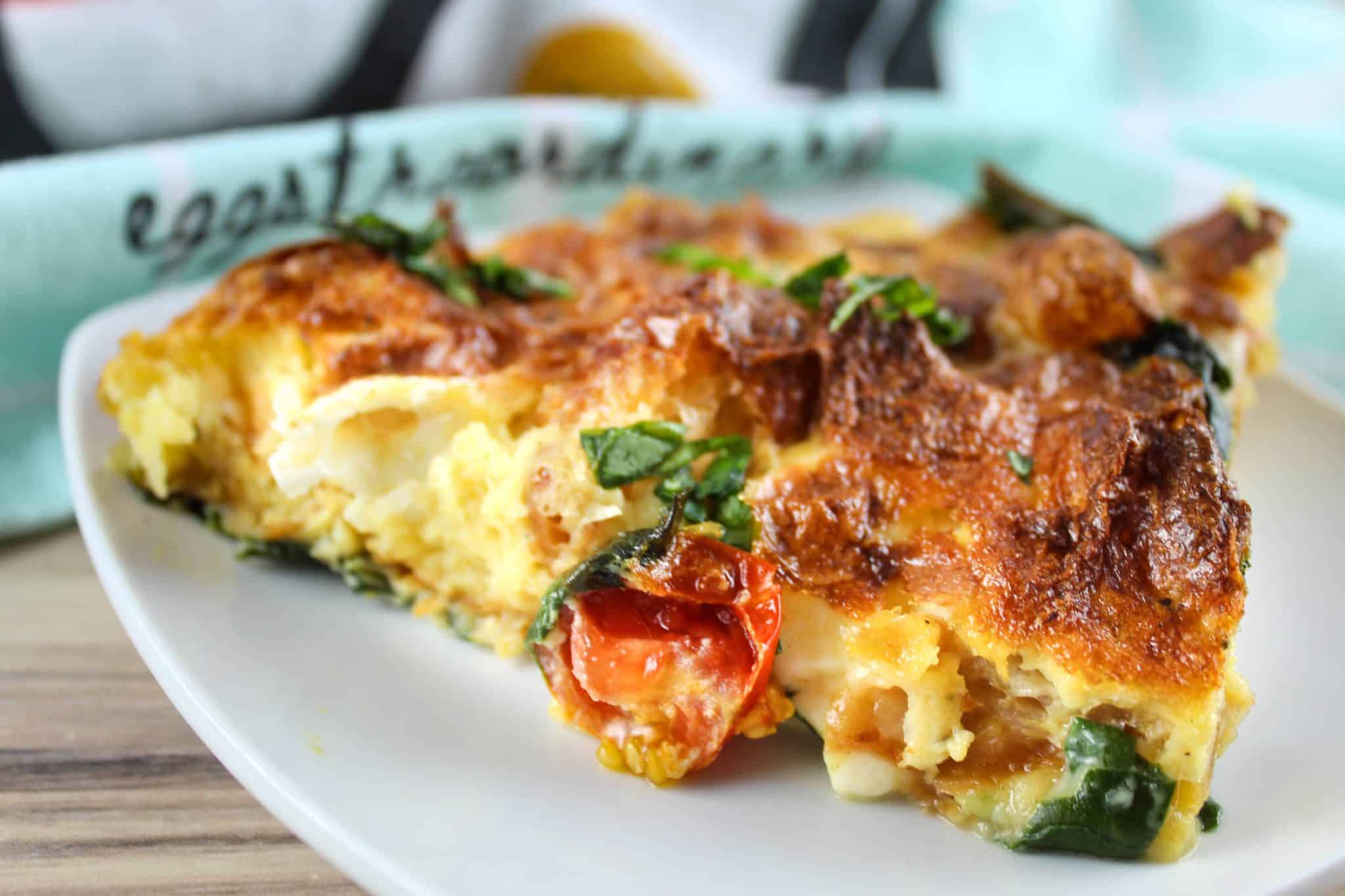 What You Will Love About this Vegetarian Breakfast Strata
This Caprese strata combines eggs, croissants, cherry tomatoes, fresh basil, spinach and fresh mozzarella together for a comforting savory breakfast casserole. It's a taste of summer with fresh vegetables!
What is a Strata?
Strata is a fancy name for a layered casserole. They're delicious and often served for brunch. Eggs, bread, and vegetables all combine together for a comforting savory bread pudding-style casserole.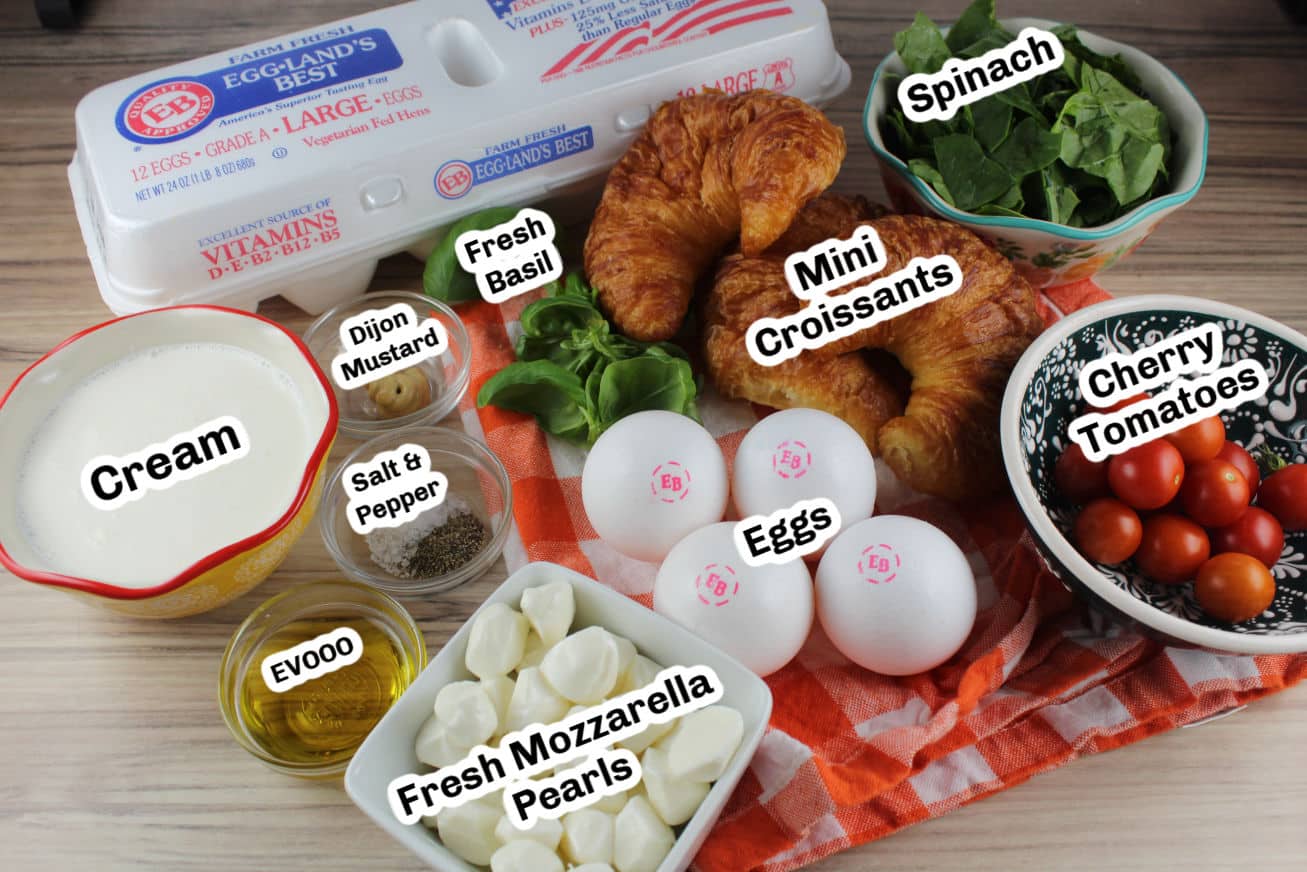 Vegetarian Breakfast Strata Ingredients
3 mini croissants, torn into bite-sized 1-inch cubes
8 cherry tomatoes, sliced
1 cup torn spinach
1 tbsp olive oil
4 fresh basil leaves
1/2 cup mozzarella pearls
4 large eggs
1/2 cup heavy cream
1/2 tsp Dijon mustard
1/4 tsp coarse sea salt
1/4 tsp black pepper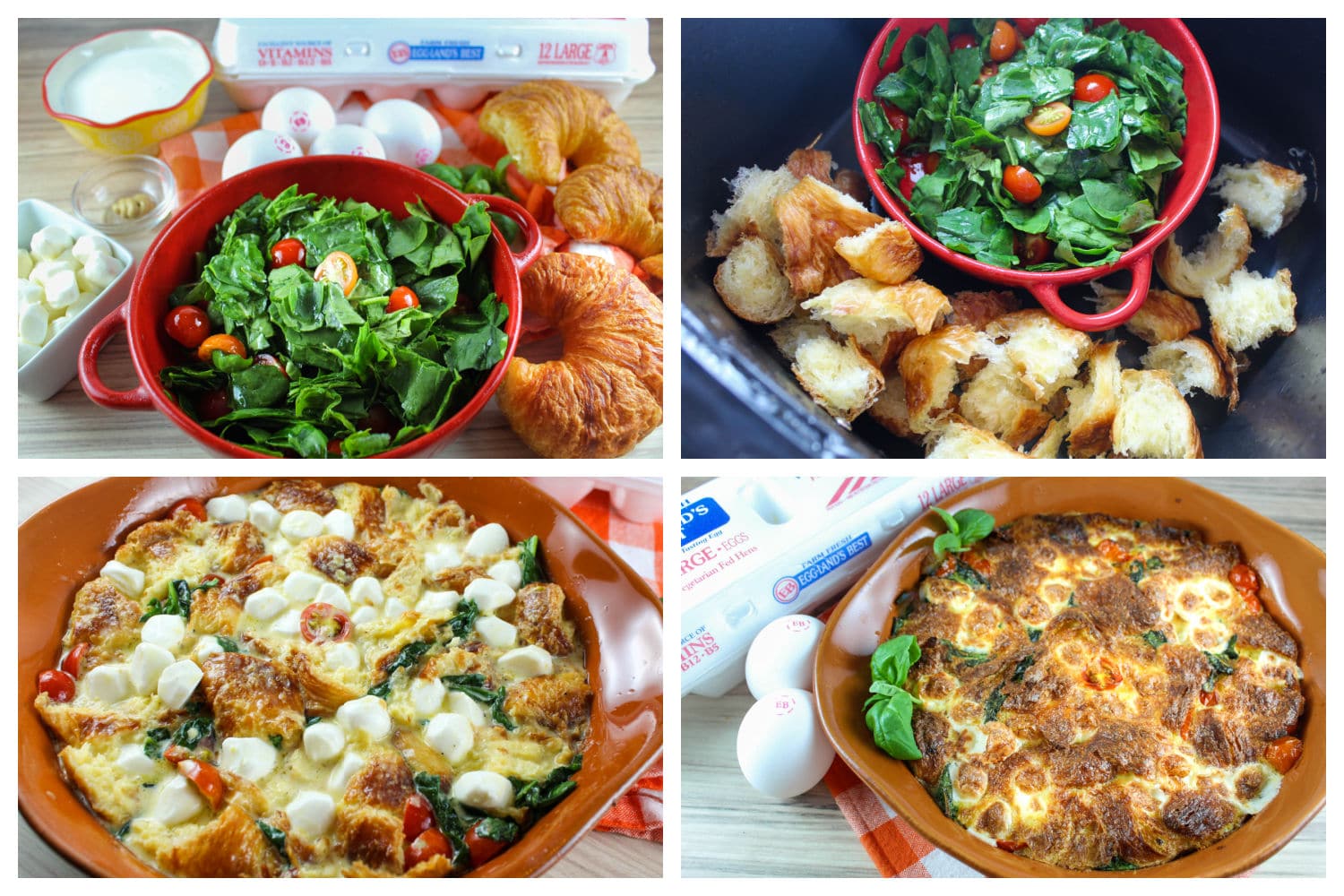 How to Make this Strata recipe in the Air Fryer
Spray a 9" casserole dish with non-stick cooking spray. In dish, add tomatoes, spinach, olive oil, and basil. Lightly toss to combine.

You need to use something that will fit in your air fryer. Another alternative would be a loaf pan.

Place croissant pieces in air fryer on one half of basket. Place baking dish with vegetables in other half of air fryer basket. Air fry at 400ºF for 3 minutes.
Open air fryer and remove baking dish. Remove croissant pieces from air fryer. Add croissant pieces to dish with vegetables. Sprinkle mozzarella pearls across the top.
In a large bowl, beat egg, cream, mustard, salt, and pepper. Pour egg mixture into baking dish. Push croissants into egg mixture. Set aside for 2-3 minutes.
Place dish into air fryer and cook at 320ºF for 8 minutes until the bread cubes are golden brown. Cover dish tightly with aluminum foil. And air fry 15 minute more.
Using potholders, remove dish from air fryer and let cool 10 minutes. Serve warm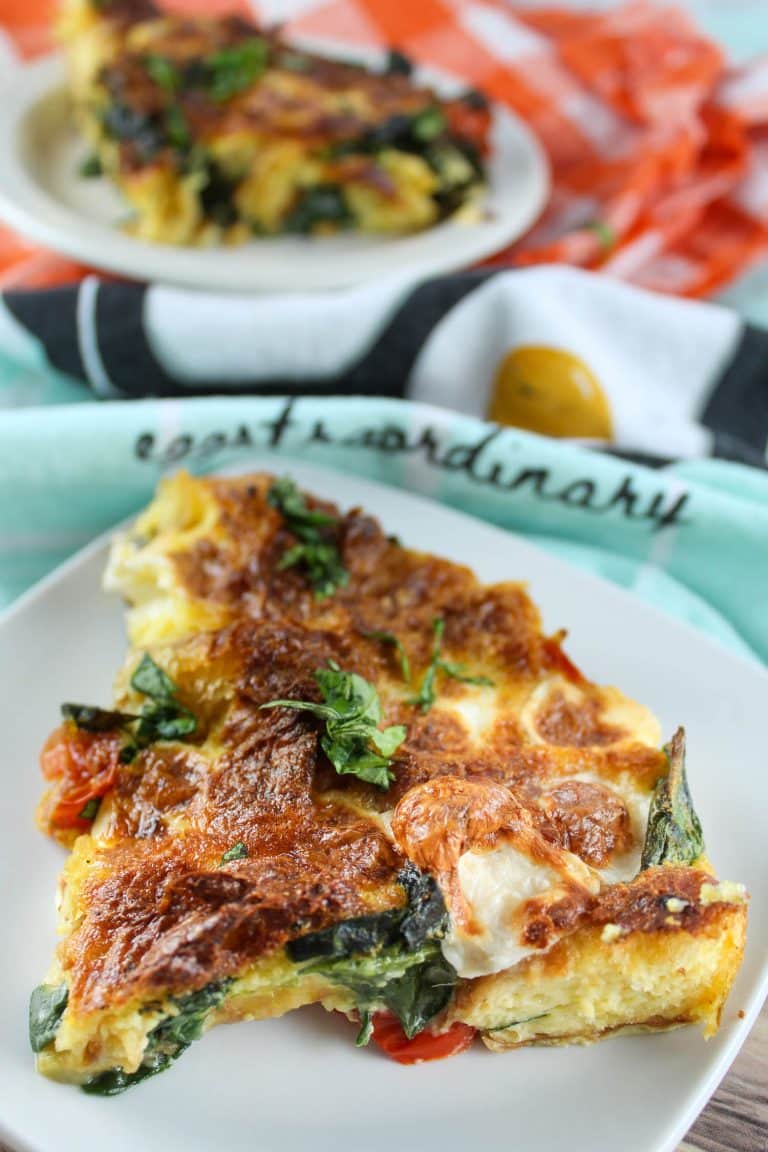 Tips, Tricks & FAQs
Does a strata need to sit overnight?
Heck no! I soaked this vegetarian strata recipe for less than five minutes – and those buttery croissants soaked up all the moisture!
How far ahead can you make a strata?
I would say the most would be overnight – otherwise the bread will get too sogged and have no texture. I would not bake it until you're serving – the eggs can get rubbery on a reheat. It's much better fresh!
Can strata be served cold?
Meh – I wouldn't probably. I've never been one to like cold eggs.
How do you know when egg strata is done?
Your best bet is to stick the center with a knife (gently) and see if there's any liquid in the center. If there's still liquid, bake 5 min longer.
Can you make this strata in the oven?
Yes – I would bake at 350 for 35-40 minutes. Checking to be sure the top doesn't get too brown.
How do you store & reheat leftover strata?
Store any leftovers in airtight containers and reheat in the microwave. The steam will help rejuvenate those eggs.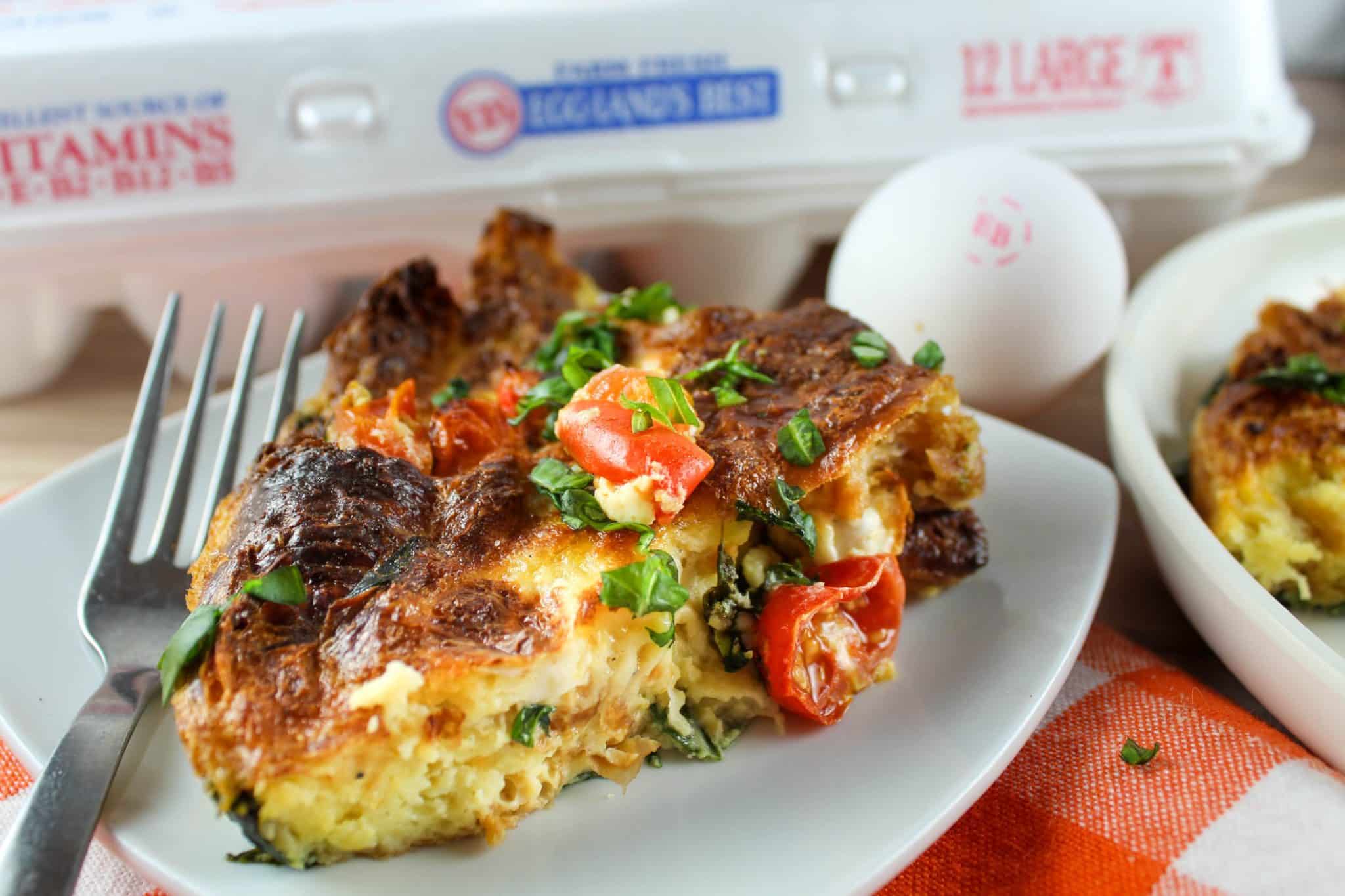 Variations for Vegetable Strata
Alt Bread – No croissants? Just use any thick sliced hearty bread or even biscuits.
Veggies – You can pop any veggies in this strata – just be sure they're lightly sauteed. Mushrooms, bell peppers, onions, asparagus and broccoli would all be delicious.
Cheeses – Because I was going for caprese – I used tomato/basil/mozz – but you could easily swap with sharp cheddar cheese, Swiss, colby jack, feta, goat or gruyere cheese. Thinking about Parmesan cheese? I would just sprinkle some on top! You want a melty cheese in the strata.
Herbs – I used fresh basil – but you could also add garlic or fresh thyme for more herbaceous flavor!
Meat – Yes – this is a vegetarian strata – but maybe you have some meat eaters – you could add bacon, ham or sausage to half of the strata and just mark it off with an asparagus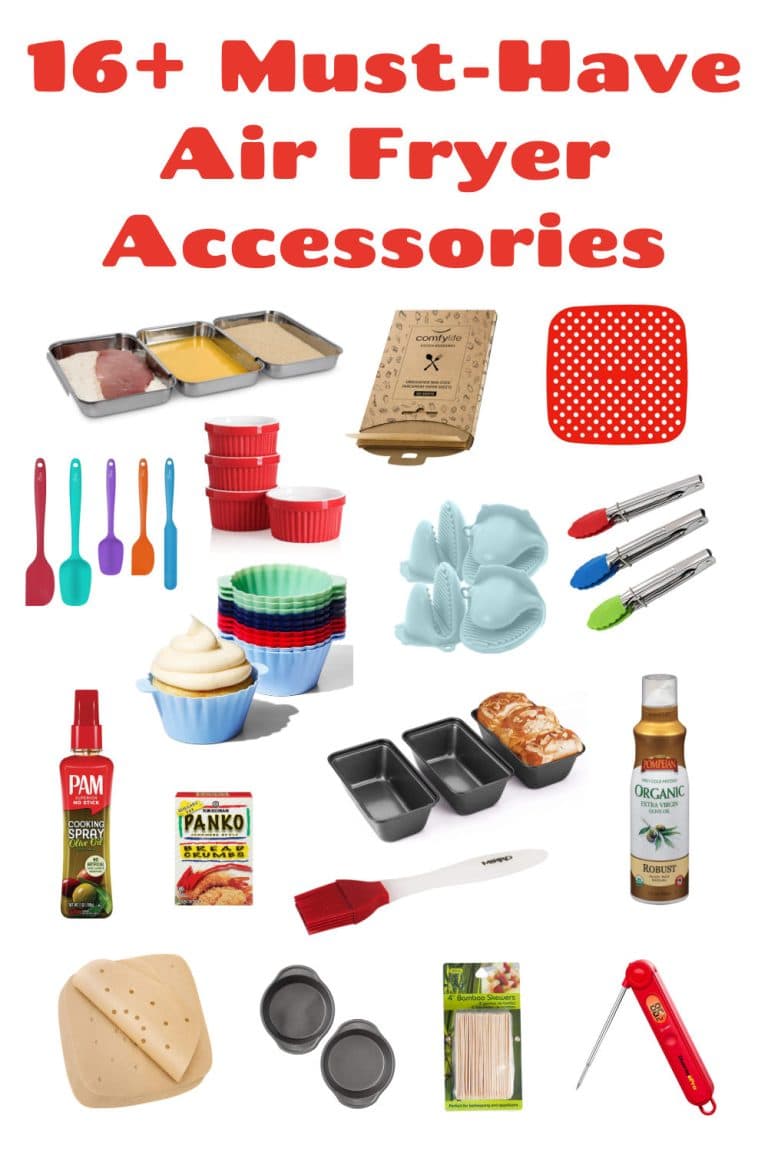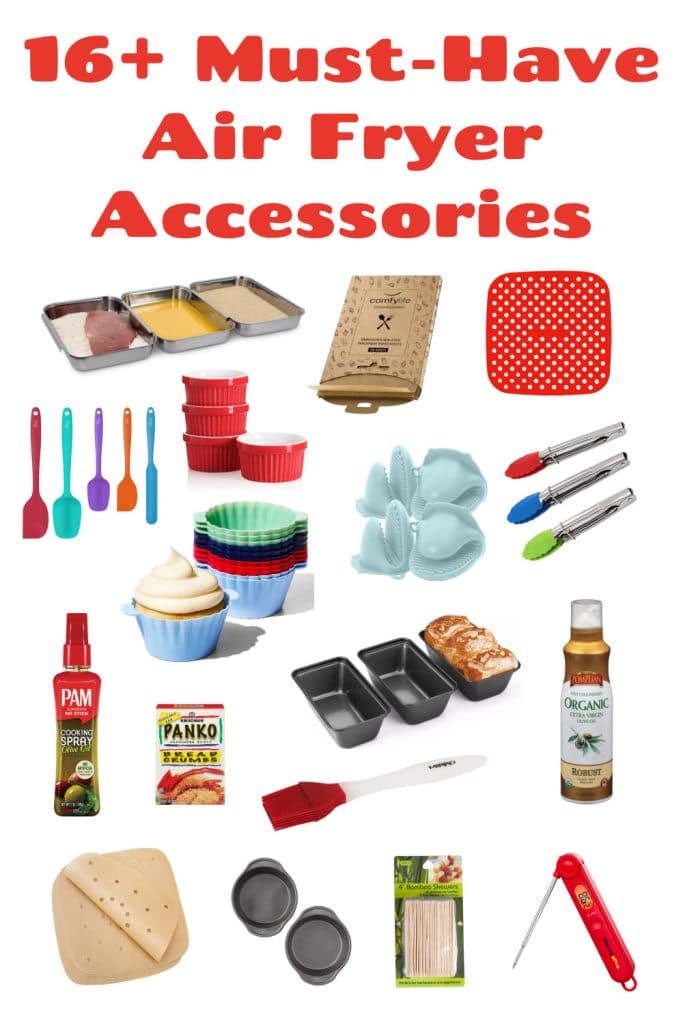 Best Air Fryer Accessories
Here's my ultimate list of best air fryer accessories – whether you have a basket- or oven-style! I've also included a price guide as well as my favorite recipes for those accessories.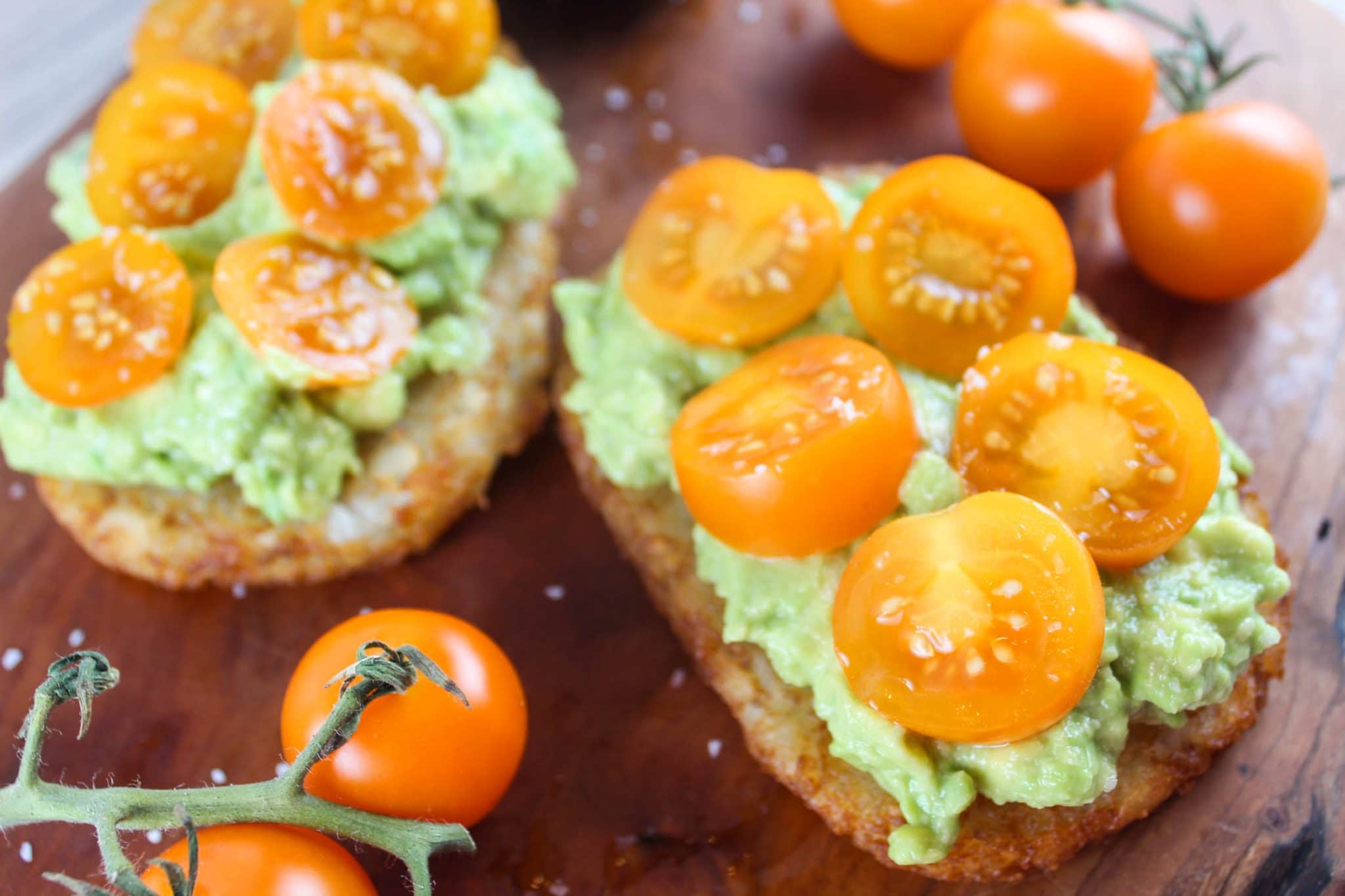 More Air Fryer Brunch Recipes
More Vegetarian Recipes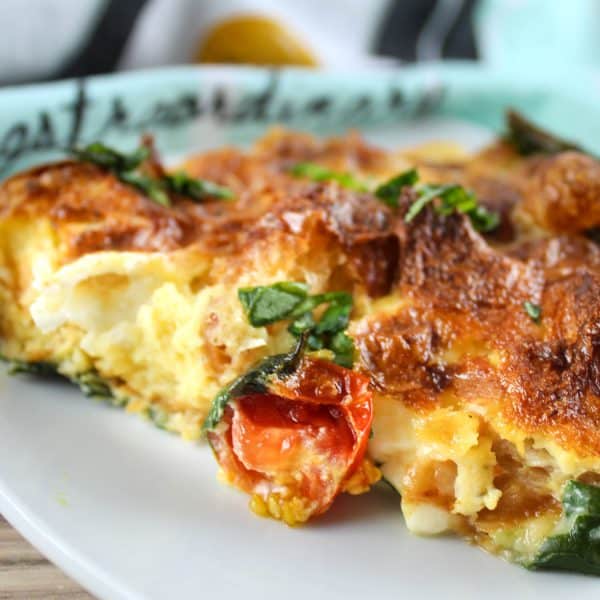 Air Fryer Vegetarian Strata
This Air Fryer Vegetarian Strata is so delicious! I put a Caprese spin on it with fresh basil and home grown cherry tomatoes – all swimming in a yummy egg custard! It's a perfect back-to-school hearty breakfast for the whole family!
Ingredients
3

mini croissants

torn into bite-sized pieces

8-10

cherry tomatoes

sliced in half

1

cup

spinach

torn into bite-sized pieces

4-6

fresh basil leaves

1/2

cup

fresh mozzarella pearls

4

large

eggs

1/2

cup

heavy cream

1/2

tsp

Dijon mustard

1/4

tsp

coarse sea salt

1/4

tsp

black pepper
Instructions
Spray a 9" baking dish with non-stick cooking spray. In dish, add tomatoes, spinach, olive oil, and basil. Lightly toss to combine.

8-10 cherry tomatoes,

1 cup spinach,

4-6 fresh basil leaves

Place croissant pieces in air fryer on one half of basket. Place baking dish with vegetables in other half of air fryer basket. Air fry at 400ºF for 3 minutes.

Open air fryer and remove baking dish. Remove croissant pieces from air fryer. Add croissant pieces and mozzarella to dish with vegetables.

1/2 cup fresh mozzarella pearls

In a medium bowl, beat egg, cream, mustard, salt, and pepper. Pour egg mixture into baking dish. Push croissants into egg mixture. Set aside for 2-3 minutes.

4 large eggs,

1/2 cup heavy cream,

1/2 tsp Dijon mustard,

1/4 tsp coarse sea salt,

1/4 tsp black pepper

Place dish into air fryer and cook at 320ºF for 8 minutes until the bread cubes are golden brown. Cover dish tightly with aluminum foil. And air fry 20 minutes more.

Using potholders, remove dish from air fryer and let cool 10 minutes. Serve warm
Notes
**We are not dietitians and recommend you seek a nutritionist for exact nutritional information. The information in the nutrition box are calculated through a program and there is room for error. If you need an accurate count, I recommend running the ingredients through your favorite nutrition calculator.**
Nutrition
Serving:
0.25
strata
Calories:
435
kcal
Carbohydrates:
30.3
g
Protein:
17
g
Fat:
27.1
g
Saturated Fat:
10.9
g
Cholesterol:
232
mg
Sodium:
513
mg
Potassium:
707
mg
Fiber:
3.2
g
Sugar:
9.9
g
Calcium:
185
mg
Iron:
3
mg