Recently I went to visit my girl Plain Chicken and she decided we needed a mini-road trip to Atlanta. I knew the second she said Atlanta – we had to go to Old Lady Gang! If you're not familiar – it's a restaurant with a few locations there and it's owned by one of the Real Housewives of Atlanta. (I'm a HUGE FAN!)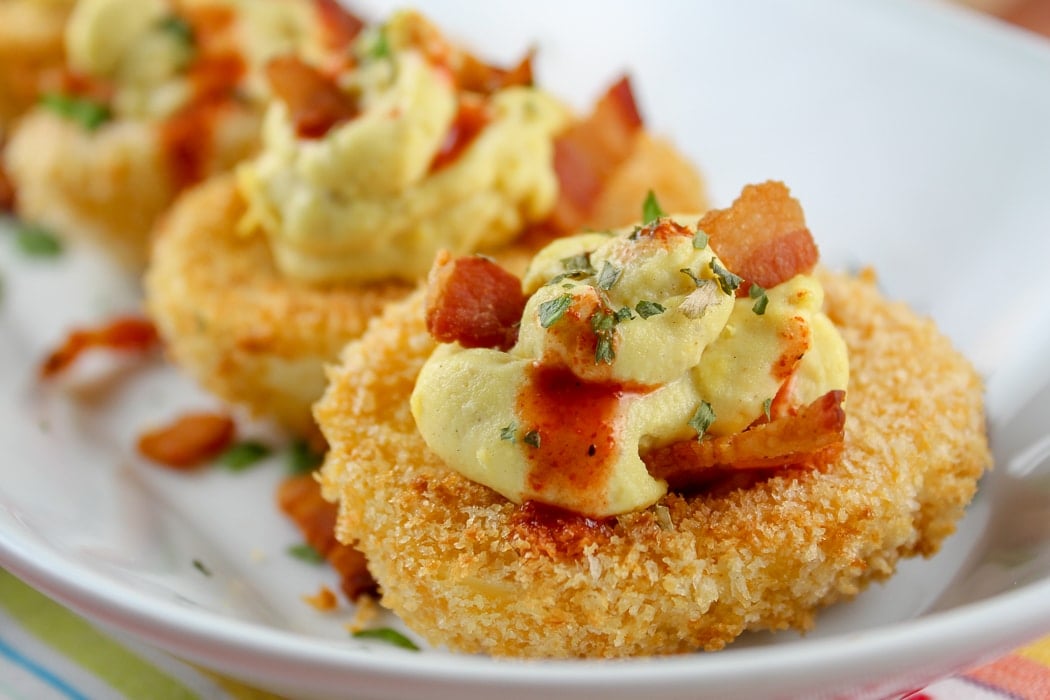 One of our favorite things on the menu were their Deep Fried Deviled Eggs (scroll through for the OG photo) – they were topped with bacon and hot sauce. I immediately thought – I can make these – and I'll make them in my air fryer! So off I went to make my very own spicy fried deviled eggs!
And yes – I'll have a whole post about my Real Housewives ATL trip!! Coming soon!
How do you make hard boiled eggs in the air fryer?
First – let's start withe the hard boiled eggs. How do you make them in the air fryer? Well I have to say – this is the EASIEST way you'll find. You don't even need water! You literally just set six eggs in the air fryer and air fry at 250 for 17 minutes. I'll also say – these PEELED easier than any other way I've tried!!! That's a win for me!


I wanted the yolks cooked through since I would be using it for the filling but would probably do a little less time if I was using them for regular hard boiled eggs to eat on their own.
How to make deep fried eggs? How to fix deep fried deviled eggs?
Making deep fried deviled eggs is actually pretty easy. It was my biggest question when I first tried them at OLG – how much of the deviled egg was deep fried??? Really – you're just frying the whites. So for this – you split the eggs and pop out the yolks – then bread the whites (Hooters Wing Breading, egg & panko) – and air fry them. Then you just make the deviled egg filling like normal (I have a super simple 2 minute filling). Finally top it with bacon, cilantro and hot sauce! Yum!
Can you make Deep Fried deviled eggs in the air fryer?
Yes!!! It's honestly so easy to make these spicy deviled eggs with bacon in the air fryer. First I air fried my hard boiled eggs. Then you are really just frying the whites – so I used my go-to breading combo of egg, Hooters wing breading and panko.
After that, make the filling and you're done! Yum!
These Spicy Deep fried deviled eggs with bacon are so tasty and such a step up from regular deviled eggs. How fun will these be for game day or holiday parties!?!


You can find more good stuff in my Air Fryer Recipes section or in my Air Fryer Facebook group!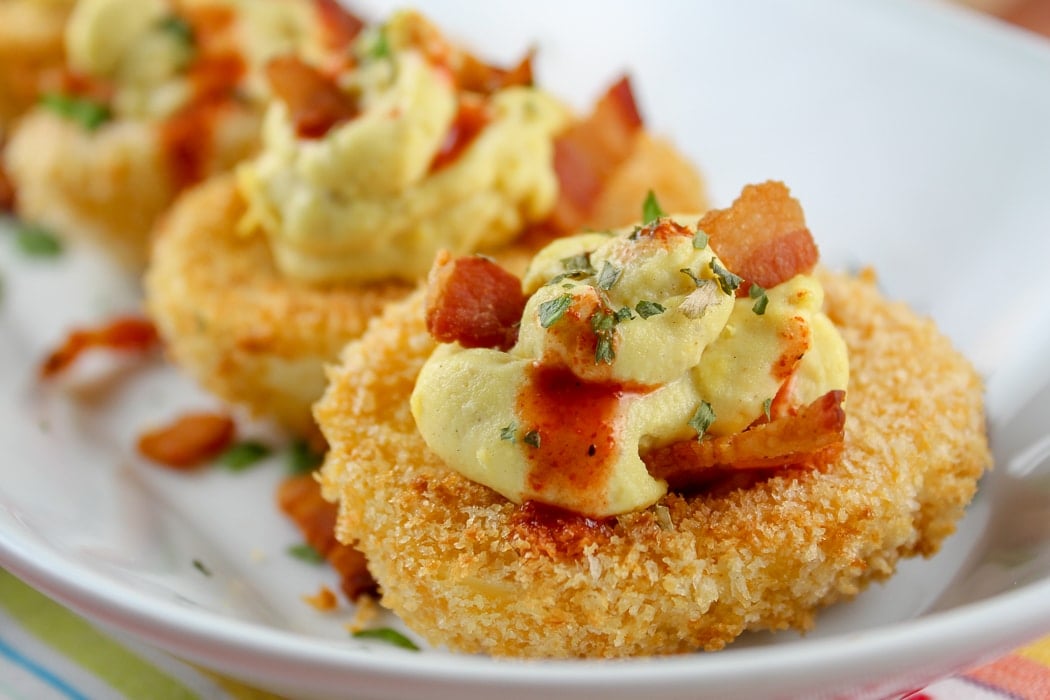 Air Fried "Deep Fried" Deviled Eggs Recipe
Yield: 4
prep time: 25 M
cook time: 10 M
total time: 35 M
On a recent visit to Old Lady Gang in Atlanta – owned by one of the Real Housewives of Atlanta – I had their Deep Fried Deviled Eggs and loved them. One bite and I knew I was making them myself when I got home! Since I love my air fryer – I decided to make them using that – from start to finish! I air fried the eggs and then "fried" the whites – plus I topped them with bacon and hot sauce! Spicy, crunchy – so good! #deviledeggs #deepfrieddeviledeggs #airfryer #copycat #oldladygang #rhoa
ingredients:
1 cup Hooters Wing Breading (or plain flour)
2 eggs
1 Tbsp hot sauce
1.5 cups panko breadcrumbs
1/4 cup mayonnaise
1 teaspoon white vinegar
1 teaspoon dijon mustard
1/8 teaspoon salt
Freshly ground black pepper
1/4 teaspoon chili powder
2 slices bacon, diced and cooked
cilantro, diced
hot sauce
instructions:
How to cook Air Fried "Deep Fried" Deviled Eggs
Place 6 eggs in air fryer and air fry at 250 for 17 minutes
While eggs are cooking, dice bacon and fry on stovetop.
Place in bowl with cold water and let rest
Crack egg shells and peel. Rinse eggs with water – shake dry (do not dry with paper towel)
Slice the eggs in half lengthwise, removing yolks to a medium bowl, and placing the whites on a plate.
Set up a dipping station with 2 plates and a bowl:

left: Hooters wing breading
middle: bowl with 2 beaten eggs mixed with hot sauce
right: panko breading

Heavily coat egg halves in wing breading
Dip egg halves into egg mixture – be sure to get the center of the egg where the yolk was
Move eggs to the panko and coat – pushing panko onto all sides of egg halves
Move 6 breaded egg white halves to air fryer and spray with olive oil cooking spray.
Air fry at 350 for 4 minutes, flip egg halves, spray again, air fry for 4 minutes more. Egg halves will be golden.
(If your air fryer is big enough, you can do all of them at once – I had to do mine in two batches)
While whites are air frying, mash the yolks into a fine crumble using a fork. Add mayonnaise, vinegar, mustard, salt, pepper and chili powder and mix well.
Place into a ziplock quart bag and place in refrigerator
Once all eggs are done in air fryer – place on serving platter and let cool for 5 minutes.
Cut corner of ziploc bag to make it a piping bag and pipe egg yolk mixture into air fried egg whites
Top with diced bacon, cilantro and a couple drops of hot sauce on each egg
NOTES:
– Feel free to swap out regular flour for the Hooters Wing Breading
– You can hard boil your eggs however you like – but the Air Fryer way is amazing!
Recommended Products:
Philips Air Fryer
Hooters Wing Breading
Mini Spatulas