This Cajun Shrimp and Sausage Pasta is quick to put together you can make it as spicy as you like! Fat Tuesday and Mardi Gras won't know what hit 'em!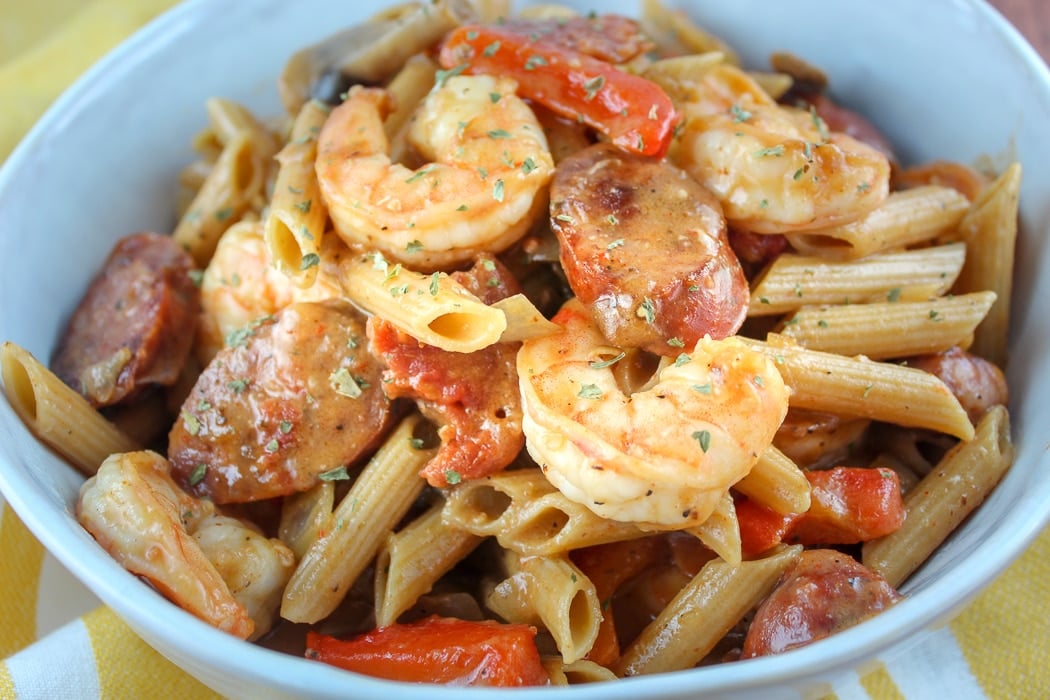 The beauty of making this dish at home is that Cajun pasta has a bite to it – but when I make it at home – I can add as much or as little Cajun seasoning as I like.
This creamy cajun shrimp pasta with sausage also basically is a one-pot dish! You cook your pasta but then the rest of the meal goes together in one big skillet! I also made sure this wouldn't make so much that you'd be eating it for a week!
What Cajun seasoning should I use?
I used Slap Ya Mama Cajun Seasoning. It's available everywhere and has a good kick. They have a hot version – but I went for the regular and it was plenty!
How do you make Cajun shrimp sausage pasta?
I love how easy it is to make! It's all done at once – first get the water boiling for the pasta. While that's going – start everything else – in one big skillet! You'll start with the shrimp – cajun it up with the seasoning and then sear for 2-3 minutes – then out of the pan and set it aside. Next up – the andouille sausage – same thing – 3-4 minutes and set aside.


Finally all the veggies and more cajun seasoning go in the skillet. Saute them for 3-5 minutes. Once they're ready you add your "sauce" which is chicken broth, milk and butter. Then you put it all together and add Romano cheese!


It's on the table in less than 30 minutes!
If you like this Cajun shrimp and sausage pasta – I've got other great New Orleans style recipes for you! My favorite is this Breakfast Gumbo! It's a copycat from an Alabama gas station and it's so good! And with Mardi Gras – you have to have King Cake and my friend Steph has the best King Cake Bites!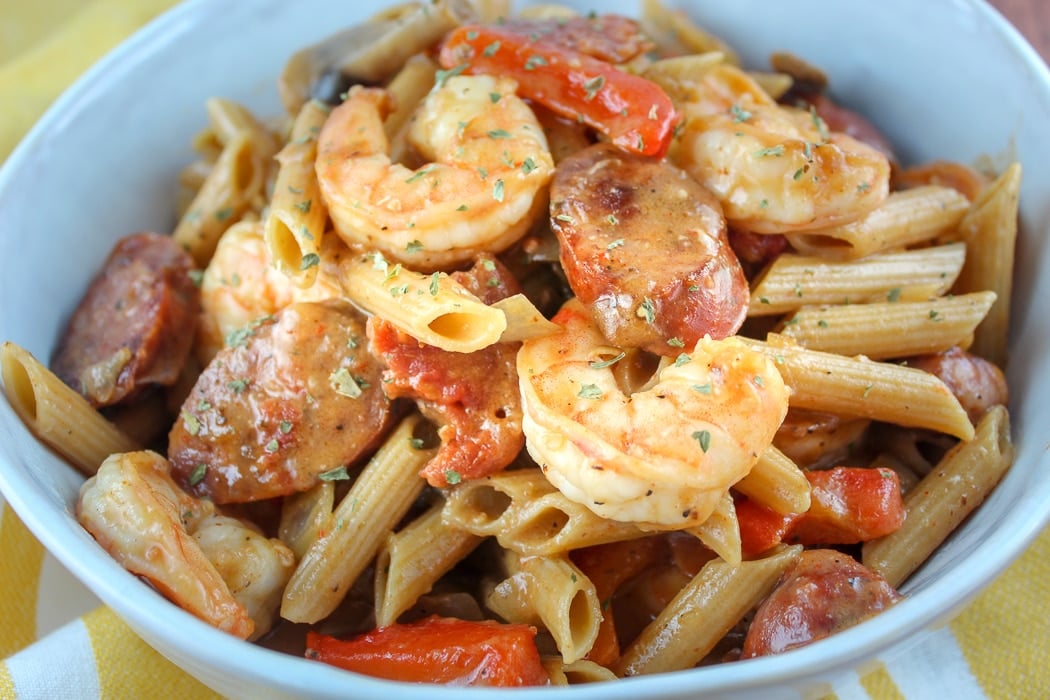 Cajun Shrimp & Sausage Pasta Recipe
prep time: 10 M
cook time: 30 M
total time: 40 M
This Cajun Shrimp & Sausage Pasta is quick to put together you can make it as spicy as you like! Fat Tuesday and Mardi Gras won't know what hit 'em!
ingredients:
3 cups cooked penne
1/2 pound large raw shrimp, peeled and deveined and tail removed (12 shrimp)
1 teaspoon Slap Ya Mama cajun seasoning
2 tablespoons olive oil
4 ounces andouille sausage (2 links)
3 tablespoons olive oil
1/2 yellow onion, diced
1/2 red peppers, cut into 1-inch chunks
4 oz mushrooms
2 tablespoons cajun seasoning
2 cloves garlic, minced
1/2 cup crushed tomatoes
1/2 cup chicken broth
2/3 cup milk
3 tablespoons butter
1 tablespoon cornstarch
3.4 cup romano (or parmesan)
2-3 green onions, diced
instructions:
How to cook Cajun Shrimp & Sausage Pasta Recipe
PASTA
Add pasta to a large pot of boiling water that has been salted. Cook to package directions.
Remove pasta from water and drain. Set aside.
SHRIMP
While your pasta is cooking, in a bowl, toss shrimp with cajun seasoning and make sure it is well coated.
Heat a LARGE skillet over medium-high heat and pour olive oil in pan.
Add shrimp and cook for about 2 minutes. Turn shrimp and cook another minute, or until pink.
Remove shrimp from pan to a plate, set aside.
SAUSAGE
Add the cut-up sausage to the same pan. Cook sausage until heated through, about 3 minutes each side. Add to plate with shrimp and set aside.
ASSEMBLY
In the same pan, add 3 tablespoons olive oil and then the onion, red pepper, mushrooms and cajun seasoning. Toss everything together to evenly coat. Cook until the veggies are soft, about 3-5 minutes.
Add minced garlic and cook and stir about 30 seconds.
Add the crushed tomatoes, chicken broth, milk and butter. Bring to a simmer, add the corn starch and whisk immediately so corn starch doesn't clump. While stirring, scrape the pan with tongs to get up any brown bits from the bottom. Simmer for about 5 minutes until sauce thickens.
Add in romano, cooked pasta, shrimp and sausage. Toss all ingredients together and continue simmering until heated through – about 2-3 minutes.
Recommended Products:
Slap Ya Mama Cajun Seasoning
Large Nonstick Skillet
Pasta Tongs
Did you make this recipe?
Tag
@foodhussy
on instagram and hashtag it #foodhussyrecipe