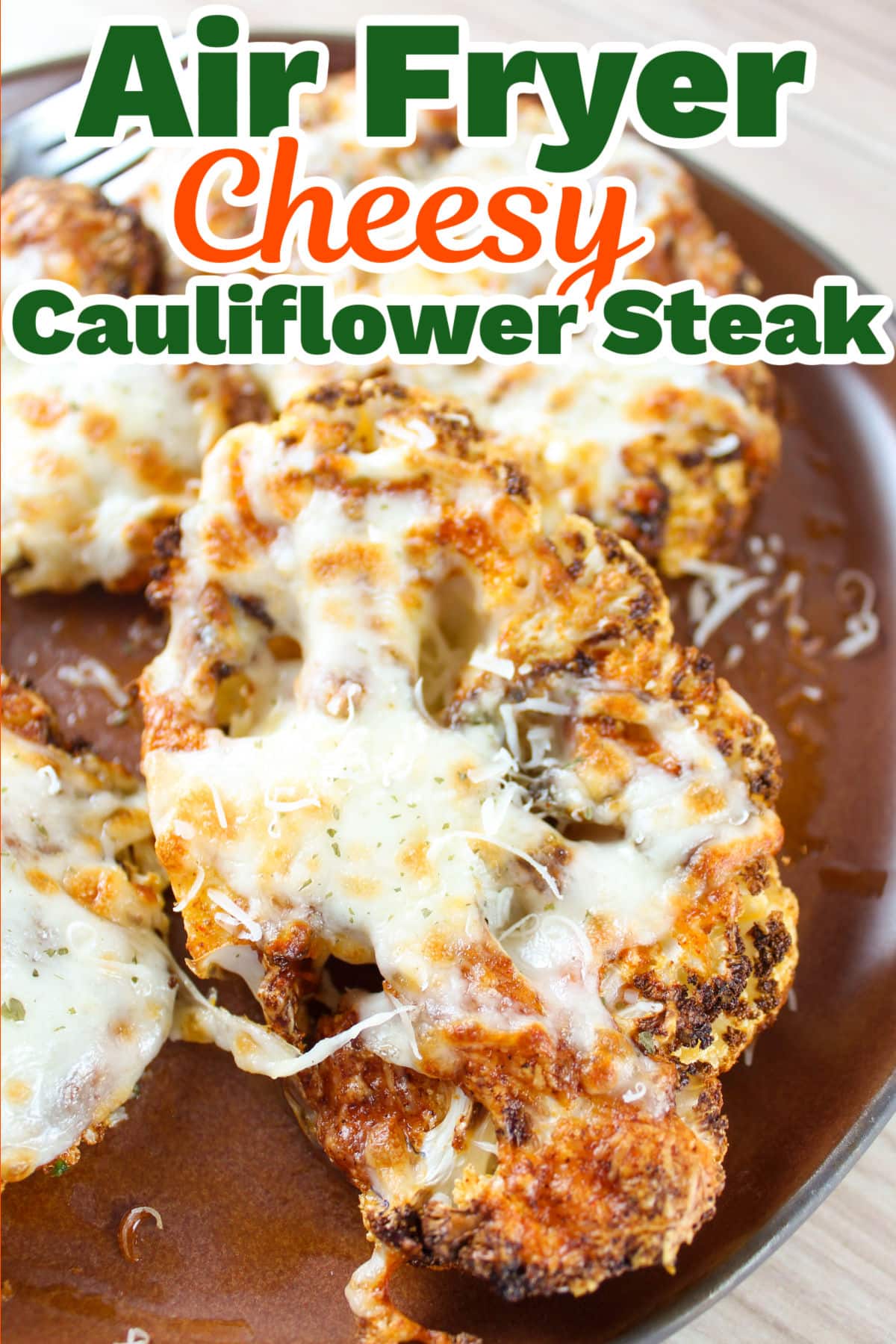 These Cheesy Cauliflower Steaks in the Air Fryer are so simple and really jazz up plain old cauliflower into a main dish everybody will enjoy! What a delicious low-carb meal that looks and tastes more like Chicken Parmesan than it does cauliflower!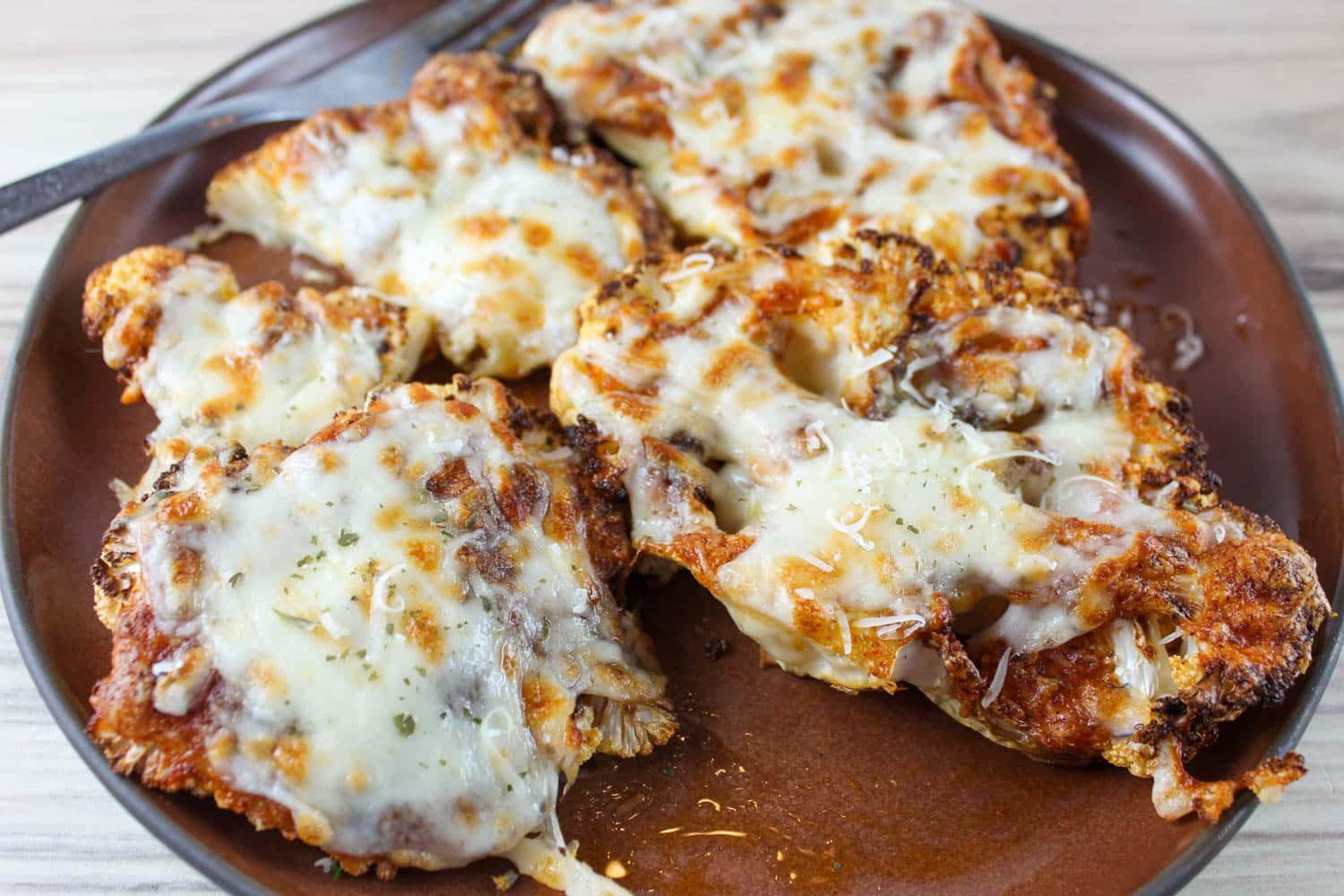 What You Will ❤️ About Cheesy Cauliflower Steak
Um Cheese! Cauliflower is pretty bland on its own but when you add cheese – suddenly – it's better!
Air Fryer! I love making this in the air fryer because it's quicker than oven roasting! There's only 5 minutes of prep time too!
Meatless Monday! If you're looking for a Meatless Monday Idea – this is it. I ate the whole head of cauliflower on my own.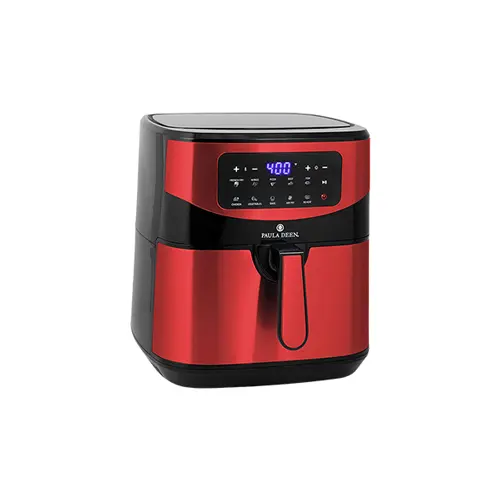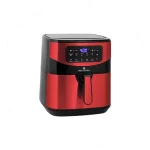 This recipe was made using the Paula Deen Air Fryer.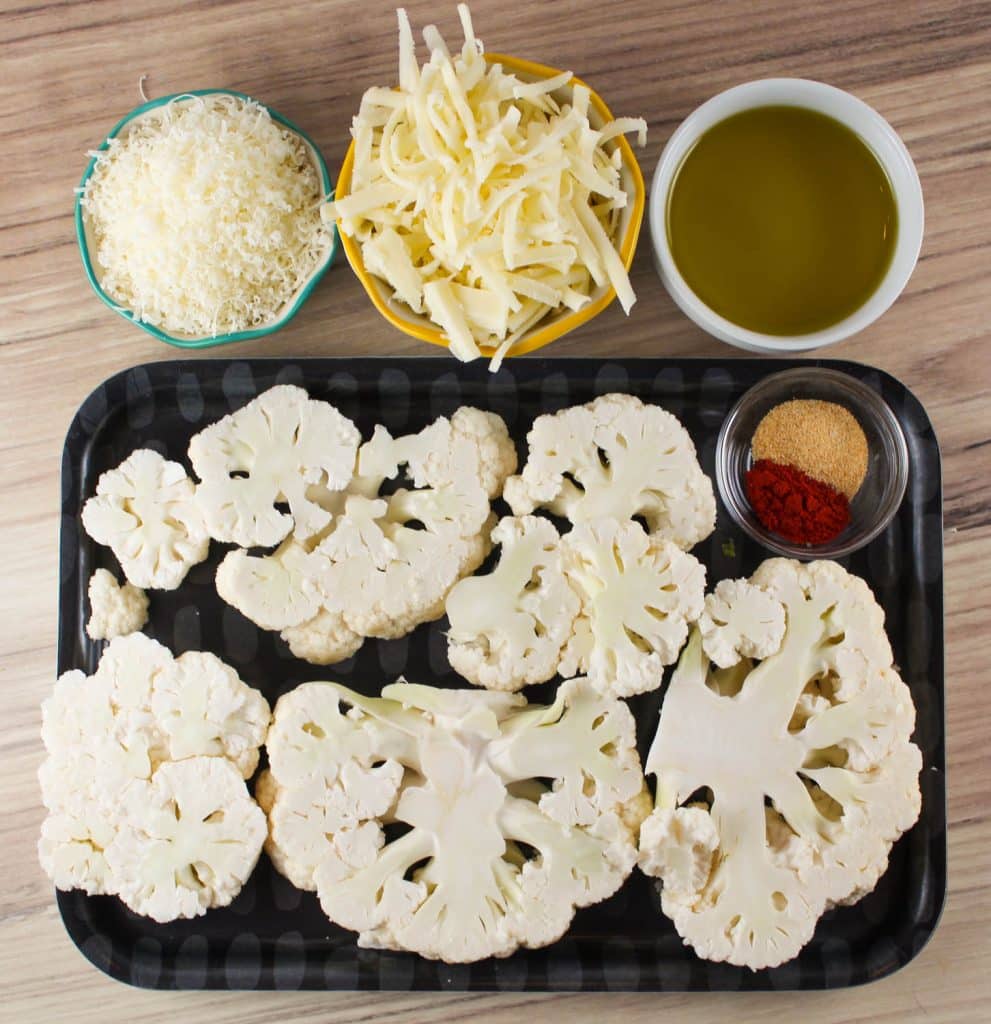 Cheesy Cauliflower Steak Ingredients
Cauliflower – I used a small head of cauliflower but if it's the main entree – each adult would likely eat 1-2 steaks
Olive oil – you could also use Avocado oil or melted butter
Grated Parmesan cheese – Definitely use FRESH not the pre-grated stuff you can buy in the store!
Smoked paprika & Garlic powder – you can use whatever seasonings you like! I just got some smoked paprika and wanted to try it out – it paired wonderfully with the garlic powder. Because the cheese is salty – it didn't need any additional salt.
Shredded mozzarella cheese – the best part! Adds that cheesy yum at the end!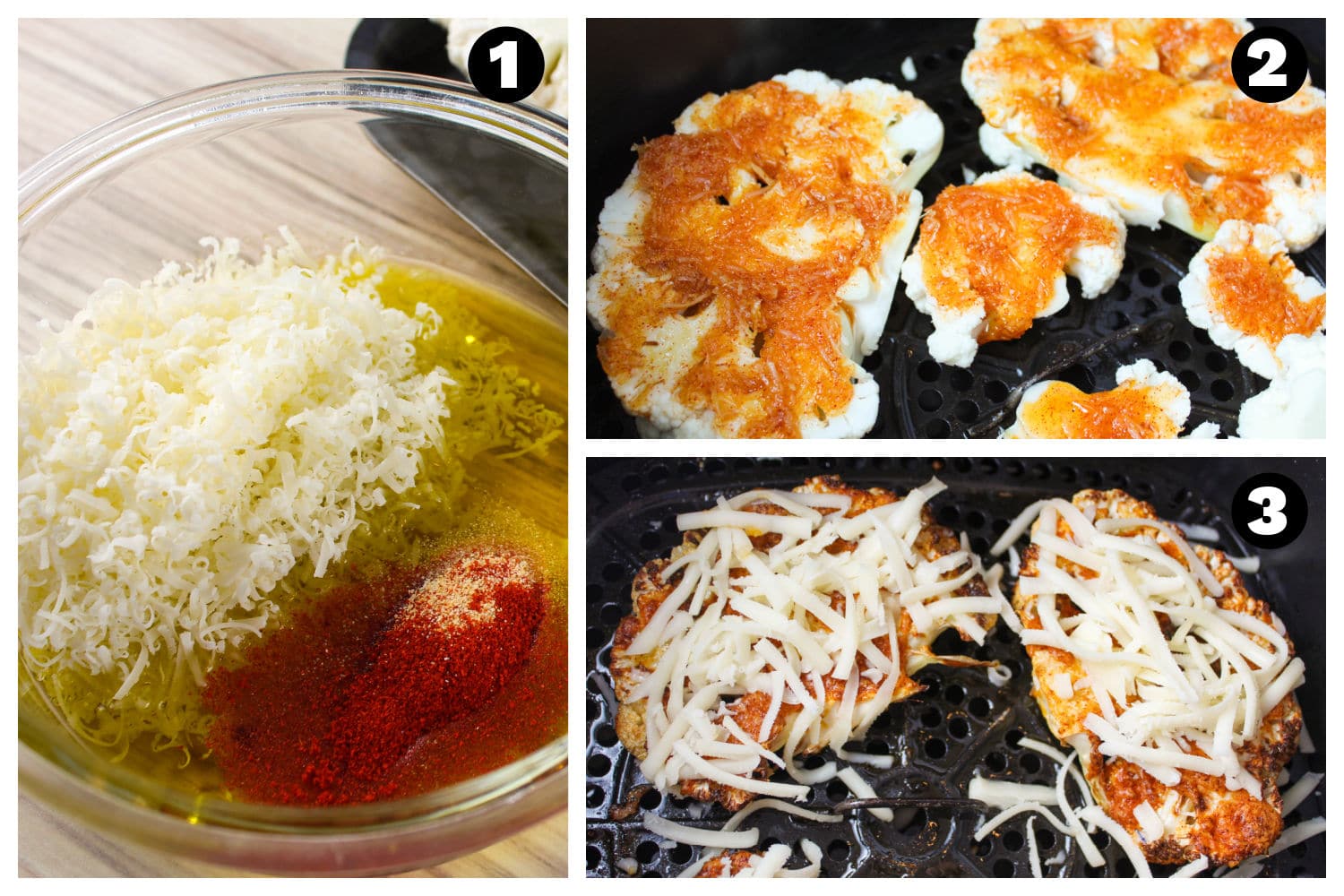 How to Make Cauliflower Steak in the Air Fryer
Prepare cauliflower by removing all leaves from cauliflower head.
On a cutting board, using a large chef's knife, slice steaks (1″ minimum thick slices) across the head of cauliflower. Depending on size of cauliflower, you will likely get 3-4 steaks plus some leftover florets.
In a small bowl, mix oil, Parmesan cheese, paprika & garlic powder.
Place steaks in air fryer basket and, using a pastry brush, brush oil mixture all over steaks.

For easier cleanup, lay a sheet of parchment paper in your air fryer basket

Air fry at 400º for 15 min. Cauliflower should be knife tender at this point – poke stem with a paring knife and if it goes in easily – you're good!

If you have a large head – you might need to add 2-3 minutes.

Open air fryer and add shredded mozzarella cheese to each piece of cauliflower
Air fry an additional 3 minutes until cheese melts and is golden brown
Using a small spatula, remove steaks and serve with a squeeze of lemon juice
This post contains affiliate links which I make a little money on purchases. Thanks in advance! I am an Amazon associate as well as a member of other affiliate programs.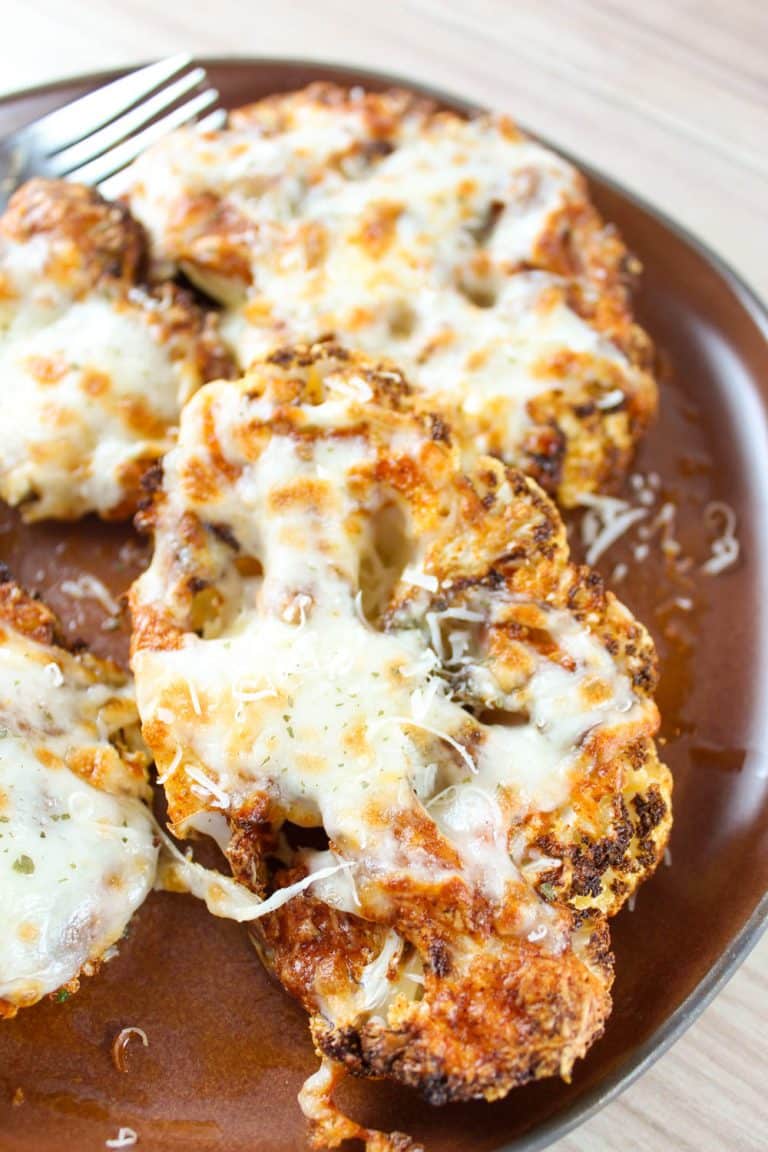 Tips, Tricks & FAQs
What does cauliflower steak taste like?
Like Cauliflower. haha! All in all, cauliflower is pretty bland and takes on the flavors of the seasoning you add to it. It's definitely "toothy" so when you're eating it – it can definitely seem to be meaty. I'll never confuse it with a ribeye – but it's tasty!
How do you cut cauliflower steaks?
Peel and remove all leaves from head of cauliflower. Using a sharp knife – cut a thick slice – 1″ minimum – from one side and continue across entire head of cauliflower. Cut from the top down in as much of one cut as you can.
How do you cut cauliflower steaks so they don't fall apart?
Be sure to leave the stem in tact! When you remove the leaves from the head of cauliflower just pull them off the stem but leave that stem. That will hold the steaks together. And – the stem that goes up through the head of cauliflower is edible – so don't worry about trimming it out! The sides of the cauliflower may fall apart a little but they're still tasty!
How thick should cut cauliflower steaks be?
At least 1″ thick.
How do you store and reheat leftover cauliflower steaks?
Store leftovers in an airtight container (I like these glass ones) in the fridge for up to a week. Because you've already cooked them to golden brown – I would reheat in the microwave for 1-2 minutes vs. reheating in air fryer.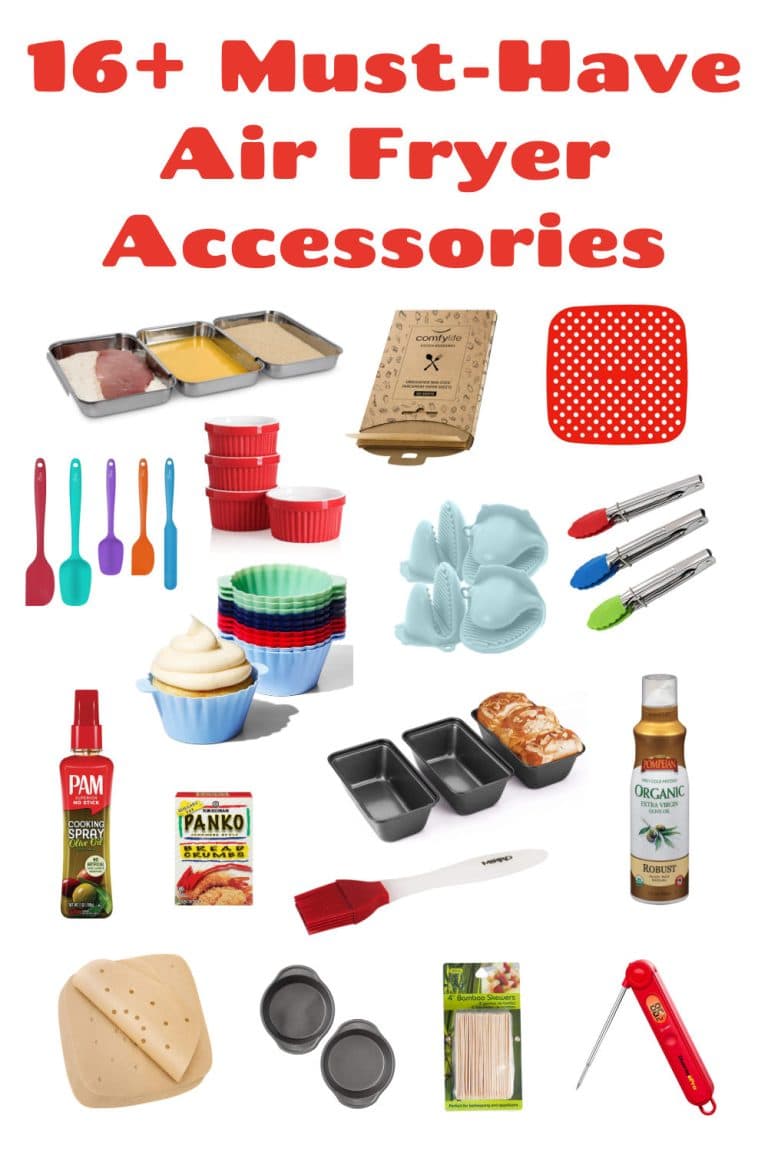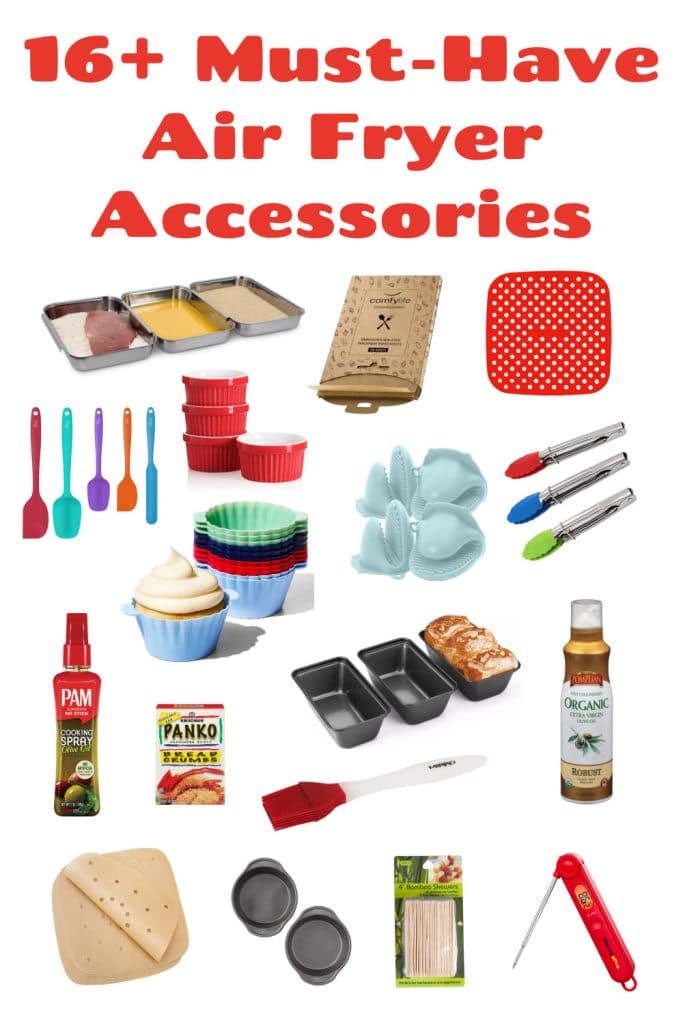 Best Air Fryer Accessories
Here's my ultimate list of best air fryer accessories – whether you have a basket- or oven-style! I've also included a price guide as well as my favorite recipes for those accessories.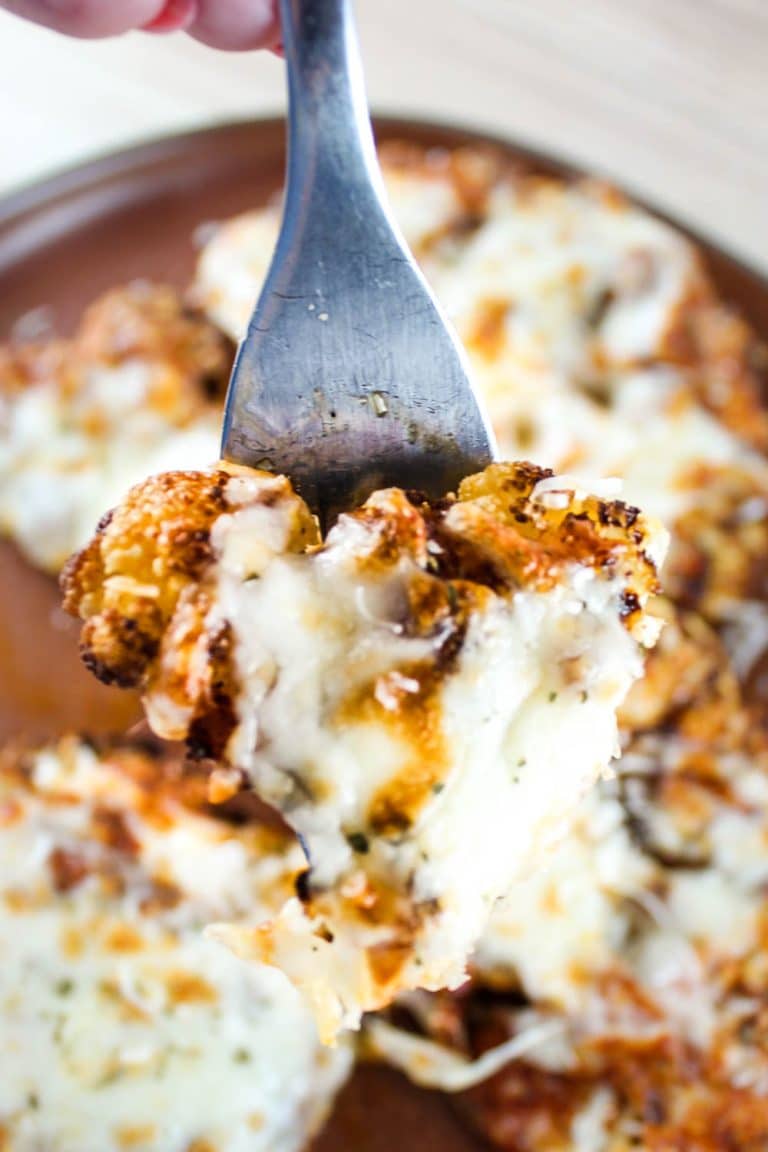 Variations for Air Fryer Cauliflower Steaks
Seasonings – I chose smoked paprika and garlic powder but you could use Italian Seasoning, Turmeric, Cajun seasoning, Curry powder or any number of spices!
Cheese – You could leave out the Parm and/or swap out the Mozzarella for Monterey Jack, Provolone or Swiss (I would avoid yellow cheeses as the contrast might not be so good.)
Oven – Make this in the oven by placing steaks on a baking sheet and bake for 30 min at 400º
Sauce – Add buffalo sauce or pizza sauce instead of the oil/spice mixture and make it a "pizza"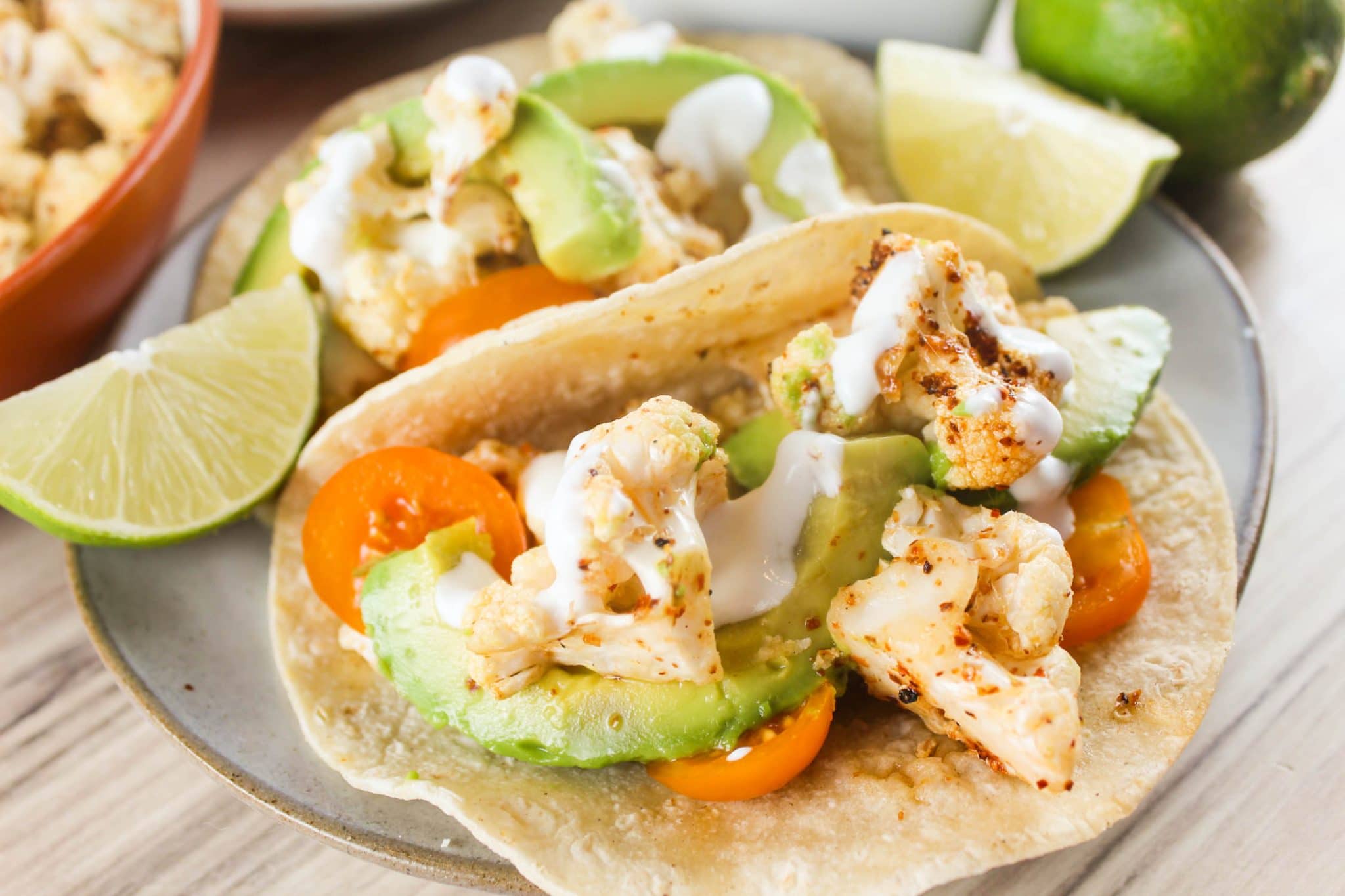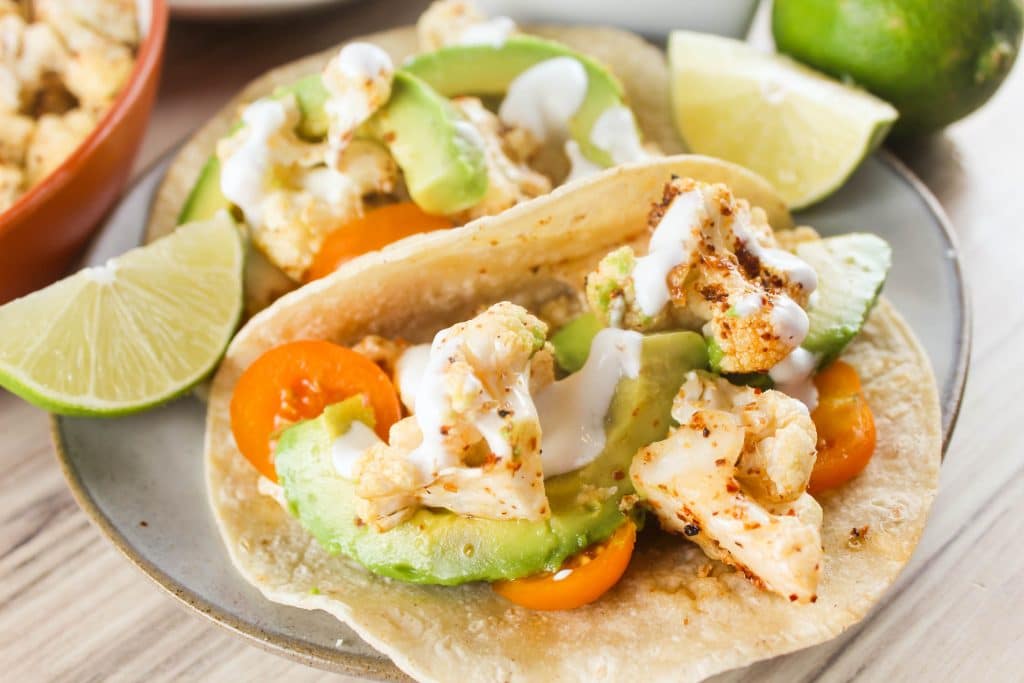 More Cauliflower Recipes
More Air Fryer Vegetable Side Dish Recipes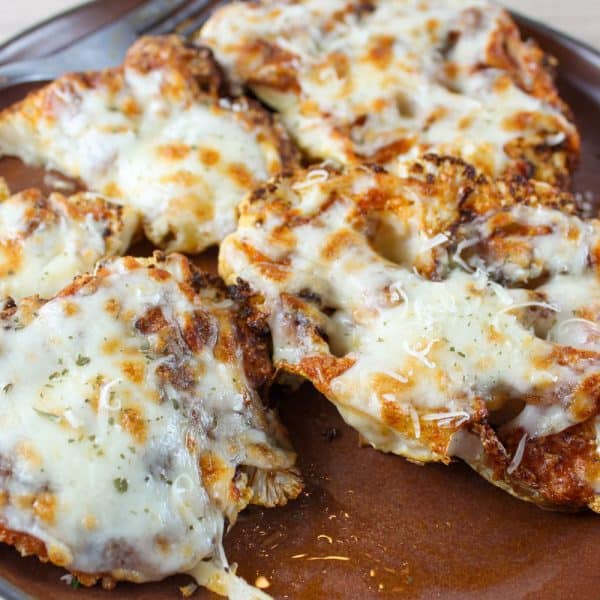 Cheesy Cauliflower Steaks in the Air Fryer
These Cheesy Cauliflower Steaks in the Air Fryer are so simple and really jazz up plain old cauliflower into a main dish everybody will enjoy! What a delicious low-carb meal!
Ingredients
1

small

head of cauliflower

1/4

cup

olive oil

1/4

cup

fresh grated Parmesan cheese

1/2

tsp

smoked paprika

1/2

tsp

garlic powder

1/4

cup

shredded mozzarella cheese
Instructions
Prepare cauliflower by removing all leaves from cauliflower head.

1 small head of cauliflower

On a cutting board, using a large chef's knife, slice steaks (1" minimum thick slices) across the head of cauliflower. Depending on size of cauliflower, you will likely get 3-4 steaks plus some leftover florets.

In a small bowl, mix oil, Parmesan cheese, paprika & garlic powder.

1/4 cup olive oil,

1/4 cup fresh grated Parmesan cheese,

1/2 tsp smoked paprika,

1/2 tsp garlic powder

Place steaks in air fryer basket and, using a pastry brush, brush oil mixture all over steaks.

For easier cleanup, lay a sheet of parchment paper in your air fryer basket

Air fry at 400º for 15 min. Cauliflower should be knife tender at this point – poke stem with a paring knife and if it goes in easily – you're good!

If you have a large head – you might need to add 2-3 minutes.

Open air fryer and add shredded mozzarella cheese to each piece of cauliflower

1/4 cup shredded mozzarella cheese

Air fry an additional 3 minutes until cheese melts and is golden brown

Using a small spatula, remove steaks and serve with a squeeze of lemon juice
Notes
**We are not dietitians and recommend you seek a nutritionist for exact nutritional information. The information in the nutrition box are calculated through a program and there is room for error. If you need an accurate count, I recommend running the ingredients through your favorite nutrition calculator.**
Nutrition
Serving:
0.5
head
Calories:
353
kcal
Carbohydrates:
9
g
Protein:
12.8
g
Fat:
32
g
Saturated Fat:
8
g
Cholesterol:
22
mg
Sodium:
321
mg
Potassium:
422
mg
Fiber:
3.6
g
Sugar:
3.4
g
Calcium:
283
mg
Iron:
1
mg