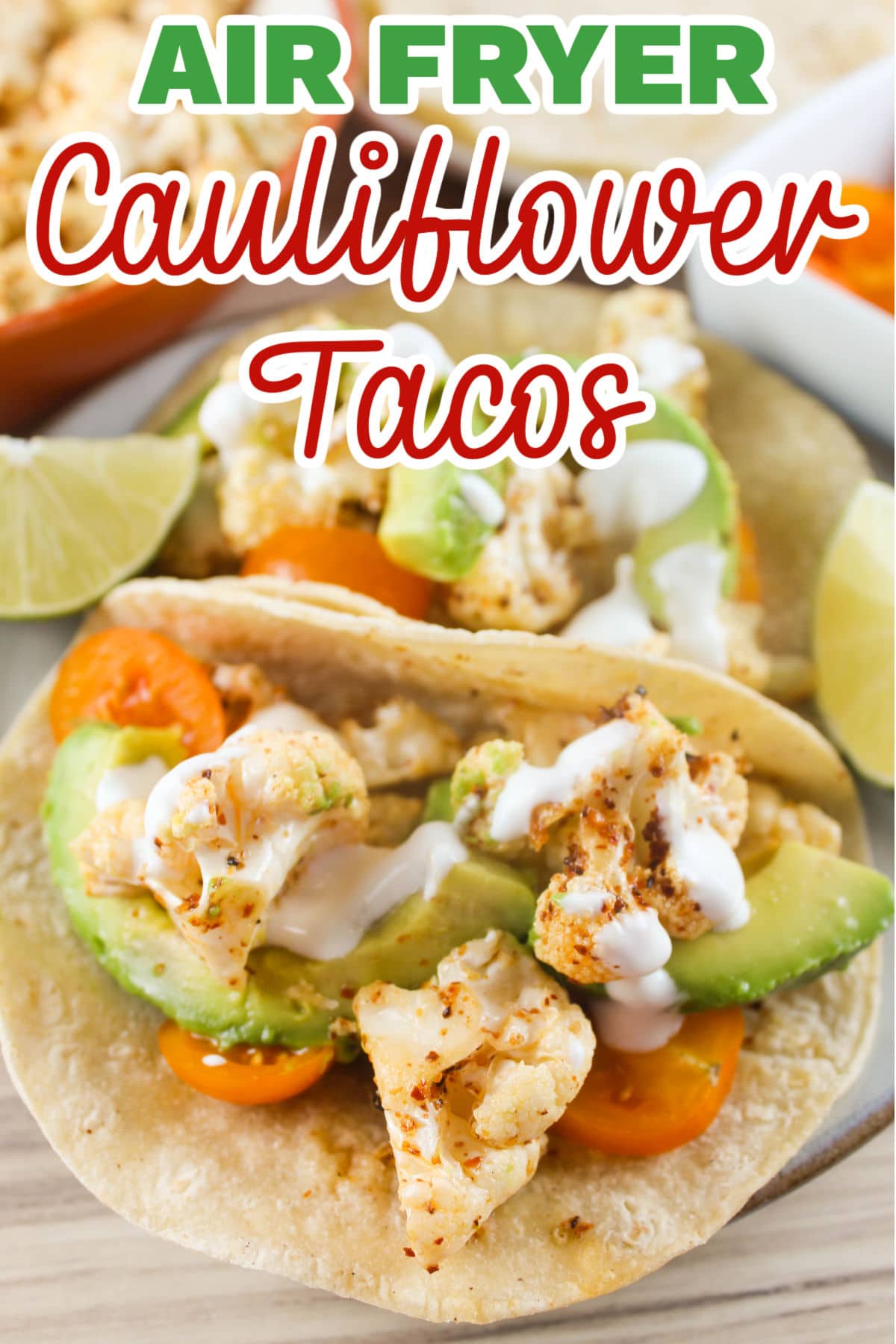 Air Fryer Cauliflower Tacos have become my go-to meal during the week! They're ready in 15 minutes and delicious when topped with fajita seasoning, cherry tomatoes and my lime crema!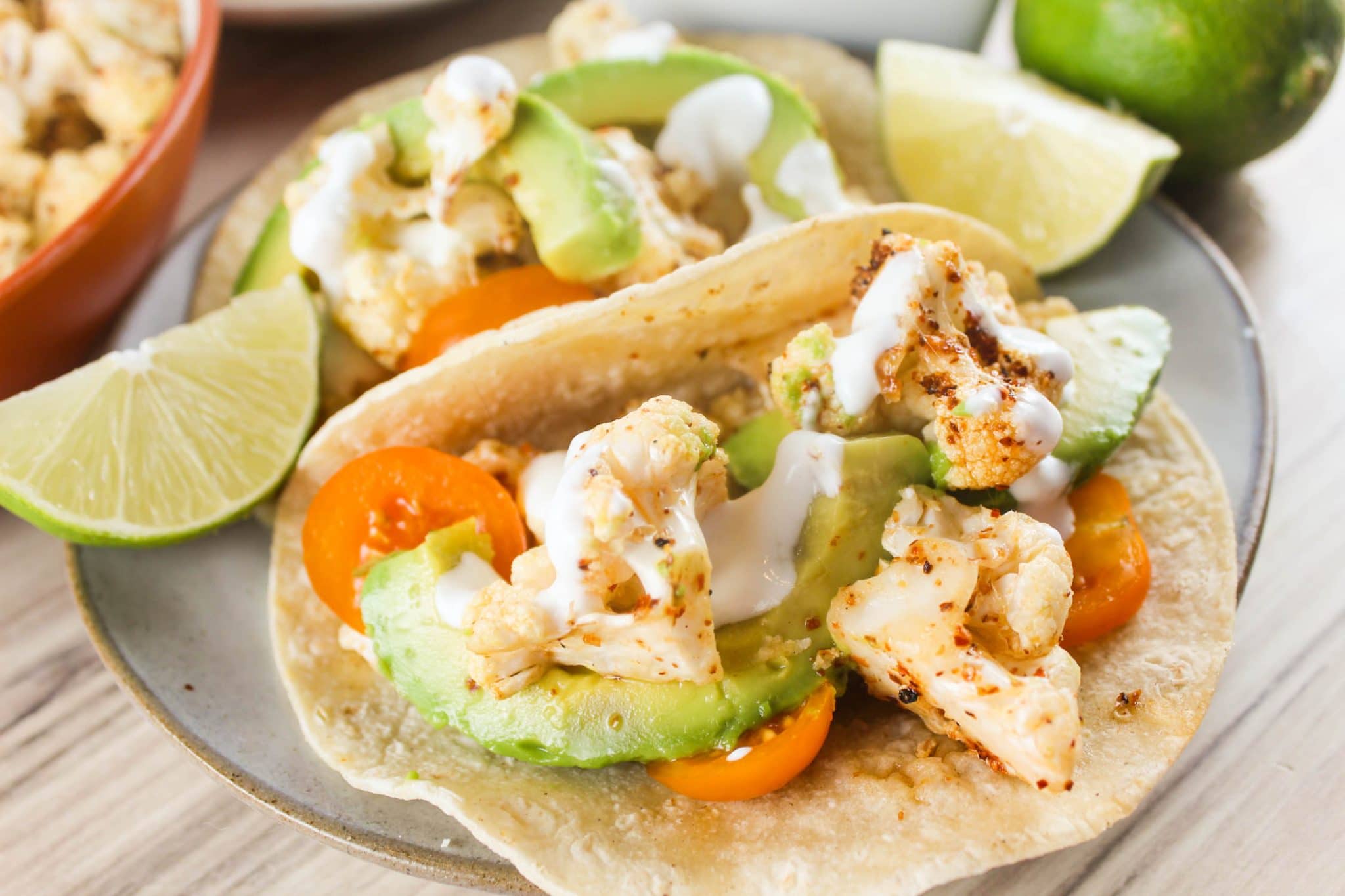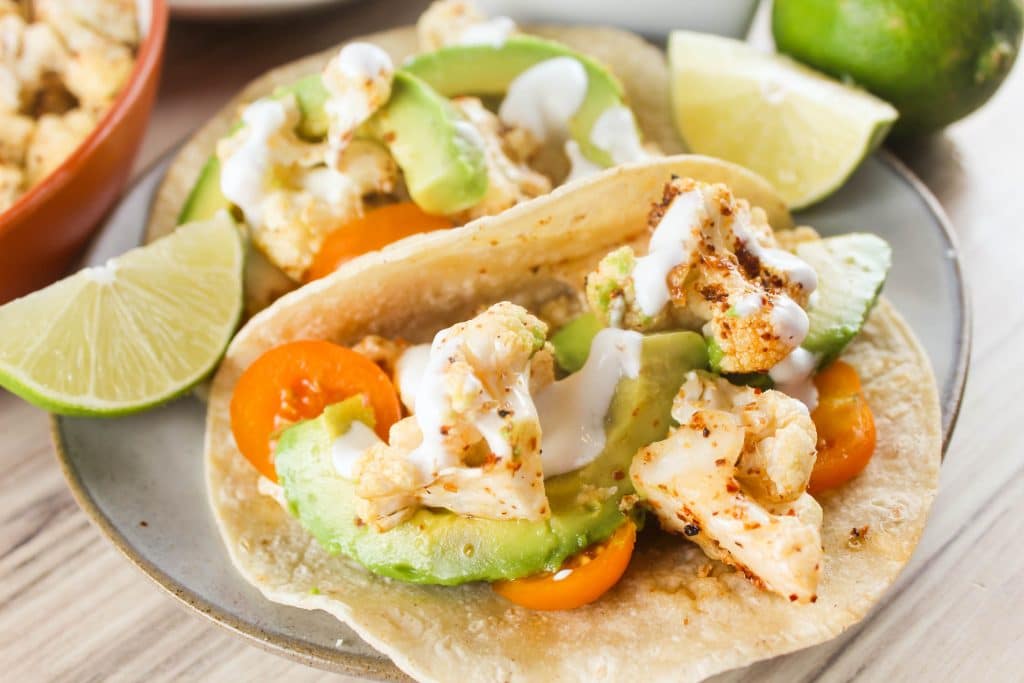 Jump to Recipe
Why You'll Love This Recipe!
I made this recipe as I was working on my upcoming cookbook (more to come on that!!!) and loved it so much – I've made it every week since! One small head of cauliflower serves two (or me twice) and I can have this from fridge to plate in less than 15 minutes!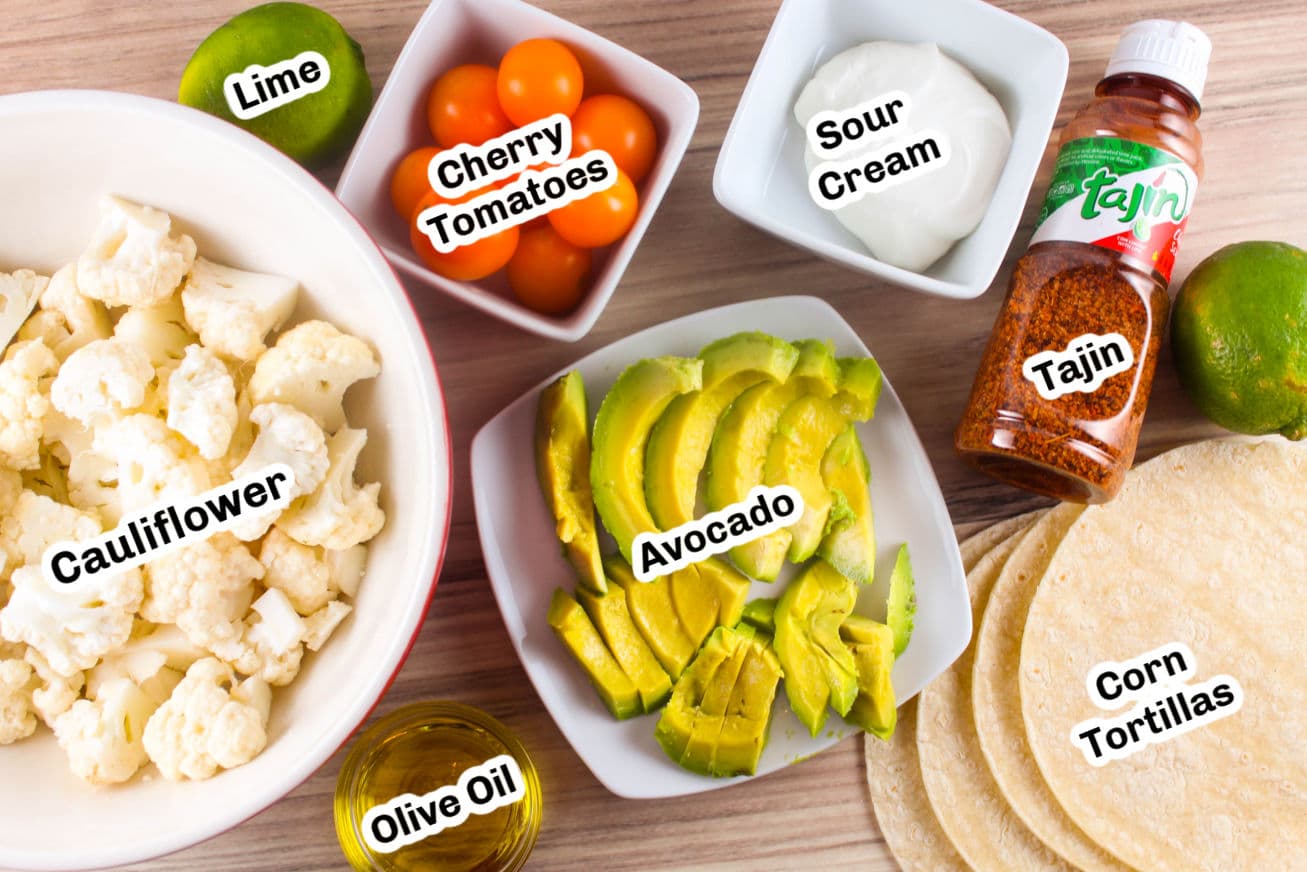 Cauliflower Taco Ingredients
The main thing you'll need is cauliflower – I buy a small head every week. Don't skip the seasoning or the limes – trust me!!!
1 small head cauliflower – this will make 6-8 tacos
Tajin fajita seasoning – do not skip this yummy combo of chili peppers, lime and salt! If you haven't tried it – get it – you can even find it at Dollar Tree! It brings all the flavor you need and I use it all the time!
olive oil
corn tortillas – I went for small street tacos and love to use corn tortillas but you can use flour tortillas if you like
Toppings: avocado, cherry tomatoes – use what you love but these are standard for me!
Crema: sour cream & lime – mixing these together is amazing and makes the sour cream go a lot farther! (you could also swap the sour cream for greek yogurt)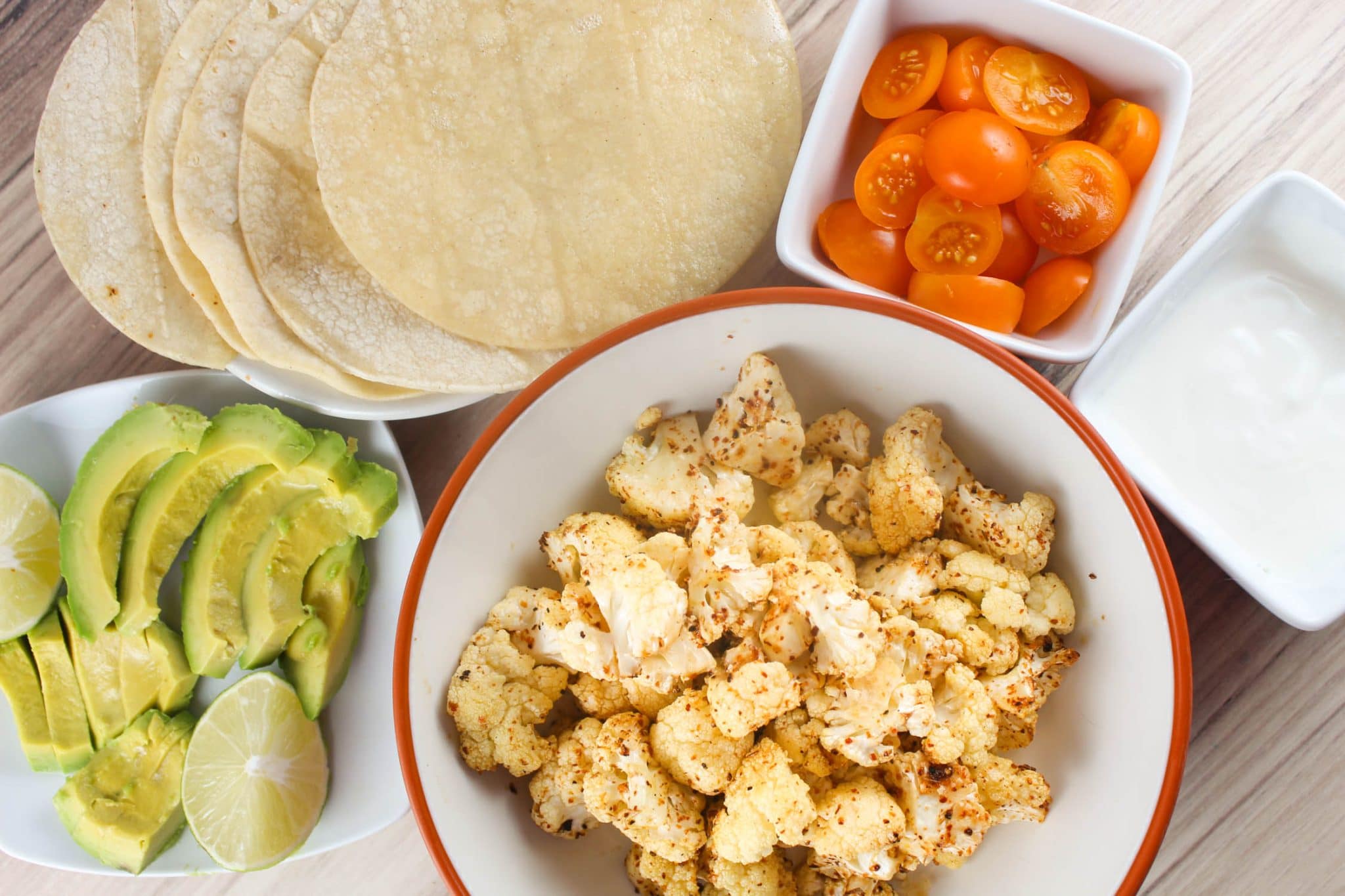 How to make Cauliflower Tacos in the Air Fryer
I've mastered air fryer cauliflower a long time ago – so using it in tacos made perfect sense!!! It's a quick process – great for any weeknight!
Cut cauliflower head into small, bite-sized florets.
In a large bowl, stir cauliflower florets with Tajin and olive oil.
Place in air fryer basket and heat at 370ºF for 7 minutes.
Open air fryer, shake to toss cauliflower. Lay tortillas on top of cauliflower in a single layer. Lightly spray tortillas with cooking spray or olive oil.
Lower temp to 350º and air fry for an additional 2 minutes.
Prepare toppings by slicing avocado and tomatoes. Mix together lime juice from 1/2 lime with sour cream.
Open air fryer and plate 3 tortillas on each plate. Split cauliflower between tortillas.
Top with avocado, tomatoes and a drizzle of the lime crema sauce. Garnish with fresh cilantro and lime wedges.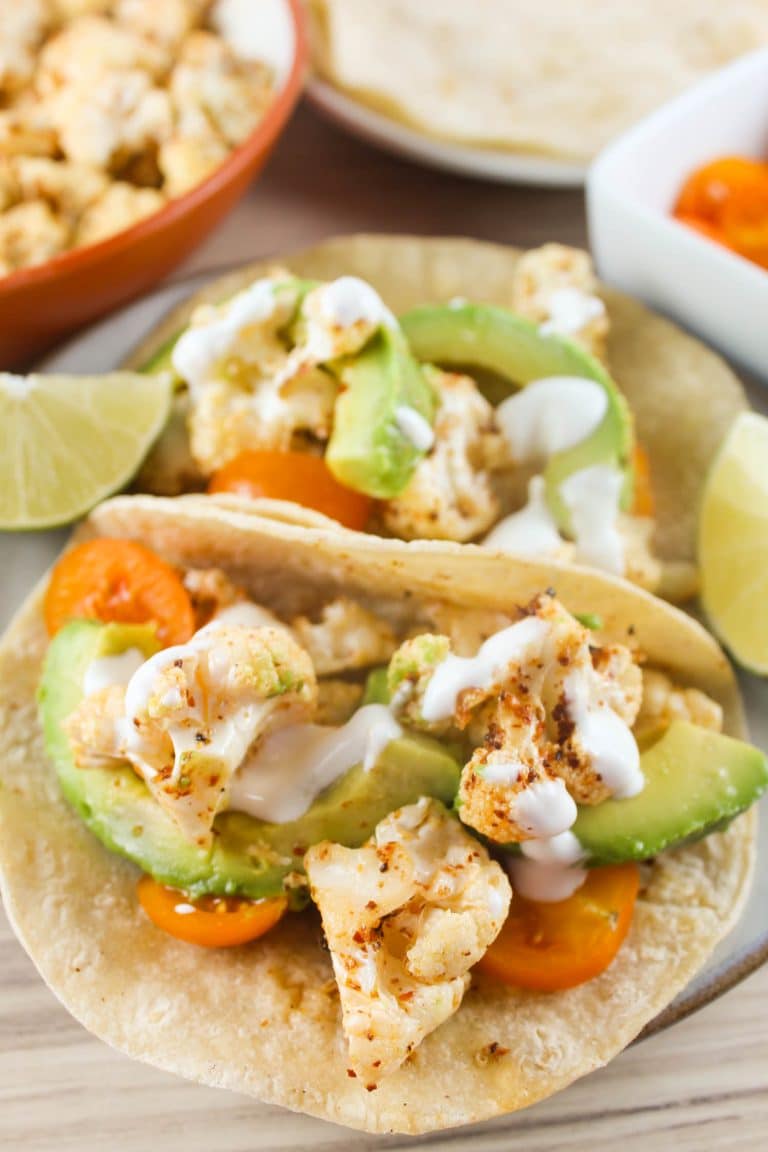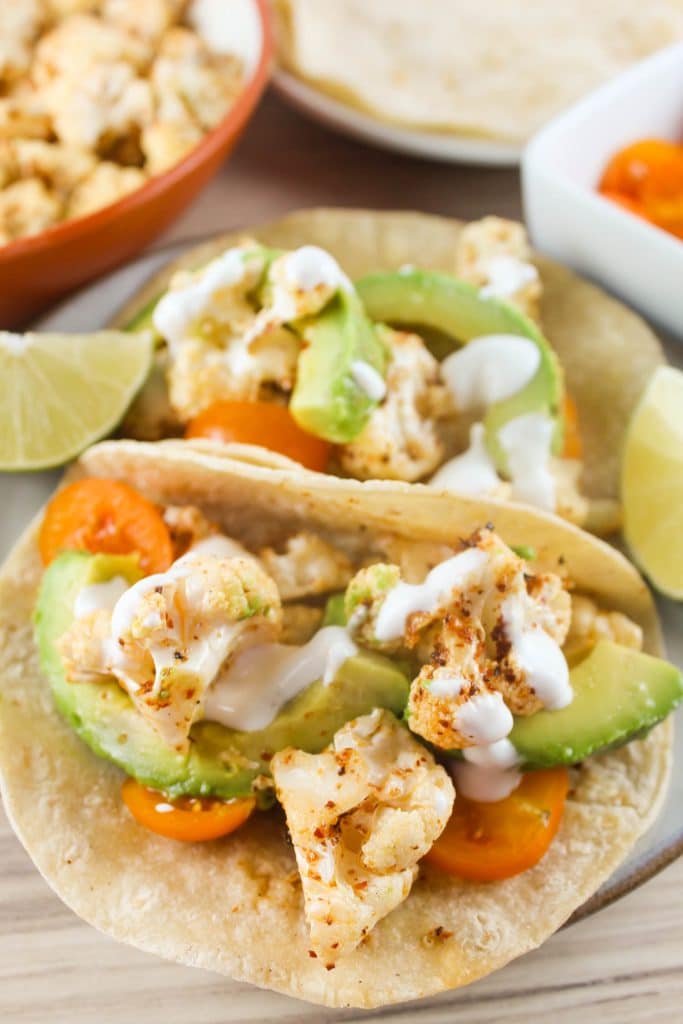 Variations
Vegetables – you can swap out the cauliflower with any combination of air fryer-friendly vegetables like carrots, jalapenos, zucchini, peppers and onions!
Spices – if you don't have Tajin – you can also try Sazon Tropical. You could also use paprika, cumin, garlic powder & chili powder for a spicy flair!
Toppings – Oh where do you begin with taco toppings? Pickled red onions would be great on these as would sliced jalapeño, cheese and hot sauce! Add lettuce or shredded cabbage for a crunch!
Protein – Feel free to swap out the cauliflower with tilapia or chicken
Make in Oven – you could also make your cauliflower in the oven – it would take about 20 minutes at 425º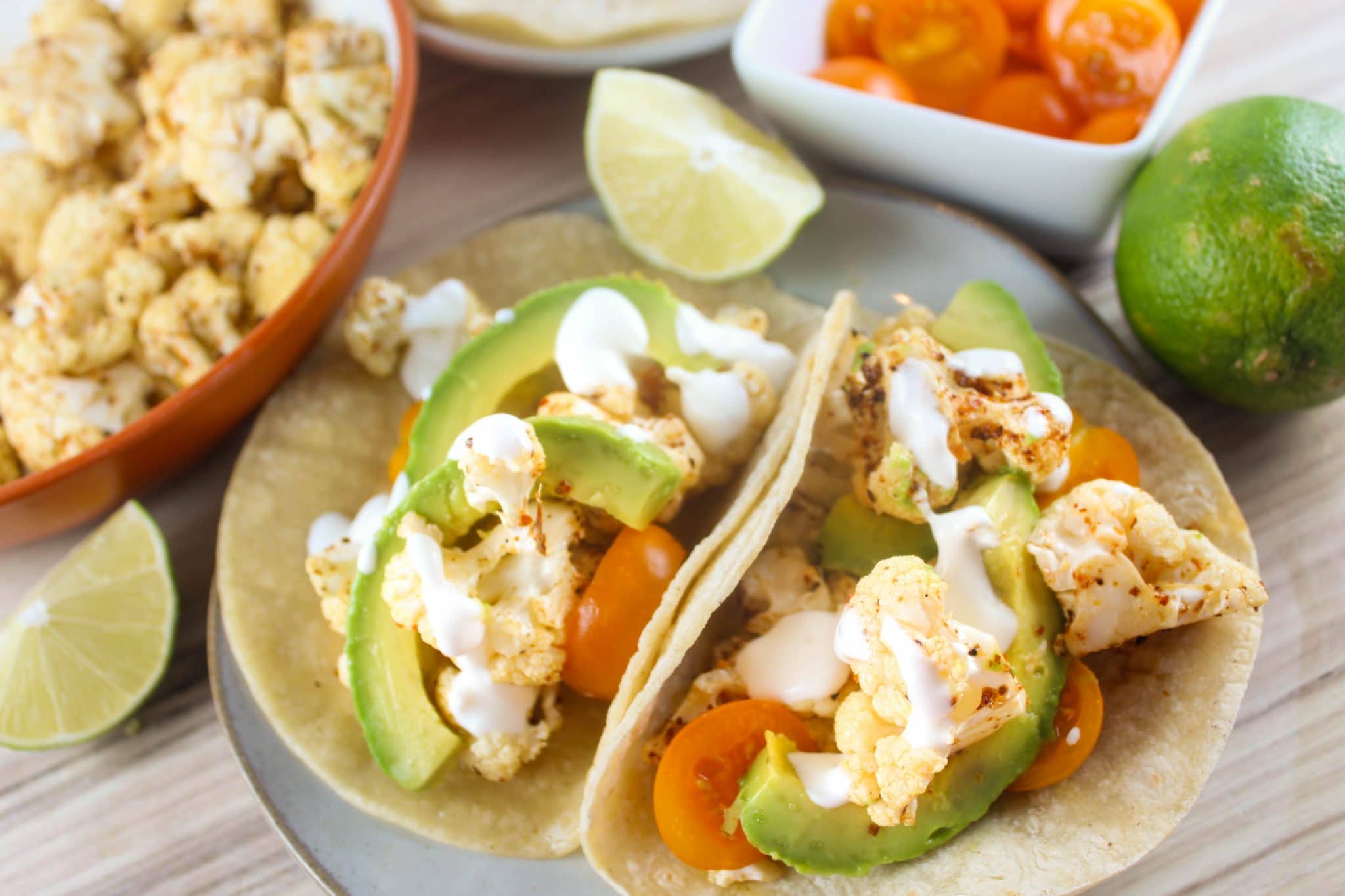 Tips, Tricks & FAQs
Can you make cauliflower in an air fryer?
Of course! It's one of the first things I made and I love it! Try my roasted cauliflower recipe!
How do you air fry corn tortillas?
Yes! Someone asked in our Facebook group and I recommend laying them flat. They will blow around. It's funny – when I put 4 in on top of the cauliflower – inevitably one breaks. Corn tortillas are just more brittle.
How do you reheat leftover cauliflower?
Air fry for 3-5 minutes to refresh – be sure to spritz with olive oil.
Why is Cauliflower so healthy?
Fiber, Vitamin C, Vitamin K, antioxidants, choline, low carb, low in calories, high in water content – the benefits go on and on!!!
Are these cauliflower tacos gluten-free?
Yes they are!
What to serve with Cauliflower Tacos
More Easy Air Fryer Recipes
More Cauliflower Recipes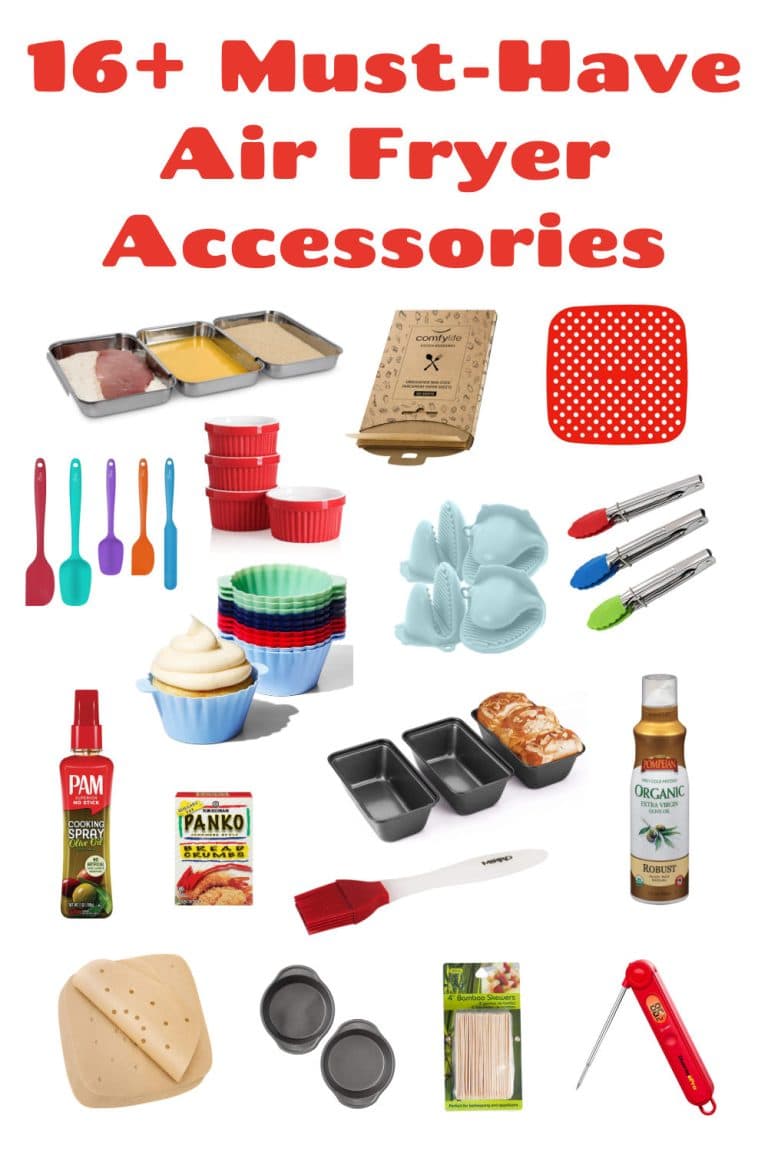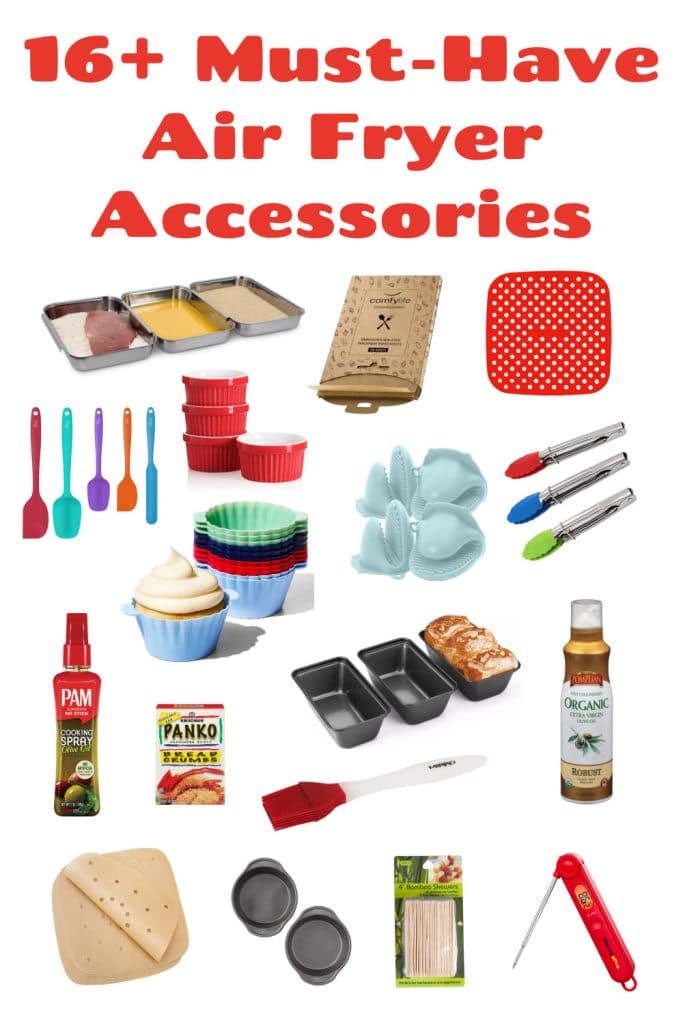 Best Air Fryer Accessories
Here's my ultimate list of best air fryer accessories – whether you have a basket- or oven-style! I've also included a price guide as well as my favorite recipes for those accessories.
Air Fryer Cauliflower Tacos
Air Fryer Cauliflower Tacos have become my go-to meal during the week! They're ready in 15 minutes and delicious when topped with fajita seasoning, cherry tomatoes and my lime crema!
Ingredients
1

small head

cauliflower

2

tbsp

Tajin fajita seasoning

2

tbsp

olive oil

6

small

corn tortillas

1

avocado

sliced

6

cherry tomatoes

sliced

1/4

cup

sour cream

or plain Greek yogurt

1

lime
Instructions
Cut cauliflower head into small, bite-sized florets. If using a large head of cauliflower, 1/2 head should feed two people. If using a small head, you will likely need whole head for 2 people.

In a large bowl, toss cauliflower with Tajin and olive oil.

2 tbsp Tajin fajita seasoning,

2 tbsp olive oil

Place in air fryer basket and heat at 370ºF for 7 minutes.

Open air fryer, shake to toss cauliflower. Lay tortillas on top of cauliflower in a single layer. Lightly spray tortillas with cooking spray or olive oil.

Lower temp to 350 and Air fry for an additional 2 minutes.

Prepare toppings by slicing avocado and tomatoes. Mix together juice from 1/2 lime with sour cream.

1 avocado,

6 cherry tomatoes,

1/4 cup sour cream,

1 lime

Open air fryer and plate 3 tortillas on each plate. Split cauliflower between tortillas.

Top with avocado, tomatoes and sour cream. Serve with fresh cilantro and a lime wedge
Notes
**We are not dietitians and recommend you seek a nutritionist for exact nutritional information. The information in the nutrition box are calculated through a program and there is room for error. If you need an accurate count, I recommend running the ingredients through your favorite nutrition calculator.**
Nutrition
Serving:
3
tacos
Calories:
518
kcal
Carbohydrates:
49.1
g
Protein:
9
g
Fat:
35.1
g
Saturated Fat:
7.6
g
Cholesterol:
13
mg
Sodium:
453
mg
Potassium:
1011
mg
Fiber:
15.3
g
Sugar:
8.1
g
Calcium:
115
mg
Iron:
2
mg