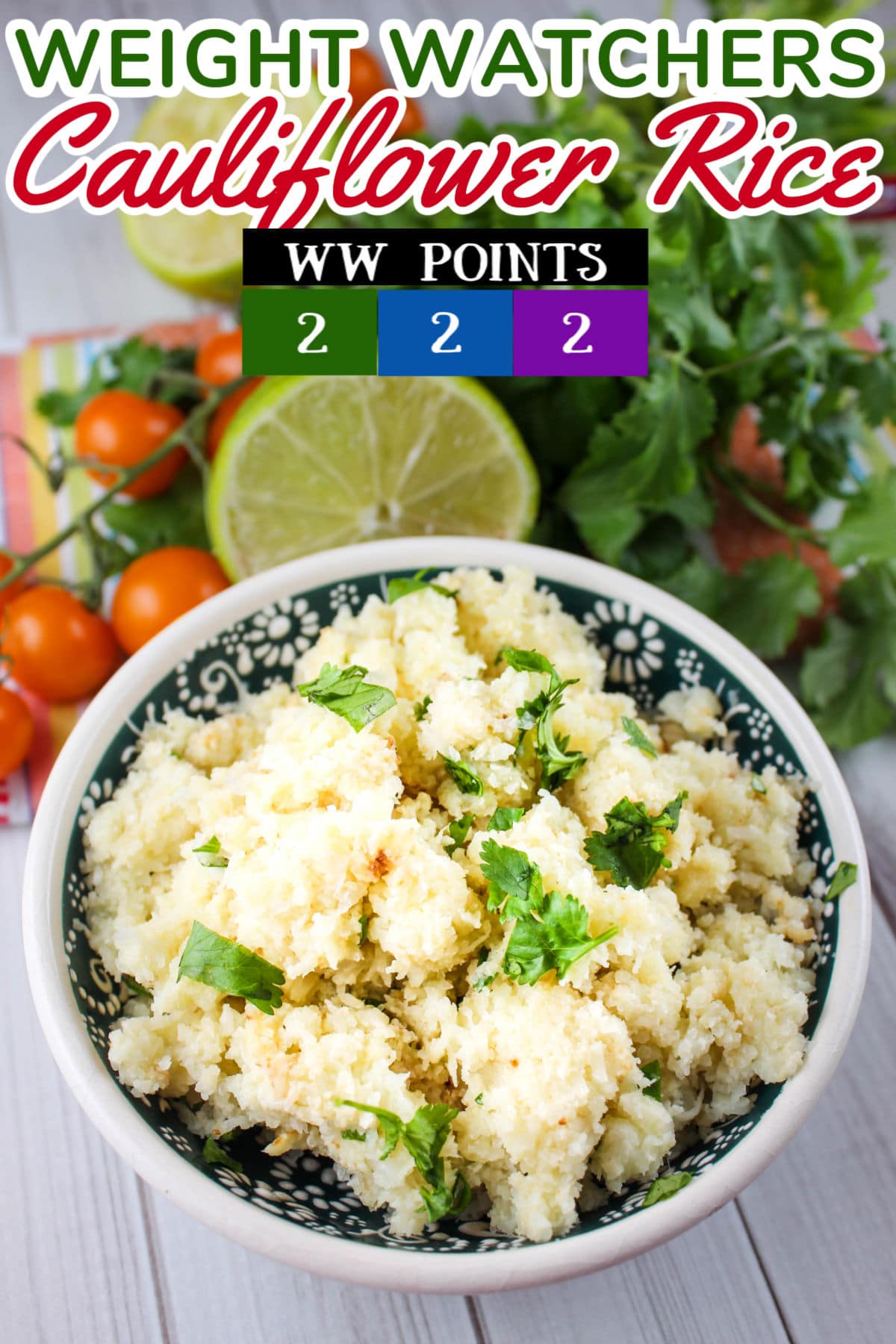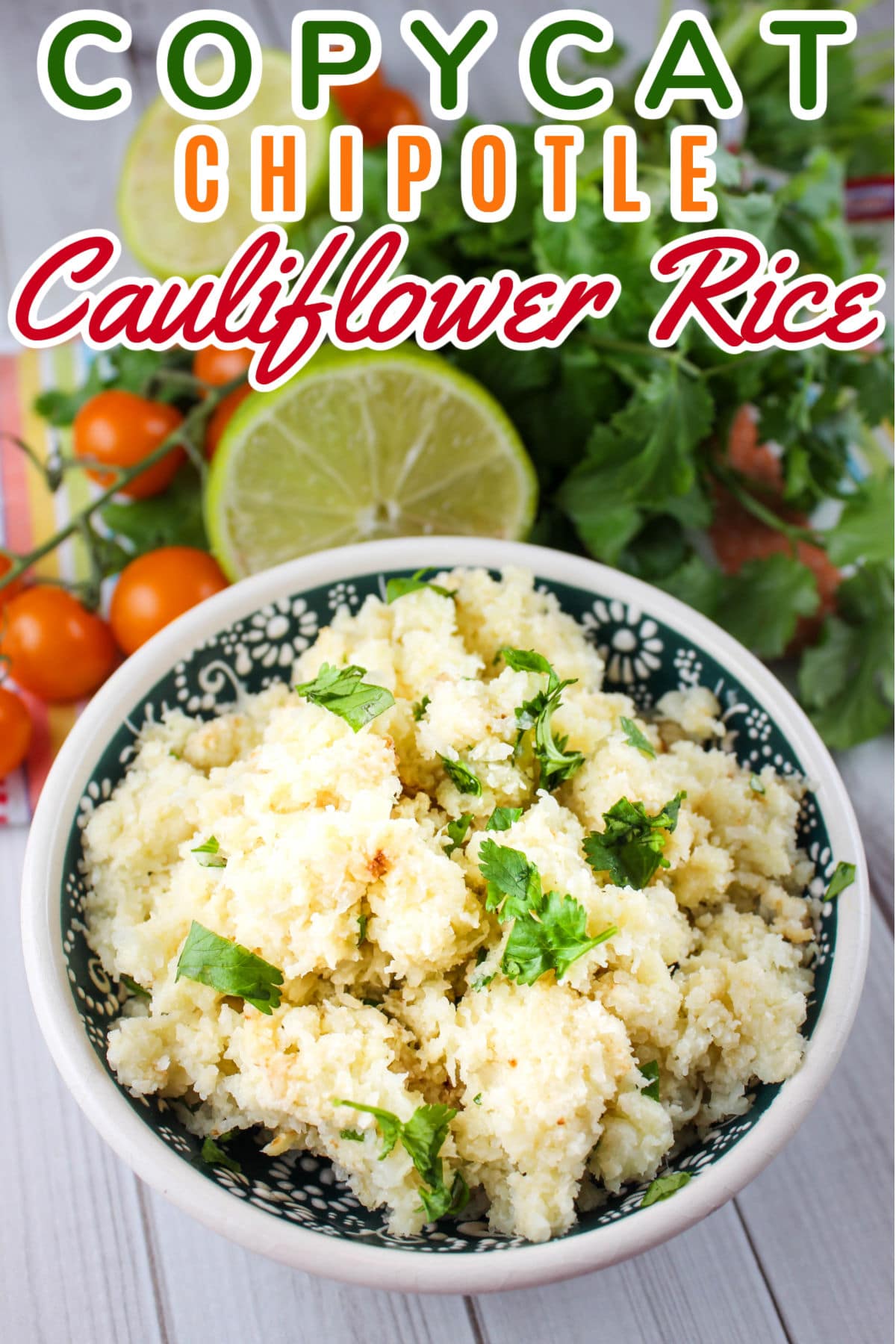 This recipe for Copycat Chipotle Cauliflower Rice sure has saved the day in my house! It's full of the Chipotle flavors like cilantro and lime – and goes great with the Chipotle-style burrito bowl I make weekly! I made this cauliflower rice in about 10 minutes and it's super tasty!
Jump to Recipe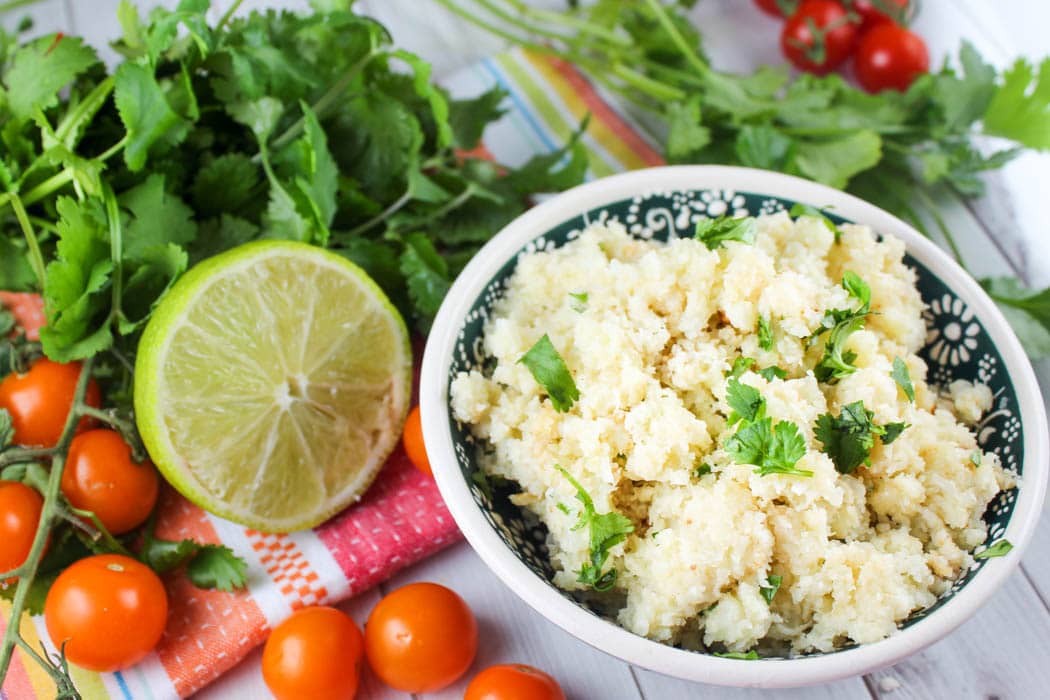 I've been buying frozen cauliflower rice but this is so easy to make – I'm not doing that anymore either! So grab that head of cauliflower and let's go to town!
What's in Chipotle's Cauliflower Rice?
I took a cue from Chipotle's news feed for my ingredients. To make a copycat of Chipotle's Cauliflower Rice you'll need:
riced cauliflower
hand-chopped cilantro
lime
salt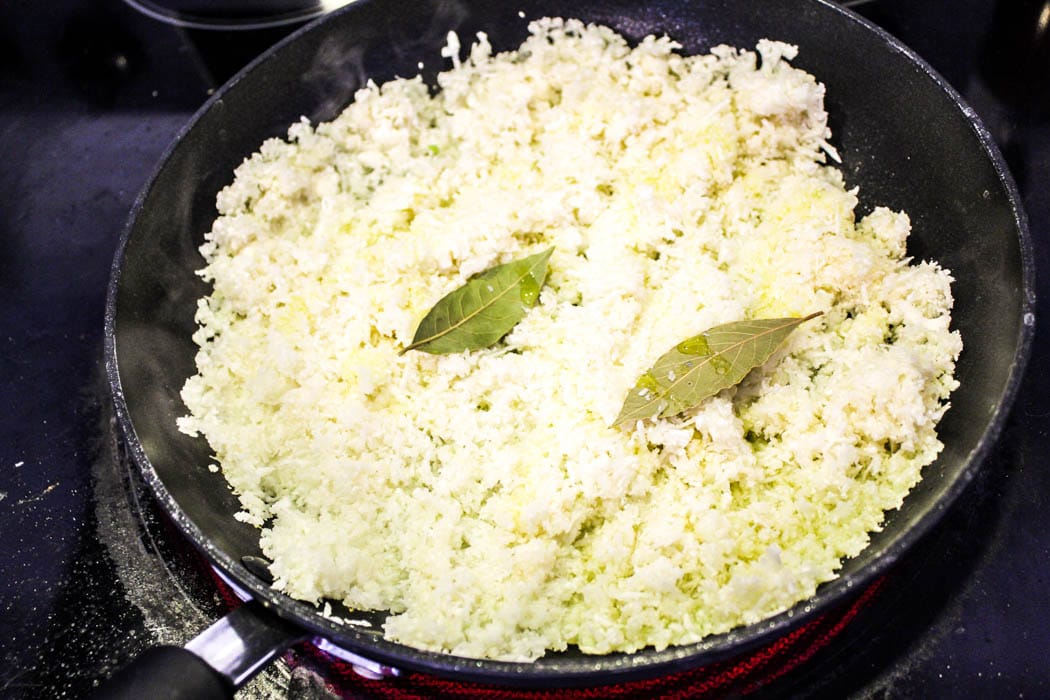 Why is Cauliflower Rice good for you?
Heck yeah! It's so good for you because it's low in calories and carbs. Plus, cauliflower rice is full of antioxidants like vitamin A and vitamin C. Cauliflower has just 25 calories per cup vs. 218 for a cup of cooked brown rice. Wow!!! Save the carbs and calories for a side of guac!
This recipe for copycat Chipotle cauliflower rice is 2 points per serving on each of the Weight Watchers plans. It's a great alternative to pasta, rice or quinoa, still filling and gets an extra veggie serving in your day!
Tips, Tricks & FAQs
Did Chipotle discontinue their cilantro-lime cauliflower rice?
Correct – it is NOT on the menu anymore. It was a "limited time" offering – so I guess that time is up. But you can still make it for yourself!
Is Chipotle cauliflower rice cooked?
Yes – they fried the "rice" on their flat tops. Don't boil it though – it will just turn to mush and lose all the texture.
Is cauliflower rice keto friendly?
Definitely low carb, vegan and paleo! 2 grams of carbs in 1 cup vs 45 with a cup of white rice!
How do you store & reheat leftover cauliflower rice?
Store in an airtight container for 5-7 days in the refrigerator. You can easily reheat in a skillet or just add the cold rice to a salad for more texture!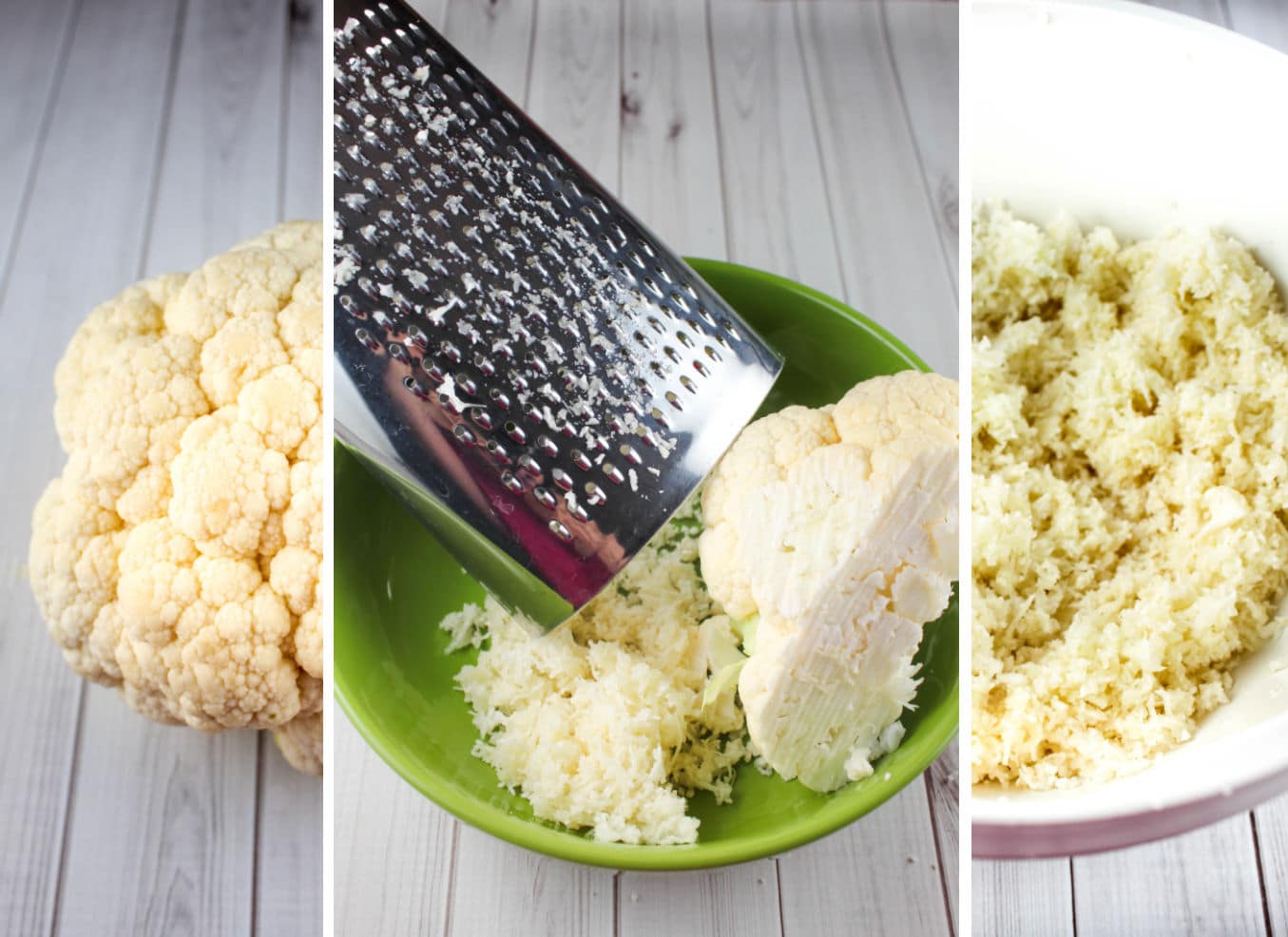 How to make the best cauliflower rice?
Cauliflower Rice is a great low carb side dish and it goes great with a vegan bowl – but also is great with meat as a low carb rice replacement. Here's how you make it:
The first step is to break down the fresh cauliflower – you can do this in one of two ways:

Box Grater – you can use the small side of your cheese/box grater and grate the head of cauliflower. I peeled off all of the leaves and cut off the stem first – then cut the head in half. After that, just grate away! It's a nice five minute arm workout.
Food Processor – another option is to trim your cauliflower down to large florets and pulse in the food processor until it breaks down to rice-sized pieces.

The food processor definitely makes larger chunks that have more "bite" than the grater – but I was fine with the grater texture and consistency.
After you have the cauliflower broken down, then saute for 3-5 minutes on the stovetop in olive oil with 1-2 bay leaves in the pan. Don't break the bay leaves up because you're going to want to remove them.
Once the rice is done and you're ready to serve, add in 1/4 cup chopped cilantro, 1 tsp coarse sea salt and juice from one lime. Feel free to add some lime zest as well for more flavor!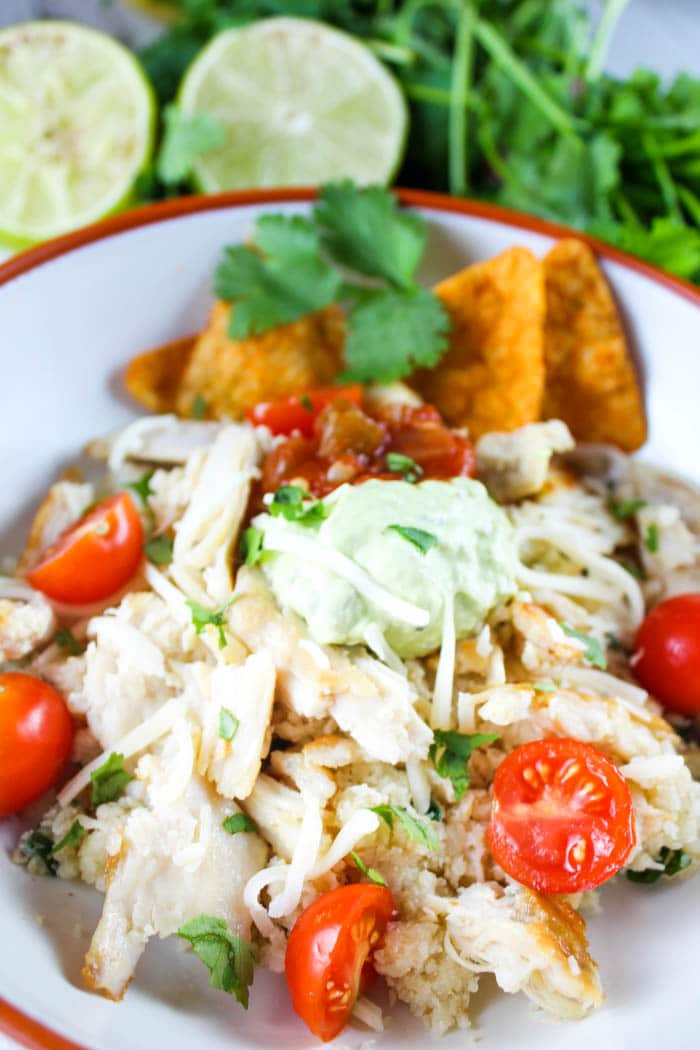 What can you serve with Cauliflower Rice?
More Copycat Recipes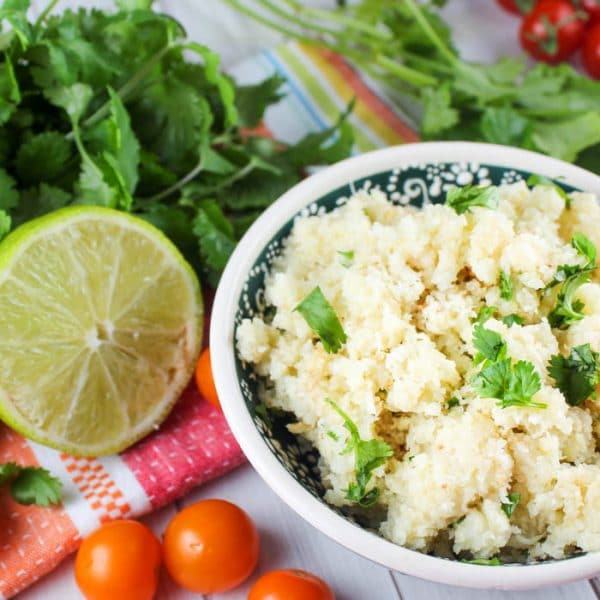 Copycat Chipotle Cauliflower Rice
Copycat Chipotle Cauliflower Rice sure has saved the day in my house! I'm a big fan of Chipotle and probably make that style of burrito-bowl at least once a week but I'm trying to watch my calories – and rice isn't great for that! I made this cauliflower rice in about 10 minutes and it's super tasty!
Ingredients
1

head

cauliflower

medium

2

tbsp

olive oil

1/4

cup

cilantro

chopped

1

lime

juiced

1

tbsp

coarse sea salt
Instructions
Grate cauliflower into rice using small grate on a cheese grater or a food processor

Heat oil in a large skillet over medium heat

Add cauliflower and bay leaf

Stir fry for 5 minutes until rice becomes slightly tender

Mix in cilantro, lime juice and salt

1/4 cup cilantro,

1 lime,

1 tbsp coarse sea salt
Notes
Weight Watchers Points: 2 on Green, Blue or Purple for 1/4 head
Break down your cauliflower 1 of 2 ways:
Box Grater – you can use the small side of your cheese/box grater and grate the head of cauliflower. I peeled off all of the leaves and cut off the stem first – then cut the head in half. After that, just grate away! It's a nice five minute arm workout.
Food Processor – another option is to trim your cauliflower down to large florets and pulse in the food processor until it breaks down to rice-sized pieces
**We are not dietitians and recommend you seek a nutritionist for exact nutritional information. The information in the nutrition box are calculated through a program and there is room for error. If you need an accurate count, I recommend running the ingredients through your favorite nutrition calculator.**
Nutrition
Serving:
0.5
cup
Calories:
103
kcal
Carbohydrates:
9.9
g
Protein:
3.1
g
Fat:
7.2
g
Saturated Fat:
1
g
Sodium:
1485
mg
Potassium:
471
mg
Fiber:
4.2
g
Sugar:
3.8
g
Calcium:
43
mg
Iron:
1
mg