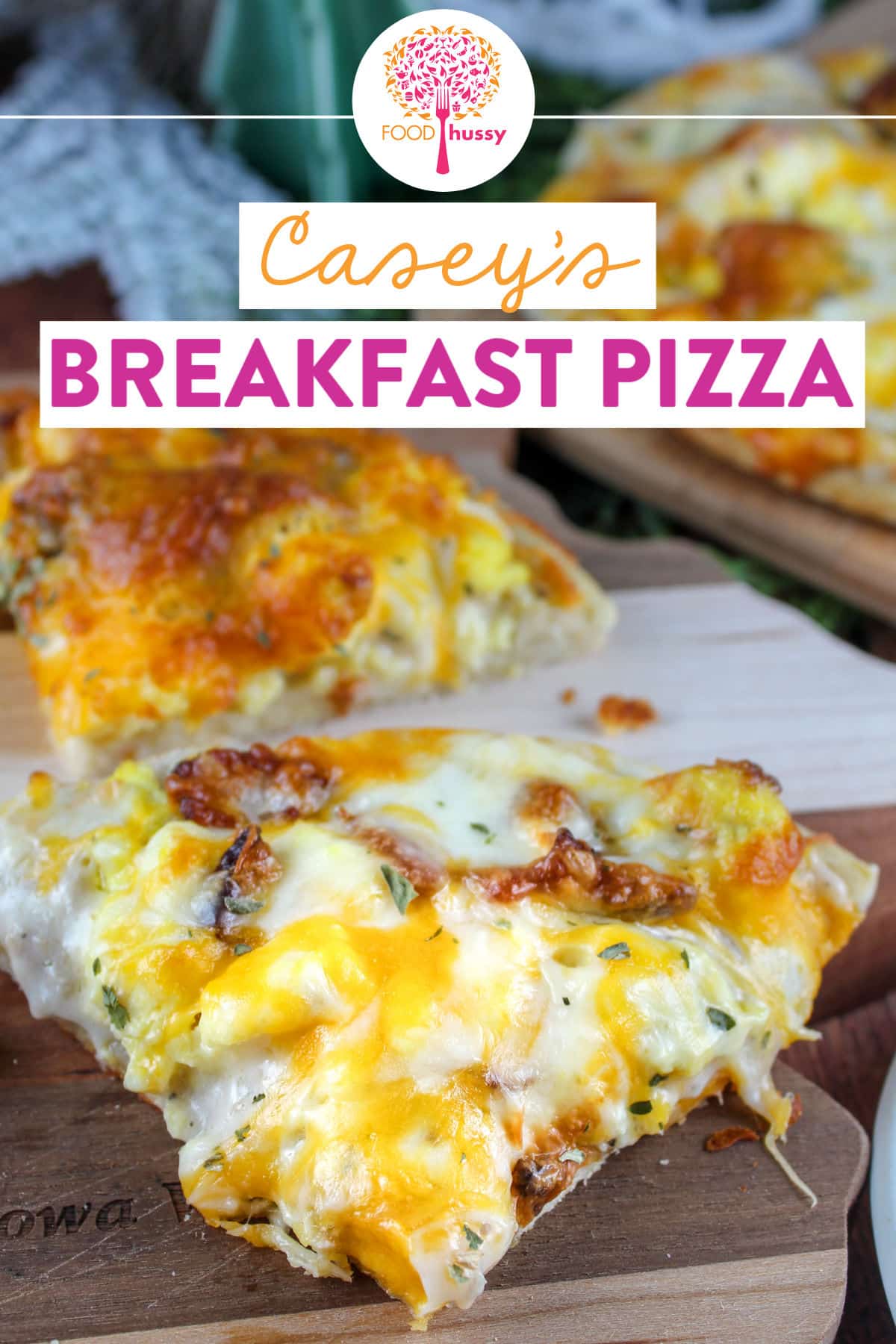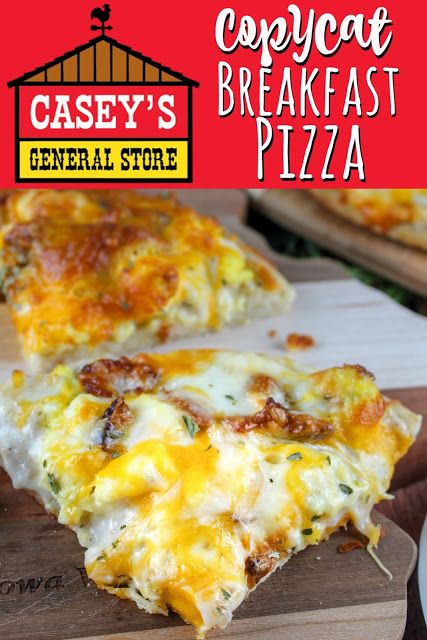 Yum! Casey's General Store is known for their tasty breakfast pizzas. Now you can make a copycat version of Casey's Breakfast Pizza with this recipe.
I'm from Iowa and in Iowa – Casey's Breakfast Pizza is GOLD!! It's what you do every weekend – you stop at Casey's before you go to the game, before you go hunting, before you go boating, before you do ANYTHING – you get breakfast pizza at Casey's!!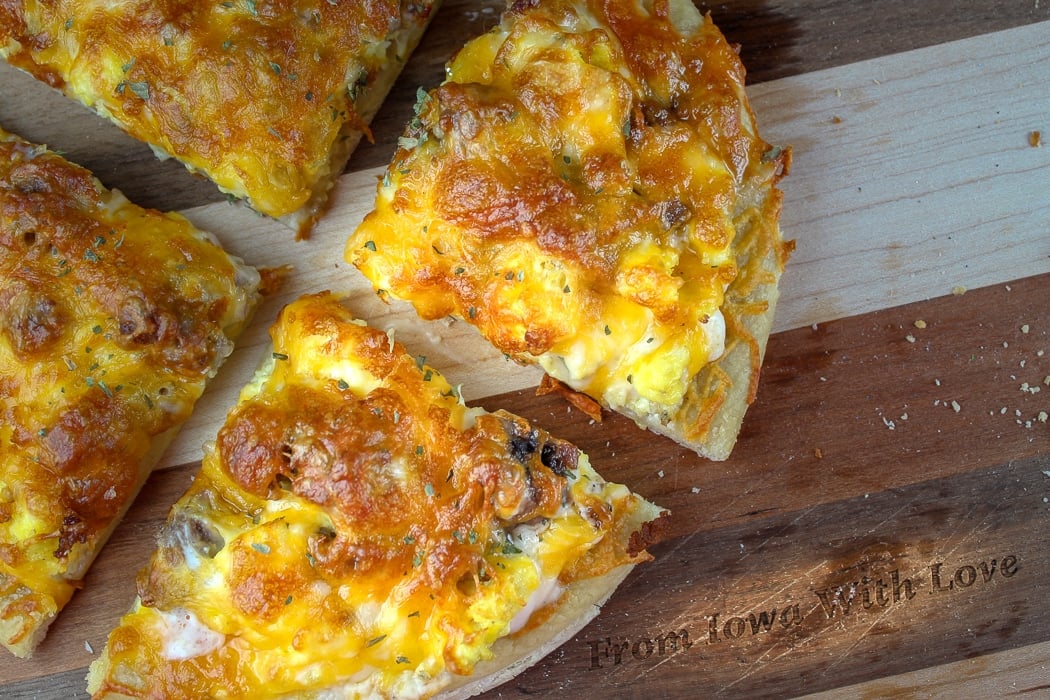 You can get your breakfast pizza with sausage gravy or nacho cheese – and then yummy toppings like breakfast sausage, savory bacon or veggies!
Plus they have different types of cheese on top too! It's legendary and delicious! Take it out of the oven and dig in to all that gooey melted cheese!
If you need a review of Casey's sausage gravy breakfast pizza – here you go – it's awesome!!! All of their pizza is so good! You might not expect it from a little gas station – but their specialty is donuts and pizza. Yum! All homemade! (That photo is an authentic slice from Marion, Iowa!)
Did you know that 1/3 of the nation's pork is grown in Iowa? I know – I live in Cincinnati now – and we call ourselves "Porkopolis" – but who we kiddin? That's Iowa baby!!! Corn, beans and pigs. It's how we do!
What's on Casey's iconic Breakfast Pizza?
If you check out the breakfast menu at Casey's – you'll see they have 3 kinds of breakfast pizza with different flavors to choose from:
sausage
bacon
veggies (peppers & onions)
For the pizza "sauce", you can choose either sausage gravy or cheese sauce.
Then you pile on your toppings:
scrambled eggs
bacon – when making this at home, undercook the bacon a little because it will cook more in the oven
sausage
veggies like peppers and onions
mozzarella and cheddar cheese
At Casey's you can call in and order a whole breakfast pizza – but most of the time – you just go in and grab a piece because it's already made. Yummy!
I like making it at home because I can customize every aspect of my pizza – whether I want cheese or gravy, sausage or bacon, veggies or none – it's all what I want!
How to make breakfast pizza with eggs?
This recipe for breakfast pizza is super easy and doesn't take much time.
First, I use a premade pizza dough crust – it's just too easy not to – and this recipe is about the toppings!
Then you prep your toppings: scrambled eggs, bacon and sausage. (I bake my scrambled eggs in the oven or air fryer.)
For the sauce, you can use either sausage gravy or cheese sauce – I tried both and they're both delicious.

I made a bacon pizza with sausage gravy and a sausage pizza with cheese sauce – so good!

After you top the dough with your sauce – layer the toppings on your crust.
After your pizzas are topped, bake them in the oven or air fryer until the cheese melts!
How can I tell if my sausage is cooked enough?
A lot of folks question – when is pork done?! If you're cooking ground pork or sausage crumbles – it should be 160 degrees – but most other cuts are done at 145 degrees! Here's an easy to check chart for cooking temps for pork!
This is my sausage and scrambled egg breakfast pizza! Looks good – right? My bestie sent me the photo of the Casey's pizza to make sure mine looked just right – I think I did a pretty good job!
And while this recipe is born in Iowa, I've been to pork farms here in Ohio! I love going for visits – I learned so much from Uncle Squeals and I get to see piglets. Come on – that's too cute!
Can I make breakfast pizza the night before?
Sure! Because you're mainly just putting these items together – you can definitely make it the night before. If you're using a premade crust – it's not going to absorb the sauce. If you're making from scratch dough, you'll probably want to have the dough separate until ready to bake.
Recipes to use for your Breakfast Pizza
Other Delicious Breakfast Recipes
What to serve with Breakfast Pizza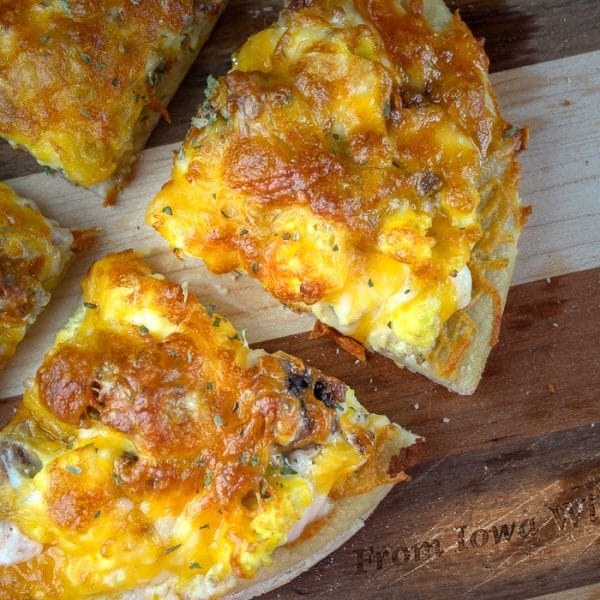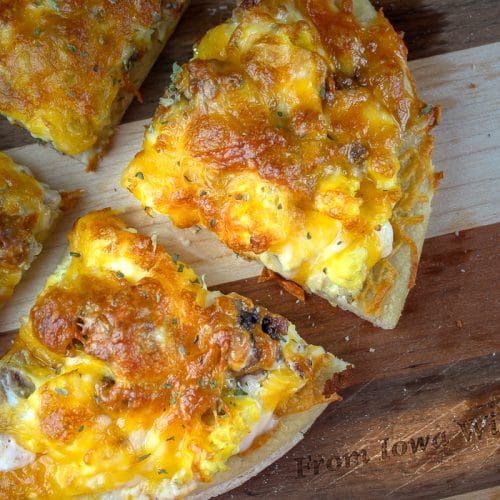 Casey's Breakfast Pizza
Casey's Breakfast Pizza is an Iowa staple. Every time I go home – I make sure to stop at least once for a slice or two! You can get nacho cheese or sausage gravy breakfast pizza! So tasty!
Ingredients
2

individual pizza crusts

1/2

cup

nacho cheese sauce

1/2

cup

sausage gravy

4

large

eggs

scrambled

1/3

lb

pork sausage

browned

2-3

slices

bacon

cooked and chopped

1

cup

mozzarella cheese

grated

1

cup

cheddar cheese

grated
Instructions
Preheat oven to 450 degrees

Brush pizza crust with olive oil

On one crust, cover with sausage gravy and top with bacon, 1/2 eggs, 1/2 mozzarella and 1/2 cheddar

On the other crust, cover with cheese sauce, sausage, 1/2 eggs, 1/2 mozzarella and 1/2 cheddar

Bake at 450 for 8 minutes

Broil on low for 4 minutes until top starts to brown

AIR FRYER TIMING: Air fry at 450 degrees for 5 minutes
Notes
You can also use Velveeta cheese sauce or even alfredo sauce if you like
These instructions are to make two small pizzas – one with sausage and one with bacon – and using each of the sauces that Casey's General Store uses on their breakfast pizza. If you want to make a LARGE pizza or just one kind – then double the sauce/ingredients.
If you have any questions, don't hesitate to leave a comment and ask! I respond to all questions within 24 hours!
Nutrition
Serving:
0.5
pizza
Calories:
556
kcal
Carbohydrates:
21.5
g
Protein:
30.4
g
Fat:
38.3
g
Saturated Fat:
18.6
g
Cholesterol:
279
mg
Sodium:
1193
mg
Potassium:
166
mg
Fiber:
0.8
g
Sugar:
1.6
g
Calcium:
495
mg
Iron:
2
mg