I've been doing my best to not eat out for breakfast – it's so easy to make tasty stuff at home – that I just don't need to. But every once in a while – a commercial comes on that just makes me HUNGRY!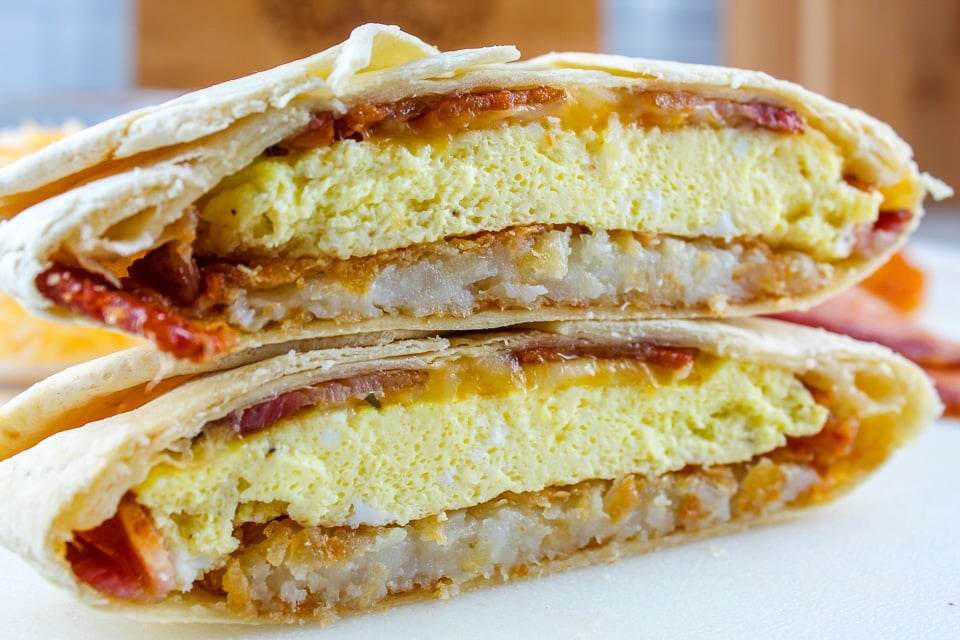 I kept seeing the Taco Bell Breakfast Crunchwrap and couldn't help myself – but I decided to make it myself! It's got hash browns, scrambled egg, cheese, a creamy jalapeno sauce and either bacon or sausage. I went for bacon – because well – I love bacon!
What is in a Crunchwrap?
The Breakfast Crunchwrap recipe is pretty simple – scrambled egg, sausage or bacon, cheddar cheese, hashbrown patty, creamy jalapeno sauce and tortilla.
Most of those are standard breakfast fair – two things to note:
– you'll need 1 large tortilla and 1 small tortilla for each crunchwrap
– Taco Bell serves it with a creamy jalapeno sauce – but you can substitute your favorite sauce. I would use Freddy's Jalapeno Fry Sauce or a Jalapeno Ranch – but you could also just use hot sauce or whatever else you feel like adding!
How to fold a crunchwrap?
It's hard to explain but really easy to do. When you have the large tortilla laid out – you put the toppings on and then put a small tortilla on top of that. Then you pull up the side of the tortilla and in a circular motion fold it over the middle. The natural shape of the tortilla makes it a snap!


After you get it folded over – give it a quick spray with non-stick spray and put it face down in the air fryer.


Don't have an air fryer? You can also pan fry it in a skillet!



You will love this Copycat Breakfast Crunchwrap – it's so tasty and easy to make!
Other Delicious Breakfast Recipes:
Stuffed Cinnamon Swirl French Toast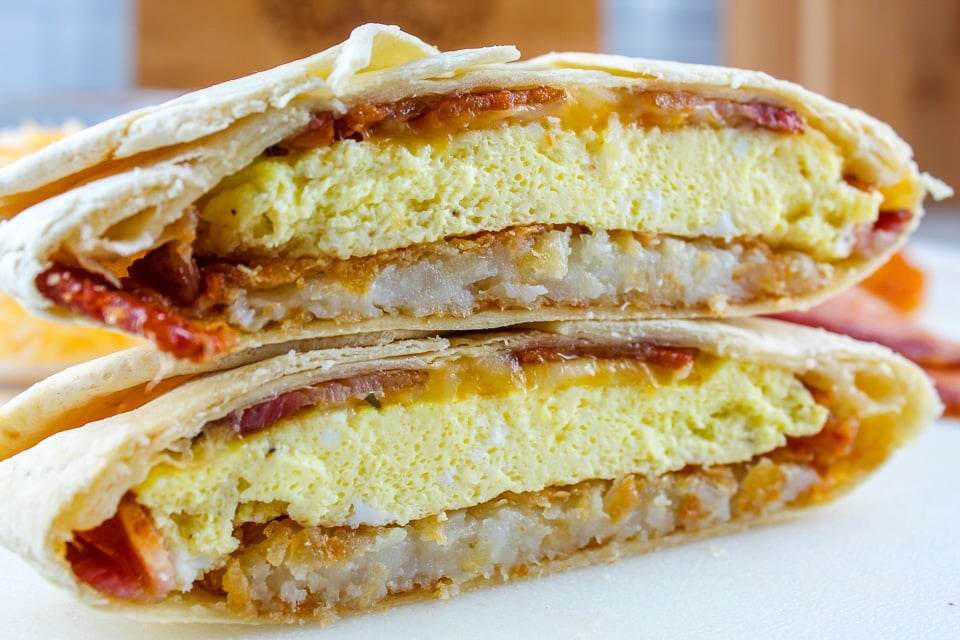 Copycat Air Fryer Taco Bell Breakfast Crunchwrap
prep time: 30 M
cook time: 5 M
total time: 35 M
Taco Bell has had their Crunchwrap for quite some time now but recently they introduced a breakfast version! Chock full of scrambled eggs, bacon (or sausage) cheese and hashbrowns – this is a perfect copycat that you can make at home anytime!
ingredients:
2 scrambled eggs
4 slices pre-cooked bacon
2 hashbrown patty
4 tbsp Mexican shredded cheese
4 tbsp Freddy's Jalapeno Fry Sauce (or a Jalapeno Ranch, Hot Sauce, Taco Sauce, etc)
2 large tortilla
2 small tortilla
non stick spray
1 tbsp butter
instructions:
How to cook Copycat Air Fryer Taco Bell Breakfast Crunchwrap
lay out large tortilla
stack hash brown patty, egg, bacon and cheese in middle of large tortilla
lay small tortilla on top of stack
fold up excess sides of the large tortilla on top of the small tortilla to make a hexagon shape –
while holding the fold on top – spray lightly with non-stick spray
place folded side down in air fryer
spread butter on top of crunchwrap
air fry at 350 for 5 minutes