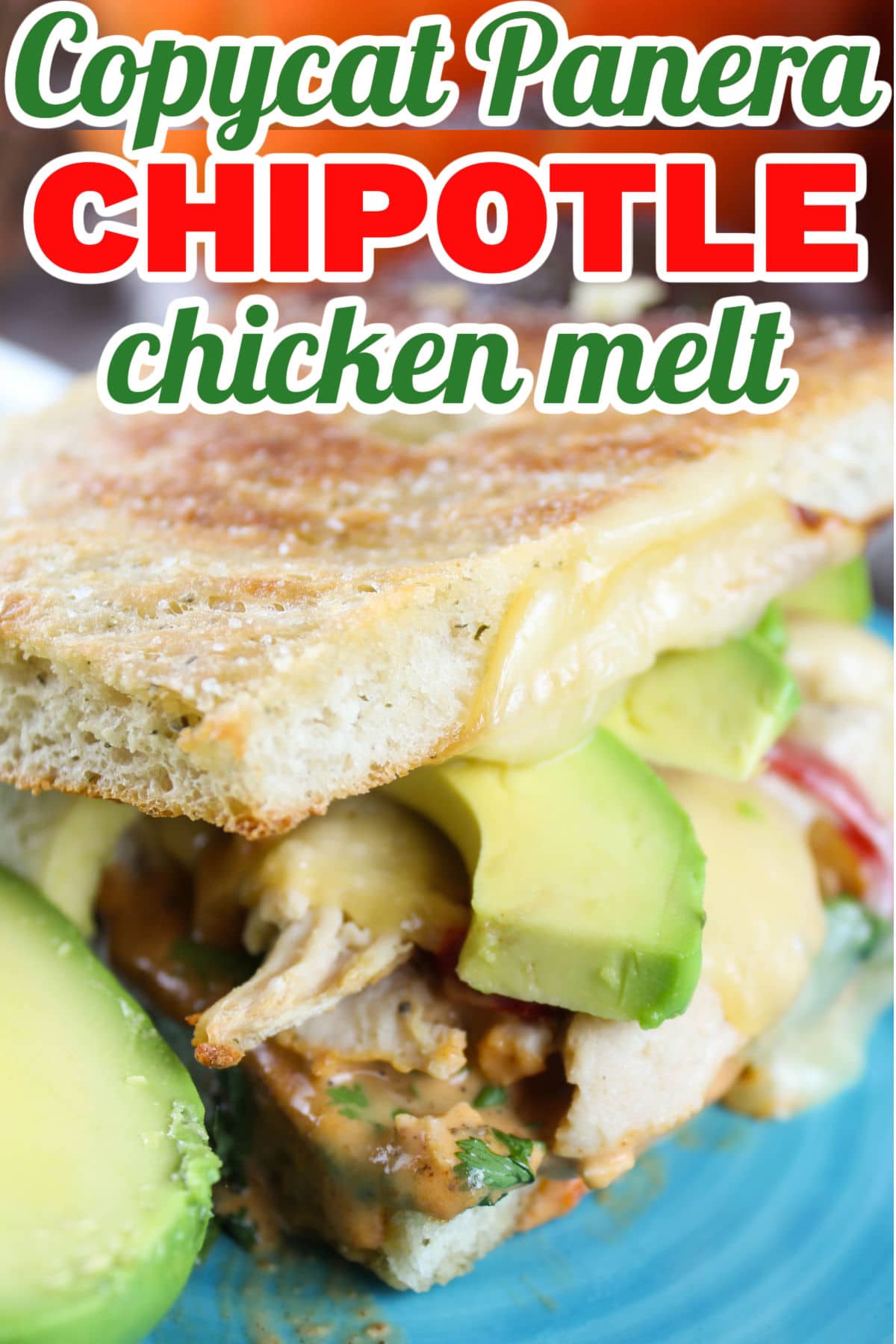 This Copycat Chipotle Chicken Avocado Melt is one of my favorites from Panera Bread! Pulled chicken, smoked Gouda, fresh avocado, cilantro, zesty sweet peppers and chipotle sauce on fresh baked focaccia.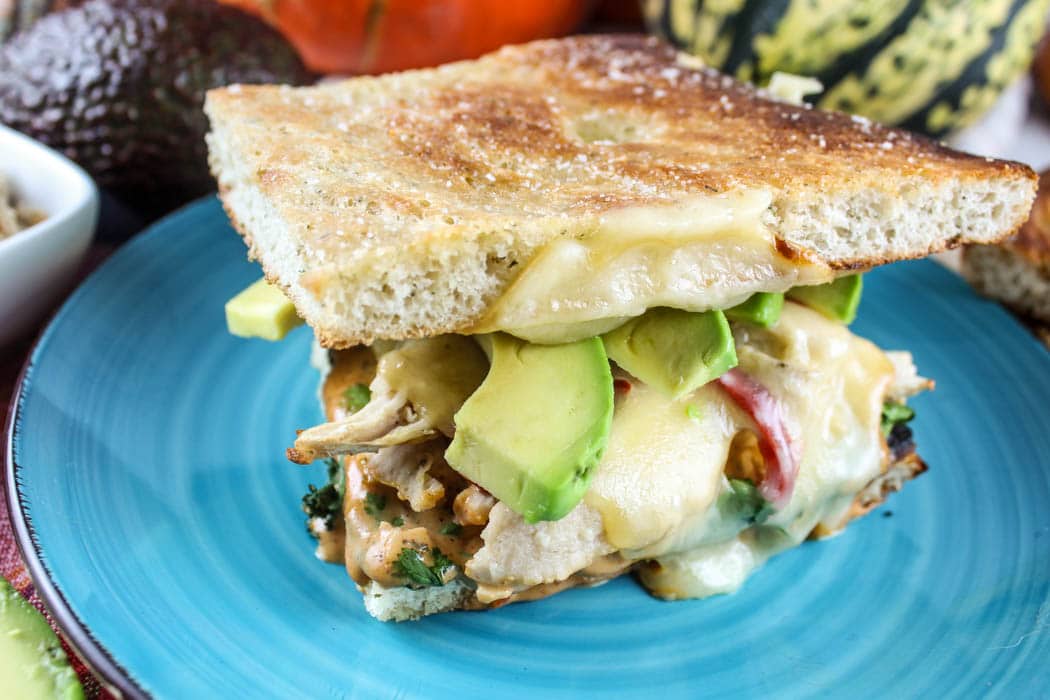 This sandwich is definitely one of my favorites – I mean – it's got delicious and juicy pulled chicken and then all my favorite toppings!!! The flavor that comes together with smoked gouda, those yummy little marinated sweet peppers, cool and creamy avocado and then a zest chipotle sauce. And don't worry – I've got shortcuts and tips for all of the ingredients!
Jump to Recipe
What's in the Chipotle Chicken Avocado Melt?
Black Pepper Focaccia bread – Panera uses their own Black Pepper Focaccia – I couldn't find pre-baked focaccia at Kroger so I bought a can of the rollout dough. I baked it in just 6-7 minutes in my Instant Pot Omni Pro Air Fryer – it's got a bunch of different settings. I did bake but it was still quicker than the instructions. If you've got pre-made focaccia near you – you can use that! You could also use ciabatta bread as a swap.
Pulled chicken – Panera uses a smoked chicken breast but for this recipe – I just used a frozen pulled chicken I got at Kroger – you can use any leftover chicken – I make this Whole Chicken in a Crock Pot and it would be perfect for this!
Smoked gouda cheese – you can find sliced smoked gouda at the grocery – regular gouda is fine too – or even provolone in a pinch – but the smokiness is great if you can find it!
Avocado – your avocado is ripe if you can squeeze it slightly – I keep mine in the fridge – they last a lot longer – 1 avocado is perfect for 2 sandwiches
Sprigs of fresh cilantro – good for you if you grow your own, leave it out if you don't like it
Sliced sweet peppers – they use Peppadew piquant peppers but I had a jar of Marinated Sweet Cherry Peppers and they worked just fine
Chipotle pepper seasoning – I like using the dry seasoning instead of the canned – then I'm not left with a can of pepper I won't use and you can control the spice level. Or – go the easy route – and use the Ortega Chipotle Sauce (it's really good and at most grocery stores)
Mayonnaise – always use Dukes!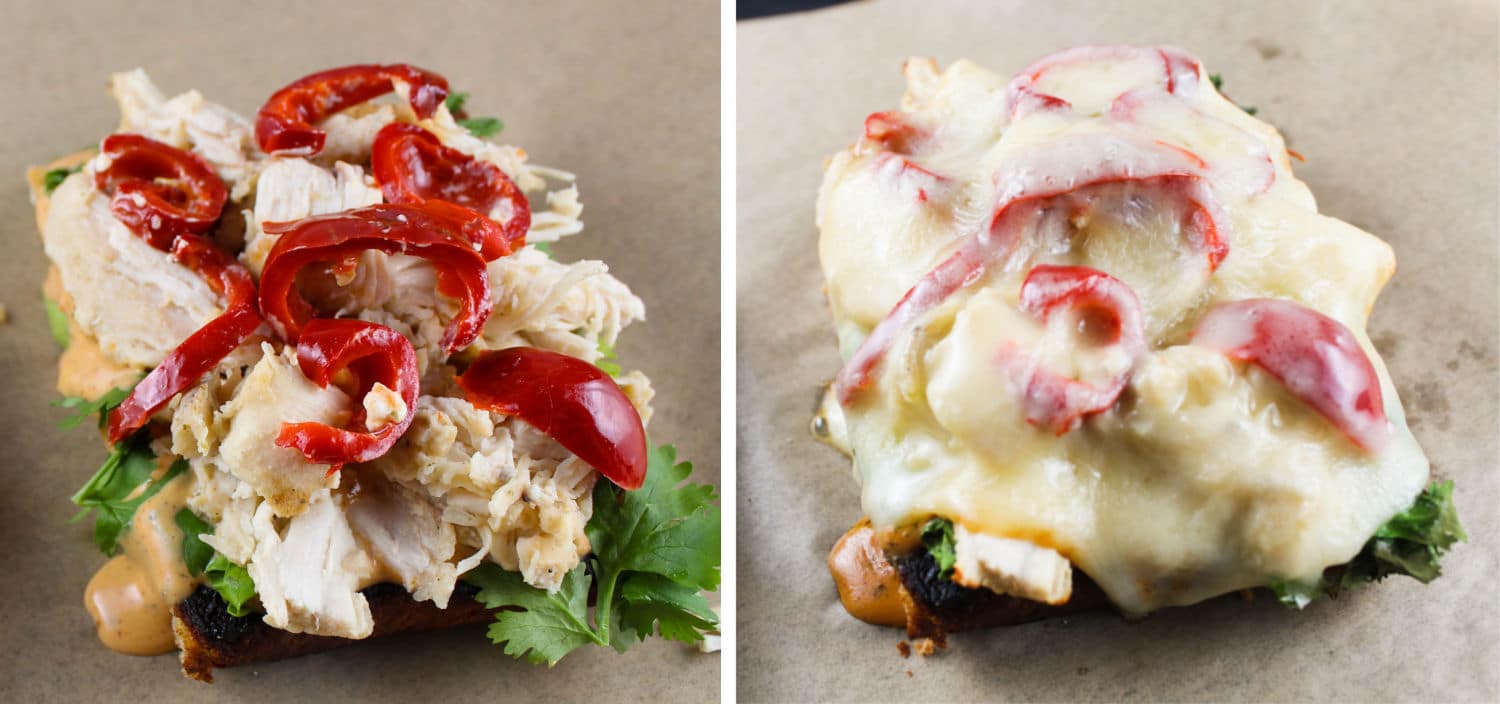 How do you make the Chipotle Chicken Avocado Melt?
Mix together your chipotle sauce by mixing chipotle pepper seasoning & mayonnaise – set aside (or just use a pre-made Chipotle sauce – I like Ortega)
Slice focaccia into sandwich sized slices
Reheat pulled chicken in microwave for 30-40 seconds
On bottom of sandwich, spread 1 tbsp chipotle mayo
Top with cilantro, pulled chicken, sliced sweet peppers and one slice gouda
On top half of bread, spread 1 tbsp chipotle mayo and one slice gouda
Lay open faced on pan
Preheat broiler and place sandwich open face on low for 5 min until cheese is bubbly
Remove open faced sandwich from oven/air fryer
Place avocado slices on top of cheese and place sandwich halves together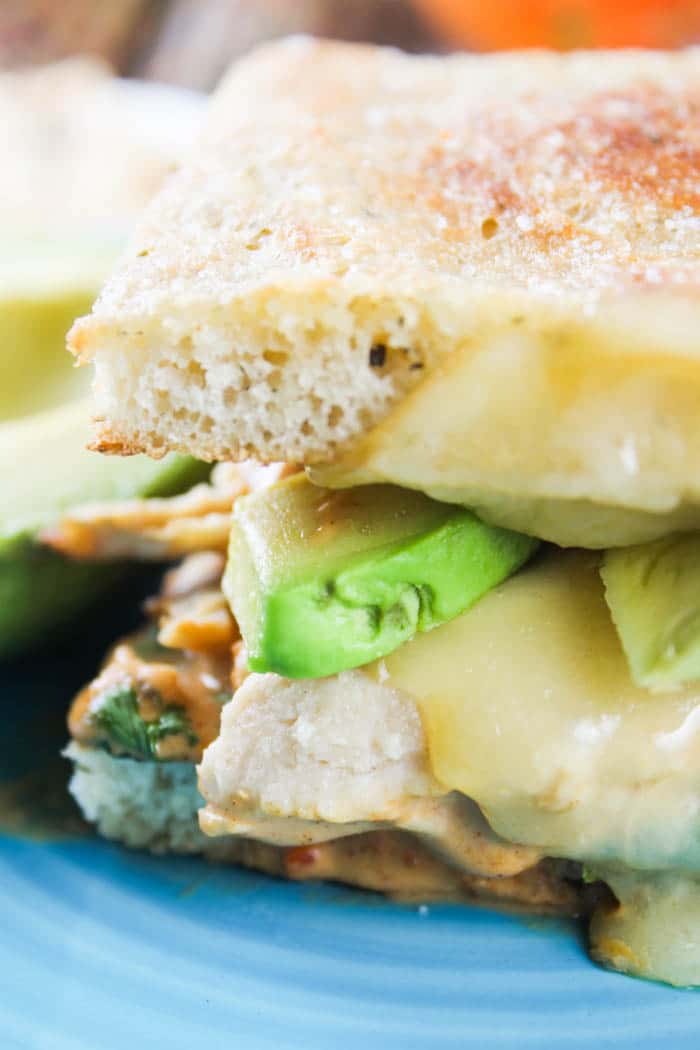 Tips, Tricks and FAQs
Are there options for the chipotle sauce?
Yes – you can use a premade version – like the one from Ortega. You can mix your own with canned chipotles in adobo sauce but a little bit goes a long way! Or use the dry seasoning like I did! I like the dry seasoning because I can just use a little bit vs. a can you have to open and use up.
Can I use the air fryer instead of the broiler?
Yup – just heat open faced for 3-4 min – you'll probably need toothpicks to hold the cheese down.
For the peppers are they fresh or canned?
They're jarred and marinated in oil – you could use those fresh mini sweet peppers but they'll be much crunchier.
I don't like cilantro – do I need to use it?
Nope – just leave it out!
How many calories is a chipotle chicken avocado melt at Panera?
There are 940 calories in a whole sandwich and 470 in a half sandwich at Panera. My sandwich comes in at 585 calories.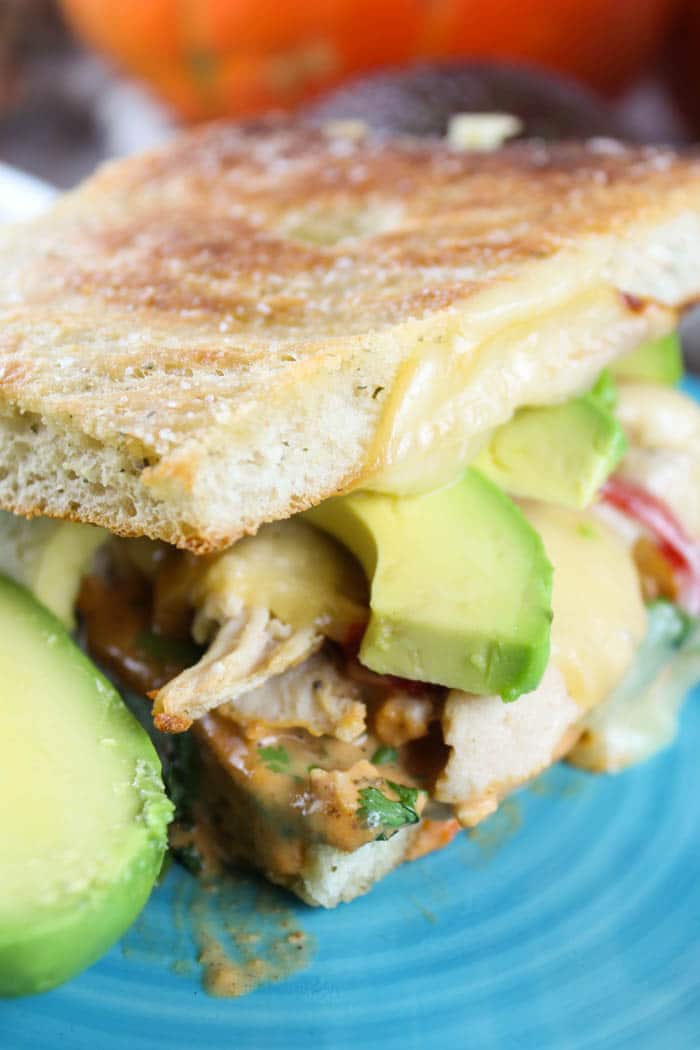 What to serve with the Chipotle Chicken Melt?
Panera loves their "You Pick Two" – so you can make one of their soups or salads to serve with the sandwich!
Other Panera Sandwich Recipes…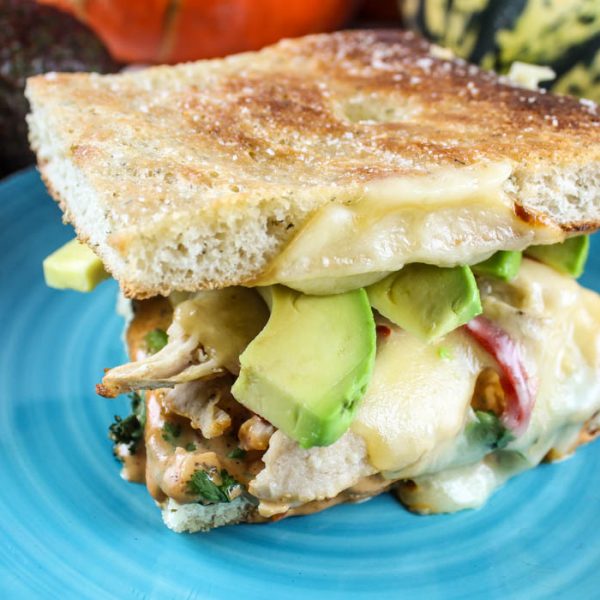 Copycat Panera Chipotle Chicken Avocado Melt
This Copycat Panera Chipotle Chicken Avocado Melt is one of my favorites from Panera! Pulled chicken, smoked Gouda, fresh avocado, cilantro, zesty sweet peppers and chipotle sauce on fresh baked focaccia.
Instructions
Mix together chipotle pepper seasoning & mayonnaise

1/2 tsp Chipotle Pepper seasoning,

3 tbsp Duke's mayonnaise

Slice focaccia into sandwich sized slices

Reheat pulled chicken in microwave for 30-40 seconds

On bottom of sandwich, spread 1 tbsp chipotle mayo

Top with cilantro, pulled chicken, sliced sweet peppers and one slice gouda

4 slices smoked gouda,

fresh cilantro,

1/4 cup bottled sweet peppers,

1 cup pulled chicken

On top half of but, spread 1 tbsp chipotle mayo and one slice gouda

Lay open faced on parchment paper covered cookie sheet

Broil on low for 5 min until cheese is bubbly and melted

Remove sandwich from oven

Place avocado slices on top of cheese and place halves together
Notes
Focaccia bread – I couldn't find pre-baked focaccia at Kroger so I bought a can of the rollout dough. I baked it in just 6-7 minutes in my Instant Pot Omni Pro Air Fryer – it's got a bunch of different settings. I did bake but it was still quicker than the instructions. If you've got pre-made focaccia near you – you can use that!
Pulled chicken – Panera uses a smoked chicken but for this recipe – I just used a frozen pulled chicken I got at Kroger – you can use any cooked chicken – I make this Whole Chicken in a Crock Pot and it would be perfect for this!
Sliced sweet peppers – they use Peppadew peppers but I had a jar of Marinated Sweet Cherry Peppers and they worked just fine
Chipotle pepper seasoning – I like using the dry seasoning instead of the canned – then I'm not left with a can of pepper I won't use and you can control the spice level. Or – go the easy route – and use the Ortega Chipotle Sauce (it's really good and at most grocery stores)

Can I use the air fryer instead of the broiler?

Yup – just heat open faced for 3-4 min – you'll probably need toothpicks to hold the cheese down.

For the peppers are they fresh or canned?

They're jarred and marinated in oil – you could use those fresh mini sweet peppers but they'll be much crunchier.

I don't like cilantro – do I need to use it?

Nope – just leave it out!

**We are not dietitians and recommend you seek a nutritionist for exact nutritional information. The information in the nutrition box are calculated through a program and there is room for error. If you need an accurate count, I recommend running the ingredients through your favorite nutrition calculator.**
Nutrition
Serving:
1
sandwich
Calories:
585
kcal
Carbohydrates:
20
g
Protein:
40.7
g
Fat:
40.1
g
Cholesterol:
94
mg
Sodium:
773
mg
Potassium:
607
mg
Fiber:
7.6
g
Sugar:
4.9
g
Calcium:
246
mg
Iron:
1
mg