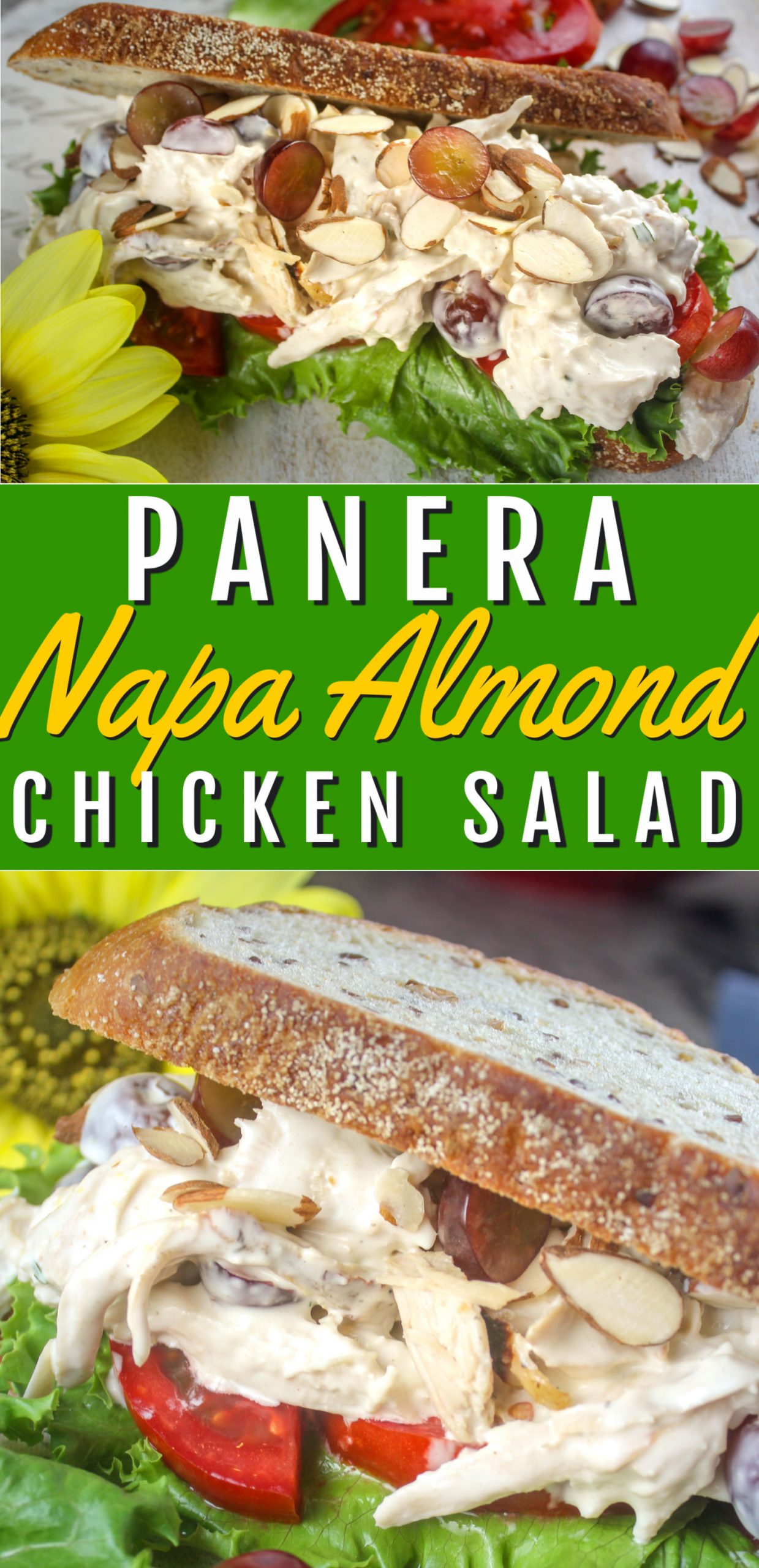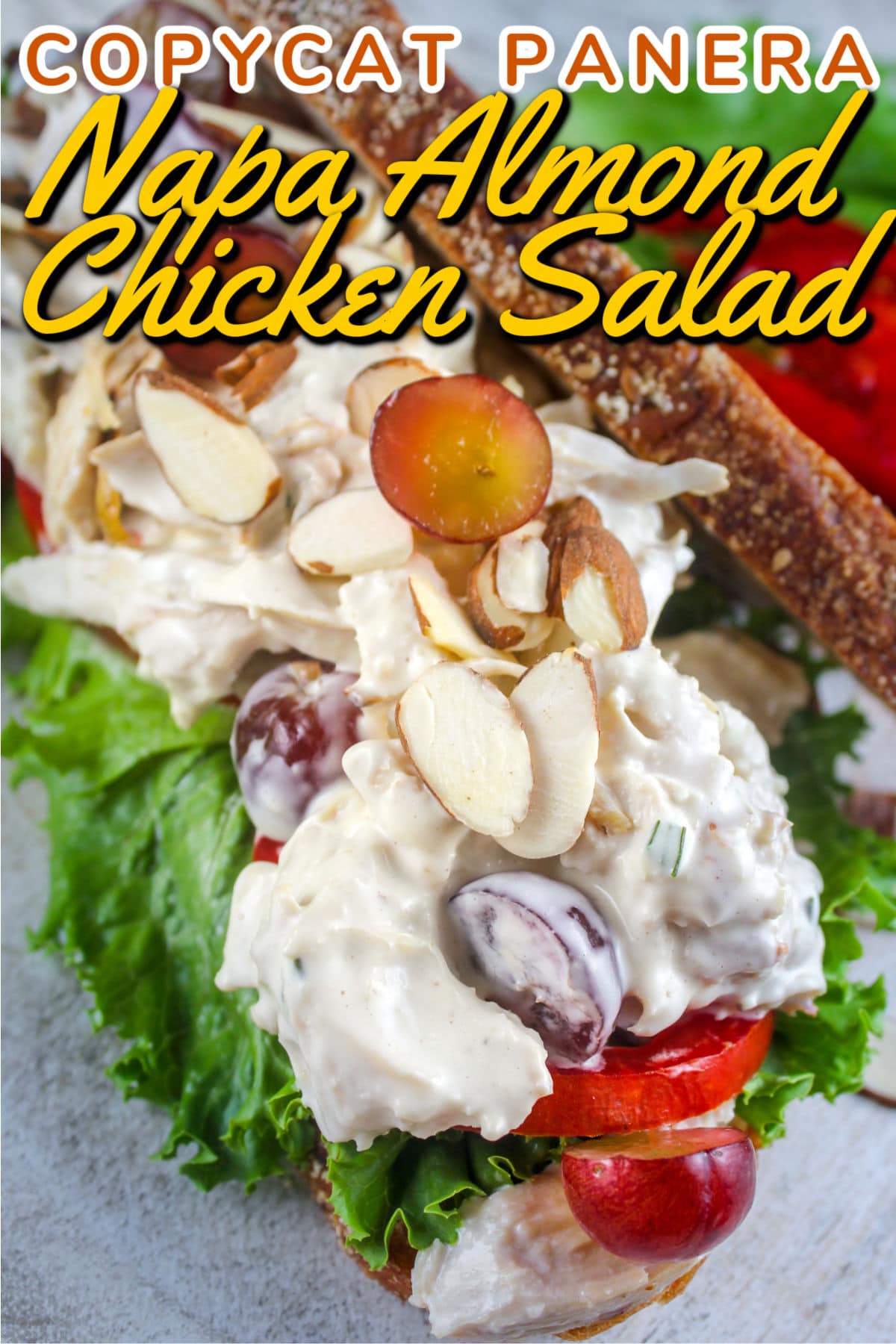 This Copycat Panera Napa Almond Chicken Salad is so light and refreshing! It's the perfect lunch! What makes this Chicken Salad different? First of all, there are grapes and almonds in it, plus the dressing is a little fancier than just mayo! I loved it!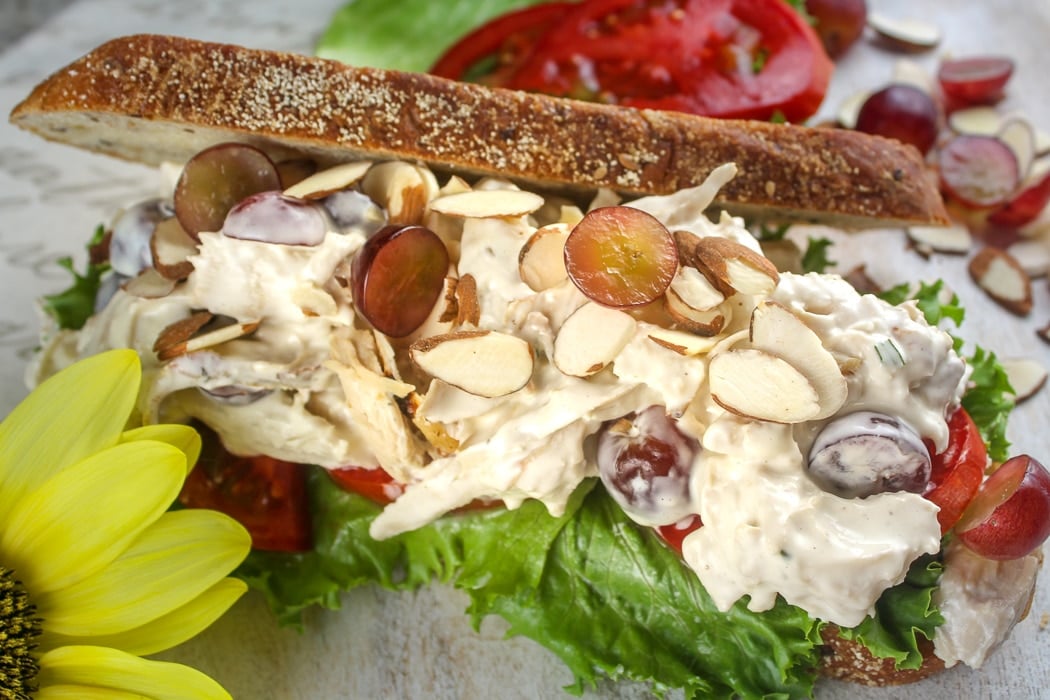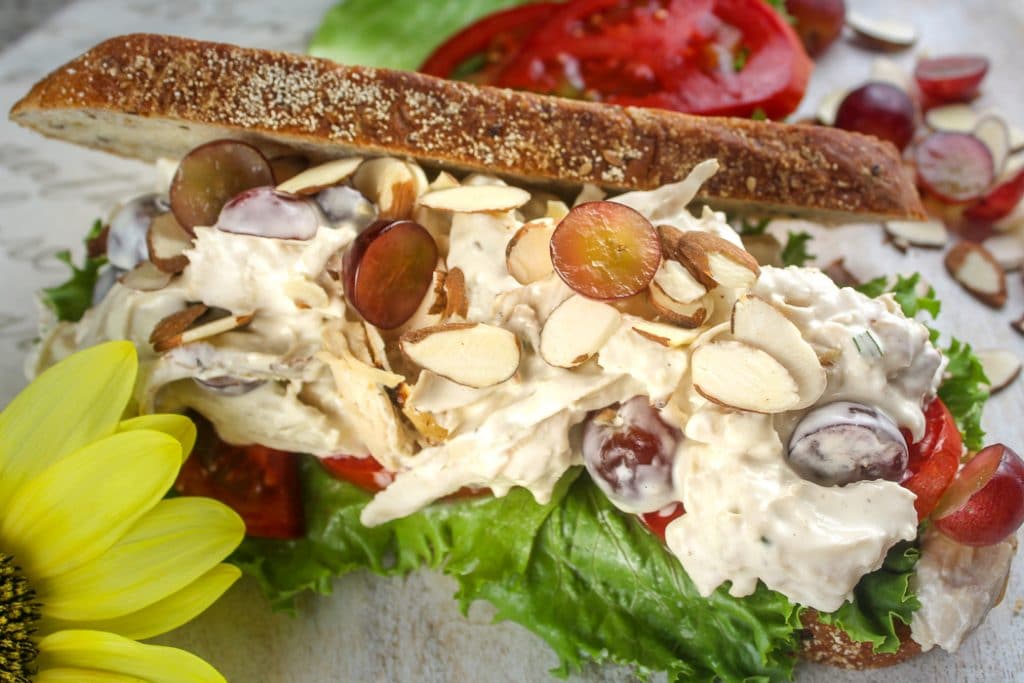 I was shocked at how much I loved Panera's Napa Almond Chicken Salad! Originally, I thought of myself as a chicken salad traditionalist – just chicken, celery and mayo – but this version has some add-ons that I loved! The grapes really added a nice sweet taste that I really didn't expect to love. I made it for myself and it is spot-on to the original!
Jump to Recipe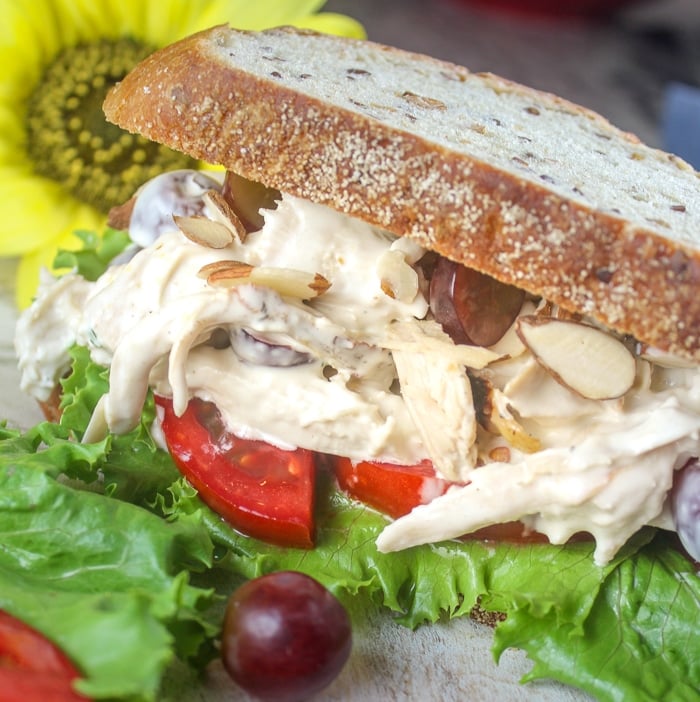 What is in Panera's Napa Almond Chicken Salad?
The chicken salad has chicken, grapes, almonds and celery along with a really light dressing. Here's what you need for this delicious sandwich:
chicken breasts – you can use rotisserie chicken but if making your own – marinate it first!
Duke's mayonnaise

Trying to eat a little healthier, feel free to swap nonfat plain greek yogurt or light sour cream for the mayo

sugar
fresh rosemary
seedless red grapes
diced celery
rustic country bread
thinly sliced tomatoes
green leaf lettuce
I really love the seasonings in the dressing. When I first tried the sandwich at Panera Bread, I loved how light the dressing was! The addition of the honey adds a touch of sweetness, the vinegar lightens it up a bit and the rosemary flavor is always delicious with chicken!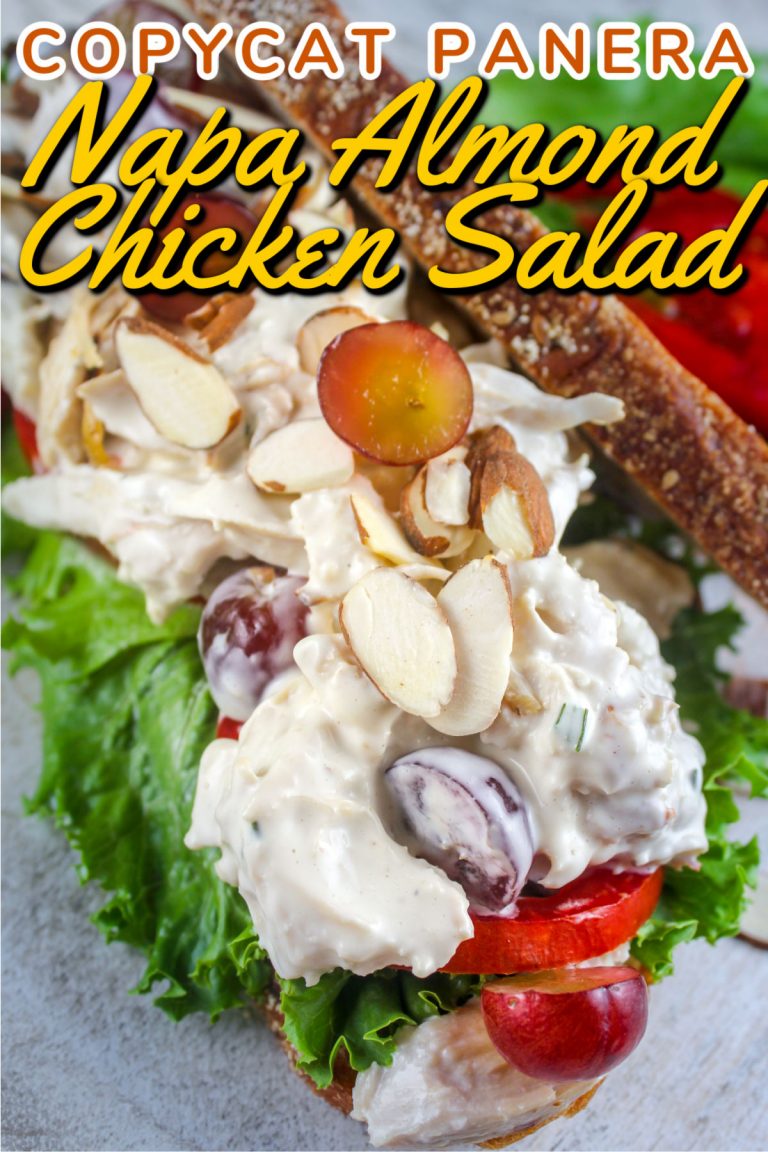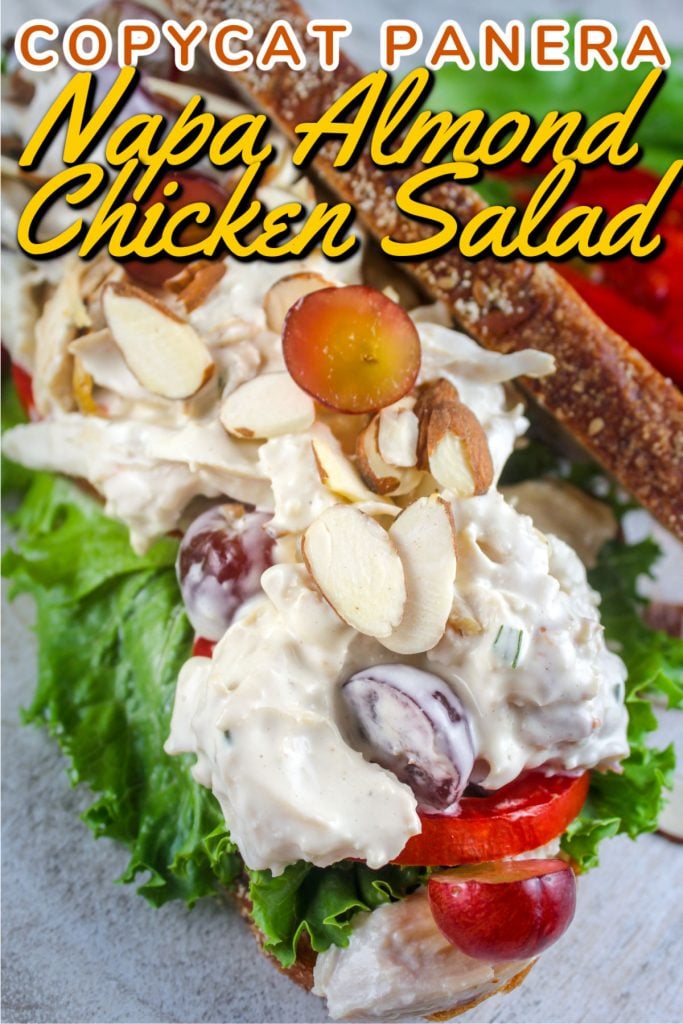 How do you make Napa Almond Chicken Salad sandwich?
Marinate chicken breasts overnight in mojo criollo marinade in refrigerator
Bake or air fry chicken breasts (bake at 350 for 30 min, air fry at 375 for 15 min) – temp check to 165 degrees
Remove and let cool for 30 minutes
In a large bowl, whisk together dressing ingredients (mayo, honey, vinegar, salt, sugar, dry mustard & rosemary)
Refrigerate dressing until chicken is cooled
With two forks, shred and chop chicken breasts into bite sized pieces
Remove dressing from fridge and into the large mixing bowl, fold chicken, grapes and celery into dressing mixture with spatula
Refrigerate until ready to serve
When ready, heat small skillet to medium high
Add almonds and shake in pan for 1-2 minutes until lightly toasted and golden brown, set aside
Build your sandwich with rustic country bread (or whatever you like), leaf lettuce, thinly sliced tomato, chicken salad and sprinkle the top of the chicken mixture with toasted almonds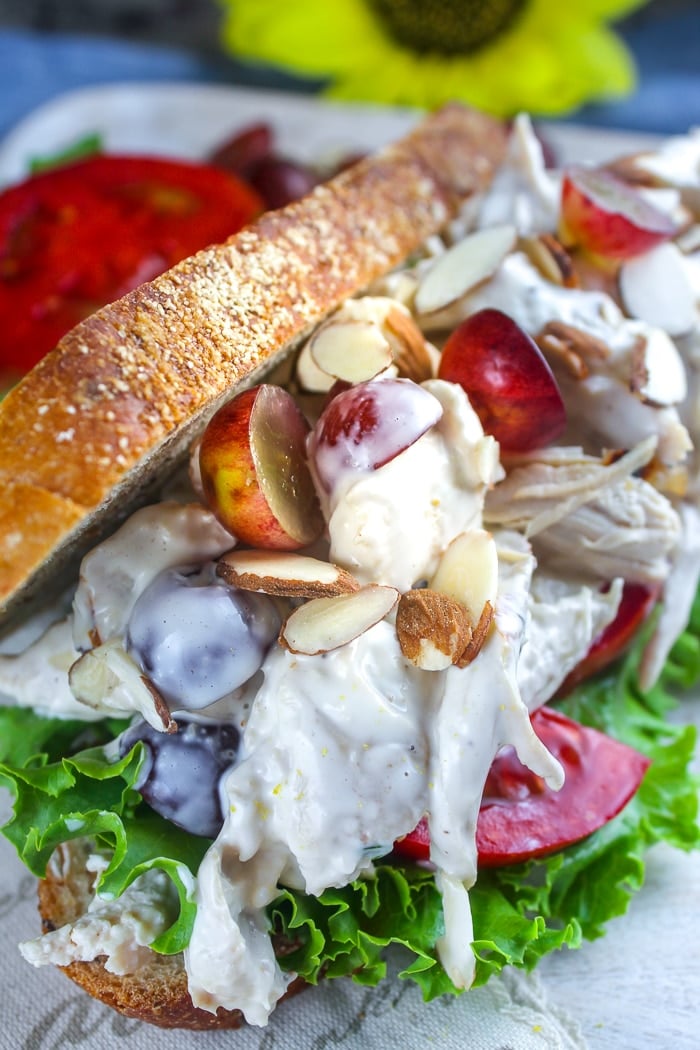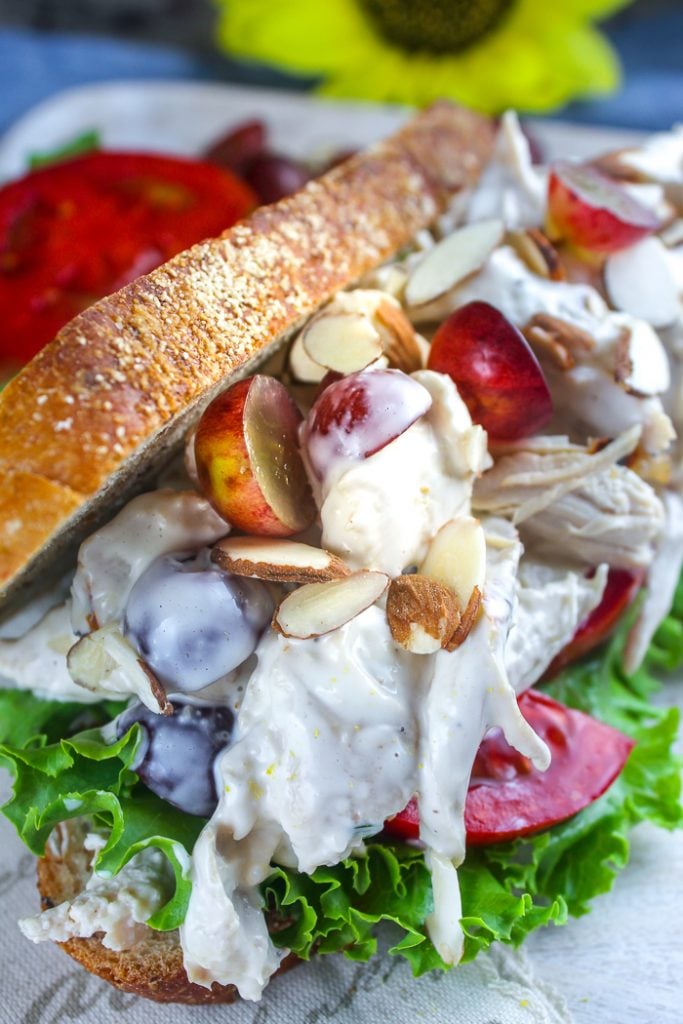 How long is chicken salad good for?
This delicious chicken salad is best when you refrigerate in an airtight container and I really like these glass ones with snap-on lids I got on Amazon. Chicken salad will stay fresh and safe in a container like this for 3-5 days.
If you get tired of having it on bread – you can always top some romaine lettuce with your chicken salad and add a few more grapes and maybe some cheese to make a salad out of it like I did!
One of my favorite things to do with leftover chicken salad is to grab some butter lettuce leaves and make lettuce wraps!
Other Panera Copycat Recipes
More Recipes with Pulled Chicken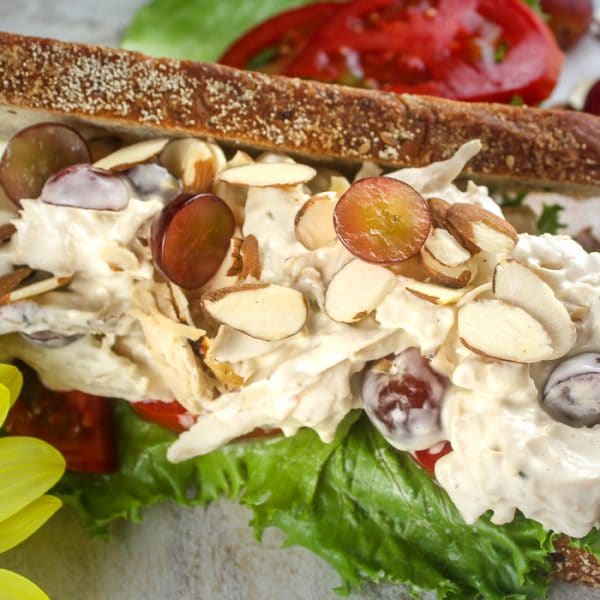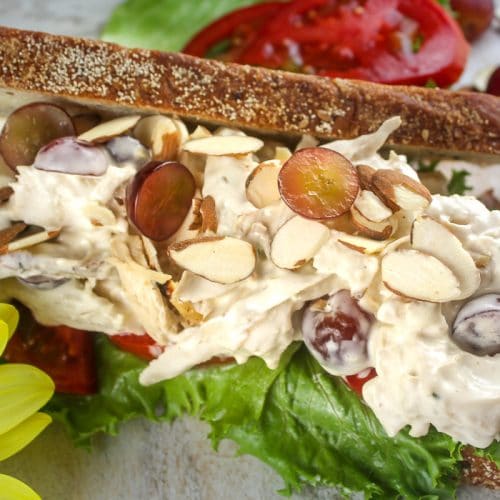 Panera Napa Almond Chicken Salad Recipe
I was shocked at how much I loved Panera's Napa Almond Chicken Salad! I always thought I was a chicken salad traditionalist – but this chicken salad is delicious! I made it for myself and think it's spot-on!
Instructions
Marinate chicken breasts overnight in mojo criollo marinade in refrigerator

2-3 chicken breasts,

1/3 bottle mojo criollo marinade

Bake or air fry chicken breasts (bake at 350 for 30 min, air fry at 375 for 15 min) – temp check to 165 degrees

Remove and let cool for 30 minutes

In separate bowl, mix together dressing ingredients (mayo thru rosemary) and whisk together

1/2 cup Duke's mayonnaise,

1 tbsp honey,

1 tbsp cider vinegar,

1/2 tsp salt,

1 tsp sugar,

1/2 tsp dry mustard,

1 tsp diced fresh rosemary

Refrigerate dressing until chicken is cooled

With two forks, shred chicken breasts into bite sized pieces

Remove dressing from refrigerator and fold chicken, grapes and celery into dressing mixture with spatula

1/2 cup red grapes,

1/3 cup celery

Refrigerate until ready to serve

When ready, heat small skillet to medium high

Add almonds and shake in pan for 1-2 minutes until lightly toasted, set aside

Build your sandwich with rustic country bread (or whatever you like), leaf lettuce, thinly sliced tomato, chicken salad and top with toasted almonds

8 slices rustic country bread,

8 lettuce leaves,

1-2 tomatoes
Notes
**We are not dietitians and recommend you seek a nutritionist for exact nutritional information. The information in the nutrition box are calculated through a program and there is room for error. If you need an accurate count, I recommend running the ingredients through your favorite nutrition calculator.**
Nutrition
Serving:
1
sandwich
Calories:
366
kcal
Carbohydrates:
50.9
g
Protein:
18.4
g
Fat:
9
g
Saturated Fat:
0.5
g
Cholesterol:
33
mg
Sodium:
1026
mg
Potassium:
335
mg
Fiber:
3
g
Sugar:
8.3
g
Calcium:
61
mg
Iron:
3
mg