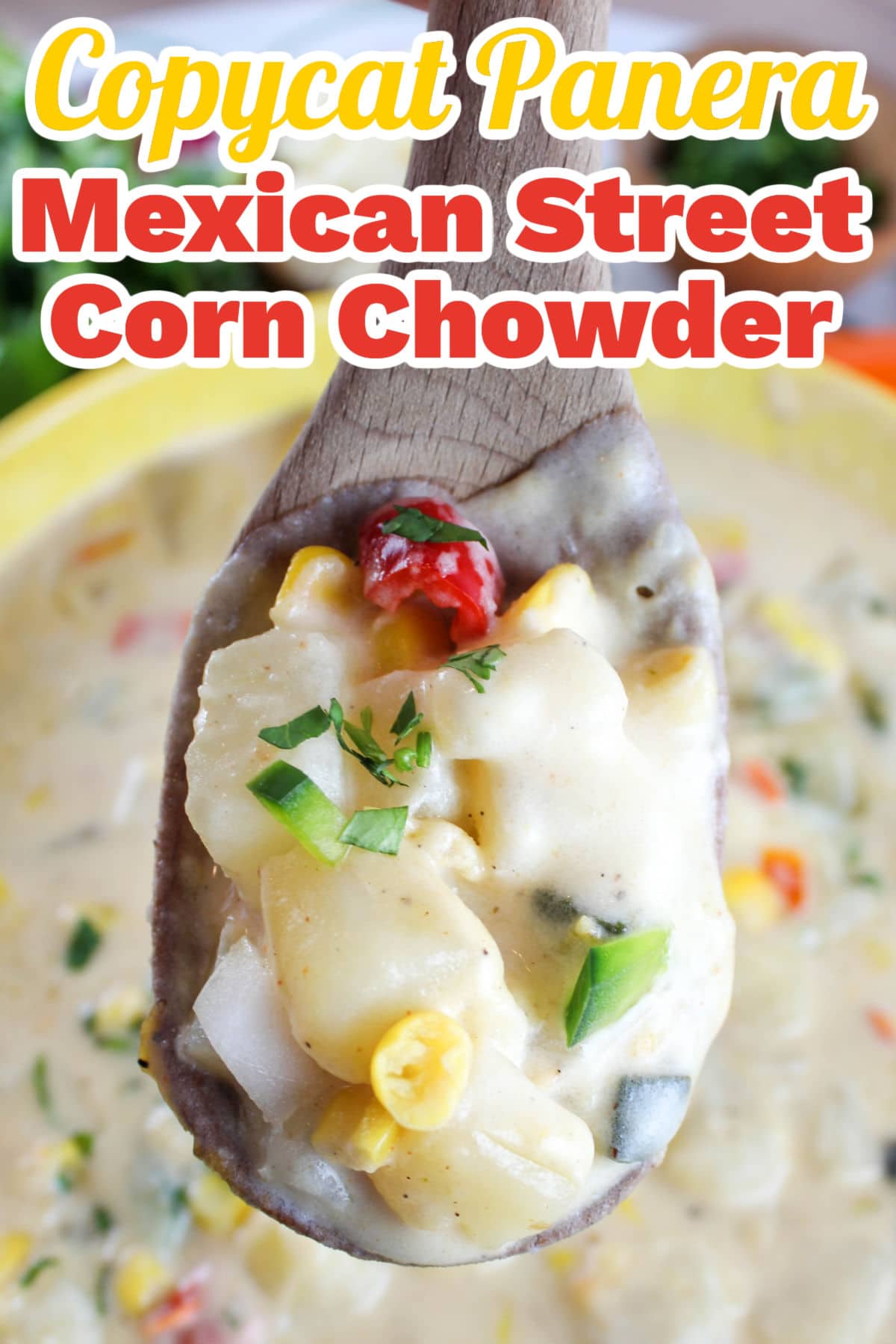 Learn how to make a knockoff of the new (and very yummy) Street Corn Chowder from the summer Panera Bread menu.
Jump to Recipe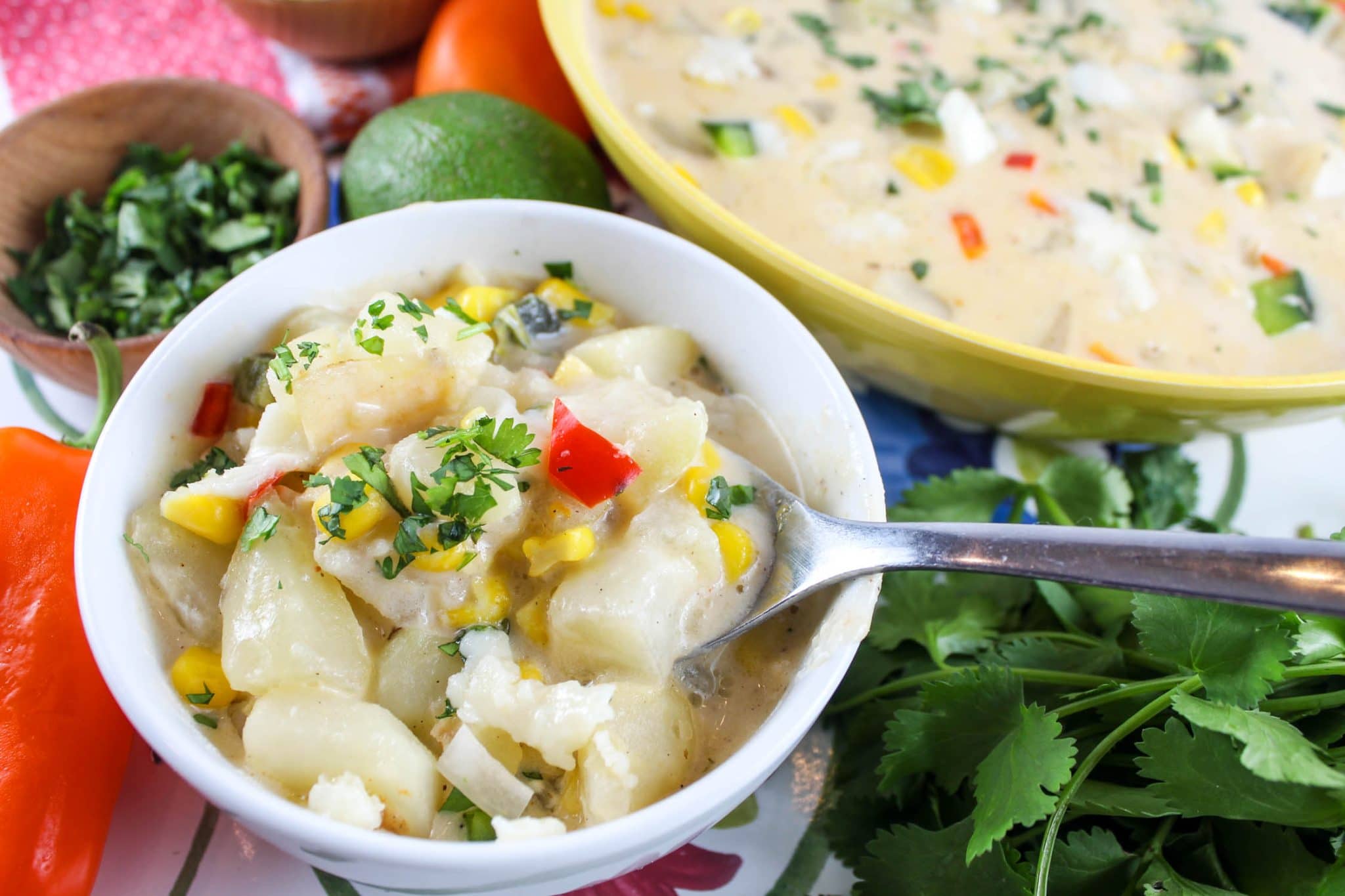 Panera Bread's Street Corn Chowder has a slightly sweet flavor. This hearty soup is filled with sweet corn, poblano peppers, russet potatoes, chili powder, lime juice and cilantro in a creamy broth.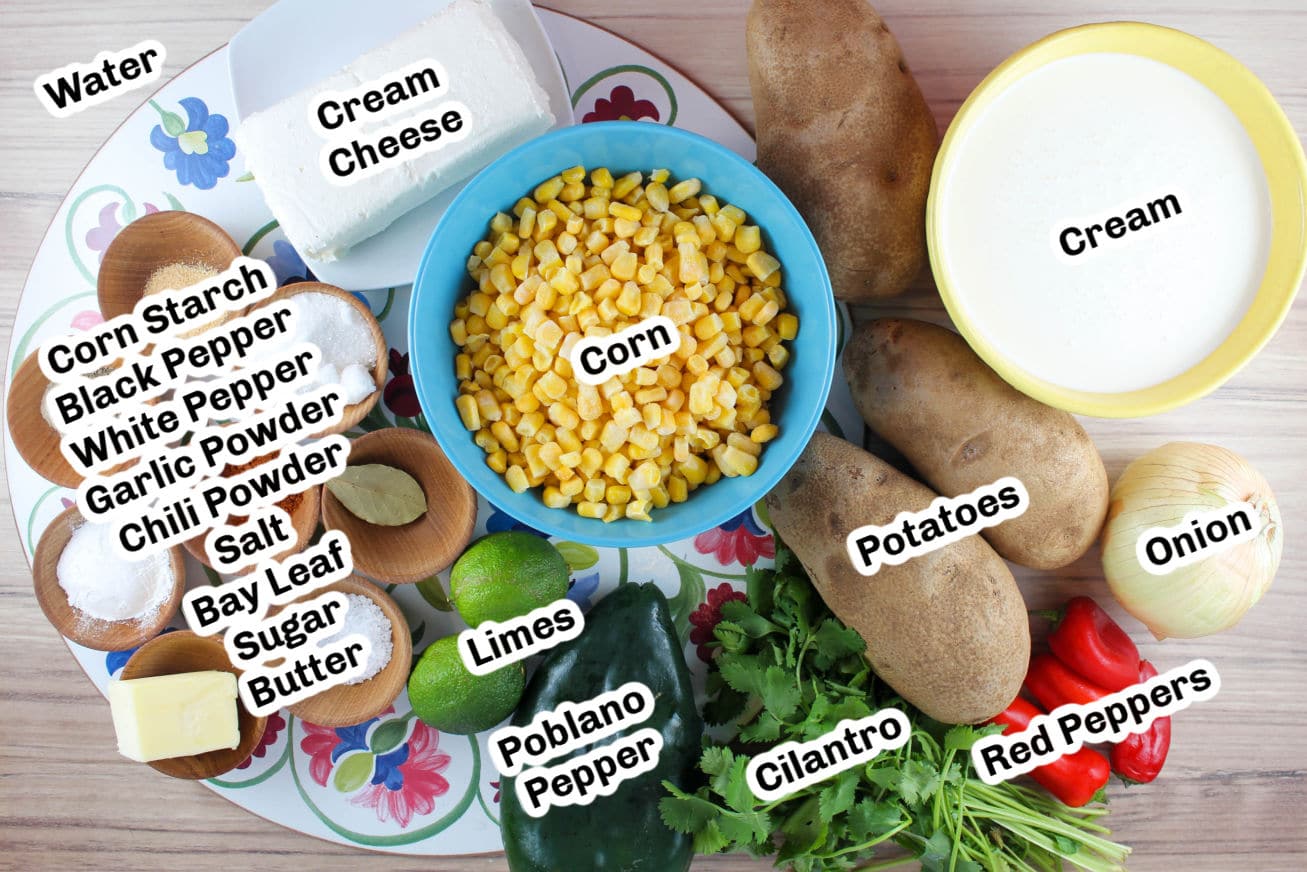 What is in Panera's Mexican Street Corn Chowder?
Mexican Street Corn is delicious and packed full of yummy ingredients that combines Street Corn with their already well-know corn chowder. Here's what you'll need:
Dairy & Liquid:

butter – used to saute the veggies with – you can use salted or unsalted butter
whipping cream (or heavy cream) – you could swap out milk and eliminate the water (so 4.5 cups 2% or whole milk)
cream cheese
water

Vegetables & Fruit

whole kernel corn

fresh corn is always best – you can even grill it for a few minutes before you cut off the cobs if you're really feeling ambitious
otherwise frozen corn kernels work fine

small sweet yellow onion
red bell pepper – I used the mini sweet peppers and they worked great!
poblano pepper – these are large, mild flavored and slightly spicy dark green peppers
russet potatoes
lime – I love using fresh lime juice as it has more flavor than the bottled lime juice and it's a great garnish for this soup

Seasonings

corn starch – this helps thick the chowder quickly
black pepper, ground white pepper, garlic powder, chile powder, salt, Bay leaf, sugar
cilantro

OPTIONAL: Blue corn tortilla strips for the topping (I ran out!! argh!)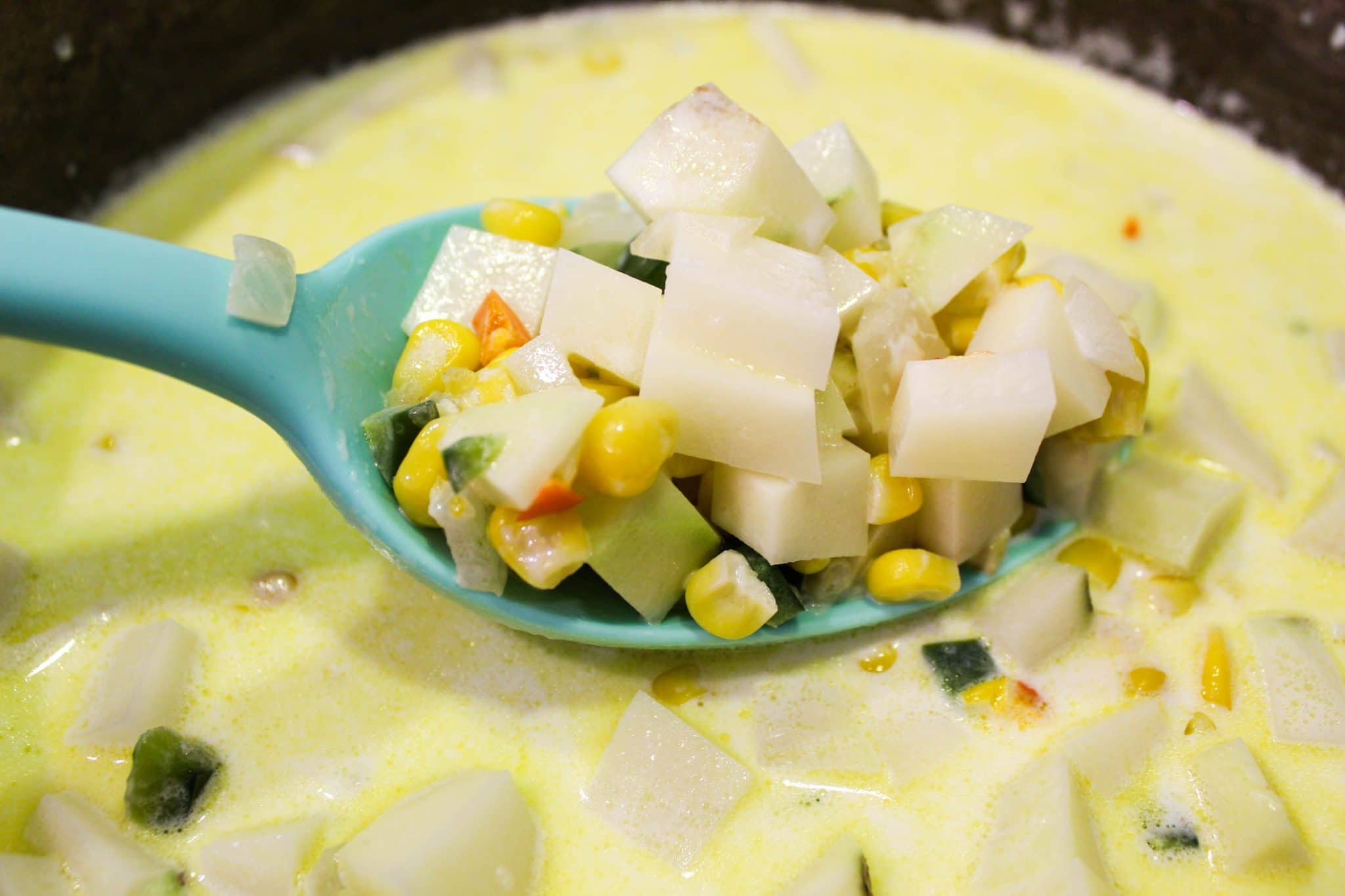 How do you make corn chowder?
This soup is so comforting and delicious and – best of all – it's EASY to make!!! I made this big batch and then froze the leftovers!
Melt butter in a Dutch oven or a large pot.
Dice peppers and onion. Add corn, onion, bell pepper and poblano pepper to butter and cook over medium heat until softened.
Sprinkle corn starch over veggie mixture. Stir and cook for 1 minute.
Gradually stir in cream and water. Add black pepper, white pepper, garlic powder, chili powder, salt, bay leaf, sugar and potatoes and bring to a simmer or low boil.
Simmer on low heat for 15-20 minutes or until potatoes are soft.
Turn heat to low and stir in lime juice and cream cheese until cheese is melted.
Serve with tortilla strips and cilantro.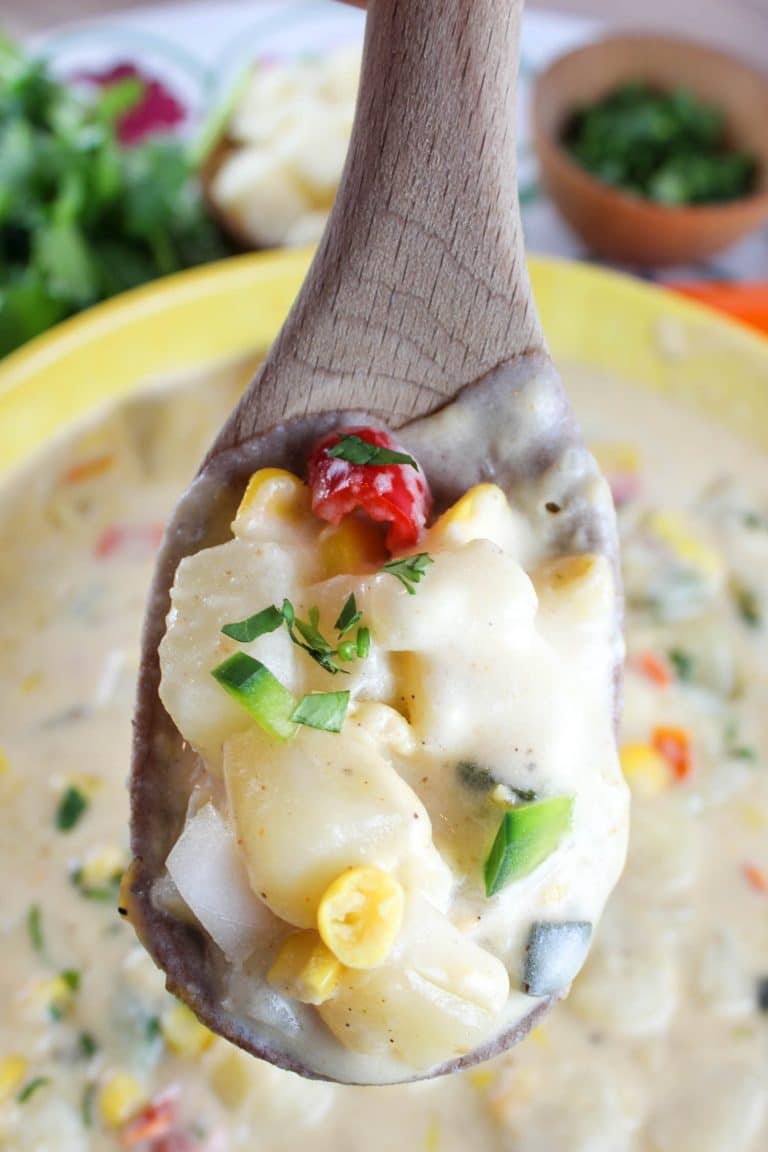 Tips & Tricks
Is the corn chowder at Panera good?
Heck yeah!! They typically have a Summer Corn Chowder but this year they came out with this Mexican Street Corn Chowder and added peppers and seasonings. It's very tasty!
Is the Mexican Street Corn Chowder vegetarian?
Yes it is – there's no broth so no worries there. It is not vegan however.
What is Mexican elote made of?
Traditional elote is corn on the cob topped with mayonnaise, crumbled cheese, cilantro and spices.
Why is it called Mexican street corn?
Elote is the other name and that literally means "corn cob". Corn on the cob is a popular street food in Mexico. It's colorful and flavorful, topped with crumbled cheese, mayonnaise, and spicy crunchies.
How should I store the leftovers?
This recipe makes enough for 6-8. That said – you might have leftovers! Store in airtight glass containers and refrigerate up to a week – or freeze up to three months. Reheat in the microwave for 2-3 minutes.
Can you freeze leftover corn chowder?
Yes – I tested it! The texture is a little different than the first time you make it – but the taste is just as delicious!
Modifications for this Corn Chowder Soup
Gluten free? This recipe is gluten free (check your cornstarch – it's the only ingredient that could potentially have gluten – but most don't).
Vegan or dairy free? Use full fat coconut milk, vegan butter, or margarine.
Meat? Add bacon, shredded chicken, ground sausage or shrimp.
Thicker? Puree half the soup in a blender and add back in.
More Toppings? Diced avocado and tomato, tortilla strips, cotija cheese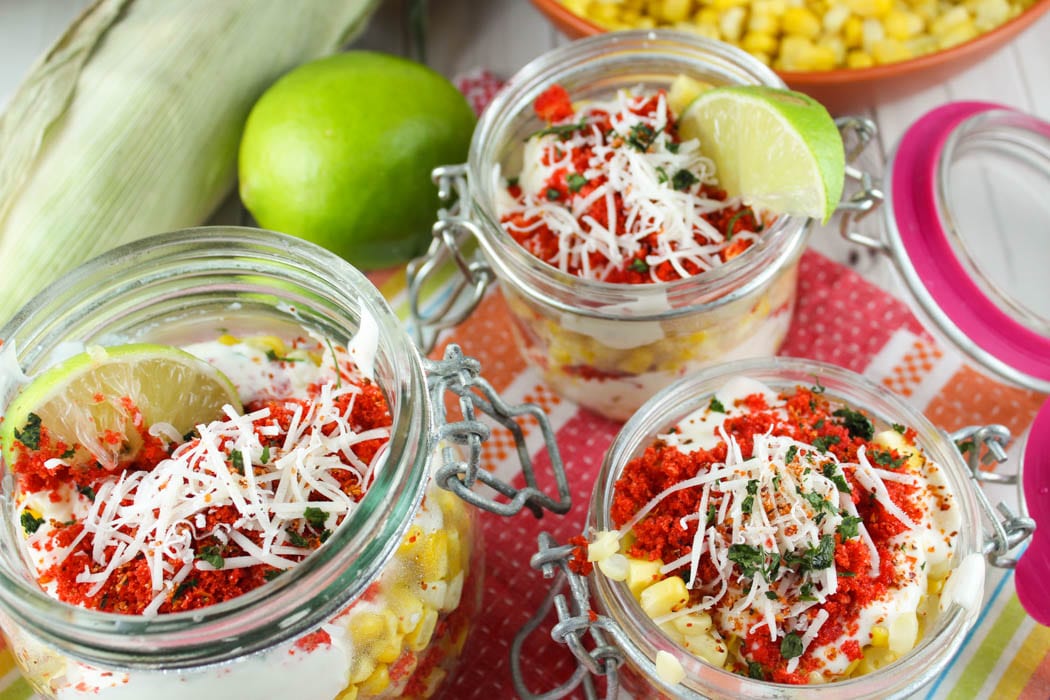 More Street Corn Recipes
More Panera Copycat Recipes
More Copycat Soup Recipes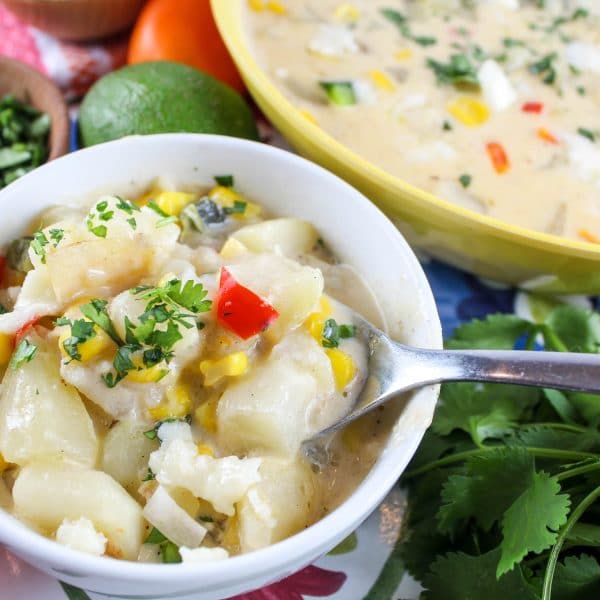 Copycat Panera Mexican Street Corn Chowder
Learn how to make a knockoff of the new (and very yummy) Street Corn Chowder from the summer Panera Bread menu.
Ingredients
3

tbsp

butter

2

cups

whole kernel corn

1

small

sweet onion

diced

1

red bell pepper

diced

1

poblano pepper

diced

1

tbsp

cornstarch

2.5

cups

whipping cream

2

cups

water

1/2

tsp

black pepper

1/4

tsp

ground white pepper

1/2

tsp

garlic powder

1/2

tsp

chili powder

1

tbsp

salt

1

bay leaf

2

tbsp

sugar

3

medium

russet potatoes

peeled & diced

8

oz

cream cheese

diced

1

lime

juiced

1/4

cup

fresh cilantro

chopped
Instructions
Melt butter in a Dutch oven or a large pot.

Dice peppers and onion. Add corn, onion, bell pepper and poblano pepper to butter and cook over medium heat until softened.

2 cups whole kernel corn,

1 small sweet onion,

1 red bell pepper,

1 poblano pepper

Sprinkle corn starch over veggie mixture. Stir and cook for 1 minute.

Gradually stir in cream and water. Add black pepper, white pepper, garlic powder, chili powder, salt, bay leaf, sugar and potatoes and bring to a simmer or low boil.

2.5 cups whipping cream,

2 cups water,

1/2 tsp black pepper,

1/4 tsp ground white pepper,

1/2 tsp garlic powder,

1/2 tsp chili powder,

1 tbsp salt,

1 bay leaf,

3 medium russet potatoes,

2 tbsp sugar

Simmer on low heat for 15-20 minutes or until potatoes are soft.

Turn heat to low and stir in lime juice and cream cheese until cheese is melted.

8 oz cream cheese,

1 lime

Serve with tortilla strips and cilantro.

1/4 cup fresh cilantro,

tortilla strips
Nutrition
Serving:
1.5
cup
Calories:
395
kcal
Carbohydrates:
31.9
g
Protein:
6.5
g
Fat:
28.7
g
Saturated Fat:
17.7
g
Cholesterol:
94
mg
Sodium:
1016
mg
Potassium:
587
mg
Fiber:
3
g
Sugar:
6.7
g
Calcium:
72
mg
Iron:
2
mg