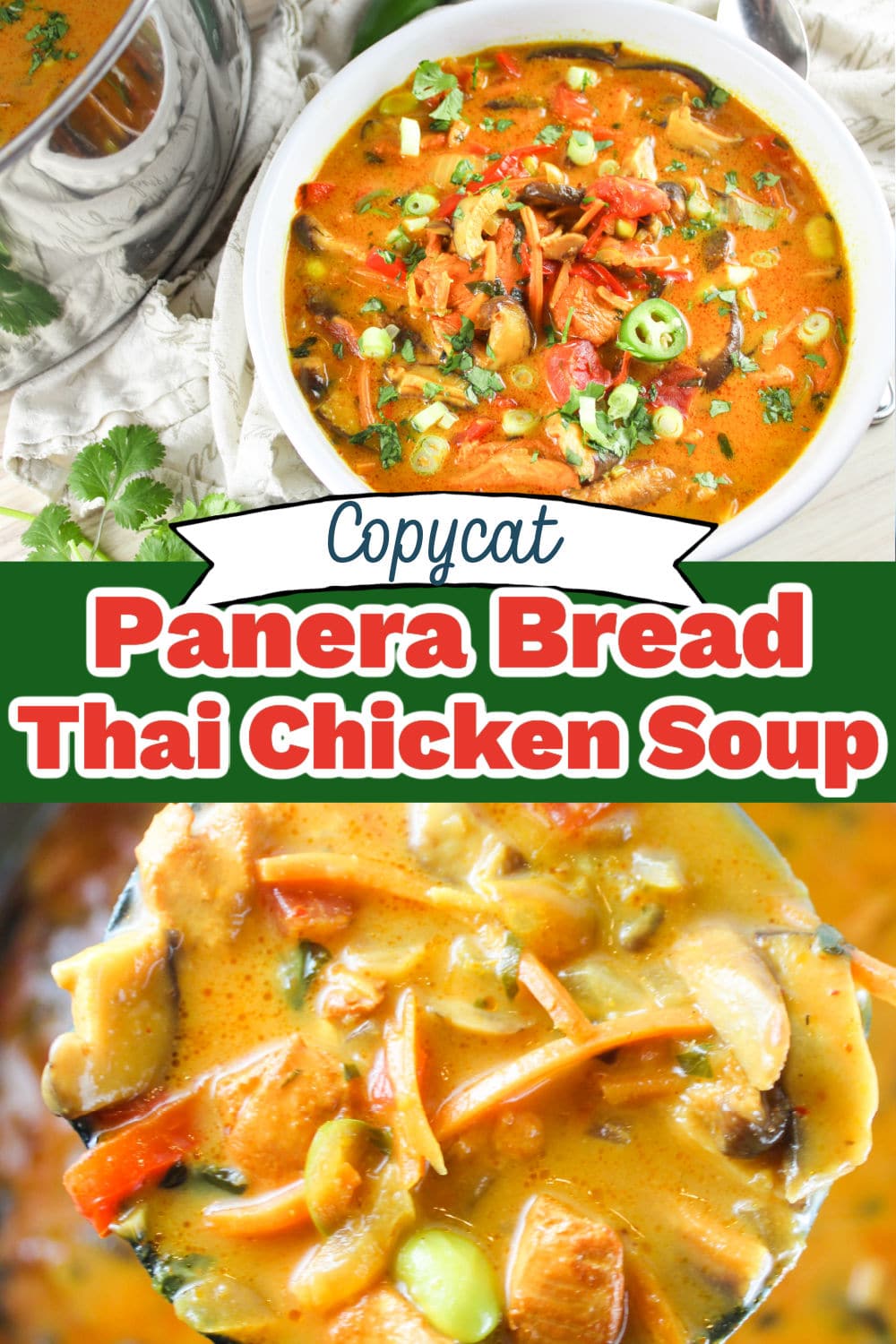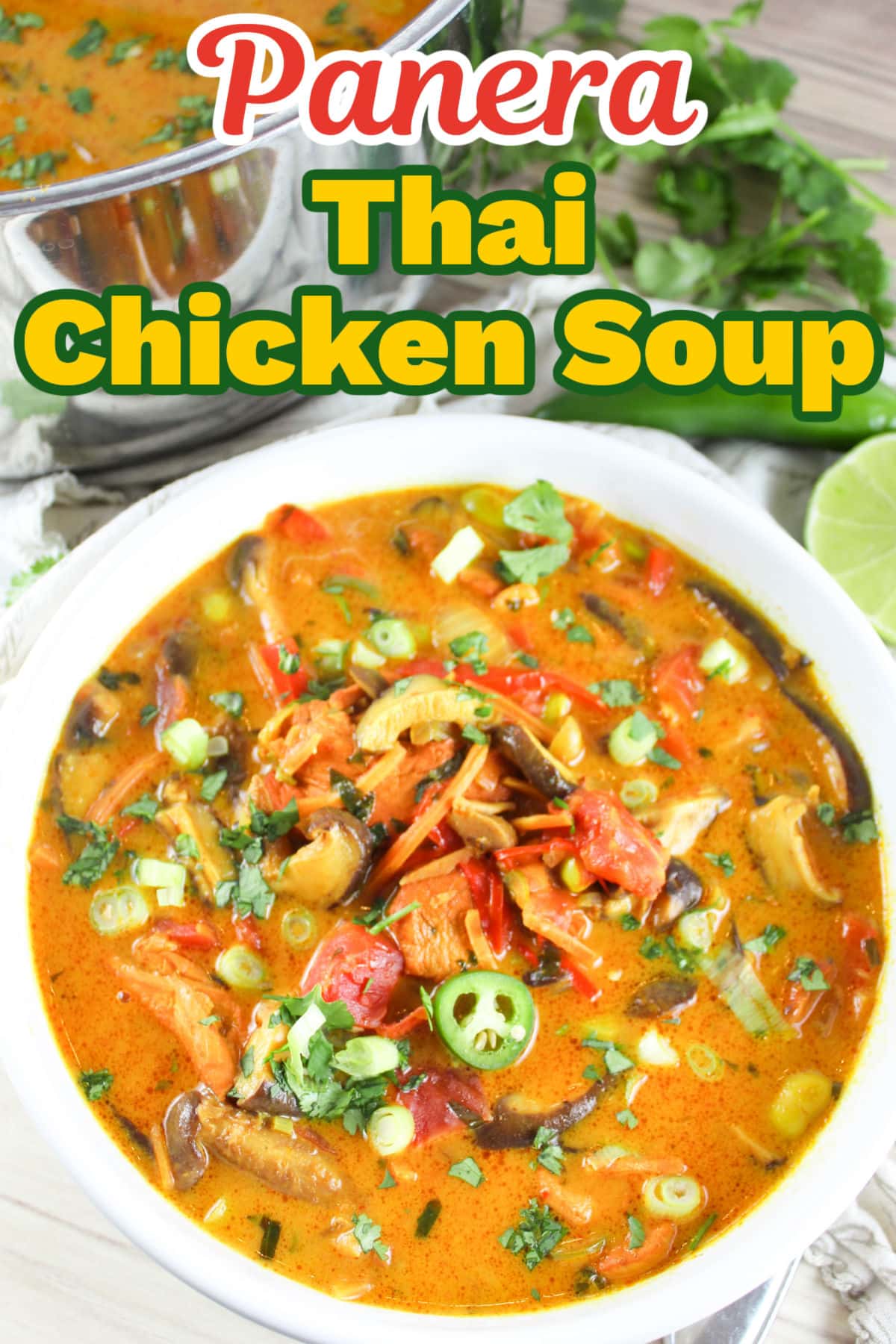 This Panera Bread Thai Chicken Soup copycat recipe is the perfect soup for the cold weather! It's a delicious mix of flavors full of chicken, carrots, shiitake mushrooms, red bell peppers and edamame simmered in a rich, Thai yellow curry spicy-sweet coconut broth. Plus – it's a little spicy – so it clears the sinuses too!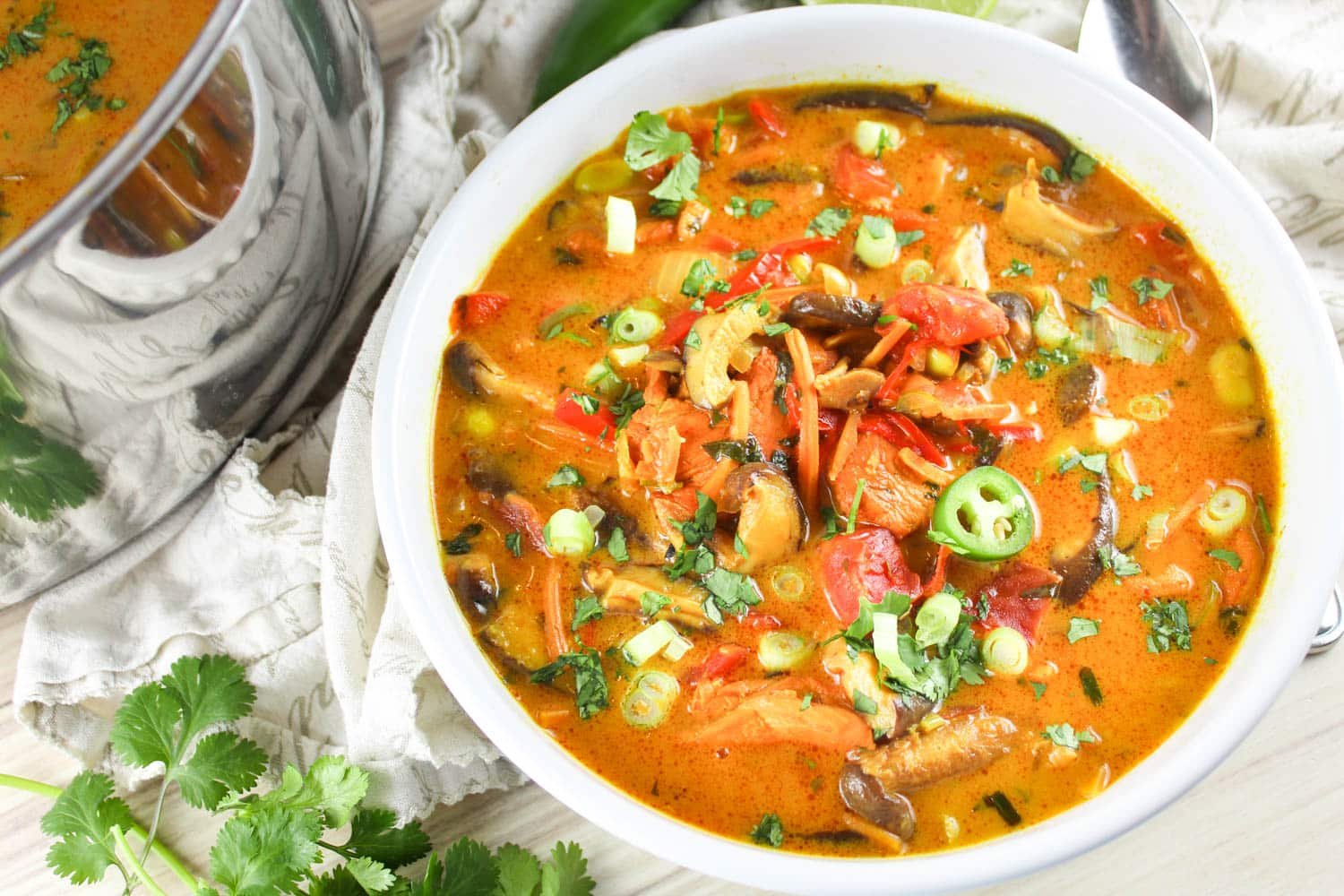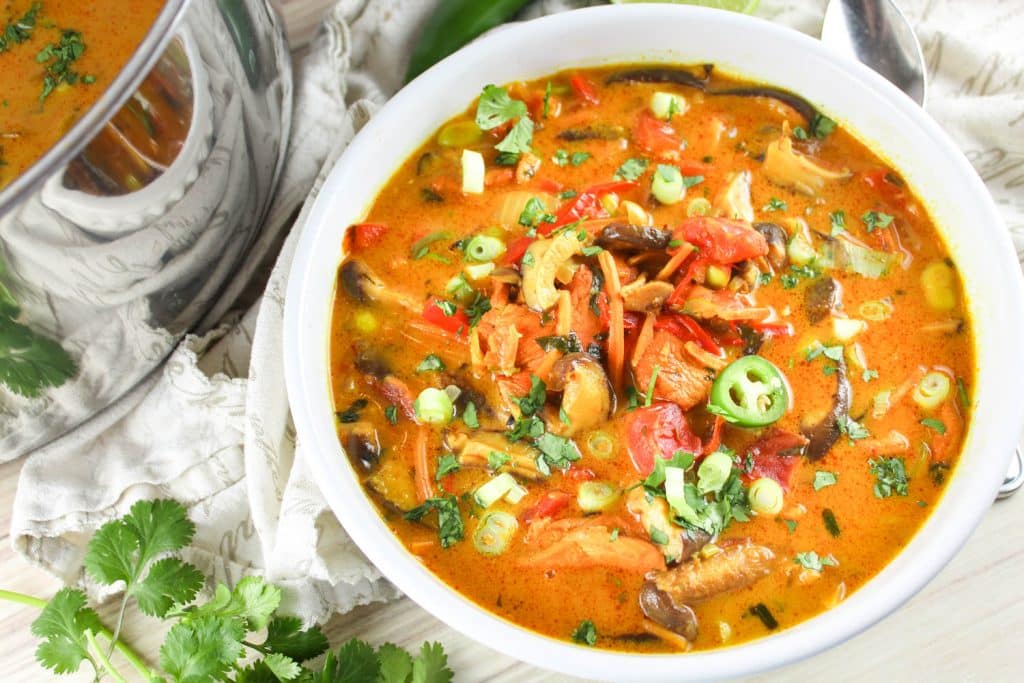 What You Will ❤️ About Thai Chicken Soup
So Much Flavor!! The can of Thai Yellow Curry is a game changer – that tiny can is packed with so many Thai style flavors and spices – not to mention the aroma when you open the can – oh my my!
Devoured! I literally ate 3 cups of this soup the day I made it and had 2 more cups the next day for breakfast! Normally I freeze some leftovers so I don't get burned out – but not this time!
Mushroom-Lovers Dream! This is loaded up with Shitake mushrooms and I loved every bite! There's also peppers, onions, carrots and even tender white meat chicken!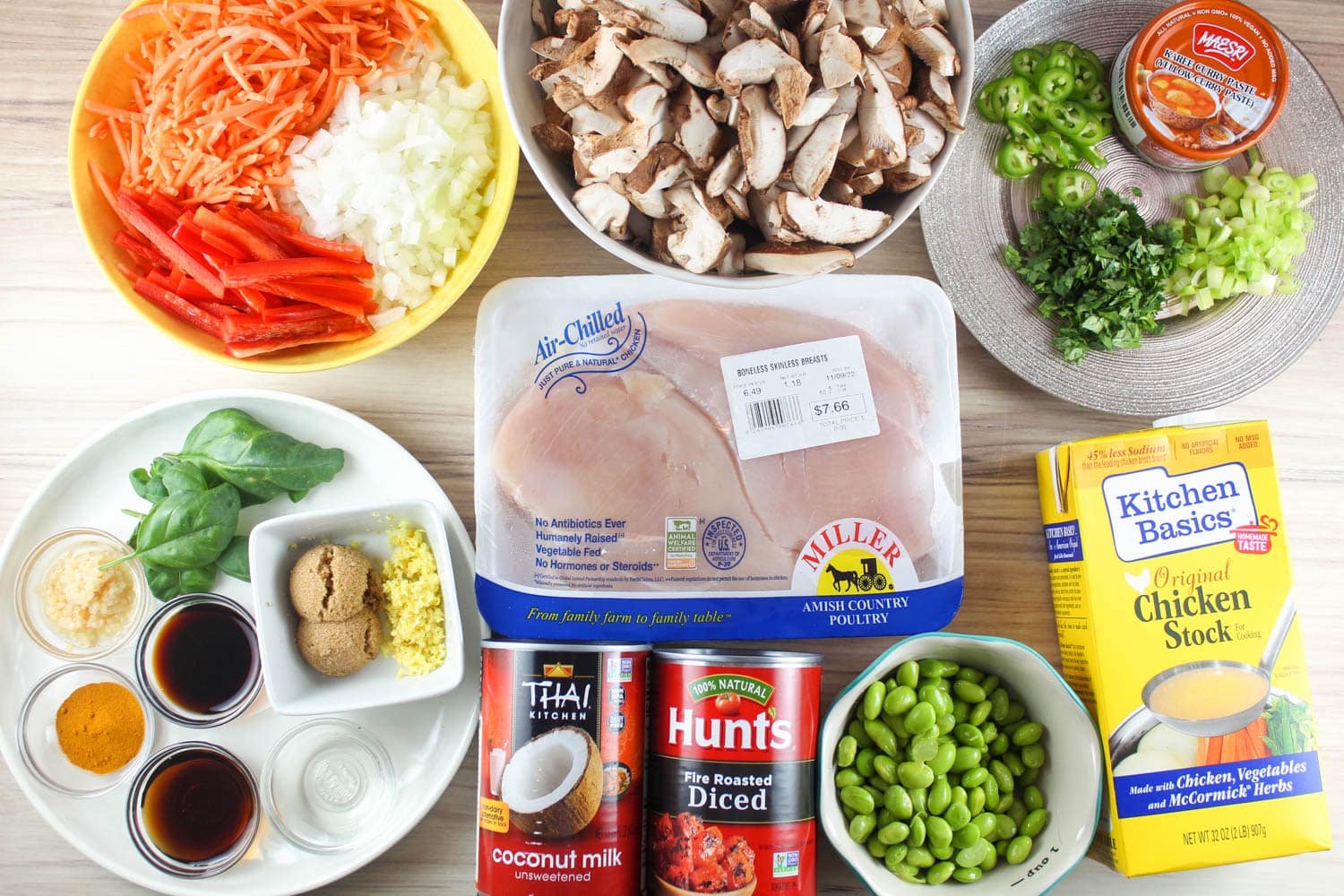 Panera Thai Chicken Soup Ingredients
Ok – I'll be frank – this is a HUGE list of ingredients (sort of the way it goes with an Asian-style soup). It is a bit overwhelming! But – IT'S WORTH IT!!! I'm providing alternatives for as much as I can – and if you're missing something or you can't find it – skip it. Except for the Thai Yellow Curry – don't you dare skip that!!!
Chicken Breast
Veggies: Yellow onion, Shitake Mushrooms, Shredded Carrots, Red Bell Peppers, Canned Diced Tomatoes, Shelled Edamame, Scallions, Jalapeno

Substitution Options:

Mushrooms – use any type of fresh mushrooms although I would recommend a Gourmet Blend if you can't find Shitake rather than just "button mushrooms".
Edamame – I bought a bag of frozen and then steamed in the microwave and shelled the beans. That took more time than anything else! 😉
Jalapeno Pepper – My Kroger was out so I used Serrano instead

Liquids: Chicken Stock, Unsweetened Coconut Milk, Lime Juice

Coconut Milk – be sure to get Unsweetened and be aware – if you're new to coconut milk – it will have a solid layer on top – scrape it all in – it will melt
Lime Juice – be sure to use a fresh lime for this – the juice has so much more flavor

Seasonings: Thai Yellow Curry Paste, Garlic, Turmeric, Ginger, Salt

Yellow Curry Paste – the red & green are easy to find in store but the yellow is a bit tougher. Whole Foods has one but I found this can on Amazon.
Ginger Puree – Panera used a ginger puree – I grated ginger on a zester instead

Herbs: Fresh Basil, Fresh Cilantro, Fresh Lemongrass

I have an Aerogarden so I have fresh basil all the time!!! I really recommend it – they have a great selection and you can't kill them! They grow with just water and it tells you when to fill the water and add plant food! It's the best money I've spent!
Lemongrass – Kroger in BFE Ohio didn't have lemongrass – shocker. You can swap out lemon, lime zest or Kaffir lime leaves.

Other: Olive Oil, Fish Sauce, Tamari, Rice Wine Vinegar, Brown Sugar, Corn Starch

Fish Sauce – you can swap with Oyster Sauce, Tamari, Soy Sauce or Worcestershire – it's a little fishier – so I'd go with Oyster if I didn't have Fish Sauce (I have it all – haha)
Tamari – it's a little less salty and thicker than soy sauce but it's very similar – so you can swap that (I did)
Rice Wine Vinegar – you can sub with white wine vinegar or apple cider vinegar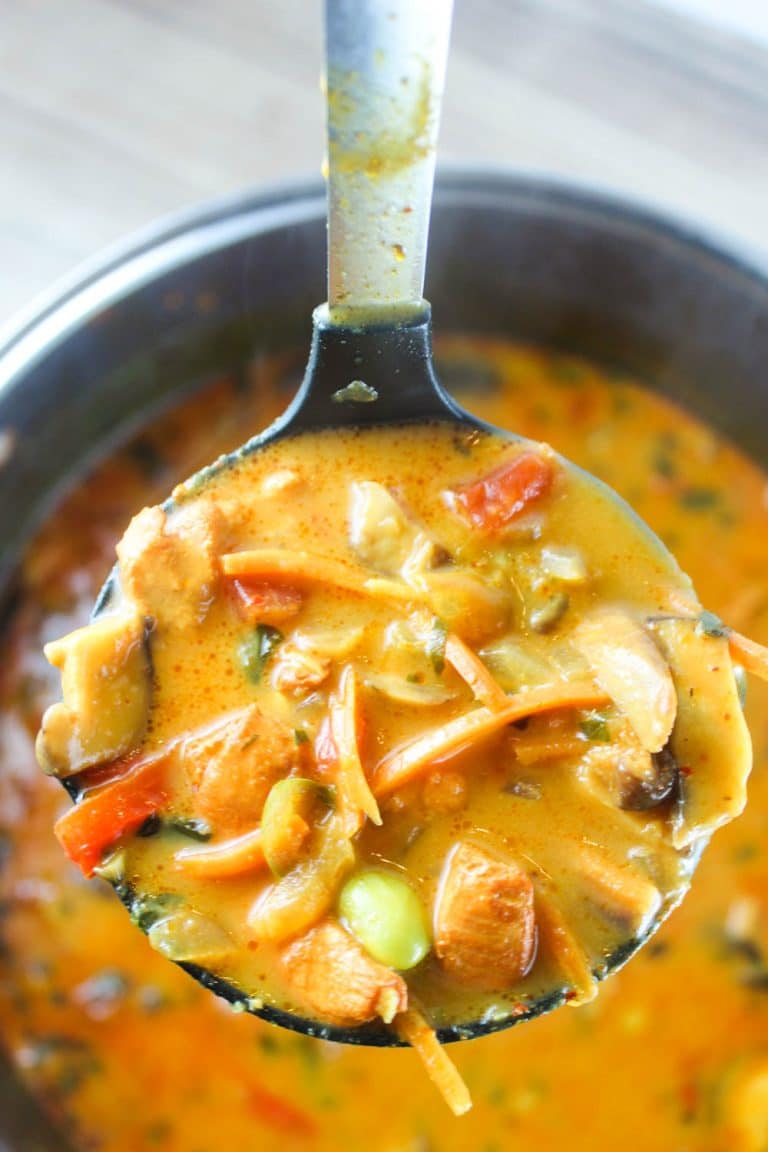 How to Make Panera's Thai Chicken Soup
Luckily that giant list of ingredients is where the heavy lifting is. This hearty chicken soup is super easy to make so it even works on a busy day!
Over medium heat on a stove top, in a large stock pot or dutch oven, add the olive oil. When the oil is hot, add the chicken, onion and garlic and cook for 5 minutes until the chicken is cooked through and the onions are softened.
Add the mushrooms, carrots, red pepper, turmeric and Thai Yellow Curry. Stir until the chicken and vegetables are coated in curry paste.
Add the chicken stock, canned tomatoes and edamame. Cover with lid and bring to a slow simmer.
In a small bowl, whisk together fish sauce, Tamari, rice vinegar, ginger and brown sugar and stir until the sugar is completely dissolved.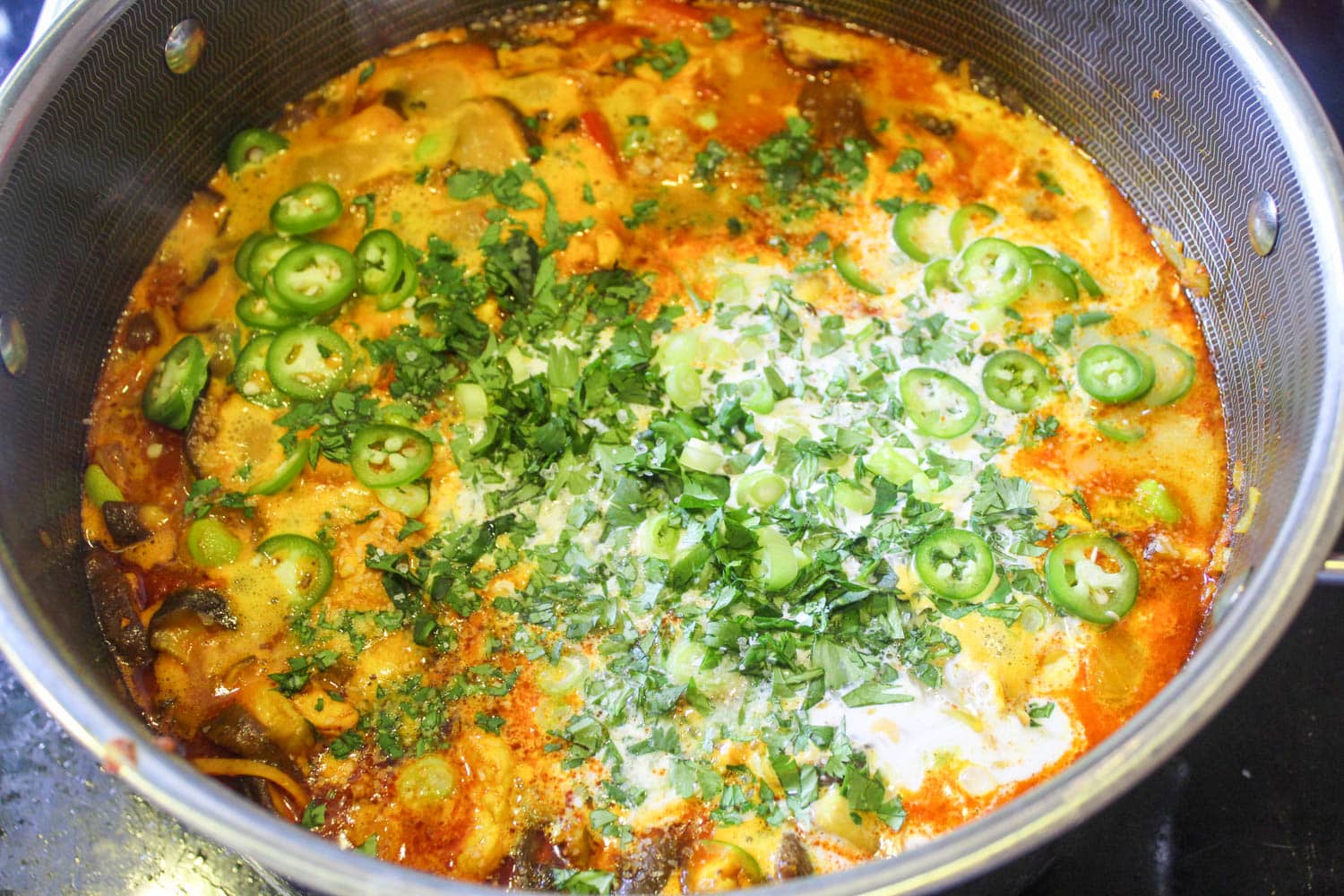 Once the soup is slowly simmering, add the fish sauce mixture, coconut milk, lime juice, basil, scallion, cilantro, lemongrass, jalapeño and salt.
In a small bowl, whisk together corn starch and water and pour into soup. Stir to combine. Simmer for 15 minutes.
Serve with fresh cilantro and slices of jalapeno
This post contains affiliate links which I make a little money on purchases. Thanks in advance! I am an Amazon associate as well as a member of other affiliate programs.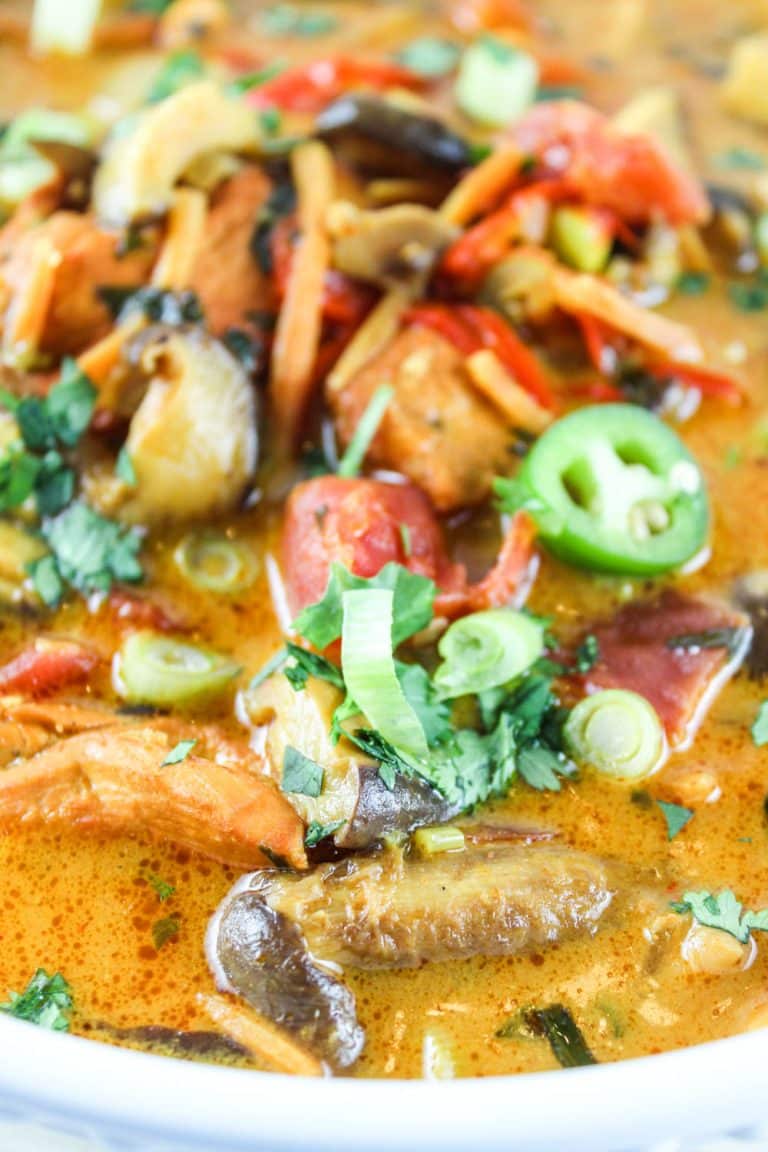 Tips, Tricks & FAQs
What does the Thai Chicken Soup taste like at Panera?
Wow – that's a loaded question! Because of the yellow curry paste and turmeric – it has a strong curry flavor – but then with all the other seasonings and vegetables – it's so much more! My new favorite for sure!
How many calories are in Panera's Thai chicken soup?
There are 160 calories in a cup of Panera's version. My version has 259 calories per cup.
Is this Thai Chicken Soup Gluten-Free?
You'll have to check the sauces and be sure to use gluten-free varieties in this copycat of Panera Bread Thai Style Chicken Soup.
Is there dairy in the Thai Chicken Soup at Panera?
Yes! This is a delicious dairy free chicken soup recipe!
Is the soup in-restaurant the same as the in-home grocery store version?
No – not exactly. Sone of the ingredients are different but they're very similar. This recipe is the best version though – I promise!
How do you store and reheat leftover Thai Style Chicken Soup?
Pour soup into airtight containers (I like these glass ones) and store in the refrigerator for up to a week – or freeze up to three months. Reheat in the microwave for 2-3 minutes or on the stove top in a sauce pan on high 3-4 minutes until simmering.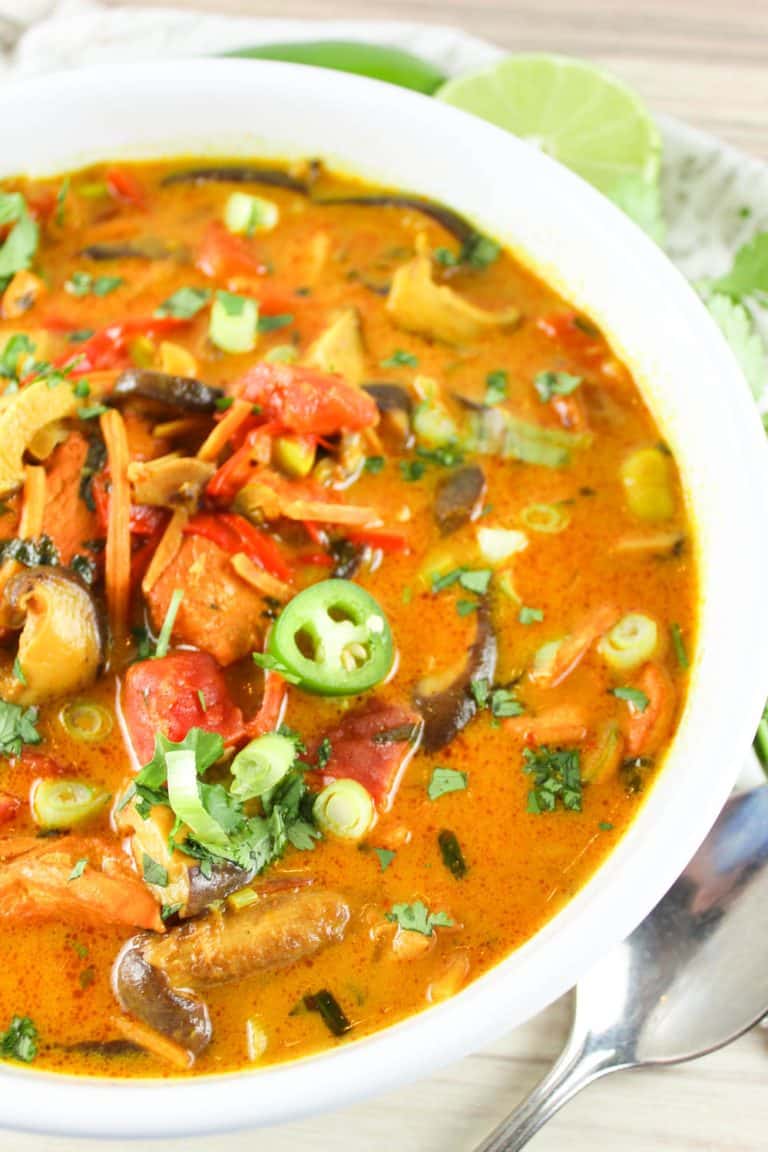 Recipe Variations
There's nothing like a warm cup of soup on a cold day and this Thai chicken soup is a great choice! That said – you can make some tweaks if you'd like!
Noodles – after eating this soup my first thought was – I want to add ramen! And I did with the leftovers! I heated up the ramen and the soup separately then added the noodle to the soup.
Vegetables – you could definitely swap out some of the vegetables – orange bell pepper for red, add green beans and decrease the mushrooms – do what you like!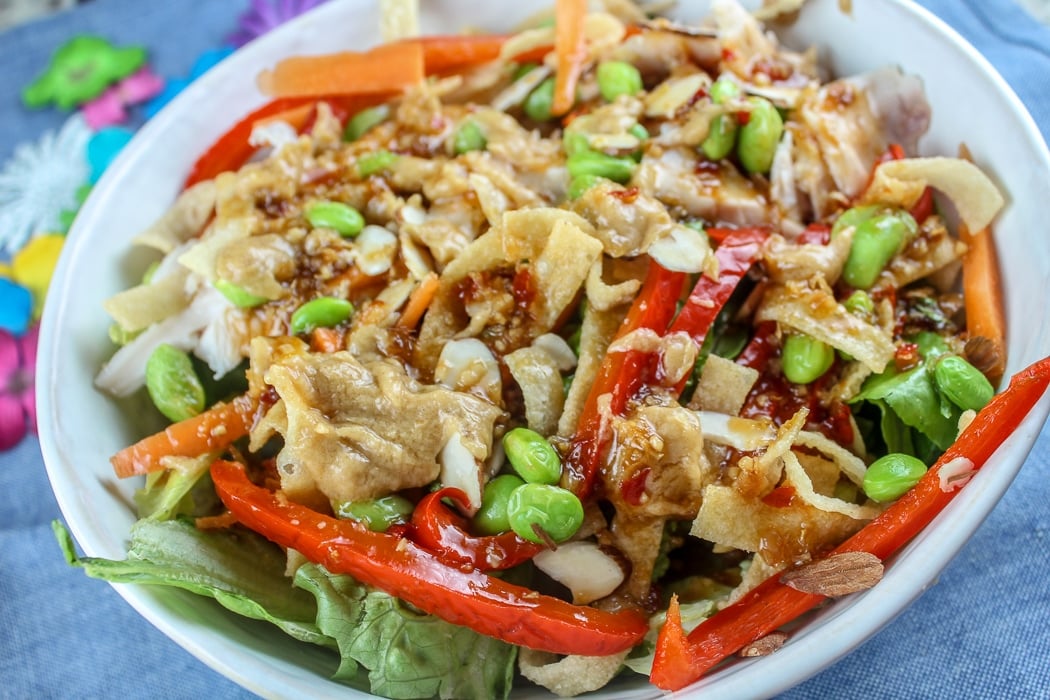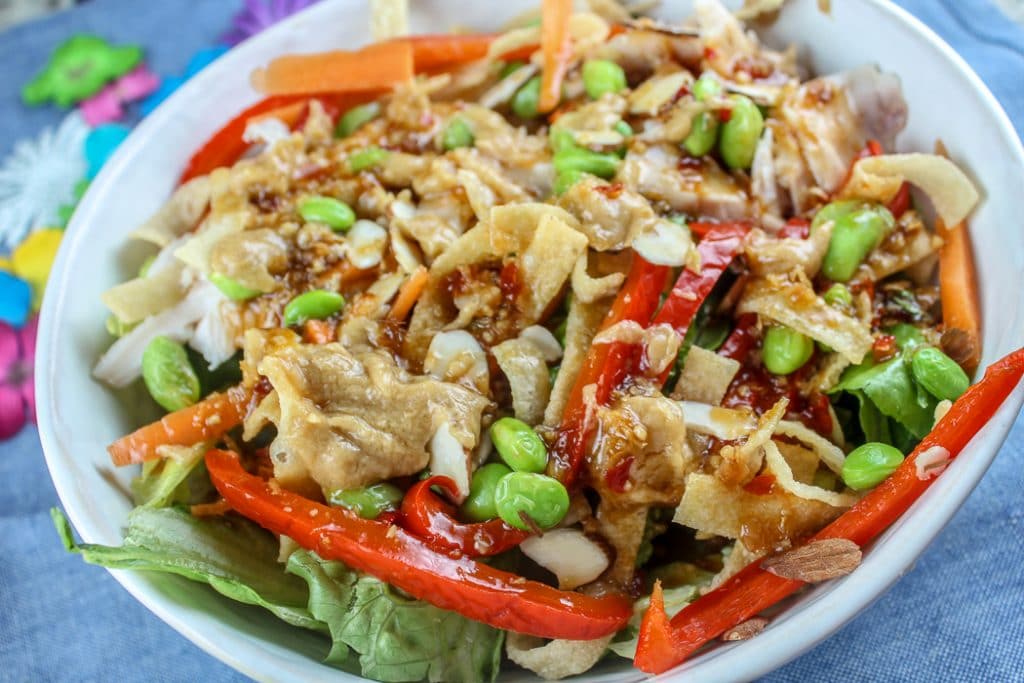 More Panera Bread Copycat Recipes
More Copycat Soup Recipes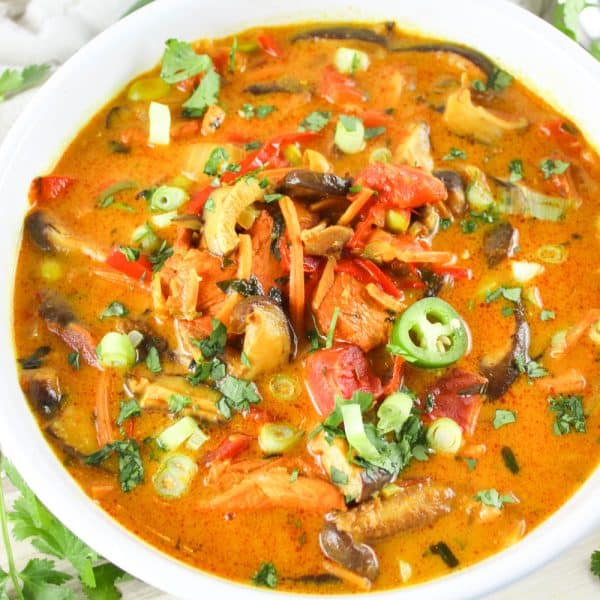 Panera Thai Chicken Soup
This Panera Bread Thai Chicken Soup copycat recipe is the perfect soup for the cold weather! It's a delicious mix of flavors full of chicken, carrots, shiitake mushrooms, red bell peppers and edamame simmered in a rich, Thai yellow curry spicy-sweet coconut broth. Plus – it's a little spicy – so it clears the sinuses too!
Ingredients
2

tbsp

olive oil

1

lb

boneless skinless chicken breast

thinly sliced bite-sized pieces

1/2

yellow onion

diced

1

tbsp

minced garlic

12

oz

fresh shitake mushrooms

chopped

1.5

cups

shredded carrots

1

large

red bell pepper

thinly sliced

1

tsp

Turmeric

24

oz

chicken stock

or broth

14

oz

diced tomatoes

drained

12

oz

edamame

bag of frozen pods, shelled

1

tbsp

fish sauce

2

tsp

Tamari

or soy sauce

1

tsp

rice wine vinegar

1

tbsp

ginger

grated

2

tbsp

brown sugar

28

oz

unsweetened coconut milk

2 – 14 oz cans

1

tbsp

lime juice

2

tbsp

basil

fresh, finely chopped

2

tbsp

scallions

finely diced

2

tbsp

cilantro

fresh, finely chopped

1

tbsp

lemongrass

finely diced

1

jalapeno pepper

thinly sliced

2

tsp

salt

1

tbsp

corn starch

2

tbsp

chicken broth

or water
Instructions
Over medium heat on a stove top, in a large stock pot or dutch oven, add the olive oil. When the oil is hot, add the chicken, onion and garlic and cook for 5 minutes until the chicken is cooked through and the onions are softened.

2 tbsp olive oil,

1 lb boneless skinless chicken breast,

1/2 yellow onion,

1 tbsp minced garlic

Add the mushrooms, carrots, red pepper, turmeric and Thai Yellow Curry. Stir until the chicken and vegetables are coated in curry paste.

12 oz fresh shitake mushrooms,

1.5 cups shredded carrots,

1 large red bell pepper,

1 tsp Turmeric,

4 oz Thai Yellow Curry Paste

Add the chicken stock, canned tomatoes and edamame and bring to a slow simmer.

24 oz chicken stock,

14 oz diced tomatoes,

12 oz edamame

In a small bowl, whisk together fish sauce, Tamari, rice vinegar, ginger and brown sugar and stir until the sugar is completely dissolved.

1 tbsp fish sauce,

2 tsp Tamari,

1 tsp rice wine vinegar,

1 tbsp ginger,

2 tbsp brown sugar

Once the soup is slowly simmering, add the fish sauce mixture, coconut milk, lime juice, basil, scallion, cilantro, lemongrass, jalapeño and salt.

28 oz unsweetened coconut milk,

1 tbsp lime juice,

2 tbsp basil,

2 tbsp scallions,

2 tbsp cilantro,

1 tbsp lemongrass,

1 jalapeno pepper,

2 tsp salt

In a small bowl, whisk together corn starch and water and pour into soup. Stir to combine. Simmer for 15 minutes.

1 tbsp corn starch,

2 tbsp chicken broth

Serve with fresh cilantro and slices of jalapeño
Notes
**We are not dietitians and recommend you seek a nutritionist for exact nutritional information. The information in the nutrition box are calculated through a program and there is room for error. If you need an accurate count, I recommend running the ingredients through your favorite nutrition calculator.**
Nutrition
Serving:
1
cup
Calories:
259
kcal
Carbohydrates:
16
g
Protein:
12
g
Fat:
17
g
Saturated Fat:
12
g
Polyunsaturated Fat:
1
g
Monounsaturated Fat:
3
g
Trans Fat:
0.003
g
Cholesterol:
21
mg
Sodium:
615
mg
Potassium:
613
mg
Fiber:
4
g
Sugar:
8
g
Vitamin A:
3749
IU
Vitamin C:
22
mg
Calcium:
60
mg
Iron:
3
mg