I headed over to Fox 19 yesterday morning to share my recipe for Pizza Bagels – and had no idea how taken I would be by this recipe! And – if you didn't know – February 9 is National Pizza Day and National Bagel Day – so why not celebrate it with Pizza Bagels!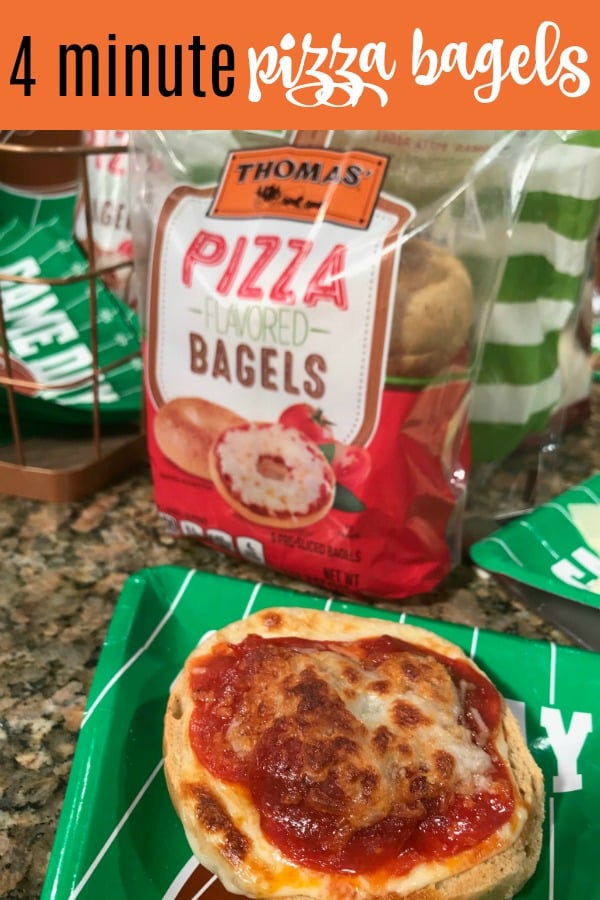 Thomas' has brought back their Limited Edition Pizza-flavored bagels and I found them at Kroger over the weekend. (
Store Locator here
) Thomas' is also celebrating by adding a Bagel-moji Keyboard (download it at the
app store
).
Here are some fun Bagel facts from Thomas' for you:
o The top bagel varieties in Cincinnati are Plain, Blueberry and Everything
o In 2017, more than 245 million bagels were sold.
o The 10 most popular bagel toppings nationwide are cream cheese, butter, flavored cream cheese, cheese, jelly/jam, eggs, deli meat, margarine, peanut butter or other nut butter, and bacon.
o The average person eats more than 11 bagels per year.
What I loved the most was just how easy and quick this is to make – 2 minutes to prep and 2 minutes in the oven and you're done. If you're looking for an easy, weeknight meal – this is it. And make a topping bar so the kids can all make their own favorites.
We used the normal pizza toppings but you can also have a little fun with it – I topped one bagel with buffalo chicken dip and mozzarella – it was delicious!!!
Enjoy!
4-Minute Pizza Bagels
1 Thomas' ® Limited Edition Pizza Bagel
2 tablespoons pizza sauce
4 tablespoons Mozzarella cheese, shredded pepperoni, sausage, mushrooms, peppers, olives, buffalo chicken dip – whatever toppings you like!
Instructions:
Turn oven on to Broil setting – low if you have it
Separate bagel
Top with one slice mozzarella
Add toppings
Add shredded mozzarella on top
Broil for 2 minutes or until cheese is golden and bubbly