I love my air fryer – I literally use it daily for something! Whether its heating something up, cooking vegetables or making an entire meal – it's always going! The one thing I hadn't yet made was pizza!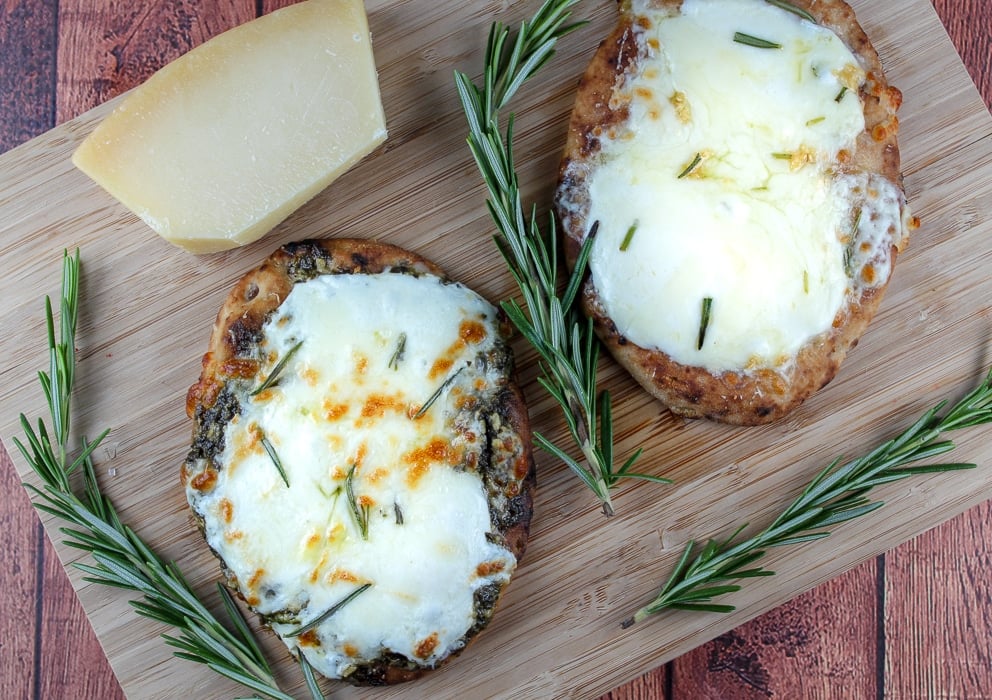 Which is silly – it was MADE for pizza! I have a smaller basket style – so I made individual pizzas and they were delicious! I have a feeling I'll be having them a couple more times this week even. 😉
Can you air fry pizza?
Of course! It really depends on the size of your air fryer as to what you can do with it. If you have a big enough one – you can definitely do a whole pizza. My air fryer is great for cooking for 1-2 so I made these air fryer flatbread pizzas with mini-naan bread but you could also use flatbread or even tortillas.
How to make air fryer pizza on naan bread
The best thing about making personal pizza in the air fryer is that everybody can have what they want! My favorite kind of pizza is a white pizza with just olive oil or pesto for a sauce. With this pizza – you just put your mini-naan in the air fryer, top with "sauce" (olive oil, pesto or pizza sauce), then add toppings. I used fresh mozzarella and a shredded mozzarella/provolone and a little bit of garlic and rosemary. That's it – pop it in the air fryer!
These air fryer personal pizzas cook so quickly – be sure to use pre-cooked toppings. If you're going to use sausage or peppers – make sure to saute them first. My white pizzas were done in 4 minutes!!
Easy Air Fryer Recipes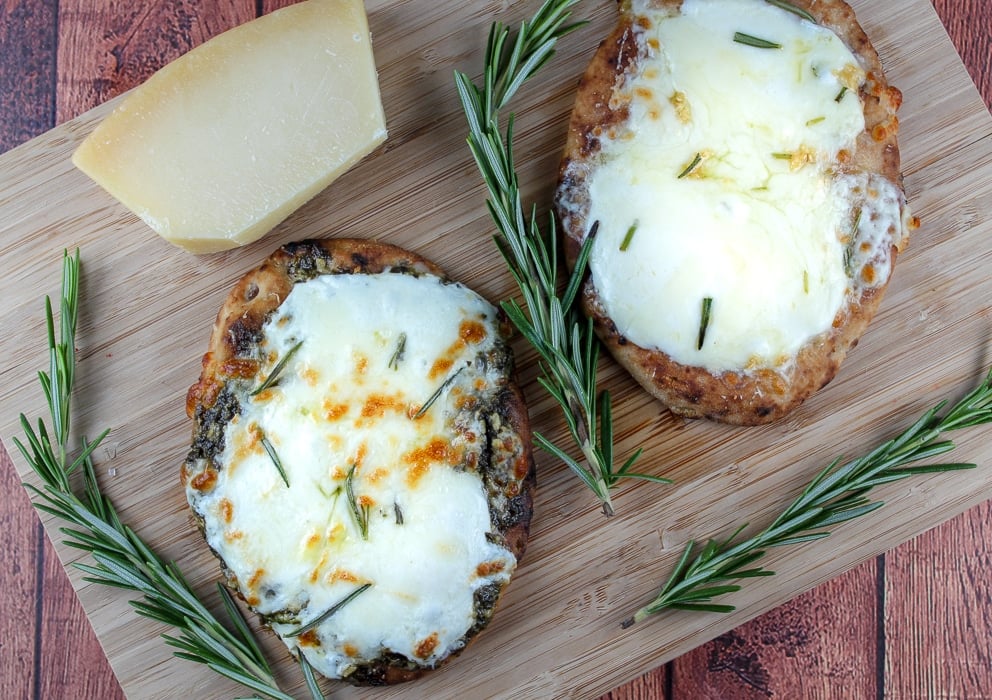 Air Fryer Naan White Pizza
prep time: 2 M
cook time: 4 M
total time: 6 M
I love my air fryer and have been making pizza in it for a while – but I decided to try out a white pizza (no tomato sauce) and it was just as delicious and ready in less than five minutes!! The best part about these mini-pizzas is that you can customize them however you like!
ingredients:
2 mini naan
2 Tbsp olive oil
4 Tbsp pesto (optional)
1/2 ball of fresh mozzarella, thinly sliced
1/3 cup shredded mozzarella & provolone mix
1/4 tsp minced garlic
1 sprig fresh rosemary
parmesan cheese
instructions:
How to cook Air Fryer Naan White Pizza
place mini naan in air fryer
top with olive oil or pesto (amounts listed are for 2 pizzas)
top with fresh mozzarella, shredded mozzarella/provolone, garlic and rosemary leaves torn off
air fry at 350 for 4-5 minutes
use spatula and remove pizza from air fryer
lightly grate parmesan cheese over top
Recommended Products:
Phillips XL Air Fryer
Mini Ancient Grain Naan
Classico Pesto
Did you make this recipe?
Tag
@foodhussy
on instagram and hashtag it #foodhussyrecipe