So I've been hearing about this "Reverse Sear" thing for a while and finally decided to check it out. Basically – the "normal" way is to sear a steak in a cast iron pan on the stove and then bake it to temp (Medium Rare of course) – so a "Reverse Sear" does the baking first and the searing last.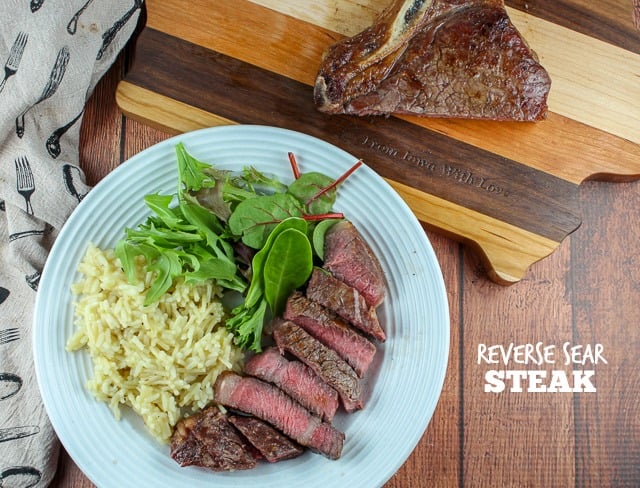 It was also a great excuse to use the
cutting board
I got for Christmas from my Iowa bestie! I'm such an Iowan – I loved it so much!
Isn't that cutting board beautiful?! I love it! It was definitely my favorite Christmas present! I'm pretty simple when it comes to steak – give me a bone-in ribeye, salt, pepper and butter – and we're good. I don't think good steak needs to have a fancy rub or much of anything else.
Also – I'm going to give my plug to Certified Angus Beef – a few years back I went to visit them in Wooster OH and they really gave us so much info! Their steak is just better – they require better quality, more marbeling, etc. And the taste difference is amazing – I literally won't buy anything else! You can find Certified Angus (in Cincinnati anyway) at Meijer and I use Shipt for grocery delivery through Meijer.
I like the Reverse Sear method BETTER than the traditional because the vent above my stove doesn't work. So every time I make a steak – it smokes up the kitchen and I can't vent it out. This way – most of the cooking is done in the oven and I just finish it on the stove top for a couple of minutes – no smoke! And look at the results – you can't argue with that medium rare perfection!
I barely got the photos taken before I was digging into this steak – and again – butter, salt and pepper is all I use on steak!! I just love the FLAVOR! And for me – I like a ribeye because it's more tender.
This steak was tender, juicy and perfect! The dogs were sitting at my feet just DROOLING. Literally. I ended up giving them a few bites – it's my diet plan – one bite for me, one bite for them. But one bite of this steak is about all they got! I wasn't letting the steak go! hahaha
I can't wait to hear how you cook your steak? Do you always grill – even in the dead of winter? Have you tried the reverse sear method? What seasonings do you use? I hope you'll try this method and let me know what you think.
Yield: 2
Reverse Sear Ribeye
There's always a new way to cook a steak – this one is nice because it does most of the cooking in the oven (i.e. no stove splatter) and then you finish it off for that sear! So delicious! That crispy salty exterior! Yum!
prep time:
cook time:
total time:
ingredients
Ribeye (1″ thick)
Coarse Sea Salt
Cracked pepper
1-2 Tbsp Canola Oil
Butter
instructions
Preheat oven to 250 degrees F
Season ribeye with salt & pepper on all sides
Place on wire rack lined baking sheet
Bake until internal temp is 115 (for Medium Rare) – start checking after 20 minutes – it really depends on how large/thick your steak(s) are
Heat a cast iron skillet at medium high and add oil
Once steak is to temp – remove from oven and add to skillet
Add butter
Sear on all sides for 1 minute
Remove from heat and enjoy