My parents split up when I was young and I stayed with my Dad. Unfortunately I don't remember much about the time when my mom was around as a kid. But there is one thing I remember – Mom making stuffed manicotti.

It's a labor of love for sure! I remember asking for this every birthday – and she would sigh and say, "Well – it's a lot of work." And then I would turn on the charm: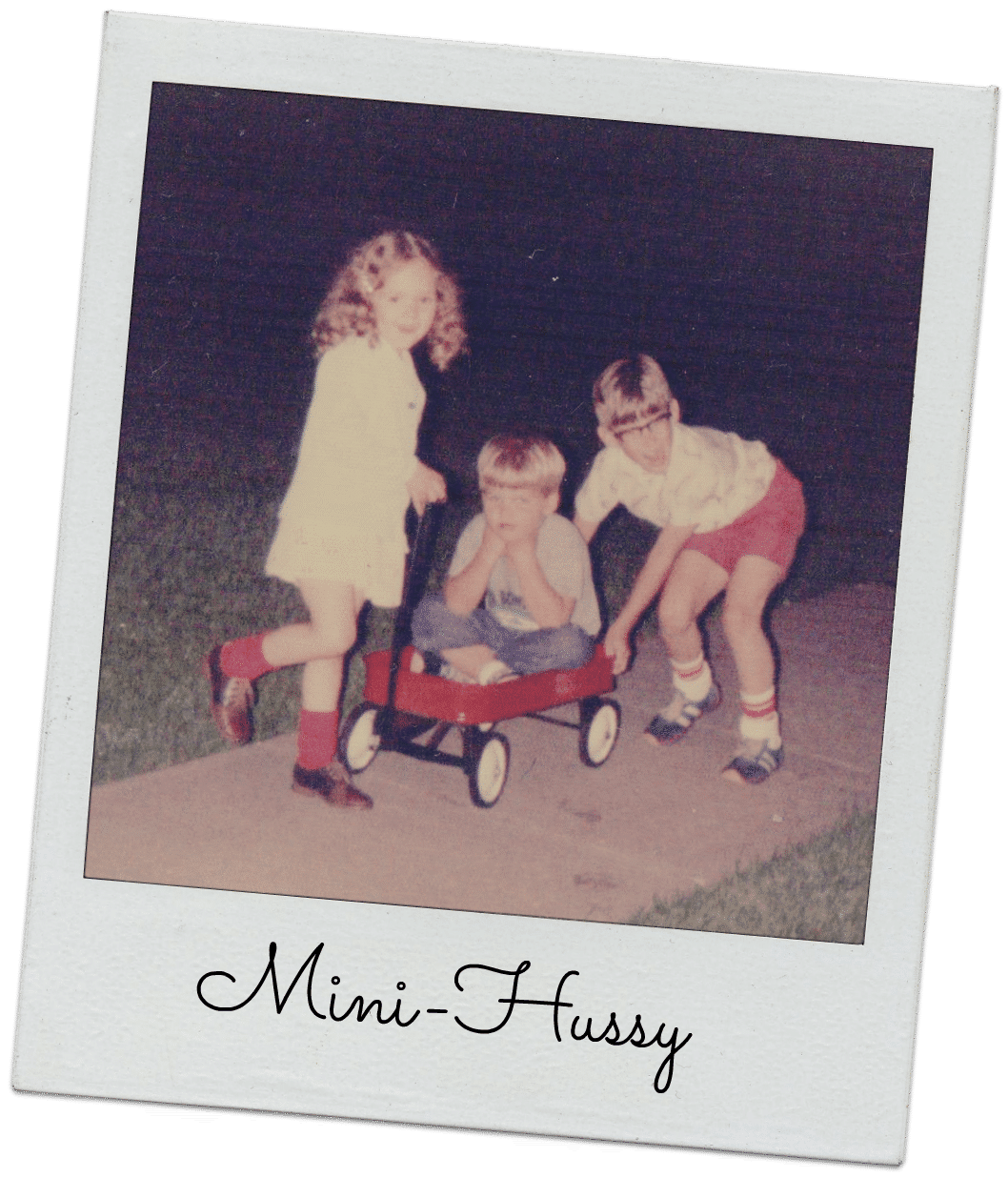 I mean – could you say no to that little Hussy?!
So anytime my little hussy self would ask – she would make it for me. There was no recipe really – it was just in her head and it was a great memory of my mom – so today – I'm sharing it with you!
So here's my Mom's Family Tradition recipe for Stuffed Manicotti – with her other favorite – Homestyle Ragu with mushrooms.
First you boil manicotti – be sure to do it al dente (8 min) because it's going to cook a little more once you bake it – and you don't want a mush ball.
While the noodles are boiling – brown 1/2 pound of sweet Italian sausage and drain.
Mix together ricotta, sausage, mozzarella, oregano and parsley. Stir until combined but don't over stir.
Then you stuff the shells. If you have a piping bag you could use that. I tried to use a ziploc and trim off the corner but it didn't work too well. I ended up just using a mini-spoon and that did pretty well. I remember my Mom sitting on the sofa and doing them by hand.
Then you top them with Ragu Sauce and more mozzarella!
Then you bake it for 25 minutes at 375. I also turned it to broil for just a couple of minutes at the end to brown the cheese – I maybe went a minute too long!
In then end – it's maybe not the prettiest dish – but it's cheesy and delicious – which is pretty much my definition of comfort food!
Dinner tonight totally reminded me of the years where my parents were together and we lived on Elm Street in our tiny apartment with our stray cat Scrag (yes – that was my little buddy's name). So thanks Mom and Ragu Homestyle for the memories – I hope you'll enjoy them too.
And be sure to learn more about RAGÚ® Homestyle Sauces and discover more recipes for the family here.

Stuffed Manicotti
My Mom's recipe for traditional stuffed manicotti – so delicious!
prep time:
cook time:
total time:
ingredients
1 package manicotti noodles
1 jar Ragu Homestyle sauce with mushrooms
16 oz ricotta cheese
1/2 pound Italian sausage
16 oz shredded Mozzarella
1 tablespoon oregano
1 tablespoon parsley
instructions
– Preheat oven to 375
– Boil manicotti noodles for 8 minutes
– While noodles are boiling, brown sausage and drain
– Once noodles are cooked, drain and rinse with cold water to stop cooking
– In a large bowl, mix together ricotta, 1/2 mozzarella, sausage, oregano & parsley
– Spray baking dish with non-stick spray and pour 1/2 cup Ragu sauce on the bottom of your dish
– Stuff manicotti noodles with ricotta mixture and line in baking dish
– Top with remaining Ragu sauce & mozzarella cheese
– Bake for 25 minutes and broil for 2 minutes