I love Olive Garden! It's one of my favorite guilty pleasures. I used to always get the salad & breadsticks before my meal – I mean that salad!!! But then one time I tried the Pasta e Fagioli. LIFE CHANGING! MIND BLOWN!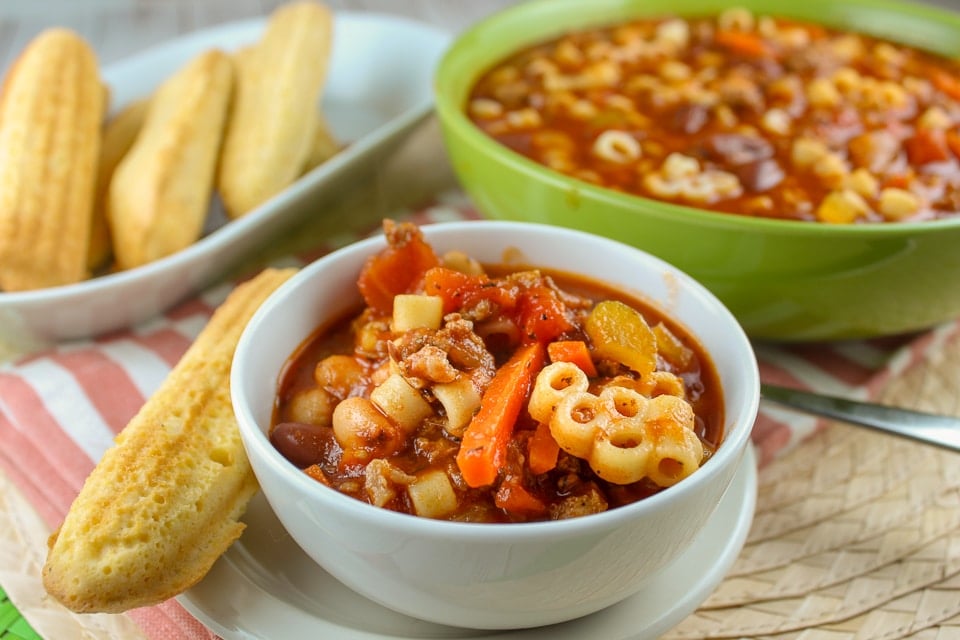 This is the BEST Pasta Fagioli recipe because I tried a bunch of them and kept going back to Olive Garden (research is tough!) and make sure I had it just right!
What's in Olive Garden's Pasta Fagioli?
So much goodness! But the thing I love is that it's EASY to put together! Canned beans, carrots, celery, onion, sausage, tomatoes, V8 juice (that's a key ingredient for a great soup!) and seasonings – oh – and ditalini pasta! If you don't have ditalini pasta – it's not pasta fagioli.


Can you make Olive Garden's Pasta Fagioli in the Crockpot?
Yes! I usually just make this on the top of the stove – but you can easily make this in the slow cooker. My one tip is – brown the sausage first – then add it with everything to the pot – EXCEPT the extra water and cooked pasta. Make the pasta when you are ready to serve and add at the end otherwise it absorbs too much liquid.



Can you freeze Olive Garden's Pasta Fagioli?
Yes! I love this soup but I don't love eating it 7 days in a row. I'll have it for dinner and then leave a couple servings in the fridge for a couple of lunches or dinner – but the rest – goes right into freezer/microwave safe glass bowls and pop them in the freezer.

How do you best reheat Olive Garden's Pasta Fagioli?
If you're like me and know you're going to have leftovers – just put the pasta into the bowls you're going to serve – and not the whole pot. What I did was spoon the leftovers out into the storage bowls and then add the pasta on top of the soup in each bowl and did NOT stir! If you leave it on top – it's not going to absorb all that liquid. Then when you reheat – add a little water (1/3 cup per bowl) – and microwave.

What to serve with Olive Garden's Pasta Fagioli?
You have to start with my copycat Olive Garden Salad & Dressing! It's the best! Beyond that – my bestie Plain Chicken uses Pioneer Woman's cornbread (and turned me onto these ear-of-corn cornbread pans!). I usually eat this soup as my entree – but you can always have it as a starter and have their Chicken Scampi, Shrimp Scampi or Giant Stuffed Shells for dinner!


Copycat Olive Garden Pasta e Fagioli
Yield: 8
prep time: 15 M
cook time: 50 M
total time: 65 M
Olive Garden is one of my favorite restaurants and since the first time I tried their Pasta e Fagioli – I've never ordered anything else for the appetizer! It's an Italian Chili and is meaty, chunky, full of vegetables and delicious! I make it every year at the first hint of fall!
ingredients:
1 lb italian sausage
1.5 cup onion diced (1 medium)
1 lg carrot, julienned
3 stalks celery, diced
1 Tbsp minced garlic
1 28 oz can diced tomatoes
1 15 oz can red kidney beans with liquid
1 15 oz can great northern beans with liquid
1 15 oz can tomato sauce
1.5 cups v8 juice
1 tbsp vinegar
1 tbsp salt
1 tbsp oregano
1 tbsp basil
1 tsp pepper
1 tsp thyme
1/2 pound ditalini
2 cups water
instructions:
How to cook Copycat Olive Garden Pasta e Fagioli
Brown sausage for five minutes in dutch oven or large pot – should be cooked about 1/2 way through
Add onion, carrot, celery and garlic and saute for 5 minutes
Add remaining ingredients except pasta and water and simmer for 1 hour
After about 45 minutes, cook ditalini pasta and drain
While pasta is cooking, add 2 cups water to simmering mixture in large pot
Right before serving, add pasta to large pot and stir
NOTES:
– If you want it to be more of a chili than a soup, don't add water at end
– Add additional water to leftovers when re-heating to make it soupier vs. chili
– If you know you're going to have leftovers, reserve pasta and add to top before refrigerating and do not stir in. This will keep the pasta from absorbing all the liquid and getting mushy.
– Serve with cornbread and an Olive Garden salad
Recommended Products:
8 qt covered pasta pot
Knife Set
Freezer Storage Bowls