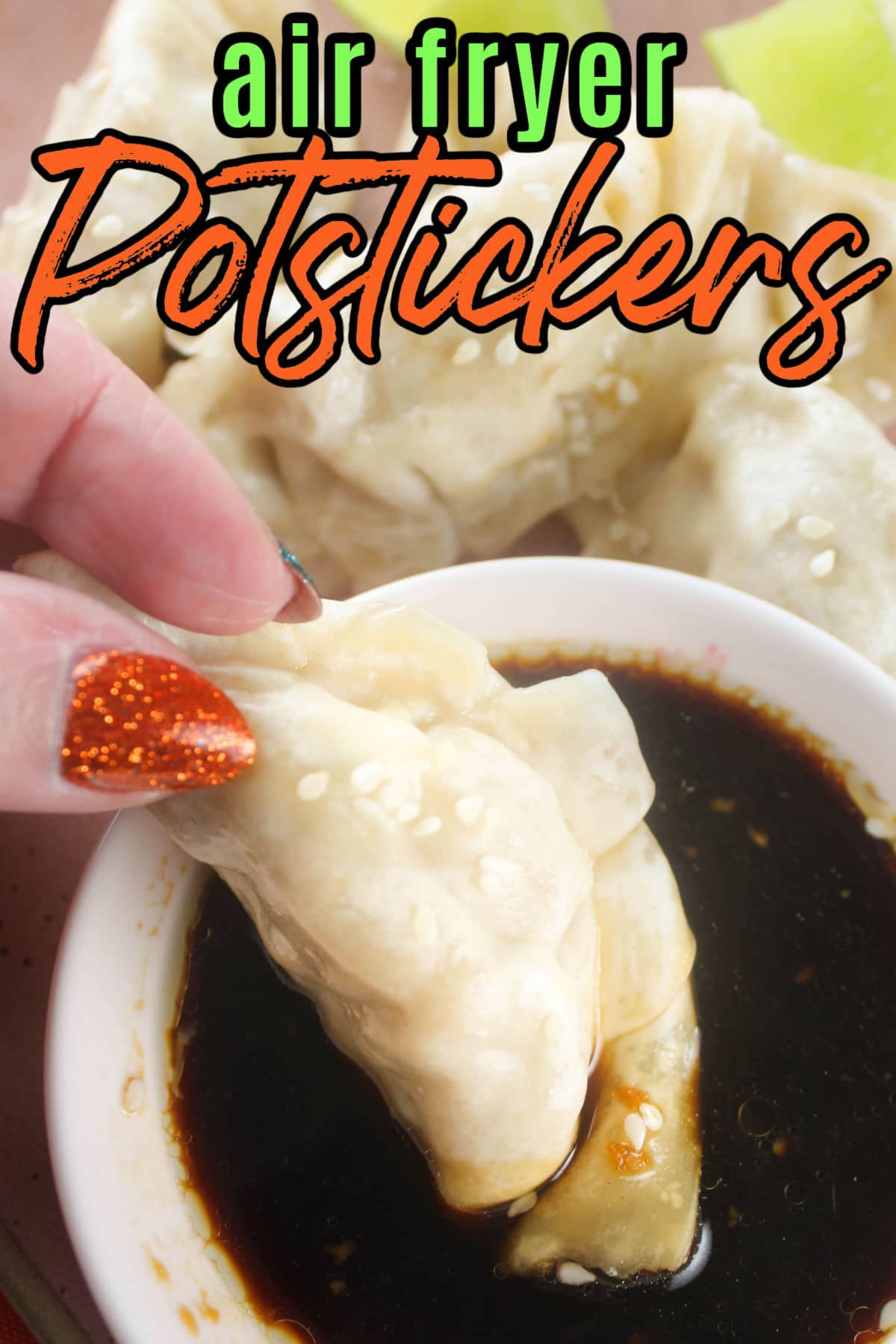 Frozen Potstickers in an air fryer are done in half the time with no mess! They're perfect for a weeknight meal! Plus – I whipped up a sauce in about 1 minute that is much fresher than the packet that comes in the box.
Jump to Recipe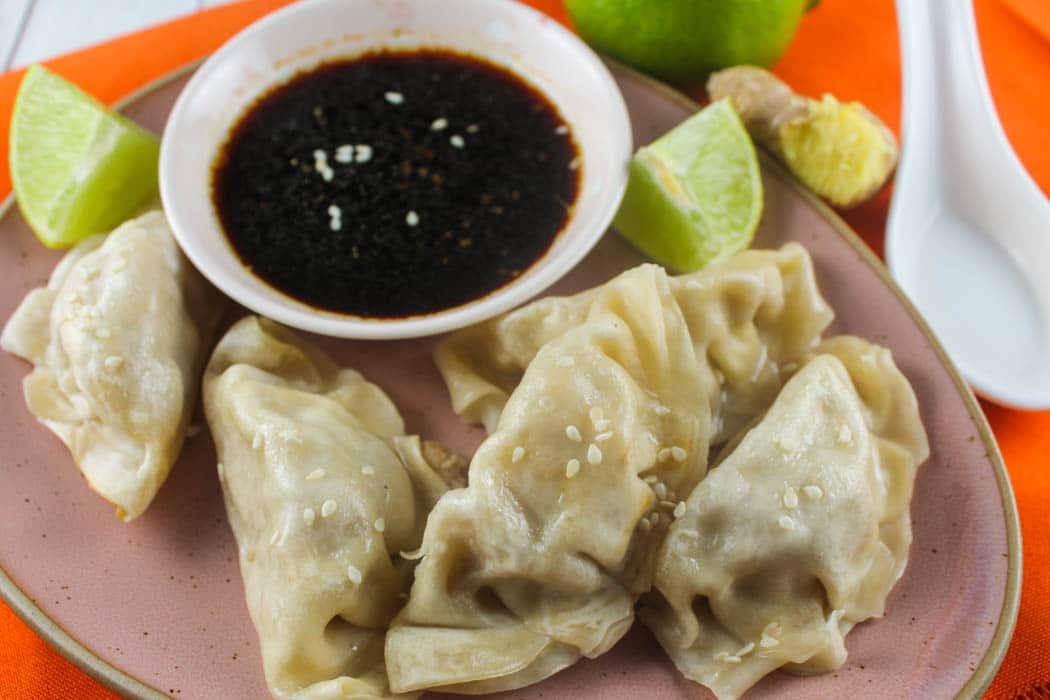 I love frozen dumplings but I'll tell you – it was trickier than you'd think to make them just right in the air fryer! Egg rolls are easy – you just pop them in and heat! But with potstickers, just placing them in the air fryer basket makes them stale and tough! That said – I figured out the trick to perfect potstickers and I'm sharing it with you!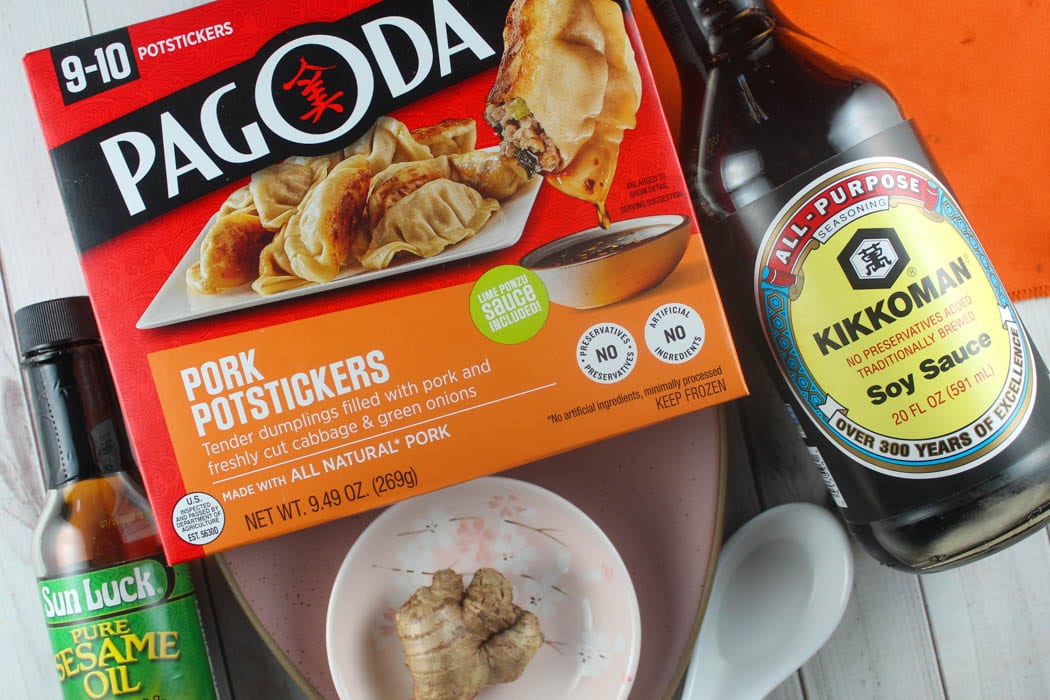 Ingredients for frozen potstickers & citrus sauce
The potstickers come with a lime ponzu sauce – but it's a super tiny packet and I didn't think it had much flavor – so I made my own! Here's what you'll need:
1 box potstickers
1/8 cup soy sauce
1 tsp grated ginger
1/2 tsp fresh lime juice
dash sesame oil
OPTIONAL: Want it spicy? Add gochujang or red pepper flakes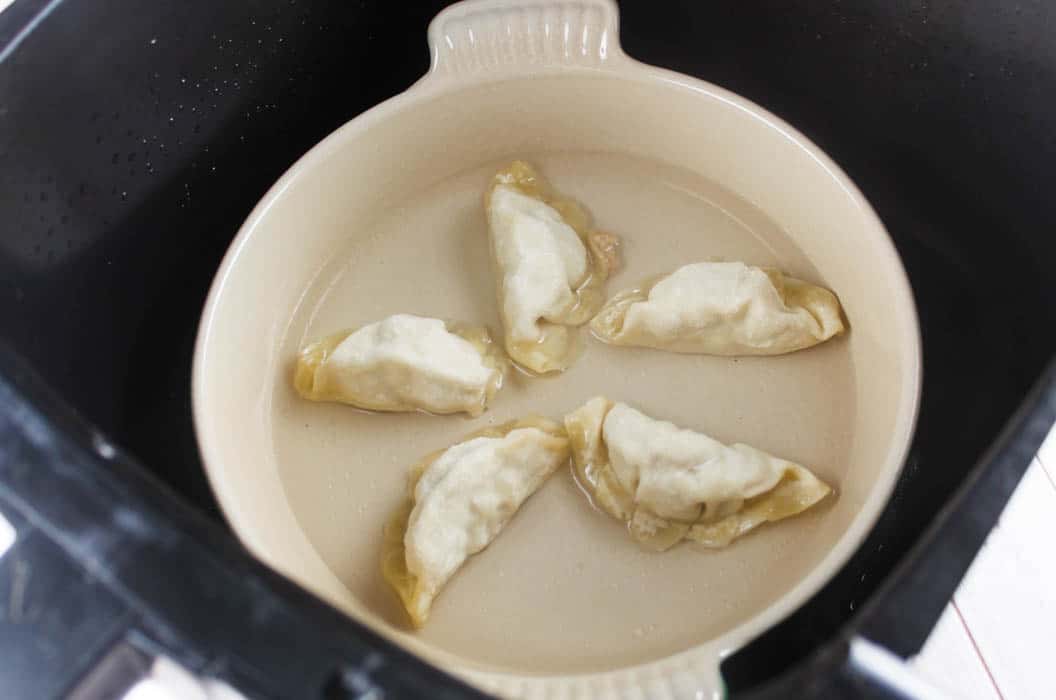 How to cook frozen potstickers in the air fryer?
When I first tried frozen potstickers, I just placed them in the air fryer and started it up! The problem is – it's all dry – even when spritzed with olive oil – they were tough.
I conquered this problem by using a little water! Here's how:
Take a round baking dish that fits in your air fryer and pour in 1/4 cup water – just barely enough to cover the bottom.
Set the dish inside the bottom of your air fryer – you might need to remove the tray in the bottom if it's not a flat surface
Set the frozen potstickers in the baking dish in the water in a single layer

If your air fryer is small, you may have to make these in batches

Spritz potstickers lightly with olive oil spray

This is the step that keeps them soft but also have the crispy texture of a "fried" potsticker!

Air fry at 350 for 3 minutes
While air frying, whisk together soy sauce, ginger, lime juice and sesame oil
Flip potstickers, spritz with olive oil and air fry 2-3 minutes more
Remove potstickers with tons and serve with soy ginger sauce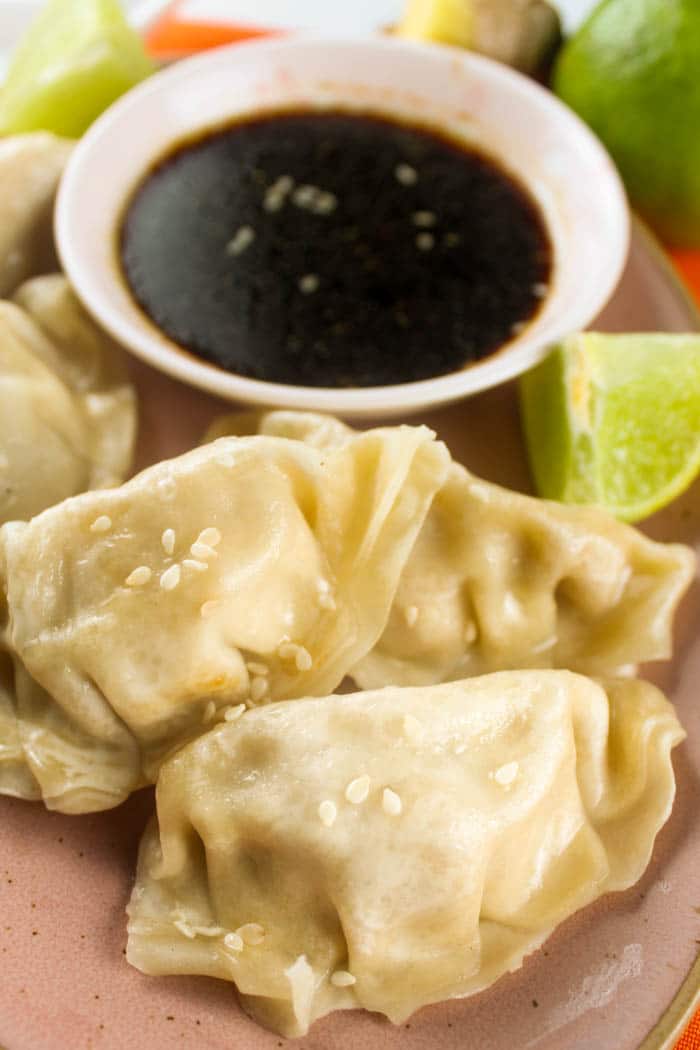 What sauce do you serve with potstickers?
While the potstickers are air frying, mix together soy sauce, freshly grated ginger, a little lime juice and a dash of sesame oil (recipe below) and you'll have a great dipping sauce that only takes a minute to whip up!
FAQs
What's in a potsticker?
My best friend used to always say it was Monkey Meat – but really it's usually a combo of ground meat and vegetables. I bought the Pagoda brand that had ground pork, cabbage and green onions. There are lots of great brands and flavors – Tai Pei & Ling Ling are other popular brands. Any potstickers in the frozen foods section will work for this recipe.
Can potstickers be cooked in an air fryer?
Uh – yeah. This would be a short post if they couldn't!
Are potstickers and dumplings the same thing?
All potstickers are dumplings, but not all dumplings are potstickers. The name potsticker comes from the fact that when the water cooks out of the pan – they stick to the pot and are usually a little crispy. Gyoza is the Japanese name for the same food but they tend to be maybe a little smaller (1-2 bites). This air fryer technique makes that happen! Wontons are fairly similar as well – the wrappers are a little different but not much. They're also fairly similar to pierogies – pierogies have more of a pasta-type dough and are often filled with mashed potatoes and cheese – but all are little pockets of joy that you can steam or fry.
How do you spice up frozen potstickers?
It's all about the sauce – add some gochujang to the sauce recipe I created and it will jazz it up! Or you could even use some red pepper flakes as an alternative.
Are potstickers keto-friendly?
Nope…unless you find ones that specifically are low-carb
Are potstickers gluten free?
Probably not – again unless you find ones that are specifically gluten free
Can I eat potstickers when I'm pregnant?
Yes – as long as they're cooked all the way through. Always follow doctors orders but you should be just fine here!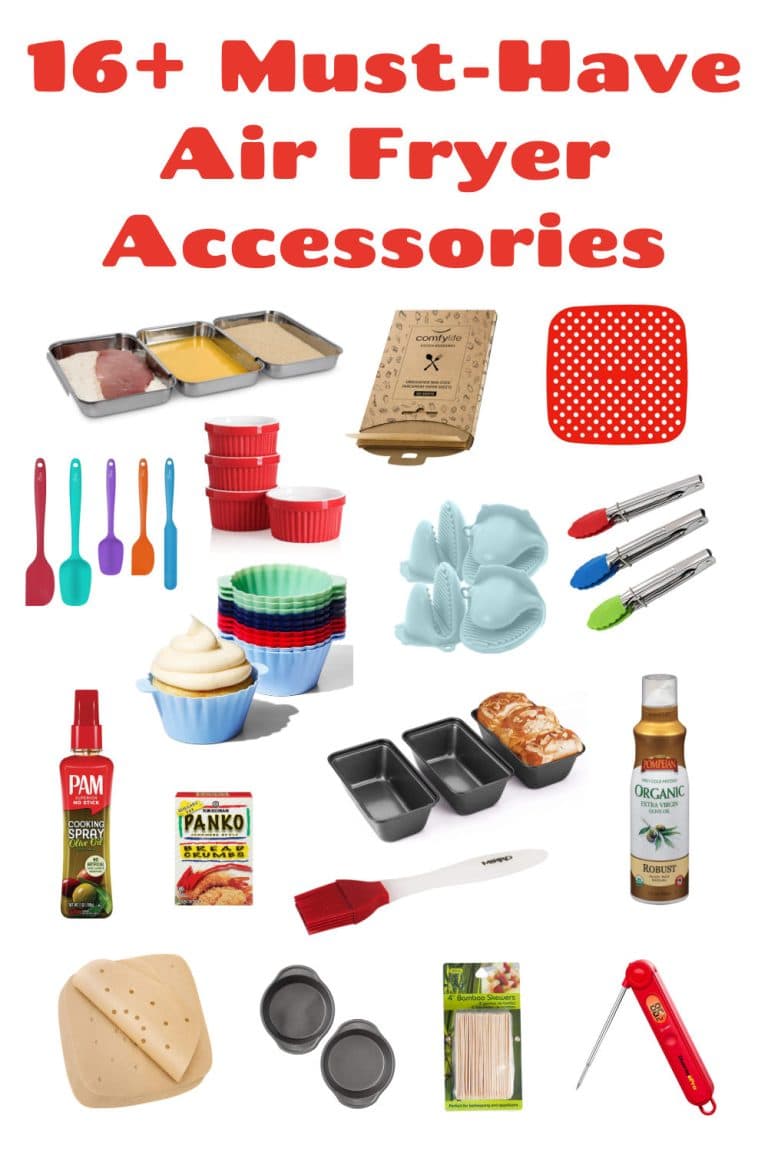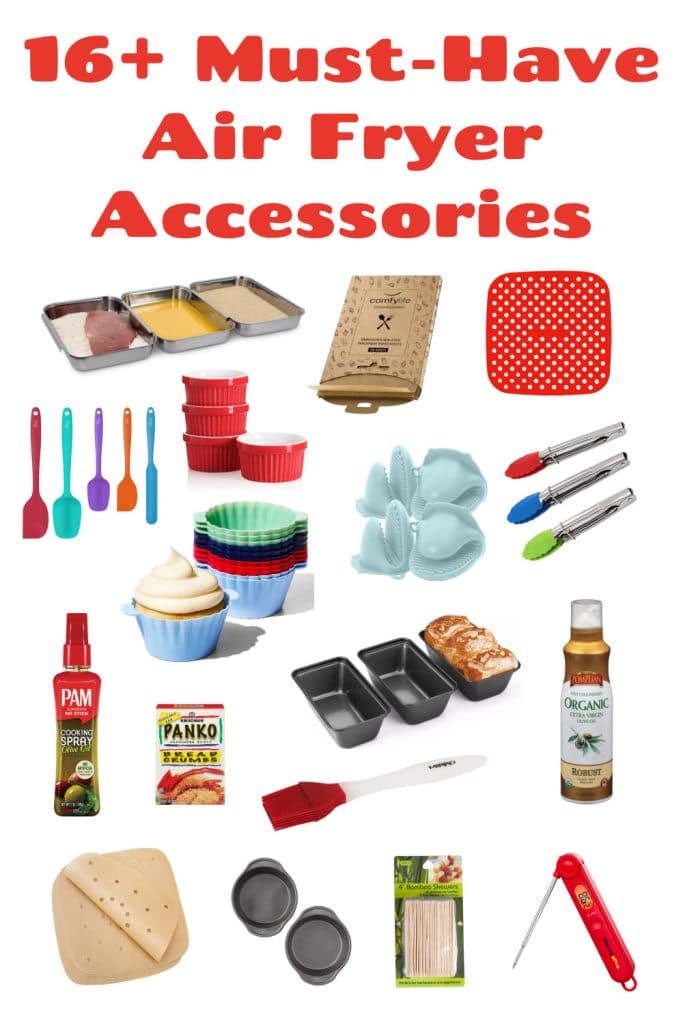 Best Air Fryer Accessories
Here's my ultimate list of best air fryer accessories – whether you have a basket- or oven-style! I've also included a price guide as well as my favorite recipes for those accessories.
What to serve with pot stickers?
Potstickers are a great side dish for any meal – here are some entrees that would pair perfectly with them!
More Frozen Food Air Fryer Recipes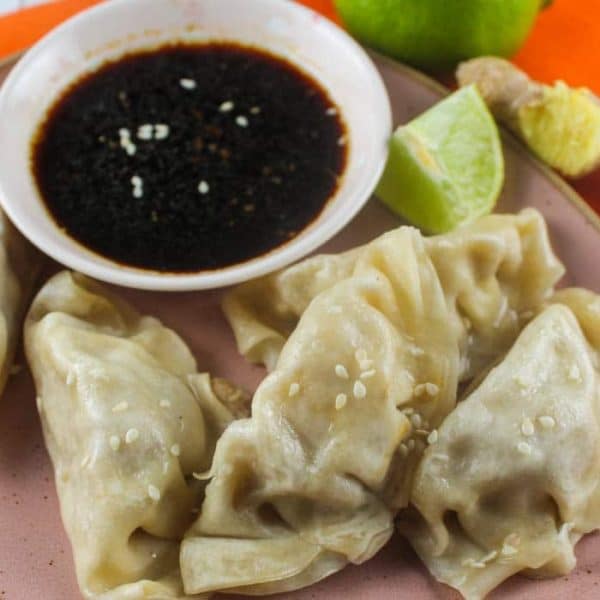 Air Fryer Potstickers
Air Fryer Potstickers are done in half the time with no mess! I used frozen potstickers and whipped up a little sauce in about 1 minute that goes great and is much fresher than the packet that comes in the box.
Ingredients
1

box

potstickers

1/8

cup

soy sauce

1

tsp

grated ginger

1/2

tsp

fresh lime juice

dash

sesame oil
Instructions
Take a round baking dish that fits in your air fryer and pour in 1/4 cup water – just barely enough to cover the bottom.

Set the dish into the bottom of your air fryer – you might need to remove the tray in the bottom if it's not a flat surface

Set the frozen potstickers in the baking dish in the water

Spritz potstickers lightly with olive oil

Air fry at 350 for 3 minutes

While air frying, whisk together soy sauce, ginger, lime juice and sesame oil

1/8 cup soy sauce,

1 tsp grated ginger,

1/2 tsp fresh lime juice,

dash sesame oil

Flip potstickers, spritz with olive oil and air fry 2-3 minutes more

Remove potstickers with tons and serve with soy ginger sauce
Notes
**We are not dietitians and recommend you seek a nutritionist for exact nutritional information. The information in the nutrition box are calculated through a program and there is room for error. If you need an accurate count, I recommend running the ingredients through your favorite nutrition calculator.**
Nutrition
Calories:
180
kcal
Carbohydrates:
24.9
g
Protein:
7.7
g
Fat:
6.4
g
Saturated Fat:
1.3
g
Cholesterol:
19
mg
Sodium:
325
mg
Potassium:
234
mg
Fiber:
1.3
g
Sugar:
2.6
g
Calcium:
1
mg