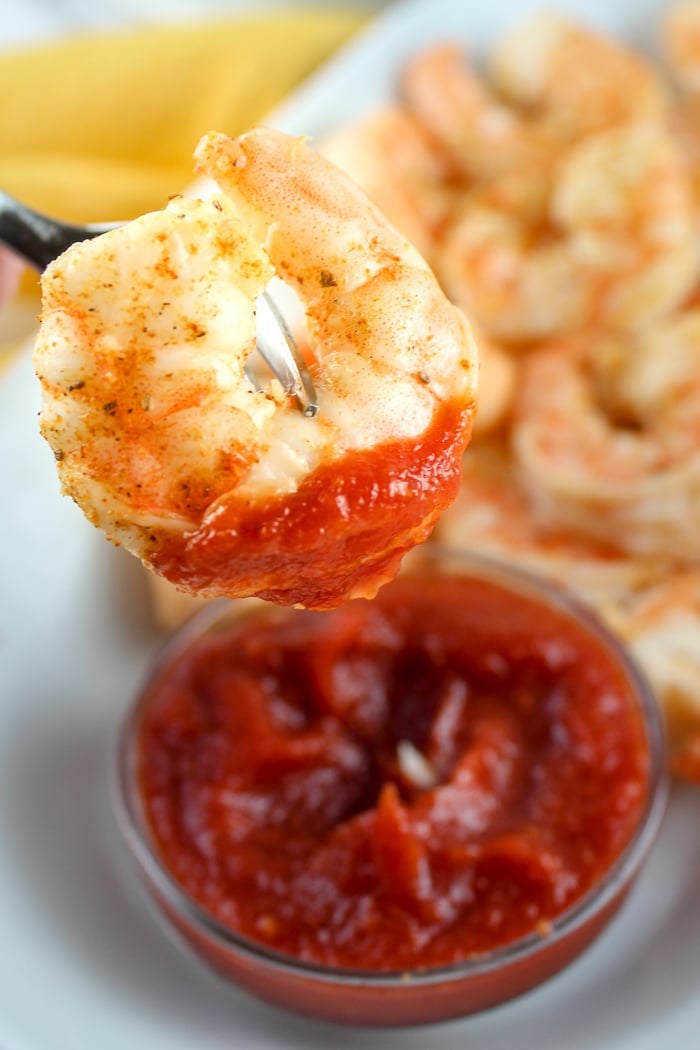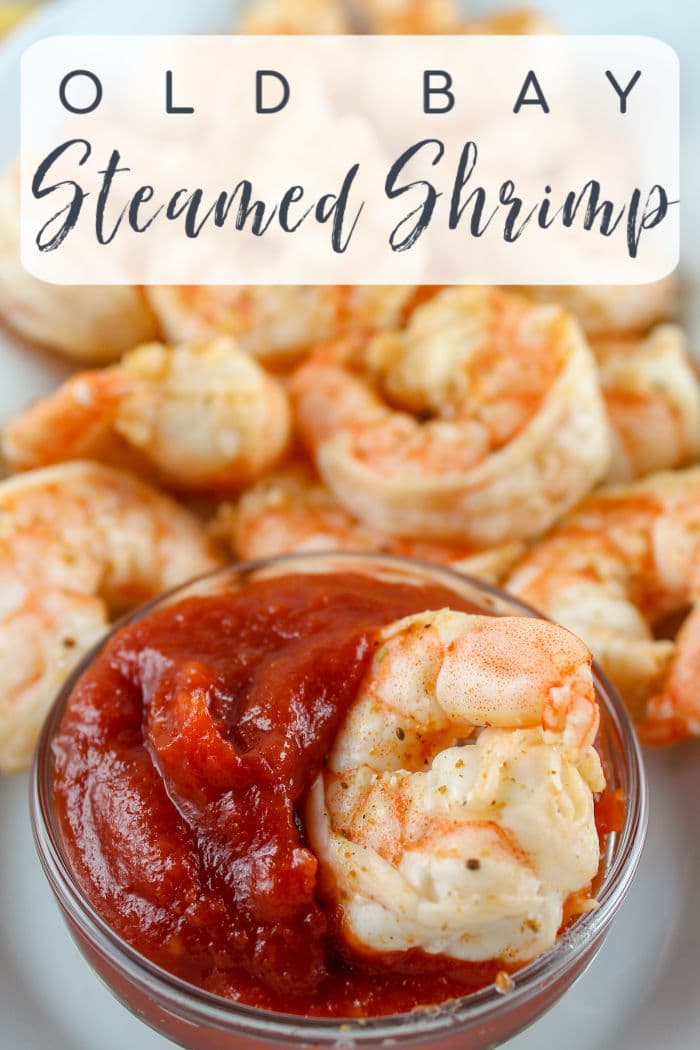 Old Bay seasoning is a favorite and this easy recipe for Old Bay Steamed Shrimp is ready in FIVE MINUTES!!! It's light and flavorful – great to serve with veggies and garlic bread!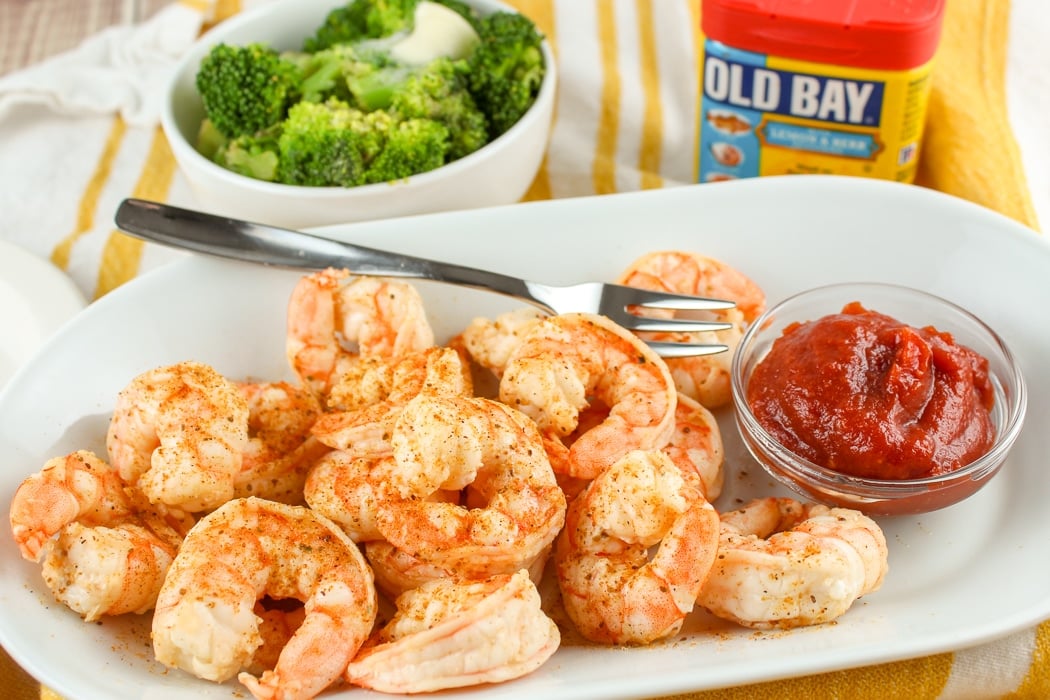 These Old Bay Steamed Shrimp are great as an appetizer or even a main dish – they're simple and I swear to you – they were ready in LESS THAN FIVE MINUTES!!! Raw shrimp cooks so fast!
Ingredients for Old Bay Steamed Shrimp
It's more than just shrimp! Here's what you need:
a pound of shrimp – always use raw shrimp – from there I get large shrimp that are peeled, deveined and tail off.
Old Bay Seasoning of course!!! Most folks go with the ORIGINAL variety – but I used the Lemon Herb variety – use your favorite!
apple cider vinegar – adds some zip! you could also use lemon juice if you don't have cider vinegar
water
cocktail sauce
How to steam shrimp?
This Old Bay Steamed Shrimp recipe is super easy, takes minutes to make and is my favorite way to have shrimp! This cooks in just 2-3 minutes so have all your side dishes ready ahead of time!
Make sure your shrimp is thawed. You can just set it in the refrigerator the day before you want to make it.
In a large pot on high heat, mix vinegar, water and Old Bay seasoning and bring to a boil on the stove.
While that's coming up to a boil, rinse and drain the thawed shrimp.
Turn down boiling water to medium heat – toss in the shrimp.
Stir and turn the shrimp – watch the shrimp turn pink after just 1-2 minutes! By the time you turn them all – they'll be done. It was SO FAST!!!!
Scoop them out with a slotted spoon and serve them up with your favorite cocktail sauce.
What type of shrimp should I use?
There's a few things to keep in mind when buying shrimp:
For any recipe where you are cooking shrimp, be sure to buy RAW shrimp! It cooks in 2-3 minutes – so don't get the cooked shrimp. Leave that for shrimp cocktail!
I always use frozen shrimp – just because I live in Ohio – we don't have fresh shrimp! So frozen shrimp is always easy to find in the grocery stores.
Be sure your shrimp is peeled and deveined – unless you want a lot of work! I made that mistake only once. 😉 Nobody wants to devein shrimp!
Tails OFF! Most restaurants serve shrimp with tails on – but who wants to stick their fingers in their food? If I'm making a shrimp recipe that will be served with a fork – my personal preference is tails off!
Do I need a steamer basket for the Old Bay shrimp recipe?
Nope! You can use a steaming basket if you'd like – but there's just a little water in the pan – so you can use a small strainer if you have one, a baking rack (if it fits in your pan) or even just pop the shrimp in the water!
How long to steam shrimp?
Steaming shrimp is a simple way to serve shrimp – but you want to be sure to NOT overcook. Once your water is simmering and you add the shrimp – it only takes 2-3 minutes until the shrimp turns pinkish white.
How to season steamed shrimp?
For Old Bay Steamed Shrimp – you should add the seasoning into the water as its simmering.
When you serve the Steamed Shrimp – it's similar to shrimp cocktail but warm – you can serve it a number of ways:
What to Serve with Steamed Shrimp
More Delicious Shrimp Recipes
This steamed shrimp would be delicious on this Shrimp Louie Salad! But, if you're looking for other great recipes with shrimp – I've got you covered! You could toss the cooked shrimp into this Cajun Pasta recipe at the end, pop them into tortilla shells for shrimp tacos or use them in this seafood pasta salad instead of crab meat!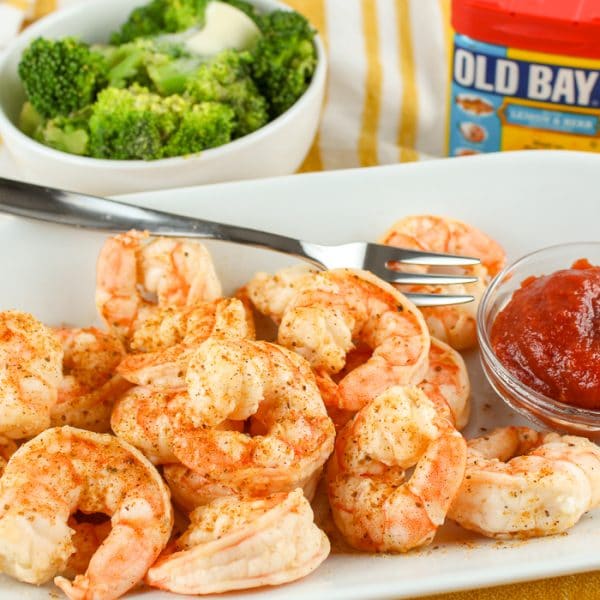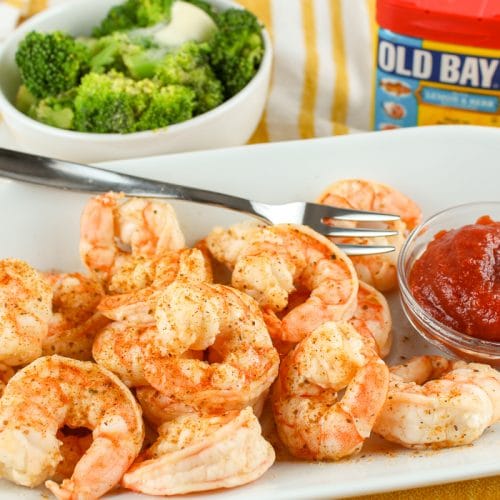 Old Bay Steamed Shrimp
Old Bay seasoning is a favorite and this Old Bay steamed shrimp recipe is ready in FIVE MINUTES!!! It's light and flavorful – great to serve with salad and garlic bread!
Instructions
In a medium saucepan mix vinegar, water and OLD BAY. Bring to boil on medium heat. Gently stir in shrimp and cover.

Steam 2 to 3 minutes – flipping after 1 min. Steam just until shrimp turn pink. Drain well.

Serve immediately with cocktail sauce
Nutrition
Serving:
5
shrimp
Calories:
144
kcal
Carbohydrates:
3.1
g
Protein:
25.1
g
Fat:
1.9
g
Saturated Fat:
0.6
g
Cholesterol:
232
mg
Sodium:
571
mg
Potassium:
209
mg
Sugar:
0.1
g
Calcium:
103
mg