This post is sponsored by Smithfield Prime Fresh Lunch Meat. All opinions are my own.
Roly Poly is one of my favorite restaurants – their wraps are so healthy and they have such a great variety! So when I wanted to make my next recipe – I had to do one of theirs!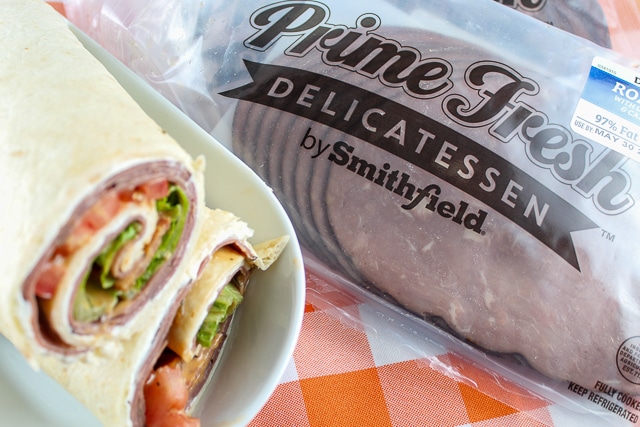 The Ranch Roast is one of their cold wraps and has lots of great layers with roast beef, cream cheese, bacon, sundried tomatoes, lettuce, tomatoes and BBQ ranch dressing.
I don't
know what brand of Roast Beef Roly uses – but I know it's fresh and high
quality – so I chose Smithfield
PrimeFresh
Lunch Meat for the same
reasons. It's really our favorite! I might have eaten a couple pieces before
putting them on the wrap even!
How to Make a Roast Beef Wrap
It's pretty easy to make a wrap but there are a couple of tricks & tips! First, I used 12″ tortillas just like Roly Poly does. Then I spread the cream cheese on the entire tortilla – it serves as the glue to hold it together!
After that – just layer the ingredients. I loved Smithfield Prime Fresh Lunch Meat and decided to go with their Roast Beef! Their roast beef tastes like you got it at the deli – but you get the convenience of having it already packaged up in the lunch meat section of your store!
They have six varieties including honey ham, smoked turkey breast, rotisserie chicken breast, smoked ham, oven roasted turkey breast and the delicious roast beef. I also like that it comes in a ziploc bag to keep it fresh!
I love Roly Poly and order it at least once a week – but sometimes when I'm packing lunch for a picnic – I'll check their site for ideas! This Ranch Roast is an easy roast beef wrap and is very tasty! You'll love it!
BLT Ranch Roast Beef Wrap (Copycat Roly Poly Ranch Roast)
prep time: 10 M
cook time:
total time: 10 M
I'm a huge fan of Roly Poly Sandwiches! They're healthy and have so much variety! I've tried so many of them and what I love about this BLT Ranch Roast Beef Wrap is that it's perfect for taking on the go (picnics, parties, etc). #roastbeefwrap #roastbeefsandwich #rolypoly #copycatrecipe
ingredients:
12 inch tortilla (white or wheat)
2 Tbsp ranch dressing
2 Tbsp bbq sauce
1/4 cup plain cream cheese
4 slices Prime Fresh Roast Beef
2 leaves romaine lettuce
1 roma tomato, thinly sliced
2 Tbsp sun dried tomato strips
2-3 slices bacon jerky or pre-cooked bacon
instructions:
Lay tortilla on cutting board
Mix together ranch dressing and bbq sauce in small bowl
Spread cream cheese over entire tortilla
Layer remaining ingredients onto tortilla in order leaving 2 inches at the top of the tortilla
Drizzle sauce over all the layers
Roll wrap tightly and slice in half on a diagonal