This post is sponsored by Ohio Pork. All opinions are my own.
I love Seven Layer Salad – always have! But I feel weird sometimes just mowing down something where the binding ingredient is straight-up mayo?! So here's a way to take all the things you love about Seven Layer Salad and make it into a dip! Then you can share it with friends and still enjoy it!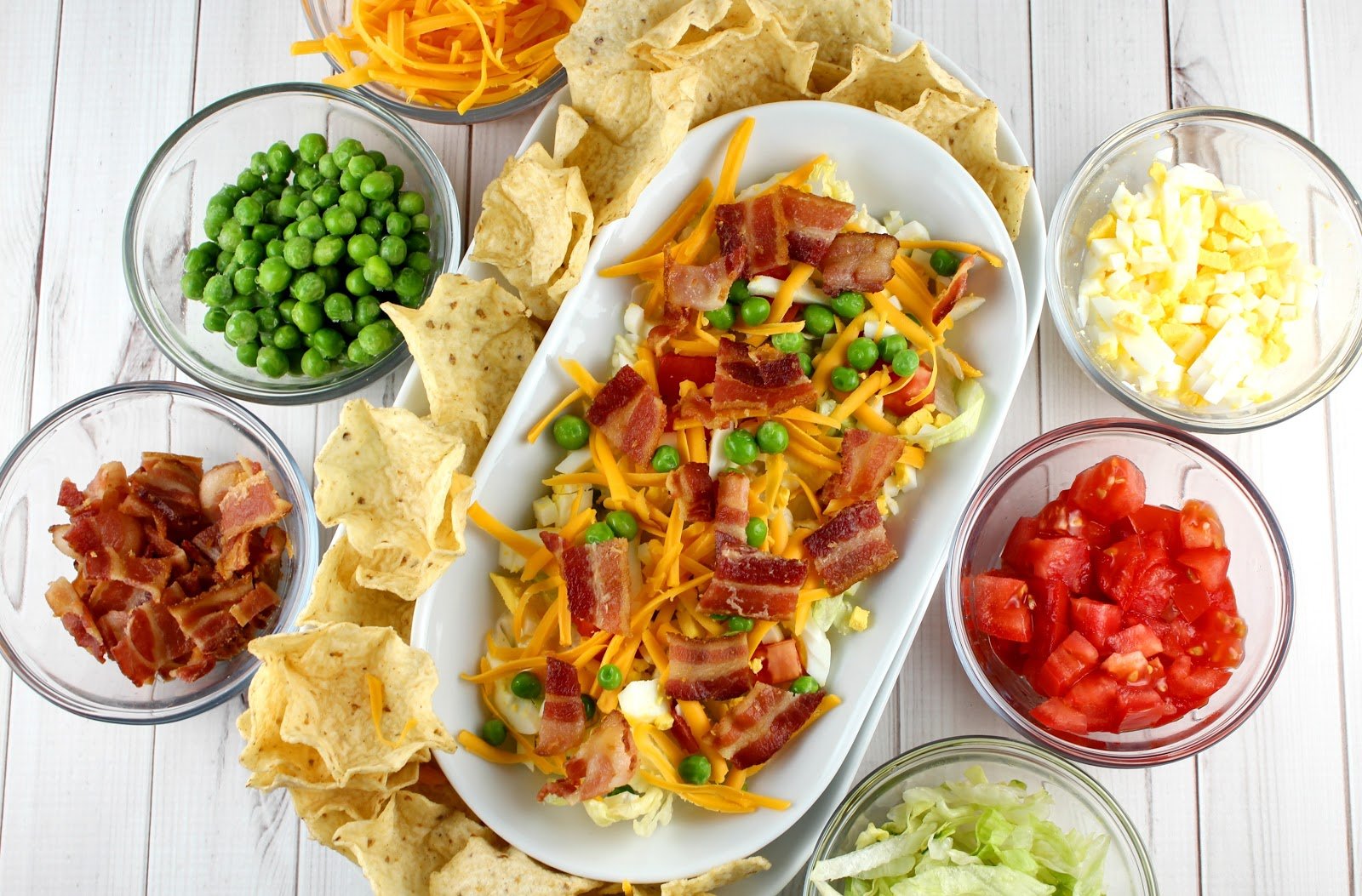 The other thing I love about this Seven Layer Salad Dip – is how EASY it is! You're taking dip that's already pre-made and then just adding toppings to it! You make this and your friends will say "Wow – omg look at this!!" and you know it took you just a few minutes! It's so much fancier than just opening a bowl of dip!
One of the ingredients in my Seven Layer Salad Dip is BACON! I recently got to take a tour of the Sugardale Bacon plant in Massillon, Ohio – I love a factory tour! I just never realized how much goes into making bacon! They bring in massive amounts of pork belly and infuse them with their special blend of sugar and spice (the pork belly is the "everything nice"). Then the belies are hung and smoked. After all that, the bellies are smoked, chilled, compressed and then sliced and packaged.
Seeing this process was really cool! You'd be so surprised at just how many steps and how many people are involved in making this magical food?!
So for our Seven Layer Salad Dip – instead of mayo – I like to use a dip for the base – the flavor is different than if you used mayo but I think it's better! My recommendation for the base would either be ranch or French onion – probably ranch because it's sort of a neutral flavor that everyone loves.
After you spread out the dip – you just layer on the toppings! It's all the delicious toppings you use in a traditional seven layer salad: peas, eggs, bacon, cheese, lettuce and tomatoes. You don't even need a lot of any of the toppings – just a bit spread out over the dip works. I like my bacon a little undercooked – so I diced it – rather than crisping it up where you just crumble it – but that's up to you!
Sugardale has lots of great varieties of
bacon
including: hickory smoked, applewood smoked, thick cut, center cut and more. And if you're not looking for bacon – be sure to check out their
ham,
hot dogs
,
lunch meat
and
pepperoni
– all made RIGHT HERE IN OHIO!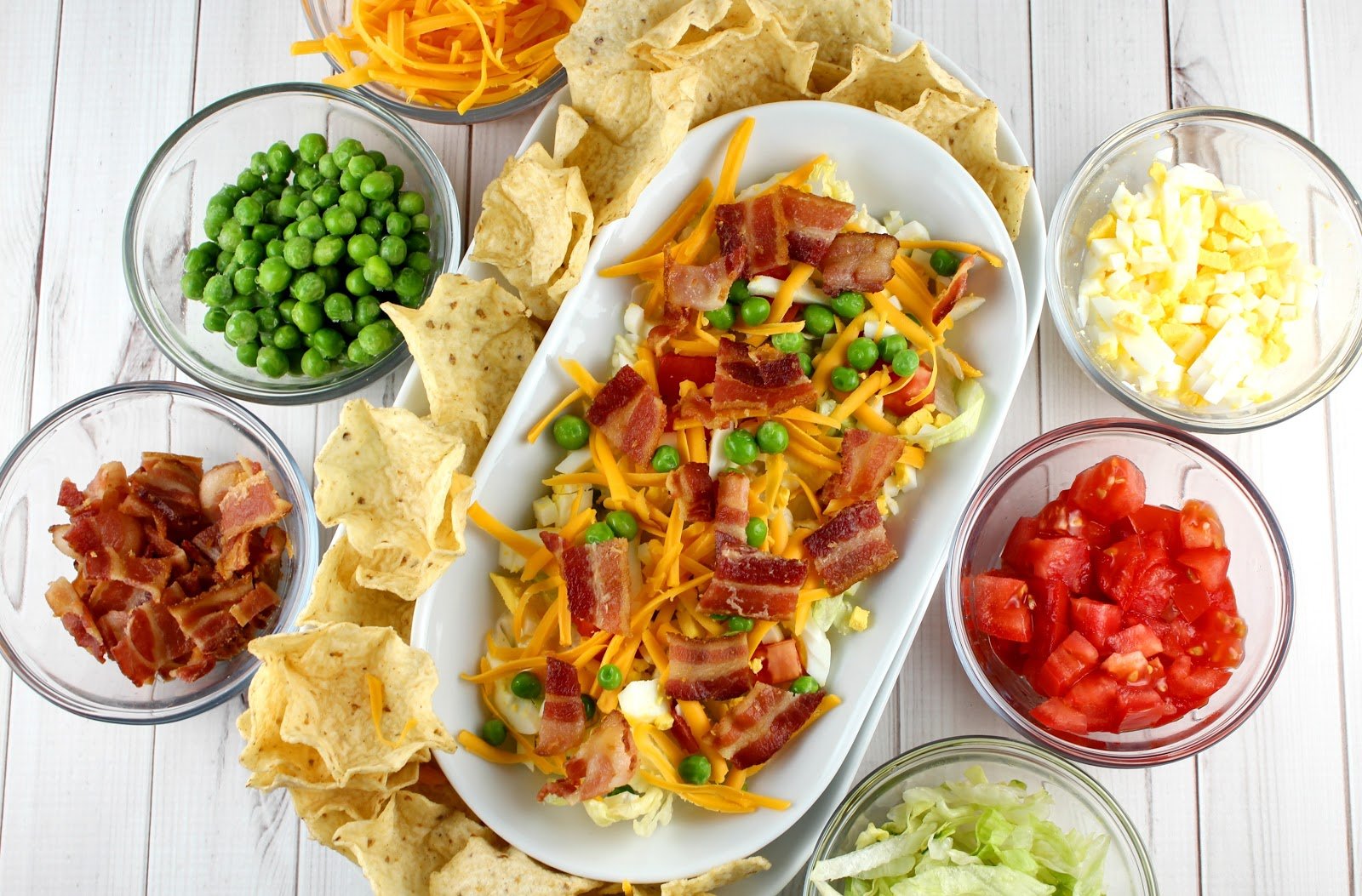 Seven Layer Salad Dip
Seven Layer Salad is a classic – the peas, eggs, bacon – but why not make it a dip instead of a salad?! This dip is crisp, light and loaded with toppings!
prep time: 15 mins
cook time:
total time: 15 mins
ingredients
1 container Heluva Good Dip – ranch or french onion flavor
1/3 cup frozen peas
2 hard boiled eggs, diced
1/2 cup tomatoes, diced
1/2 cup shredded cheddar cheese
1/2 cup Sugardale hickory smoked bacon, cooked and diced/crumbled
1/2 cup lettuce
instructions
Spread dip in the bottom of your dish (recommend 8×8 ish pan/plate)
Layer ingredients: peas, eggs, cheese, tomatoes, bacon and lettuce.
Serve with tortilla scoop chips
NOTES:
Leave lettuce for the end so that the other items sort of stick to the dip. Feel free to add a few more of the other items on top of the lettuce so people know what's in it.