I love love love Firehouse Subs – ever since I went to a blogger dinner and met the owner – I was sold! They use higher quality meats and more of them – they take care with their sandwiches – they donate money in every market they have a store.
But I love the New York Steamer sandwich so much – I have to be able to make it at home too!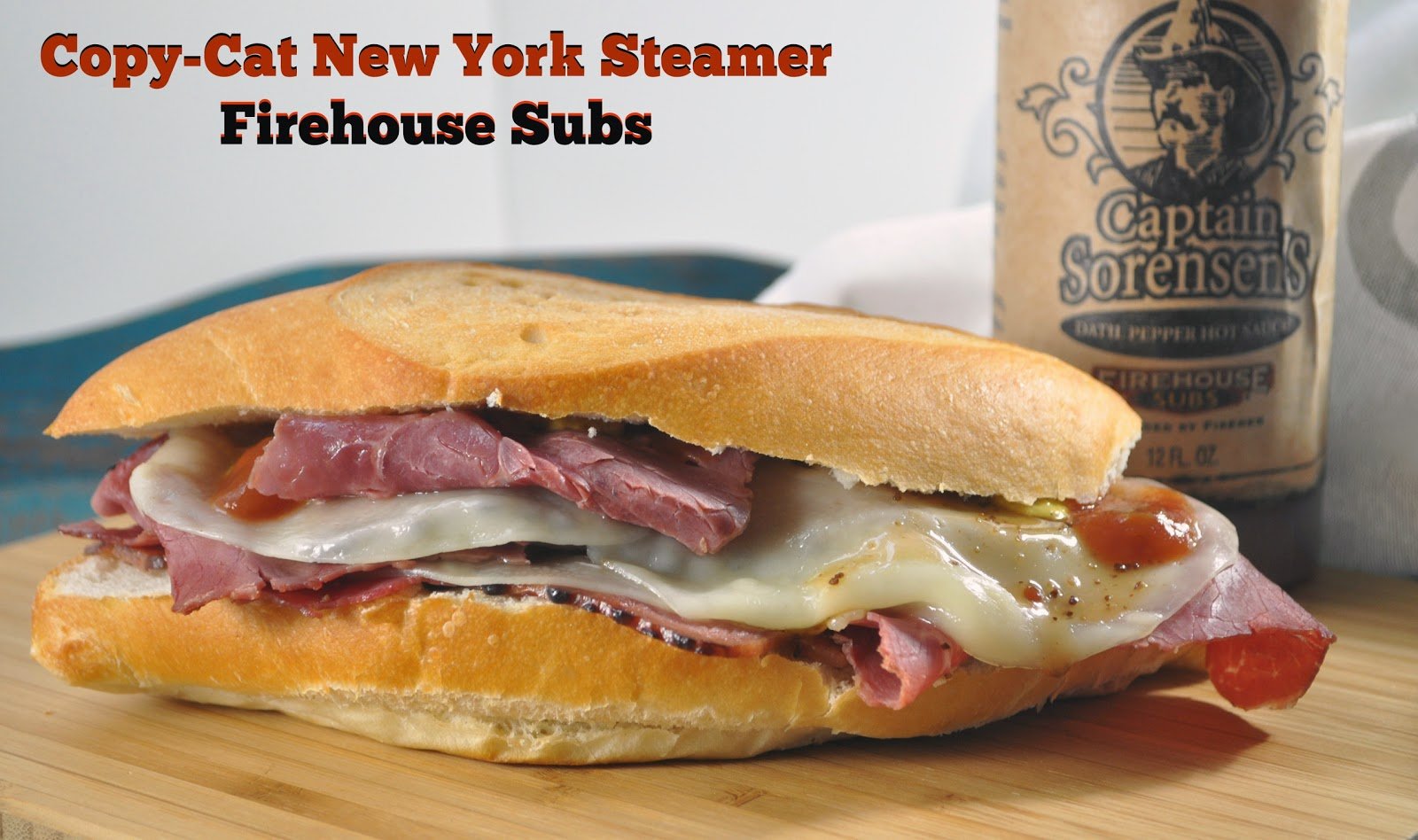 This New York Steamer sandwich is so delicious – pastrami and corned beef topped with provolone and then broiled. So good!
What kind of bread do you use for the New York Steamer?
There are a lot of different breads you can use for making sandwiches at home. I came across these Bolillos – which is a french bread typically made in Mexico. They worked great for this sandwich and are very affordable (3 for $1).
What is in a New York Steamer?
For the sandwich – I went to Firehouse for their ingredients: Pastrami, Corned Beef, Provolone, Vinaigrette, Mustard, Mayo and then topped it off with the Firehouse Subs Datil Pepper Sauce (my favorite – sweet & spicy).
How can you steam meat at home?
The meats at Firehouse Subs are always steamed – so I asked the butcher shop how they'd recommend doing this. They said just heat the meat up on the stove for a bit so I did. I sprayed a skillet and then just heated the meat for 2-3 minutes.
I put the oven on broil to heat up. Then pile on the toppings! Corned beef, pastrami, provolone and whatever else you like. I put the mustard, vinaigrette and Firehouse sauce on before the oven. I popped them in the oven open-face on broil until the cheese was melty and starting to brown.
Take it out and pop it all together and you have a homemade New York Steamer all ready to be savored and devoured!!!


Find other Copycat Recipes on my blog!
Copycat Firehouse Subs New York Steamer
Yield: 2
prep time: 2 M
cook time: 10 M
total time: 12 M
Firehouse Subs is my FAVORITE sub restaurant and the New York Steamer is the only thing I order. Steamed corned beef and pastrami topped with provolone and melty deliciousness – you can't beat it! This copycat recipe for the New York Steamer will show you how easy it is to make in your own home! #newyorksteamer #firehousesubs #copycat
ingredients:
1-2 Sandwich Sub Bread (Bolillo or French Loaf)
2-4 slices corned beef
2-4 slices pastrami
3 slices provolone
Mustard
Mayo
Balsamic Vinaigrette
Captain Sorenson's Datil Pepper Sauce
instructions:
How to cook Copycat Firehouse Subs New York Steamer
Slice bread in half and place on cookie sheet that has been lightly sprayed with non-stick spray
Preheat oven on broil
Heat small skillet with a light coating of non-stick spray, then place your meat into the skillet. Heat for 2-3 minutes
Remove meat from pan and place on open-faced bread
Top with vinaigrette, mustard and Datil pepper sauce .
Top with provolone
Heat open-face on broil for 3-4 minutes or until cheese is melted and starting to brown
Combine the two sides together and serve!