This post is sponsored by Prime Fresh. All opinions are my own.
I'm so excited that it's finally football season! My teams are rarely on TV but when they are it's butt+couch for the afternoon! And I try and find other Hawkeye and Viking fans to come hang out with me. I like to have something simple and delicious for football grub time…and these Philly Chicken Sliders are just that!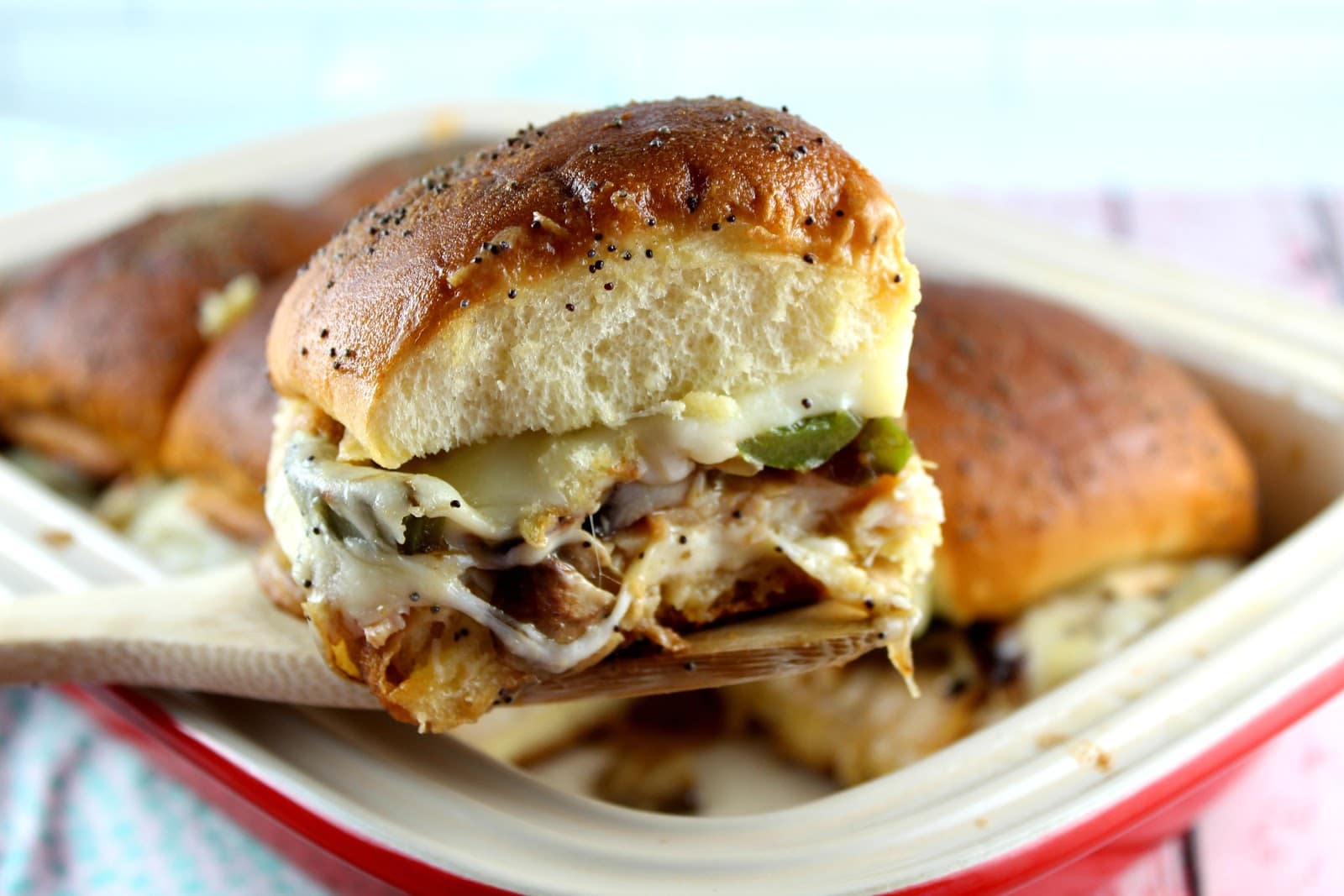 These Philly Chicken Sliders go together in 10 minutes and then just pop them in the oven for 20 – so you can hang out with your friends instead of in the kitchen. I used the new Prime Fresh Rotisserie Chicken Breast on the sandwiches – it's a new brand of super fresh high quality deli meat!
You're going to love these sliders – mainly because they're so easy and versatile. So I love Philly Chicken sandwiches – peppers + onions + mushrooms are one of my favorite combos – then top it with provolone – so good!
And have you seen these "slider" recipes on Pinterest? They all top it with some poppy seed mixture and I wasn't sure why – but it was really good. I just melted butter, added dijon mustard, worcestershire sauce and poppy seeds – then whisked it all together!
The sandwiches really don't have any "sauce" on them but they came out nice and juicy and melty. I just made 6 of them (1/2 package of rolls) but you could easily double the recipe and use the whole package.
I really like using Prime Fresh Deli Meat – it's the #1 fastest growing lunchmeat brand! Besides the Rotisserie Chicken, they also have Oven Roasted Turkey Breast, Honey Ham, Smoked Ham, Roast Beef and Smoked Turkey Breast. They're GMO and Gluten Free too – I like that you can see through the package so you know what quality you're getting.
You can also enter to win $5000 in the
Prime Fresh Tailgate Sweeps
– all you have to do is vote for your favorite recipe and you're in! If I had $5K – I think I'd spend it on a trip back home to see the University of Iowa Homecoming game! I haven't been to a game since I went to school there – it's about time I head back!
Yield: 3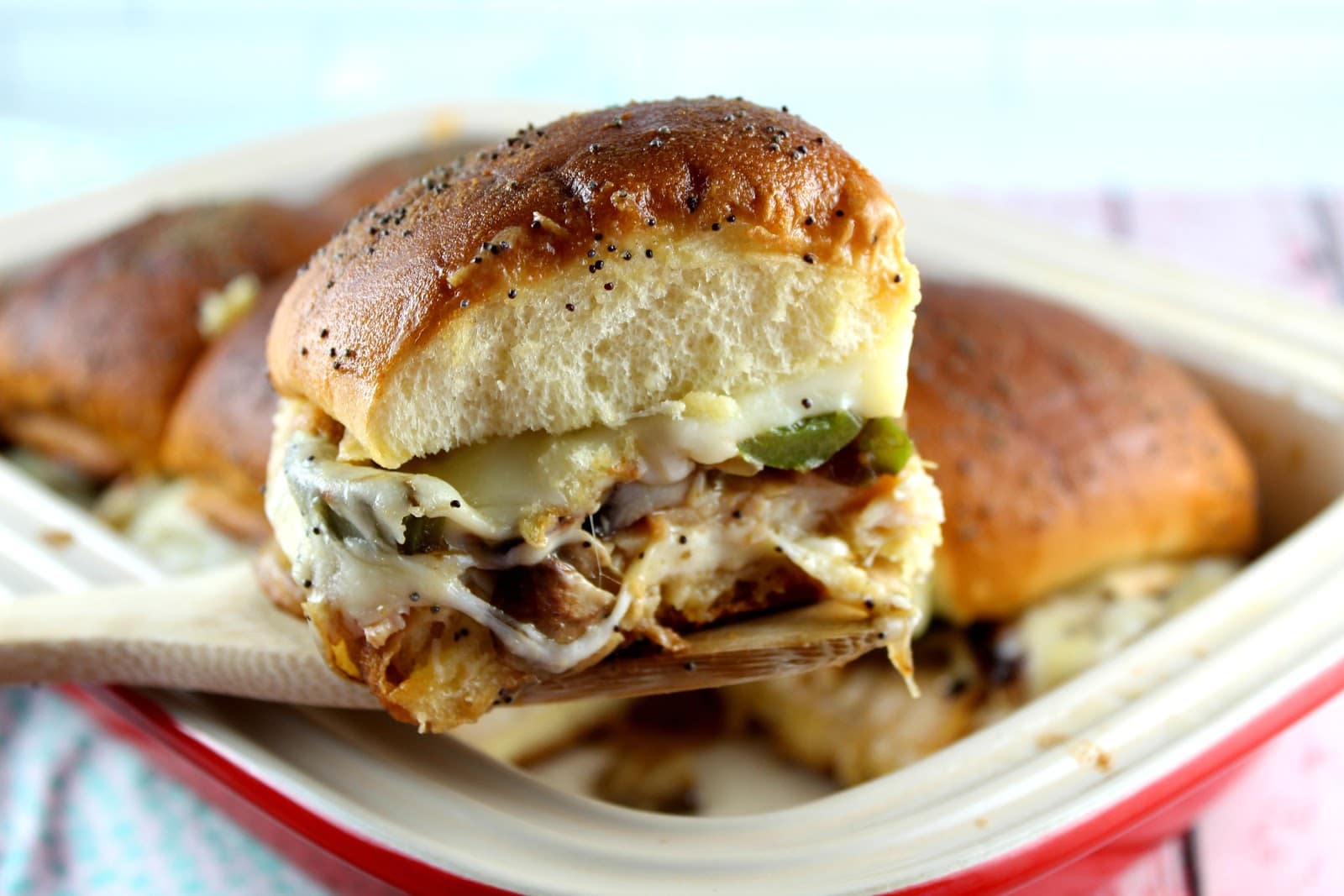 Philly Chicken Sliders
Here's a quick and easy weeknight recipe you can make for 2 or a crowd! Philly Chicken sandwiches are my favorite – and now you can have mini-sliders anytime!
prep time: 10 mins
cook time: 30 mins
total time: 40 mins
ingredients:
Hawaiian Rolls – 1/2 package
6 slices provolone cheese
1 green pepper, thinly sliced
1/2 onion, thinly sliced
4 oz mushrooms, sliced
1/2 stick butter
1 tablespoon dijon mustard
1 tablespoon worcestershire sauce
2 teaspoons poppy seeds
1/4 tsp salt
instructions
Spray baking dish and preheat oven to 350
Slice 1/2 package of Hawaiian rolls and place bottom half in baking dish
On stovetop, saute peppers, onions and mushrooms in olive oil until carmelized and softened, about 5-7 minutes. Remove from pan and put in bowl and let cool for 2 min.
While veggies are cooling, melt butter in a glass – 40 seconds in microwave. (Tip: top glass with Glad Press n' Seal so it doesn't make a mess!)
Lay Prime Fresh Chicken Breast slices across the Hawaiian roll bottoms
Spread pepper mixture across the chicken slices, then add provolone cheese and roll tops
To the glass with the melted butter, add mustard, worcestershire, poppy seeds and salt. Whisk with fork until blended.
Baste top of rolls with butter mixture, be sure to cover all the tops and a little can run down the sides. You don't need to use all of this – I used about 3/4 of it.
Bake for 15 minutes covered with foil, then 5 additional minutes uncovered.