This post is sponsored by Curly's. All opinions are my own.
Memorial Day is just around the corner and that means cookouts, potlucks and picnics! I love bringing pasta salad but most of them are heavy and full of mayo – so I set out to make something lighter but just as full of flavor!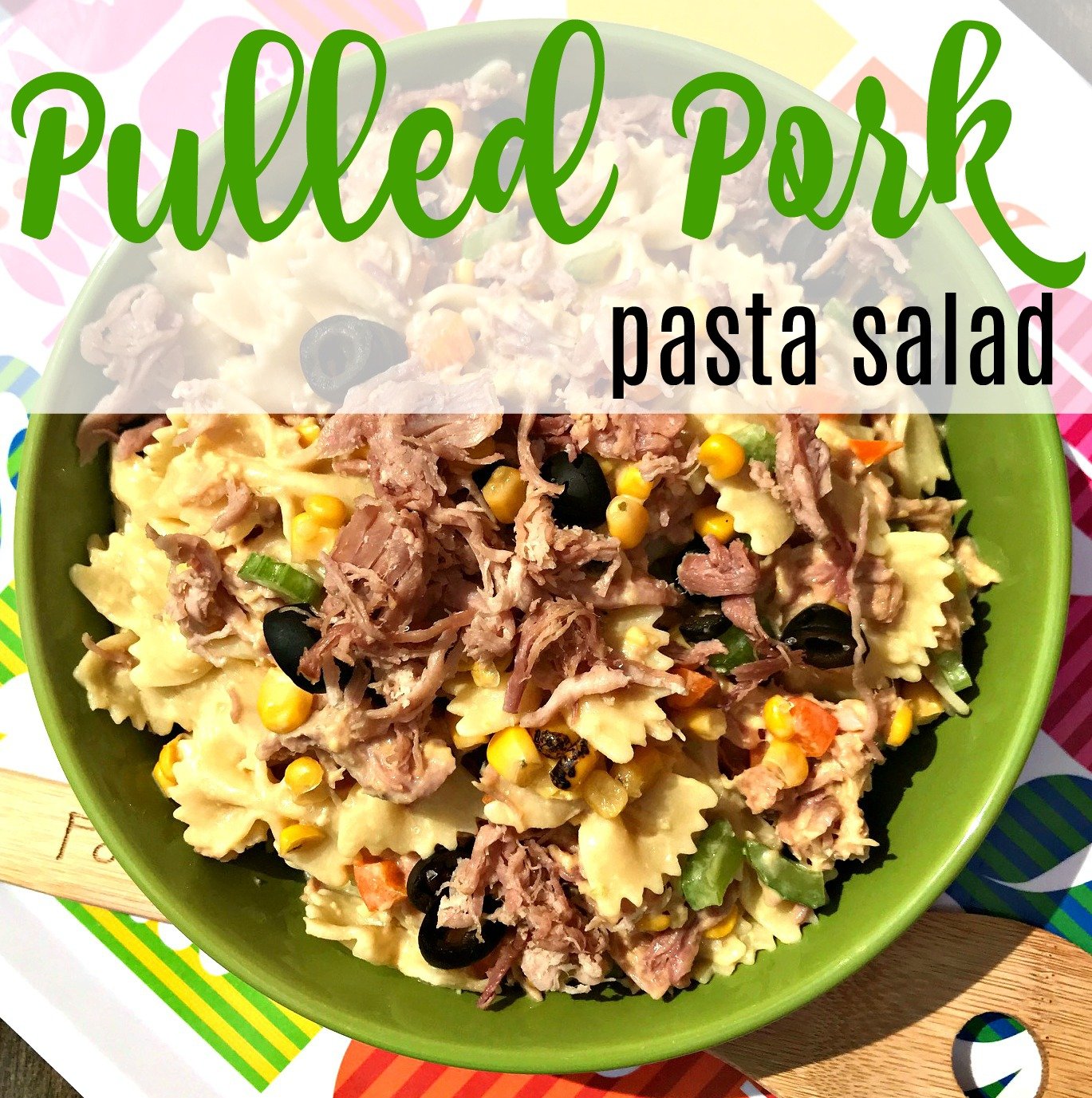 I'm also a big fan of pulled pork – so why not use that as my starter?! With pulled pork – there are some things that are a great match – roasted corn and barbecue sauce…and with that we're on our way to some yum!
I like some veggies in my pasta salad – so I started with a bit of olives, celery, bell pepper and roasted corn. I used canned corn because fresh corn isn't even planted yet – let alone ready to eat! This recipe – just fyi – makes 5 cups – I feel like that's plenty – especially when there's only two of us in the house! But if you're trying to feed a huge crowd – double it.
For the pork – I found a great timesaver! Curly's makes a SAUCELESS version of their pulled pork – it's in the refrigerated section of the store. I loved it because most sauced versions have the traditional barbecue sauce – but I had something special in mind for this one! The sauceless is ready to go – you can heat it up in just a couple of minutes in the microwave.
After I had the pasta, veggies and pork mixed together – I added the sauce. Here's where I got creative! My husband is allergic to eggs – so no mayo for us – I used a mixture of plain Greek yogurt and a pre-made mustard-based barbecue sauce (not honey mustard – more of a South Carolina style). Stir and refrigerate to let the flavors all meld together – and be sure you taste the sauce first – you might like a little less yogurt or a little more sauce than I have. ALWAYS BE TASTING!!
And voila – we're ready for the party! This might not look overly sauced – but that's because I don't want it too heavy. And remember – if you go to eat the leftovers later and want it creamier – then add a little more of your barbecue sauce!
I gotta plug my blog any chance I can – even have these nifty bamboo spoons/spatulas with my blog name on it! 🙂 Also – I wanted you to know – Curly's is jump-starting this summer by giving away $10,000 in their Curly's Sizzling Summer Sweepstakes! So don't miss out on a chance to win in that quick entry! 🙂 And if you win – throw me a few bucks. HAHAHA!
We have our patio decked out and love enjoying grilling time out there with our friends and family and this is a great meal anytime. You can also tweak this pasta salad if there are other things you like in it! Add some cubed cheese (oooh cojack!) or mix up the sauces by combining the mustard with a spicier tomato-based sauce – or red onions and pickled jalapenos would be a great addition too! Heck – I might throw in some cubed cheese and pickled jalapenos before I have the leftovers for lunch tomorrow!
Someone else wanted in on the photo shoot and the picnic…Mysty is my 8 year old boxer/dalmation mix. If there's food – she's going to be the most loyal pup on the planet. Just don't let her drool on your plate…
Yup – still watching me! Puppies!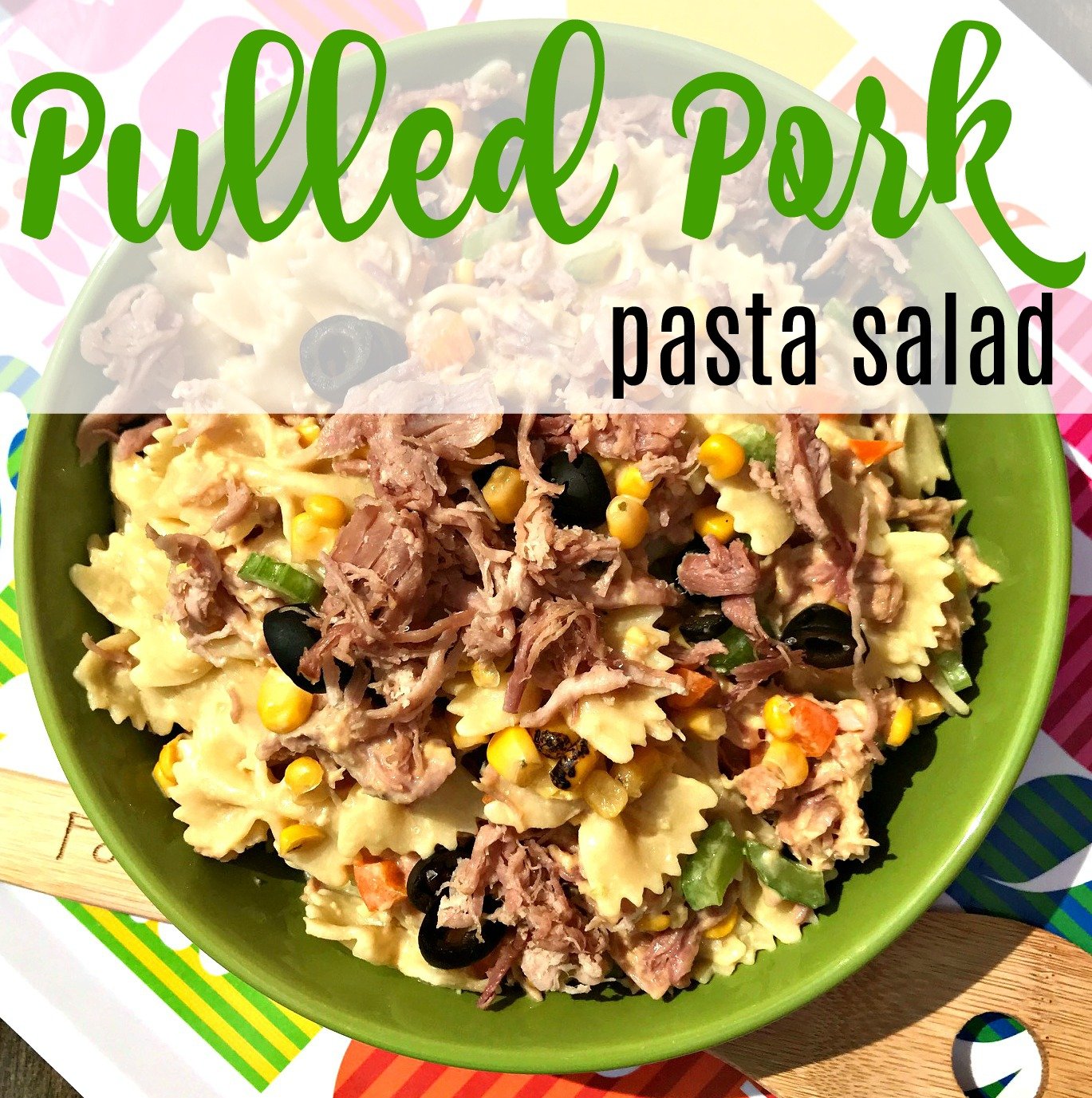 Pulled Pork Pasta Salad
I love pasta salad and pulled pork is a perfect summer addition – plus with no mayo – it's still creamy but not near as heavy!
prep time: 15 MINS
cook time:
total time: 15 mins
ingredients:
1 /2 lb (1/2 box) bowtie pasta
1 stalk celery, chopped fine
1/2 small orange bell pepper, seeded and chopped fine
1/2 14 oz can roasted corn
1/2 3 oz can Black olives
5.3 oz cup greek yogurt
1/3 cup mustard Bbq sauce
1 Tbsp salt
1.5 cups Curly's Sauceless Pulled Pork
instructions
Combine cooked pasta, celery, bell pepper, roasted corn and olives in a bowl.
In separate bowl, mix together greek yogurt, bbq sauce, and salt.
Pour yogurt mixture over pasta mixture, then toss to coat.
Heat Curly's Sauceless Pulled Pork for 45 seconds in the microwave
Stir Curly's Sauceless Pulled Pork into pasta mixture
Add creaminess upon serving with additional bbq sauce
calories
403
fat (grams)
14.5
sat. fat (grams)
4.4
carbs (grams)
44.4
protein (grams)
20.8
sugar (grams)
9.4
Created using
The Recipes Generator