Scallops wrapped in bacon?! Is there any more to say?
These bacon wrapped scallops in the air fryer are fantastic as an appetizer or an entree! And the best part is they are done in minutes!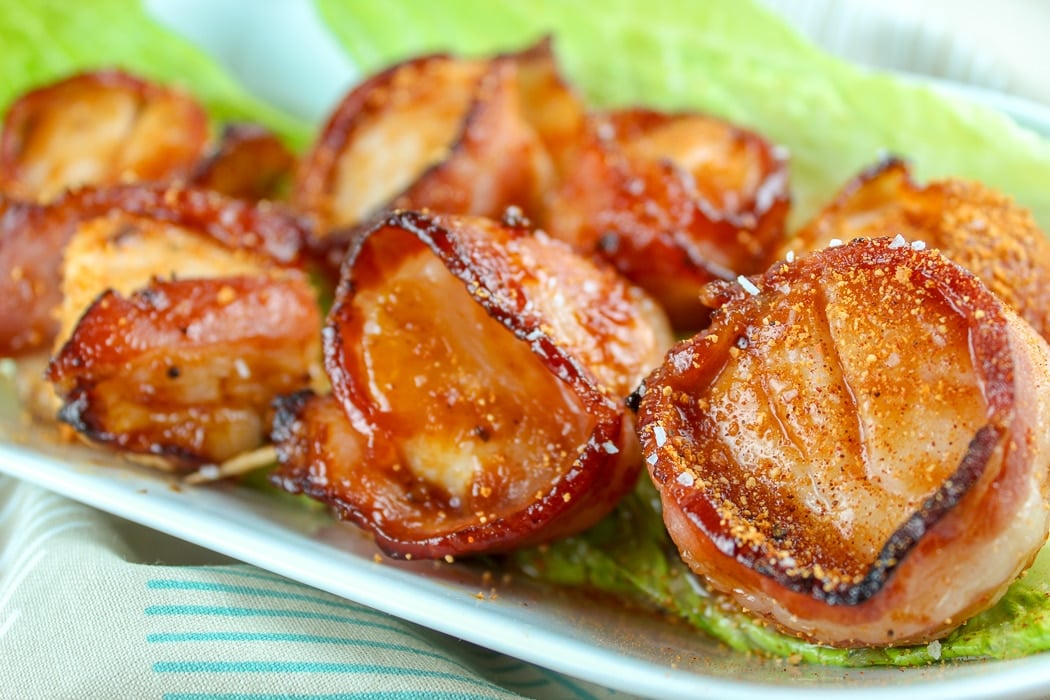 Scallops are done quickly – and the bacon just adds so much flavor – you and your friends will ask for these all the time! I love to add a little barbecue flavor for fun! Let me tell you how…
How do I air fry bacon wrapped scallops?
Making scallops in the air fryer is super simple! They actually cook very quickly no matter what you do – and you don't want to overcook them or they'll be rubbery.


They take about 10 minutes in the air fryer when wrapped in bacon. They come out so perfectly!
I made bacon wrapped scallops in the air fryer and it was super simple! I sliced the bacon in half and pre-cooked it for 3 minutes at 400 – the bacon takes longer than the scallops – so this helps them get done evenly.


Then wrap each scallop in a half-slice of bacon, secure with a toothpick and into the air fryer! I always place a pita or slice of bread under the basket when I'm making bacon to soak up some of the bacon grease.


Then I brushed on a very light barbecue sauce – my favorite is Williamson Brothers. I found them on a trip to Atlanta and it's my favorite! It's not very thick and has a lot of seasonings and flavor!
Finally you pop the bacon-wrapped scallops in the air fryer for 10 minutes – turning halfway through and they're ready! I love them and can't wait to serve them when my friends and family come over!
If you're looking for other air fryer recipes – I have tons! You can see them on my Air Fryer Facebook Group. Here's a few of my favorites! I love fried pickles and had to try them in my air fryer – I made them two ways – so you can have them battered or extra crunchy! Air fryer meatballs are another appetizer that can be a main dish – and I love making them – so quick and easy! Last but not least – a perfect pairing for the scallops are bacon wrapped jalapeno popper shrimp!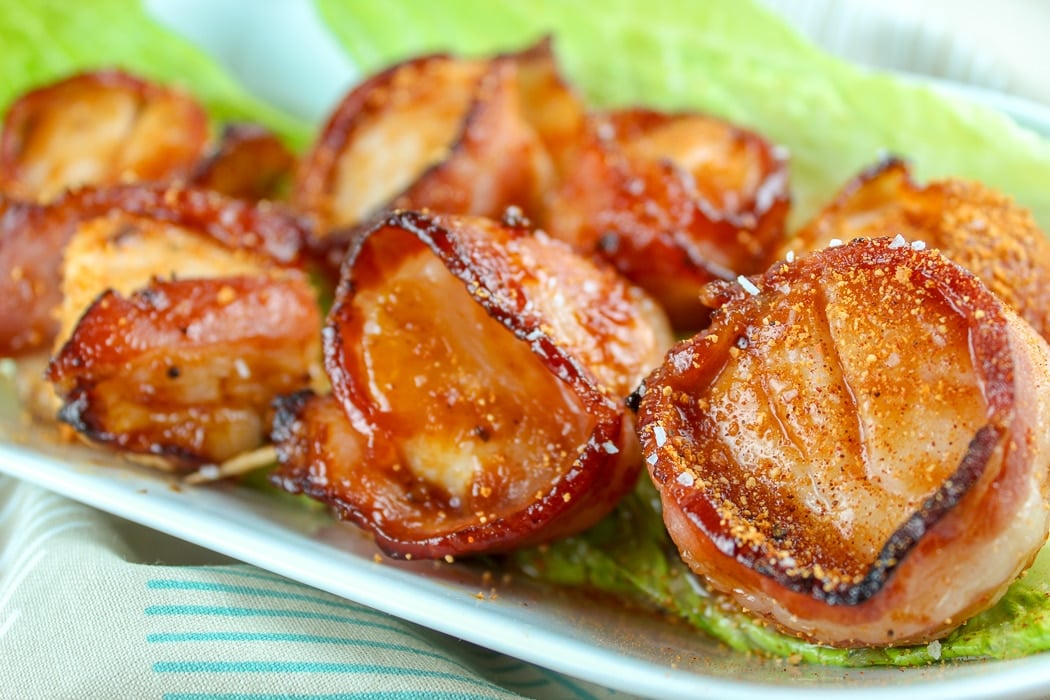 Air Fryer Bacon Wrapped Scallops
prep time: 2 M
cook time: 13 M
total time: 15 M
Scallops wrapped in bacon – is there any more to say? Pop them in the air fryer and they're done in minutes! Perfect for an appetizer or a main dish served with veggies!
ingredients:
16 large sea scallops, cleaned and pat dry with paper towels
8 slices center cut bacon
16 toothpicks
1/4 cup BBQ Sauce (Williamson Brothers)
instructions:
How to cook Air Fryer Bacon Wrapped Scallops
Slice bacon in half and place the bacon in the air fryer to partially cook at 400 for 3 minutes.
Pat the scallops dry with paper towels to remove any moisture.
Wrap each scallop in 1/2 slice of bacon and secure it with a toothpick.
Place scallops in air fryer (I can fit 8 at a time in my basket style air fryer)
Lightly brush scallop with your favorite barbecue sauce. I recommend a thinner sauce – not a heavy thick sauce. You can also just spray with olive oil and salt/pepper.
Cook at 400 for 5 minutes. Turn scallops delicately and baste again with bbq sauce. Cook for another 5 minutes at 400 until scallop is tender and opaque and bacon is cooked through. Serve hot.
I also sprinkled a little Historic BBQ Red seasoning on them when they were done.
Recommended Products:
Williamson Brothers Sauce
Tongs
Flexible Cutting Boards
Did you make this recipe?
Tag
@foodhussy
on instagram and hashtag it #foodhussyrecipe