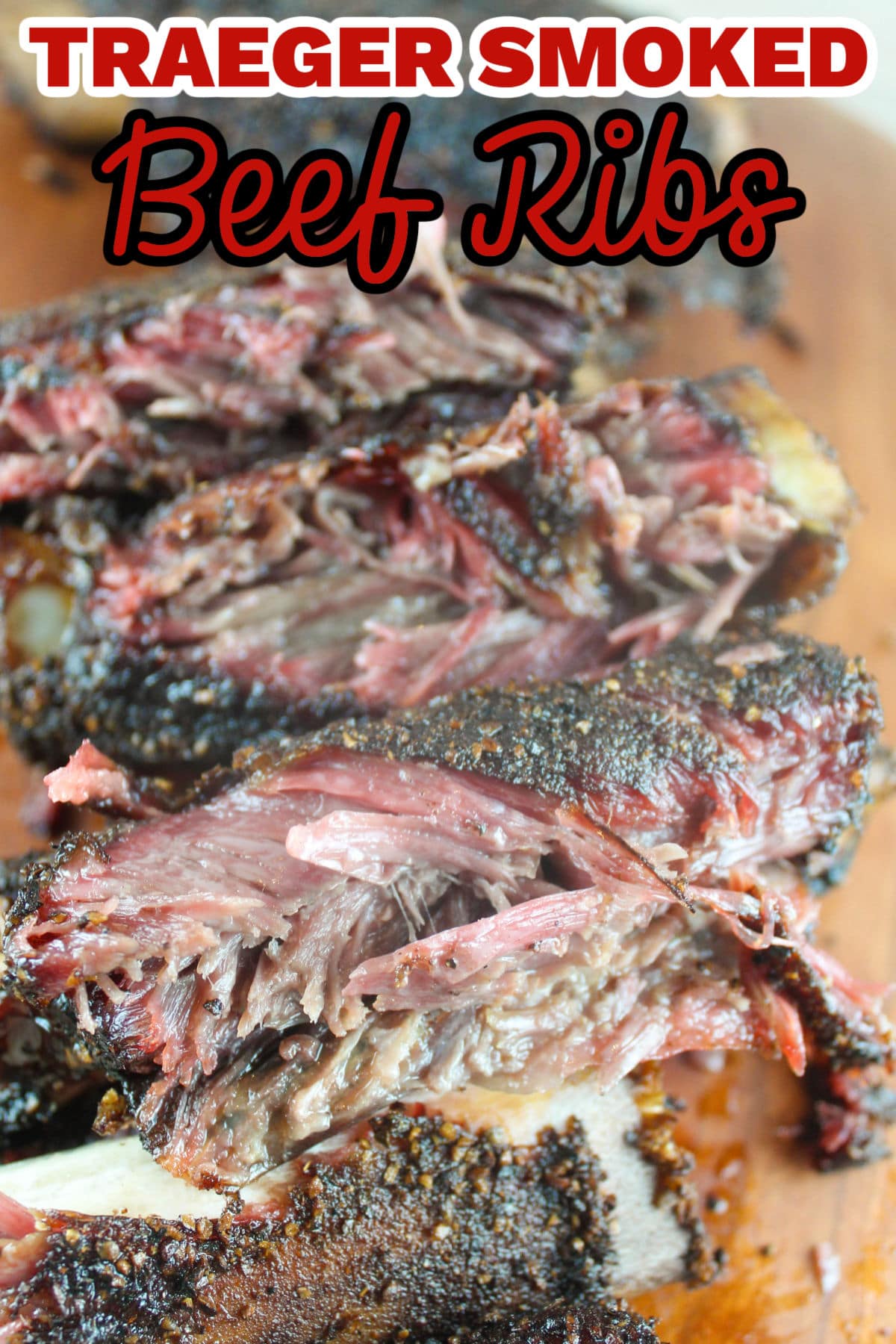 You'll love these Smoked Beef Back Ribs on your Traeger pellet grill. The smoky flavor soaks into these fall-off-the-bone beef ribs. Coated with a peppery beef rub, you'll devour these ribs.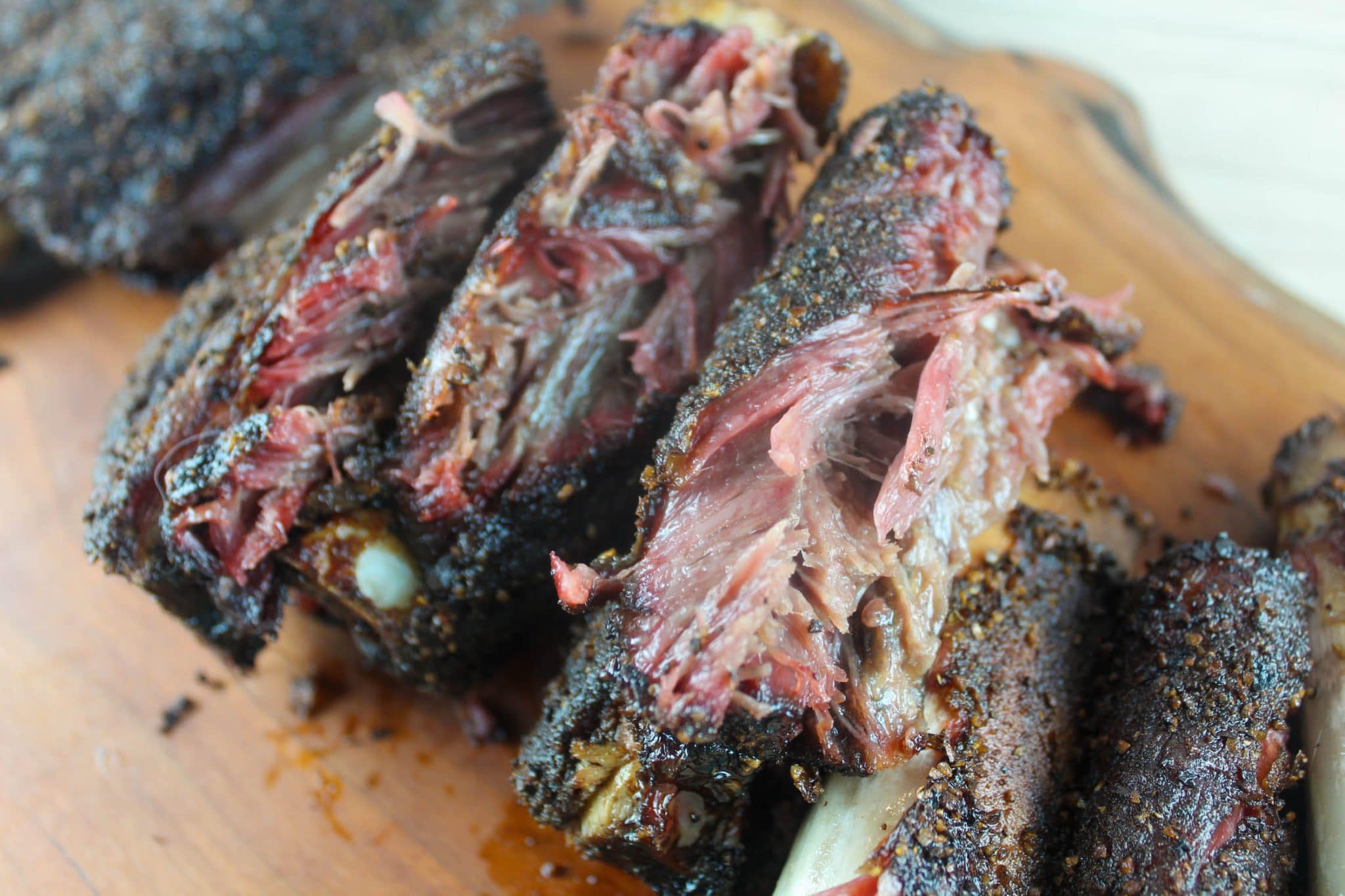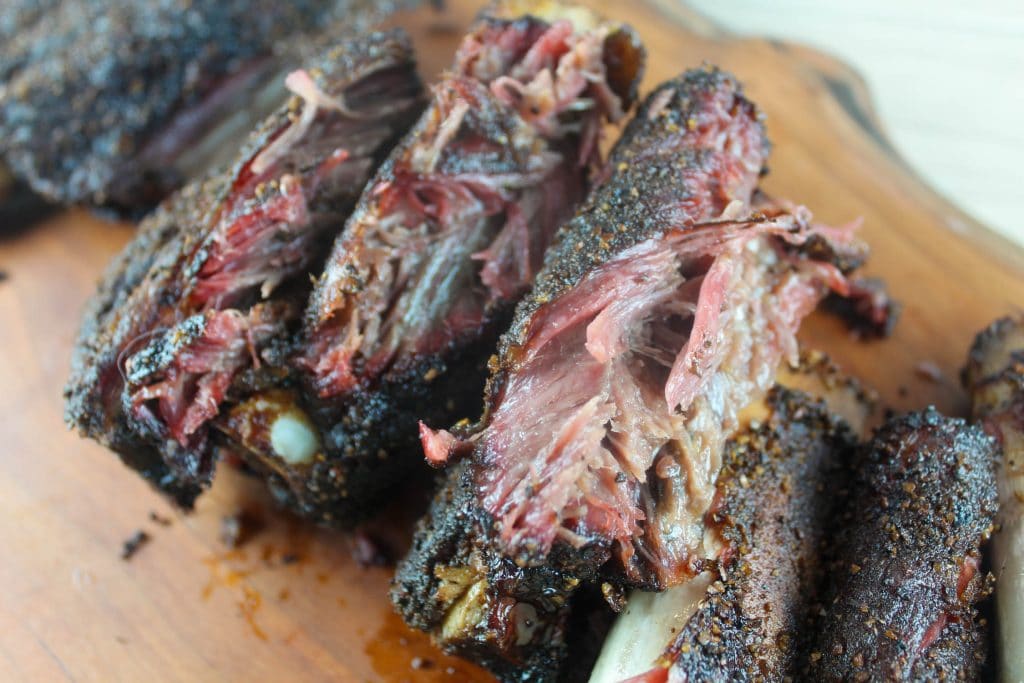 Why This Recipe Works
Beef ribs are very meaty and they will fall off the bone – in time. This is a very simple recipe – which is why I love it. And – when they were done – they had a delicious smoky flavor with that pink smoke ring we all look for!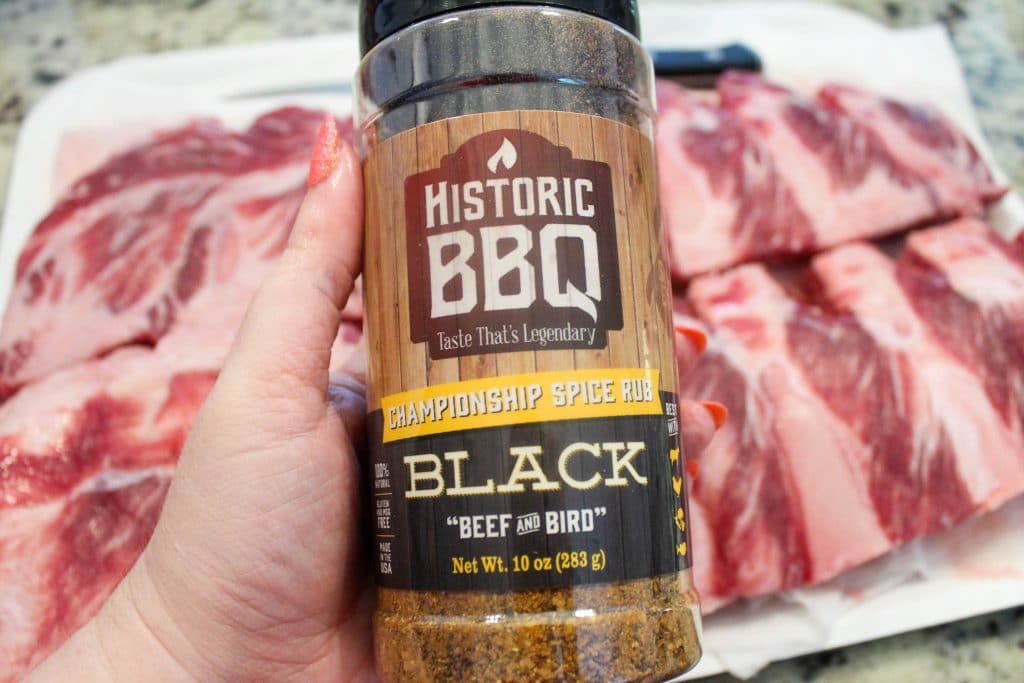 Ingredients for Delicious Smoked Beef Ribs
Here's the thing about smoking any meat – you actually don't need hardly any ingredients! Some folks even say just meat, salt & black pepper! For these beef ribs, I used:
Beef Back Ribs – back ribs are very meaty and great for the barbecue – scroll down for more on the difference between back and short ribs
BBQ seasoning – I always use Historic BBQ but you can use your favorite seasoning. I feel like every Traeger owner has their favorite spices & dry rub!
What about sauces? I prefer a dry rub rib – but if you like sauce – feel free to baste on for the last 30 minutes.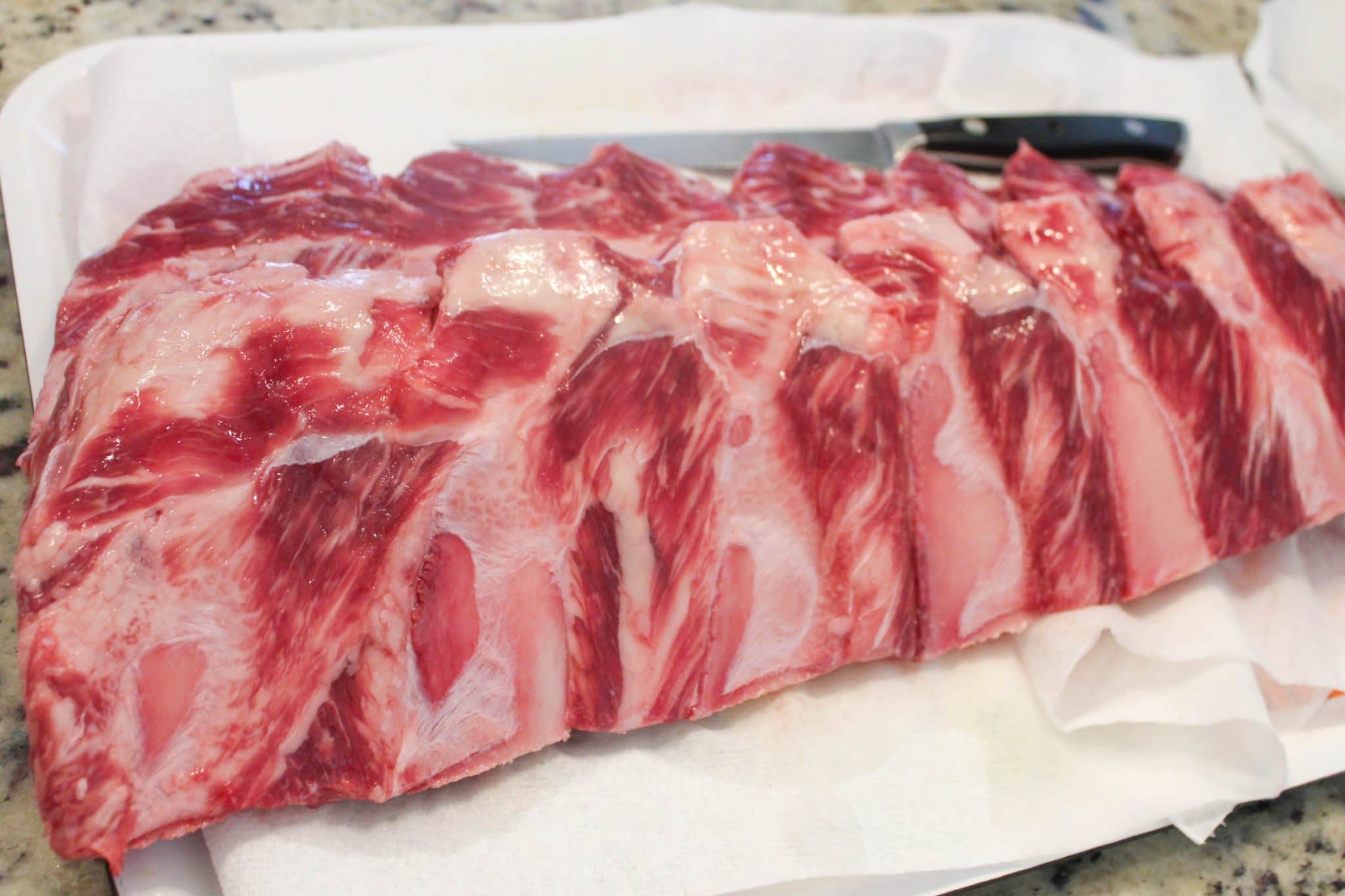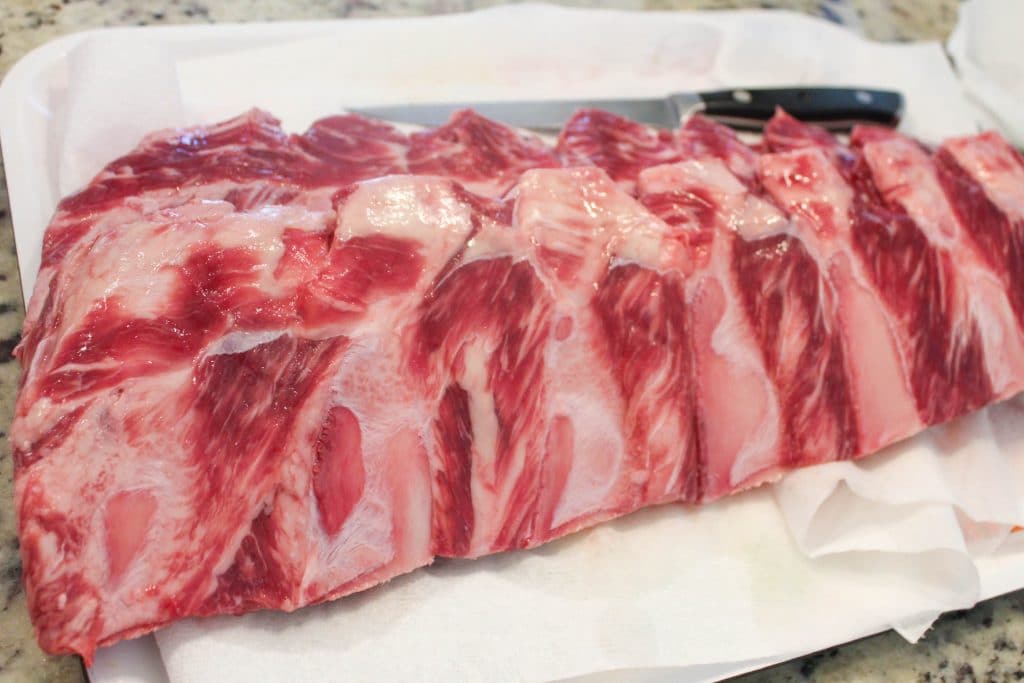 Beef Back Ribs vs. Short Ribs
Beef back ribs are from the back of the cow behind the shoulders. This area is also where prime rib and ribeye steaks are from. (yum!) The meat on back ribs is between the bones and these are great braised or barbecued.
Short ribs are from the lower part of the cow's rib cage behind the brisket. The meat in beef short ribs is thicker and on top of the bones. These are best for a low-and-slow cooking methods. You can braise beef short ribs in a slow cooker or in a Dutch Oven.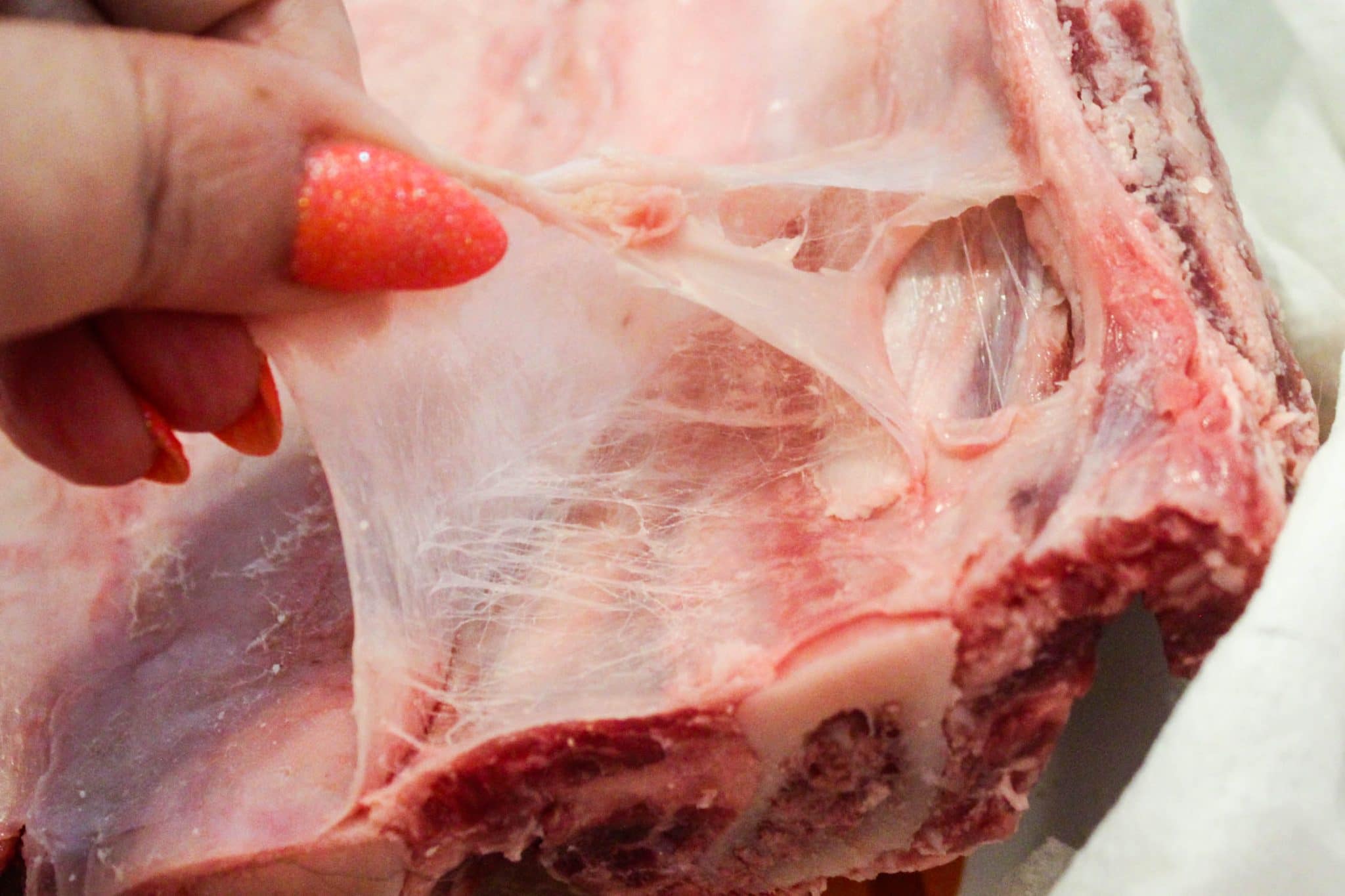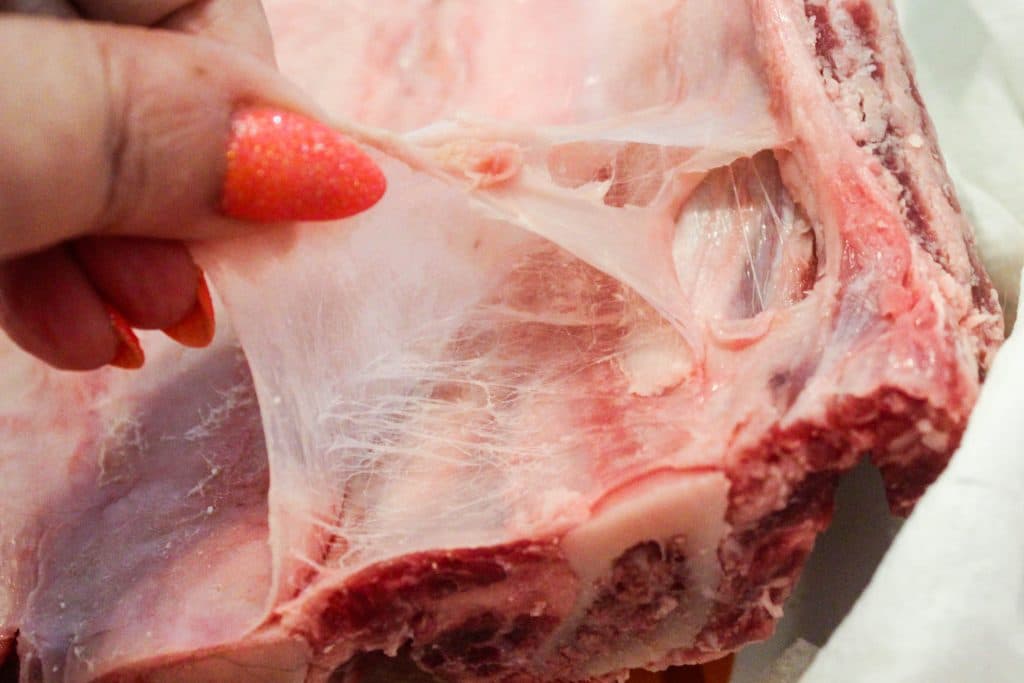 How to Smoke Beef Back Ribs on a Pellet Grill
Smoking is pretty easy – especially with an electric pellet smoker like a Traeger. The Traeger keeps the temp steady and my Meater wireless thermometer probe kept me up-to-date on the temp without ever leaving my couch!
Remove the membrane from the back of the ribs – this is essential as this does not get tender and will make your ribs tough and chewy when you eat them.

TIP: I use a boning knife in a corner to get the membrane started. Then you can grab the corner with your fingers or a paper towel and it should pull off fairly easily!

Coat your ribs completely with your bbq seasoning and refrigerate overnight
Remove ribs about an hour before you want to start up the smoker
About 45 min after you set the ribs out, turn Traeger on to the Smoke setting. In about 3-5 minutes, the grill will smoke and then the smoke will dissipate.
Once smoke clears (literally), set temperature on Traeger to 225ºF – check your pellet hopper!
If using a wireless probe, insert that into a thick part of the rib meat and be sure it's not touching the bone. (If you're looking for more info on the Meater+, check this post – I review the Meater there.)
When pellet grill is up to temp, place rack on grill grates and smoke at 225ºF for 8-10 hours.

My ribs got up in the 160º range pretty quick…but then…it was a waiting game – so be prepared – but it's worth the wait!

If you don't have the wireless probe, test the ribs with instant read meat thermometer to be sure internal temperature of ribs are between 200-203º. Be sure to place the probe into the meat and not touch the bone.
Let the ribs rest for 10 minutes and serve with your favorite bbq sauce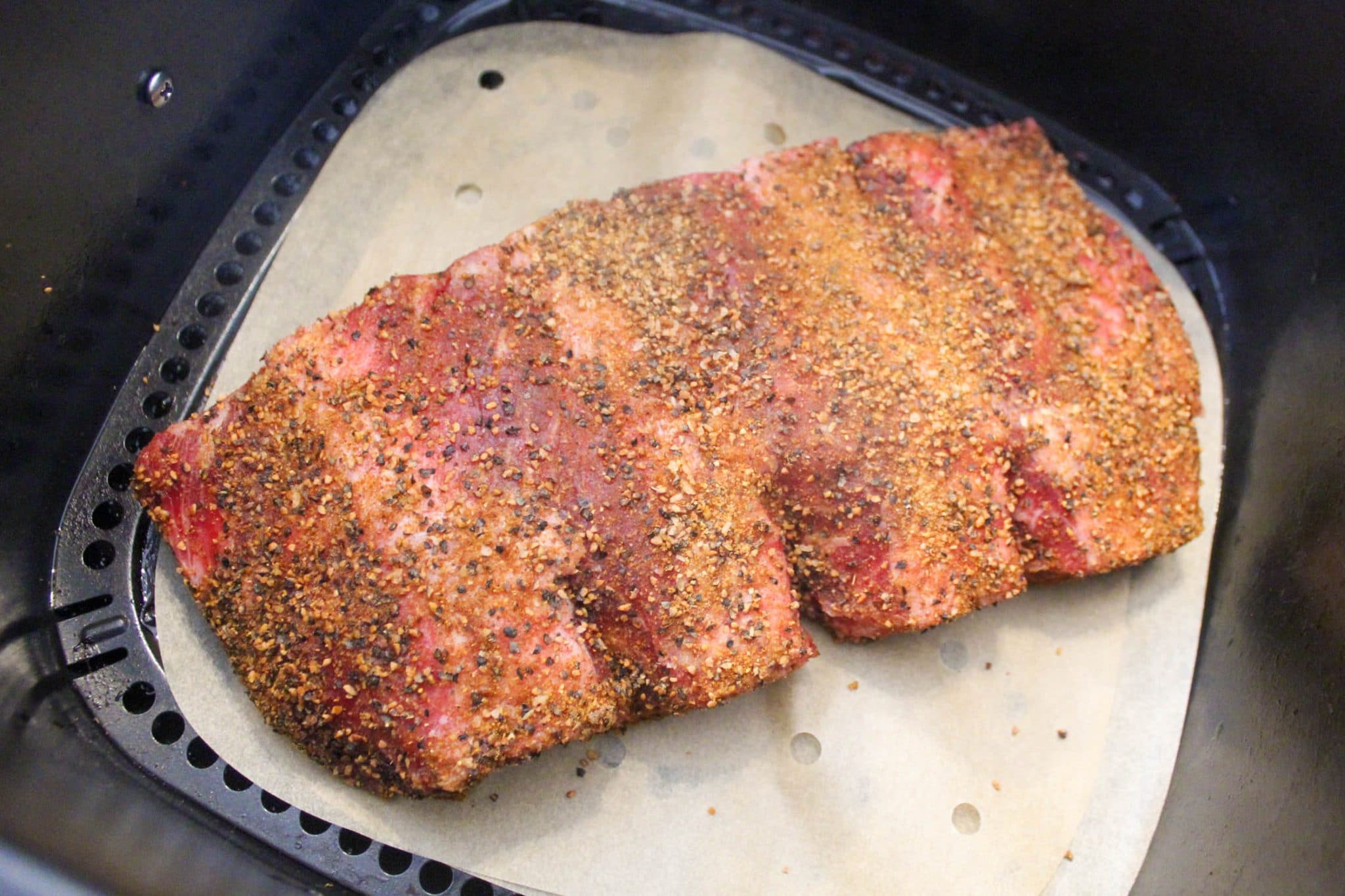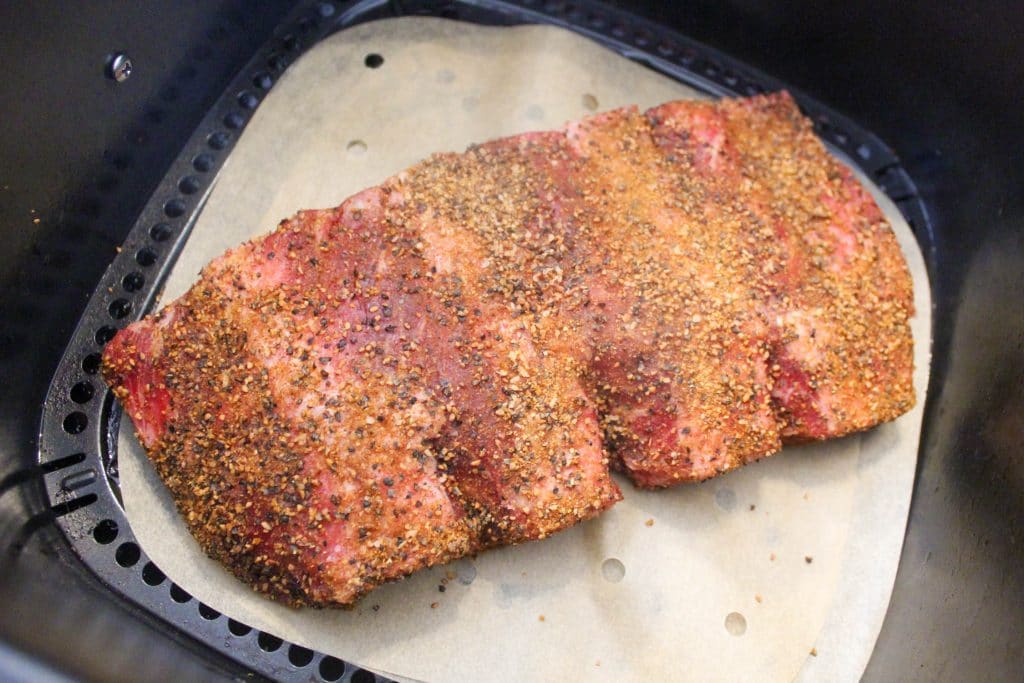 Can you air fry Beef Back Ribs?
Yup! Now you're probably thinking – why would I? Well – I had 2 racks of ribs and wanted to test the two methods. The Traeger definitely provides the fall-off-the-bone texture. But if you're looking for a meatier, almost steak-like juicy rib – the air fryer is a great alternative. They're also done in 35 minutes instead of 9 hours.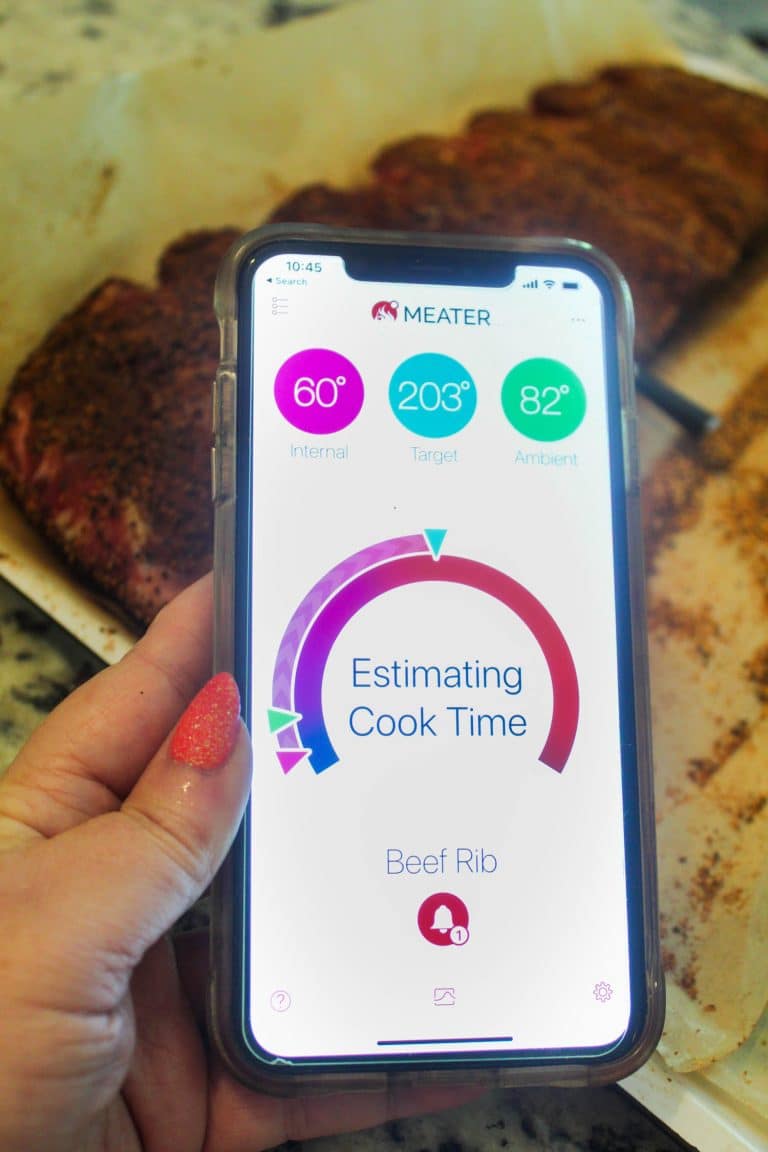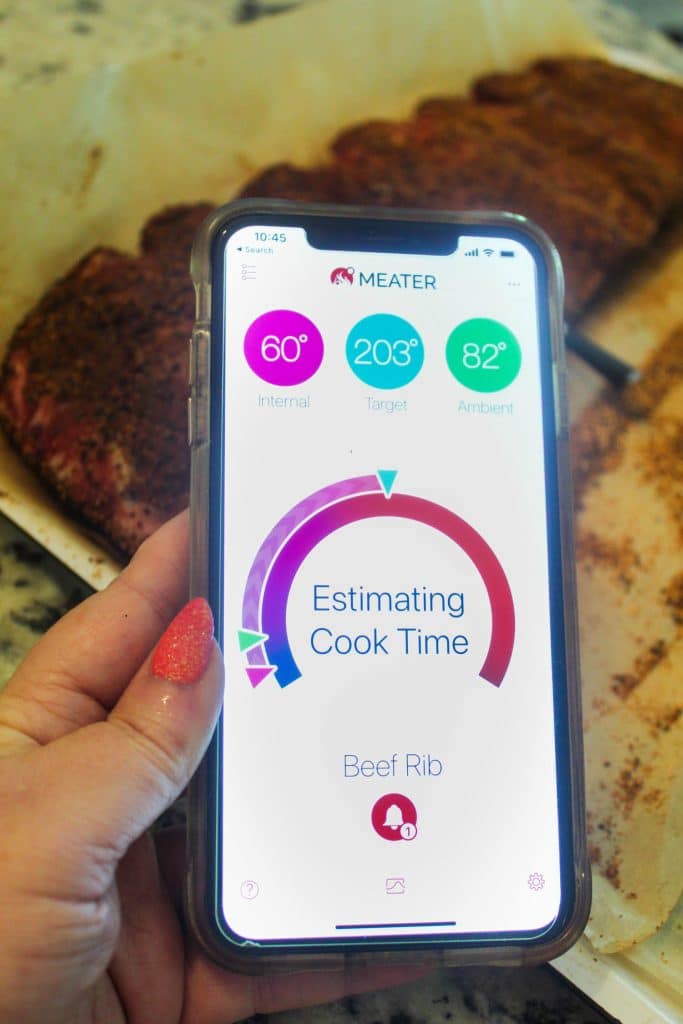 Tips, Tricks & FAQs
How long does it take to smoke beef ribs on the Traeger?
It took me 9 hours to smoke the beef ribs. That said – your beef ribs may have a mind of their own. Prepare for 8-10 hours.
Do I need to wrap beef ribs when smoking?
I did not. If the ribs are done before you planned to eat, you can wrap them in butcher paper or aluminum foil and store them in a cooler to keep them warm.
Are beef ribs good to smoke?
Yes definitely! Its one of the best ways to cook them!
When do you take beef ribs off the smoker?
When they reach between 200-203º internal temperature. The meat thermometer is your friend!!!
What pellets should you use for beef ribs?
There are many flavor wood pellets that work in your Traeger pellet grill. I keep it simple and always use the Traeger Signature Blend which is a blend of Maple and Cherry. That said if you're looking for something specific for beef, I recommend Hickory or mesquite.
Will beef ribs stall?
Yup. I was thisclose to being done for about 3 hours…Trust the thermometer. It's why I recommend the Meater Plus temperature probe – I didn't have to keep checking and checking. I set an alert for when the meat reached 200º and confidently took a nap!
How do you get more smoke into your ribs?
Smoker Tubes – My friend Nick introduced me to the wonderment of a smoke tube! It's a metal tube with holes – fill that tube with Traeger pellets and then light it with a butane lighter. Once the pellets catch fire – let them get started – then blow the flames out. Set them in the grill and shut the lid. The smoke flavor is all those tubes will leave behind!
How do you store and reheat leftover ribs?
Store any leftover ribs in an airtight container in the refrigerator for up to 5 days. I find it best to reheat in the microwave for 1 minute so they don't dry out with more cooking.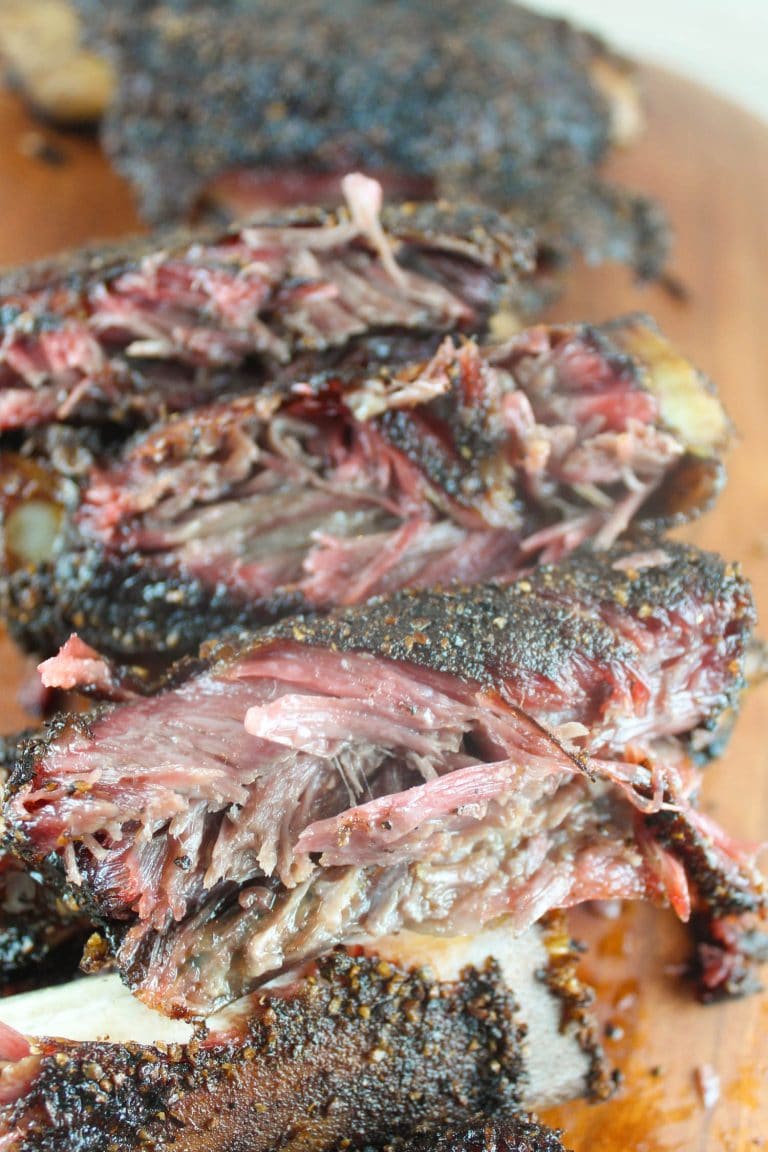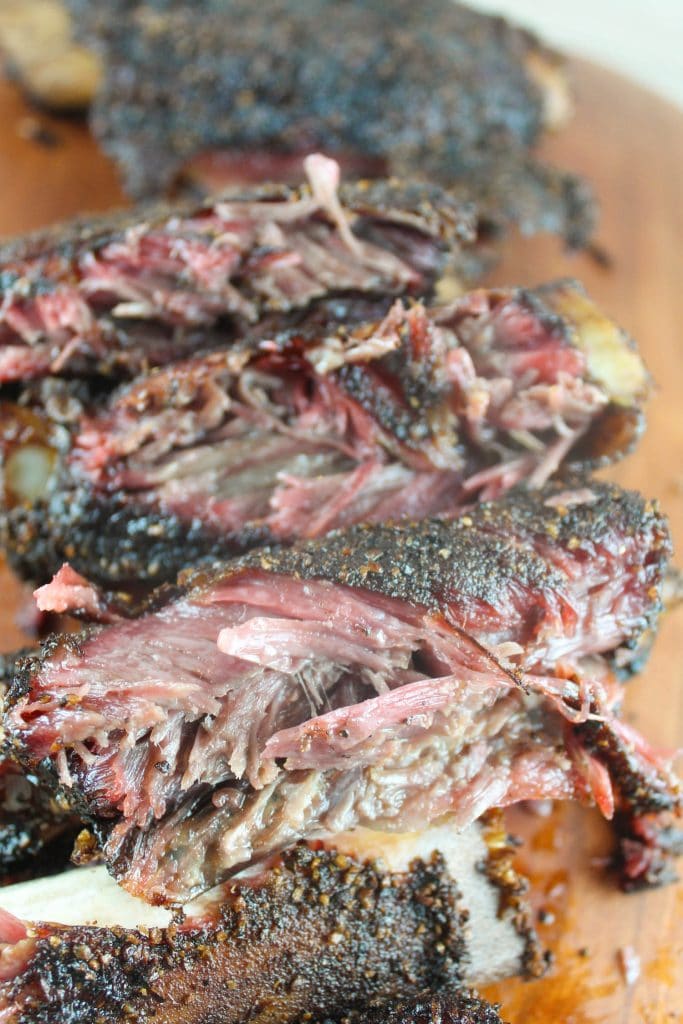 What to serve with Beef Ribs
More Traeger Rib Recipes
Traeger Beef Recipes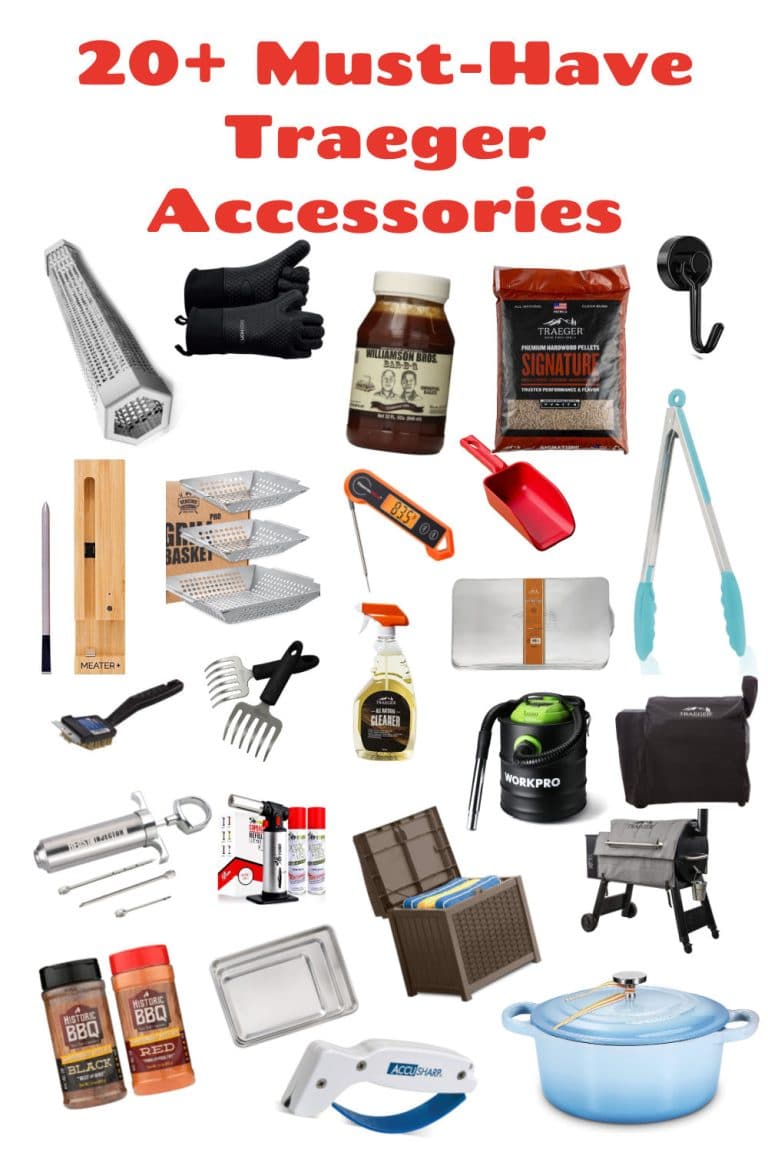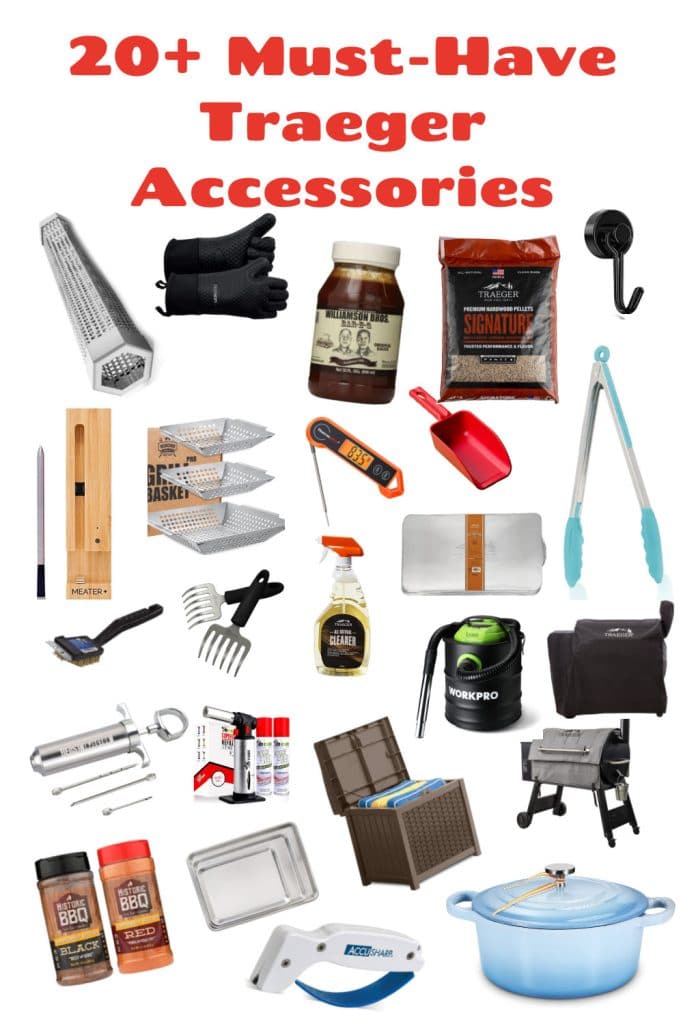 I absolutely love my Traeger Pellet Grill and you can pretty much use it right out of the box! But over the years I've definitely found that there are some Traeger smoker accessories that make everything a lot easier!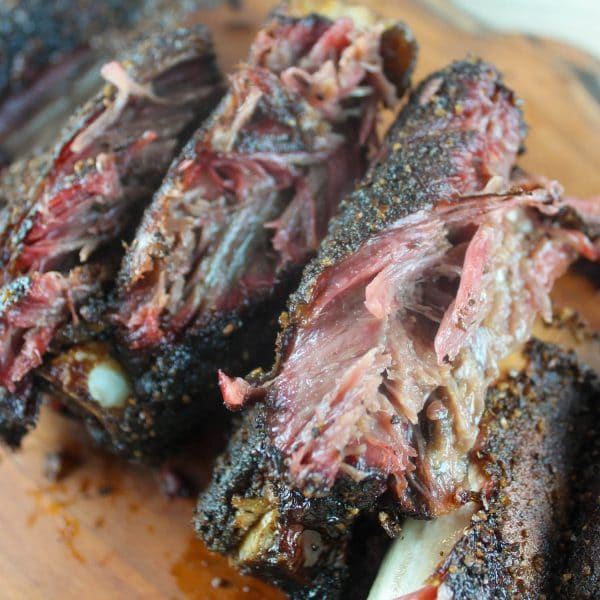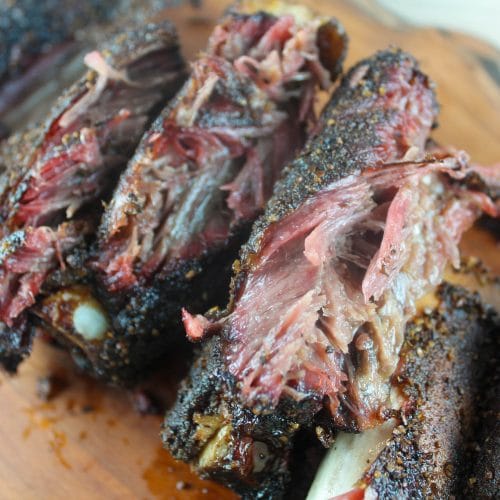 Traeger Smoked Beef Back Ribs
You'll love these Smoked Beef Back Ribs on your Traeger pellet grill. The smoky flavor soaks into these fall-off-the-bone beef ribs. Coated with a peppery beef rub, you'll devour these ribs.
Ingredients
2

racks of beef back ribs

1/4

cup

Historic BBQ Black Seasoning
Instructions
Peel off the silver membrane from the back of the ribs.

2 racks of beef back ribs

Rub ribs on both sides with Historic Black seasoning and refrigerate overnight

1/4 cup Historic BBQ Black Seasoning

Remove ribs an hour before ready to start smoker. After about 45 minutes, get Traeger started. Turn to SMOKE setting. After smoke dissipates, set temp to 225º. (Check the hopper)

When grill is at temperature – if you have a wifi thermometer – insert Meater into the center of the meaty section of the ribs – avoiding the bones.

Be sure to leave the meater block on the grill – it's got a magnet. This extends the range so you can monitor from your phone in the house.

Set ribs on the grates, bone side down. Cook 8-10 hours until reach 203º. Check pellet hopper after 4-6 hours.

Remove from grill and rest with foil tent for 20 minutes
Notes
**We are not dietitians and recommend you seek a nutritionist for exact nutritional information. The information in the nutrition box are calculated through a program and there is room for error. If you need an accurate count, I recommend running the ingredients through your favorite nutrition calculator.**
Nutrition
Serving:
3
ribs
Calories:
487
kcal
Protein:
33.2
g
Fat:
38.4
g
Saturated Fat:
15.5
g
Cholesterol:
122
mg
Sodium:
96
mg
Potassium:
444
mg
Calcium:
16
mg
Iron:
3
mg