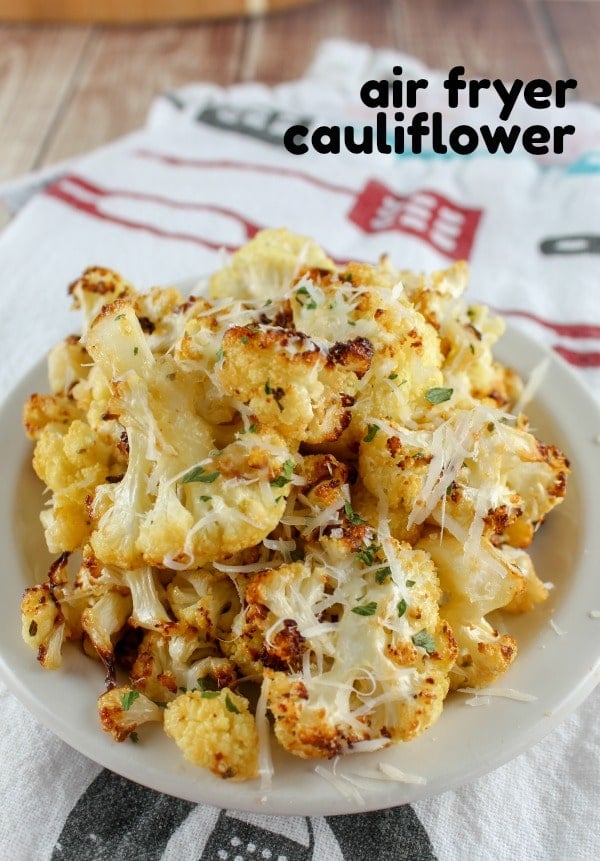 Air Fryer Roasted Cauliflower is so simple and delicious! Two ingredients and it's done in 15 minutes. I had roasted cauliflower as a topping at a salad bar and thought – I bet I can make this myself – and it was even tastier!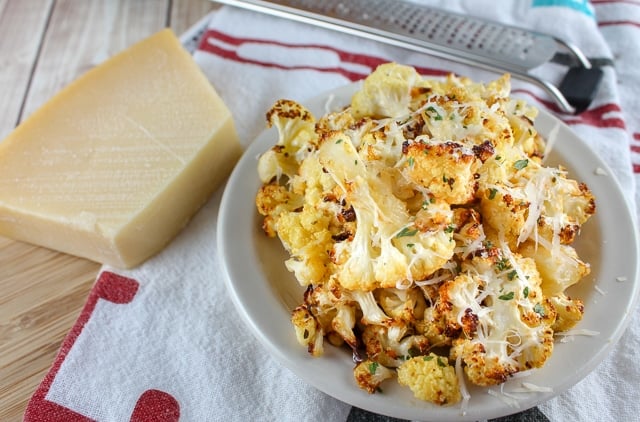 So I came home and figured it out how to make roasted cauliflower in my air fryer! While I was looking at different seasonings – I realized I already had one ingredient in my fridge that had everything I needed. So now I created this delicious roasted cauliflower recipe with just two ingredients!!! Wahoo!
Can you air fryer cauliflower?
Of course! I had done brussels sprouts – so I knew air fryer cauliflower had to be similar. Cauliflower is a little more hearty – so it doesn't get as crispy but it's also very absorbent so it took on the flavors like a champ! And air fryer cauliflower is much quicker than a traditional "oven roasted" cauliflower recipe!
How to Air Fryer Cauliflower
Okay – so what's the secret ingredient? Italian Dressing! I made my own last week so I had some in the fridge. Why Italian Dressing? It already has all garlic, red pepper flakes, oregano, basil, etc as well as olive oil & vinegar. It's perfect! You toss your cauliflower in Italian Dressing and you're done! Then into the air fryer it goes! I did add a little parmesan to the air fryer cauliflower.
What to Serve with Air Fryer Cauliflower
The Best Air Fryer Recipes
You can find all of them in my Air Fryer Recipes section or in my Air Fryer Facebook group!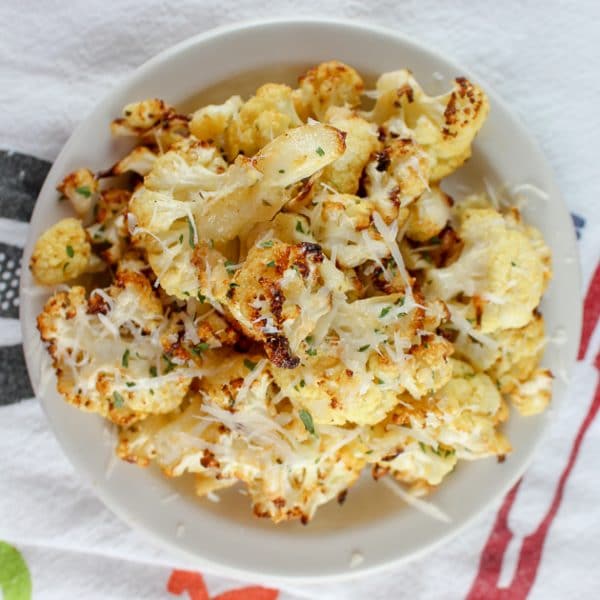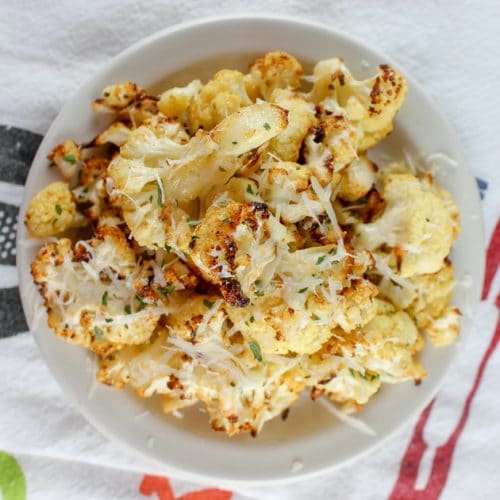 Two Ingredient Air Fryer Roasted Cauliflower
Roasted Cauliflower is all the rage right now – but I wanted to do it quicker and easier – so I turned to my air fryer! You toss your cauliflower in one special ingredient and you're done! It's also way quicker than using the oven and I think it tasted much better.
Instructions
Toss cauliflower florets in Italian dressing

Add to air fryer basket – 400 for 10 min

Grate a little fresh Parmesan over the cauliflower

Remove from the air fryer and add a little salt
Notes
Weight Watchers Points: 2 points across all plans (green/blue/purple)
Nutrition
Calories:
168
kcal
Carbohydrates:
6.7
g
Protein:
5.8
g
Fat:
13.7
g
Saturated Fat:
4
g
Cholesterol:
17
mg
Sodium:
843
mg
Potassium:
201
mg
Fiber:
1.7
g
Sugar:
4.3
g
Calcium:
140
mg