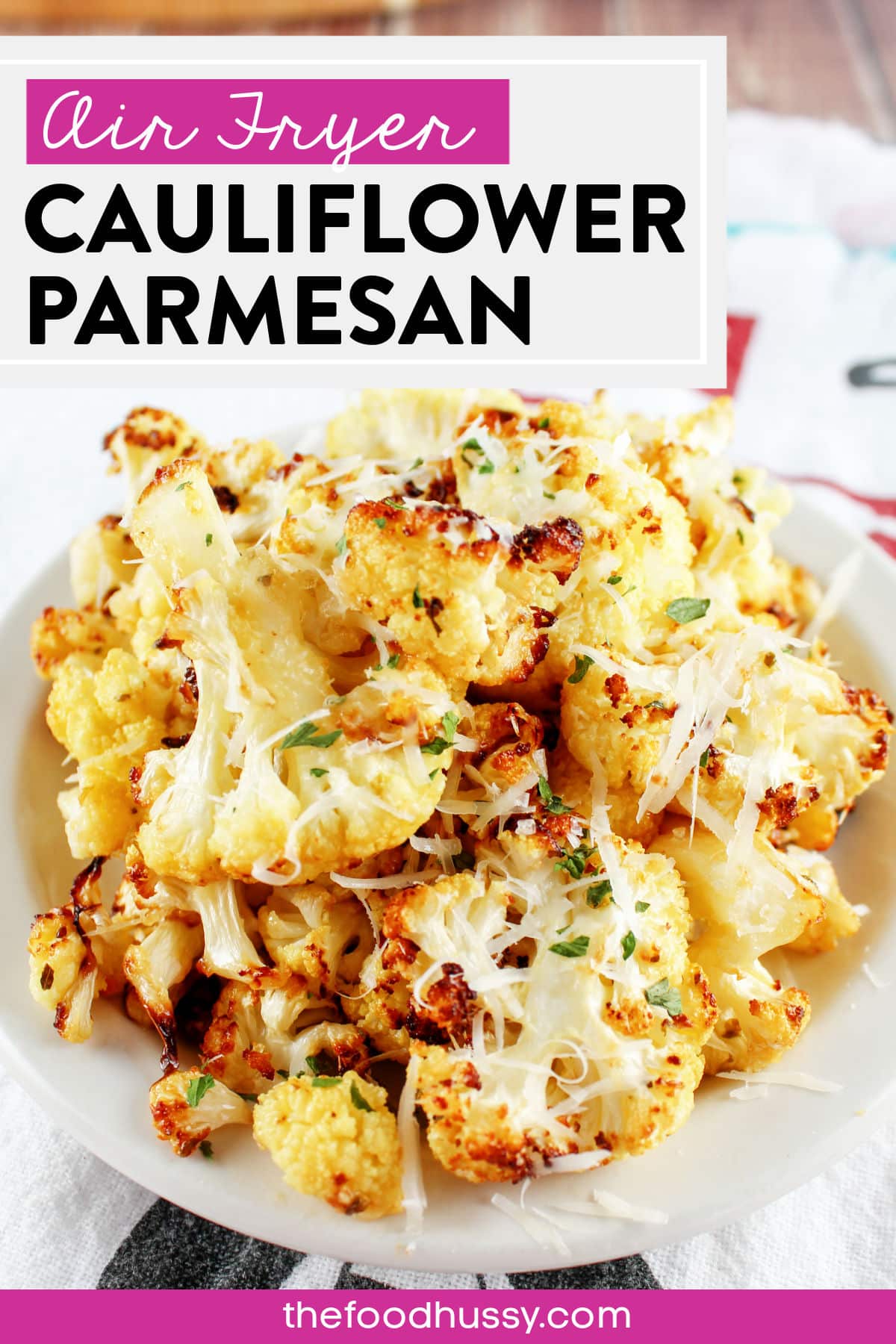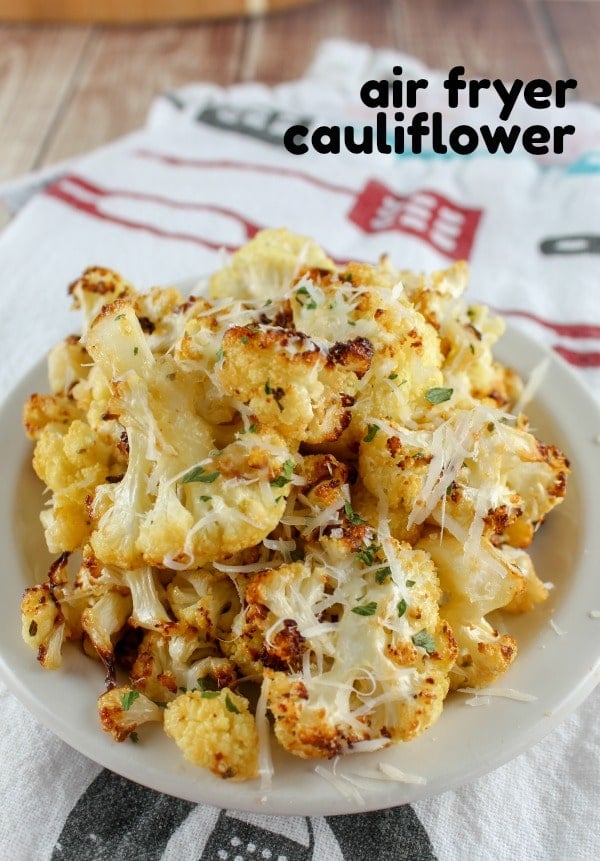 Air Fryer Cauliflower Parmesan is a delicious and quick way to have roasted cauliflower. With only three ingredients, this perfect side dish is very easy to make and adds a ton of flavor to this super nutritious vegetable!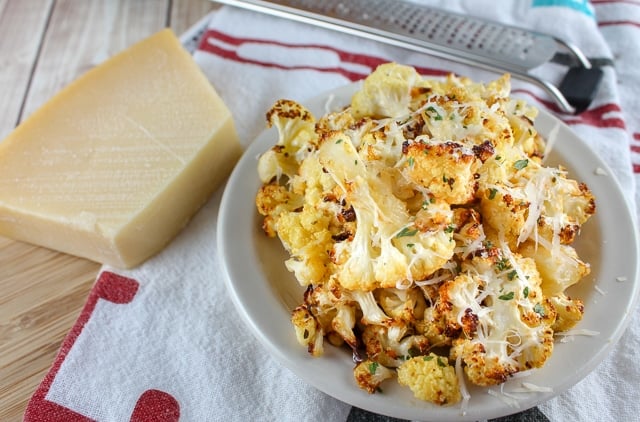 What You Will ❤️ About Air Fryer Cauliflower Parmesan
Versatile – Not only is this a great side dish, it's also a great topping on salad or in a pasta salad.
Quick – Cauliflower in the air fryer takes about 15 minutes – much quicker than oven roasting – but you still get that rich roasted flavor!
Tender – Tossing the cauliflower in dressing adds a punch of flavor and the air fryer roasts the little florets to a perfect fork tender texture but still with a bite to it!
Air Fryer Cauliflower Ingredients
There's only three ingredients to this dish – but one of them is chock full of other ingredients – but it's still simple to make!
Cauliflower – you'll need 1/2 head of cauliflower for this recipe which is enough for two people. I've got tips on how to trim your cauliflower below.
Olive Garden Italian Dressing – you can either buy this in the store – or use my recipe (which is spot-on!). This is chock full of garlic powder, black pepper, kosher salt and all your favorites!
Parmesan Cheese – I like to add just a touch of freshly grated Parmesan cheese at the end
How to trim cauliflower florets
I'm a rare breed that's been eating cauliflower since I was a kid. My dad never let me say no to a vegetable. So I've also been trimming it since I was a kid as well!
Start by removing any outer leaves
Using a sharp knife – I like a boning knife because it has a long blade and is fairly pointy – Cut the head of cauliflower in half from the top of the tree to the base
Then cut the cauliflower half into half again
You can easily see and cut out the core and stems so you're just left with big florets
From there, cut the large florets into more bite-size pieces – or you could even pull them apart!
How to season cauliflower
For this air fryer cauliflower recipe – I went with an Italian seasoning – but there are many ways to season your cauliflower! Here are a few alternate options:
Buffalo – these Cauliflower Buffalo wings are always popular – you can mimic this by tossing your cauliflower in buffalo sauce – or you can use a buffalo seasoning with a tablespoon of olive oil so the seasoning sticks
Indian – you can make an Indian-inspired seasoning mix with yellow curry powder, cinnamon, garlic, lemon juice, olive oil, salt & pepper
Spicy & Smokey – mix together smoked paprika and chili powder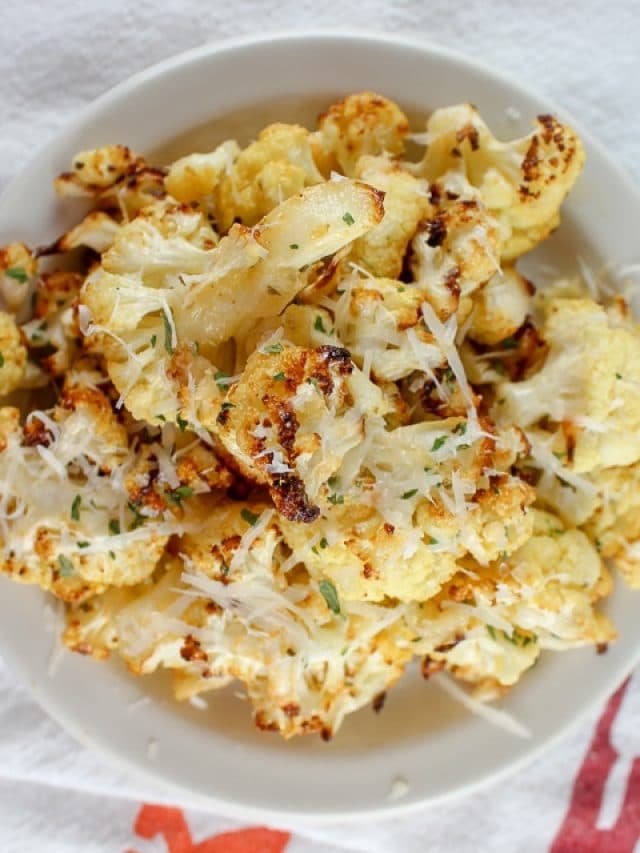 How to make fresh Cauliflower in an air fryer
In a large bowl, toss cauliflower florets in Italian dressing
Add cauliflower to air fryer basket at 400º for 10 min

I would recommend keeping the cauliflower in a single layer – or maybe slightly piled. You want the air to circulate around the florets.

Open air fryer and shake cauliflower pieces
Grate a little fresh Parmesan over the cauliflower
Air fry at 400º for 7 min more
Remove from the air fryer and add a little kosher salt and a squeeze of lemon juice
This roasted cauliflower is great on top of a salad – like the Olive Garden Salad I just made. The first time I had roasted cauliflower – was on a salad bar – so it's one of my favorite ways to enjoy it.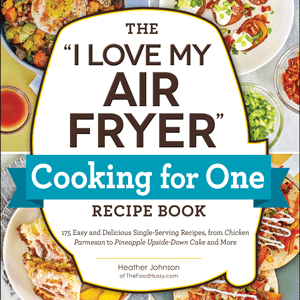 Get Heather's NEW cookbook – Air Fryer Cooking for One today!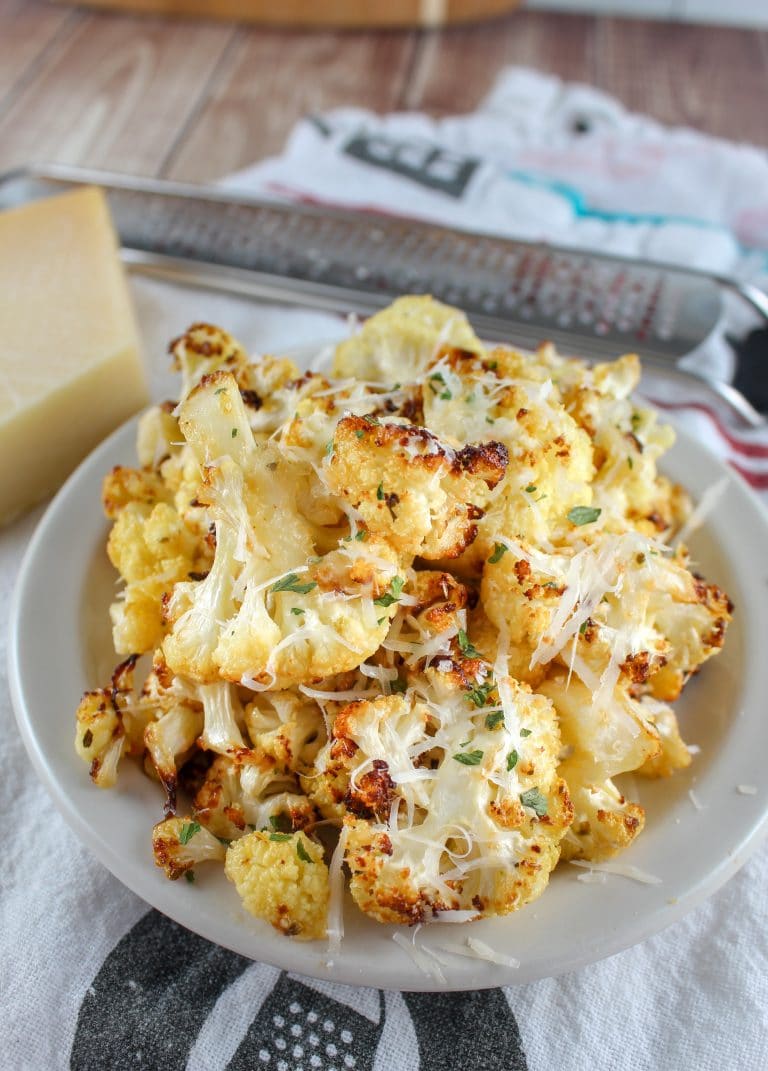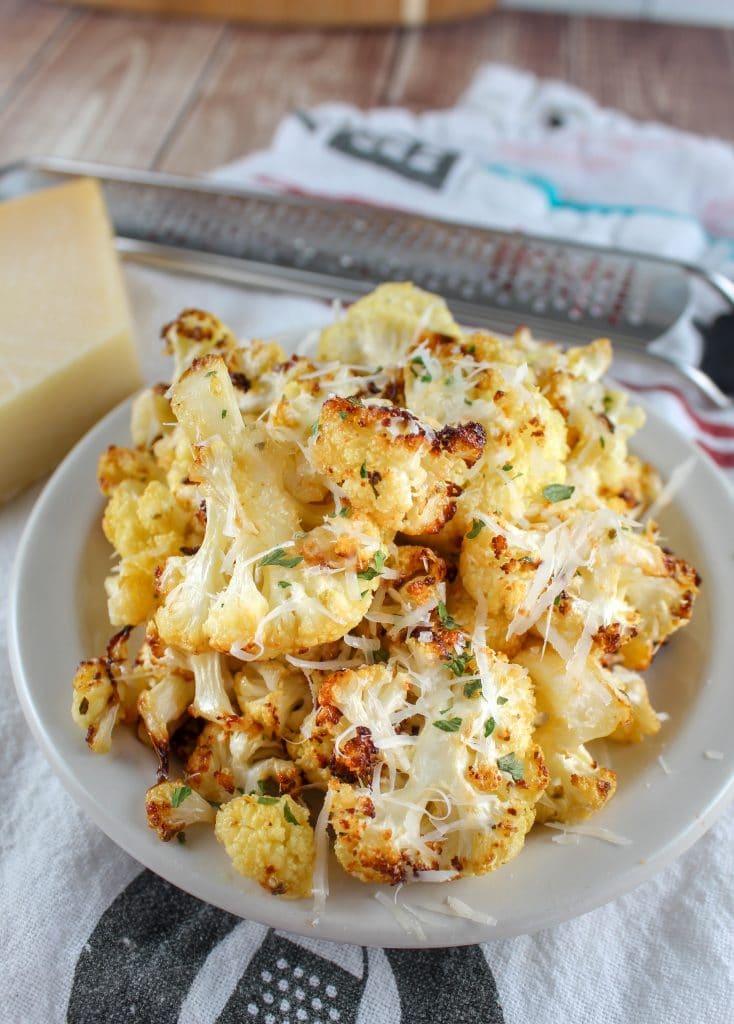 Tips, Tricks & FAQs
Is there a dipping sauce I can serve with these?
If you've got some picky eaters, you could serve with cheese sauce or even some ranch dressing. I really think it's delicious on it's own though!
How many carbs are in cauliflower?
There are 29 grams of carbohydrates in half a head of cauliflower. If you're eating keto – you should try and stay under 50 grams a day – but you also probably won't eat a half head in one sitting – so you should be good with this low carb option.
Can you use frozen cauliflower?
You can air fry frozen cauliflower – but it's going to be much softer using fresh. Frozen cauliflower florets retain the water more and when you air fry them – they just don't get crispy or get more firm. That said – it's still tasty!

How do you store and reheat leftover cauliflower?
Store leftovers in an airtight container (I like these glass ones) in the refrigerator for up to a week. Reheat in the air fryer at 325º for 4-5 minutes.

Can you oven bake this recipe for cauliflower parmesan?
Definitely! Place on a baking sheet and roast for 30-35 minutes at 400º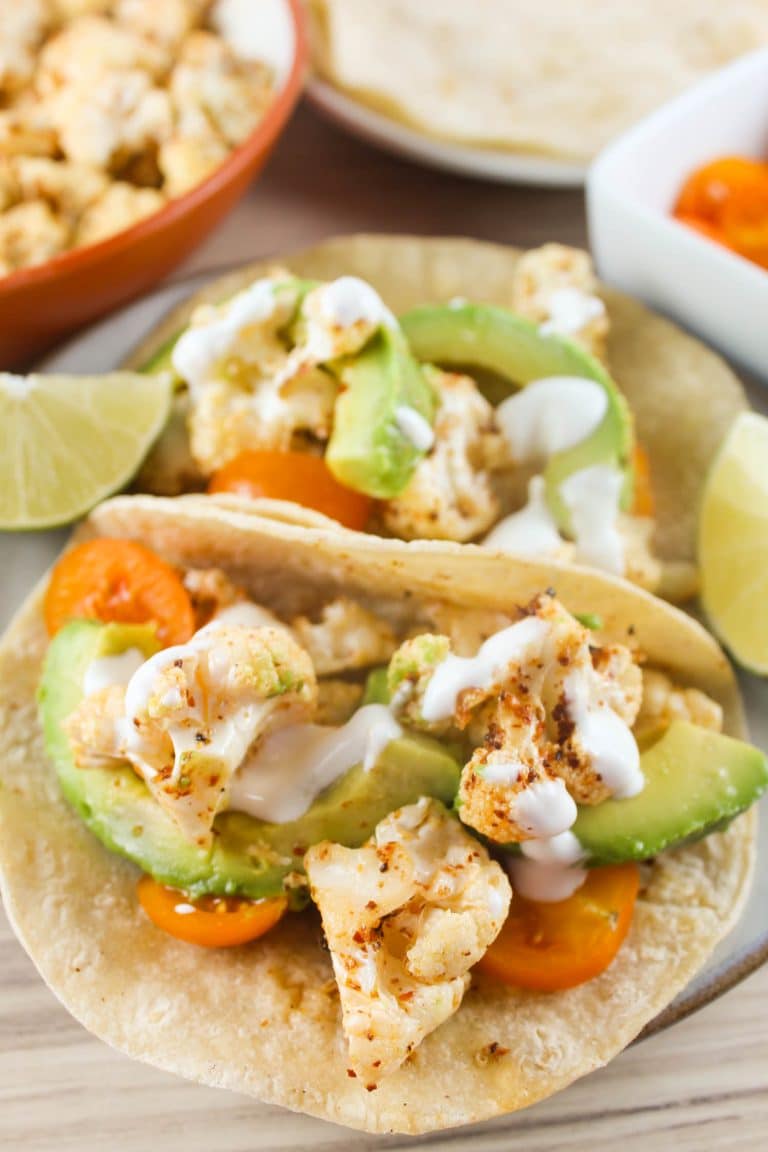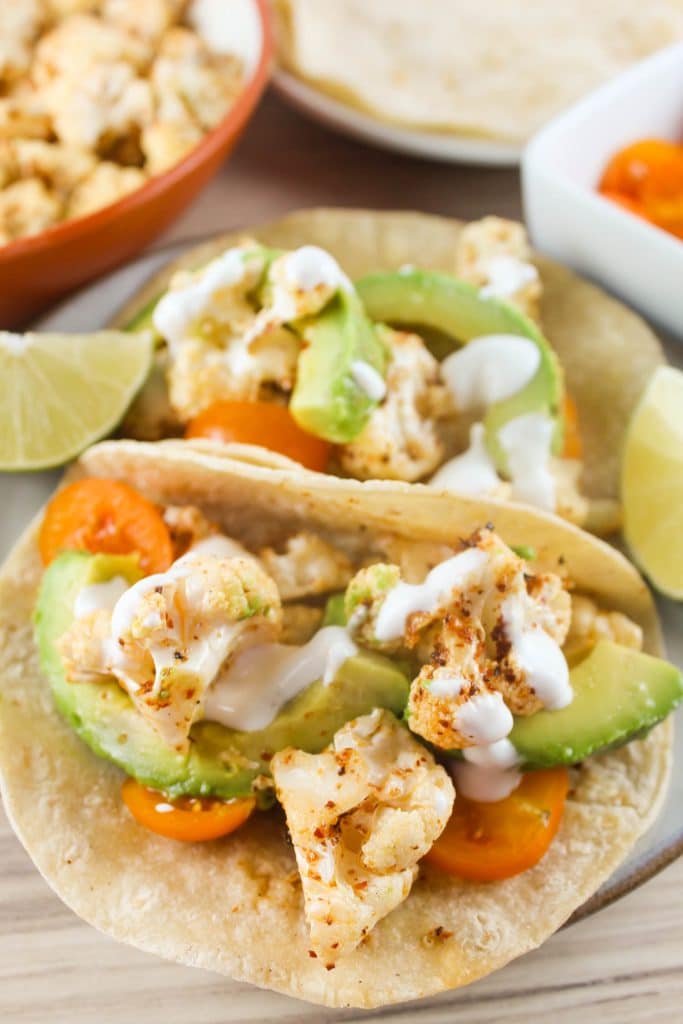 More Delicious Cauliflower Recipes
What to serve with Air Fryer Cauliflower
Air fryer cauliflower is great as a side dish, snack or even appetizer – but if you're having it as a side dish, here are some great dishes to go with it!
The Best Air Fryer Side Dish Recipes
You can find all of them in my Air Fryer Recipes section or in my Air Fryer Facebook group!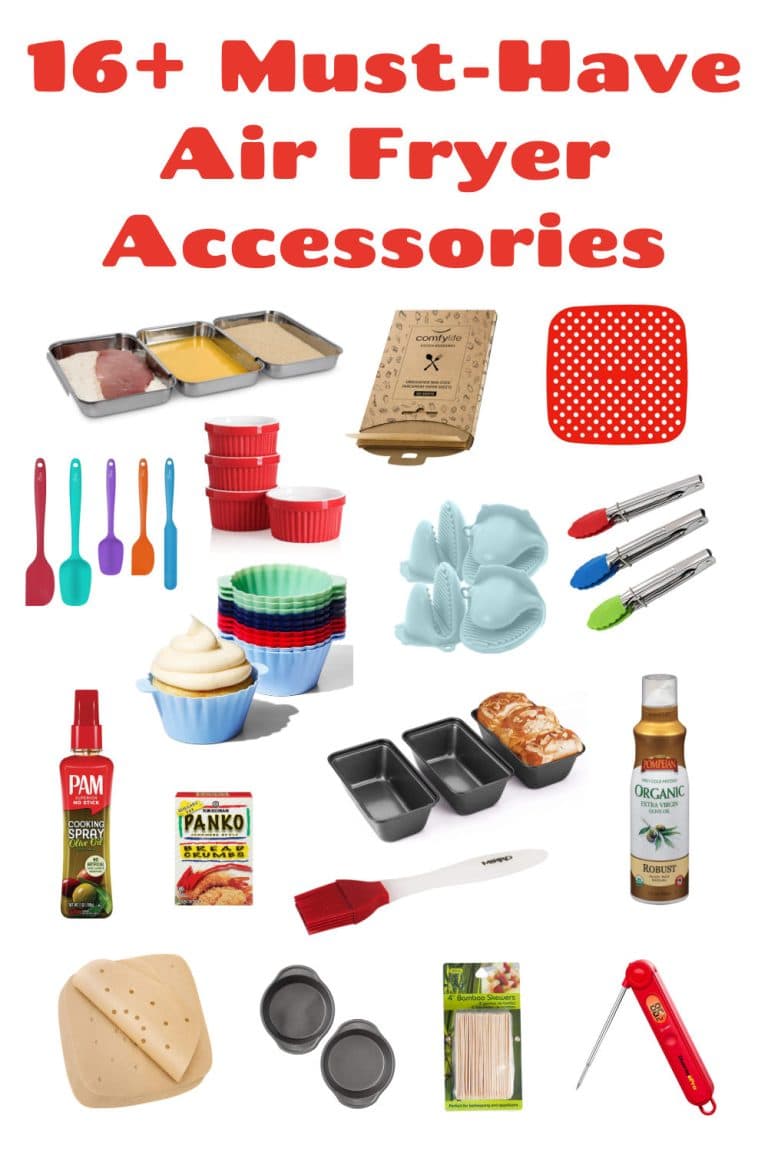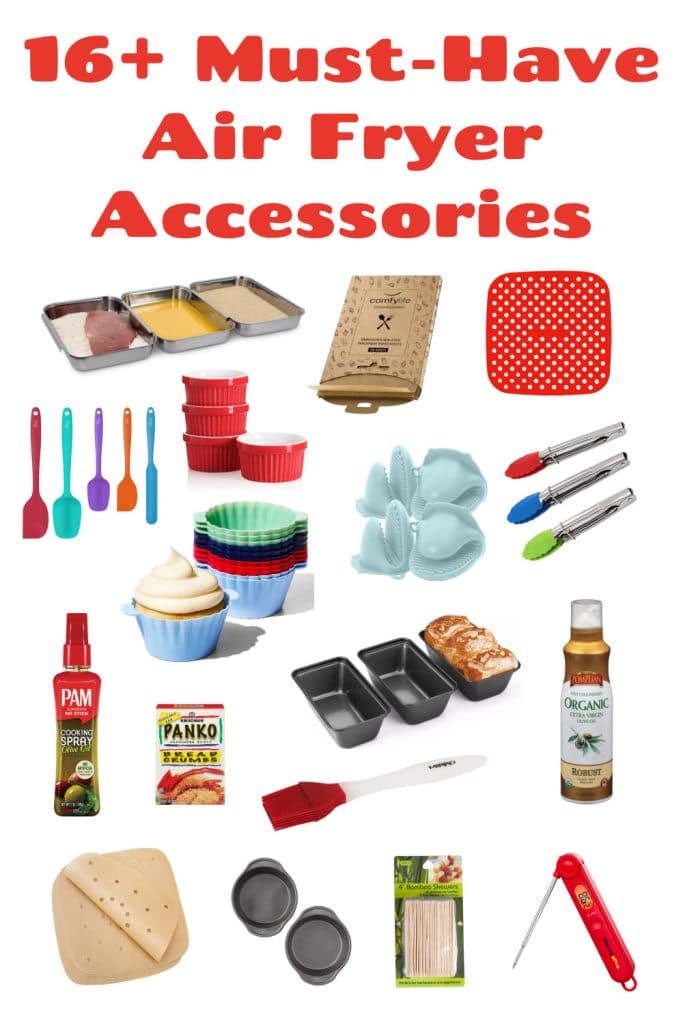 Best Air Fryer Accessories
Here's my ultimate list of best air fryer accessories – whether you have a basket- or oven-style! I've also included a price guide as well as my favorite recipes for those accessories.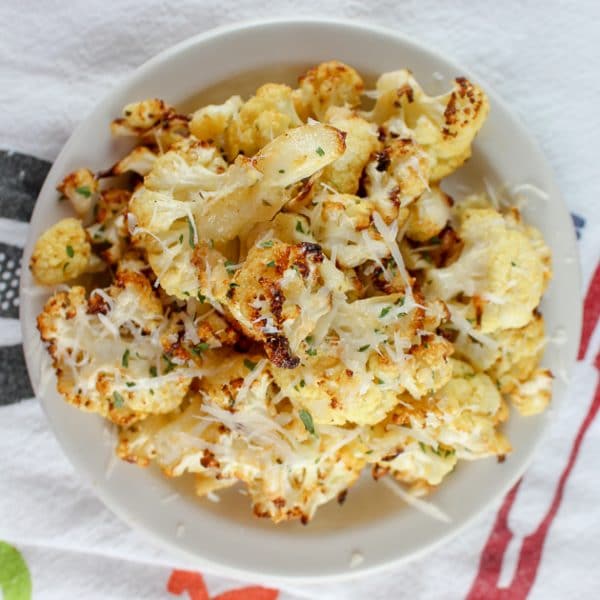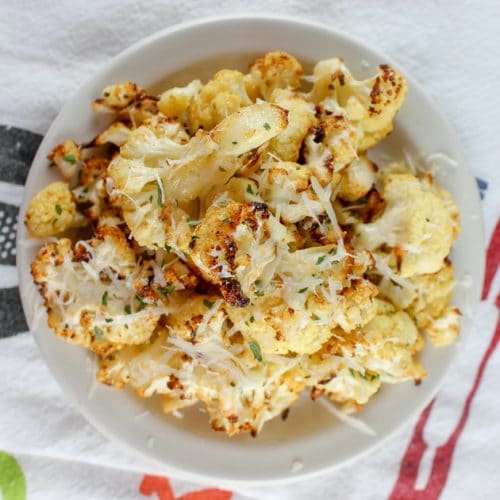 Air Fryer Cauliflower Parmesan
Air Fryer Cauliflower Parmesan is a delicious and quick way to have roasted cauliflower. With only three ingredients, this perfect side dish is very easy to make and adds a ton of flavor to this super nutritious vegetable!
Instructions
Toss cauliflower florets in Italian dressing

1/2 head cauliflower,

1/3 cup Olive Garden Italian Dressing

Add to air fryer basket – 400 for 10 min

Grate a little fresh Parmesan over the cauliflower

Remove from the air fryer and add a little salt
Notes
**We are not dietitians and recommend you seek a nutritionist for exact nutritional information. The information in the nutrition box are calculated through a program and there is room for error. If you need an accurate count, I recommend running the ingredients through your favorite nutrition calculator.**
Nutrition
Calories:
168
kcal
Carbohydrates:
6.7
g
Protein:
5.8
g
Fat:
13.7
g
Saturated Fat:
4
g
Cholesterol:
17
mg
Sodium:
843
mg
Potassium:
201
mg
Fiber:
1.7
g
Sugar:
4.3
g
Calcium:
140
mg